What 6 Bathrooms From Famous Paintings Would Look Like in Real Life
Published on: 06/04/2021
Last Updated: 06/04/2021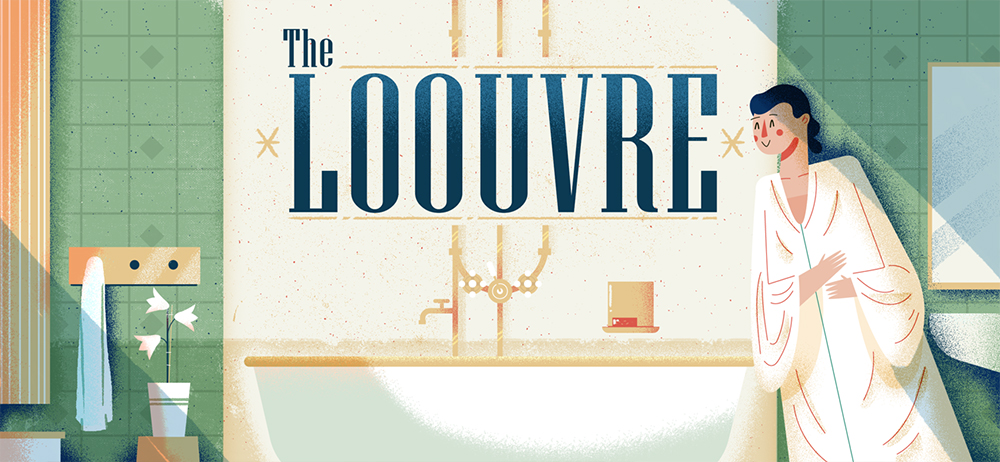 Your bathroom is the inner sanctum of your home. A place for refuge and reflection.
And the bathroom is where you get your best ideas. A combination of dopamine, low inhibition, and deep focus make the littlest room a very creative place to be. (Perhaps that's why scrolling Instagram interiors while sat on the throne is so inspiring).
Generations of fine artists have capitalised on the inspiration found in quiet moments in the lav. From expressionists to pop artists, many legendary painters have shown us how the bathroom looks through their eyes. So, who better to turn to for bathroom renovation ideas?
We've chosen six famous bathroom paintings and reproduced them as digital renders, so you can see how they might look today. Use the sliders on the pictures to reveal both versions of each bathroom. Then sink into the bubbles and imagine which details will work in your inner sanctum.
---
Perkins Harnly – Bathroom (1935)
Perkins Harnly is something of an anachronism. His life spanned the 20th century, but he is best known for the Victorian interiors he recorded for the Index of American Design during the depression. The bathroom is one such work. That's why it is so detailed and realistic – although a sense of Harnly's loneliness is present.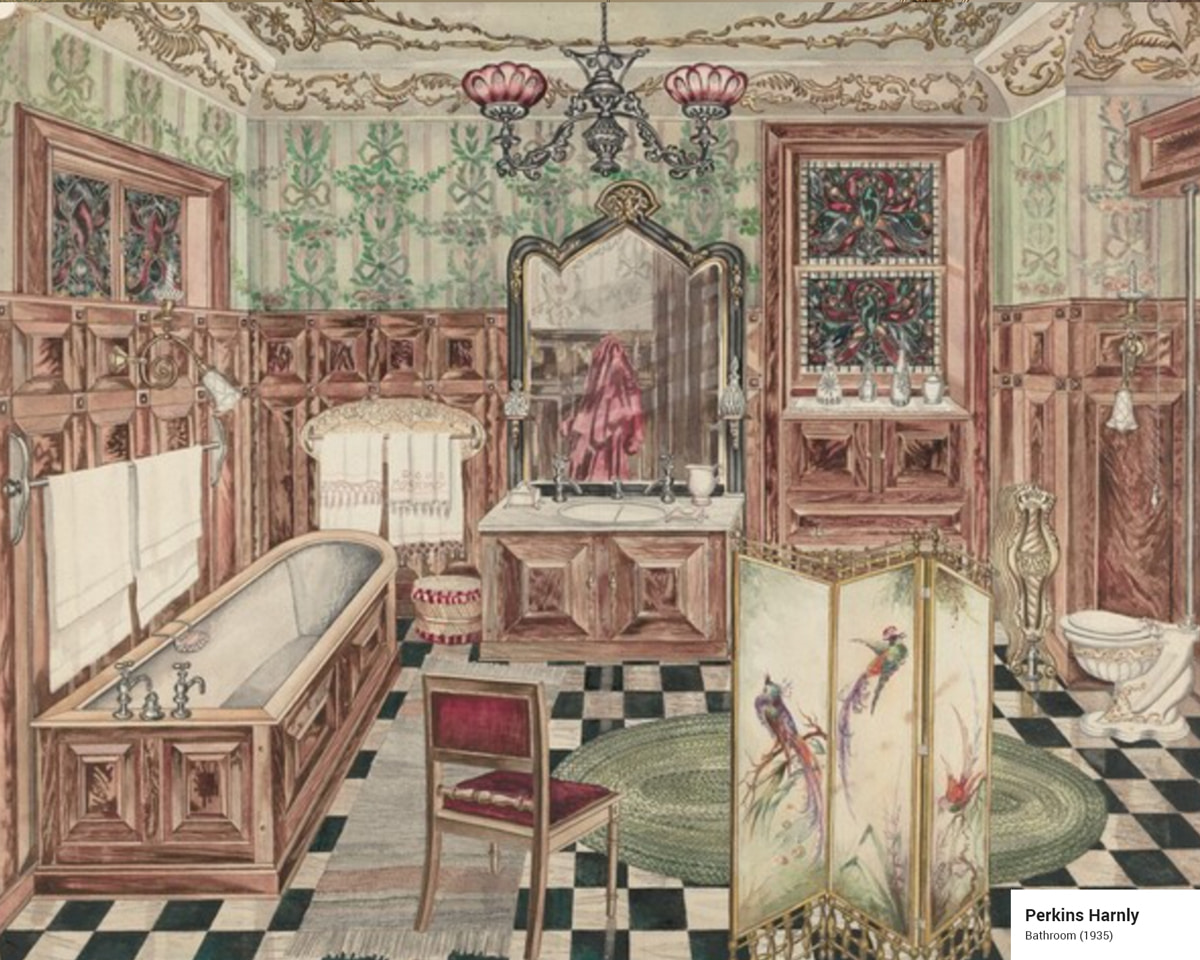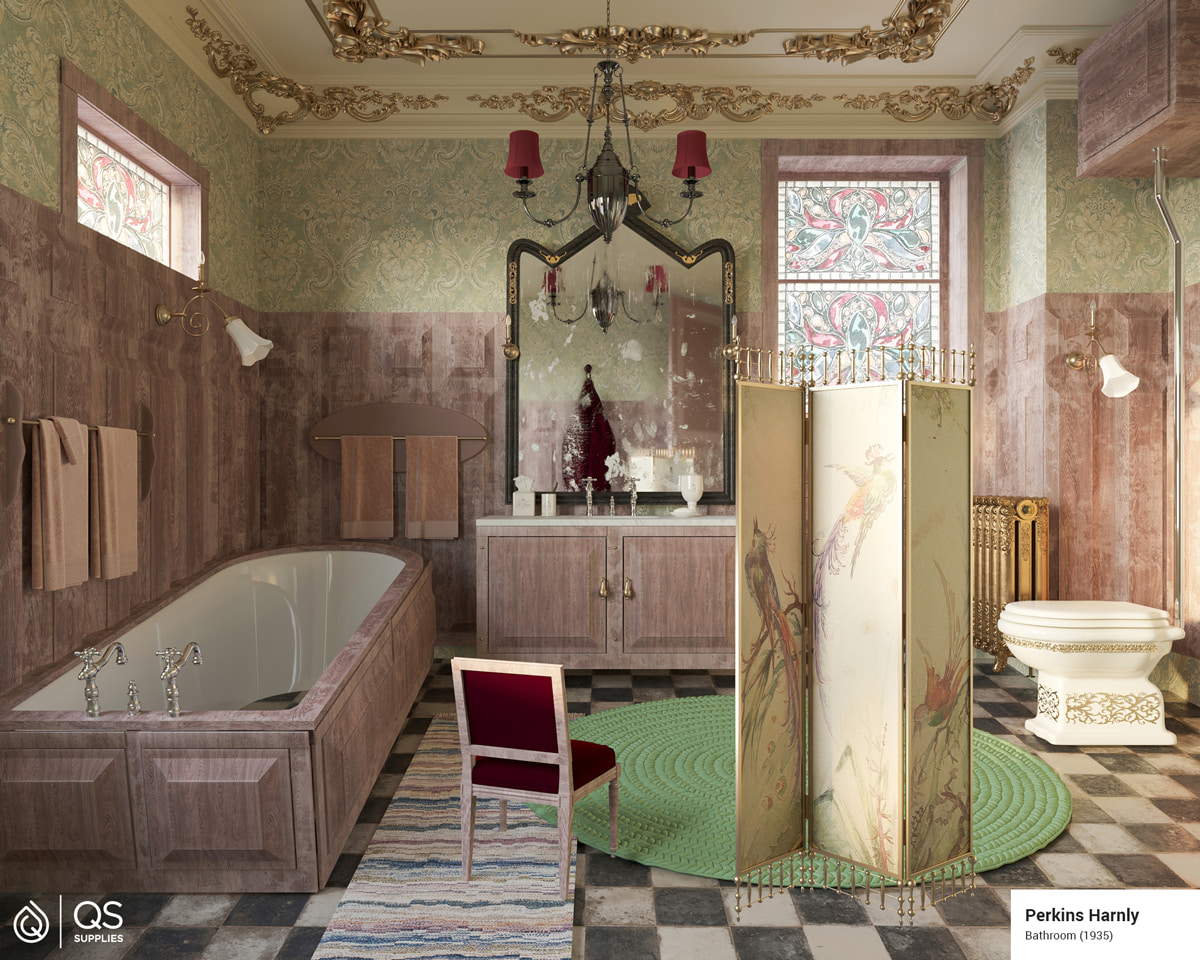 This particular Victorian bathroom is elegant and exquisite – and a far cry from the minimalist trends of the 20th century. Details such as the wood panelling and the Chinese-style folding screen add an instant sense of history and luxury. This is a bathroom that was designed to spend time in.
---
Fernando Botero - The Bathroom (1995)
Fernando Botero is the self-styled "most Colombian of Colombian artists." He paints in a 'post-abstract realist' style more succinctly known as Boterismo. His pictures conjure a realistic world filtered through memory - the figure, fixtures, and furniture of his bathroom inflating to feel realer than real. "It is to make them sensual that I let my characters swell," says Botero.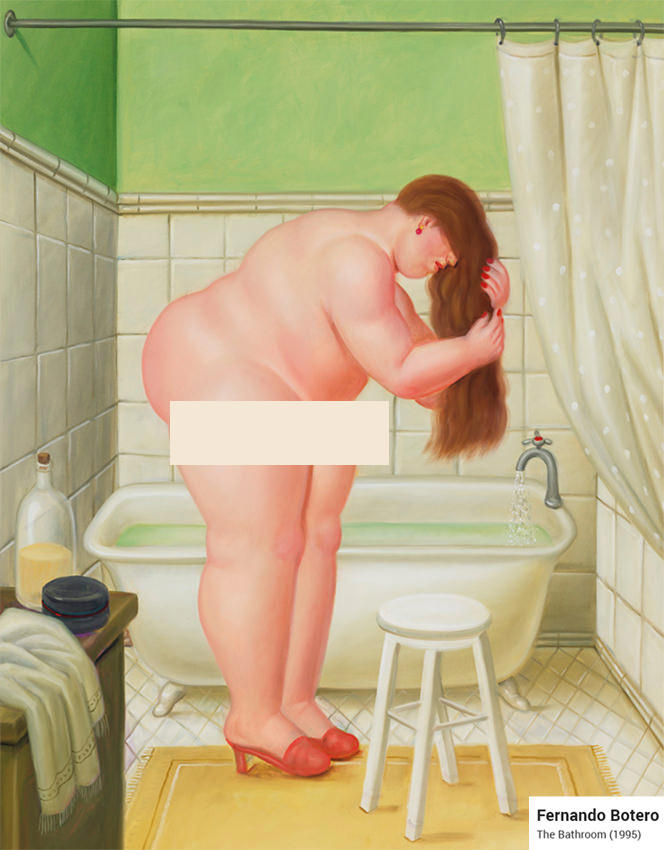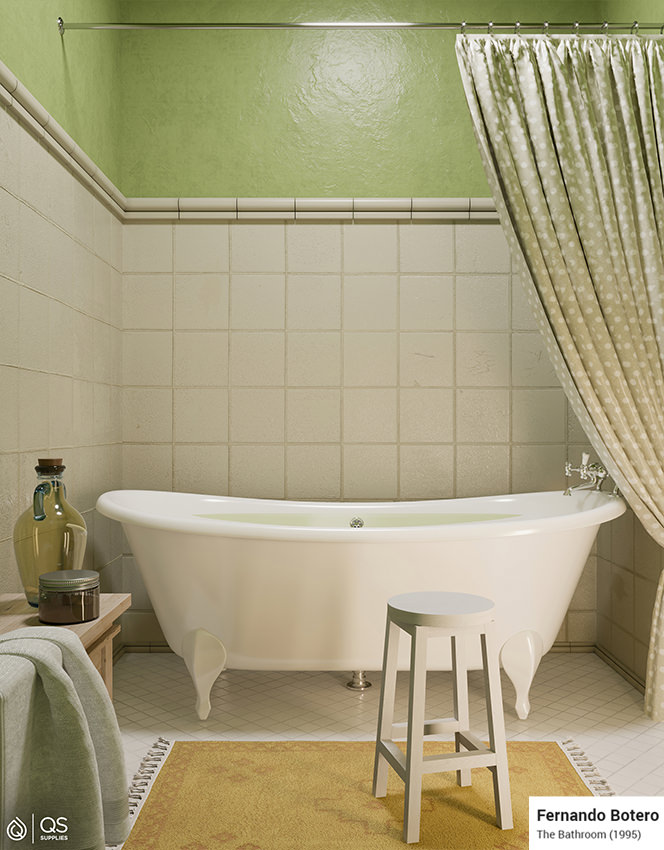 Botero has painted numerous narrow bathroom scenes like this, but they tend to seem intimate rather than claustrophobic. If you're working with a tight bathroom space at home, try expanding the space with bright, unbroken colours (no patterns), a freestanding bath (to accentuate floor space), and a sense of fun.
---
Roy Lichtenstein – Bathroom (1961)
This bathroom is one of seventy black-and-white works that pop-artist Lichtenstein created in the 1960s. By restricting himself to the industrial-commercial style of adverts and comics, Lichtenstein found his own 'voice,' despite the apparent anonymity of the work. The bathroom in this oil painting is both anonymous (inspired by drab bathroom brochures) and bursting with character.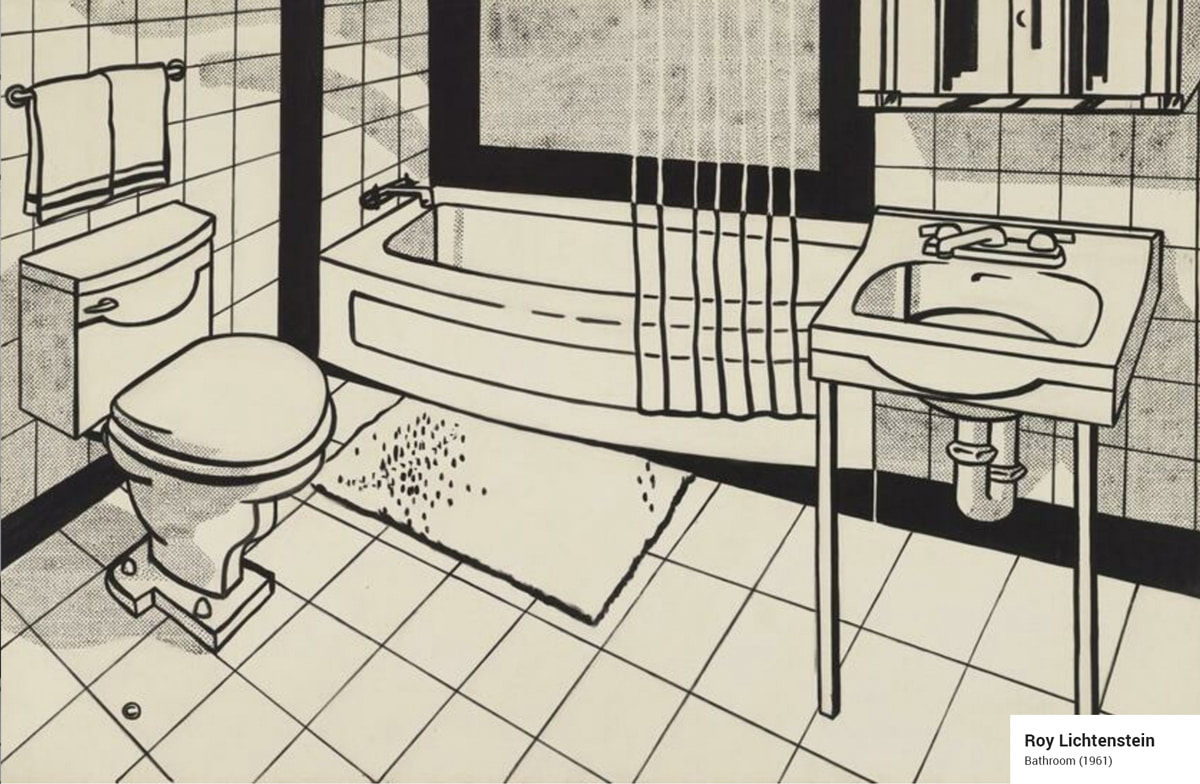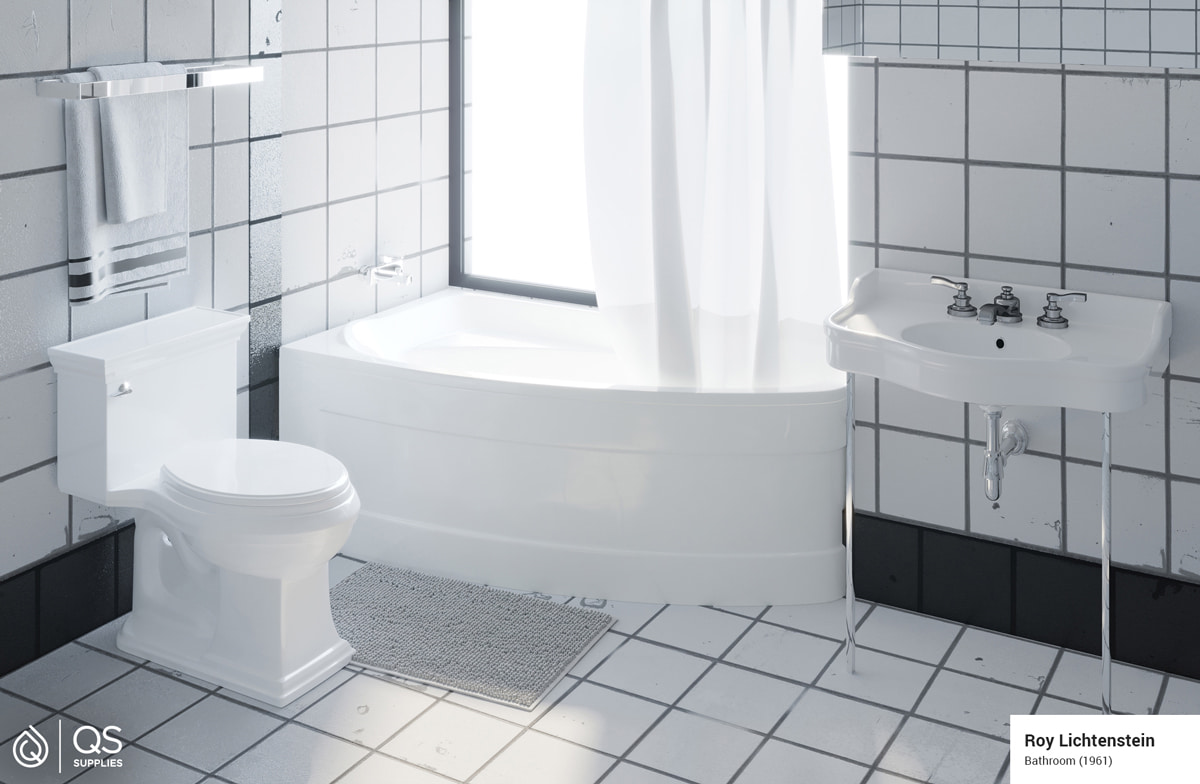 Lichtenstein's Bathroom is the perfect model for homeowners looking for a bathroom suite that's stylish without being showy. The painter revels in industrial touches such as the exposed pipes and repetitive tiling. Keeping to a monochrome colour scheme (even the towels) and tidying away clutter will keep your smaller bathroom looking like a fancy gallery space.
---
Carl Larsson - Bathroom Scene - Lisbeth (1909)
Carl Larsson was a Swedish painter born in 1853. Lisbeth, pictured, is the fourth of the prolific painter's eight children. Karin Bergöö, Larsson's wife, was also an artist. While they raised their family, much of her creative power went into the interior design of their timbered home, Lilla Hyttnäs, in an Arts and Crafts style.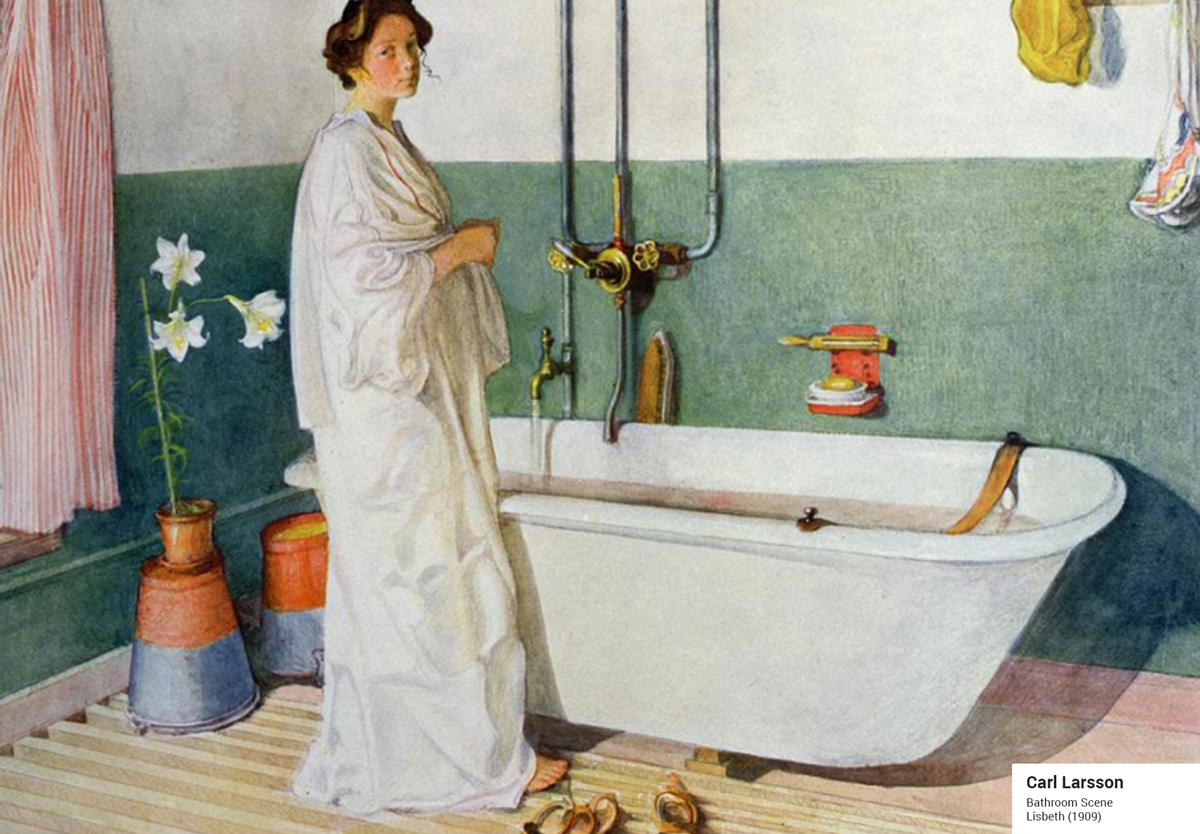 You've got to love that tub and vintage-style exposed pipes. And if walls a shade of 'creativity green' never go out of fashion, how about a Scandi-style sauna underfoot? Larsson's Arts and Crafts bathroom demonstrates that it doesn't matter how much money you spend on your bathroom, as long as you pay close attention to every detail.
---
Edvard Munch - Marat in the Bath and Charlotte Corday (1930)
The bathroom is as ripe for existential crises as it is for creativity. Enter Edvard Munch, the Norwegian "father of Expressionism," best known for The Scream. Munch's bathroom is no hyggelig encounter between lovers, but the scene of French revolutionary Jean-Paul Marat's murder at the hands of Charlotte Corday. And it channels violent events in Munch's own personal life.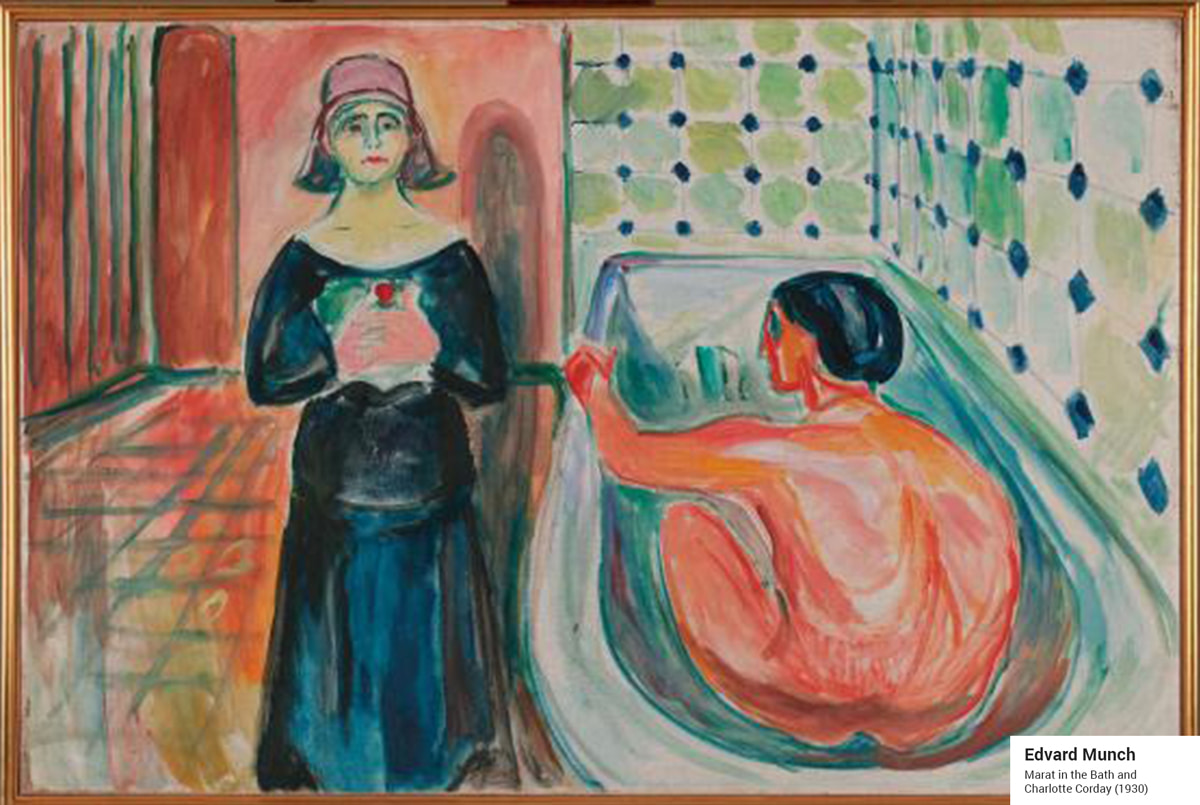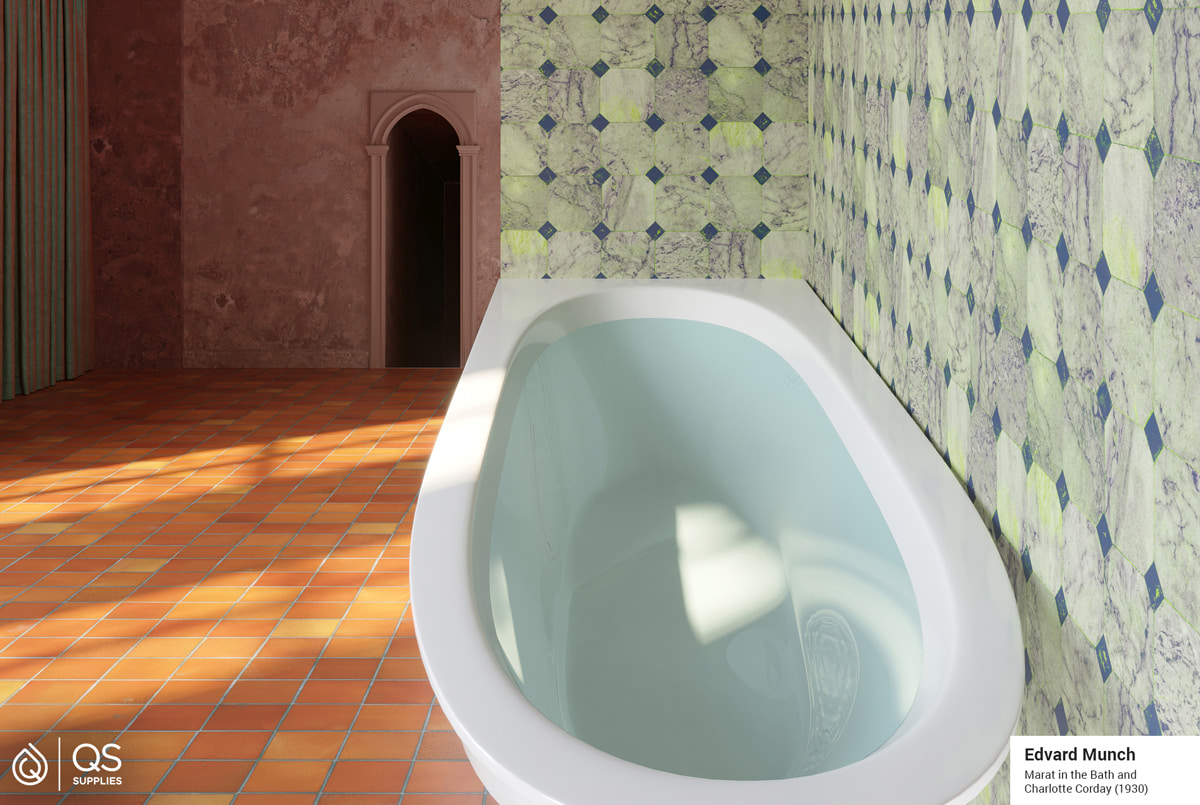 It's not the jolliest bathroom, then. But the use of marble adds a grandness and cleanliness to the scene. The terracotta tiling feels very European, and the curved doorway softens the austere scene. Munch painted Marat's death bath twice, and this one is distinctly less bloody than his first attempt.
---
Pierre Bonnard (1925)
Frenchman Pierre Bonnard is the painter you need if you're looking for colour inspiration. He was a post-impressionist, influenced by Japanese prints and the work of Paul Gauguin. He was also something of a bathroom expert, since his partner Marthe de Méligny bathed daily for medical reasons, and he painted her over 300 times.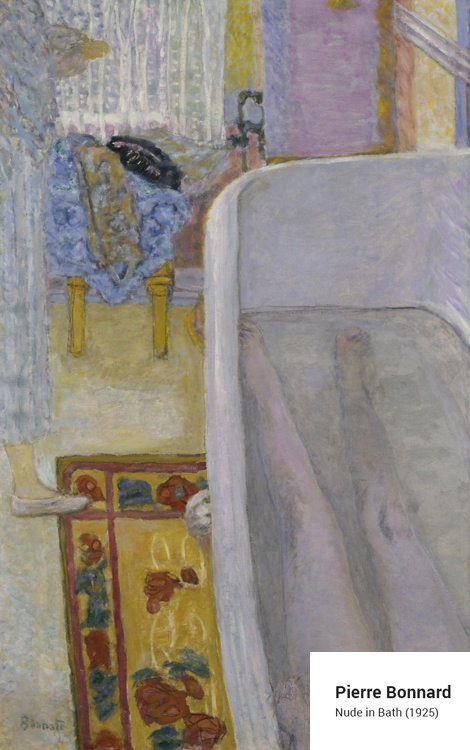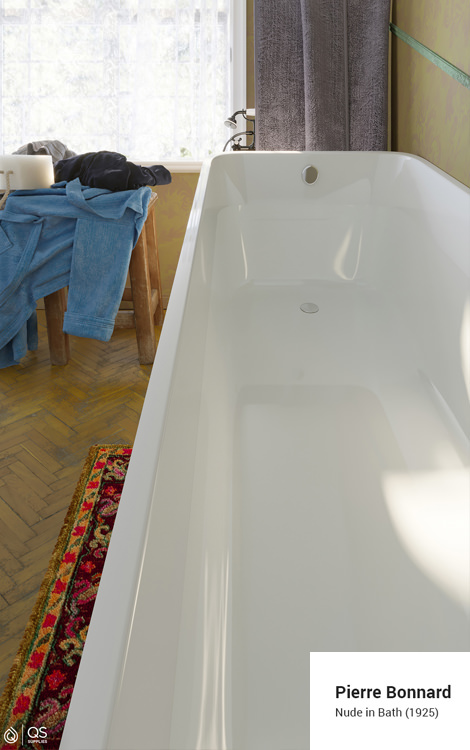 Like Botero, Bonnard painted memories rather than photorealistic scenes. This gave him the freedom to experiment with unlikely, vibrant colour combinations like those in this 1925 painting. The bright, patterned rug/bath mat and a shower bath adds instant warmth and character to the tight space. Along with that shabby yellow chair, it creates a boho feel. The delicate lilac curtain and pale green walls keep the colour moving, but allow it to recede so the room feels a bit bigger.
Whether you want a bathroom for solo spa sessions, sensual encounters, or simply to murder a French revolutionary, history's finest artists are way ahead of you with the mood boards.
If you like what you see in the paintings, why not try creating a masterpiece of your own? At QS Supplies, we can provide you with all you need to create a bathroom such as roll top baths, traditional towel rails, column radiators or cast iron radiators, that is truly a work of art.
Sources:
Harnly, P. (1935/1942). Bathroom. alamy.com
Botero, F. (1995). The Bathroom. christies.com
Lichtenstein, R. (1961). Bathroom. commons.wikimedia.org
Larsson, C. (1909). Bathroom scene. fineartamerica.com
Munch, E. (1930). Marat in the Bath and Charlotte Corday. munch.emuseum.com
Bonnard, P. (1925). tate.org.uk