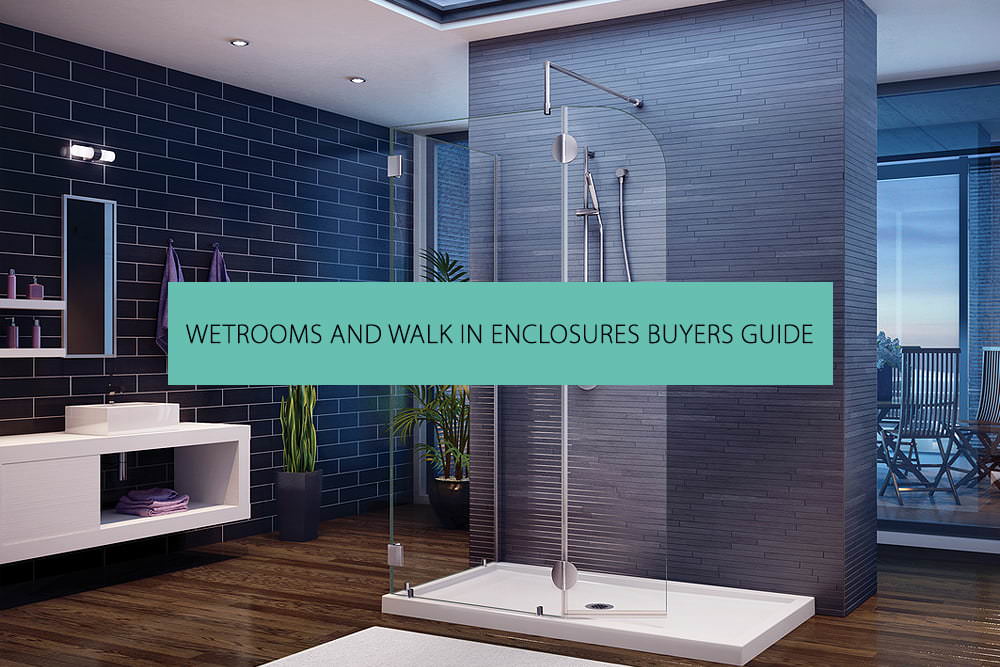 The first type of "shower" (as we know it) can be traced as far back as the ancient Greeks and Romans. However, these enclosures were often rudimentary in their nature, and cold water was normally used. It would not be until 1767 that a mechanical shower was first patented within the United Kingdom. (You can further read our History of Plumbing Timeline. This gave the population the ability to enjoy warm water while bathing, although such a luxury was normally reserved for wealthy households. However, these modern times have ushered in some truly stunning innovations. Before choosing the correct one for your home, we must first examine a handful of the most common types.
---
Wetrooms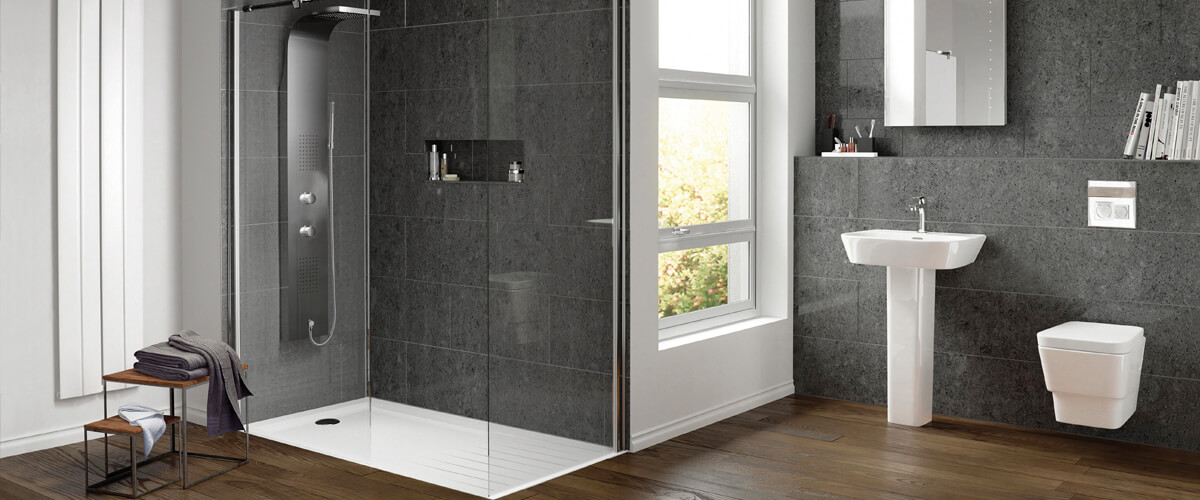 A wetroom is an open-plan bathroom without boundaries for the shower area. However, a shower screen can be installed for privacy or to contain splashes if desired.
Unlike a regular shower area, a wet room has a watertight finish allowing water to be sprayed anywhere in the room without causing damage. It is common for wet rooms to be installed as opposed to baths, but if your bathroom is big enough, then there is no reason, why you cannot install both.
The watertight nature of the wetroom is because of waterproofing or tanking, which is applied before any tiles are fixed. A wet room, therefore, removes the need for any enclosure or cubicle, as the room itself acts just like an enclosure. The room's floor will have a slight slope to allow all the water to drain away in the same way a shower tray works.
---
Shower Enclosures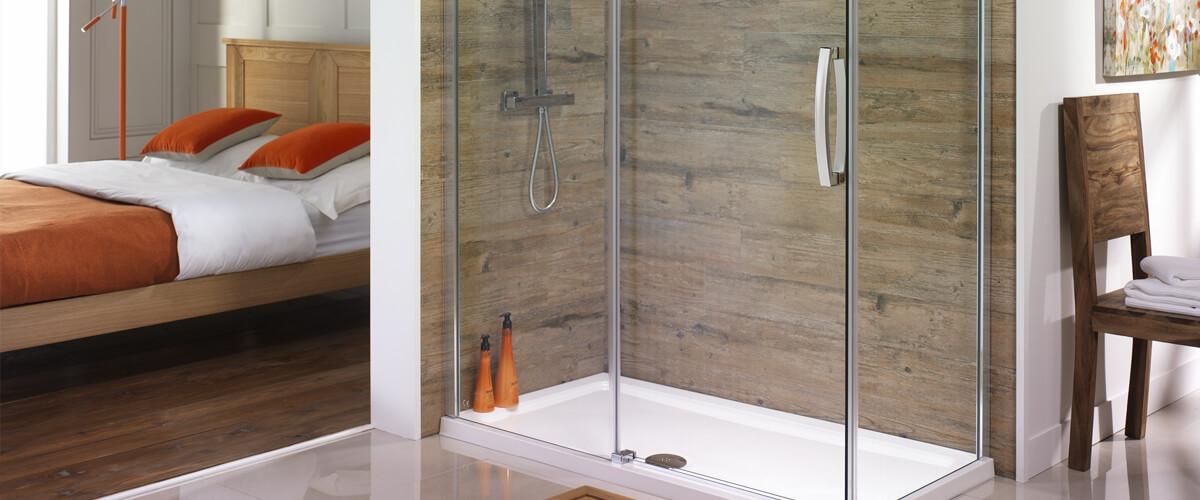 Shower Enclosures nowadays are the most popular choice for contemporary bathrooms, and their clear glass brings a sense of spaciousness to the room. Toughened safety glass is an important element, so be sure to choose a quality enclosure with thick glass for total peace of mind. For that extra luxury, choose enclosures that offer beautifully crafted hinges and handles to complete the perfect showering experience for you and your guests. You can learn more about shower enclosures here.
---
Walk in Shower Enclosures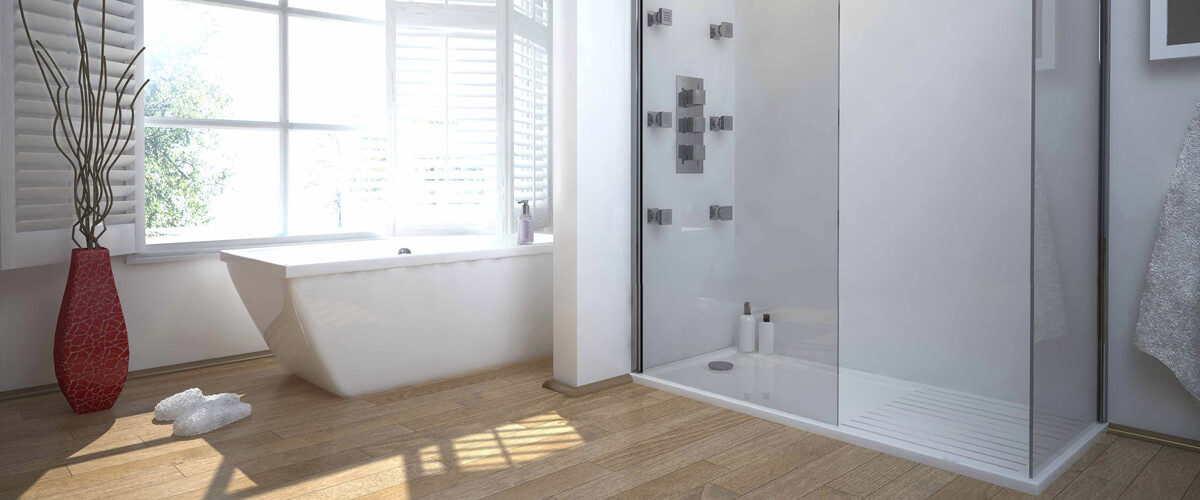 A walk-in shower enclosure can be seamlessly merged into your bathroom. The central idea behind a walk-in shower proposes a wet area dedicated for showering purposes; the separation thereby renders the remaining bathroom area dry. This simple yet highly effective solution results in better hygiene and a highly organised bathroom. These enclosures are made of toughened safety glass and allow quick, no-fuss showering.
---
How to Style Up a Walk in Enclosure
Before you go ahead with installing a walk-in enclosure, there are a few simple but not-so-obvious tips we must give importance to:
Keep It Door-Less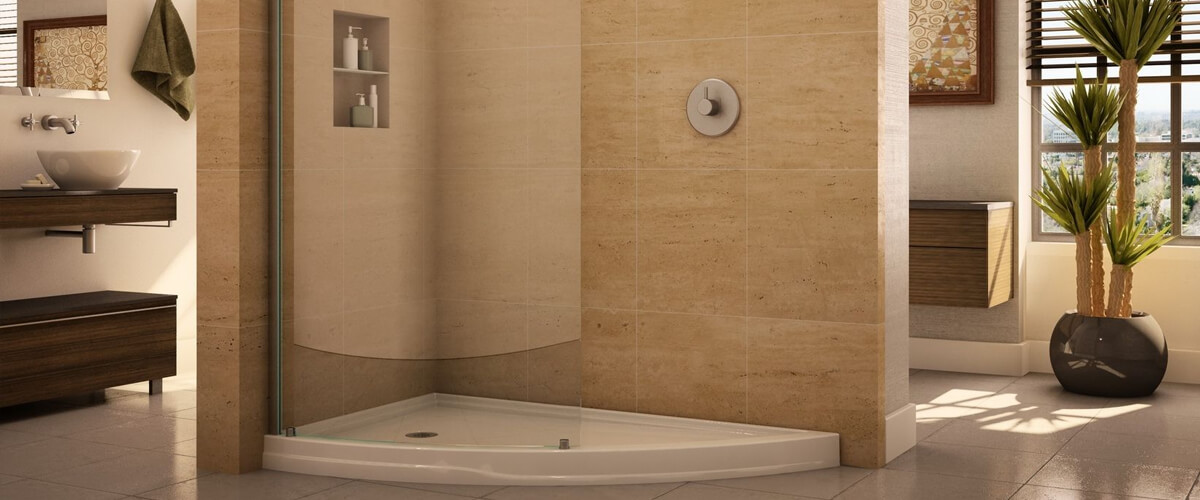 That means you must let go of your privacy considerations and be more focused on your shower. This concept works best without doors to have unrestricted access both ways and extra space outside your shower, which would have been otherwise occupied by the door. Now you could use that free space for storage or other arrangements. The other benefit of the no-door policy is lesser cleaning and easier maintenance.
Select The Most Secluded Corner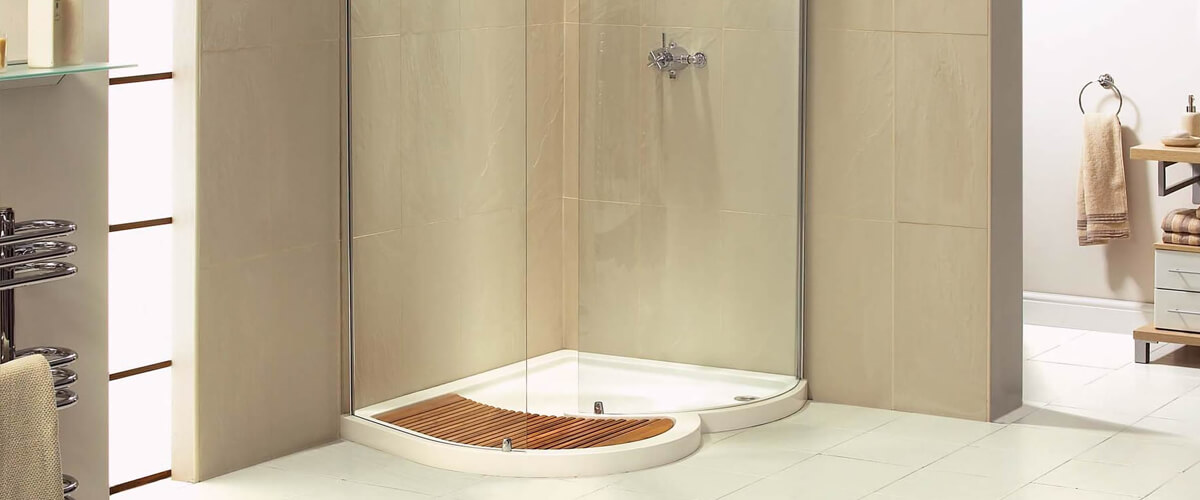 This increases your chances of unabashed splashing and unrestrained fun in your shower. The idea is equally connected with the prevention of splattering water in other areas of the bathroom you wish to keep untouched and undisturbed by water. A corner means having two walls at your disposal, which, apart from placing the wet area away from the remaining area of the bathroom, also holds strategic importance from a plumbing and storage perspective.
The Angle
One essential element of this structure is its base, which must be built at an angle so that the water effectively slopes downward towards the mouth of the drain cover during use. This eliminates the possibility of water collecting in the showering area and keeps it clean and hygienic. You can buy pre-fabricated shower bases made from fibreglass-reinforced acrylic for durability. These are built with an inherent angle which facilitates the passage of water to the drain.
Recessed, Corner, and Floating Walk In Showers
The recessed shower enclosure fits into an alcove and is ideal for replacing the bath. It usually features a single glass screen panel that can be installed according to entry. The glass screen commonly has a metal arm attached for any needed support or stability while showering, though this can be placed on the wall or ceiling if desired.
Corner shower enclosures are more space-efficient than the standard quadrant shape and position. And as micro-apartments and lofts remain in style, this makes them ideal. Its glass panels and metal arm can also be positioned conveniently.
Floating shower enclosures are generally single glass screen panels disconnected from the walls and mark the outward boundary of the enclosure, wherever it may be situated.
The Glass Panels
Remember to choose durable panels as they complete the enclosure and are as committed to the structure as the two walls you have chosen to play the pivotal role of the shower station. The panels will take a lot of water beating and possibly, in case of an inadvertent incident, an accidental push or a bump that signals us to buy panels made of toughened safety glass of at least 5mm thickness. This is to arrest the possibility of a broken glass scenario. Also, the glass may be marked with limescale leftover and soap marks. To safeguard against limescale, glass panels can have the anti-limescale coating included when you place your order.
The glass panels can come in a variety of heights and widths, ranging from panels that are around 195 x 140 cm and smaller, to panels that stretch from floor to ceiling. This, however, will generally depend on who the supplier and installer are.
The Right One
There is no such thing as a right or wrong enclosure. What is worth pondering is the fittings used and the quality of the product. Usually, a good quality product will not disappoint you, but the problem often seeps in with the fittings . No sooner you have seepage in your walls due to leakages or condensation, the chances of mildew and mould flourishes are imminent. An enclosure that functions appropriately, does not leak, and is positioned to spray at the glass panels and not at the entrance is not just the right shower but also the best.
Where's the light?
The inclusion of light is often forgotten from the equation formulated for good ambience. The trick is to have ample light to create a feeling of spaciousness. It can be achieved by using transparent panels, which are the most suitable for indoor lighting. Or by using natural light through windows where advantage must be taken of large windows if present or even a glass patch in the roof, allowing light to pass through the ceiling.
It Happens To Be The Case
Some bathrooms may have a pillar right in the middle, which may result in a space crisis. So instead of the unusual construction pattern, you could work it to your advantage by turning the pillar into the shower panel station by installing a shower tower, having panels around it, and circumscribing your wet area.
We should recall that, in many cases, walk-in shower enclosures are the focal point of any bathroom. In other words, they will "tie" the other areas together. This is the main reason why choosing the correct type is so essential. So, let us look at some factors to keep in mind and then examine each in more detail. Some concerns will be:
The amount of space and height that is available.
The fixtures to select.
The outward appearance.
Price range
---
Dimensions
It is first important to keep in mind the dimensions. While you want to enjoy adequate space, you should also recall that the unit should never dominate the room entirely. As a rule, many contractors observe that the walk-in enclosure should take up no more than a quarter of the total footprint of the bathroom. For smaller spaces, corner models are ideal options.
---
Feel & Finish
Fixtures are available in finishes such as chrome, gold, and silver (amongst others). These should match the existing installations within the room. Once again, this can help to "punctuate" the overall appearance and provide your space with a sense of personality.
What are the main colours of the room? Does it exhibit a modern appeal, or are you searching for a style which reflects a classical flavour? Some enclosures offer rounded edges and a smooth façade, while others boast angular features. We provide a large selection of pivot shower doors, shower cubicles, bifold shower doors and bathroom accessories to achieve a seamless integration of elements in a space.
Finally, price is also a critical factor. Knowing any up-front costs is an excellent way to avoid a potential headache further down the line.
---
WHAT IF?
You want to have a seat while you are in your shower, especially when it is about the elderly. The most obvious solution is to have a bench integrated within this area, which would be of use for seating and storage purposes.
The only drawback could be the chill of winter wafting through the open entrance. That would be the case only if there were no central heating installed in your bathroom. If, perchance, you do not have a heater or radiator, then you may consider picking from a myriad of boiler-radiator combinations or have a hot towel rail installed in your bathroom to neutralise the chill.
Finding the right product of your dreams has never been easier. Of course, you may still have additional questions or feel that speaking to a professional is the best option. In either case, we are quite happy to help. Please contact us for further questions or to appreciate the massive selection that we provide to a growing number of customers throughout the United Kingdom.