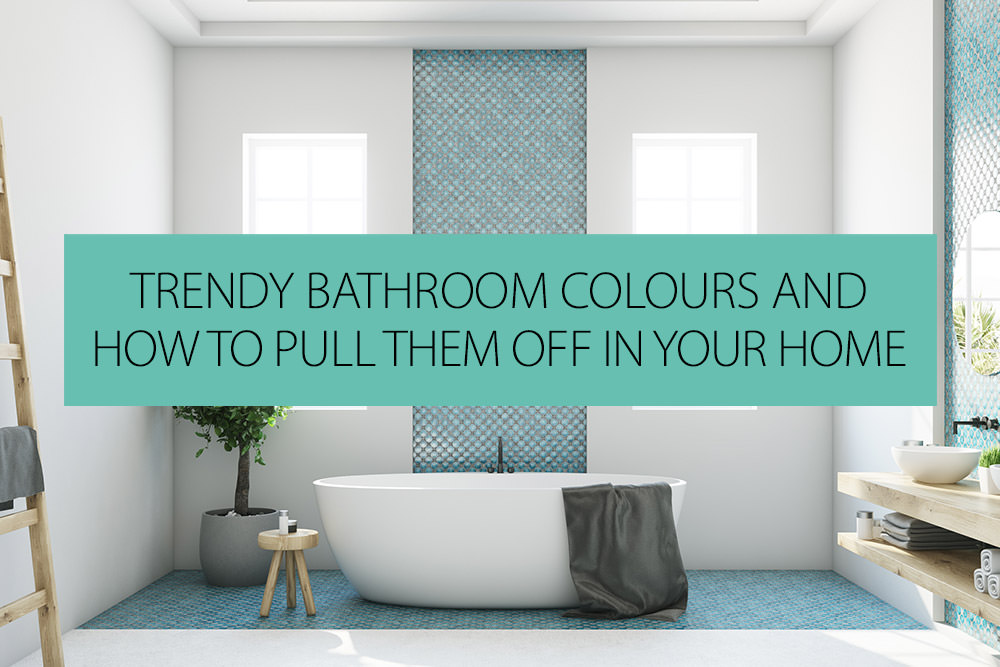 Using colour is one of the cheapest and most effective ways to give your bathroom a makeover, but finding the right colour scheme to go with your bathroom design can be tricky with so many to choose from.
We'll take you through a series of popular colour schemes ranging from bold, contrasting colours to stripped-back neutral tones that will match the mood and design you're aiming for.
---
Black And White
Clean, simple and elegant, black and white is a timeless colour scheme that's as on-trend now as it's ever been. Whether you're going for a sleek monochrome look, a classic art deco design with matching mirrors and accessories or contrasting colours like this black bathtub paired with black-and-white fixtures, it's a versatile design choice that's easy to achieve. It can be minimalist and stripped back or bold and dramatic, we'll leave that choice up to you.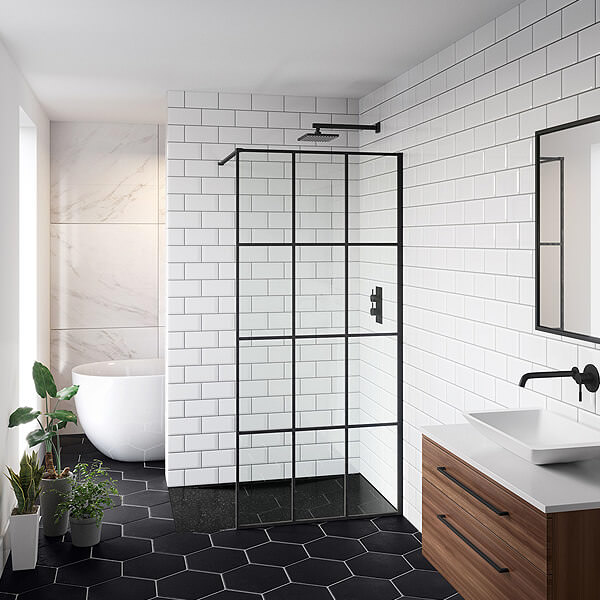 https://www.pinterest.co.uk/pin/127648970675278867/
---
50 Shades Of Grey
Find the right shade of neutral in your bathroom by using grey tones. For dark rooms, try a lighter shade of grey to give the room more depth and colour. Grey will also go with most existing fixtures and is the perfect background colour to accessorise with – add splashes of colour with bright details or use textured surfaces including bathroom floor tiles and grey wooden cabinets to bring your bathroom to life. We love grey bathrooms so much, we've written a dedicated 50 shades of grey article.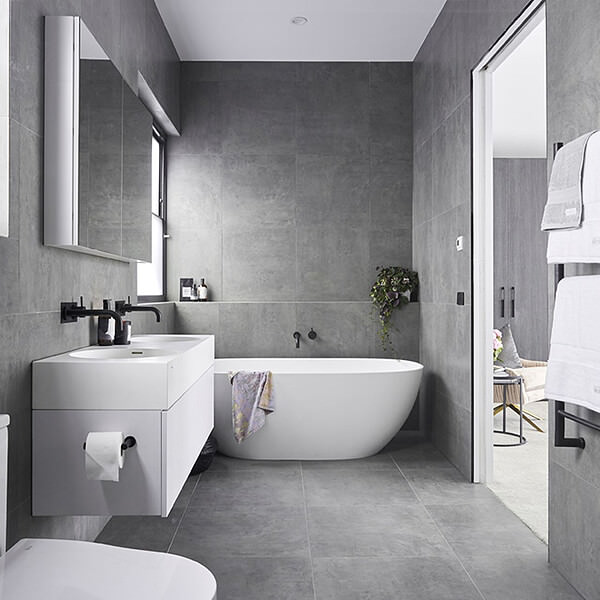 https://www.pinterest.co.uk/pin/636977941025152594/
---
Go Neutral
Neutral doesn't just have to mean varying shades of grey. Try natural shades of green, blue and yellow to bring understated excitement to your bathroom colour scheme. And tone down the pastel shades even further by matching the walls with soft, creamy wall tiles and marble floors (or marble effect to keep the costs down).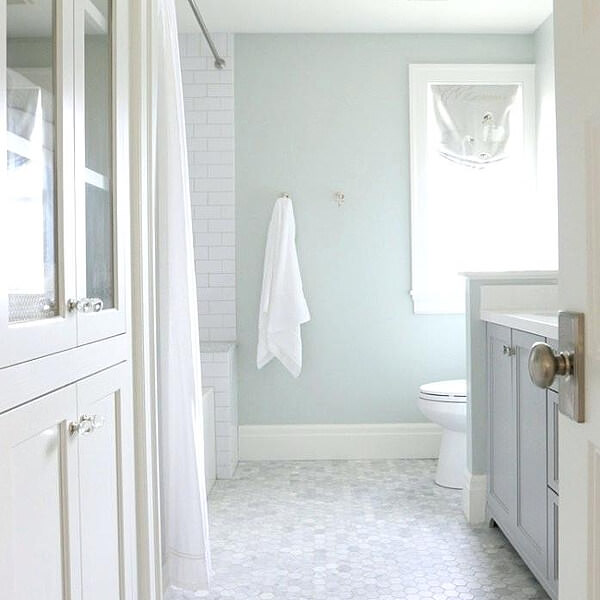 https://www.pinterest.co.uk/pin/451415562650526710/
---
Sail The High Seas
The nautical theme has always been a popular bathroom colour scheme, and it's not hard to see why. Opt for a playful style with lighthouse wallpaper paired with relaxing sea-blue colours and porthole mirrors, or go for a graduated blue colour scheme ranging from warm blue at the bottom to hazy whites at the top, reflecting a classic sea view. Other design ideas include pebble-dashed tiles, beach hut accessories and pale pine floors, all matched with azure blues and cloudy whites.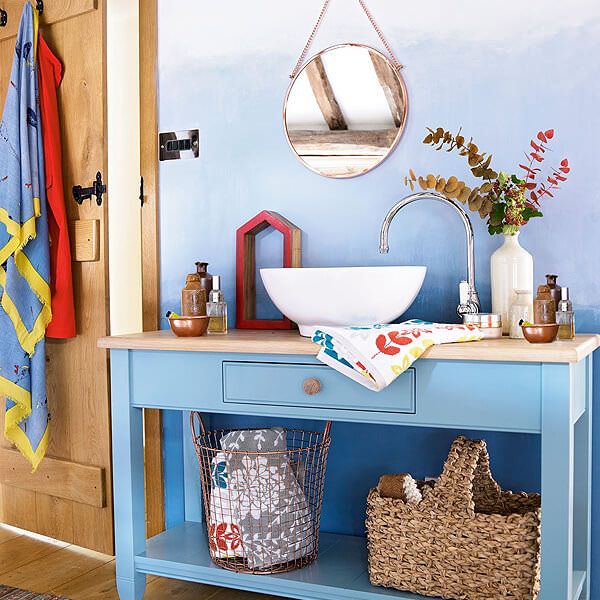 https://www.pinterest.co.uk/pin/561964859746472356/
---
Dark And Moody
Create that boutique hotel look in your bathroom with dark, inky blue or almost black walls and ceilings. Take that moody but elegant bathroom decor a step further with gilded mirrors and luxurious textures, including fluffy towels, rich copper towel racks and deep pile bath mats. The dark walls will create a secluded, intense atmosphere. You can lift the mood with a white floor and a vibrant bathroom plant, to help bring a balance of light and dark. Colour is so crucial to creating mood, but this balance of dark and light and opulence will make you feel cosy and luxurious.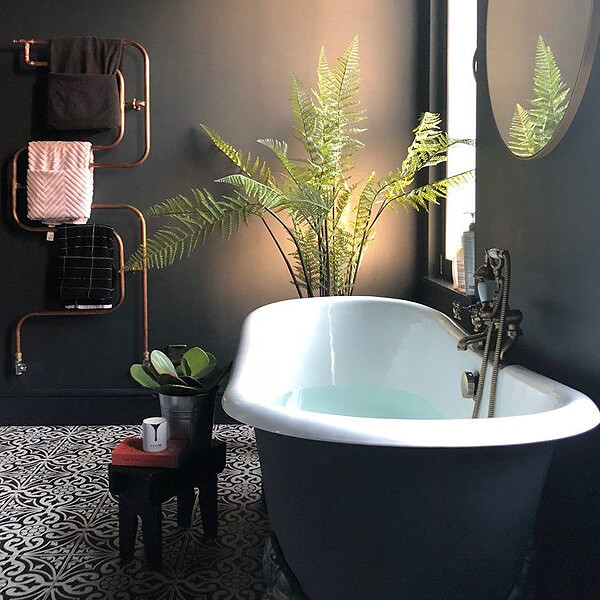 https://www.pinterest.co.uk/pin/67835538124394164/?nic=1
---
All White
There are few more classic bathroom looks than the all-white affair. White is bright, uplifting and associated with cleanliness, all perfect bathroom attributes. But a pure white bathroom can be a little stark, so turn your ultra-modern white bathroom into a leafy oasis by adding some plants. Or let your bathroom floor do the talking by introducing a stylish bathroom rug. Alternatively, opt for classic white subway tiles for the walls or add a natural finish with wooden textures.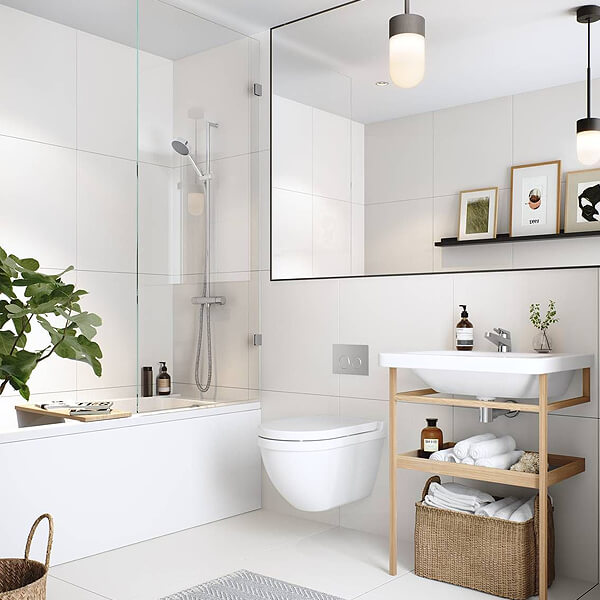 https://www.pinterest.co.uk/pin/617626536378127170/
---
Complementary Colours
While it's often simpler to go for one colour scheme, it can be rewarding to mix and match and bring complementary colours to the party to create a bright, harmonious design. Go one step beyond white and one other colour by mixing and matching some seriously bold colours. Traditional colour pairings include orange and blue, red and green and yellow and grey. Bear in mind that with bold colours, a little can go a long way; yellow towels with dark wood fittings could be enough to bring your bathroom colour scheme to life. Or use coloured tiles to bring colour to your bathroom with repeating patterns.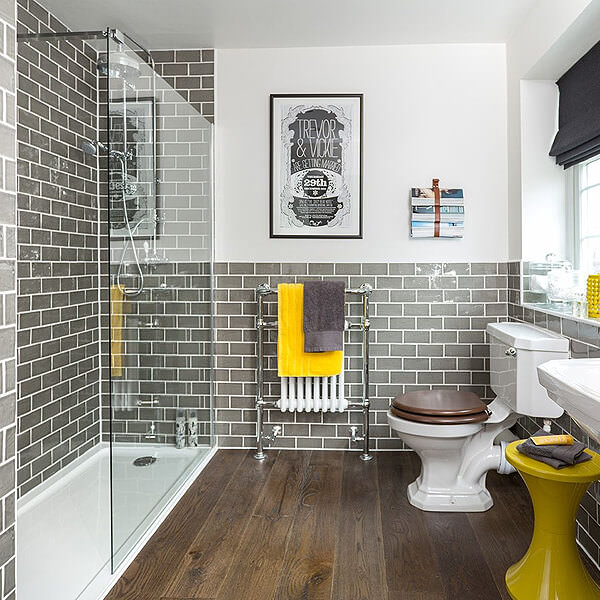 https://www.pinterest.co.uk/pin/488218415840385087/
---
Contrasting Colours
Complementary colours can create an inviting space, but contrasting colours will create a contemporary, on-trend look. Bright, modern colours like yellow, orange and red will contrast brilliantly with your white bathroom appliances, creating a clean, simple, yet stylish bathroom. Or go for a feature wall or space to contrast with the rest of the bathroom's clean and simple colour scheme. And if you don't want to commit to a full statement wall, you could always start by painting the bathroom door or concentrating on the shower and wet room space like this.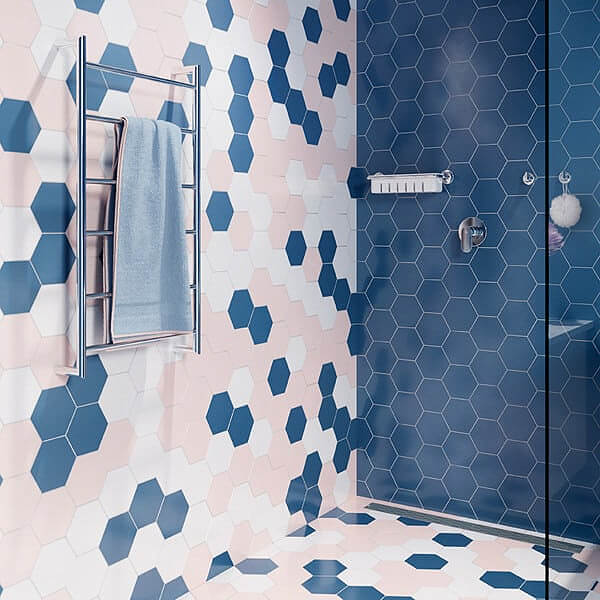 https://www.pinterest.co.uk/pin/851321135793999971/
---
Accessorise With Colour
Most bathroom units and appliances are white by default. One of the easiest ways to introduce colour and vibrancy into the room is with colourful accessories. We love the warm, life-affirming colours in this image, with yellow, red and coral blue on show. And the trailing leafy plant adds even more colour, depth and life to the room.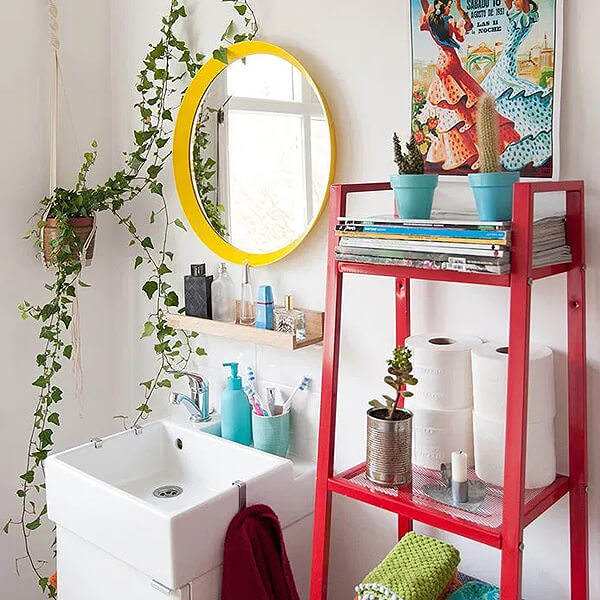 https://www.pinterest.co.uk/pin/322640760786957572/
---
Pretty In Pink
Bathrooms are, by their nature, functional spaces, but that doesn't mean you can't inject some colour and flair into your morning and nighttime routine. Pink is a great colour to play around with: It's soft, gentle and will give your bathroom a feminine feel. One way to achieve that is with an LED showerhead, which displays a vibrant range of colours. Alternatively, pair pink accessories like a bathroom mat or shower curtain with off-pink/coral walls or go for pink tiles with bold white grouting to create a gentle contrast. Want more pink bathroom ideas? Check out our pink bathroom ideas feature.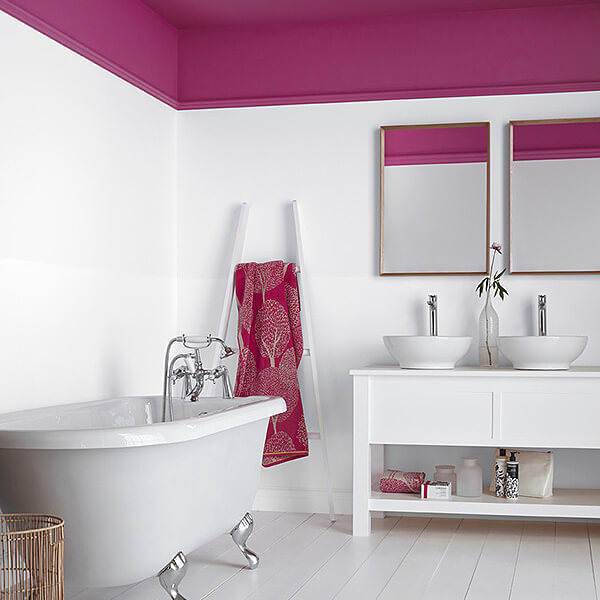 https://www.pinterest.co.uk/pin/436849232600127379/
---
Floral Notes
Flowers are one of the most adaptable design motifs. They'll immediately give your bathroom a countryside look and feel, making your bathroom feel more spacious and welcoming. Cover up a free-standing basin and stand with a floral drape (and match it with curtains if your bathroom has a window), or give your bathroom a refined, elegant finish with floral wallpaper or blinds. Combine your floral prints with a wooden floor and neutral finishes for the full flower power effect.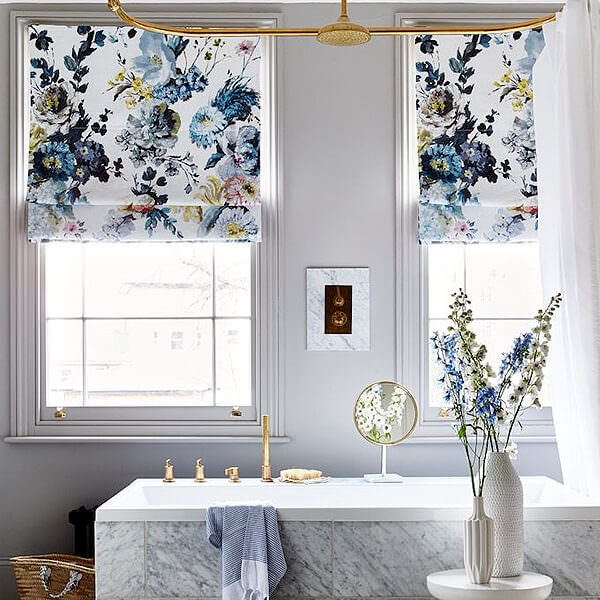 https://www.pinterest.co.uk/pin/553661347941957538/
---
Warm Your Bathroom With Natural Colours
If you have a small bathroom with limited natural light, deep and natural colours can instantly add depth and warmth. Rich shades of brown, yellow, red and orange will create a welcoming atmosphere. For added effect, pair the warm walls with natural wood (or wood effect to keep the costs down), deep woven rugs and clean white fixtures to create a calm environment that's full of character.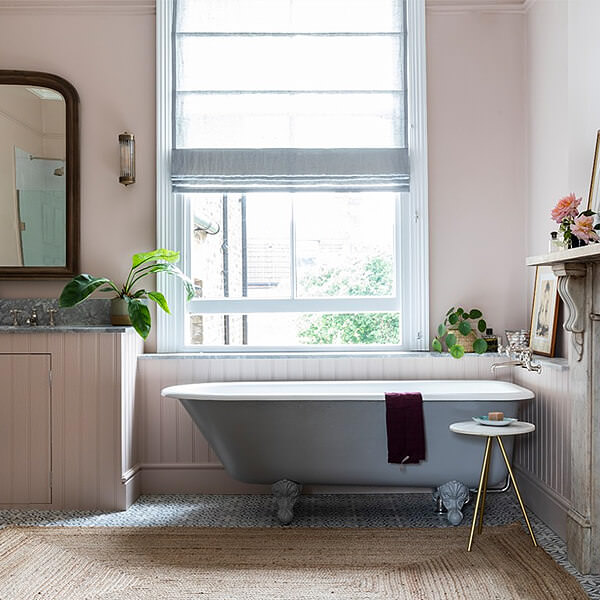 https://www.pinterest.co.uk/pin/476255729344592321/?nic=1
---
Summing Up
Finding the right colour scheme to fit your bathroom and its size and natural light is crucial. The right colours can add depth and create the perfect mood and vibe. And adding colour to your bathroom design can be as simple as finding the right accessories to complete the picture or going with complementary hues.