Exploring 6 Bathrooms of The Rich and Famous
Published on: 07/02/2022
Last Updated: 07/02/2022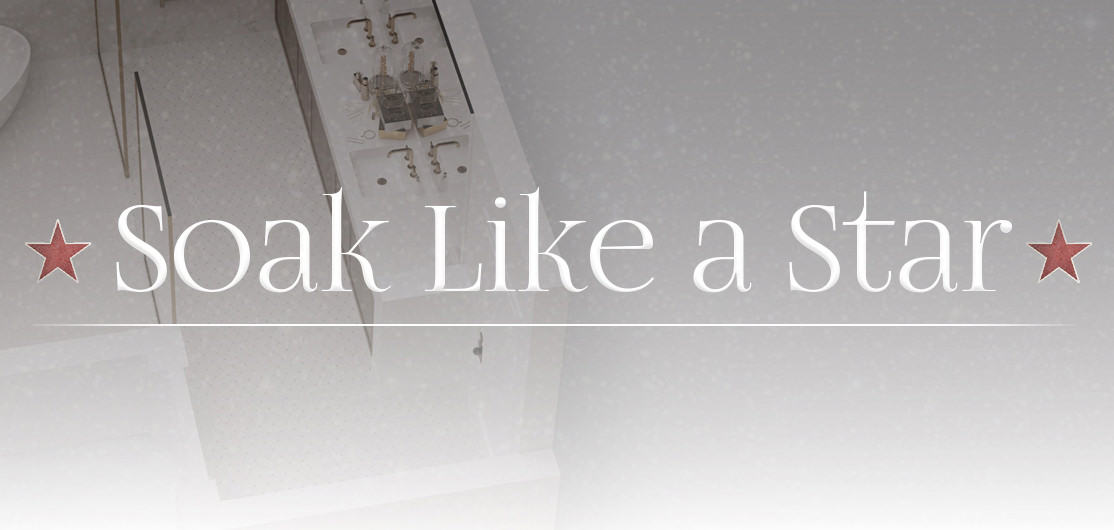 Is there any picture as candid and stirring as a celebrity bathroom selfie? Those curves? That sparkle? That million-dollar allure?
And that's just the background! The best thing about the celebrity bathroom snap is what it reveals about its owner's interior design choices. After all, photos of famous bods are ten-a-penny. But a glimpse into their (very large) smallest room is a rare and precious insight.
If you're looking for celebrity bathroom inspiration or just feeling nosy, QS Supplies has airbrushed the celebrities out of six sets of selfies and other bathroom snaps. And we've reverse-engineered their luxurious bathrooms to create the interactive 360° views and 3D floor plans below.
Scroll on to take a virtual walk around the bathrooms of Drake, Serena Williams, and the runaway royals. And don't forget to take a selfie before you go.
---
1. Serena Williams (Miami, Florida)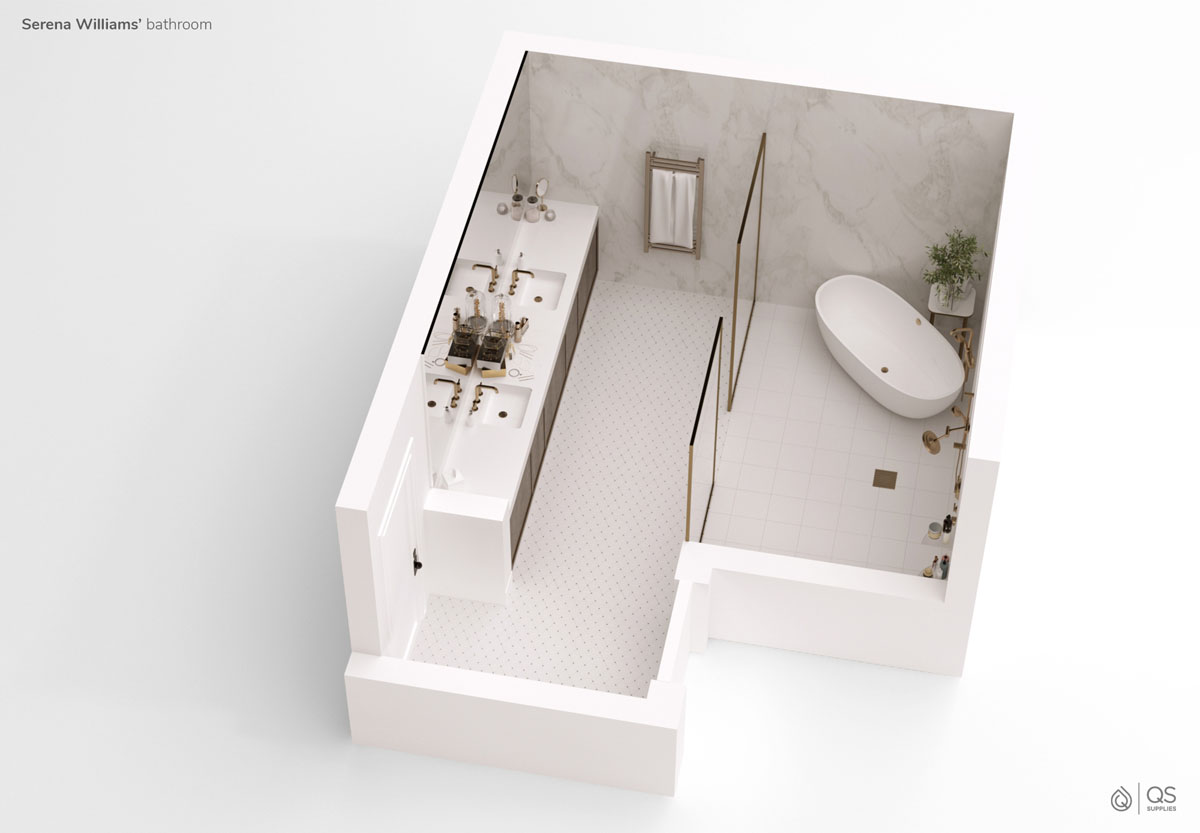 "You have to know your lane," says tennis GOAT Serena Williams. "I'm really good at playing tennis; I'm not as good at interiors. But I was able to learn through just watching Venus." The star called her tennis-whizz-turned-interior-design guru sister to help make her 14,500-square-foot Spanish Mediterranean–style house feel like a home.
Take a virtual walk around Serena Williams' bathroom.
In the bathroom, that means a minimalist marble masterpiece with sprigs of greenery and outdoor views lending a Japanese feel. And Victoria + Albert bathtub sitting in the walk-in shower, separated from a sink area that features gold Brizo fittings and a New Ravenna mosaic tile floor.
---
2. Jennifer Aniston (Bel Air, California)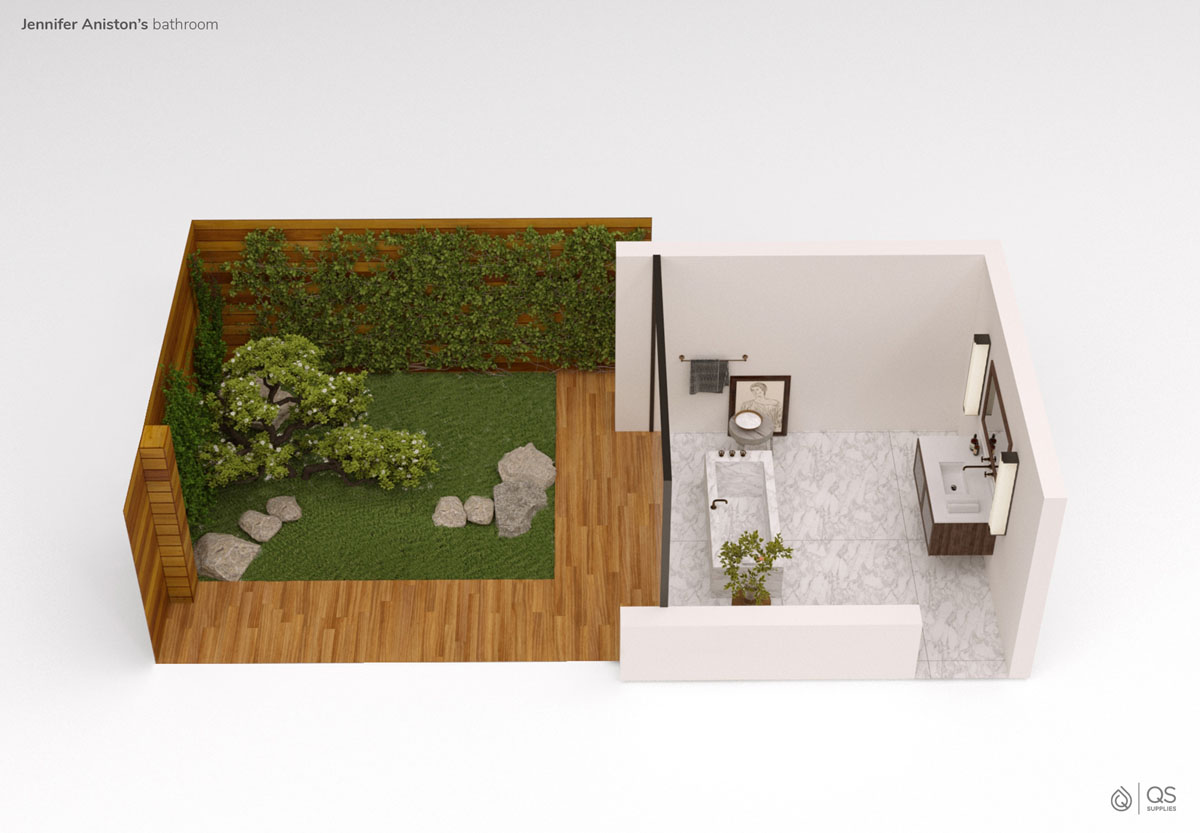 She had to share Monica's bathroom for 10 years, but now Rachel – uh, Jennifer Aniston – is the higher earner of the pair. Aniston designed the interior of her mansion herself. But, despite rumours that she and Brad Pitt split over the latter's choice of toilet seat, the actress included her then-husband Justin Theroux in the decision-making process.
Take a virtual walk around Jennifer Aniston's bathroom.
Aniston's $21m home was built by architect A. Quincy Jones in 1965 and has between 6 and 11 bathrooms, depending on who you believe. Maybe they're still counting them? The master bathroom features a custom Calacatta marble tub looking out over a 'zen' walled garden. "Jen is drawn to wood, stone, and bronze, materials that have real substance and depth," reports her interiors advisor, Stephen Shadley. "No matter how beautiful or glamorous something is, it has to be warm and inviting."
---
3. Prince Harry & Meghan Markle (Montecito, California)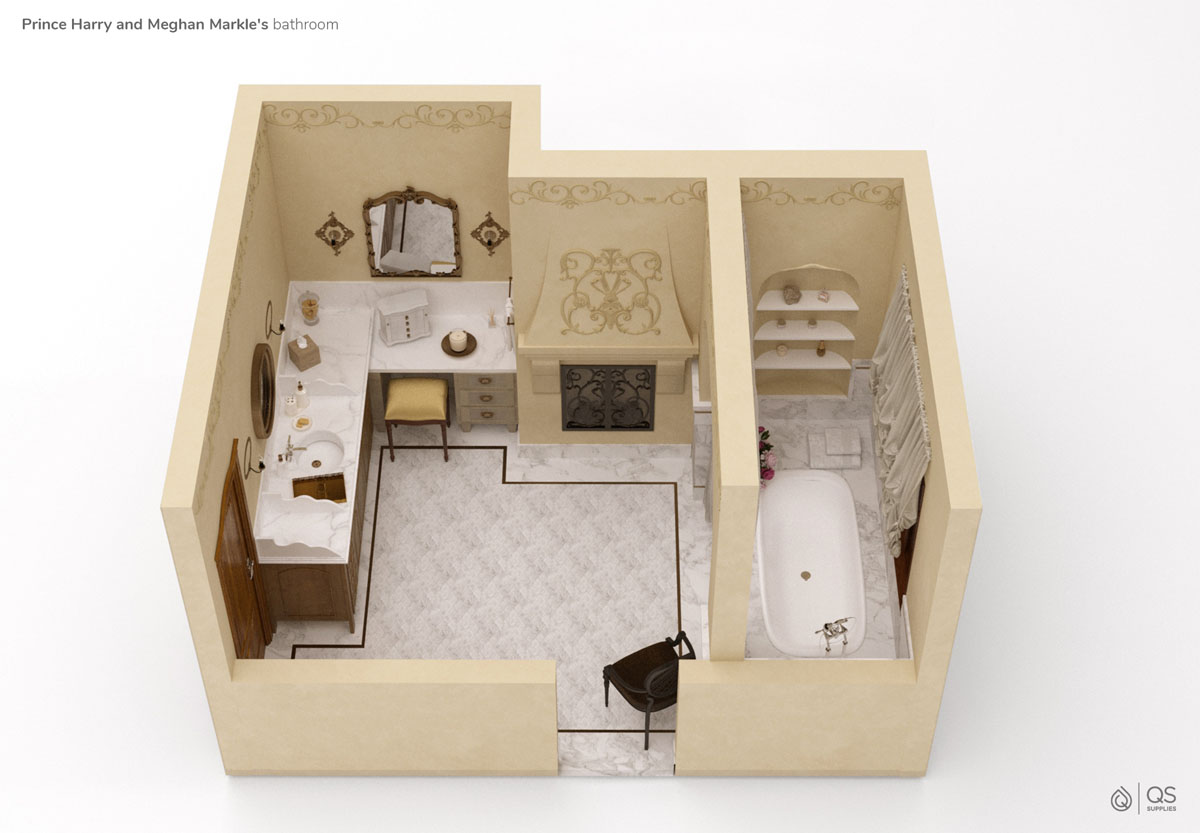 The bathroom is a place to think, and few royal couples have had as much soul-searching to do lately as Harry and Meghan. Indeed, maybe it was the reported lack of toilet facilities at their 2018 wedding that started them on their path of unpredictable decision-making. There may be as many as 18 bathrooms across their $18m Montecito property, giving ample opportunity to make up for lost time.
Take a virtual walk around Prince Harry and Meghan Markle's bathroom.
The Sussexes' master bathroom features a built-in bath under the window, complete with vanity curtains in case somebody else needs a wee while the other 17 bathrooms are engaged. An L-shaped counter creates a homely sense, completed by a roaring fireplace to warm the whole room up.
---
4. Drake (Toronto, Ontario)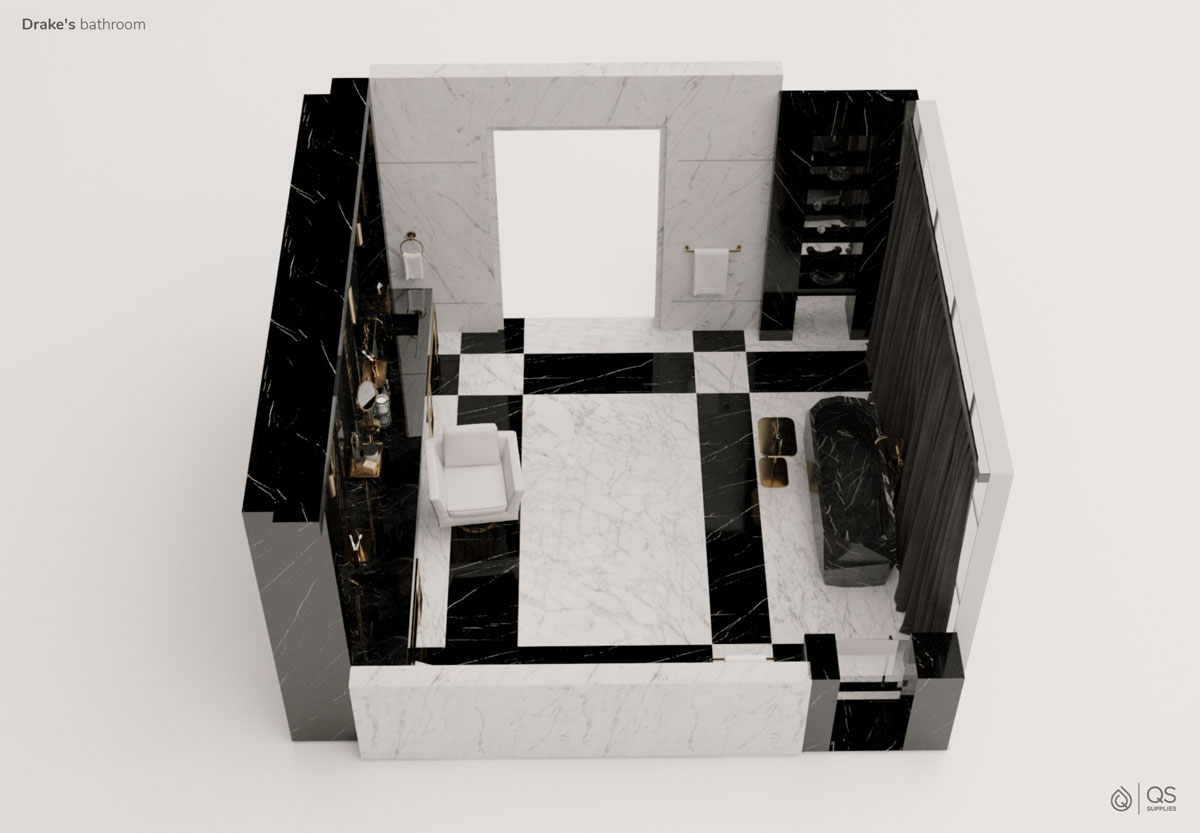 "Because I was building it in my hometown, I wanted the structure to stand firm for 100 years," says Drake of his 50,000 square feet Toronto home. Well, 100 years isn't that long for a building to last (especially a palace), but details like a 4,000-pound bathtub carved from a single block of black Nero Marquina marble definitely add a sense of durability.
Take a virtual walk around Drake's bathroom.
The master bathroom also features a custom chandelier by Lumifer, sconce light fixtures by Brabbu, and a chair by 'ultra-luxury home and lifestyle creator' Ferris Rafauli. There's also a sort of robot toilet that opens by itself and plays music and lights while Drake performs.
---
5. Kendall Jenner (Los Angeles, California)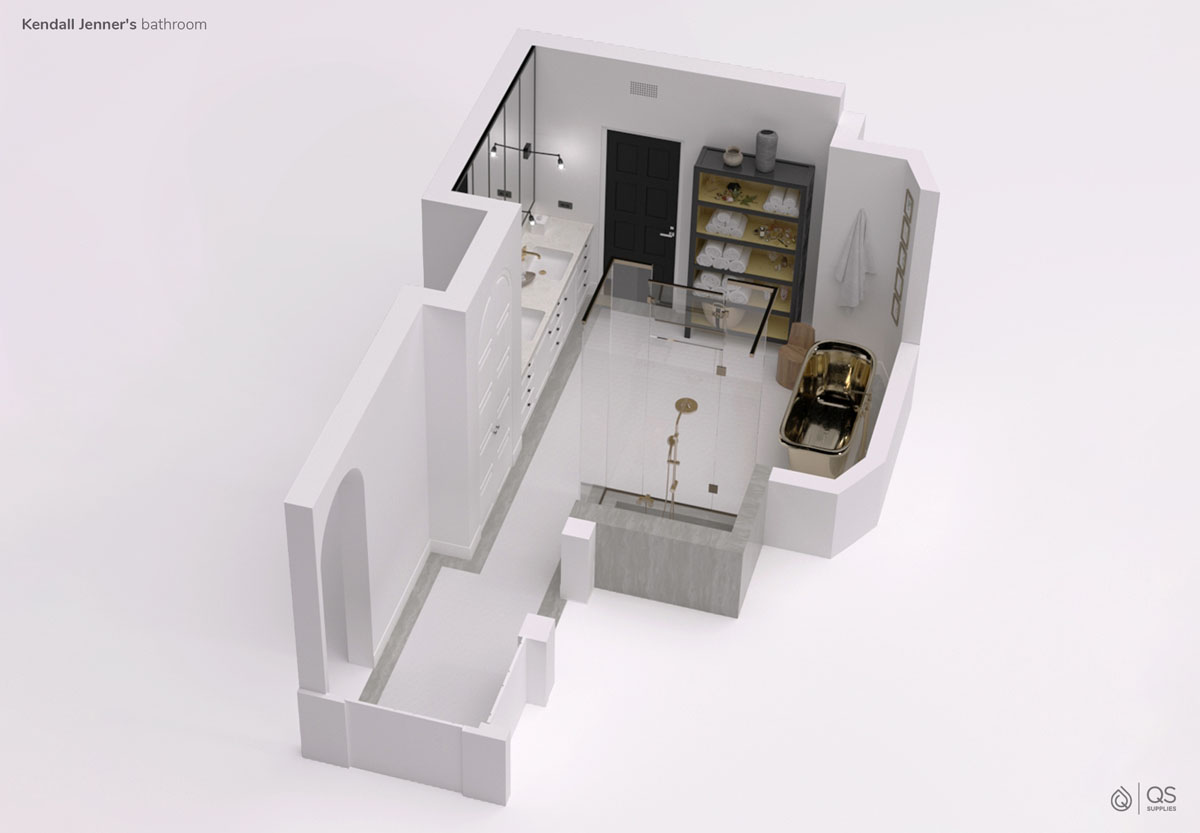 Kendall Jenner bought her $8.55million (£6.5million) Beverly Hills home from Charlie Sheen, so you can't blame her for wanting to clean up the bathroom. More so when you consider the expectations of visitors like her sister Kim, who is not averse to taking a selfie in Kendall's mirror. (That family just loves an OTT bathroom selfie.)
Take a virtual walk around Kendal Jenner's bathroom.
The brass Catchpole & Rye tub sits under a broad window sheltered by trees, stepping out onto an antique Ghiordes rug. Right next to the tub is an antique bookshelf used to display sundry ornamental basins and toiletries. In real life, the bookshelf towers over a wood stump chair from Waldo's Design.
---
6. Gigi Hadid & Zayn Malik (New York City, New York)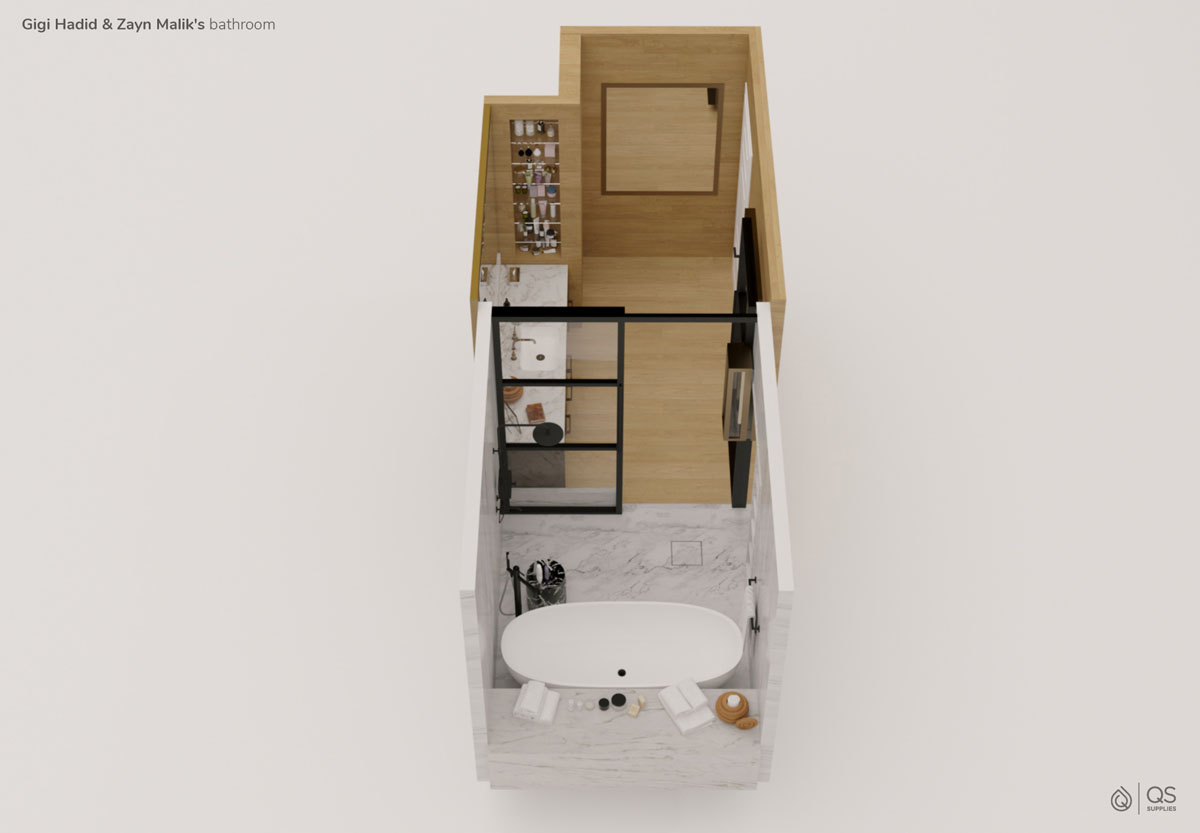 No longer on-off (now just off) famous couple Gigi and Zayn finished refurbishing their New York pad earlier this year, which could mean only one thing: Instagram interiors drop! Largely imagined by Hadid herself, the décor doesn't indicate that her taste is good so much that her taste is lots. Psychedelic bohemian textiles and giant pop art sculptures jostle among marble counters and ivory wooden cabinets.
Take a virtual walk around Gigi Hadid and Zayn Malik's bathroom.
But Gigi and her 'sounding board' mother reigned it in for the master bathroom. Brass taps and mahogany cabinets augment a white marble counter. And black-framed window-doors open into a wet room without a sightline to any toilet. "I just won't shower with the toilet open," explains the celebrity. "I guarantee now you're going to look at the toilet and it's going to make you feel weird if it's open while you shower."
At QS Supplies, we want every bathroom to feel like a celeb bathroom. For all of your bathroom needs, from baths, designer bathroom taps, shower enclosures, and bath mixer taps you'll find exclusive ranges of products from renowned brands. Whatever your style or preference, we have thousands of options to meet every taste and need. You don't have to be rich and famous to create an Instagram-worthy bathroom. Careful choices, quality materials, and a sassy selfie pose will give your pictures the celebrity sparkle you desire.