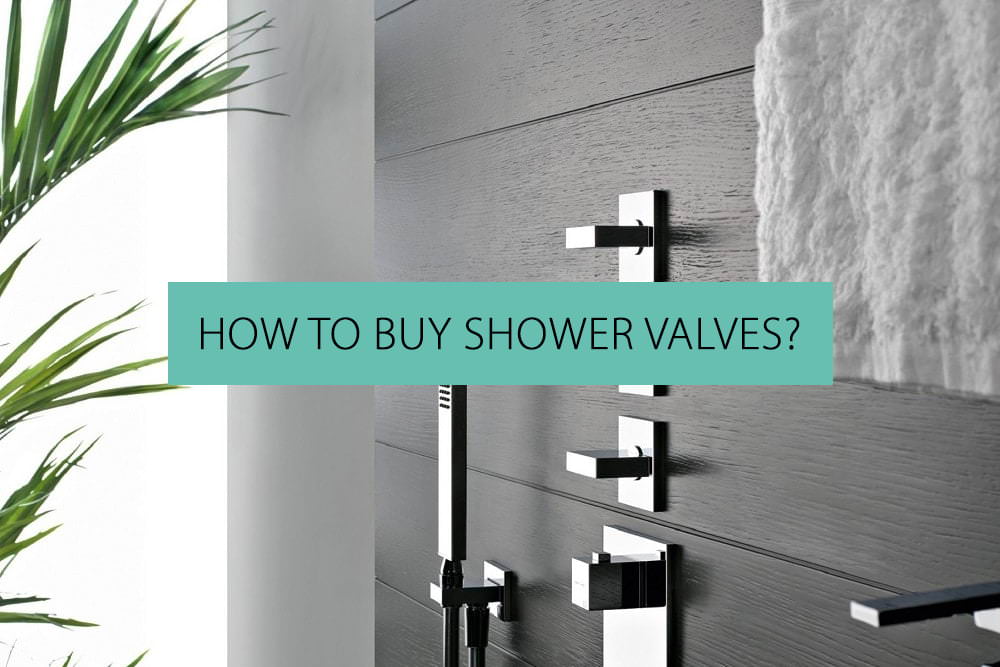 Shower Valves play an important role in the workings of any bathroom. These devices control the temperature and the flow of the water. Shower valves adjust the temperature by mixing hot and cold water together according to your desired settings. When it comes to the flow, the valve can completely cut off the water or adjust the amount of water that comes through (the head, tap or shower) from a trickle to a full stream.
Here we reveal some vital information about the different types of valves on the market and explain how you can choose the best type for your requirements in no time.
---
What are Manual valves?
A manual shower valve is a simple and low-cost valve controlled by hand. Typically, there will be one lever, which can be adjusted to control the flow and temperature of the water quickly.
An example of this type is the Jado Geometry A6 Concealed Mixer Valve with Upward Outlet. This chrome-finished product is beautifully designed, and it comes with a trim and all of the complete parts that are required for quick installation. It is also suitable for high-pressure installations, and it comes with a 5-year warranty.
Another type of manual valve is the Crosswater Tempo with Diverter. Made from chrome-plated brass, this aesthetically pleasing valve is mounted onto an oval-shaped back plate. It can be installed in a bath with a shower area, as it has two separate outlets and a diverter. The ceramic discs ensure no drips, while the simple lever operation makes it easy to control the water flow and adjust the temperature.
---
What are Mixer Valves?
Next up from manual valves are the old traditional style of mixer valves. These valves mix the flow of hot and cold water into a single stream that flows from the spigot. Though they are largely being replaced by the other more modern valves, old-style mixer valves are still in fairly common use.
---
What are Exposed and Concealed Valves?
A concealed version refers to a valve that has its controls visible on the outside of the bathroom wall, but the connecting pipes and outlets are all installed and hidden behind the wall. An exposed version is when the valves, outlets and pipes are externally connected to the bathroom wall.
A popular concealed model is the Flova Cascade Concealed-Valve with Two-Way Diverter. This product enables a perfect flow of water during showering, plus it is compact and can be easily installed into the shower area. It comes with a smart box, rectangular portrait backplate, and sedal cartridge and is made from high-quality brass. A bonus is that this product has an amazing 10-year warranty from the manufacturer. The concealed wall installation means that pipes will be kept hidden, which provides a more pleasing valve while still making it easily accessible from the front.
---
What Are Thermostatic Valves?
These valves include a built-in safety feature which automatically adjusts the water temperature if the water becomes too hot and could potentially scald the user. The same applies to freezing water.
There are both digital and manual thermostatic options available on the market. The first type of thermostatic version lets you control the handles by touch, while a digital device allows you automatically preset your desired water temperature from a remote device, which can be used outside the showering area. This enables you to have the perfect water temperature before you even step foot into the bathroom.
---
Should You Choose a Thermostatic or Manual Valve?
If you are looking for something affordable and easy to use, you may want to choose a manual valve. These are simple and efficient. A single lever handle is used to operate both the temperature and water flow. These are useful in situations where thermostatic functionality is not necessary, as they provide limited control over temperature.
However, if you have children or a huge family, you should invest in a thermostatic valve. Something as simple as another person flushing the toilet can result in a sudden change in water temperature, and thermostatic valves give more precise control over such situations and prevent unpleasant outcomes. The thermostatic version can keep a steady temperature within a two-degree range approx., so there will not be a noticeable difference in temperature. Simply put, a thermostatic valve can save you time, water, and energy.
---
What About Water Pressure?
When you are purchasing a new valve, it is important that you check the water pressure specifications to make sure that they fit in with your current or new pump system. All valves will have a minimum and maximum water pressure rating, which is the range of required pressure levels to function efficiently. It's worth noting that the hot and cold water flow pressure must be equal and balanced. If not, you will have to hire a plumber to properly balance them for you so that the one is able to function correctly.
Things to consider include whether you need a manual or thermostatic one or a hidden or concealed version. If you want to install the valve over a bath and shower area, you will need to choose one which also has a diverter. This enables you to switch between water coming out of the showerhead or out of the bath tap. Another thing to double-check is if the valve comes with a warranty - it's always best to choose a warranty-covered valve as this indicates the product is of high quality and the manufacturers are confident the valves will stand the test of time. There are vast selections of styles available on our online store, so you will be sure to find one which complements your bathroom.
Nowadays, special pressure balancing valves are available. These are sometimes referred to as "anti-scald" or "mechanical" valves. This valve is designed to automatically adjust according to shifts in pressure and temperature. It keeps a steady, even flow and prevents scalding or thermo-shock from a sudden change in temperature.
---
What Are Transfer Valves?
Transfer valves are single valves that allow the transfer of multiple different unit outlets while limiting the flow of water to the one in use. This can be useful for a detachable shower head in a bath-shower system. They also often come with anti-scald and temperature control. Transfer valves can be a useful alternative to divrter valves, particularly when leaving the option for adding further attachments for a later date.
---
What Are Diverters?
Diverters are types of valves that divert or route water flow to a particular outlet. Shower Diverters are commonly used in set-ups with combination bath shower mixer taps and direct flow of water to the bathtub spout or the showerhead when required. There are two main types of diverters: diverter valves and plate diverters. These diverters can be installed either as a three-handle shower valve assembly, or separately above the valves controlling water flow. Diverters can be deck mounted or mounted to the wall.
---
Types of Diverters:
3-Valve Diverter: Such a diverter is located in the middle of the two spouts in a 2-tap set-up. One spout controls the hot water flow while the other the cold, and both are used to mix the water to the desired temperature. When you turn the diverter clockwise 180°, the mixed water is routed to the shower head. Turning the diverter counter-clockwise will return the water flow to the tub.
Two-Valve Diverter: In this type, water flows through the tub spout to get the desired water temperature. The diverter, with 2 valves, will direct the water upward to the shower arm, which then flows out through the shower head. This 2-valve diverter may be located in the middle of a mixer tap with a single spout that adjusts water by turning left or right. Alternatively, 2-way diverter valves are also found between taps in a 2-tap setup.
Tee Diverter: The tee diverter is a single-valve diverter in the tub spout. You run the water to the desired, and upon pulling the diverter arm in the tub spout, the water gets directed to the shower head.
Plate Diverters: Plate diverters have a plastic or metal plate that stops the water from flowing out of the tub spout, which is diverted to the showerhead. Plate diverters are used in conjunction with single-handle or two-handle valves, with the diverter being located on the tub spout or the valve body. Sometimes water pressure is used to hold the plate diverter in place, and some use a spring mechanism.
Tub Spout Diverter: When the diverter's location is on the tub spout, it is called a tub spout diverter.
---
Technical Issues
Just like any other device, daily use of diverter valves can lead to wear and tear. They can also experience grime and sediment build-up. This leads to inefficient functioning where water isn't completely diverted and flows through multiple outlets. If you face any such problems, it may be time for a replacement or repair. An expert plumber will be able to give you the correct advice.
At QS Supplies, we have showcased a large number of high-quality diverters for your convenience. These come from market-leading brands such as Bristan, Abode, Crosswater, Vado and more.
---
Abode Euphoria 2-3 Way Diverter Valve - AB2426
Abode introduces this meticulously crafted 2/3 Way Diverter Valve in the Euphoria series. This gorgeous piece is a high-quality offering of metal and ABS that brings long-lasting style and functionality. It has a high-shine chrome polish to blend with the ultra-glam bathroom brassware. Designed for low water pressure, this WRAS-approved valve is easy to fit and clean.
---
Pura Bloque Wall Mounted Concealed 4 Way Diverter Valve - BQ4WDIV
High on efficiency and elegance, the chic and stylish Bloque 4 Way Diverter Valve from Pura is an exclusive model that diverts water flow between 1 inlet and three outlets. A top-quality brass body comes with the promise of durability and long life. Polished with a chrome finish, it works effectively with at least 1.0 bar or high water pressure and comes with a 10-year guarantee. This valve is fully compatible with UK plumbing systems.
---
Tre Mercati Square Deck Mounted 2 Way Diverter
Bring a touch of majestic grandeur to your bathroom by fitting the latest 2-way diverter from Tre Mercati. Its block-like body is cast in durable brass and can be deck mounted. Smart and minimal, its chrome polish is sure to make it attractive along with the other brassware. Made from fine quality material, it is suitable for medium and high water pressure systems. It needs a minimum water pressure of 0.5 bar for efficient working and comes with a ten years guarantee.