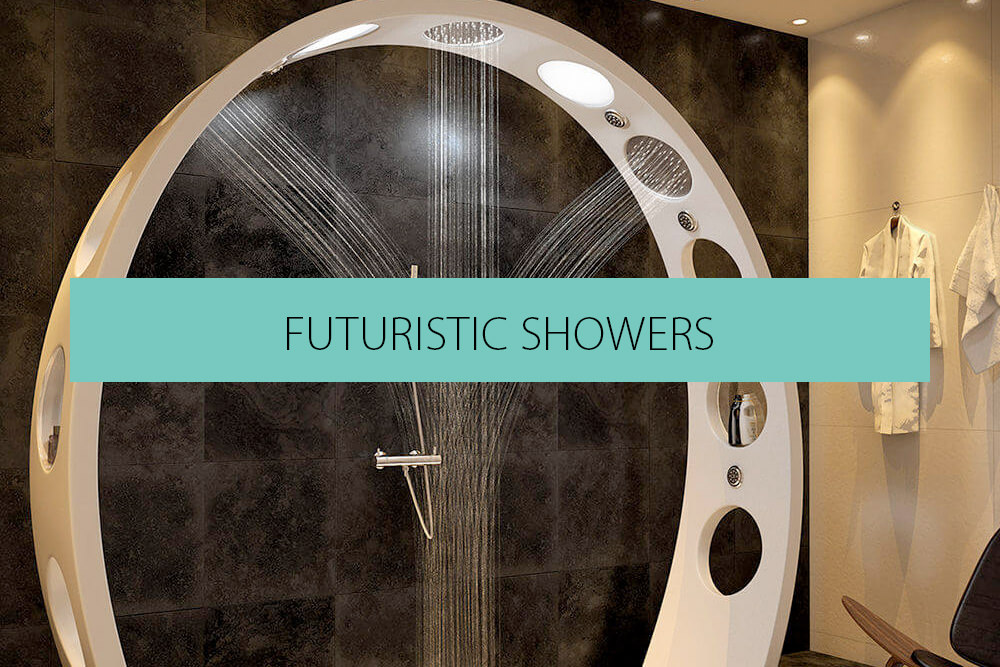 We are on a Bath Trek thanks to innovations that add and are keen to introduce new methods which remind me of the famous quote from Star Trek: "to boldly go where no man has gone before!" On a lighter note both figuratively and literally picture yourself out in the woods, you are on a trek and it has been four days and the course is in some tropical country where you break into a sweat quite easily forcing you to arrive mentally and much needed physical conclusion that a shower or a dip is much needed. You reach a small water body which is not deep enough for a dip but has sufficient volume for you to fill a bucket, but where will you find one, even if you did (just for the sake of argument) carry one, think how inconvenient it would get! What if? A shower appeared and all you had to do was stand beneath it and enjoy the experience.
Well that possibility can be fulfilled only by a well-timed rain shower which thanks to our present day technological advances is made possible with the portable pocket shower!! This is fascinating and if you find the idea ridiculous don't you find carrying a telephone in your pocket equally impossible! The concept is borrowed from the ancient leather water bags known as waterskin, the intention here is to have it folded neatly inside your travelling gear and have it ready the moment you find some water for a decent shower with 10 liters of water spraying at an almost cozy pace.

Survival in Style: Ultimate conservation
Our attention must now move to a designer named David Koo, associated with a furniture design that seems to suspend the natural law of gravity with his magnetic CLOUD sofa . His contribution to the world of showers is a radical concept which may well qualify it as a concept that would be adopted and practiced in the future. The idea: recycled use of your bathroom water for your shower. This idea is reinforced in the form this shower bears, the arc demonstrates shows taste for refined aesthetic and pays homage to the concept of recycling by keeping the water in constant circulation. Interface to this beautiful arrangement is touch activated with a system geared to enforce water and electricity conservation through its energy saving mode.
Extravagant treatment:
Another way to look at entering a shower which is not a strict reserve of a select few is to be imaginative in receiving gentle and caring treatment. What better element could give that to us but water? Dornbracht's horizontal shower is rich in both imagination and treatment where all one has to do is to lie down horizontally to fully experience the jets spraying water in different speeds and temperature addressing different points of your body in varying combinations. Truly a palette one could lie under and surrender to its multiple rhythms of alternating pressure coupled with multiple orders of jet-spray attention to relax your muscles and ultimately your mind.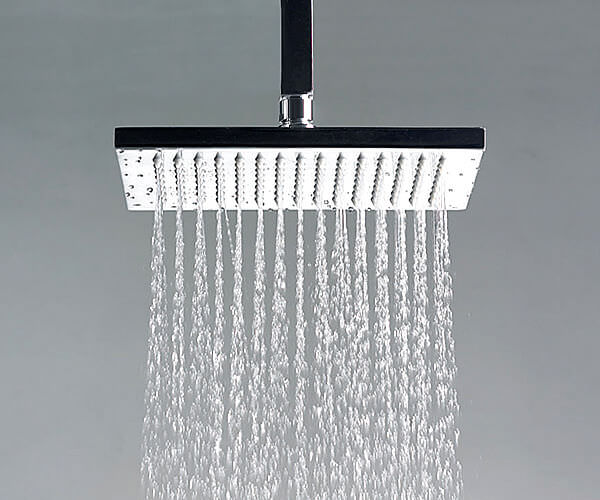 Whirlpool baths are common place but what if you're tired of sitting in them and desire a similar experience while standing, well with a little adjustment of course and slight variation, the result is indeed a very flattering one. Be prepared to receive an uninterrupted flow to put it mildly and barrage to be more accurate of water jets aiming at you from all possible angles with varied pressure and temperature adjustments; the responsibility of drenching you is carried out by an overhead shower—all of these fitted within a circular ceramic enclosure that resembles a loop. Its designed to serve you both indoors and outdoors, armed with sensors to respond to changes you may desire.
Ambience :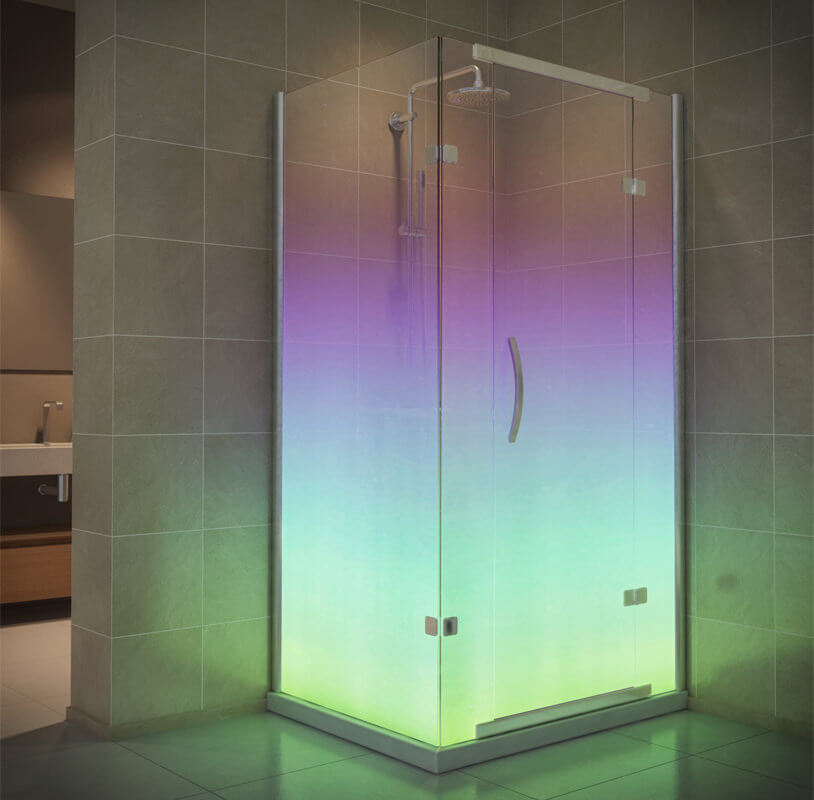 Ambience is a crucial element and has been receiving great attention from the bathroom industry as you would notice with home interiors, we all like to see a change every few years but bathrooms rarely get a make-over let alone movement. As noticed very keenly the use of visual themes such as a Living Wall where miniature plants find themselves simply adding visual beauty and restoring a sense of connection with nature, but you will have to water them and cultivate gardening skills. The use of mosaic pattern, painting a huge flower image on one side of the bathroom wall or the use of curves or other geometric designs as a recurring theme are mood enhancers and are perceived as vehicles of movement, capable of transporting us into another dimension.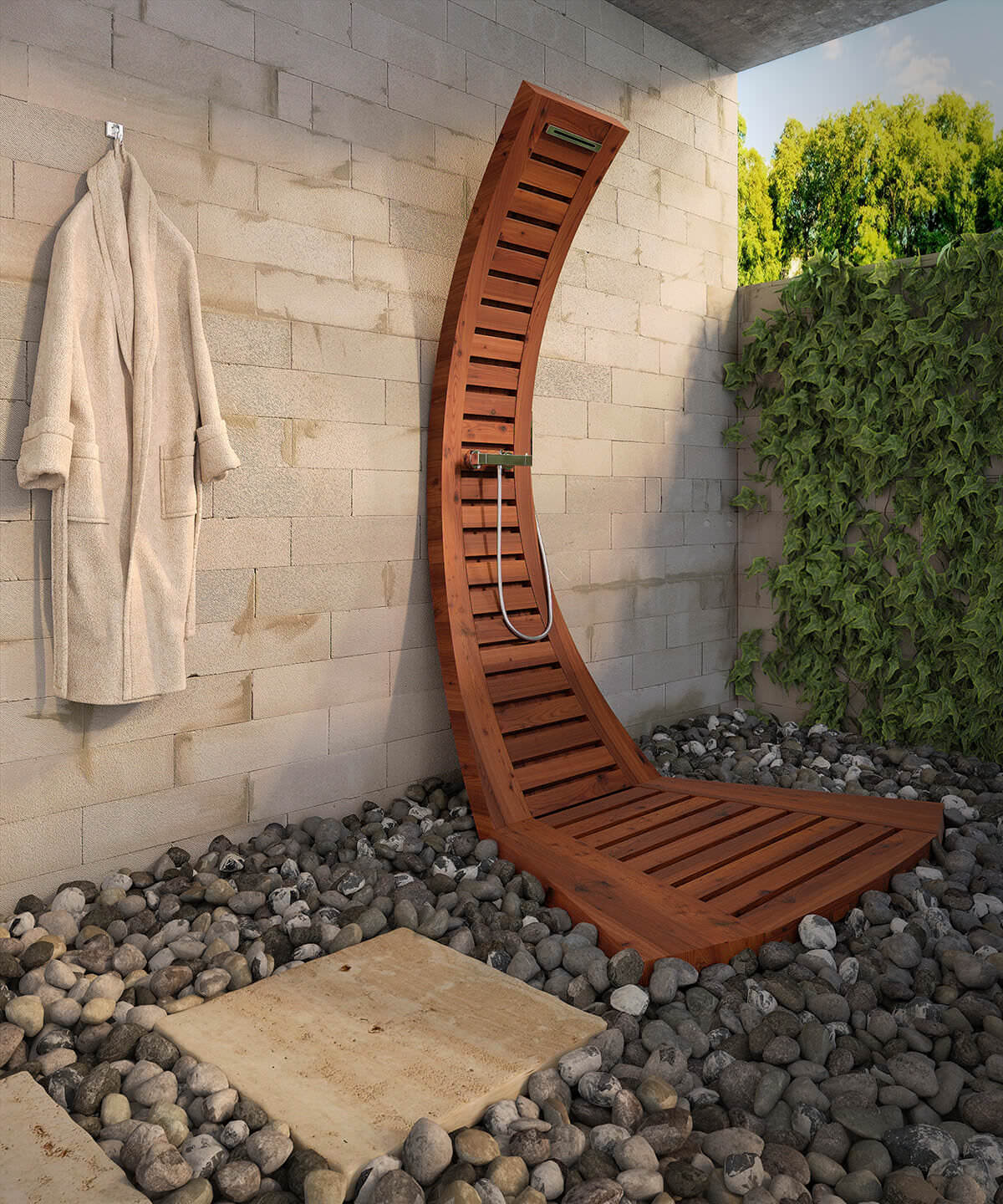 Another wholesome addition to our shower concept is going back to nature with many showers now actually finding their location outdoors. Be it overlooking a valley, a view of the bushes with a mountain backdrop, roof opening into a blue sky, use of large windows or sometimes doing away with the walls expect the one which supports the shower to have uninhibited contact with nature. Some designers have decided on bringing aquatic life into bathrooms by adding real aquariums into one of the bathroom walls which does effect calm on us, rather soothes our mind when we watch fishes swim effortlessly.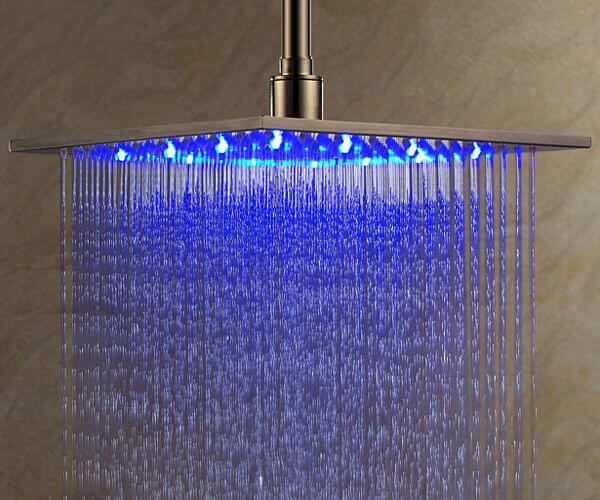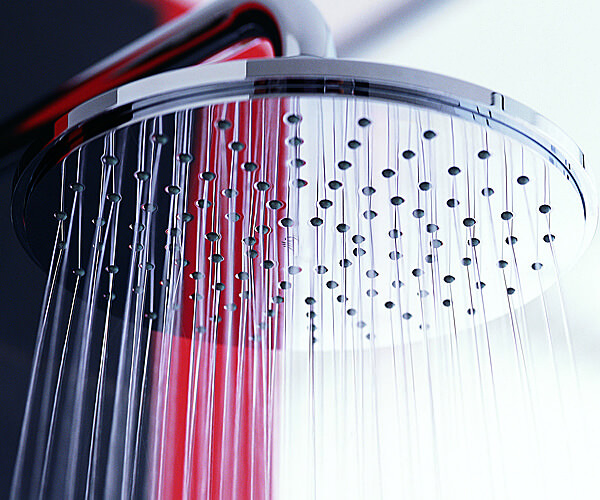 The concept of colour phasing deserves special mention in this section as it qualifies as a mood enhancer, playful distraction, and as an attention attract to ensure safety. The mood enhancing and distraction bit is to do with a psychedelic shower, achieved with the installation of temperature-sensitive tiles in your shower area that change colour as a reaction to changes in temperature; the use of colour phasing for safety measures is found in a gadget called Colour phasing shower lights, quite simply a showerhead with temperature controlled LED lights that alert the user of temperature changes by changing colour where green stands at 32degree centigrade changes to blue , amber, and finally red where the temperature exceeds 45 degrees.
Fighting for space:
This category was an eventuality as the case for it has been so far: we are running out of space all the time as our population continues to escalate at an alarming rate, I don't mean to alarm my readers but just to see the relevance of our next shower—The Folding Shower. It's the base which acts a platform for a person to stand on, folds when not in use, thus economising space usage.
If the folding shower addressed horizontal issues the Adjustable Shower is here to tend to the vertical. A slot for height and water flow adjustments can accommodate people of all heights and is able to provide a shower, addressing either specific body areas or the entire body. Built-in storage shelves for shampoo and soap dispensers are an extra value add.
Out of the ordinary: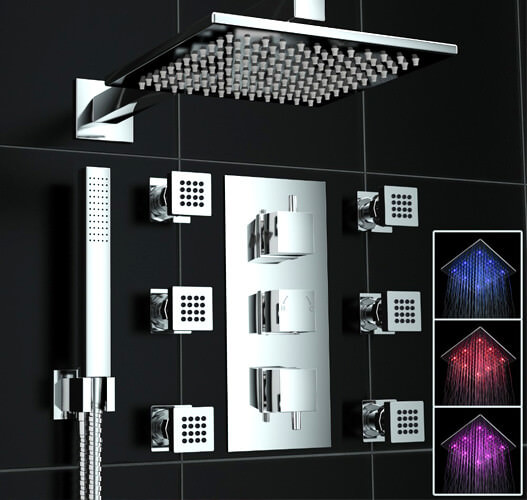 If you want to experience power in your shower like an adrenaline rush then you are bound to choose the 18-head Shower which as you would have guessed by now covers 18 angles with its shower heads! Imagine the force, the gusto and the mix of varied temperature and pressure application. There is no area left unaddressed which would certainly make this the most thorough shower.
We are used to the idea of a shower coming at us from an upward direction but not with the Viteo Garden Shower which has it shooting forth like a spring from under your feet almost like a garden sprinkler. The fountain like spray is activated with your body weight i.e. as soon as you step on its circular platform. It is very compact, light weight, and thus can be carried along to a poolside or any open space such as a garden where you can connect it to a water supply and simply step on it!
It would feel incomplete if I fail to mention the Samo Shower Panel System while we are talking about treatment. This panel has 3 settings which doesn't sound much in present times let alone the future, but each setting is out of the ordinary which makes this panel very special from a future perspective. The settings include: rain shower, mist, and a stream. This leap of imagination may not be novel but the execution is surely praise worthy.
Why the Effort?
A common fixture for the bathing culture to come: Avant Santelubain 999. Either too lazy or a tremendously overworked body will find it difficult to step into the shower and feel it tedious to apply soap and shampoo, above all to remain interested in the act of cleaning. This shower pod can also be helpful for people who find it difficult to bend due to ageing or other reasons. How? Well all you have to do is simply insert yourself inside it like a dvd disc is inserted in a dvd player, plug yourself in and you will be taken care of by an automated program which will shampoo your hair, soap and lather your entire body, scrub, and wash you. Steaming is also available as an option, along with aroma therapy and music to soothe your senses. The session if you will can end with application of a sea-weed pack or skin lotion and as you take your exit this intelligent system gets busy with sterilizing itself preparing for your next visit.
Turn it upside down:
Teuco's Rotator is radical both in appearance and application as proposed by its designer Ron Arad who intends this apparatus to be a bath and shower. The proposed idea becomes a reality the moment you turn it on and decide to use it as a shower which results in the whole apparatus gently rotating on its axis as it were sending the lower protruding portion toward the ceiling turning it into a canopy under which a person can stand and have shower. Conversely a bath is always ready as in its original sitting position, just enter and set yourself in comfortably. This concept would need a high ceiling bathroom for the contraption to fit in and effective draining for the bath water to clear out as it has no plug-hole or waste linked to a draining pipe it simply spills as you will have to rotate it!
Future:
What we saw was a handful selection picked to understand a little more about ourselves, mainly about our aspirations as they always change and the future will bring more and sudden changes with better technology but the essence will remain: which is to serve us.

The dominant factor being convenience shall remain our guiding light. Though the present mood in bathroom culture seems to be rooted in geometrical figures such as an arc and experiments with architecture in an attempt to place ourselves either in a different dimension or set ourselves on a journey towards liberation seeking more canvas for self expression, pouncing at every opportunity to discard repetition.
To nurture our existence and keep us balanced between aspirations and satisfaction. The movement has been from necessity to lifestyle to changing situations and sometimes identifying with trends that are popular and effective as a solution to our myriad problems. Whether it's the LED lights that work as indicators and also have an entertaining quality about them or the use of colour, texture, and designs that charge us mentally and imbue us with dynamism, the clock will keep ticking and the seconds will manifest new approaches. These would sometimes lead us to bring invigorating changes by assimilating ourselves with nature while there will be moments driven with the need and inspiration to feel powerful and sophisticated that will bring us full circle to the starting point of looking for a change for therein lays the essence of change.