Kitchen Sinks Buying Guide
By 21 Top Food Bloggers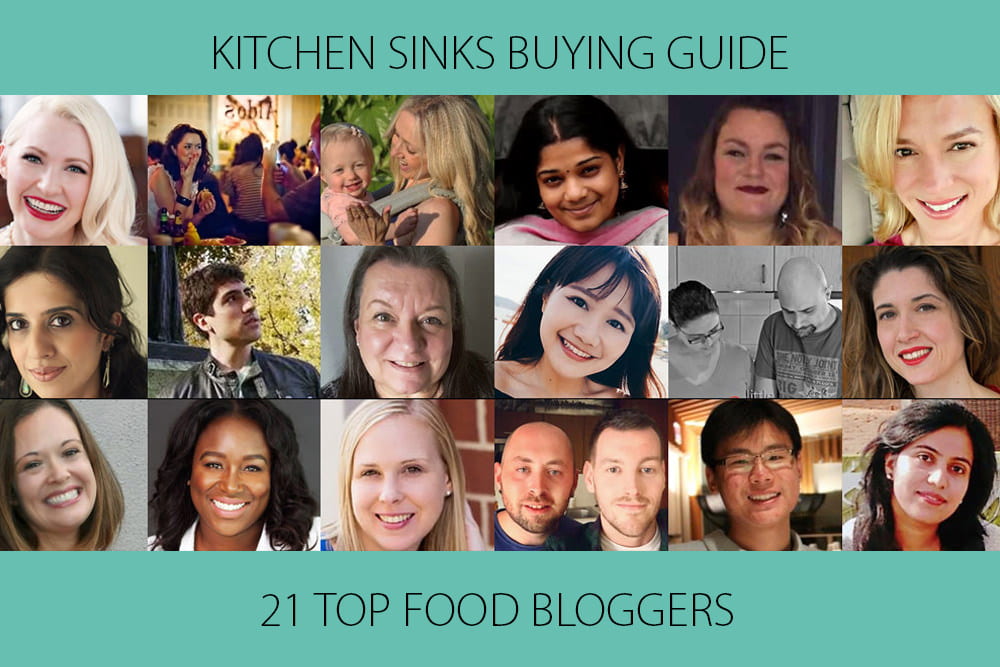 We compiled a list of questions for the best food bloggers from around the globe and asked them to share their feedback on kitchen sinks. We got some interesting responses which will immensely help our readers who are looking at making a purchase in the near future. We also work closely with manufacturers of popular sink brands who will review this feedback and use it for product modifications, thereby enhancing product functionality and user experience.
Highlighted here are their views purely in order of the emails received from the experts!!

What do you look for when purchasing a new Kitchen Sink, and from your extensive experience in cooking what would you advise buyers to consider when purchasing a new kitchen sink?

Despite daily heavy duty use, is it possible to maintain the kitchen sink working efficiently. If yes, then what are the tips users should keep in mind? Do you have a favourite liquid soap or scouring agent that works well?

Is there any functionality you wish you could have in your Kitchen Sink?
---
How to Buy The Right Kitchen Sink
from QS Supplies
Kitchen Sinks are central to any kitchen and buying the right model is one of the most crucial kitchen choices you will make. This decision requires a careful consideration of many factors before making that all-important purchase and should be chosen for their functionality and visual appeal. There are hundreds of styles with beautiful curves, metallic finishes, rich and cool monotones. You can find them in ceramic, fireclay, fragranite, glass, granite, and stainless steel. Stainless steel is the most popular material type. Besides aesthetics, it lends itself to easy cleaning, durability and stain resistance. Based on their placement and installation, sinks may be surface mount or under-mount. A surface mount Kitchen sink has a rim visible on top of the counter while an under-mount model is fitted under the counter.
Undermount Sinks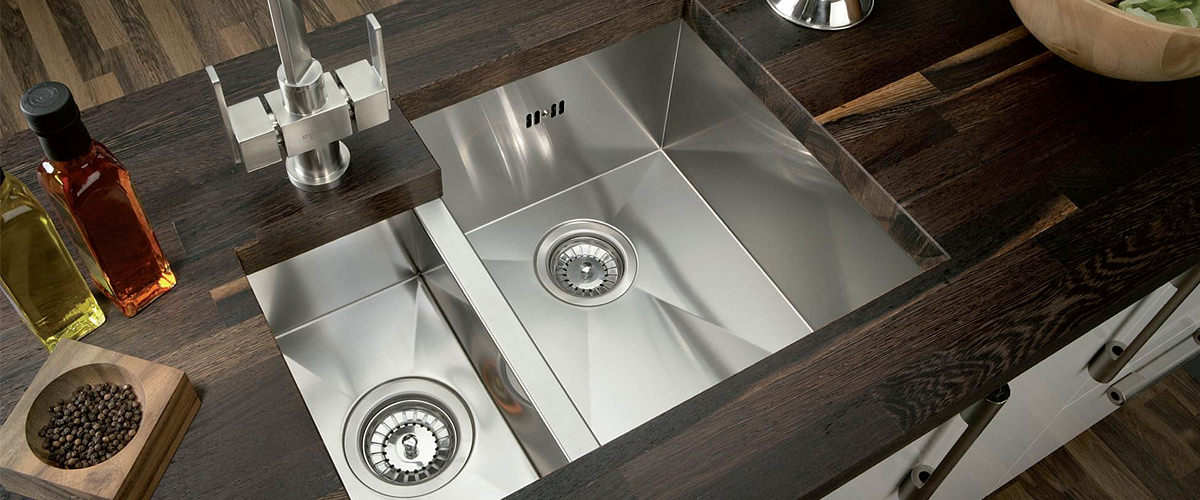 Typically used with kitchen countertop that is made up of solid material such as composite or natural stone. Unlike top mount models, these offer a neat finish without any crevices where dirt and grease can potentially accumulate, so offer better hygiene and less work of cleaning up.
Top Mount/Surface Mount Sinks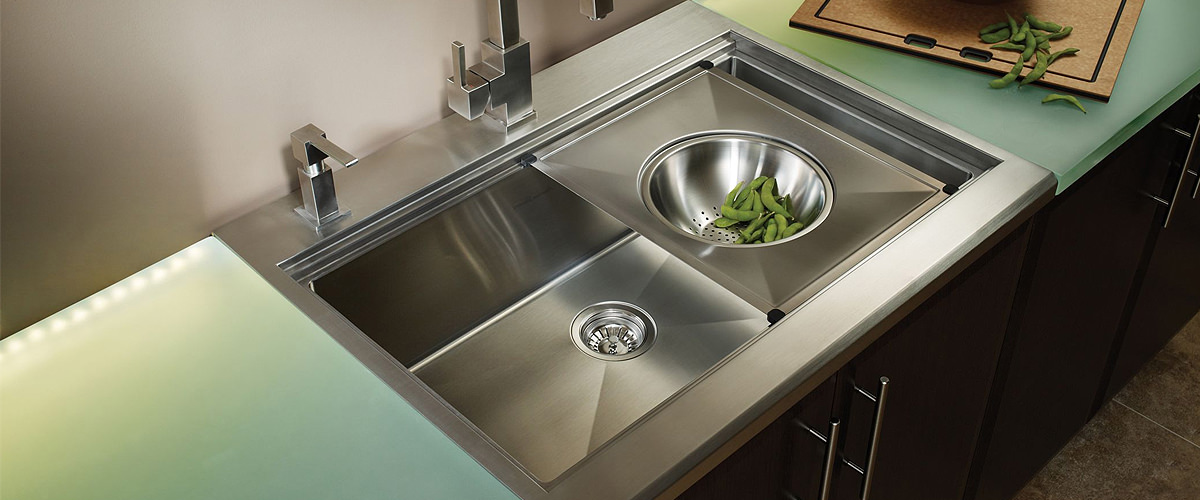 This kind of sink can be simply placed into a cut-out made into the countertop. Top mount sinks are cheaper and easy to install. These come with a rim which holds the sink in place without any need for internal support. However, these sinks do not have the sleek finish of the under mount variety.
Kitchen sinks also come with different bowl configurations, like single and multi-bowl.
Single Bowl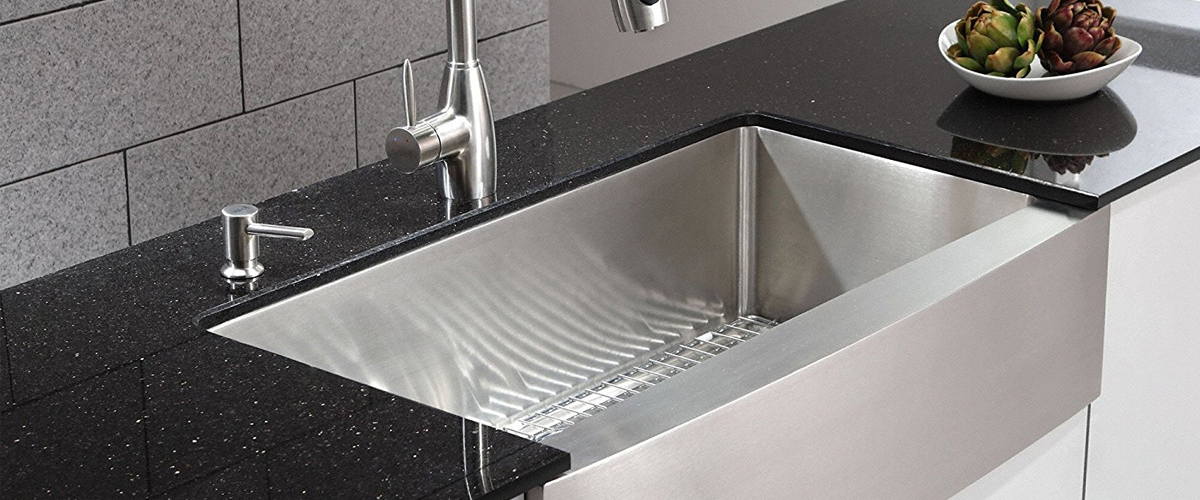 A single bowl comes with just one large basin or bowl. The bowls are either large or small so as to fit into all kind of spaces. Such sinks are most preferred as these facilitate easy cleaning as well as washing larger pots and pans. It is also easy to prep and manage large quantities of cooking and washing.
Double Bowl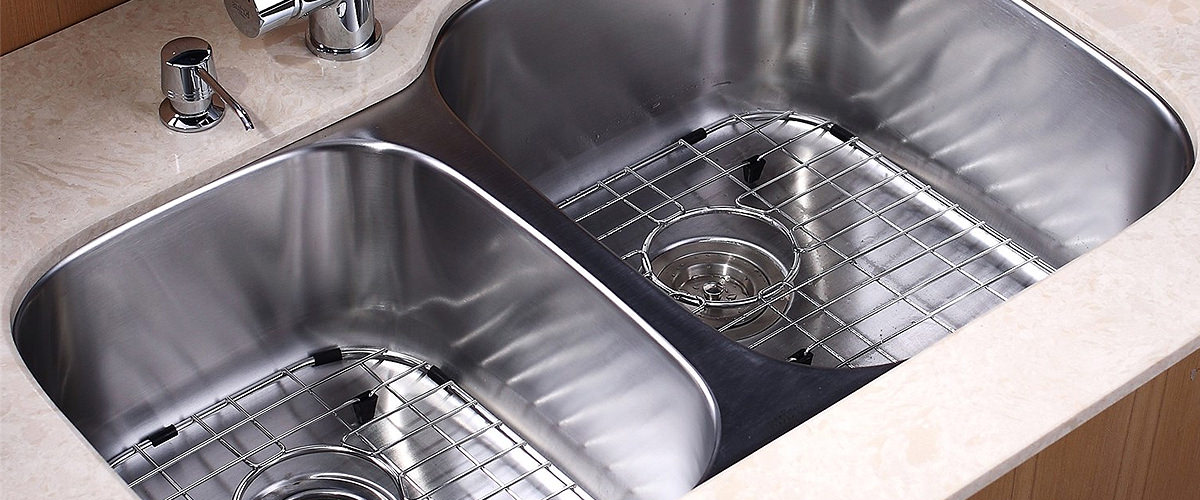 This kind of configuration is seen in most modern kitchen sinks offering versatility and flexibility. In this kind, both bowls may measure the same or have different sizes, one small and the other large. The advantage of this kind of sink is that you can simultaneously perform two tasks in the sink, saving time and effort. However, if you have large dishes, you must ensure that both bowls are big enough for comfortable use.
Sink Accessories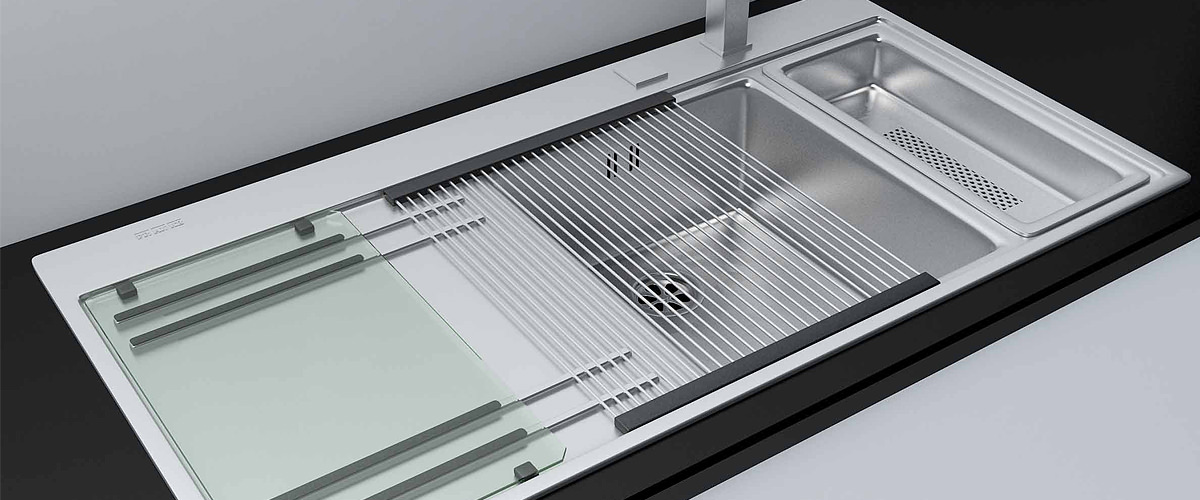 Kitchen sinks come with optional accessories that improve its efficiency. These include faucets, chopping boards, drainers and garbage disposal units. So, whether you're designing your dream kitchen from scratch or making updates through a remodel, you can discover the possibilities that the perfect kitchen sink offers!