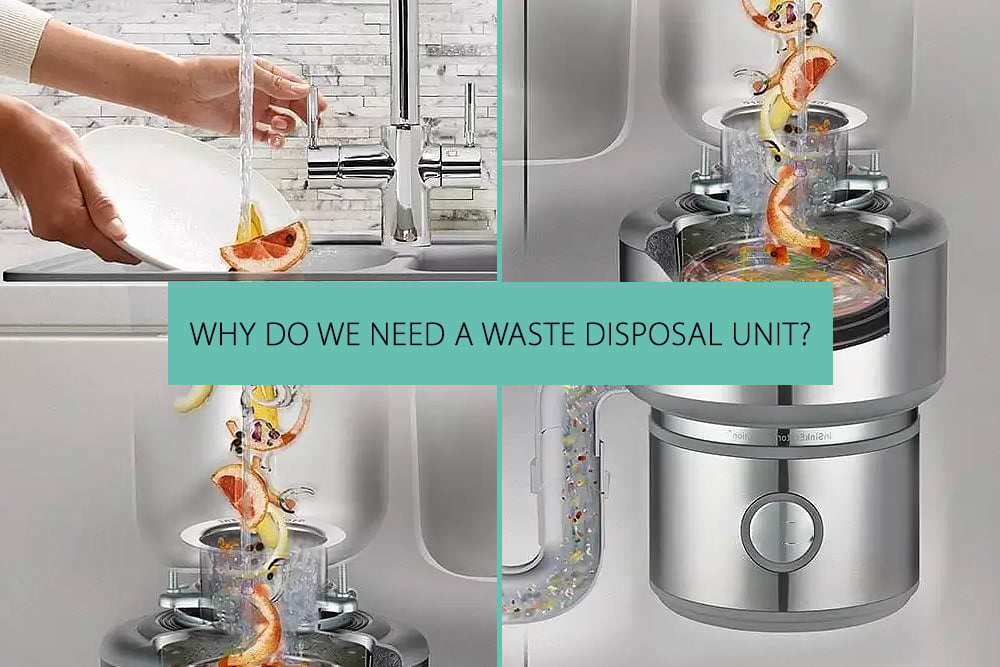 These units are essential for reducing the organic garbage generated in the kitchen by disposal through the kitchen drain. Therefore, there's less work involved in physically cleaning up the kitchen of food waste generated multiple times a day. These units also work to keep the kitchen free of odours from rotting food. For those who don't enjoy composting, opting for such a unit can become your contribution towards the environment.
---
Types of Garbage Disposal Units
These units work with two types of operation, continuous feed and batch feed. Continuous feed models are the most common type and work by feeding organic waste to the unit after first starting the unit. Batch feed units are first filled with waste and then are electronically started. The units incorporate specialised magnets for shredding food waste and have a quiet and efficient operation, besides being safer due to the covered design.
Sometimes, foreign objects may fall into the unit, causing damage, or the waste may block the drain. Some advanced models come with an automatic jam-clearing feature that works using the centrifugal principle to clear out minor jams.
---
Continuous Feed
Once the power is switched on, this unit will start and continue to operate till the switch is turned off.
Advantages
This is the better choice when the kitchen produces a large amount of food waste. You don't have to work with batches as in the Batch feed models.
When you have a keep-clean mindset, you can put the unit on while you are preparing food without waiting for the unit to fill up with waste.
Continuous feed units are cheaper as compared to the Batch feed ones.
Disadvantages:
Sometimes accidents can happen that can put your safety at risk. Your fingers may get into the unit by accident, or another object may slip inside, damaging the unit.
These require cold water to operate, and therefore, your water bills may see a rise.
---
Batch Feed Units
The unit utilises waste in batches for grinding and disposing-off once the chamber of the unit is full.
Advantages
These units work well when the amount of waste to be disposed of is significantly low.
As this unit has a stopper or cover, there is no threat to safety and no possibility of any foreign bodies falling into it and damaging the unit.
These are safer as they work by filling the waste into a chamber and covering it before starting the operation. Jams are also unlikely.
Disadvantages
For households with larger amounts of waste, the Batch Feed type will not be suitable as it will require more time to dispose of the same amount of waste than the Continuous Feed type.
As you wait for the disposer chamber to fill, accumulated waste can easily start rotting and prove to be an unhealthy and unhygienic practice. These could also attract germs, bacteria, ants and flies.
So, do consider the all-important factors of cost, hygiene and safety before you proceed to make a purchase.
---
Types Of Motors
Garbage disposal units require a powerful and reliable motor to break down waste materials. Two major types of electric motors are commonly used for the job:
Induction Motors
This high-speed electric motor operates using a process called electromagnetic induction to rotate the grinders and break down waste.
Advantages
Long and reliable motor life with low maintenance.
Multiple-stage grinding ensures that waste is thoroughly broken down.
Being a common motor, parts are cheap and easy to find.
Disadvantages
Generally operates at a single speed that is slower than permanent magnet motors.
Larger and heavier than permanent magnet motors.
---
Permanent Magnet Motors
Permanent magnet motors are a more modern type of motor, and employ magnets that are permanently magnetised, and alternating current, to power the rotor.
Advantages
Generally faster and more powerful than induction motors.
Has variable speeds for different types of waste.
Light in weight, making it easier and more convenient to install.
Disadvantages
Generally more expensive than an induction motor.
Higher and more costlier maintenance.
---
Noise Level
In the past, homeowners generally had no choice but to become accustomed to noisy units. These days, however, improved features allow a far greater reduction in noise level. Features to look out for include noise-reducing sink baffles, anti-vibration mounts, and anti-vibration tailpipes.