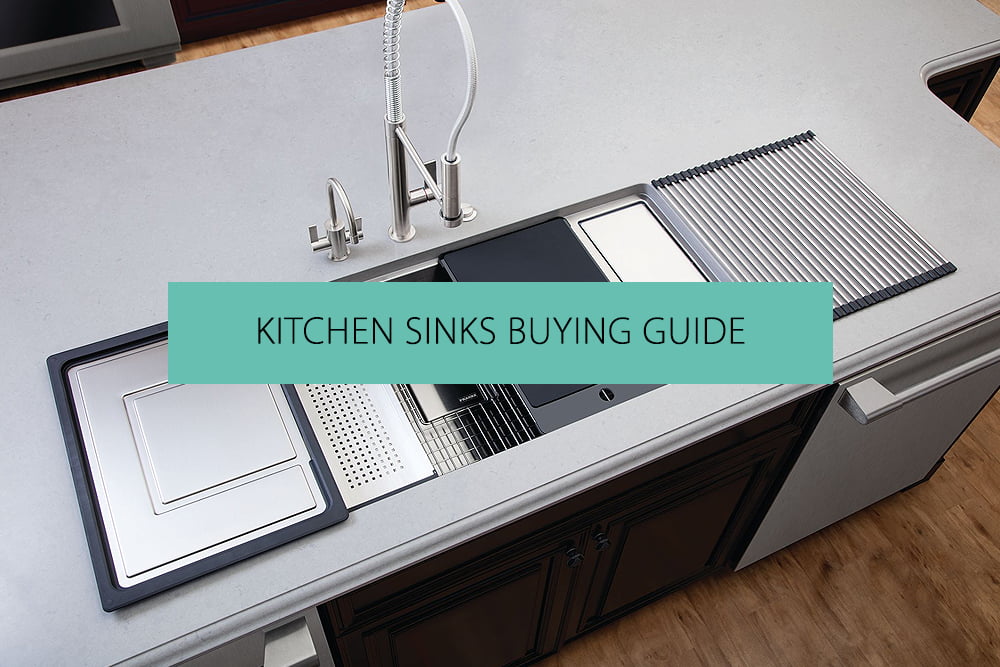 Kitchen sinks as we now know, did not evolve until the early twentieth century. Before this period, a sink would have been defined as a washstand complete with a pitcher of water and a deep bowl. Once the clean water became dirty, it was simply discarded or even thrown out of the window. Some historians believe that this could have had an influence on the word "loo"; homeowners would have warned "watch out below" when dumping their water.
Modern plumbing and materials have now enabled us to enjoy kitchen sinks and the numerous amenities that they have to offer. As may be guessed, choosing the best model will depend on such variables and the amount of people it will service, its dimensions, the location in question and how to best match any existing decor. Let us look at the buying guide and get a better idea.
Kitchen Sinks are central to any kitchen and buying the right model is one of the most crucial kitchen choices you will make. This decision requires a careful consideration of many factors before making that all-important purchase and a sink should be chosen for their functionality and visual appeal. There are hundreds of styles with beautiful curves, metallic finishes, rich and cool monotones.
Single bowl, double bowl, top mount, under mount, porcelain, stainless steel, and ceramic kitchen sinks are more than just "holes" in the counter-top meant for washing dishes. Choosing the wrong style or the selecting the wrong material may make your kitchen less functional. Kitchen sinks is an important accessory and is the focal point of style and functionality in your kitchen area. These come in different types depending on installation position and material used in construction.
You can find them in ceramic, fireclay, fragranite, glass, granite, and stainless steel. Stainless steel is the most popular material type. Besides aesthetics, it lends itself to easy cleaning, durability and stain resistance. If you are replacing an existing model, then it may be easier to buy one that matches the mounting style of your existing one. A sink can be installed as a top mount, under mount, or apron. If you opt for a different style of mount, it may be necessary to alter the worktop, and it may be also necessary to ensure stability and strength. A surface mount Kitchen sink has a rim visible on top of the counter while an under-mount model is fitted under the counter. We have described each of the types below.
Undermount Sinks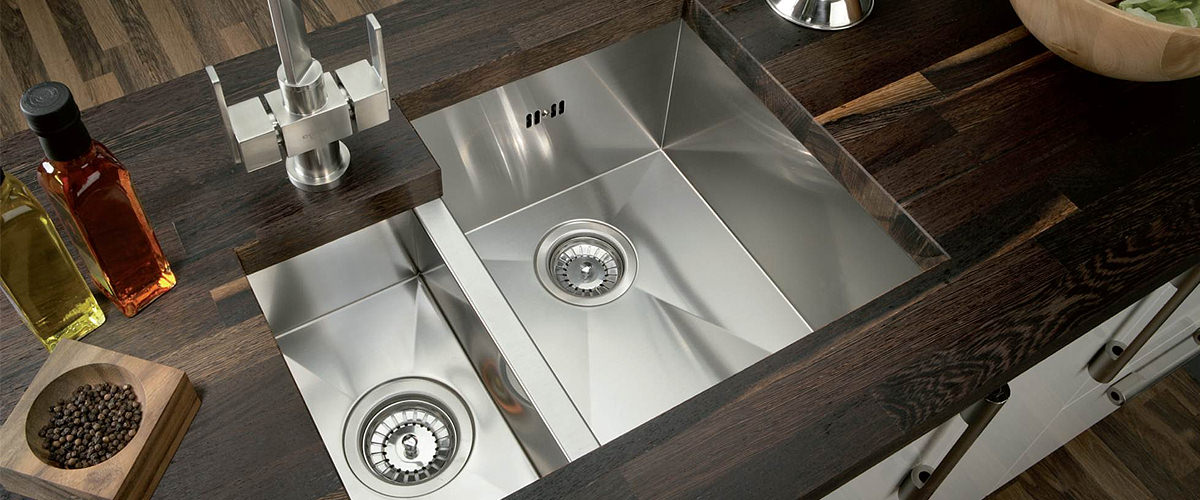 Typically used with kitchen countertop it is made up of solid material such as composite or natural stone. Unlike top mount models, these offer a neat finish without any crevices where dirt and grease can potentially accumulate, so offer better hygiene and less work of cleaning up.
Top Mount/Surface Mount Sinks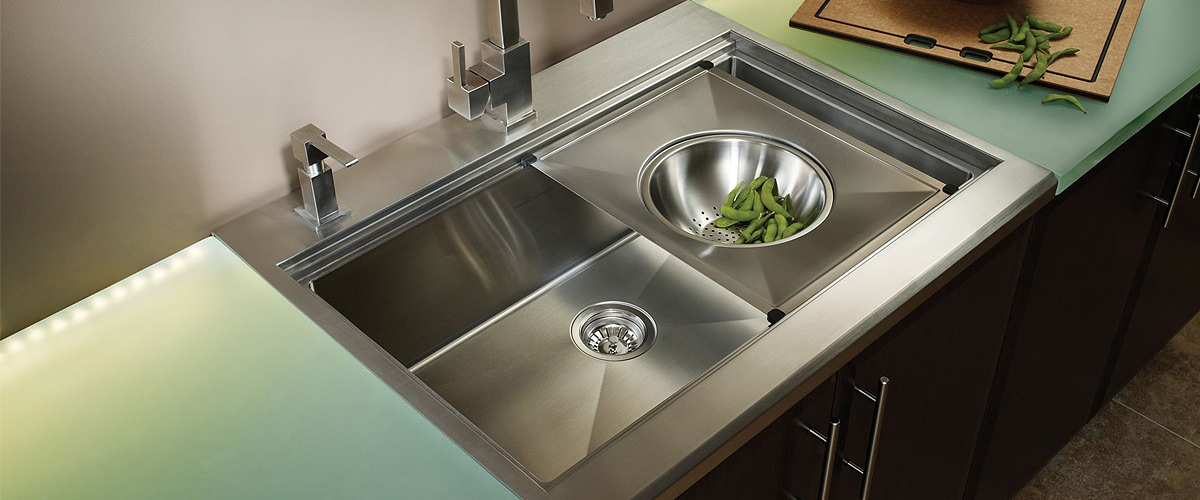 This kind of sink can be simply placed into a cut-out made into the countertop. Top mount sinks are cheaper and easy to install. These come with a rim which holds the sink in place without any need for internal support. However, these sinks do not have the sleek finish of the under mount variety.
Fitting depends on the style you select, and your DIY ability. The top-mount is the easiest to fit, and it can be dropped into the pre-cut hole, with the rim sitting on top of the worktop. The under-mounted model, where the rim is fitted underneath the worktop looks great, with solid worktops like granite, stone or marble. Apron front mounted sinks, slides into a section of a worktop, and are particularly appealing if you have chosen an old farmhouse style sink, with modern stainless steel material.
Kitchen sinks also come with different bowl configurations, like single and multi-bowl, we have described all the bowl configuration below:
Single Bowl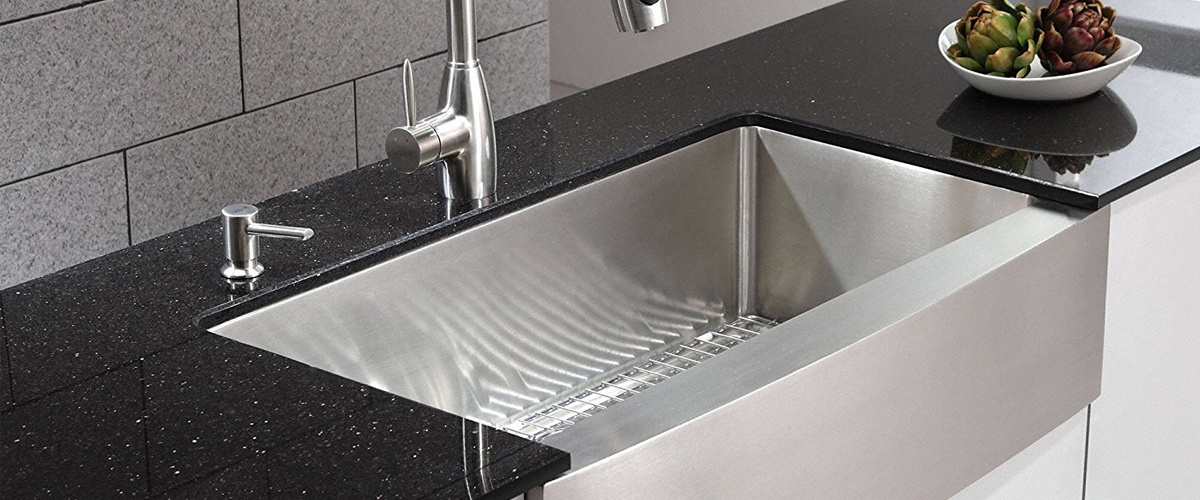 For the average family, with an average sized kitchen, one of the most versatile of all kitchen sink is the single bowl with single drainer. However, not all the sinks are the same. However, one bowl kitchen sink is the most common type and it can be seen in many homes, offices and institutions. One large basin is located in the centre of a washstand and a faucet with hot and cold taps is found directly above. A drain with a stopper (either mechanical or removable) is present and to prevent the water from filling too high while a slit known as a sink overflow is built within the side panel. All plumbing will be connected underneath and behind the unit; allowing for a clean and functional appearance. The bowls are either large or small to fit into all kind of spaces. Such sinks are most preferred as these facilitate easy cleaning as well as washing larger pots and pans. It is also easy to prep and manage large quantities of cooking and washing.
This type of sink can be made of various materials. These can include (but are not necessarily limited to:
Ceramic
Porcelain
Metal
Glass
Modern composites and Fragranite
These models are available in a host of colours to choose. While stainless steel models are the most common within the kitchen, many modern homes can make use of ceramics and porcelain to enjoy a punctuated statement within the room. Obviously, size is a major consideration. It should look as part of your new kitchen, not something that has been thrown in as an afterthought. You need to select one that is adequate for your needs, while not appearing to take over the whole worktop. To Know More about the material, and the size, you can refer to our One Bowl Kitchen Sinks Page.
Double Bowl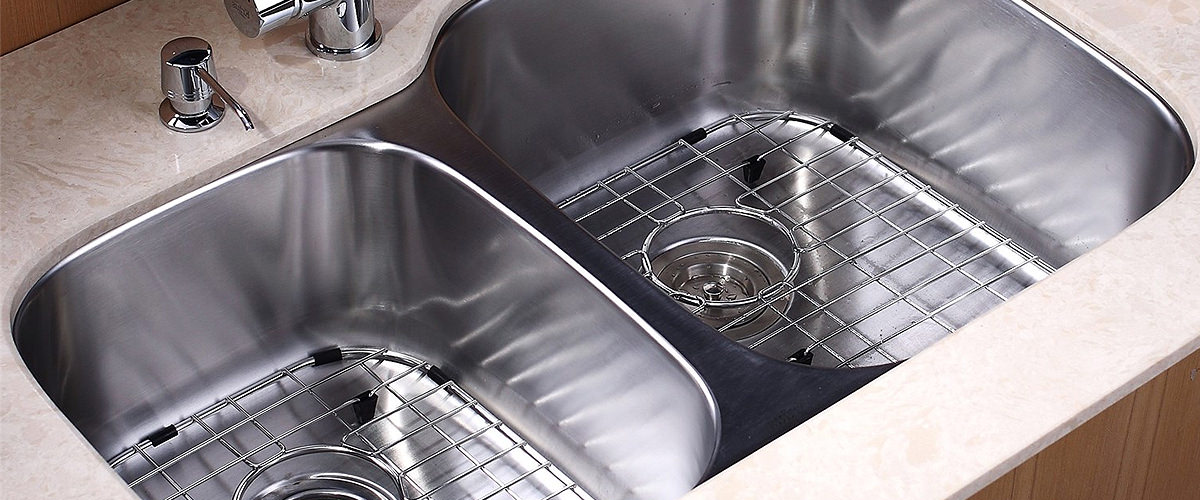 This kind of configuration is seen in most modern kitchen sinks offering versatility and flexibility. In this kind, both bowls may measure the same or have different sizes, one small and the other large. The advantage of two bowl kitchen sink is that you can simultaneously perform two tasks in the sink, saving time and effort. However, if you have large dishes, you must ensure that both bowls are big enough for comfortable use.
Two & Half Bowl Type kitchen sinks is one of the most interesting variants and features a smaller bowl, and it is situvated alongside the two larger ones. This can serve a variety of purposes; one of the most common being a place to wash, peel and clean foodstuffs (fruits and vegetables). In addition, meat or fish can be placed to thaw in this portion. The drain can be blocked, and this "half bowl" can be filled with warm water to help with the process. In addition, some sinks will have a garbage disposal attachment built into the drain of this smaller basin. Therefore, an efficient form of waste removal is available which is perfectly suited when one is preparing meals on a regular basis. There are various configurations to enjoy when selecting this type of sinks.
Depending upon the size of the two-bowl, it should be noted that it can be very challenging to manipulate larger models and will require two workers to safely put into place. In addition, plumbing can be an issue for those who are unfamiliar with pipes, gaskets and connections. Hooking up any sink incorrectly can cause major issues such as leaks and water damage.
Know More About Materials
Material is an important factor when choosing the right model, as it needs to stand up to the rigors of daily use and cooking and cleaning as well as changing temperatures; and it must be chosen with care to ensure the sink meets your household's needs, whether aesthetic or functional.
Ceramic is popular, and its surface may acquire scratch marks or it can be stained on repeated use.
Stone composites are extremely hardwearing but are heavy and expensive.
Stainless steel is the most practical material and the most popular, but very few buyers do not appreciate the utilitarian look of the metal.
All the above popular materials are discussed in brief here :
Stainless Steel
Stainless Steel type of sinks are the most common types. They are made from high-grade, thick steel and provide a polished and clean look kitchen that many people find attractive. Stainless steel is a mix of steel, nickel, and chromium. It is the percentage of nickel and chromium added to the steel, which provides enhanced corrosion resistance, and greater strength. The higher the percentage of these metals, the higher the quality of the stainless steel. In addition, one of the most important things to consider is the thickness. A 16 gauge is thicker than a 22-gauge sink, and a thicker sink should be harder wearing, less prone to dents from cooking pots, and produce little or no vibration when being filled. Stick with low-gauge steel instead of thinner steels that have high gauge numbers (19+). High-gauge steel is tougher, less "tinny" and will outlast inferior steels.
As each unit is fashioned from this stain-blocking alloy, you can expect years of use with low maintenance requirements. This type is also a cost-effective option for those who are on a budget.
Composite
It is manufactured from a combination of a stony material (such as quartz dust) and an epoxy resin. One of the primary advantages associated with these types, is that they can be moulded into nearly any form; enabling you to truly customise the environment. However, keep in mind that the material is somewhat porous. This can lead to stains over time.
Fraganite
Fraganite material are gaining popularity for several reasons. First, this natural material is much less porous when compared to a composite sinks. Another interesting attribute of this substance is that it is highly durable and will stand up to challenging levels of wear and tear. Although stainless steel material is quite popular, ceramic and a special material known as Fragranite material is gaining more popularity with the consumers and manufacturers. Fragranite is a more recent addition to the list of materials that qualify as fit for the kitchen. This substance is actually nothing but granite, that has been subjected to massive amounts of heat and pressure.
During the manufacturing process, individual stones of granite get fused together. There are several advantages of this substance. First, food particles and bacteria are much less likely to become trapped on the surface, as the surface is not porous. This also makes it much easier to clean. Stains will not set permanently and even red wine or beetroot stains will not present a problem. Other benefits include:
Impact resistance
Scratch-proof surfaces (important for knives and forks).
A resistance to a great deal of heat
Colours will not fade during the lifetime of the basin.
Fragranite can be manufactured in numerous styles, shapes and hues. So, many homeowners look at this novel material as an effective alternative to stainless steel or ceramic material. It is therefore suited for busy households; you can select from a kaleidoscope of colours.
Ceramic
It will exude a sense of subtle beauty and tradition. The majority of these models are made from a steel base that contains a durable exterior ceramic coating. While normally offered in white, it is possible to purchase one in nearly any hue imaginable. The major drawback with this type is that the ceramic itself can chip on occasion; particularly if you happen to accidentally drop a cast-iron pot or similarly heavy object.
Butler
Sometimes referred to as a Belfast sink, it is another popular variety to consider. This type is rectangular in shape and it is normally defined by a rounded lip set nearly flush into the surface of a counter, and it tends to be quite deep; typically 250 millimetres. This makes it ideal for more heavy-duty washing and cleaning requirements. As you may imagine, these sinks are offered in an array of dimensions and colours.
Tips
It is vital that you consider the size. Buying one that is too small or too large may, once again, mean altering the design and layout of existing units, and this means that you will have to pay considerably more than the cost of just buying the sink. If you want to upgrade from a single bowl to one and a half bowl or a double bowl design, though, it may be necessary to undertake this change as part of the installation process.
Choosing The Right Design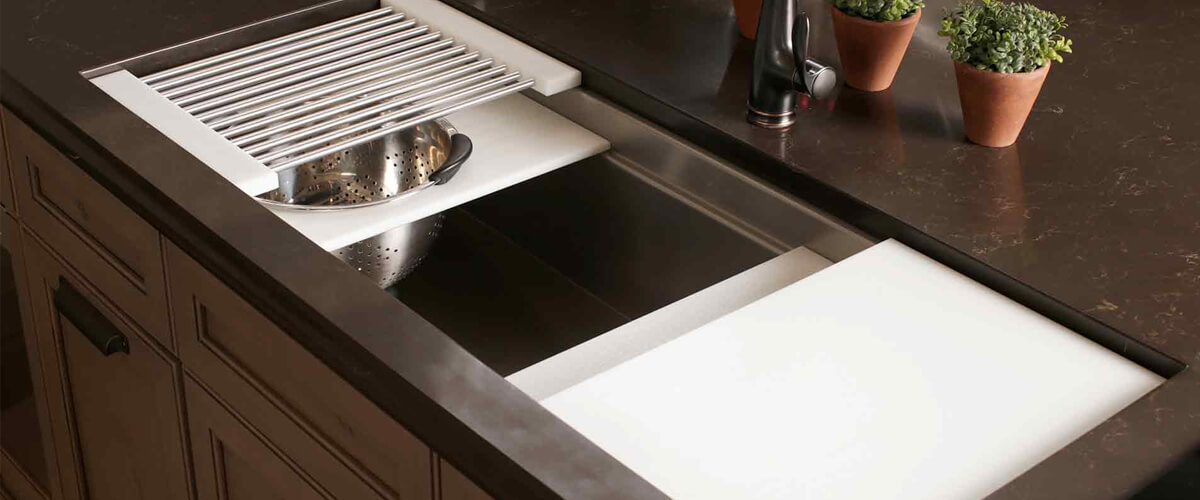 How can you choose the most appropriate style and design for your kitchen? Obviously, price should always be the first consideration and this needs to be weighed against the lifespan of the sink.
Once the price levels have been determined, look at the space that you have to work with. Single and double basins will work well in most homes although a larger counter top can be perfect for a two-and-a-half bowl model. If you choose to employ an overhead hood, is there an existing air duct that can be used? If not, how much work will it take to install one? This is an important practical question, for it can be difficult to tackle such a project (particularly in older homes).
After these rather functional considerations are out of the way, you need to think about style. Are you searching for a minimalist appearance or do you hope to enjoy a traditional appeal? Does the kitchen offer subdued colours or are bright pastels present? Keeping your selection in line with this existing decor is a wise approach. The sink should also match the overall shapes seen within the room. For example, a square basin will fit well in a kitchen that is comprised of similarly square counters and cabinets. On the other hand, rounded surfaces are better suited for an oval or circular basin.
Taps can also reflect numerous styles.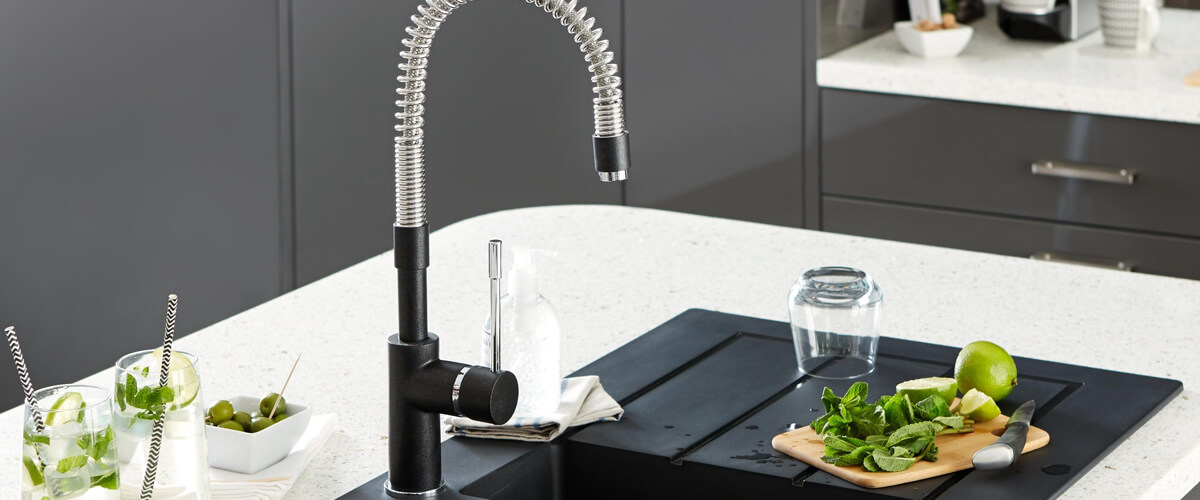 A final variable to factor into this equation is the materials that are to be used. We have already seen that steel sinks are quite popular for their functional and "clean" appeal, but ceramics and glass are also possible. In the same way, it is worthwhile to consider modern variants such as Fragranite. This arises from the fact that the sink is likely to be the single appliance that is used the most frequently in your entire home. Therefore, choosing one that is built to last is obviously much better than selecting a model, that will encounter a problem within only a few years and need to be serviced or replaced entirely.
These are some of the most basic (and important) considerations to take into account when choosing a sink for your kitchen. Although these units obviously serve a very real purpose, we should never forget that their style, colour, shape and design can likewise create a lasting impact within the home. Understanding the basics is therefore critical. By keeping this checklist in mind and speaking with a qualified professional, you can make the best choice possible. As a result, expect to enjoy years of durability and aesthetic beauty!
Sink Accessories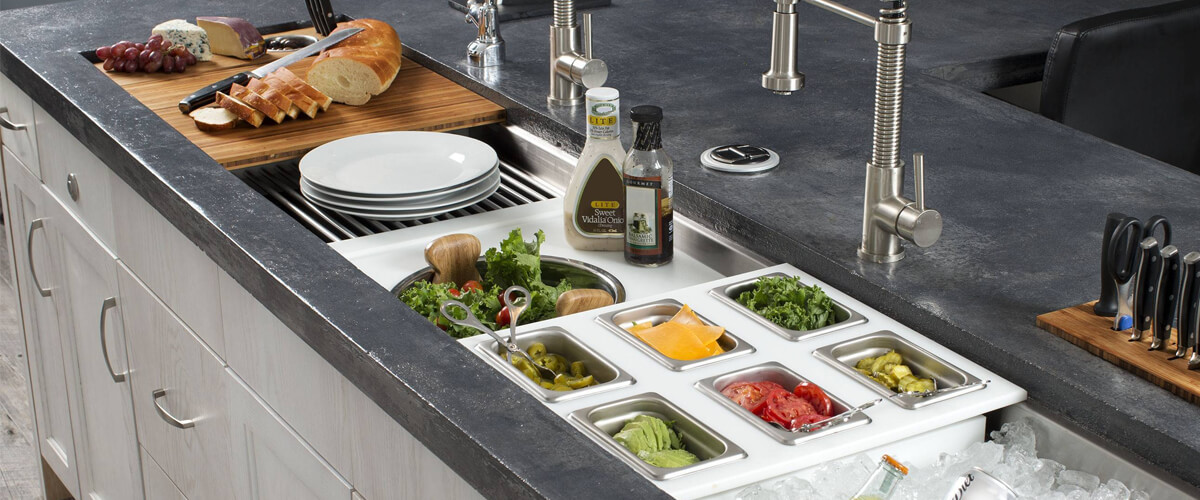 Whether you are buying your first house or just trying to revamp your kitchen (and kitchen skills), there are a few basic kitchen accessories that no home should be without. To get the most out of your kitchen, you do not need to spend hundreds of pounds on fancy gadgets; our selection of simple kitchen accessories will help you manage your kitchen work efficiently and keep your workspace clean and tidy. Sinks for kitchens come with optional accessories that improve its efficiency. These include kitchen mixer taps, chopping boards, drainers and garbage disposal units. Therefore, whether you are designing your dream kitchen from scratch or making updates through a remodel, you can discover the possibilities that the perfect kitchen sink offers!
Kitchen Taps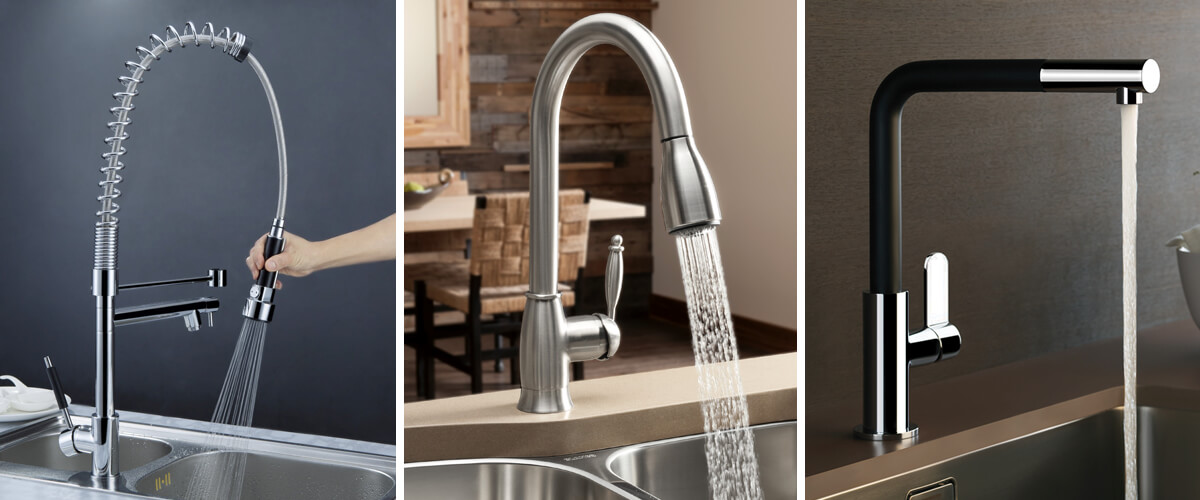 This is the first decision you need to make. If you already have a sink with cut-outs for taps then this will limit your choice. Modern kitchen sinks are independent, with the taps normally mounted in the worktop rather than the sink. Kitchen Mixer Taps are the modern alternative and are most people has preferred choice. They come in high low and intermediate heights, different finishes and are available as either single or double lever.
Know Types available:
Lever-Action or Capstan Head Taps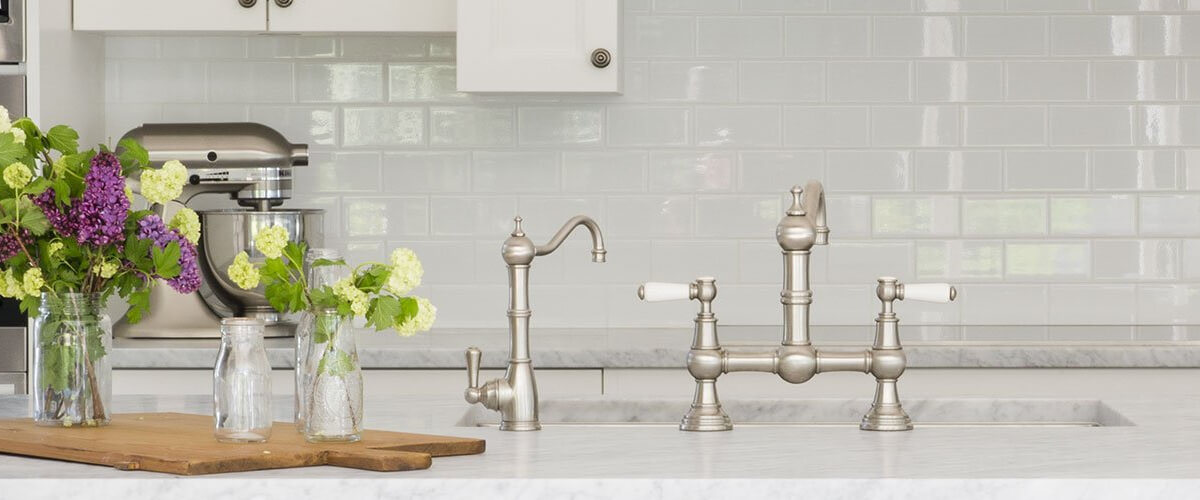 Lever-action taps are very convenient for a kitchen, meaning you can go from 0-100% flow just by moving the lever through 90 degrees. Higher, swan's neck taps are more convenient than lower counter-level mixer as you need to run water into large containers; they do cost a bit more, but the extra expense is worthwhile.
Pull Out Versions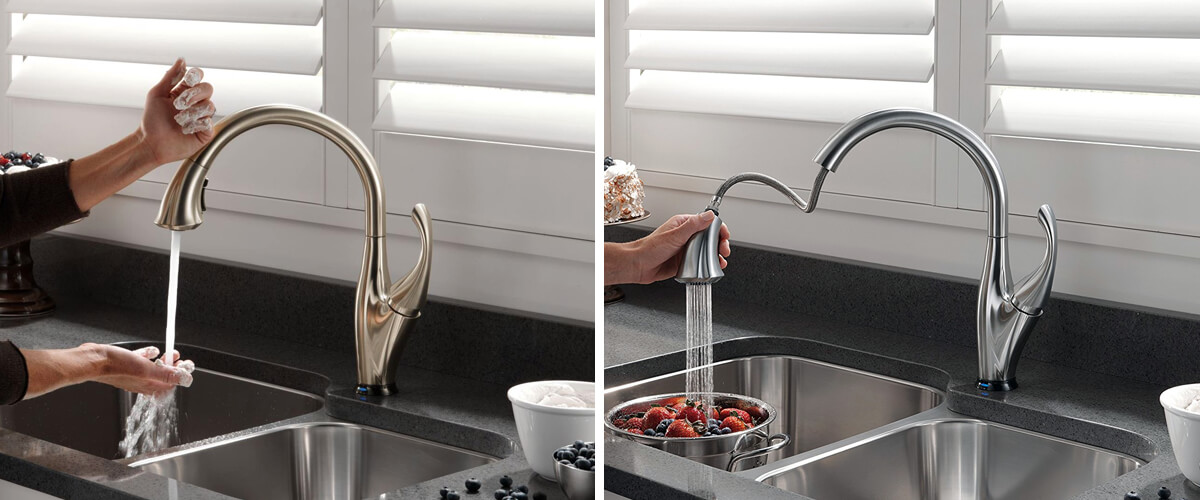 Few of kitchen mixer taps have a pull-out head, so you can direct the water flow wherever you wish. These are useful if you want to direct the water over a draining board, or into a bucket.
Filter Taps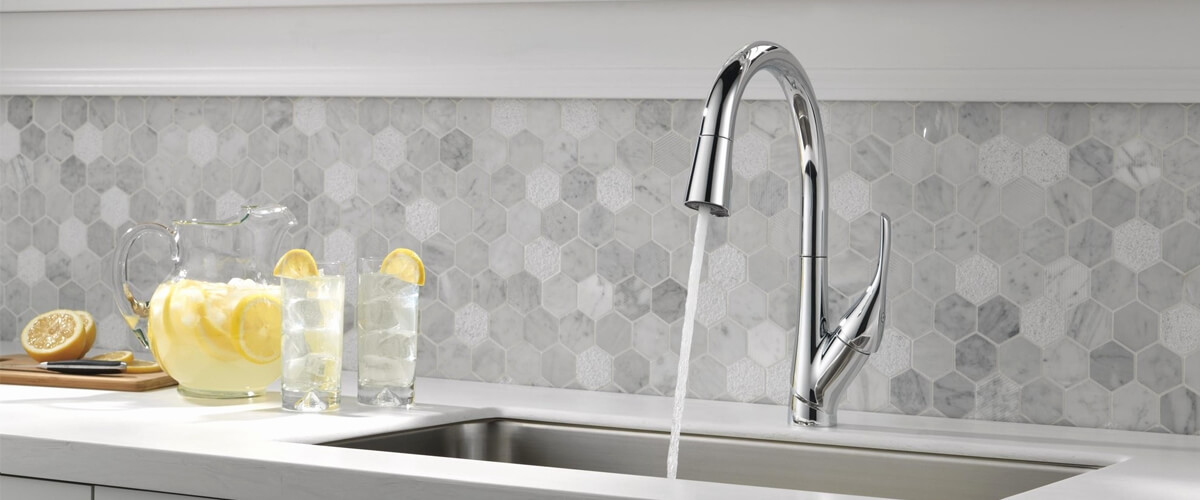 Some high-end taps come with a built-in filter function. This removes the need for separate filters for every appliance or for an expensive water softening and filtration system. If you live in a hard water area where drinking water does not quench your thirst because of all the dissolved salts then a filter tap is one solution to consider. It will remove hardness, chlorine and solids from your water, so you can taste water as it is meant to taste.
Kitchen Sink Drainer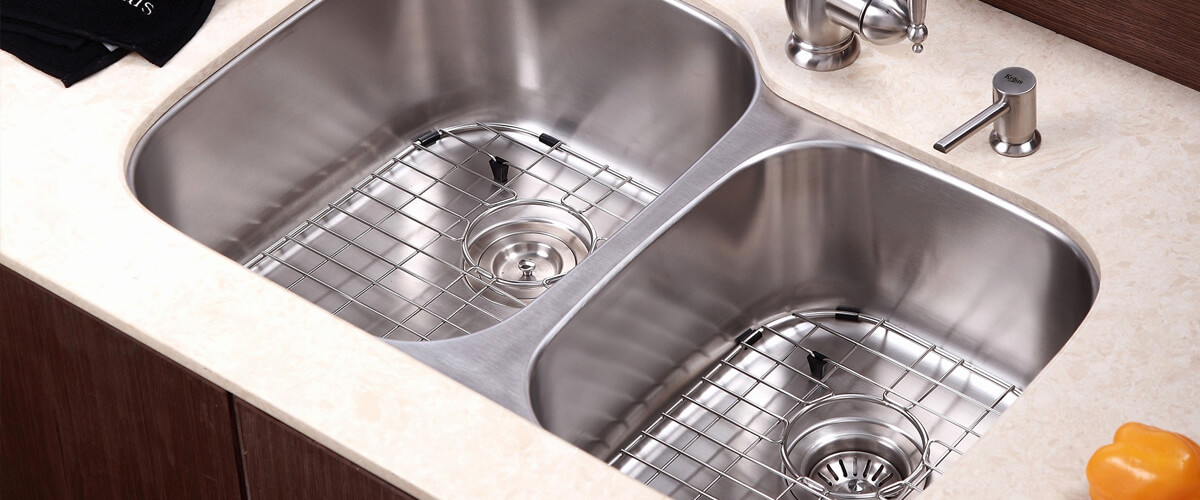 Planning a kitchen setup, whether it's a new project or a renovation, one important accessory involved is the kitchen sink drainer. Fitting the drainer should really be left to someone who understands the multitude of purposes that a drainer serves. Not only is the unit intended to collect the runoff from crockery, cutlery and other items, but it should also be able to effectively 'drain' away the water. Incorrectly fitted kitchen drainers very often will just pool the water, causing unsightly and unhealthy collections of stagnant liquid.
However, purchasing a drainer need not be a long and arduous task. Applying common sense to both the purchase and installation will mean that it becomes a pleasant centrepiece for the kitchen.
Chopping board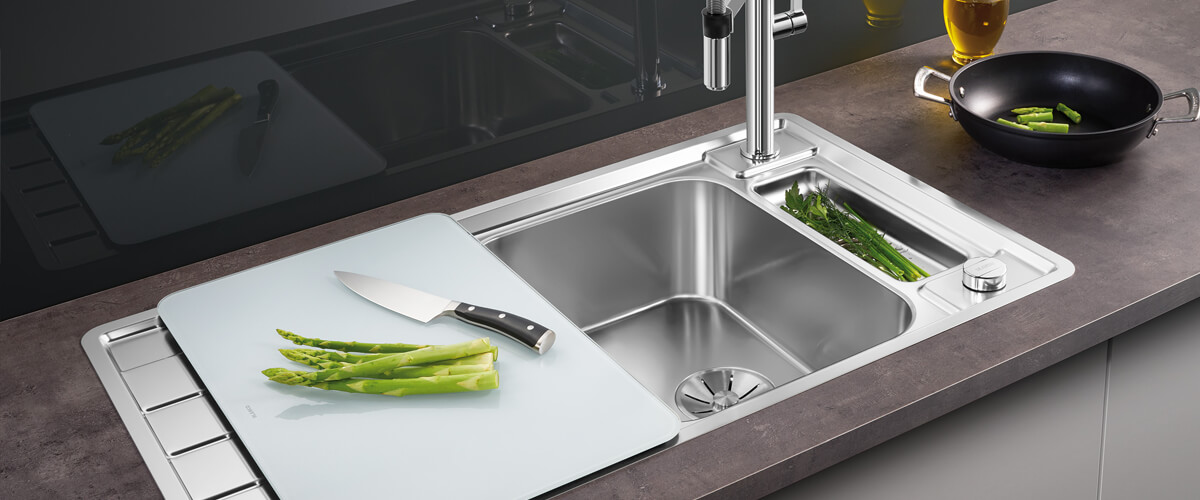 A decent, wooden chopping board is an essential accessory for home cooks of all abilities. While some people prefer plastic chopping boards, scientific studies have shown that the sanitising properties of wood mean that they will kill off germs naturally, removing the need for harsh, often toxic cleaners. Invest in a thick chopping board with safety grips on the underside to prevent slipping, or wet a kitchen towel and place it on the board before chopping.
Good quality knives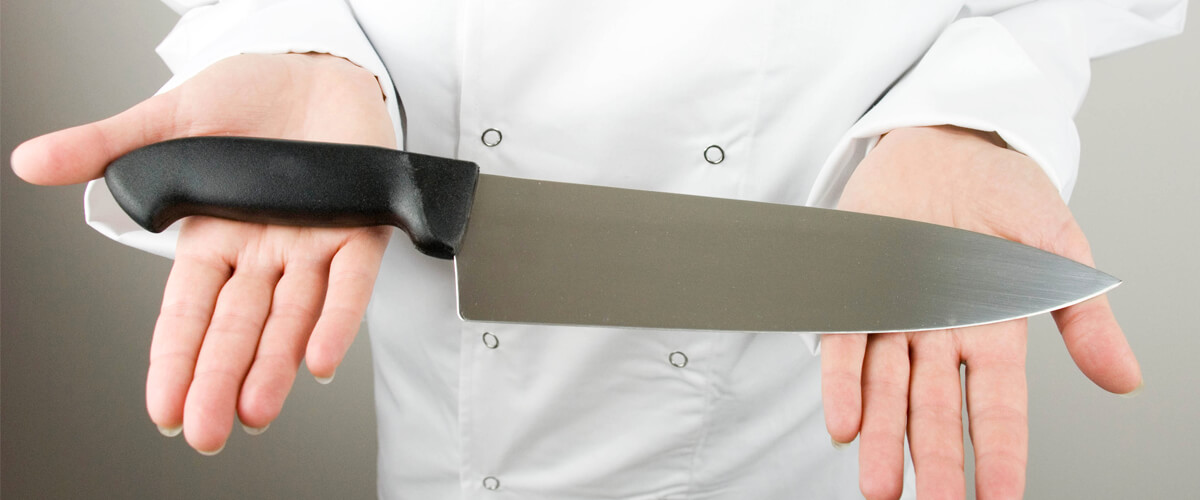 A nice set of knives is a great accompaniment to a quality chopping board. Most professional chefs will tell you that knives are their most important investment and that spending more is worth it in the long-run. Japanese carbon fibre blades retain their sharp edge for longer, which means there is less hassle when it comes to sharpening and honing the knife.
Kitchen Basket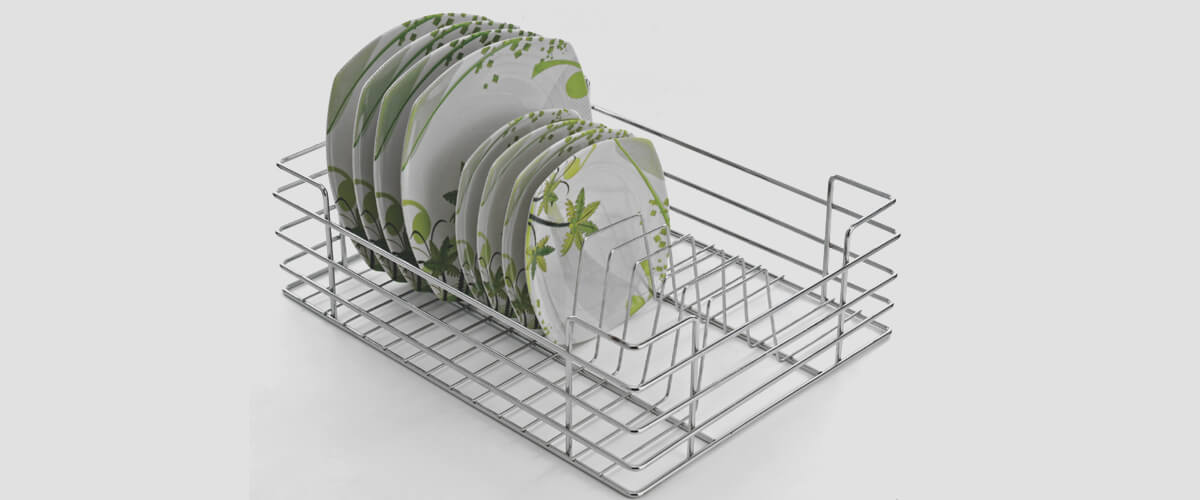 Kitchen baskets can help to keep your kitchen tidy and allow for effective organisation. There are many different types of basket, which will suit different kitchens, but by investing in a range of sizes, you will be able to keep all of your equipment and gadgets tidied away. This is especially useful in homes with pets or small children, where keeping items out of the way is a safety consideration.
Stainless steel strainer bowl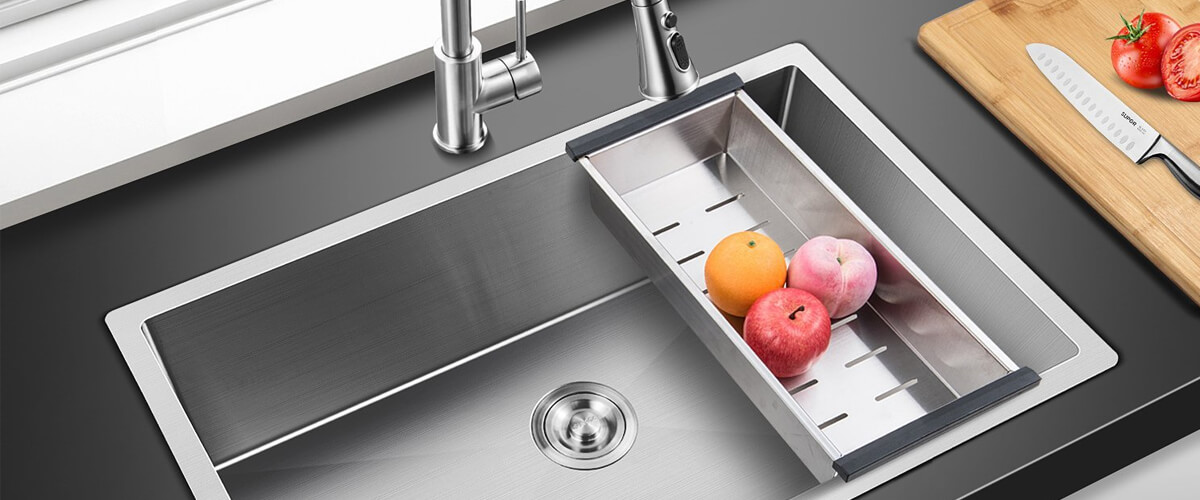 A good quality steel strainer is a kitchen accessory, which serves many uses. By placing the bowl in your sink you can safely pour hot water from pasta or boiled vegetables away, and if you want ruffled edges to your roast potatoes (which we all do!), you can use the strainer to gently shake the potatoes before adding them to hot oil in a roasting tray. By purchasing a stainless steel strainer bowl, you will not have to worry about any rust.
Disposal unit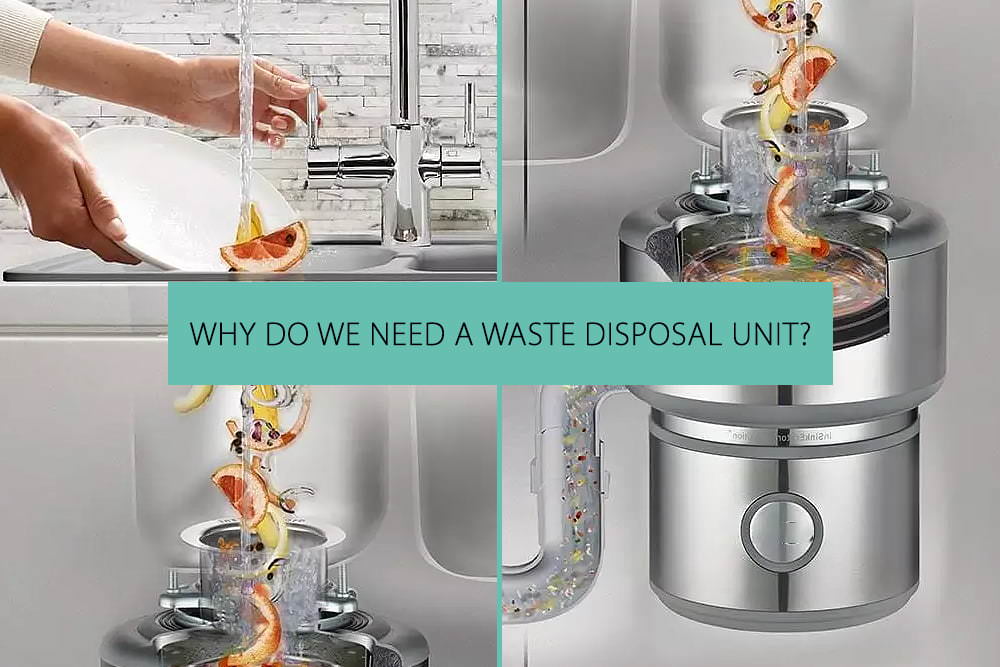 Everyone who cooks will know that kitchens are messy, especially if there are many people using the kitchen throughout the day. By buying a disposal unit, you can conveniently scrape away any peelings, offcuts and leftovers, and throw away packaging with minimal fuss.
Stand mixer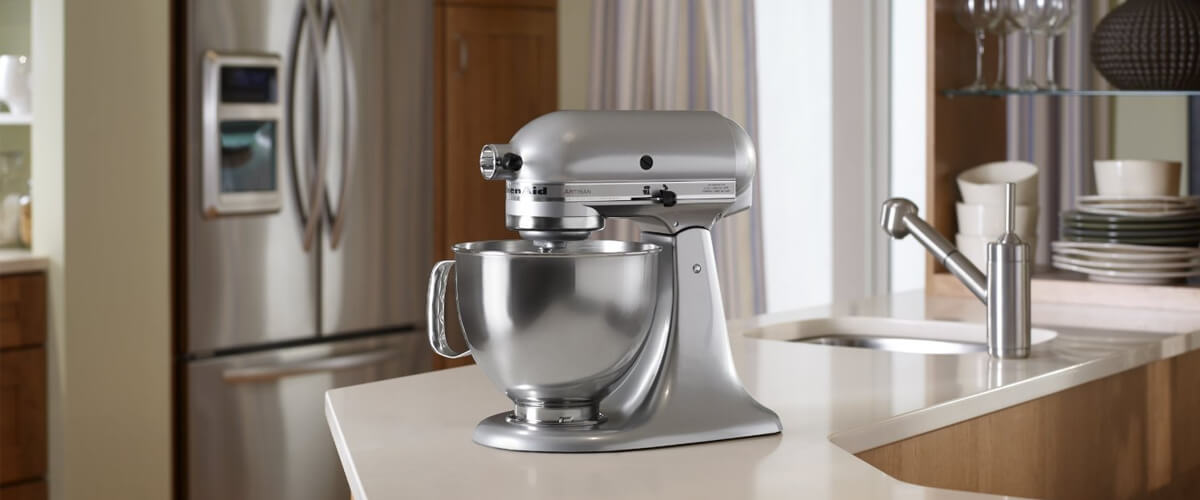 If you enjoy baking, one of the most useful kitchen accessories you can buy is a stand mixer. Although a good quality mixer can cost hundreds of pounds, it really is worth spending a bit more money and getting a mixer with a good motor and reliable customer support. The more well known brands such as KitchenAid offer attachments which can help to make ice cream, pasta, and even minced meat. You will be amazed how versatile a simply stand mixer is, and you will even keep it on your worktop because they are so useful.
You can further read kitchen sink buying experience from 21 Food Bloggers