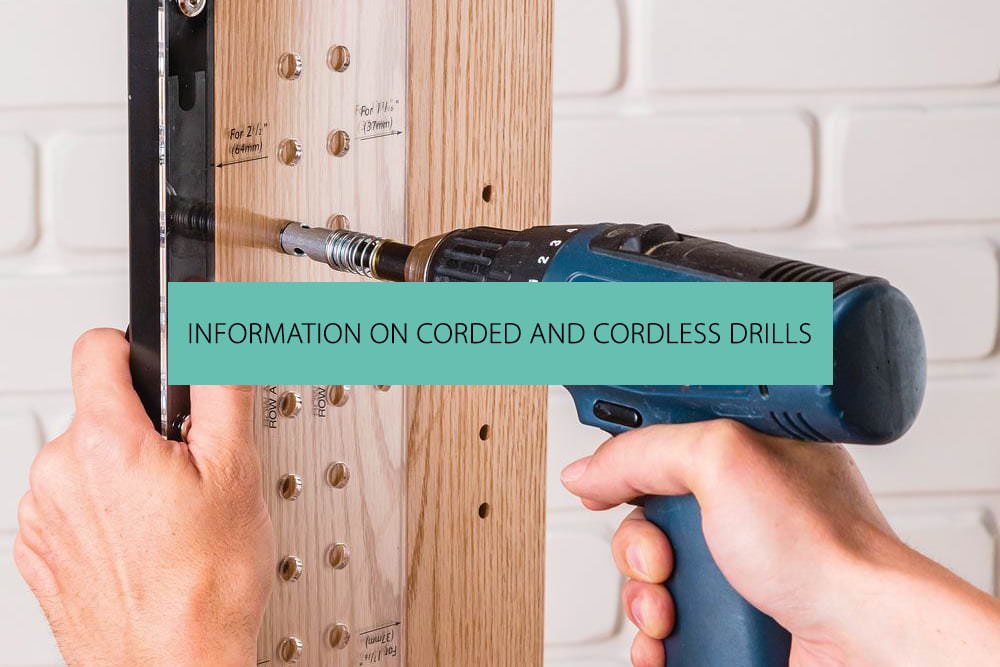 The main advantage of cordless drills is its mobility.
Drills are one of the most commonly used power tools. There are many types of drills available in the market and according to drill bits there are different types of drills available. The latest innovations in the drills are Cordless Drills.
The main advantage of cordless drills is its mobility. Cordless drills needs to be charged on a regular basis and can work for an hour or two depending on the full charge time. Most of the DIYers prefer carrying an extra battery, so that they don't have to wait and charge the battery to continue their work. Charge time and weight are the only issues with the least expensive models. Corded power drills are a powerful tool to drill holes when it comes to ability and function.
Other types of drills, which are available, in the market, are corded electric drills. Corded electric drill requires cord plugs and needs a power point to carry on work. Electric drills have powerful motors built in it and are measured in watts. Most of the drills that are available in the market are also available with variable speed dial controller, which means you can control the speed of the drill, in case if you want to drill a hole at slow speed. Makita Cordless drills are a known manufacturer and manufactures stunning cordless drills. Makita drills have got a unique design and shape, and that's what make them different from other drills.
They feature a slimmer body and are slightly angled which makes it comfortable for use. Other Cordless drills that are available in the market are comparatively heavier than Makita Drills.
Drill – The never wandering friction that builds homes
Technology, engineering and innovation have evolved and excelled through the ages, so has the technology of Drill Bits, getting beyond the primitive, bequeathing utmost advantage upon mankind. As bitterness is important to have good health, frictions are important to build structures, punching holes and integrating materials or mortise elements together, to create enigma out of structures.
May it be drilling a rock, wood, metal, diamond and so on, the fundamentals have been unique, yet the purpose, application and types of drilling and drill bits have varied time and time again. They have really changed the phase with their innate ability to cut and make holes, in order to make one element fit to another, or create chasms and crevices. Boundless are their functions and application that are exceedingly crucial in joining, building or attaching parts.
Though their basic function is to cut cylindrical holes, it's proven far too sublime to fitting and fixing things together. The drill bit are the attachments that are held in a tool called 'Drill', which provides the bits the momentum and propels them with its high power torque, creating force to penetrate into the hardest surface possible. Enmeshing the technology of functionalities of two diverse components i.e. the drill and drill bits, fastening materials have been immeasurably easy then it may have been imagined.
It is supposed that the very beginning of the drill was some thirty five thousand years ago, wherein the drills had something more than a pointed rock that was spun between the hands. Later, came in the 'bow drill' which was a prominent development which holds chronology of the ancient Harappans & Egyptian ages. In 1889, in Melbourne, Arthur James Arnot and William Blanch Brain invented the first electric drill. Later, in 1895, at Stuttgart, Germany, the revolutionary portable drill was invented by Wilhelm Fein.
From manually operated to electric drills, the entire range includes several models viz. Bow Drill, Breast Drill or the egg beater drill, Brace and Bit, Push Drill – a tool that uses 'ratchet' mechanism, Pin chuck, Pistol Grip (Cordless) Drill, Rotary Hammer Drill, Cordless Drills, Drill Press, Geared head Drill Press, Radial Arm Drill Press, Mill Drill.
There are varied features of a Drill Bit
The point angle
It's the formation of angle at the tip of the bit, which is determined by the type of material in which the bit will be functioning or operating. Larger point angle is required to operate on harder surface or materials, and sharper angle needed to operate on softer materials. Wear rate, Hole Shape, Wandering, Chatter and other features are controlled by the exact point angle for the hardness of the material.
The Spiral
This point in the bit controls the rate of chip removal. Mostly, in high feed rate applications under low spindle speeds fast spiral drill bit is used, where removal of a large volume of swarf is needed. Also, for cutting applications where high cutting speeds are conventionally used, low spiral drill bits are commonly used, and when there's a tendency of the material to vex on the bit or in some cases, choke the hole, like aluminium or copper.
The mechanic
They are extensively used and the term 'mechanic' has been given by vendors to describe the length of the bit.
The Jobber
Similar to the Mechanic type of drill bits, the Jobber is an extensively used term by vendors in order to describe the length of the bit.

Materials used Coating
Black oxide – An expensive black coating; it provides lubricity, and is corrosion & heat resistant. It has longer life than conventional high-speed steel bits that are uncoated.
Titanium nitride – The Titanium Nitride (TiN) has the ability to extend the cutting life thrice of four times when it is used to coat a high-speed steel bit; it is known to be an extremely hard ceramic.
Titanium Aluminium Nitride (TiAIN) - Yet another coating used quite frequently; it has five or more times extended tool life.
Diamond powder – More often used as an abrasive; also used for cutting stone, tile, and various other awfully hard materials. They have to be often cooled by water to prevent damage to the bit or the piece it's used on, for heat is generated in large amount in the process of usage.
Zirconium nitride – For a number of craftsman tools, it's been used as a drill bit coating.
Steel
Soft low Carbon Steel –These are only used in wood, for they are not capable of holding an edge properly, and need to be sharpened frequently.
Cobalt Steel Alloys – These bits keep varying significantly on high speed steel that comprise of more Cobalt. They hold their hardness at much higher temperatures, thus they quite conveniently drill stainless steel and various hard materials, which is a unique benefit.
High Speed Steel (HSS) - As a form of tool steel, they are more resistant to heat. More often used to drill metals, hardwood and various other materials. Their cutting speed is higher than carbon steel bits. They are substitute for carbon steels.
There are other types of Drill Bits viz. Polycrystalline diamond (PCD) and Tungsten carbide.
Every bit has diverse applications of various surfaces and objects:
Universal Bits - The range comprises of: The Twist Drill Bits, Step Drill Bits, Unibit and Hole Saw. The Twist Drill Bit was invented by Steven A Morse of East Bridgewater, Massachusetts, in 1861.


Metal Drill Bits Metal Drill Bits constitute of yet another vast range viz. Centre & Spot Drilling Bits - these are used to making holes in Lathe Centres and Spotting Hole Centres. Then you have the Ejector Drill Bit, Core Drill Bit, Counter Sink Bit, Indexable Drill Bit, Gun Drill Bit, Straight fluted Bit, Left-hand Bit, Metal spade Bit & Trepan.


Wood Drill Bits The Wood Drill Bit includes Wood Spade Bits, Lip & Spur Drill Bits, Forstner Bits, Spoon Bits, Auger Bits, Centre Bits, Hinge Sinker Bits, and Gimlet Bits & Adjustable Wood Bits.


Drill Bit Shank Diverse combinations of different types of Shank or Chuck offer varied performances. The advantage is - it enables the high-end torque with tremendous accuracy of centring.


Other Materials This category consists of another vast range of Masonry Drill Bits, Diamond Core Bits, Glass Door Bits, Installer Bits, and PCB through Hole Drill Bits.