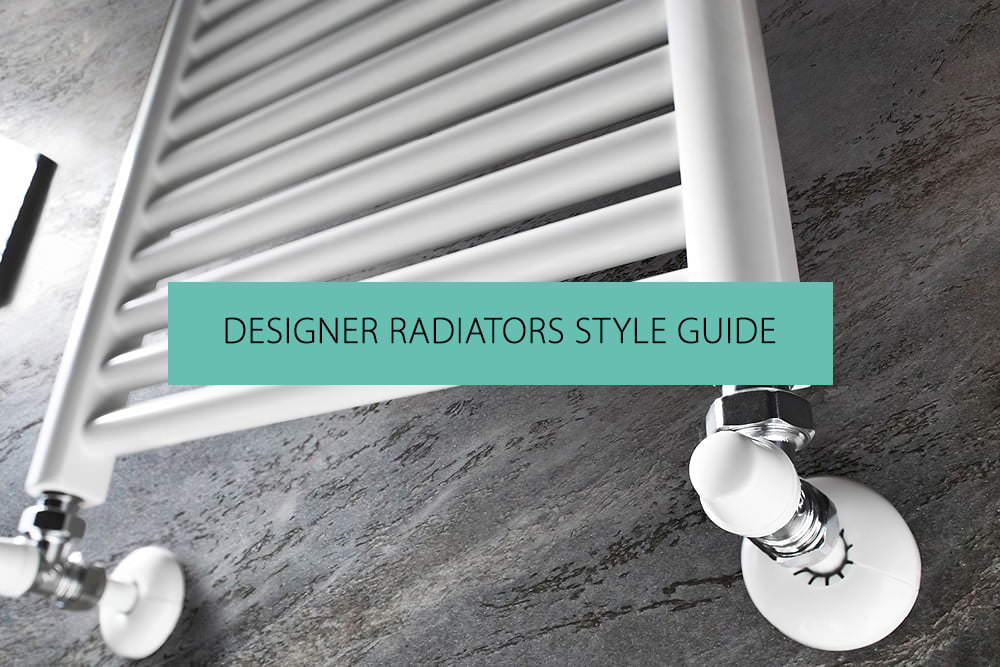 Whether it's stunning, contemporary towel rails or ultra-modern panels to fit any room in the house, consumers now have an increasing choice when it comes to customising the look and feel of their radiators. With increasingly versatile accommodations to fit out, radiator models have become far more varied, from tall, slim fit designs to flat panel or traditional horizontal variants. From contemporary chrome to chic anthracite, designer versions have become more than just a functional element in the room - they are now talking points and stylish features in their own right.
In addition to modern twists on the traditional column or flat panel radiators, several new styles have become very much in vogue. Flat panel, vertical designs are both practical and refined, while gunmetal and anthracite offer radical alternative materials for your heating solution. Some models even feature mirrored panels incorporated into the design, which is not only stylish but also space saving, especially for those with smaller rooms to furnish.
Innovation and luxury do not necessarily mean premium prices either; many designer radiators are competitively-priced and comparable to standard models. The added touch of refinement, however, makes this new, practical approach to interior design both affordable and desirable. Understanding what make, model and design to choose from can be quite a lengthy process.
As a very practical investment, a radiator can provide warmth for decades while its visual appeal can have an equally stunning impact in the home.
---
Colour is on trend
An additional feature of many such radiators is a wider range of colours; from peaceful, tranquil blues to warm oranges and masculine reds, coloured ones can help enhance the mood of a room or lend it a completely new feel.
A coloured radiator allows you to put your personal stamp and flair on your home's sanctuaries, be it in a bathroom or any other room in the house. Colour gives you the option of tradition with a contemporary and modern twist.
Natural tones and hues are a big trend as most people now want to turn their homes into a natural sanctuary. Whether that means bringing some of the outside natural world in, or creating warm and cosy spaces, it's up to personal style and preference.
White radiators are no longer de rigueur. By adding a dash of colour on your radiator, you're making a statement and creating a talking point. A chrome radiator is still making a visual impact. You can choose the shiny chrome or a brushed chrome for a more muted finish.
Think a white radiator against a charcoal or black wall, orange against sky blue, ivory against chocolate brown or pale blue against a dusty pink. Pretty pastels still have a look in 2022 as has cast iron radiators in line with the Cottagecore trend.
---
Vertical & Horizontal Orientation
Both these types can be installed as electric or central heating versions. The Central heating variety is your classic method of heating and electric uses wires as heating elements. Electric has the advantage of not needing a boiler. Most of the home radiators have remote controlled programs to set temperature and operating times.
---
Vertical radiators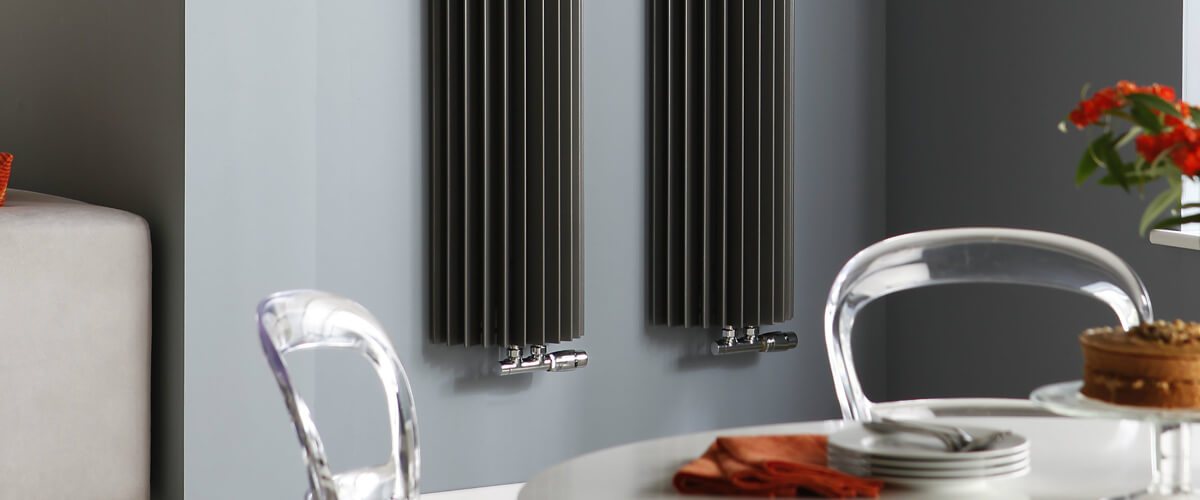 These types have an upright profile and emit their heat right into the central room space. These offer visual interests as they stand tall and are easily seen, and therefore have greater potential for external profile designing compared to floor models.
Although standing tall against the wall, these lie flat and do not require too much space to emit efficient heat. Such models are often seen in kitchens which have severe space restrictions or in styles where vertical measurements are being used by the designer. Showcasing columns, tubes and flat panels that make up their striking vertical designs, these upright beauties are available in different sizes such as 1000mm, 1500mm, 1800mm and 2000mm.
---
Horizontal radiators
These see a horizontal arrangement of columns, tubes and flat panels that make up the body. Traditional models come in this orientation. Horizontal models are placed linearly, and therefore, heat is emitted more evenly and spread all along the breadth. These are ideally placed directly below a window to counter the localised cooler temperature as well as save space. Available in a range of colours, finishes and sizes, horizontal varieties are designed to fit in wider wall spaces. Get the designer feel with our unique range of stylish horizontal radiators. You can further read our guide on horizontal and vertical orientation.
---
Heating Requirements
The first thing to take into consideration is the size of the environment that the designer radiator is intended to heat. Many will often make the mistake of only taking looks into account while sacrificing the ability to maintain a comfortable temperature. All are given a rating that is provided in BTUs (British Thermal Units). Ask a professional to determine the BTU requirements for a specific room, or you can use a BTU Calculator to determine the heat required for a room.
---
Accessories - Thermostatic Valves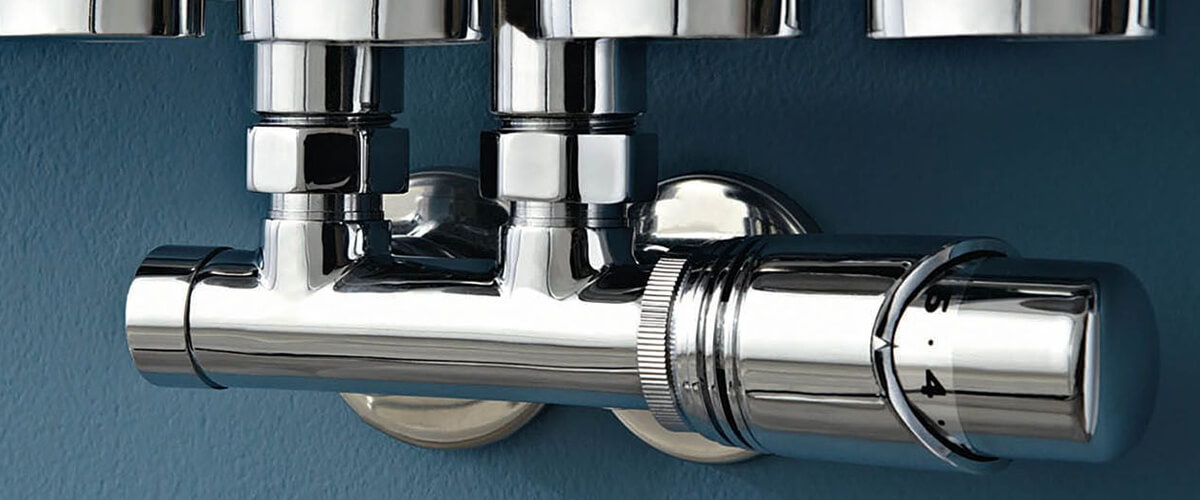 On the more technical side, you might desire a unit that is equipped with what is known as a thermostatic valve. You can think of this as a thermostat for each space within your home. Also known as a TRV, this mechanism will allow you to set the exact temperature of each radiator and adjust it when desired. When the air temperature rises too high, the water flow to the appliance will be reduced. If you have a large home with unique heating requirements, these valves are an excellent addition. They are amenably priced, but it is always important to factor in the cost of installation of multiple units. Keep in mind that with the use of thermostatic valves, you may very well be able to save hundreds of pounds in heating each year. It is always wise to enquire whether or not a certain radiator is already equipped with this function.
Radiators can be built from a number of materials, some of which we have discussed in detail:
---
Know Which Materials to Select

Stainless Steel: In comparison to chrome, this material is more expensive. However, the extra cost gives you more quality, durability, and corrosion resistance, an important property in radiators that come in contact with corrosive elements in a heating system. The appearance of stainless steel is ideal for the modern space as it can give a sleek look. This is especially so in bathrooms, where reflective, neutral materials are a popular choice.
Chrome: Made from chrome, these are a cheaper alternative to stainless steel without necessarily cutting back on quality or choice of design. Chrome offers a smooth lustre and corrosion-resistant properties making it ideal as an external coating. These models are normally made of steel alloy with a layer of chrome on the surface. Chrome-plated versions are more easily prone to chips and scratches compared to stainless steel.
Aluminium: Aluminium is a lightweight, durable material that transfers heat the quickest of all the materials used in radiators. This has the effect of improved efficiency in heating up a room, and therefore less energy wastage. Besides, aluminium is a non-corrosive material, so you will find the quality is retained for years. It can be easily moulded into different shapes to create different kinds of styles.
---
Design Examples
Now that we have outlined some basic variables to consider let us take a look at three different types which can add style to any home.
The First Model / MHS Tratto
This MHS Tratto offers a truly unique appeal. As it is embedded with rear-facing lighting, it hardly appears to be a radiator at all. Such a unit is ideal for those who may have been searching for a post-modern appeal. A handy horizontal upper portion increases its functionality; small items can be tucked away for later use. Thanks to a rather solid appearance, this heating machine can be used within any room of the home.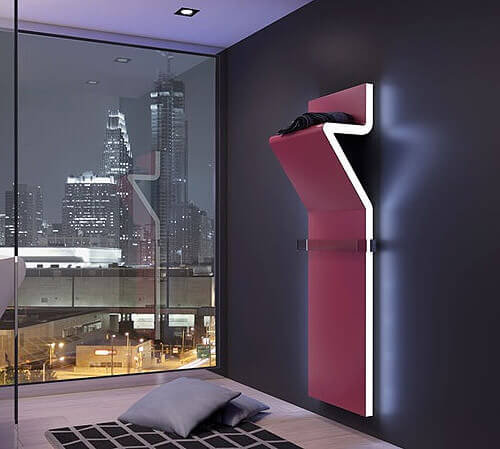 The Second Model / MHS Canyon
This MHS Canyon boasts what can only be called a minimalistic appeal. A sleek silver hue will complement the existing colour scheme of nearly any room. As with the previous unit, this radiator is entirely mounted on the wall thanks to its lightweight construction. Such a design can be a wonderful addition to bathrooms and other locations where floor space is at a premium. An interesting feature to be seen here is that as opposed to a tubular design, the outer surface is comprised of a continuous sheet of folded metal. This will aid in efficient thermal distribution due to its increased surface area.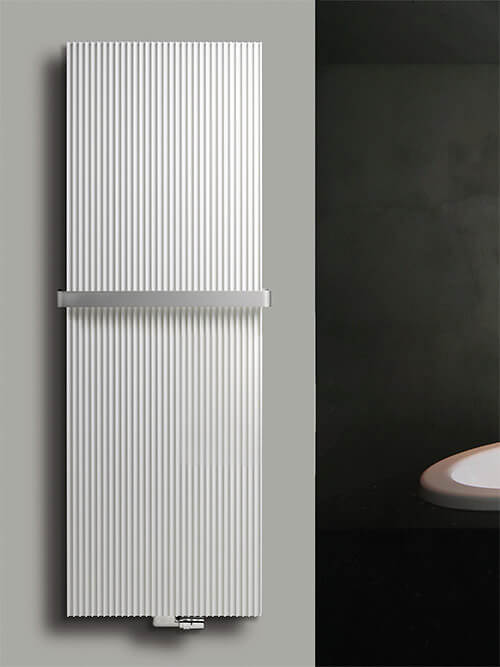 The Third Model / Apollo Genova
Those who are looking for a true departure from the norm will not be disappointed with this last variant. Boasting a rather artistic appeal, this radiator employs two sets of u-shaped elements; each facing away from the other upon a double vertical mount. As with many other designer models, the aim here is to have the unit look less like a radiator and more like standalone element. Its angular shape can be used to match the existing decor of a room while the piece is just as appropriate when contrasting with a more traditional environment.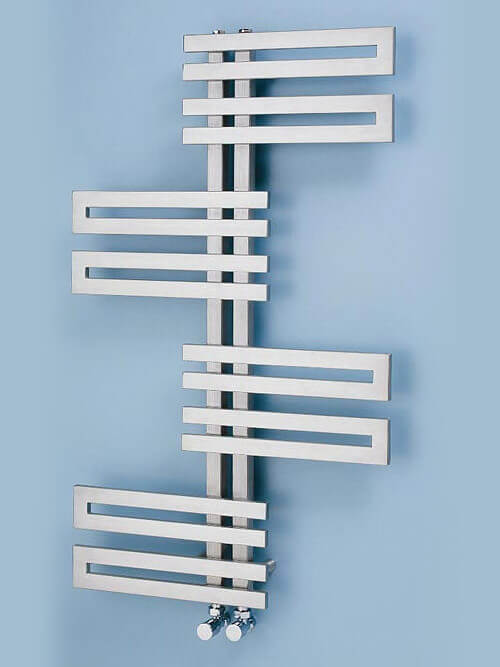 ---
Conclusion
Radiators are today far less likely to be seen merely as items necessary to provide warmth and comfort. They are now considered as important to style expression as any other work of art. Having guests remark on the welcoming warmth of a home need no longer apply only to its temperature or furnishings. Know more about the range we offer on Designer Radiators at our on-line store.