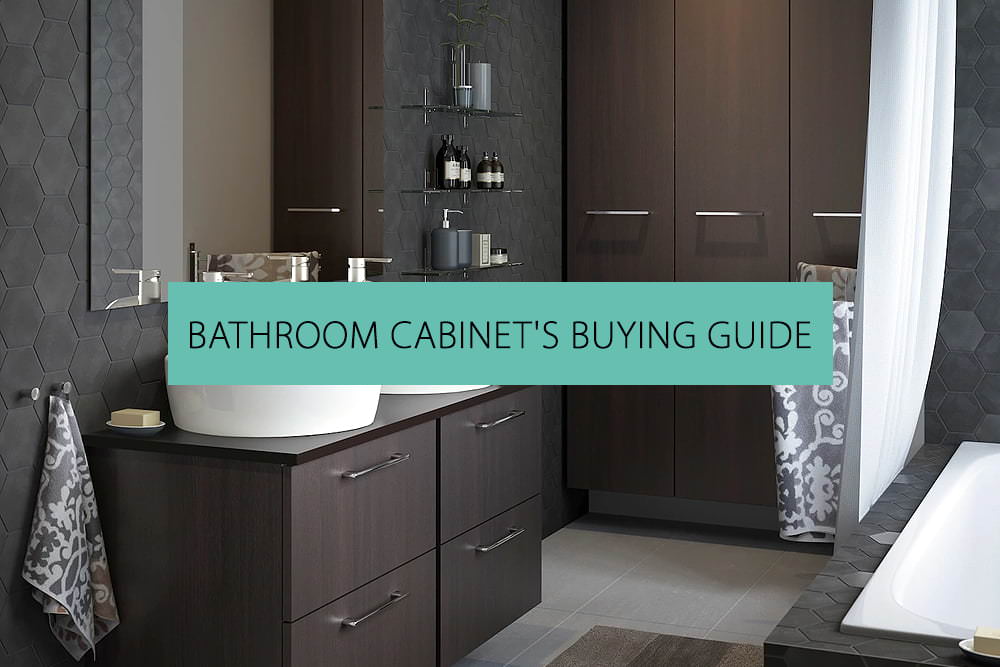 When it comes to sprucing up bathrooms, new fixtures and tiling definitely add to the aesthetic appeal of the space. However, it is important to plan for adequate storage space to stash away personal care products. With the desire for en-suite bathrooms on the increase, this is particularly relevant here too. A large variety of necessities tend to be kept in the average bathroom, and to prevent a cluttered look and feel, thought needs to be given to their storage. Bathroom cabinets offer storage solutions, allowing you easy access to your bath essentials.
Firstly, by removing all the assortment of items that may be left on sinks and baths away in to the unit, the feeling of clutter is removed. Secondly, by locating the cabinet in a proper place or in a corner, space is freed for people to move around the bathroom more easily. A bathroom can suddenly feel larger and more relaxing with the extra sense of space created, a sense that can be magnified if the cabinet has a mirror for the front.
Before buying, a cabinet one must ensure if you need one with shelves. Before purchasing one, make sure of the number of shelves present in it. Some cabinets come with shelves, one of the shelves while some cabinets may be open baskets, others may have drawer banks. Large cabinets may have more shelves compared to the standard ones.
Simple shelving units in an open-cabinet are often the choice for those on a budget, though some prefer not to use shelving units for holding anything but laundry, because, the contents of a shelving unit is exposed to the eyes of any visitor. Integrated cabinets are usually the option of choice, and chests of drawers to hold some of the smaller items found around the bathrooms. Furniture units incorporating a laundry hamper can be a great way to get rid of an otherwise unsightly basket full of laundry, sequestering it safely away inside a cabinet.
---
Size & Space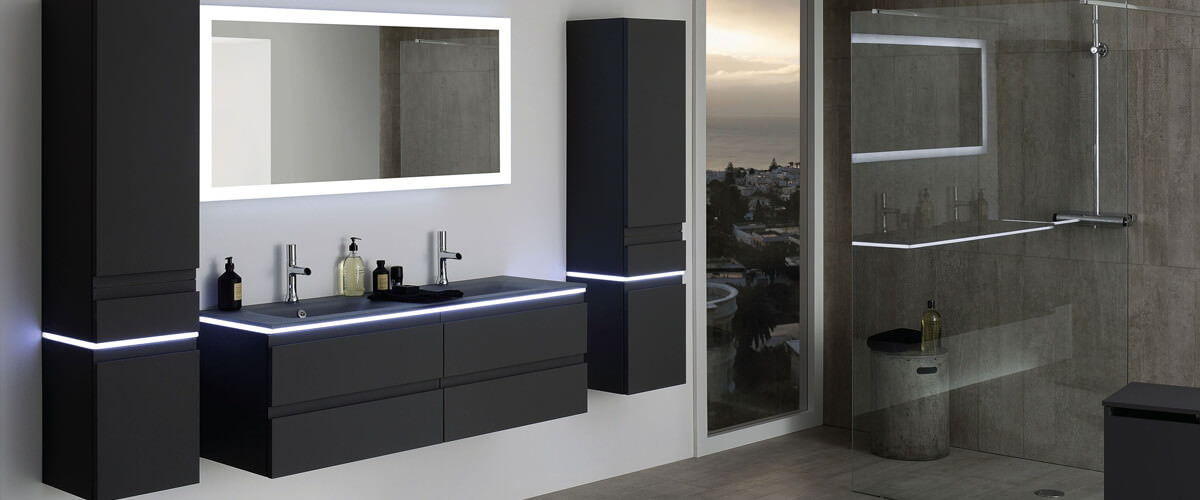 There are many different options available when picking out the perfect Bathroom Cabinets. There are even some available that are customisable, letting you adjust the unit to perfectly fit your needs and your space.
You're advised to choose a piece as per your requirement that is practical in efficiently serving you a storage space; in other words, check the space available in the cabinet like the depth which will store the number of products you wish to store inside it, also the size, shape and shelves in number.
Always remember to measure the size of the unit before buying the product. Otherwise, you might end up buying something that does not fit your bathroom, mainly, if your room has a shape that cannot accommodate the cabinet you have purchased.
Also, check if it is a ready-to-fit unit and can be fitted straight away; also, check out if they have been accompanied with essential fittings. If you fit a cabinet quite high on the wall, reaching top shelves can be an issue, though this could also be a plus in storing items out of the reach of children.
If floor space is an issue, a wall mounted bathroom cabinet is likely the most enticing option, as it will save on floor-space while still providing an effective storage solution. Wall mounted cabinets are ideally suited for mounting above the sink, since many units are available with the option of replacing the cabinet doors with mirrors, meaning that even more storage space can be squeezed out of your bathroom.
---
Corner Bathroom Cabinets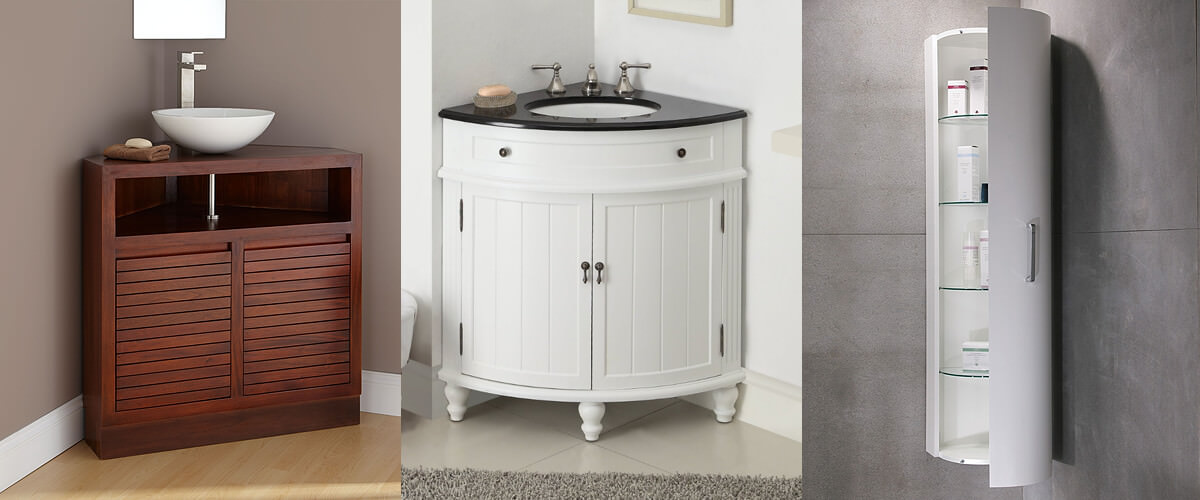 If you have a compact bathroom, a corner unit can be a perfect choice. One of the reasons is, corner spaces are sparingly used, so, a corner bathroom cabinet can be a quintessential alternative not only to make use of the space, but also to derive storage space, without relinquishing, largely, the bathroom size. This is ideal for bathrooms that may not be conventionally shaped, giving the homeowner the chance to better utilise the rest of the space. They help remove a feeling of overcrowding, while preserving the essential elements of function and style, when a four-sided cabinet would be difficult to accommodate.
---
Tall Boy Units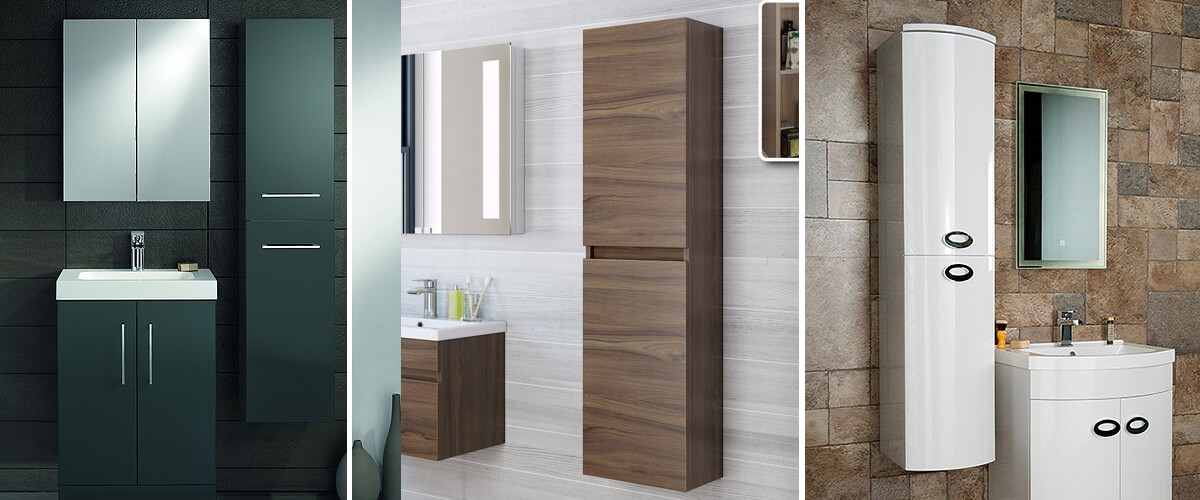 Are you tired of leaving dressing gowns and damp towels hanging on the back of the door, exposed for every houseguest to see? Some even fear that guests will mistake their beautiful dressing gowns for hand towels, a nightmare situation for all involved.
A tallboy unit may provide the perfect solution to this problem by providing you with somewhere to store these items, while still allowing you to leave them safely hung up. Another important advantage of tallboy units over traditional units is the floor-space required in order to place the unit. Normal dressers or shelving units often require a large amount of floor space to be sacrificed for just a moderate gain in storage space.
This is not much of a problem if you have a large bathroom, but for those with a little less space available, a tallboy unit provides the perfect return in storage space for an investment of available floorspace. These units can even be fixed to a wall rather than being allowed to rest as a free standing unit, thereby allowing items such as bathroom scales to be stored underneath, while still giving your washroom the illusion of being free flowing and spacious.
These are an essential part of any bathroom since they make such versatile storage solutions. They differ in size, finish and shape. Tall Units are sleek and heighted and they also come with mirrored doors, and they are even available for corner installations. However, for large bathrooms, a freestanding tallboy unit may be the most appealing option due to the majestic look and ease of installation.
---
Stainless Steel Cabinets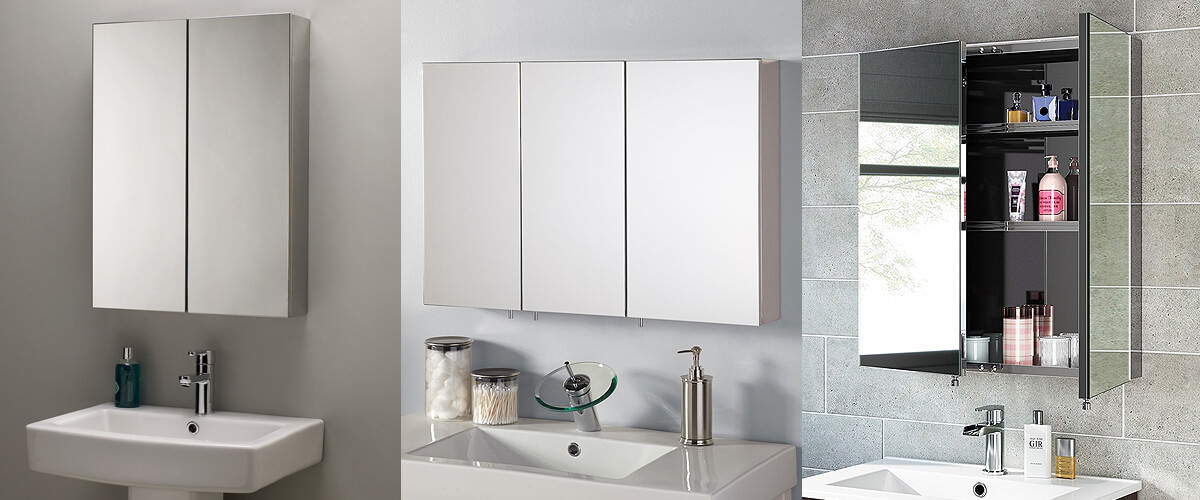 Stainless Steel Bathroom Cabinets are easy to work with and offer a host of advantages for the modern bathroom. It offers a clean look as well as an actually clean surface. With these units, a modern look can be dressed up or dressed down depending on the style you're trying to go for; adjustability and versatility, which is useful whether you own your own home or are renting and want to feel like your bathroom looks good and reflects your style anyway; and affordability, which everyone can appreciate.
The best part about using stainless steel in your decor is that it can match with just about any colour or pattern you may have in mind. For a fun and youthful look, you can use bright colours and shapes in your accent pieces. For a classic, upscale look, you could match with dark colours, glass, and stainless steel accented pieces such as glass jars with stainless steel lids.
Products such as our RAK Riva Corner Cabinet with a Mirrored Door are easy to install, long-lasting and convenient. It has been designed so that all fittings are concealed, ensuring that your bathroom looks neat and streamlined.
---
Enhance the Look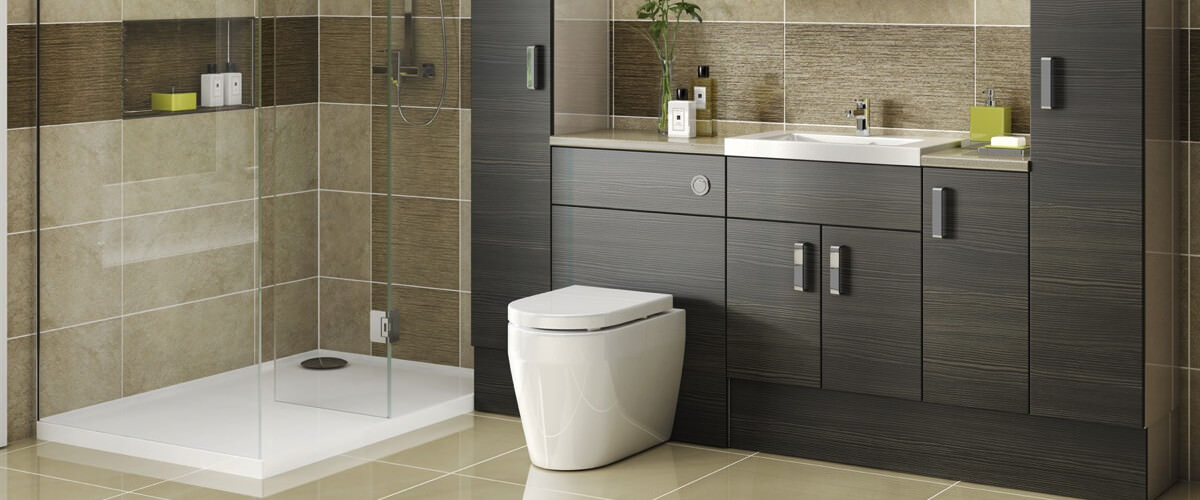 For enhancing the look, one must select a unit that blends with your tiles and walls. There is a lot of versatility that you can tailor to the "Look" you have in mind for your bathroom. For instance, open, rack-style shelves can let you display your fluffy white towels in an appealing and airy way. This sort of look is especially great for a small space, where you do not want to overpower the room. Alternatively, especially in larger bathrooms, a cabinet with a solid door closure can provide an austere and clean look to the space.
Interestingly, metallic finishes can prove to be an awesome choice if your bathroom is of trendy style; also mirrored doors can be a very good alternative, as they can add more spice to your decor, as it makes a room look bigger. Though stainless steel and wooden cabinetry finishes are popular and serve to enhance the visual experience of bathroom spaces, there is no dearth of choices when it comes to bathroom furniture colours.
---
Current trends…
Muted, white, and pastel finishes on cabinets used to be the norm, but over the past couple of years styles have moved away from subtlety and towards the use of bold, bright colours. While you can never go wrong with white cabinets, using a splash of red, green, or blue can bring an otherwise sterile space to life.
Current trends also include the use of wood for bathroom furniture. The natural and warm tones of wood can offset smooth while surfaces – with a bit more subtlety than bold colours.
---
Trendy textures
Apart from different colour trends, 2022 styles embrace a variety of different textures. Fluted, reeded and slatted items are all the rage and can complement a variety of colours.
Standalone and wall-mounted unit of varying sizes, sporting minimalist designs and multiple shelves make for neat, easily maintainable additions to bathrooms. Acrylic Cabinets are the old standby for, but aside from risking looking dates, they can eventually become discoloured, or they may even bubble and warp. Stainless steel is a material that you never have to worry about such things with!
---
Conclusion
Given the different types of choices to choose from, it is important to consider the available space, number of people who will be sharing the bathroom, and the feature requirements based on personal preferences, before deciding on the right unit that fits the purpose and the pocket! Most importantly, these units must endure daily use and should be easy to maintain in order to justify the investment. With space at a premium, the cabinet serves a useful storage purposes.