A bath gives a snuggling and cuddling experience in the bathroom, when you retreat to have a soothing and comforting bathing experience; not limiting to that; you need to analyse few more aspects to have the right one in your bathroom that can exceed all your expectations.
A Complete Buying Guide on 'How to Purchase The Right Bath'
Advisably, you should bear few more factors in mind before deciding to shop. Judiciously, looking for the right size of the bath depending on the space available; smaller baths can be apt for cleaning up whereas bigger or larger ones can be perfect for reclining and conveniently soak in; secondly, the right location of the drain, upon which the tub can be positioned and placed; do you prefer screens, surrounds, showers, shower doors, or walls. Further, you may want to meticulously plan to have something that would be apt for your home and bathroom decor. You may consider integrating a bath that assures longevity and can be futuristic.
Process of Remodelling
If you're in the process of remodelling your house or refurbishing the existing setting to give a new look and if your bathroom has spacious area or is large in size, you can always plan to have a large bath, which will assure convenience and soothing bliss, due to the big room space. You can always opt for a large sized standard bath tub that has wide interior space and convenient and attractive exterior. Some of them are spacious to the extent of being able to accommodate two people at a time. You can also choose the place where you'd like to place or install it, for there are versatile bath tubs that can fit at the corner, or against the wall or even in the centre space of the bathroom.

Supposedly, a mock exercise can always help you in selecting the right one, like lying in the bath tub prior to making up your mind; also, you can get information about some important components like water heaters that have the capacity to generate sufficient hot water for the tub, or if any strengthening of the floor is required, so that it can sustain the weight of the bath conveniently. Also, determine the position or location for the spout or drain for the bath.

You can also choose between freestanding and recessed versions. Sublimely classic in look, the freestanding versions also have some advantages; they do not need any special provision for faucets, like holes or outlets. Easily installable and myriad styles are great pluses of this bath. Rounded at the ends, their stand or foot appear beautiful in claws shape, with drains in the middle of the baths, which make it convenient for usage.

Roll Top Look Special

The Roll top baths look special and elegant with round frames or rims and are universally seen or widespread for their natural look. If you prefer more sitting and reclining space, then the slipper tubs are ideal, for there's a lot of back resting space in these types of baths. Furthermore, the platform tubs can also thought as an option. Apparently, these tubs are pressured or sunk in a platform to look natural in diverse styles of bathrooms.

On the other hand, the recessed versions, also popularly known as alcove, are the ones that are adjoined to the walls, with the ends of the bath. There is a myth among home owners that Jaccuzi and whirlpool bath system cannot be recessed, but they serve as holistic bathing solutions and they can be recessed. They significantly and magnificently attribute one side of the bath, and their finishes are simply splendid, and feel caressed in the space. They are accompanied by wall mounted faucets, complemented by wall kit and they are immensely versatile, offering advantages of easy-to clean feature.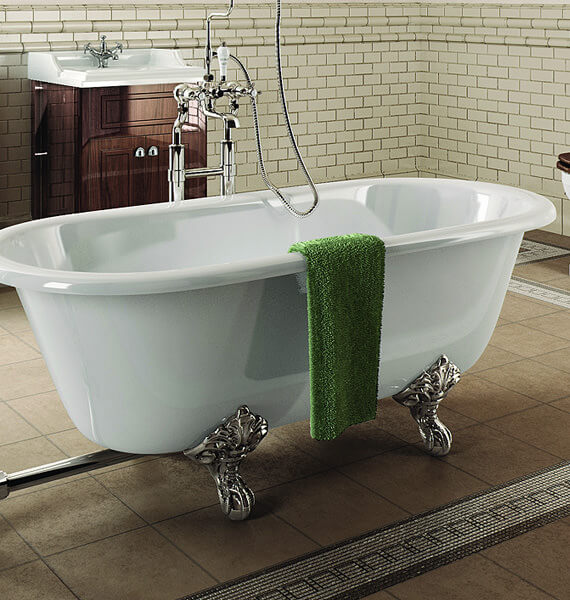 You have many more in the repertoire of bath tubs to choose from, which are identified by their material or quality like enamelled steel, acrylic, cultured marble, cast polymer, enamelled steel, solid surface, fibre glass, and enamelled cast iron and so on. You can also opt for whirlpools, for ultimate bathing experience. Suggestively, you can have bath tubs that are DA (Disability Act) compliant, if there are elderly members or members that are physically challenged, in the family, for they ensure proper fitting of grab bars to hold, and other friendly features that will enable easy entry and exit. To add a dramatic look, we would suggest having a look at our range of free standing roll top baths. If your bathroom is small and you are looking to save some extra space, we suggest installing corner bath, it can fit in any corner and will definitely add some extra free space in your room.

At our ware-house we also stock steel bath, double ended bath, shower bath, shower screen and over bath screen. Steel bath from Kaldewei are strong, heavy and comes with a guarantee of 30 years.