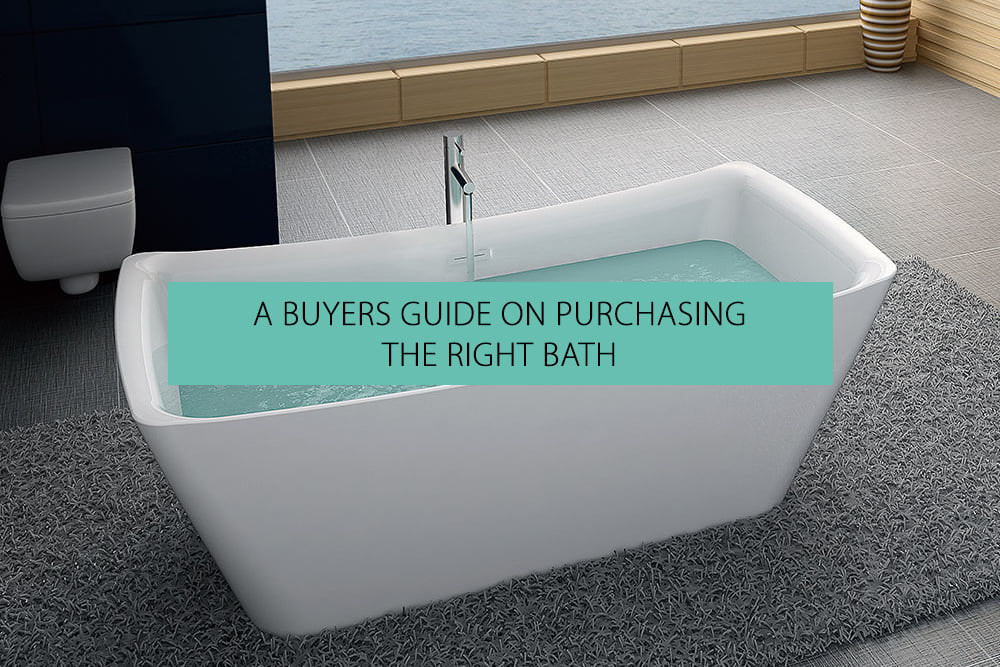 Do you need a bathtub to satisfy the basic necessity of cleansing your body? Or would you like to experience a soul-touching bath while pondering over life in a pool of water? The need for quick showers and baths is fulfilled by standard baths, shower baths, and even corner baths. But if you are a big fan of aromatherapy and bathing, you may dwell upon a few creative options, such as massage therapy and intricate shapes that cater to deep relaxation.
This guide, along with the knowledge of the available space in your bathroom. would help you on your way to a perfect tub. You should consider few more factors before deciding on your purchase. One of these is looking for the right size of the bath depending on the space available, smaller baths are easier to maintain, whereas bigger ones can be perfect for long, comfortable soaks.
The right location of the drain, bath screens, surrounds, showers, and shower doors may also need to be looked into. Further, you may want to meticulously plan to have something that would be apt for your home and bathroom decor. You may consider integrating a bath that assures longevity and can be futuristic.
---
Before Buying: You Need to Know Bath Types
There are a whole variety of different types of tubs to think about before bathroom buying, each appropriate for a bathroom depending on space constraints and visual preferences. Let's take a look at each of these:
---
Standard Baths
If you have a standard-sized bathroom, we recommend adding a standard model. It's a comforting, standalone bath that isn't built into a wall. The standard bathtub has the following dimensions: 1.70 meters by .70 meters or 1.80 meters by .80 meters. You can even get a shorter model measuring about 1.50 meters while at the same time retaining the standard width of .70 meters.
The length of the tub is the most important during installation to ensure a perfect fit. Standard tubs at QS Supplies are single-ended and allow a single person to bathe comfortably. These single-ended rectangular tubs are available for contemporary and traditional settings and are fashioned in standard layouts. More examples of Standard Baths can be found here.
---
Corner Baths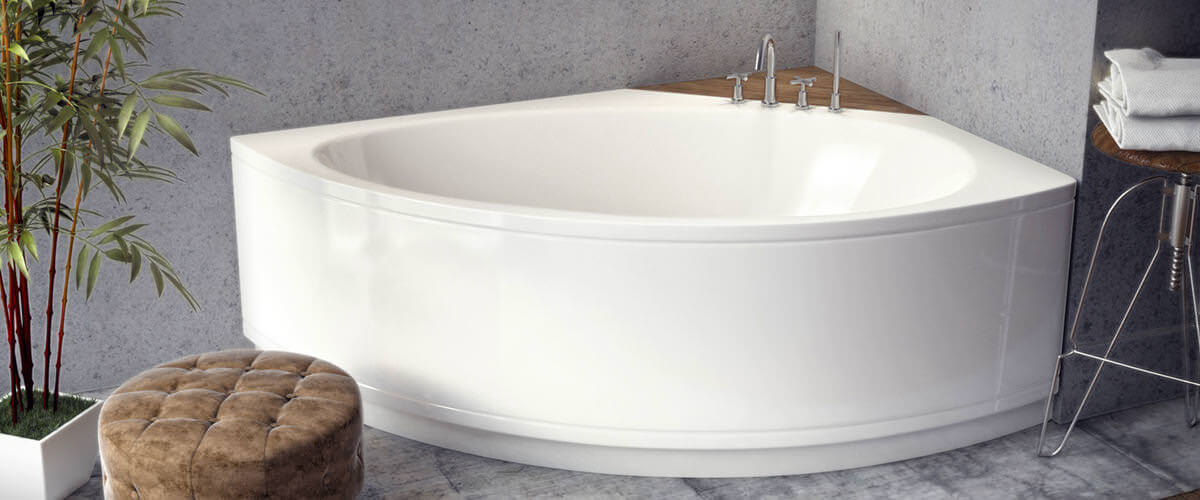 Corner Bathtubs are quite popular in today's times. More and more homeowners in the UK and Europe are opting for a corner bath. For compact bathrooms, corner baths are a more sensible choice. This tub doesn't occupy much space while providing all the holistic benefits of a fully functional bath. Corner Tubs come in two variations, simple triangular tub, and an offset corner bathtub. Offered in right-hand or left-hand options, these tubs are the ideal solution for space crunches resulting from an odd-shaped or small bathroom. See More Examples Here. You can read more about our Style Guide for Corner Baths.
---
Whirlpool Baths

Whirlpool baths were once only found in high-quality luxury suites in hotels as they were very expensive. But now they are much more reasonably priced and easily accessible to all. They've swiftly captured the hearts of homeowners, thanks to their relaxing properties. Whirlpool baths can range from large freestanding hot tubs to compact corner models, which even the smallest bathrooms, can accommodate - so anybody can install one.
These baths nowadays incorporate different jet options, from water jets to air jets or even with a combination of air and water. Kinetic Lights can be installed with whirlpool tubs that can create a nice ambience. Get creative with these luxury installations. Before getting one of these, you definitely want to look into the creative corner of these bath brands to get a full picture of the indulgence you're about to dive into! These mean a lot of water to heat, so make sure your water heater is up to the task. Examples can be found here.
---
Roll-Top / Free-Standing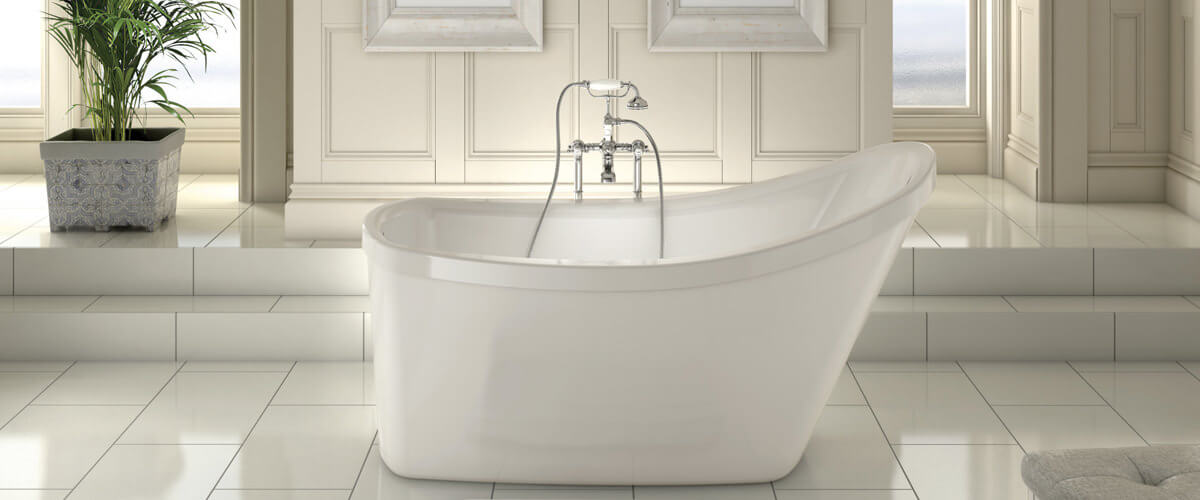 The Roll top baths look special and elegant with round frames or rims and are universally seen for their natural look. If you prefer more sitting and reclining space, then the slipper tubs are ideal, for there's a lot of back resting space in these types of baths. The platform tubs are also an option. These tubs are pressured or sunk into a platform to look natural in diverse styles of bathrooms.
True to their name, these roll tops are elevated above floor level to avoid the risk of decay and fungus. In addition to its freestanding feature that attributes to better hygiene, a roll top's curved edges facilitate the bather to enjoy a longer lounging experience in the bath. Roll Top tubs can be placed in the centre of a bathroom for a dramatic look and feel and become a focal point with their magnificence. These fabulous baths combine with Floor Standing Bath Fillers or Mixers to give a Victorian period look and feel. Examples can be found here.
---
Inset Baths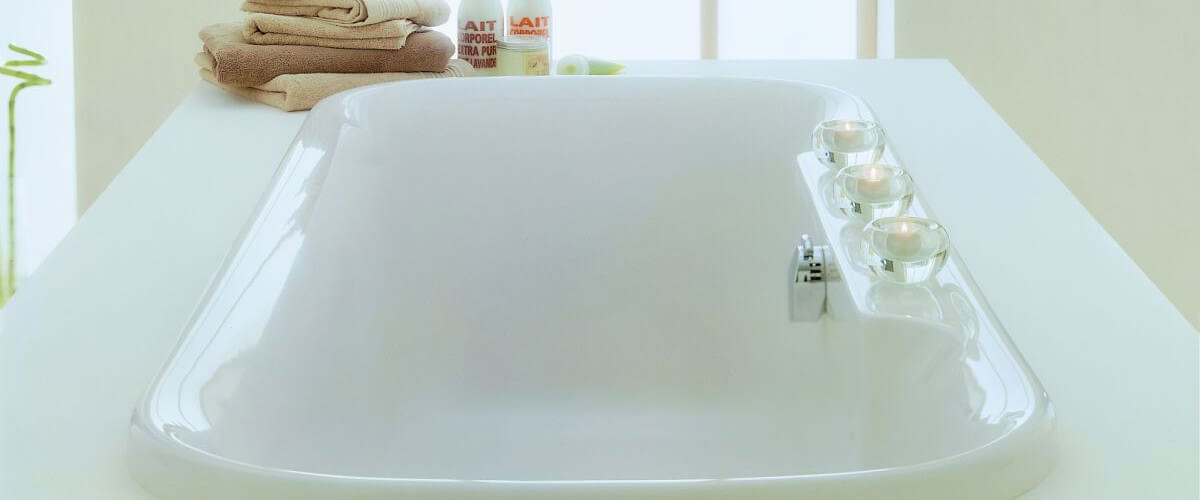 Inset Bathtubs can be recessed between walls. Inset Baths are also known as three-wall alcove baths. Only the ledge of these baths displays decorative styles, and the whole bathtub can be concealed. Recessed Baths are gaining more and more popularity in the United Kingdom.
These tubs come with built-in nailing flanges and integral bath aprons, which makes them easier to install between three-wall alcoves. That is a great way to address space scarcity, achieving more room and elegance through concealed under-mound baths. These tubs may also be used for showering, in smaller bathrooms that do not allow separate baths and showers.

---
Steel Baths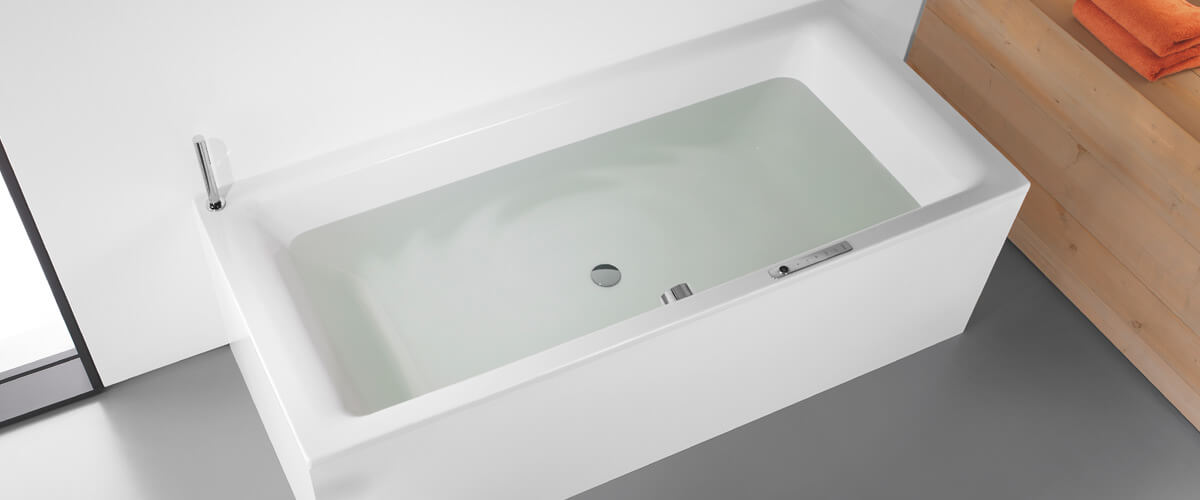 Steel Baths are heavy, strong and durable. Steel Bathtubs come with different enamel coatings and offer durability and longer heat retention. Porcelain enamel is made by fusing powdered porcelain to a substrate by firing to high temperatures in a kiln. The powder melts, flows and then hardens, and a smooth, durable vitreous coating forms on the metal. Benefits of Steel Enamel are that they offer superior stability, unlimited hygiene, brilliance, high resistance to breakages and scratches and guaranteed longevity. Steel Bathtubs come in various shapes and sizes. Have a look at the examples here.
---
Double-Ended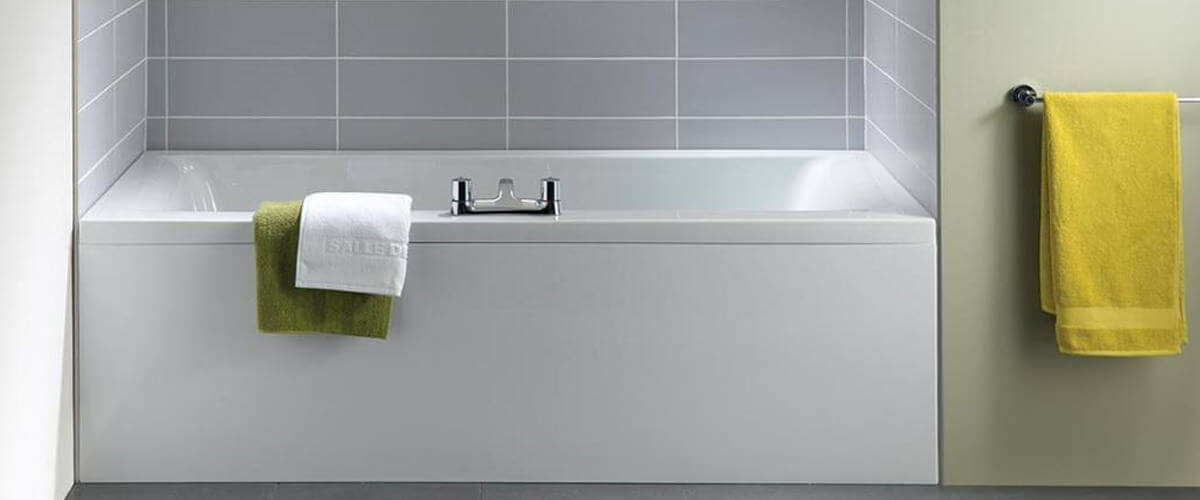 Double-ended baths accommodate two bathers at a time with two identical ends for each bather to face the other. The bather is treated to a lounging experience with backrests inherently designed on either end of the bath. These tubs have the waste and taps fitted in the centre of the tub or mounted on the wall. Such an installation allows you to stretch out in the tub and relax comfortably without bumping into taps or other fittings. A double-ended bath is ideal for families with children as they afford more space for fun frolicking. Go for it, for it suits your lifestyle! See the shape of these types of baths here.
---
Shower Baths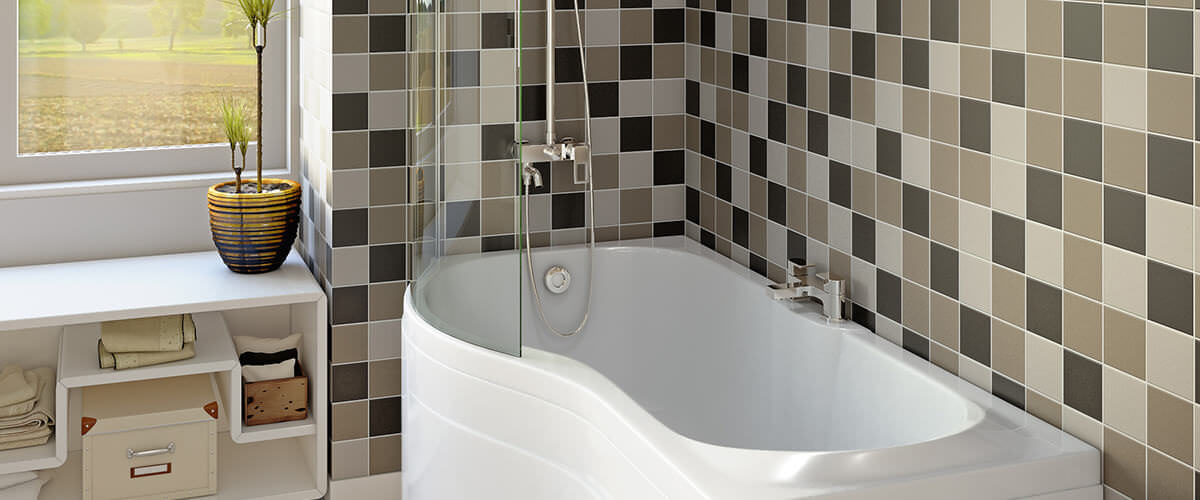 Shower Baths usually come in P or L Shape, straight tubs with an alcove installation, or a freestanding tub with exposed hardware and a shower ring. These are versatile enough to allow you a bath or a shower as you desire. Shower baths are typically installed against a wall, and a glass screen is then installed at one end to create an enclosed cubicle. A fixed showerhead with a mixer shower is fitted to the wall in this area, allowing for a refreshing shower by standing directly under the showerhead, or an enjoyable soak in a hot (or cool) tub. Homeowners who have to rush to work can't dip in the bathtub and opt for a quick shower instead.
The more leisurely soaks can be had when there is plenty of time or over weekends. Shower Screens are generally used with such tubs, so you have the bathroom floor dry even after taking a shower. Many people today – first-time house buyers, people who have had to downsize, and others – are dealing with the challenges of a small living space. Herein lies a major benefit of a showerbath: it is a brilliant space saver, taking up considerably less floor area than a separate tub and a cubicle. This makes it an ideal choice for smaller spaces. See Different Shapes of Shower Baths Here.
---
Walk-in Baths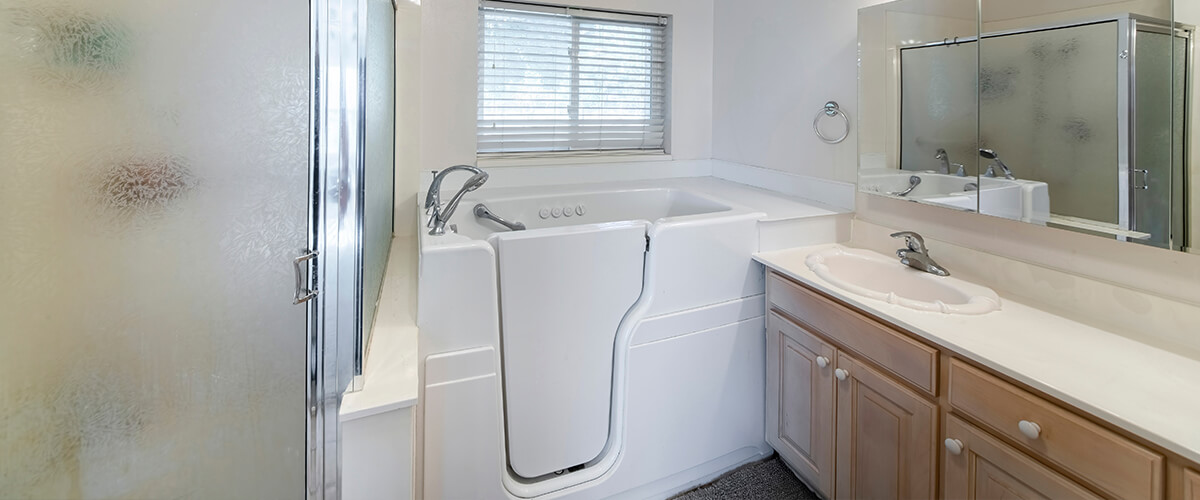 Walk-in baths have become increasingly popular in recent years. Like shower baths, they offer an unparalleled compact, versatile design, and convenience. They are usually made to sit in and don't let you stretch out like conventional bathtubs. However, they make up for this by offering a number of ingenious therapeutic features, such as massage and micro-bubble therapy. Walk-in baths are also particularly suited to people who use wheelchairs or are recovering from injuries and have limited mobility.
---
Futuristic Baths

Bathtubs usually present the centrepiece in the scheme of things inside a bathroom. An ideal bath should have the right proportions, build and design to offer the best solution for an unwinding and relaxing soak. With the aim to provide unique and out-of-the-box features, and gain a competitive advantage, brands are hiring the best designers to come up with smart ideas and trendy, never-seen-before designs.
Some of these have been introduced lately and have already won the hearts of millions and garnered tremendous popularity. These technically advanced models of the future are made for modern homes to joyously grace their bathrooms, taking inspiration from a variety of sources.
Marvellously designed bathtubs come in a plethora of futuristic variations, some being suspended in air, some made of transparent glass and some wonderfully utilitarian, offering storage space within its exteriors for everyday bath accessories. Redefining luxury, these superb products will enhance the comfort quotient while being visually stunning at the same time.
---
Bathtub Colours
The most common, traditional, and popular colours for bathtubs range from pure white, warm tans, almond, and cashmere to darker sandy greys and elegant black. Depending on your overall idea and scheme, these days, tubs come in a variety of other colours such as blues and pinks. Old-style bathtubs of wood or metal can also add unique and different colours to your bathroom.
---
Bath Size:
After determining your bathing area, you may choose from bath sizes ranging from 900 mm (90cm) to 2400 mm (230cm).
Small (900 mm – 1699 mm):
For your bathroom to appear spacious, it would be advisable to opt for smaller, space-saving baths or just a shower space. Appropriate colour scheme and lighting around the mirrors, along with bath panels in clear glass, would enhance the aesthetics applied to your bathroom.
Average (1700 mm – 1799 mm):
The normal bath size is 1700 mm, which is an accepted norm for all mid-size to large bathrooms. These are readily available to suit and adapt to your requirements in designs, accessories, and budget.
Large (1800 mm – 2400 mm):
Increasing your average bath size by even 100mm can work wonders. The benefits of a relaxing stretch become a daily reality. Options such as a large double-ended whirlpool bath become a rewarding experience for you and your loved ones.
---
Available Material
Acrylic
Acrylic baths can be easily cleaned. They possess natural warmth and are resistant to high temperatures and chemicals. Moulded into soft contours, acrylic bathtubs offer smooth edges which are forgiving in case of a slip or fall.
Aquamaxx
This is a reinforced layer on an acrylic tub that renders it high durability and strength as compared to cast iron and steel baths. They offer a rich and superior gloss finish with anti-bacterial quality. They are often found in hotels, spas, gyms and modern bathrooms where design, durability, and quality are never compromised.
Carronite
Carronite finish instils extra strength and heat retention, which would keep your long soak session uninterrupted. Carronite has an additional 25% slip resistance in comparison to cast iron or enamelled steel bath, thereby increasing your safety chances.
Enamelled Cast Iron/ Porcelain
They come in high gloss with rich hues. These are very heavy and thus experience slow discontinuation. They are difficult to maintain, susceptible to scratches and cracks. These are cold in texture and costlier than acrylic ones.
Enamelled Steel
Steel with porcelain enamel coating is the best option if you have a tight budget. However, it comes with drawbacks such as surface coating wearing away and zero heat retention.
When selecting your bath, there are quite a few variables you will need to get right. Take your time to ensure that the one you order matches the location for installation, in general, configuration, overall dimensions, and drain, supply, and vent locations.
Wood
Baths made from wood have become a popular luxury trend. Wooden baths are known to have particularly pleasant properties. This includes a generally warmer feel and touch, absorbing the sound of the water, and having a pleasing woody scent that can add to the relaxation and atmosphere. A drawback to wood, however, is that, though usually heavily treated, it will potentially deteriorate at some point.
---
Which material is best?
Steel – For long-term reliability, it is difficult to beat an Enamelled steel tub, which can realistically be counted upon to remain serviceable for generations. The enamel finish is glass, applied to the metal substrate under extreme heat. While the enamel is quite durable and scratch resistant, some types can be vulnerable to chipping, and after years of being cleaned with abrasive cleansers, can become prone to discolouration by any minerals or dirt in the water.
As would be expected, steel baths are pretty heavy and usually require a more robust structure on which to be mounted – not to mention more than one strong back to install. It should be noted that steel baths are more likely to feel cold to the touch during the winter than baths made of other materials, but being excellent heat conductors, they do warm up quickly when filled with hot water.
Man-made materials – Baths constructed entirely of man-made materials such as acrylic or fibreglass are increasingly popular. They offer greater flexibility in design and colour, and are much lighter than steel, making them easier to install. They are also less effective at radiating heat or cold, making them more comfortable during winter than steel.
Some of the less-expensive baths can be somewhat less durable, but the models we offer exhibit a sufficiently robust construction so as to minimise or even eliminate the difference in durability from their steel equivalents. And while both acrylic and fibreglass are more vulnerable to surface scratching, even moderately severe scratches are easier to repair, with better colour-matching results than those usually achieved on Enamelled surfaces.
If you are unsure, let a professional do the job – Generally speaking, it is usually advisable to consult with an experienced plumbing installer to get help specifying the correct bath and, better still, to retain their services for the entire project. One of the biggest cautions is that an improper installation could (and often does) result in leaks that are not readily visible, and can continue unnoticed until the structure beneath the bath is compromised. If this happens, you could be faced with additional expenses far greater than the cost of having the bath professionally installed.
---
Bath Depth
While more depth sounds alluring for that perfect dip, keep in mind the cleaning problems you are bound to face with a deeper tub. In case you want it at a certain height from the floor, you can consider raising it on a platform. Adding leg sets can get you in a playful mood.
If you have mobility problems, consider investing in a walk-in option for ease of getting in and out.
---
Process of Remodelling
If you're in the process of remodelling your house or refurbishing the existing setting to give a new look to your bathroom with a bathtub, then keep these key specifics in mind before you indulge:
1. Size of the Bathroom and the tub
If your bathroom has a spacious area or is large, you can always plan to have a large bath, which will assure convenience and soothing bliss, due to the big room space. You can always opt for a large-sized standard bathtub that has wide interior space and convenient and attractive exterior. Some of them are spacious to the extent of being able to accommodate two people at a time. You can also choose where you'd like to place or install it, for there are versatile bathtubs that can fit in the corner, against the wall or even in the centre space of the bathroom.
2. Try it Out
A mock exercise can always help you select the right one, like lying in the bathtub before making up your mind; is it a good fit for your height and body and if you like the feel of the material against your skin?
3. Hot Water
When at the store for a trial, you can also get information about important components like water heaters. You need to confirm if your present one is good enough to supply all the hot water required for a soaking tub. Otherwise, you must have important information about heaters that have the capacity to generate sufficient hot water for the tub you are planning to buy.
4. Weight of the Tub
You also need to find out if your bathroom floor is strong enough to support the weight of the bathtub. The weight would depend on the material and size of the tub, with plastic tubs being the lightest while cast-iron whirlpool tubs can weigh up to 500 pounds. When selecting a heavy tub, strengthening of the floor may be required, so that it can sustain the weight of the bath conveniently.
5. Warranty/Guarantee
Companies that manufacture tubs offer warranties for different periods. Cheaper tubs come with one-year warranties while high-quality tubs come with longer warranties or guarantees that extend to even a lifetime. It is also important to note what is covered during that warranty period.
6. Other factors
Determining the position or location of the spout or drain for the bath is also essential.
---
What about your budget?
Most of us would love to have a top-of-the-range bathtub, but our budgets dictate what we inevitably end up buying. Think about how much you would like to spend and try not to go more than 20% over your budget. See if there are any tubs that have reduced prices or on sale as they may give you the chance to have a tub you wouldn't ordinarily be able to afford. If you are looking for an extremely luxurious tub, be prepared to pay a lot for it. However, cheaper bathtubs may still give you that classic and sophisticated look you've always wanted.

---
Ask for Opinions
If you want to add a touch of glamour to your bathroom, but you're not sure how to go about it, ask for a bit of advice. Sometimes just getting another person's opinion or perspective can ensure you have a perfect bathroom. Think about the colour of your present bathroom and what you would do to improve it. Walk around a few different showrooms and websites, as they can help you to get new ideas.
---
How to Take Care of Your Baths
With correct installation, products from Duravit should give you trouble-free enjoyment for many years. But, here are some practical advice which applies to most sanitary ware products:
Do not use cleaning chemicals, deodorants or additives to the water in your cistern (tank) such as blue fluid cleaners. These chemicals tend to react with and corrode either the plastic/rubber materials or the metal parts of your water closet.
Never use strong chemicals such as hydrochloric acid to clean ceramic or plumbing fixtures, as they will definitely corrode the materials used in these fixtures.
To completely remove shipping or accreditation labels, please do not use chemical abrasives or spatulas as these may scratch the ceramic surfaces. Water and vinegar on your wipe cloth should do the job.
Do not flush solid objects or thick paper into the water closet, as these may clog the drain. If clogging occurs, do not use mechanical force or strong chemicals to push down material; call a plumber.