The Best Indoor Plants for Your Bathroom
Published on: 06/06/2020
Last Updated: 06/06/2020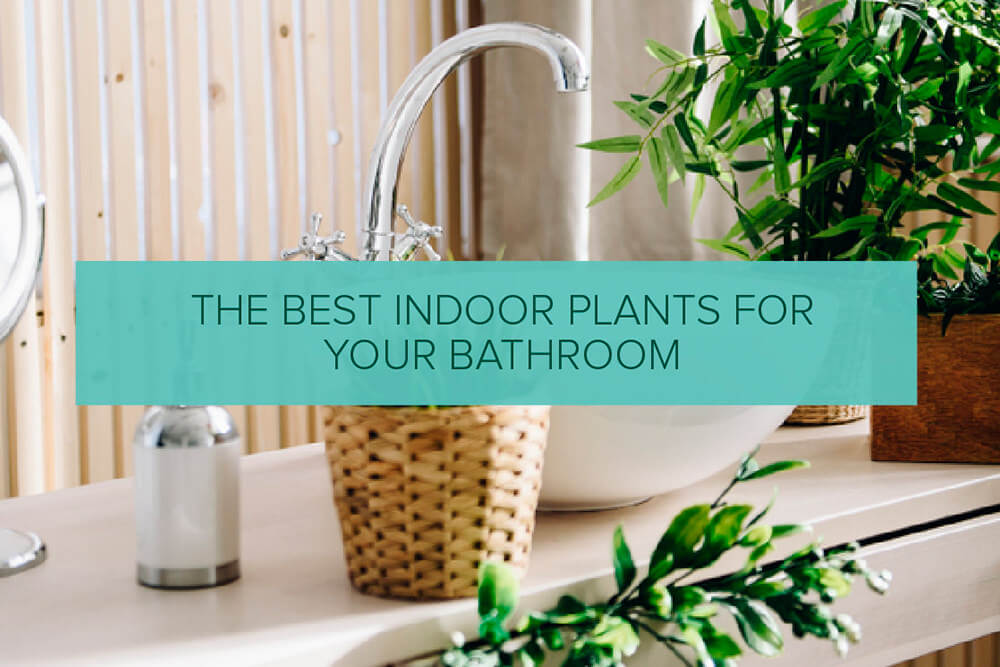 Adding living greenery to your bathroom is one of the most popular trends in home decor, and for a host of reasons. Plants not only help boost oxygen levels and add visual interest, but they can transform an ordinary bathroom into a tropical oasis. Whether you consider yourself an accomplished horticulturist or you'd like to learn more about which plants are best suited for your bathroom, we can help.
There are several reasons a bathroom is an excellent place for indoor plants to thrive:
Adding living plants helps improve mood and creates visual allure.
Many plants that are well-suited for the bathroom remove undesirable elements from the air.
Humid bathroom environments naturally keep plants healthy and happy.
However, you may wonder if having plants in your bathroom might be a problem over time because of concerns like maintaining a watering schedule, choosing the proper plant size, and pruning. Below, find our curated list of plants chosen based on their compatibility with a bathroom's size, lighting needs, level of care required, and air filtering abilities.
---
Create the Perfect Bathroom With Plants
Whether your bathroom is small, large, has a lot of natural light, or is windowless, plants can improve the space. On the surface, a bathroom may appear to be a hygienic place devoid of any harmful elements, but many plants that are suited for the bathroom help clean the air.
Bathers should beware if their shower isn't as clean as possible. There are various types of pathogens and bacteria found in the tap.
When the water from a shower becomes aerial as a mist, potentially hazardous pathogens can travel through the air. A poorly kept bathroom with ventilation problems, rising mist from toilets filled with microorganisms, and a shower curtain teeming with mould, mildew, and soap scum can also further complicate things.
Are you looking for a helpful solution? Here is where plants come in.
A NASA study published in 1989 displayed how plants can remove VOCs from the surrounding environment.
Plants help reduce stress levels, and contact with nature improves mood.
The soil in potted plants also plays a role in cleaning the air.
Specific plants reduce dust, mould, and pathogens in the air.
Beyond strategically placing a potted plant or two around a bathroom, plants offer plenty of versatility to show off your creative side and get in tune with nature. Some plants can be hung from the shower curtain rod, staggered atop floating shelves, or used to create a living wall.
Don't worry if you can't keep a consistent watering schedule or stress about whether a plant is getting enough light. Simply choose a plant from our list that is a better fit for your lifestyle and home.
---
1. Air Plant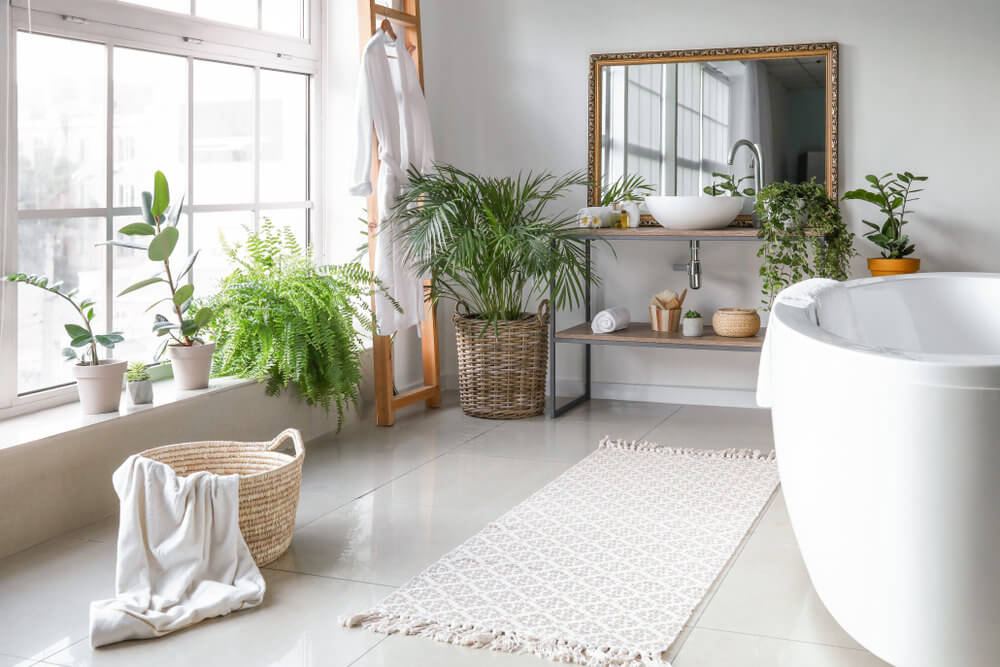 If you are short on space in your bathroom or you wish to avoid traditional pots or planters, consider an air plant or two. Air plants, a type of bromeliad also known as a Tillandsia, thrive in humid bathrooms because the plants absorb nutrients and water from the air. You will want to keep air plants in bright, indirect light.
Air plants are relatively inexpensive and can live for as little as a few months up to a few years, depending on their care. If you give an air plant enough time and patience, you may witness a vibrant bloom once in the plant's lifetime. The biggest bonus is that these plants can grow pretty much anywhere or hang freely without a pot.
Pros
Can be grown anywhere without needing soil or a pot
Easy to care for
Absorbs water and nutrients from the air
Loves humidity
Nontoxic to pets
Cons
Requires natural light but can withstand artificial illumination
Overwatering or under-watering damages plant quickly
---
2. Aloe Vera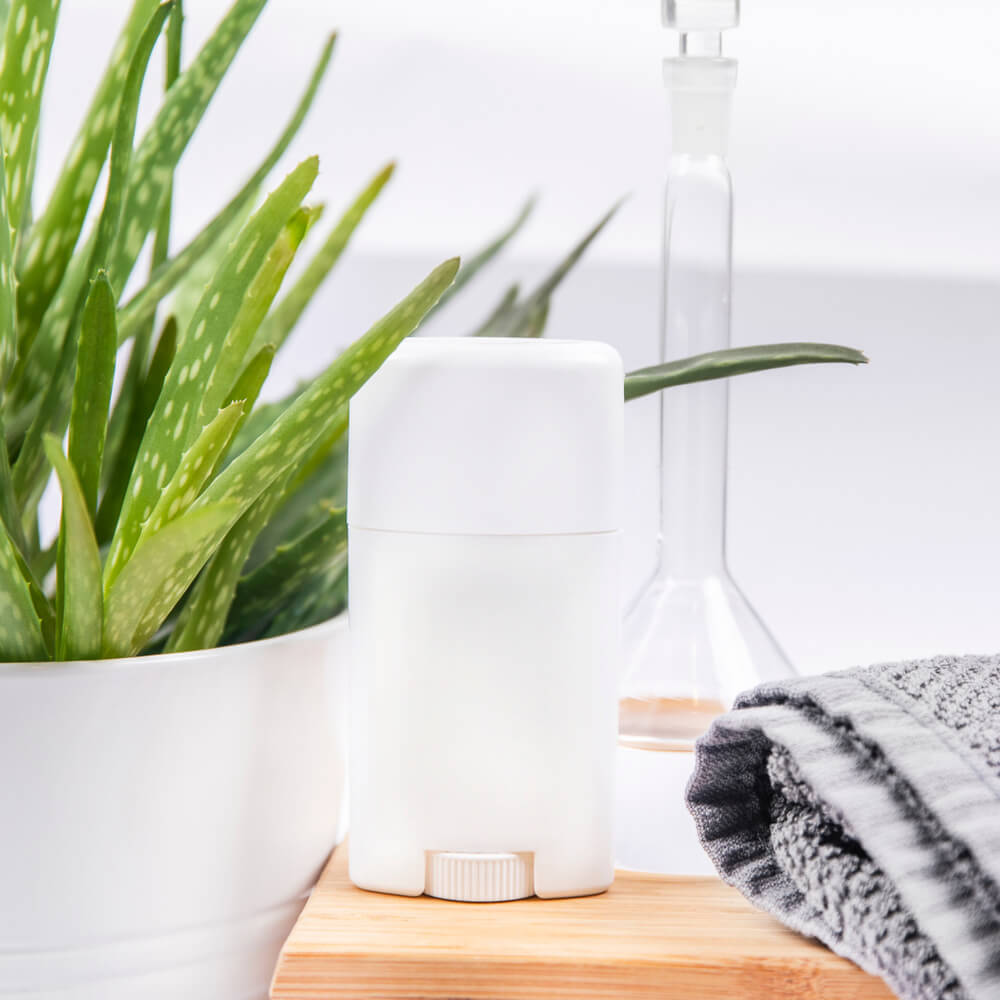 The majestic aloe vera plant is a type of succulent that is not only a beauty in the bathroom, but it provides a host of benefits. The clear gel inside the leaves soothes burns, heals cuts, and moisturises the skin.
Keep aloe vera plants in a moderately sunny window, but don't overexpose the plants to intense sunlight. Be mindful not to overwater aloe vera, as this plant is hardy and readily absorbs moisture in humid spaces.
Pros
Attractive and hard to kill
Contains vitamins, nutrients, and healing gel within its leaves
Absorbs moisture from humidity
Readily creates new shoots which make new plants
Cons
Overwatering will damage this plant
Doesn't bloom
Exterior of the plant is spiky
---
3. Bamboo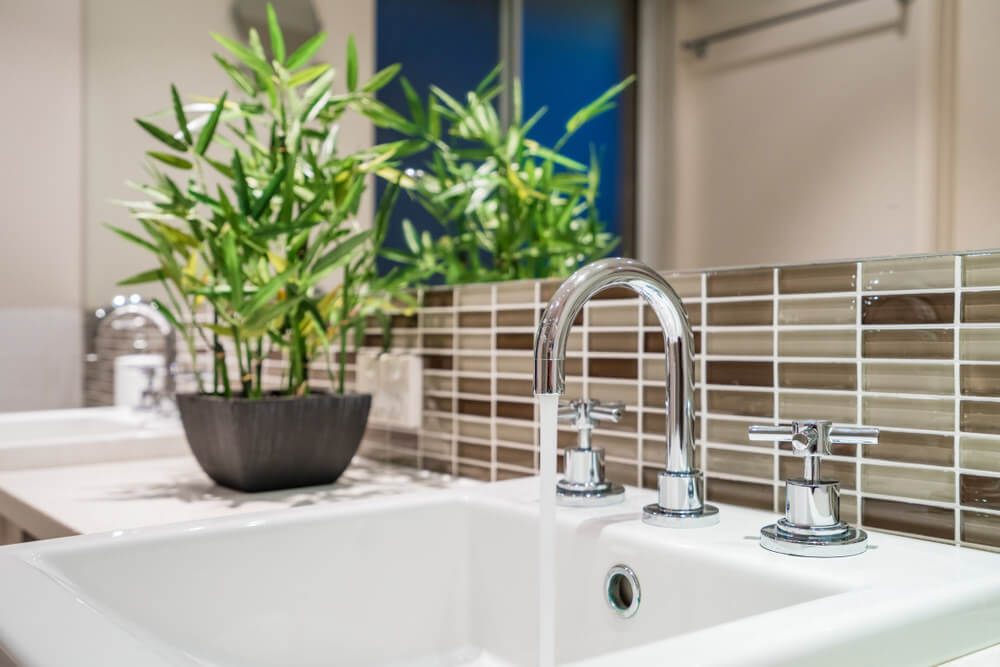 Choose some lucky bamboo plants (Dracaena Sanderiana) for your bathroom, especially if the space is devoid of windows. Bamboo plants are attractive and thrive in low-light environments.
Surprisingly, lucky bamboo is not bamboo at all, but rather a member of the lily family. Grow this plant in water or soil and watch it tower to 2 or 3 feet in height. Make sure to use purified water and to change the plant's water weekly (if grown in soil, keep the dirt slightly moist).
Pros
Symbol of good luck
Resilient plant that loves low light
Suitable for small or windowless bathrooms
Low maintenance
Cons
Needs filtered water
Prone to yellowing, spots, and pests
---
4. Bromeliad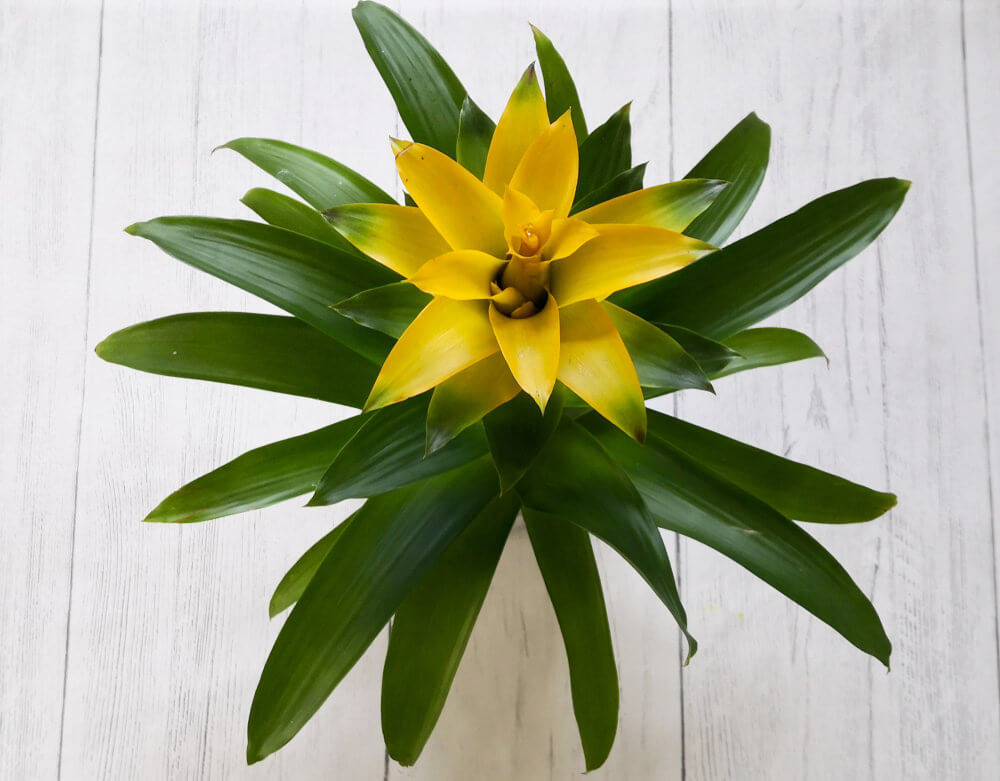 Give your bathroom a tropical twist with a bromeliad that thrives in humid and moist environments. Place the plant in a sunny window or keep it under a grow light if needed. Bromeliads make beautiful additions to any bathroom because of their leaves and brilliantly coloured spiky blooms
.
Pros
Plenty of varieties available
Robust foliage is highly attractive
Tolerates a range of temperatures
Loves bright indirect light
Cons
Needs filtered light to thrive
Often doesn't bloom more than once
---
5. Chinese Evergreen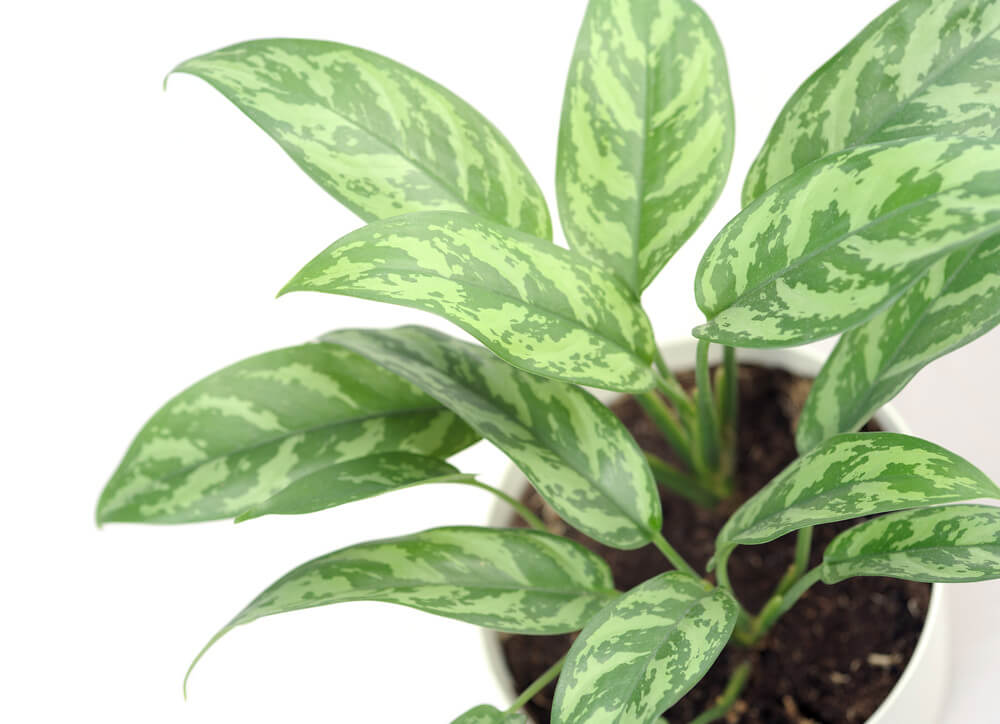 Enjoy the lush beauty of a Chinese evergreen in your bathroom, as these plants love humid conditions and warm temperatures. NASA studied the "silver queen" variety of this delightful plant, which also purifies the air. There are several types of Chinese evergreen.
Pros
Resilient and difficult to kill
Cleans the air
Thrives in low light
Easy to care for and survives in temperatures as low as 60 degrees
Cons
Toxic to pets
Vulnerable to scales or mealybugs
---
6. Corn Plant (Dracaena)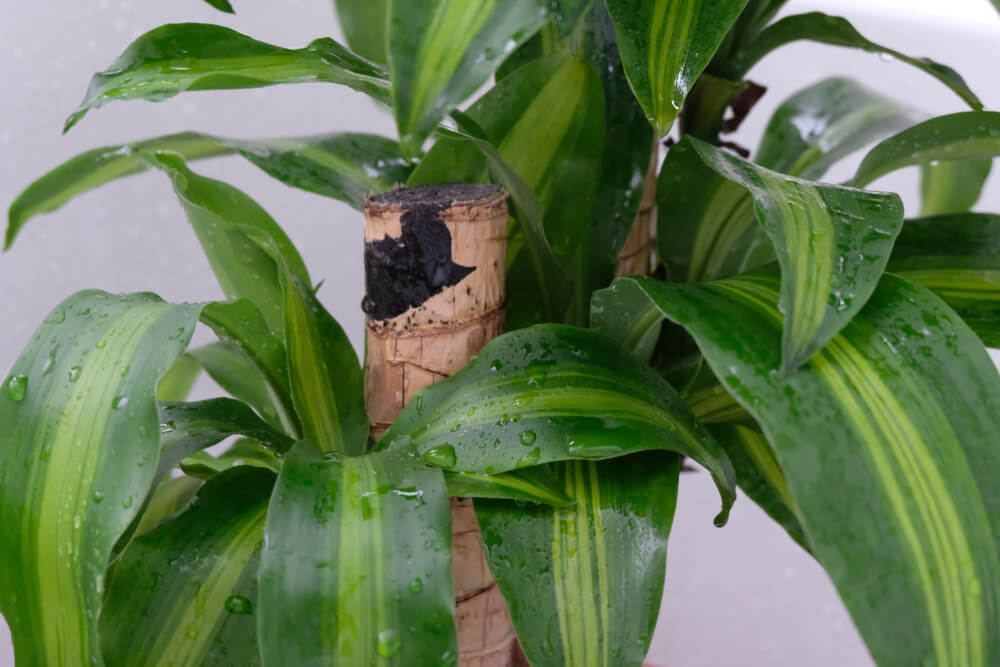 Originally hailing from Africa, the corn plant is a gorgeous, low-maintenance plant with thick stalks and generous foliage. Also known as mass cane, the corn plant has been a popular houseplant since the 1800s. If you are lucky, you might witness the appearance of fragrant white blossoms.
Place a corn plant in bright, indirect light and watch it grow to an astonishing 4 to 6 feet in height. Note that this plant can tolerate moderate to low light, but it thrives in a high humidity environment.
Pros
Removes volatile compounds (VOCs) like formaldehyde from the air
Inexpensive and low maintenance
Thrives between 60 degrees and 75 degrees Fahrenheit
Attractive, long yellow-green leaves with signature stripes
Cons
Watch out for fungus gnats, brown spots, and mealybugs
May be toxic to small pets
---
7. Dragon's Tongue (Hemigraphis)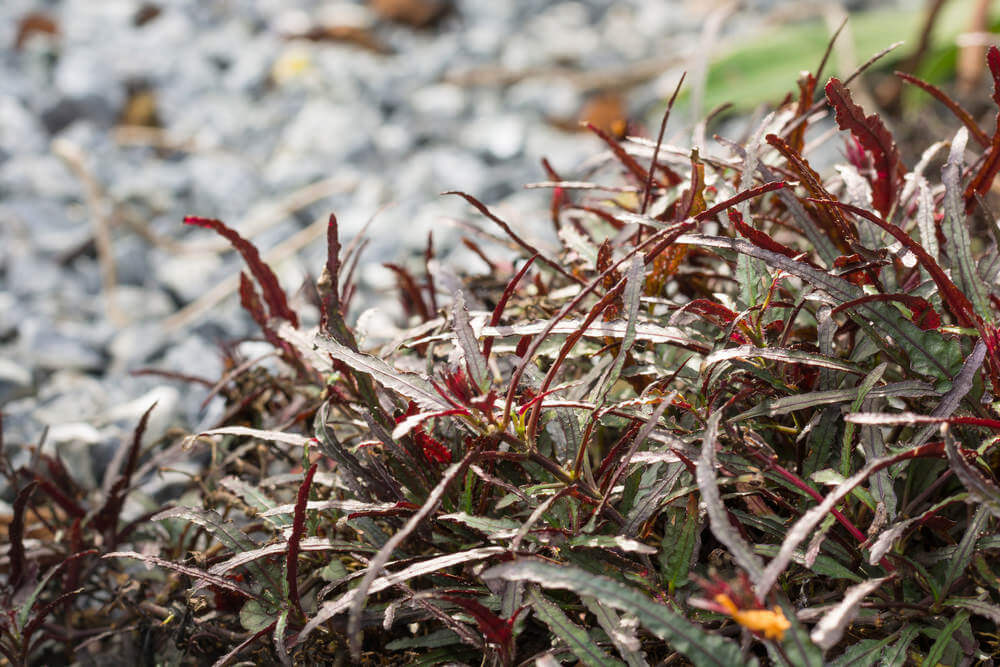 There aren't many varieties of dragon's tongue plants available, but their foliage provides a visually appealing ornament to the bathroom. These plants have dark green leaves with a vibrant purple back. Keep your dragon's tongue plant happy and thriving in a bathroom with high humidity, as they appreciate a hot, steamy shower.
Place a dragon's tongue plant or two in your bathroom to help remove harmful contaminants like benzene, acetone, and formaldehyde from the air. This is a beautiful and hardy plant.
Pros
Perfect size for terrariums, small pots, and dishes
Purple grassy foliage is visually appealing
Grows in low, medium, or bright light
Easy to care for
Cons
Low humidity leads to browning and dry leaves
Leaves look less purple in low light
---
8. Dwarf Citrus Tree (Orange or Lemon)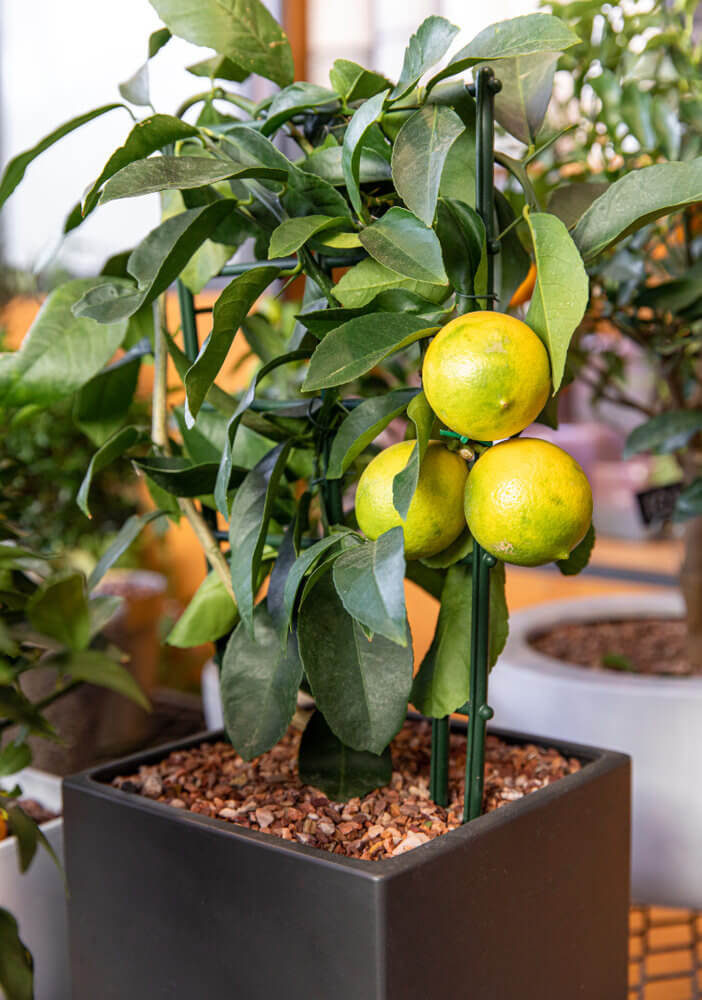 Add a unique and magical touch to your bathroom with a small lemon or orange tree. Yes, you can grow a fruit tree indoors, but the fruits yielded may be on the extra sour side. Keep a dwarf lemon or orange tree in a sunny bathroom where it will get plenty of light.
Note: A citrus tree can manage to reach a height of 2 to 8 feet; careful and planned pruning can help keep a citrus tree small in size. Consider the containers you use to pot your citrus tree and enjoy the sights and scents of citrus fruit indoors while you shower. You might even get some edible fruit.
Pros
Creates beautiful colour and delightful scents
Enjoy miniature fruit year-round
Responsive to pruning, consistent temperatures, and watering
Loves humidity and sunshine
Cons
Specific varieties of fruit are best for a dwarf tree
Vulnerable to certain pests like mites and scales
---
9. English Ivy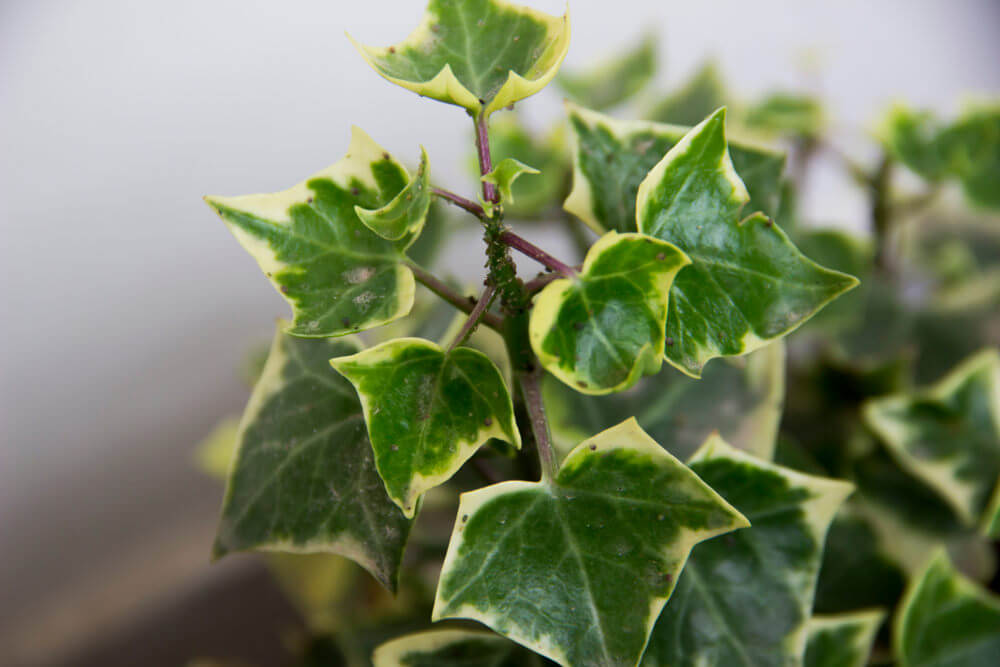 Choose a pot or two of climbing English ivy to hang on your bathroom's shower curtain rod, or create a living wall of greenery. Ivy is on NASA's list of air-purifying plants, even removing mould. Allow an ivy plant to make a cascading trail of leaves as it hangs in your bathroom, or place it in a pot on a windowsill or sink counter.
Pros
Survives in low to moderate light
Removes contaminants from the air, like faecal matter and mould
Adds visual drama to a space
Easy to care for (indirect sunlight is ideal)
Cons
Can grow out of control if not pruned regularly
Can cause staining and damage walls
---
10. Ferns (Kimberly Queen Fern/Boston Fern)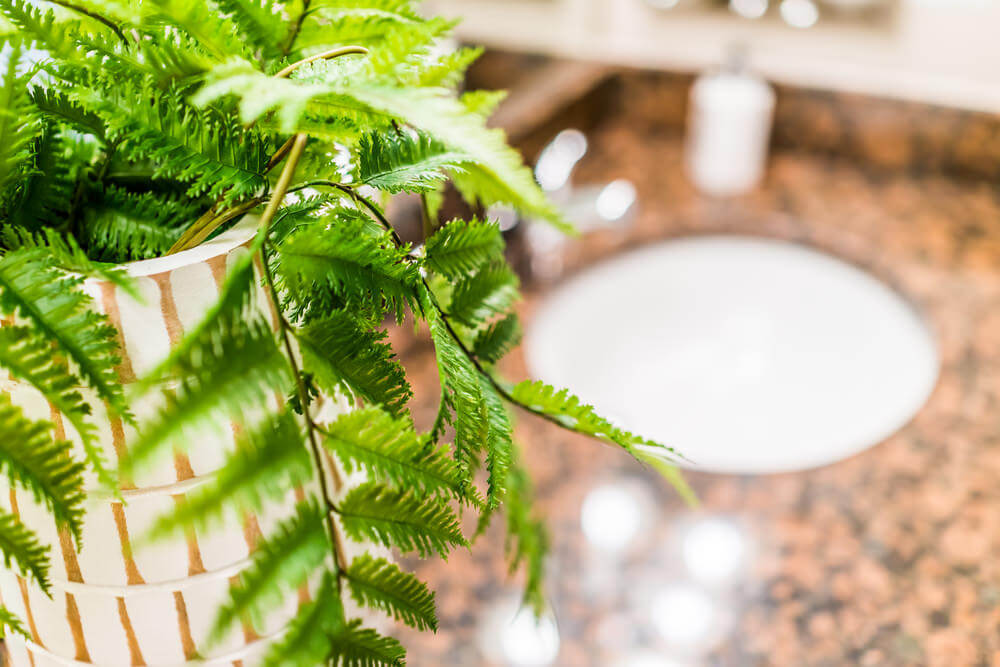 If you like a plant that isn't too fussy, loves low light and humidity and is attractive and elegant, consider a fern for your bathroom. Both the Kimberly queen fern and the Boston fern are excellent choices to share space with your shower. Hang a Boston fern from a basket and let the leaves cascade down to create a vibrant green wall.
The Kimberly queen fern, also known as the Australian sword fern, is nontoxic to pets and grows its leaves in a neat, compact way.
Pros
Grows well in moderate or filtered sunny light
Low maintenance and easy to care for
Not toxic to cats and dogs
Looks great hanging from a basket
Cons
Vulnerable to aphids and mealybugs
Boston ferns spread out quickly and can take over quickly
Kimberly queen ferns are very compact with growth
---
11. Golden Pothos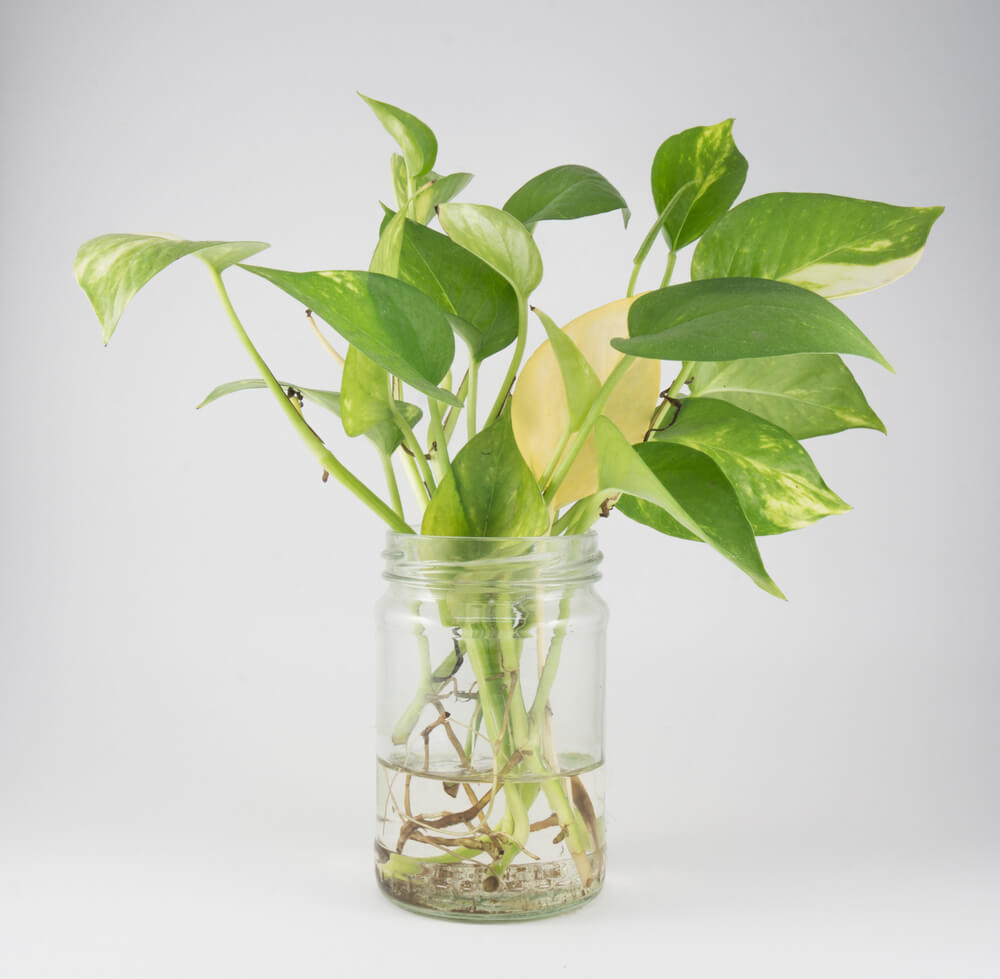 Transform your bathroom into a mini jungle with golden pothos, a plant that creates cascading trails of leaves. Golden pothos is also known as devil's ivy, and the plant has signature two-toned leaves and extravagant vines. Choose this plant for a sunny bathroom that is warm and damp. Be sure that the golden pothos isn't overexposed to direct sunlight for too long, as it can damage and dry out the leaves.
Pros
Beautiful cascading vines and two-toned leaves
An excellent choice for sunny bathrooms
Easy to care for
Cons
All varieties of pothos are harmful to pets and humans if ingested
Too much direct sunlight or overwatering will harm the plant
---
12. Heartleaf Philodendron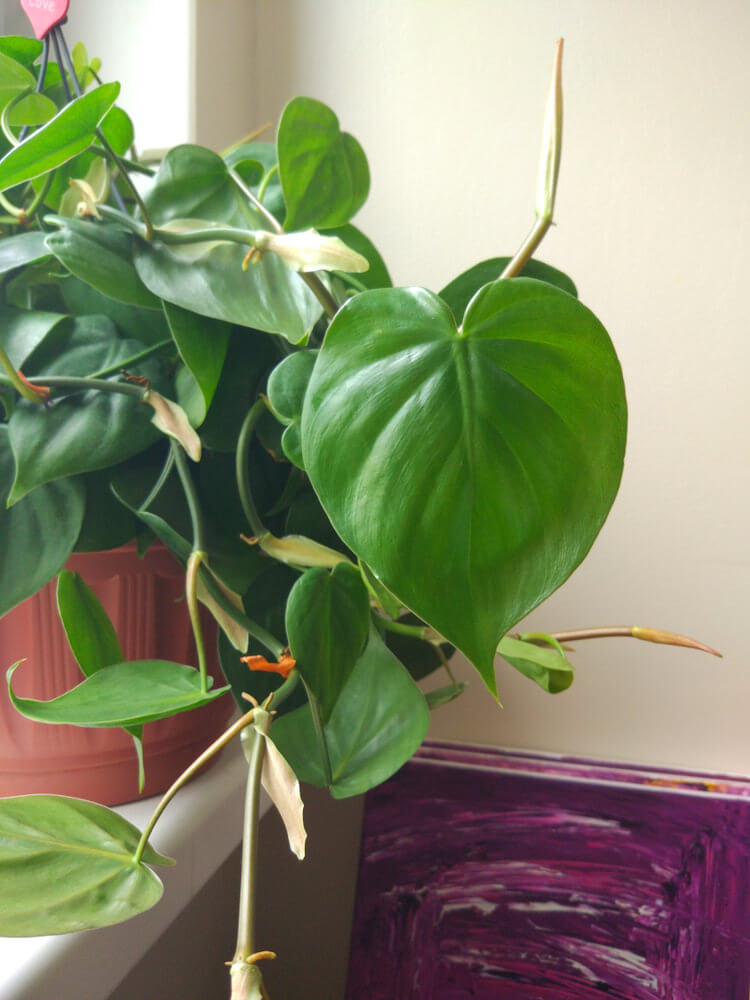 Have a black thumb when it comes to plants? Consider a heartleaf philodendron for your bathroom. This beautiful plant needs low light, humidity, and damp soil to thrive. If you are not up for hanging your philodendron in a basket, place it on the windowsill and let its vines and leaves hang freely.
Don't worry if you forget to water your plant; the heartleaf plant tolerates neglect and will absorb moisture from the humid air.
Pros
Suitable for a low-light bathroom
Vines create green ambience
Hardy and challenging to kill
Multicoloured leaves are highly attractive
Cons
Toxic to pets and humans
Vulnerable to fungus and insects
---
13. Jungle Queen (Anthurium)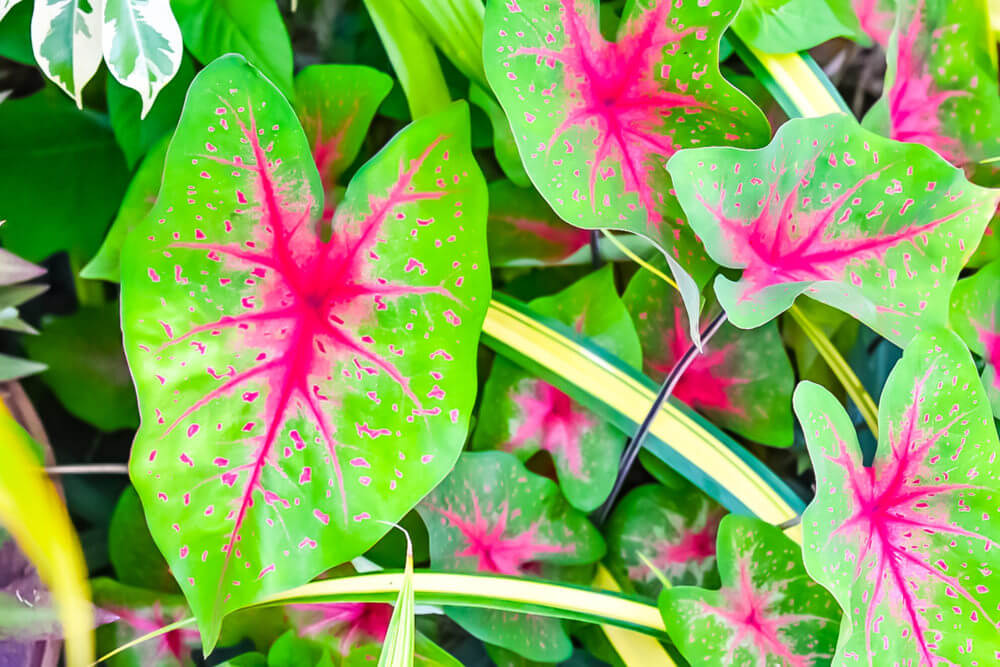 For a larger bathroom, go bold and big with a jungle queen plant. Display an Anthurium in a sizable pot in a corner and enjoy viewing the large variegated leaves. The jungle queen plant brings a sense of drama, can reach a staggering 5 feet in height, and no two plants are alike. You may get a plant with dark purple leaves, with some touches of cream, white, or pink. The visual appeal for these plants grows with the plant, and they have a unique vase shape.
Pros
Tolerates drought
Thrives under low, medium, or high light
A beautiful array of colour variation with leaves
Grows easily and purifies the air
Cons
Better suited for a larger bathroom
May take a while to see blooms
---
14. Majesty Palm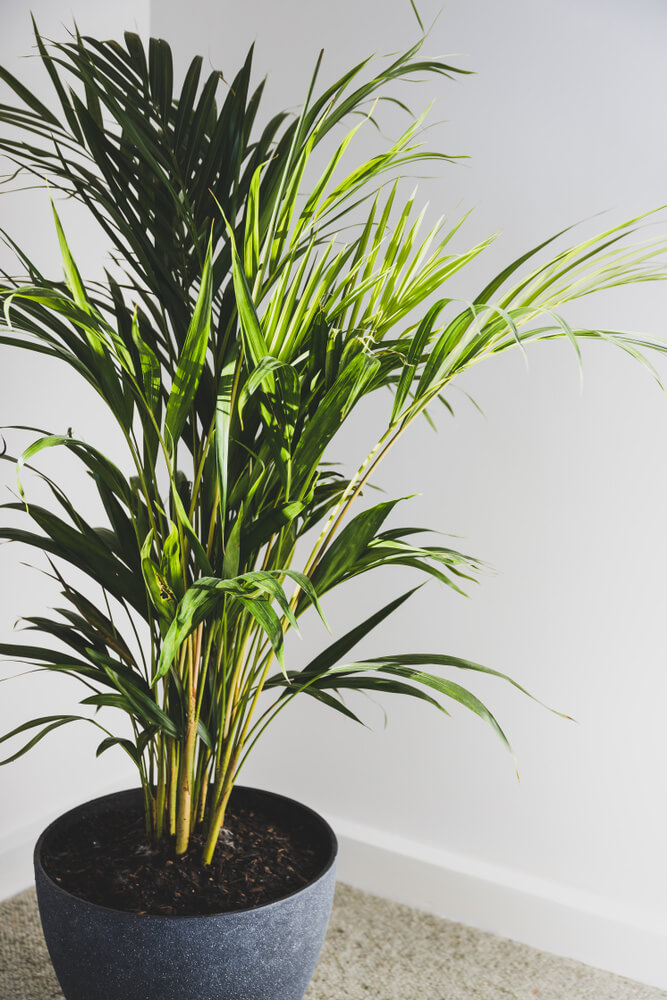 Create your tropical oasis with a grand plant that loves sunlight (though it needs to avoid direct sunlight to prevent burns). Grow a majesty palm in a medium to large bathroom for a sense of drama and visual interest. Give your palm plant six to eight hours of bright light daily and ensure it receives enough water.
Pros
Low maintenance and robust
Loves sunlight
Impressive fronds with visual appeal
Nontoxic to humans and pets
Cons
Vulnerable to spider mites; wipe down leaves
Suitable for larger bathrooms
---
15. Moss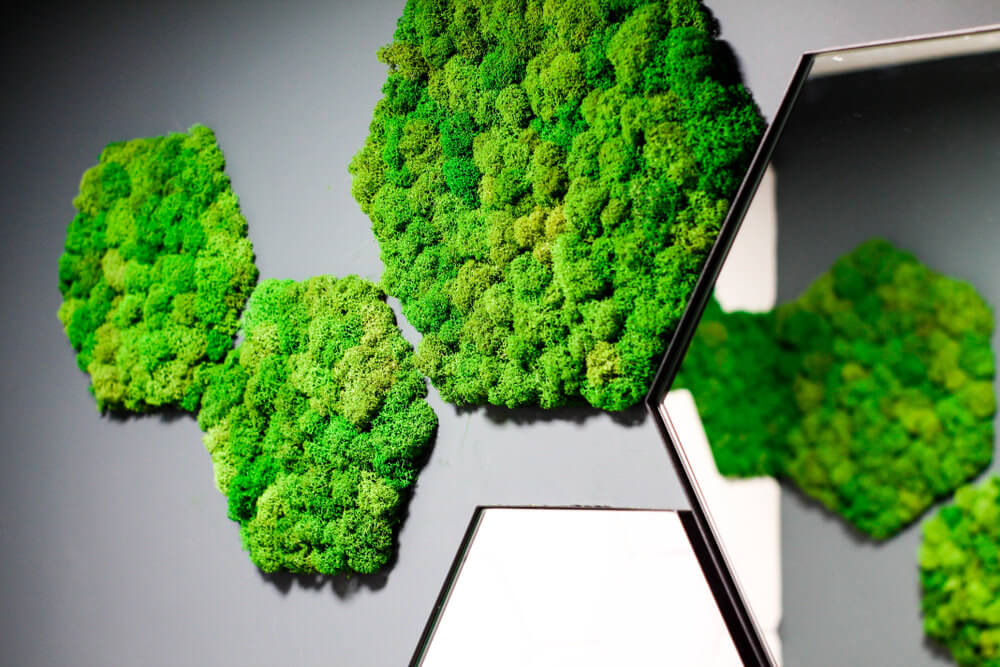 Whether you have a tiny bathroom or a lavish powder room, consider growing some moss in your home. Create a living wall of moss or a moss bath mat, or decorate your bathroom with terrariums teeming with it. You will appreciate moss for improving your home's air quality, as pollutants will stick to moss and get converted into biomass.
Pros
Excellent for a living wall or bath mat
Inexpensive and easy to grow
Adds texture and colour
Reduces airborne dust and mould
Cons
Doesn't have blooms
Can easily tear
---
16. Nerve Plant (Fittonia)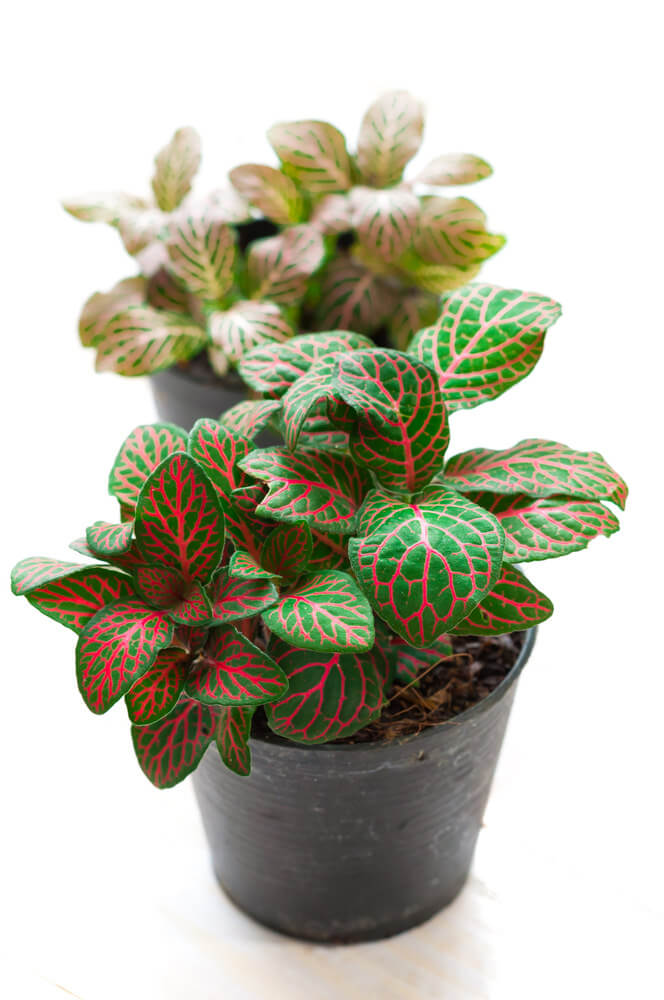 Are you living with a windowless bathroom or one that has little to no natural light? Consider keeping a nerve plant in your bathroom, which will thrive under the light of a bulb. If you are curious about making a living wall of plants, the nerve plant is an excellent choice because it grows vertically.
Choose this attractive tropical plant if you are limited on space and light, and you enjoy the visual appeal of hanging plants and terrariums.
Pros
Several varieties available
Grows well with low or unnatural light
Can be hung, added to a terrarium, or used in a living wall
Cons
Harmful if ingested
Requires constantly moist soil
---
17. Orchid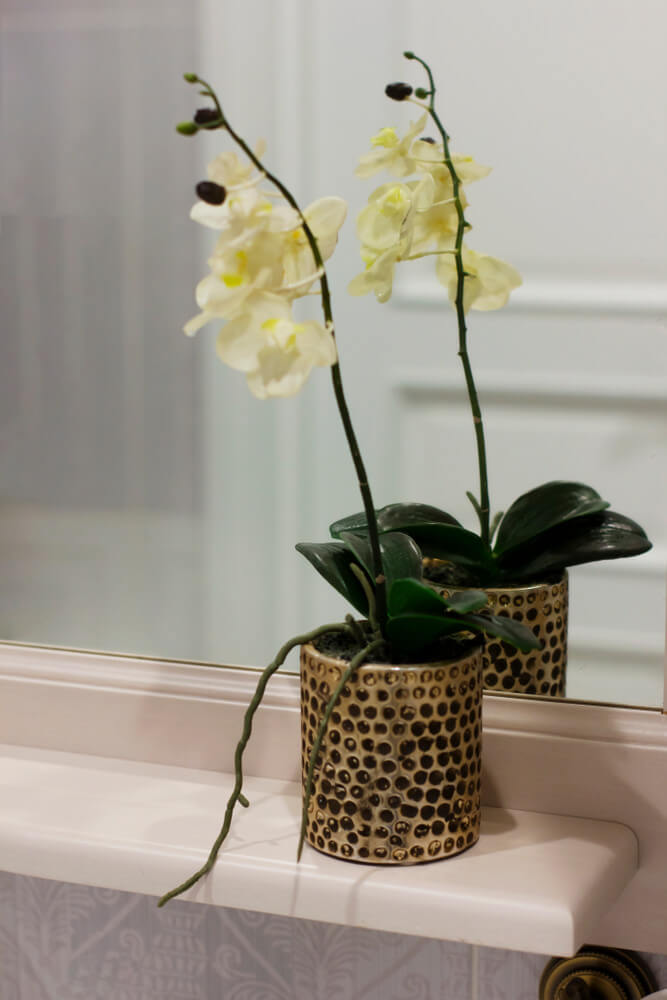 Reinvent your bathroom with the addition of tropical, fragrant, and attractive orchids. Thanks to their popularity, many species of orchids are inexpensive and not too fussy about growing indoors. Orchids of the Phalaenopsis variety are reasonably easy to care for and offer attractive blooms.
Orchids love the humidity in an average bathroom, and they require a modest amount of bright, filtered light to thrive. Grow an orchid in damp bark and leave the soil behind.
Pros
Grows in bark
Beautiful blooms in a variety of colours
Flowers may last for months for plenty of visual appeal
Suitable for a humid bathroom
Cons
May develop rot or mould
Needs weekly fertilisation
---
18. Peace Lily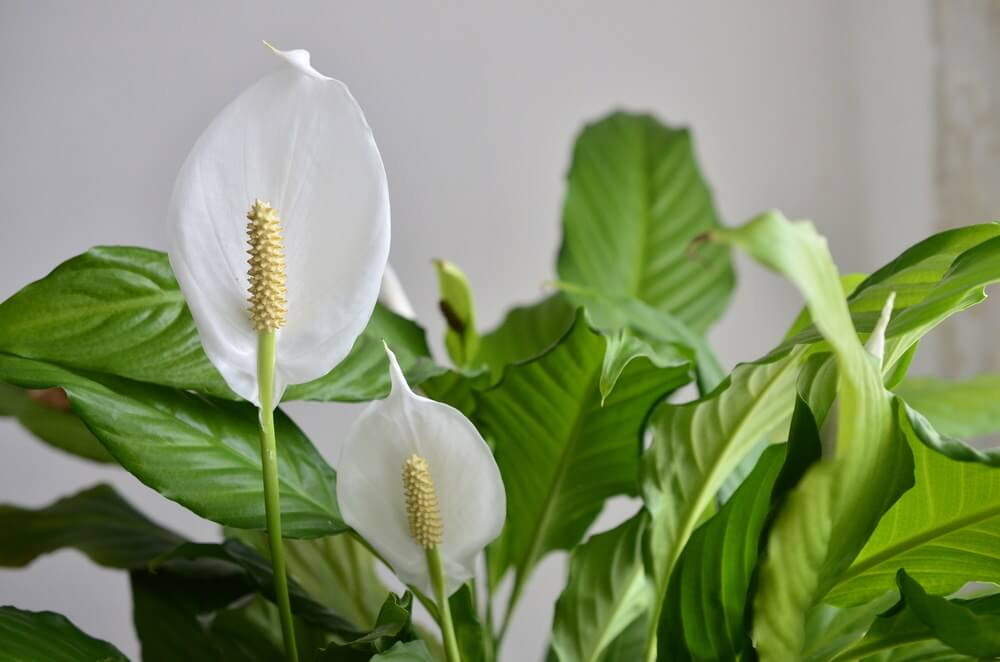 There is no plant quite like the peace lily, which has a rich history, cleans the air, and has elegant, dark pointed leaves. If you are worried whether your peace lily has enough water, observe the stems: They will droop when the soil is parched. The white flowers on this plant are unique in appearance, and this plant is an international symbol of peace.
Pros
Larger plant that would be a good fit for medium to large bathrooms
Attractive, dark pointed leaves and a fascinating bloom
Purifies air
Symbol of peace
Cons
Be mindful of root rot
May develop yellow or brown leaves in inconsistent lighting
---
19. Snake Plant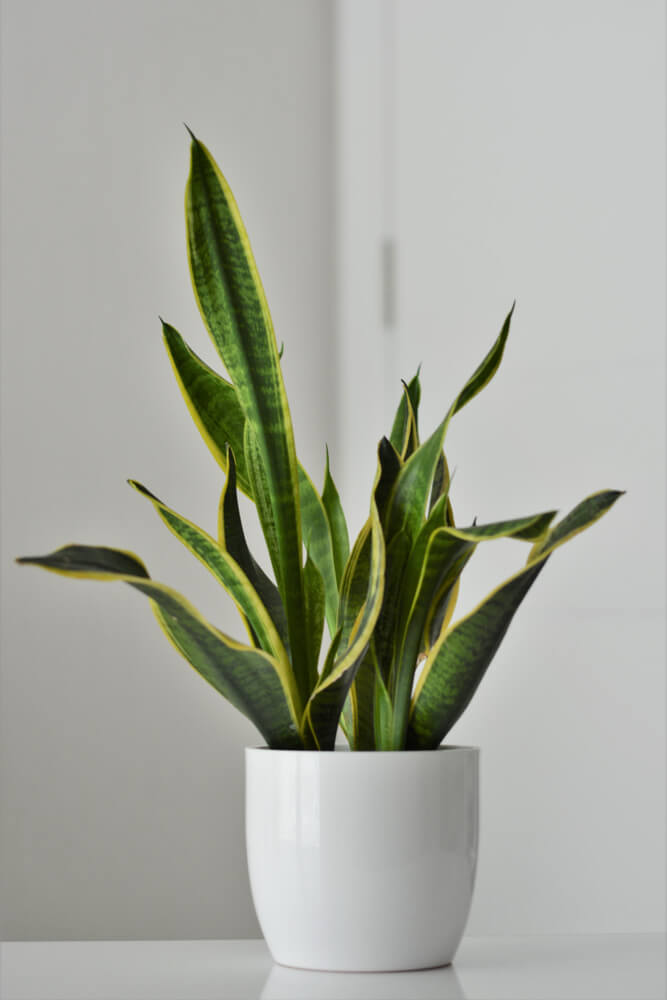 Also known as mother-in-law's tongue or St. George's sword, the snake plant is a popular choice for bathroom decor. Choose this hardy and beautiful plant for a bathroom that has either low light or bright, direct light. Don't worry about forgetting to water this plant, as it will thrive in a humid bathroom.
Pros
Thrives in a variety of lighting
Cleans the air
Tolerates neglect
Tall leaves are visually appealing
Cons
Toxic to humans and animals
Doesn't have blooms
---
20. Spider Plant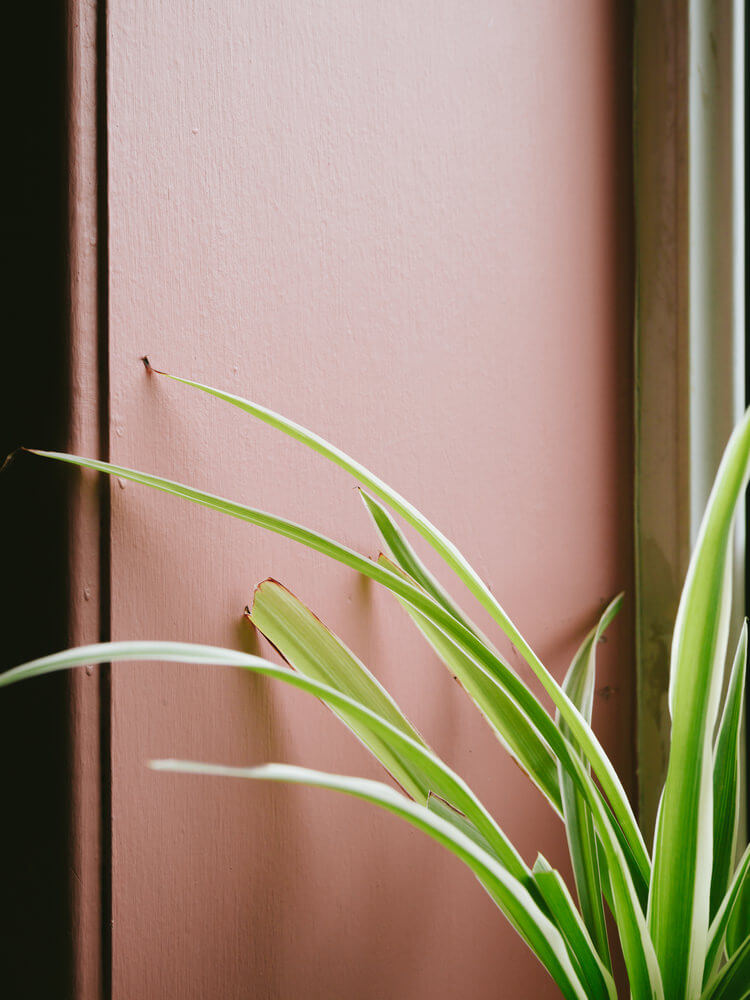 You may recognise the spider plant from its popularity as an indoor plant in the 1970s. This plant removes toxins from the air, is easy to care for, and is perfect for hanging in the shower. Provide spider plants with low light, moderate humidity, and room to grow.
Pros
Thrives in low light and modest humidity
Excellent choice for hanging
Filters toxins from the air
Grows with an abundance of hanging shoots
Cons
May require frequent pruning
Better suited for hanging
---
21. Ti Plant (Cordyline)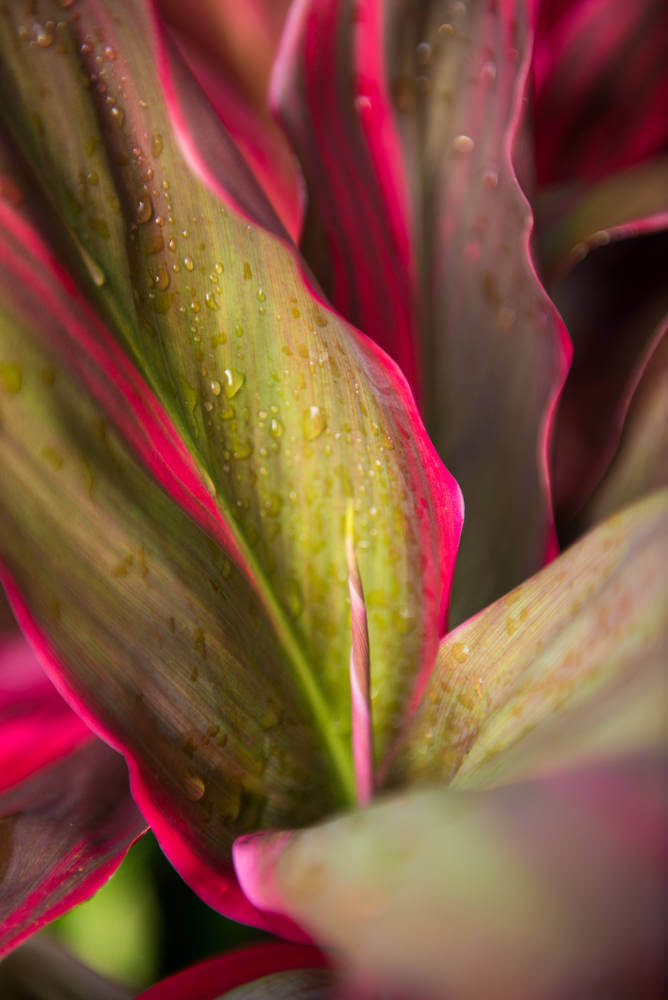 If your bathroom needs a burst of colour, consider a Ti plant, also called a good luck plant or cabbage palm. This tropical plant has large, glossy maroon leaves. Make sure a Ti plant gets plenty of indirect bright light, and keep the soil moist. Note: The sap of this plant may be poisonous to humans and pets.
Pros
Filters air of formaldehyde, benzene, and trichloroethylene
Large leaves grow in a variety of colours
Some types produce fragrant blooms and berries
Thrives in bright light
Cons
Has poisonous sap that is harmful to pets and humans
Needs high humidity and consistently moist soil
---
22. Tropical Pitcher Plant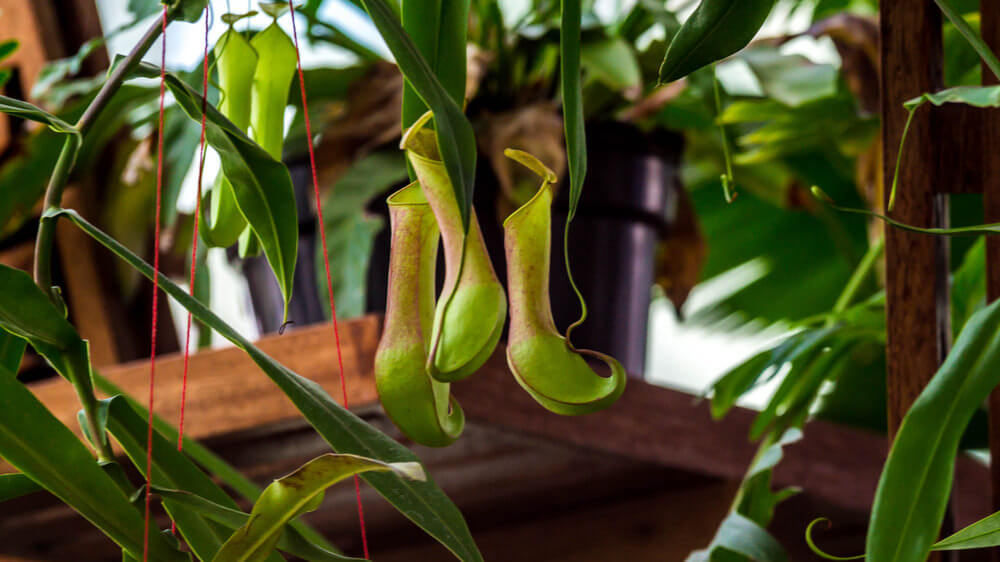 Make your bathroom a more lively place with the addition of a tropical pitcher plant. This type of plant is a carnivore and feeds on insects, but not to worry; there are typically enough pests in your home to keep it fed. Also known as monkey cups, pitcher plants thrive in a bathroom with high humidity (though they will tolerate a low-humidity bathroom).
Pros
Good for windowsills
Loves high humidity
Eats insects
Cons
Varying blooms don't have a scent
Too much moisture or low temperatures lead to yellowing leaves
---
Let the plant world inspire you while searching for the perfect bathroom decor, whether you create a living garden wall, display an array of potted plants, or opt for a terrarium or two. Adding a plant to a bathroom can give a welcome touch of colour and clean your home's air, as well.
While this guide should give you a head start on deciding which plants to add to your bathroom, we can help you furnish and decorate the rest. At QS Supplies, you can browse over 30,000 designer products – all that go beyond the basics. From minimalistic fittings to wall-hung vanities and LED lined mirrors, we have everything you need to make your bathroom unique. All you have to do is add a plant or two.