How To Make The Most Out Of Your Transitional Bathroom Design
Published on: 30/07/2020
Last Updated: 30/07/2020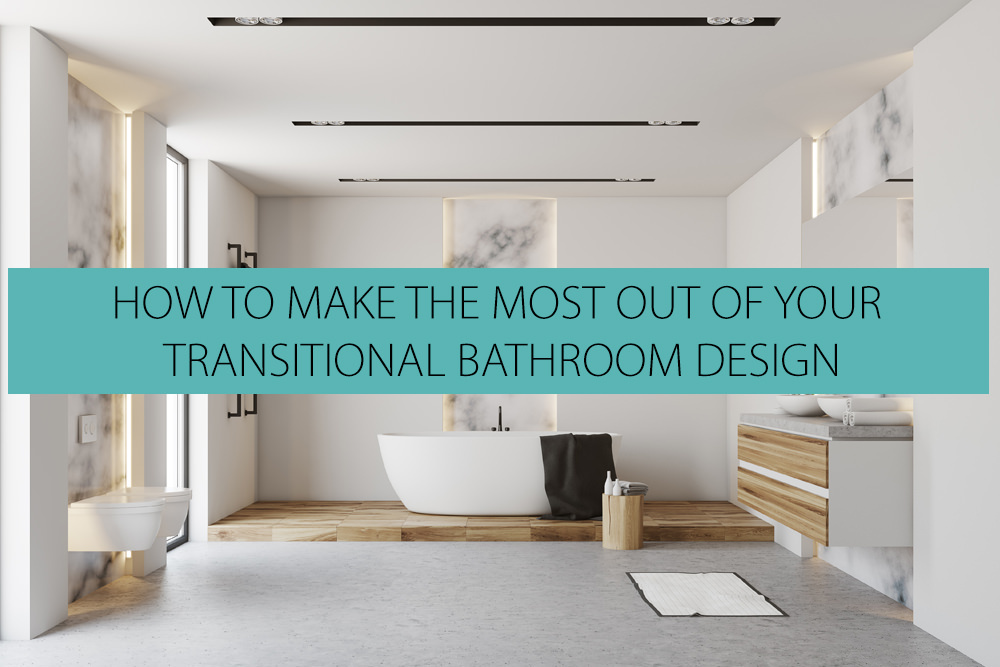 Transitional bathroom design is currently one of the most popular ways to do a bathroom and likely to stay on top for some time to come. As a design, it has lots of flexibility because it combines the best features of two eras of design – typically contemporary and traditional.
According to the National Kitchen and Bath Association, which pegged it as the go-to bathroom design for homeowners, "transitional bathrooms have clean and classic lines, with painted walls and wood cabinetry." As well, undermount sinks, brushed nickel, and cool colour palettes are typical features of the transitional style.
A great example of a transitional bathroom would be one that combines a traditional porcelain claw-foot tub and pedestal sink with modern furniture, angular cabinets, and other storage elements without adornment.
A transitional bathroom can easily combine the streamlined, sophisticated approach of modern design with the warmth of traditional design. With its various appointments and flourishes, and in some cases deluxe features – such as chandeliers, saunas, free-standing baths, beautifully papered walls and heated floors – transitional bathrooms also stand on the forefront of the bathroom's transition from a utilitarian necessity to a luxurious, comfortable space.
---
Common Elements in a Transitional Bathroom Design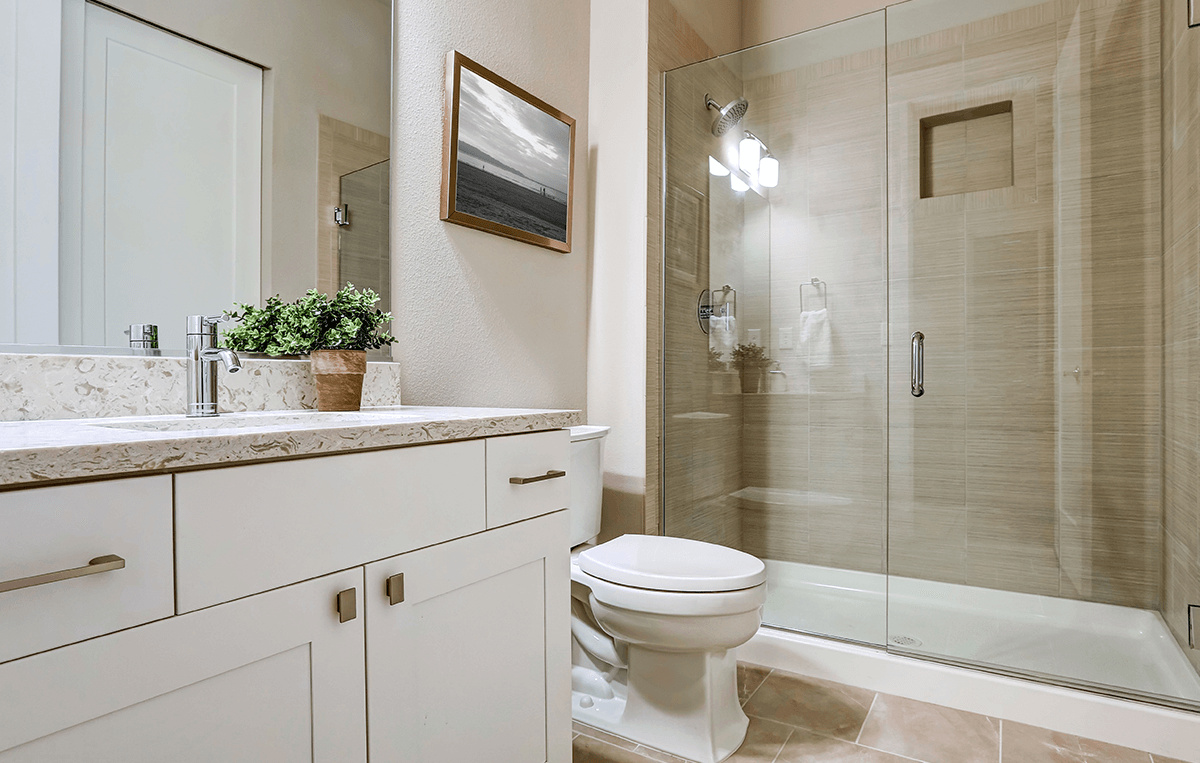 As it pairs the comfortable classic appeal of traditional design with the clean silhouettes and low-key colour palette of contemporary style, transitional design has common features that include:
Countertops constructed from marble, quartz or granite of light colour
Streamlined lighting and mirrors
Shaker-style vanities that go hand in hand with sleek hardware
Subtle embellishments in the moulding and trim
White and neutral-coloured tiles
Transitional bathroom design owes its appeal to the mix of the two styles, so it goes wrong if one style dominates too much. To avoid this, stay away from the following:
Design elements that are too trendy
Bright colour palettes
Heavy traditional furnishings
Highly embellished millwork
Countertops with elaborate edge treatments
---
Start With Your Bathtubs and Showers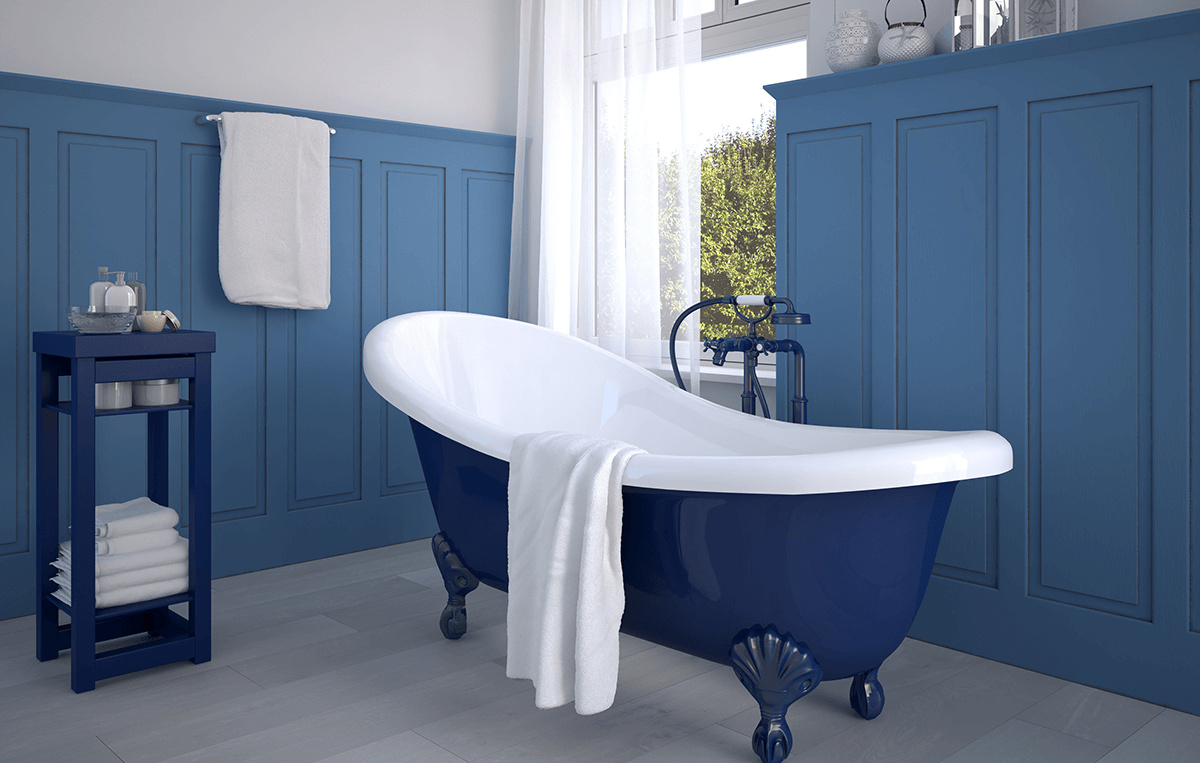 When considering a design for a transitional bathroom, it's often a good idea to start with the items that command a lot of attention and space in a bathroom, such as the bathtub, shower, sink, cabinets, and toilets.
Bathtubs especially can become a focal point, and you can go either way in style. For example, you might pair a magnificent claw-foot porcelain tub with contemporary cabinets or place a modern bowl-shaped tub among arts-and-crafts cabinets.
A pedestal tub is another good choice, as are a modern free-standing tub, a partially free-standing tub (easy to clean and access), and drop-in tub.
The shower stall can also play an important part in the transitional theme, perhaps pairing a very modern, open-format, stand-up shower that has glass walls and doors with the claw-foot tub. When combined with beautiful tile work, the shower stall can become the visual focal point in a transitional bathroom. For greater privacy, you can customize the stall with textured or frosted glass, or construct a partial wall.
One popular design trend that it might be wise to ignore is getting rid of your bathtub altogether. Not only will you lose a key visual element in the room, but you could also hurt your home's resale value. Even with an ultra-luxurious shower, the bathroom without a tub is still only considered a "three-quarter" bath. The lack of a tub could turn off many prospective home buyers.
---
Popular Flooring Options in Transitional Bathrooms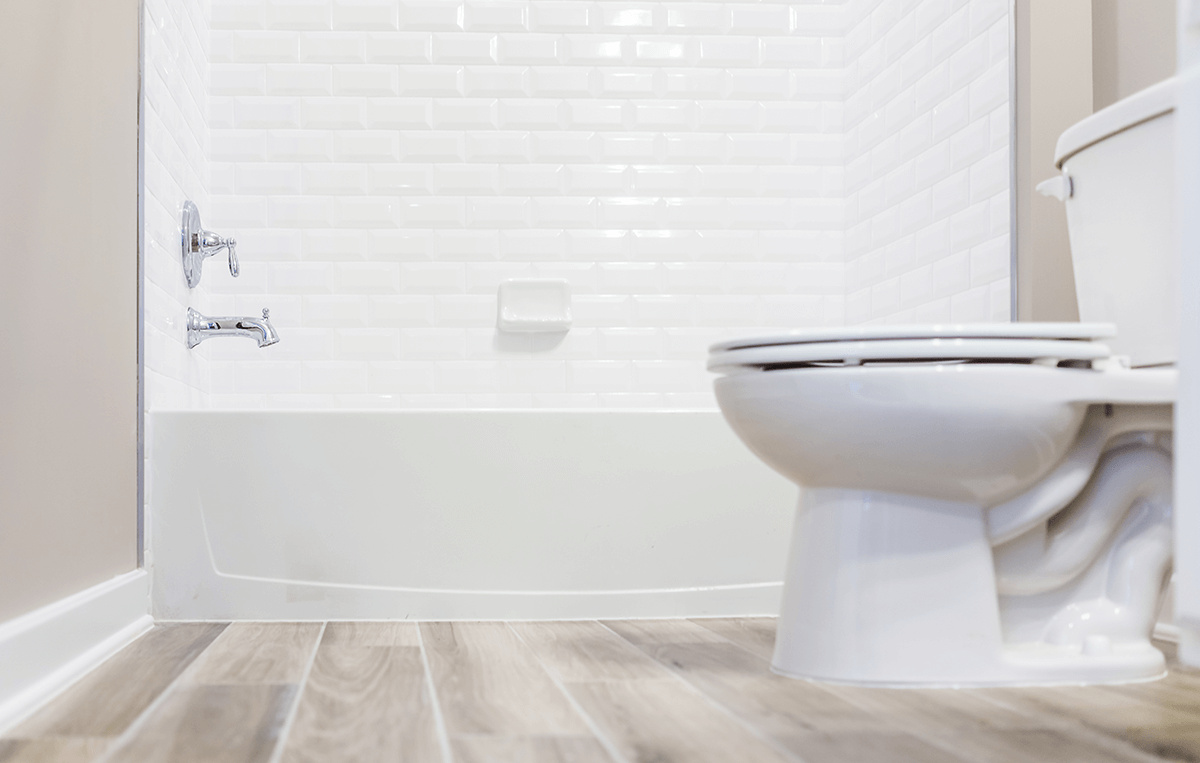 Popular flooring options in transitional bathrooms include ceramic and porcelain tile. Other options could be luxury vinyl, ceramic wood, or marble. And matte floor-finishing tile is a way to decrease the likelihood of slipping while providing great style. (Durability of flooring material is an important consideration if designing a kids' bathroom).
Flooring can also come in the form of substantial wooden planks, which work in tandem with exposed wooden beams for a rustic, colonial effect. These might be paired with sleek, contemporary cabinets. Or, conversely, traditional handmade cabinets with crown moulding and elegant hardware can work well with slate tile or classy blond wood.
Something to keep in mind is that engineered wood holds up better than solid wood to the wet conditions of a bathroom because of its "dimensional stability." Its plywood base resists moisture well, and its top layer is real hardware veneer, giving it an authentic look.
Natural stone is another good choice (if a bit more pricey) for bathroom floors, as well as for countertops and wall treatments. It is hard, durable, and looks beautiful. Light-hued stone such as marble and quartz works well in transitional bathrooms, as does light-coloured granite or engineered quartz.
Stone will help with your home's resale value. While it can sometimes be a slippery and cold material, these issues can be addressed by using textured stone and by radiant heating.
---
Don't Forget Countertops, Sinks and Taps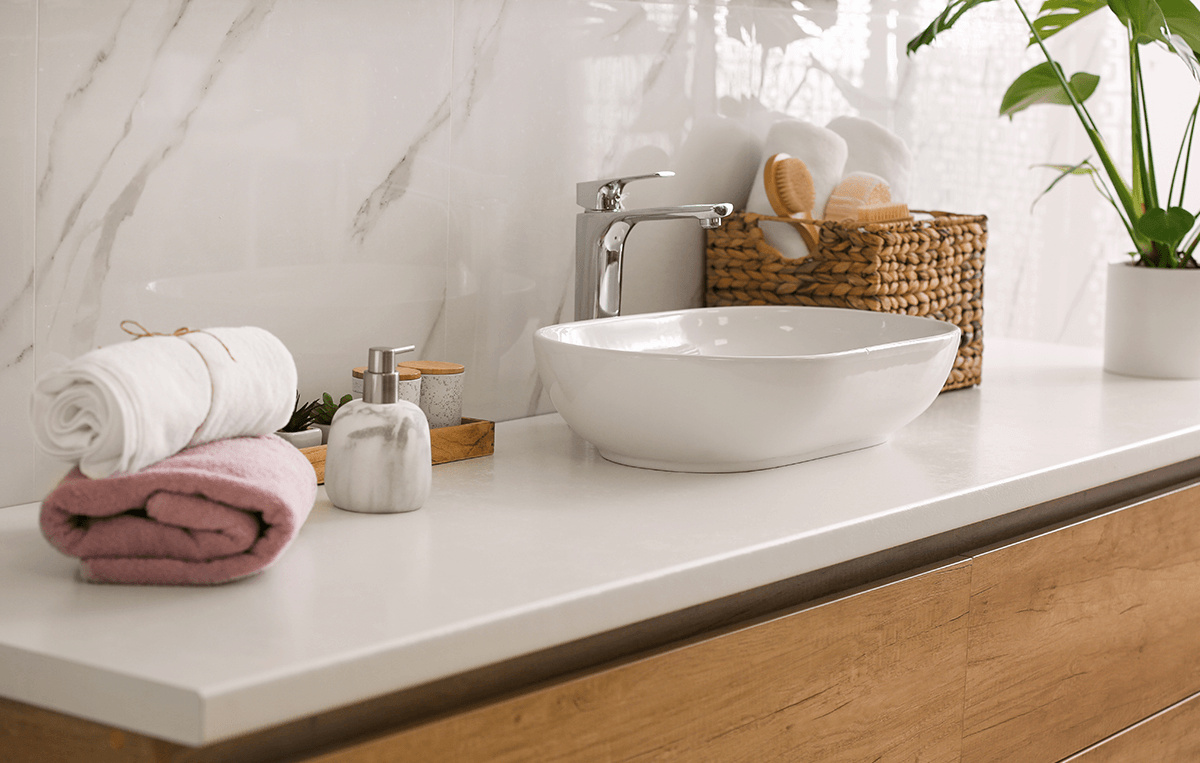 As with the floors, quartz, quartzite, granite, and marble are popular materials for countertops and sinks. White porcelain and cast iron are also often chosen.
And undermount sinks tend to draw the eye to the beautiful stone. They make the bathroom easier to clean (because they don't have a rim) and provide more space since they don't sit on top of the counter like other styles.
As well, undermount sinks also make a great backdrop for a beautiful tap design, made of nickel, chrome, stainless steel, or rose gold, which can also be motion-controlled, touch-controlled, or manual.
---
Make the Most Out of Your Vanity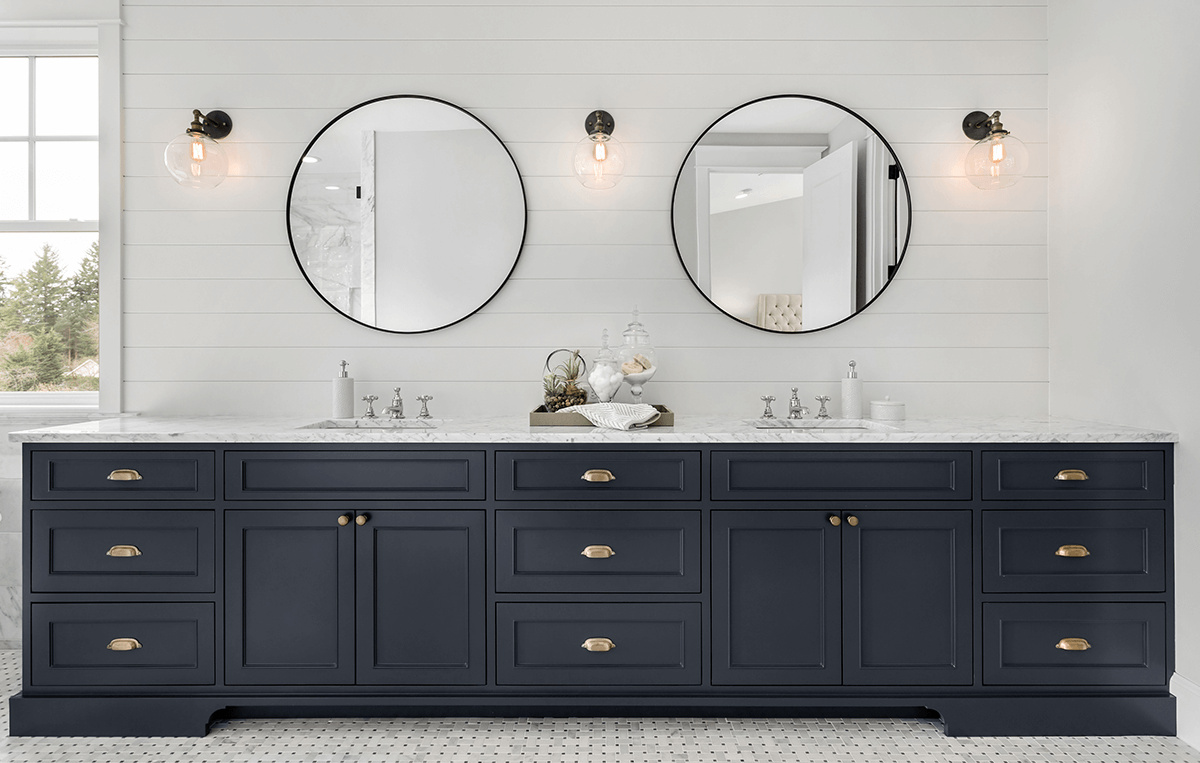 The vanity is another central feature of the bathroom. A shaker-style vanity works well in a transitional bathroom, with its simple frame-and-panel construction and clean lines. It is well-matched with traditional or classic hardware and taps. The style is also compatible with a wide range of finishing options, including polished or brushed nickel, chrome, matte black, brushed gold, brass, and lucite.
As important as the vanity is, you should also think about having other storage in your bathroom, such as custom cabinetry or vertical wall-hung cabinets. You can also incorporate mirrors, lighting, and towel bars into these units to save space.
Bathroom Cabinets and vanities in transitional bathrooms can have other distinctive styles, including free-standing vanity, built-in, or floating styles vanity, with a recessed panel facing and lots of drawers.
---
What to Look for in Lighting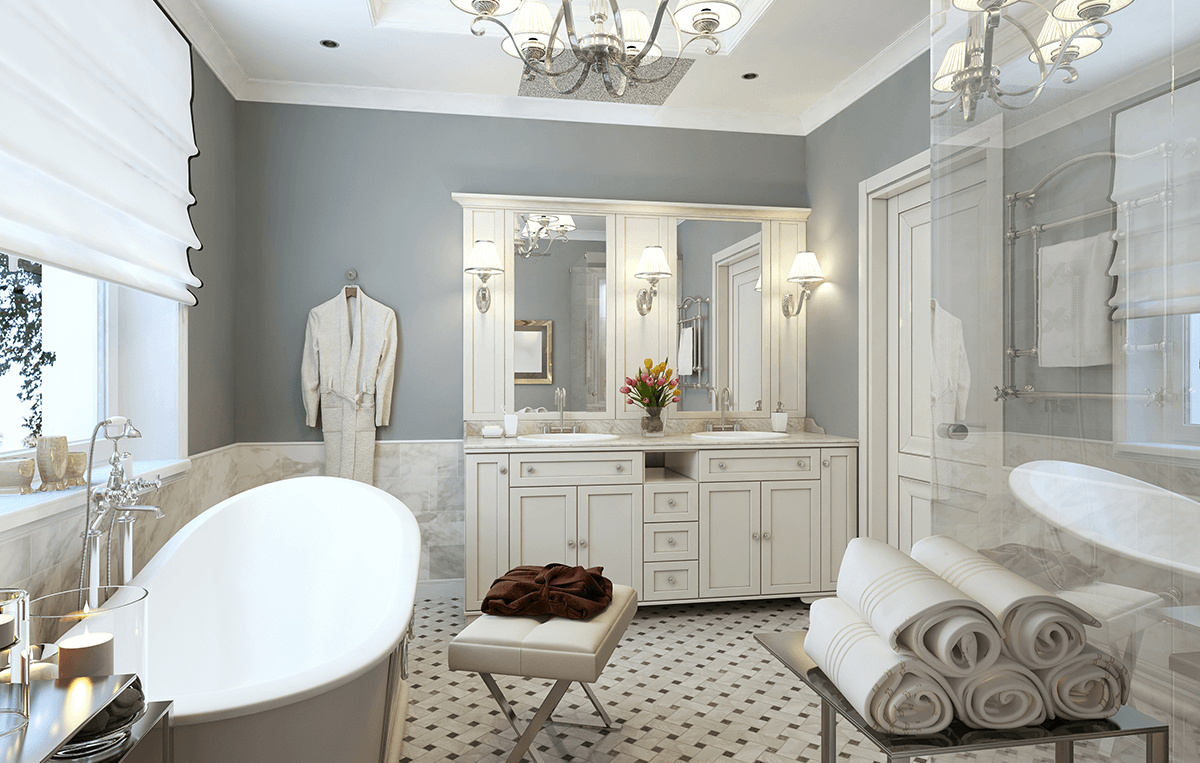 Light in transitional bathrooms tends to be more classic and clean, light and graceful than overly embellished or minimalist. Wall sconces, drum pendants, recessed lighting, and updated chandeliers are often chosen. Under-toe kick lighting is sometimes used to provide dramatic lighting effects.
When choosing lighting, it's often a mistake to have just a downlight over the vanity, toilet, or shower. This is often too bright and lacks nuance and ambience. And the overhead-only light can make shadows as you look in the mirror, making shaving or putting on makeup difficult.
It's better to have a layered lighting design, with lights from different sources. Concealed LED strips are one great option. They don't consume much energy and can be left on to create a subtle mood when put under vanities and shaving cabinets, behind mirrors, and in shower niches.
For a better mirror grooming experience, think about putting wall lights on either side of the mirror, lighting your face from the side, which is much more flattering. These task lights can also be wired by an electrician, so they can be turned on separately, changing the mood lighting of the bathroom.
---
The Best Colour Options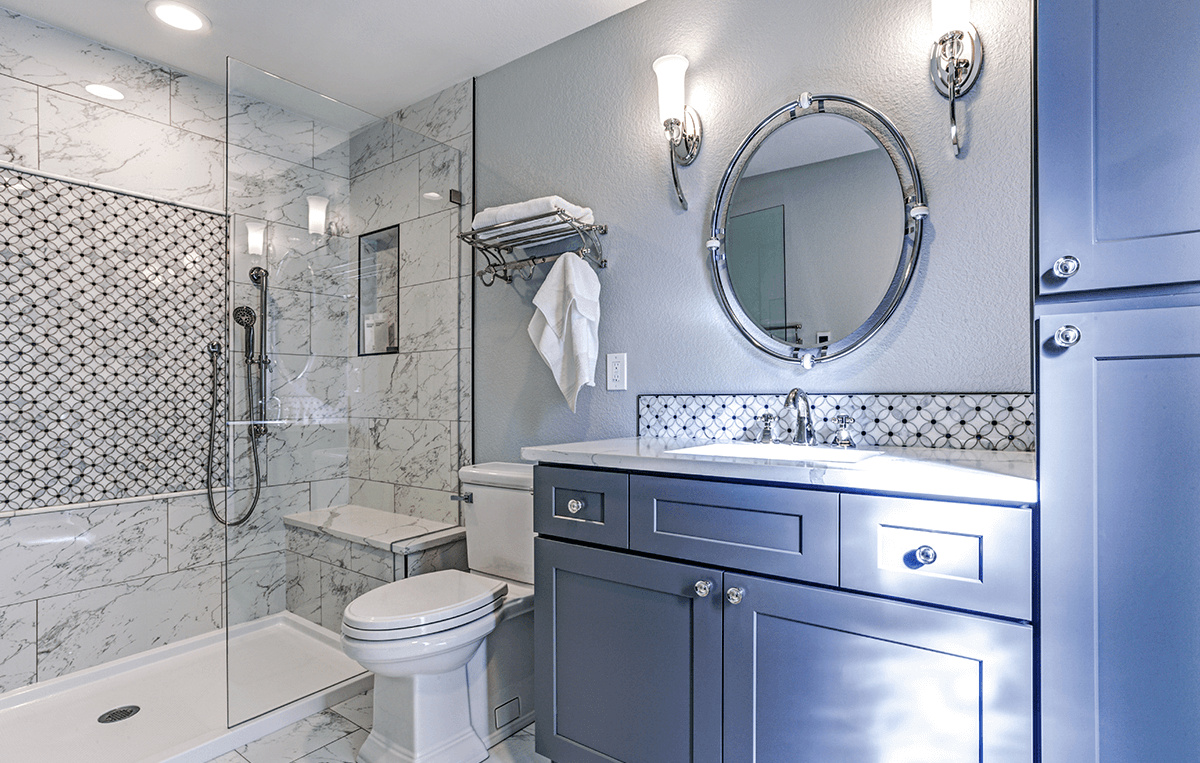 When it comes to colours, transitional bathrooms tend to have a light and relaxed feeling, both soft and subtle. Soft neutral colours include:
Cream
Beige
Taupe
Chocolate
Dove grey
Silver
Snow white
More serene hues include:
Misty blue
Dusty rose
Blue-grey
Mild sage green
If you want a bolder colour for the transitional bathroom, navy, charcoal, slate, and deep green are good choices.
We Have Your Transitional Bathroom Needs Covered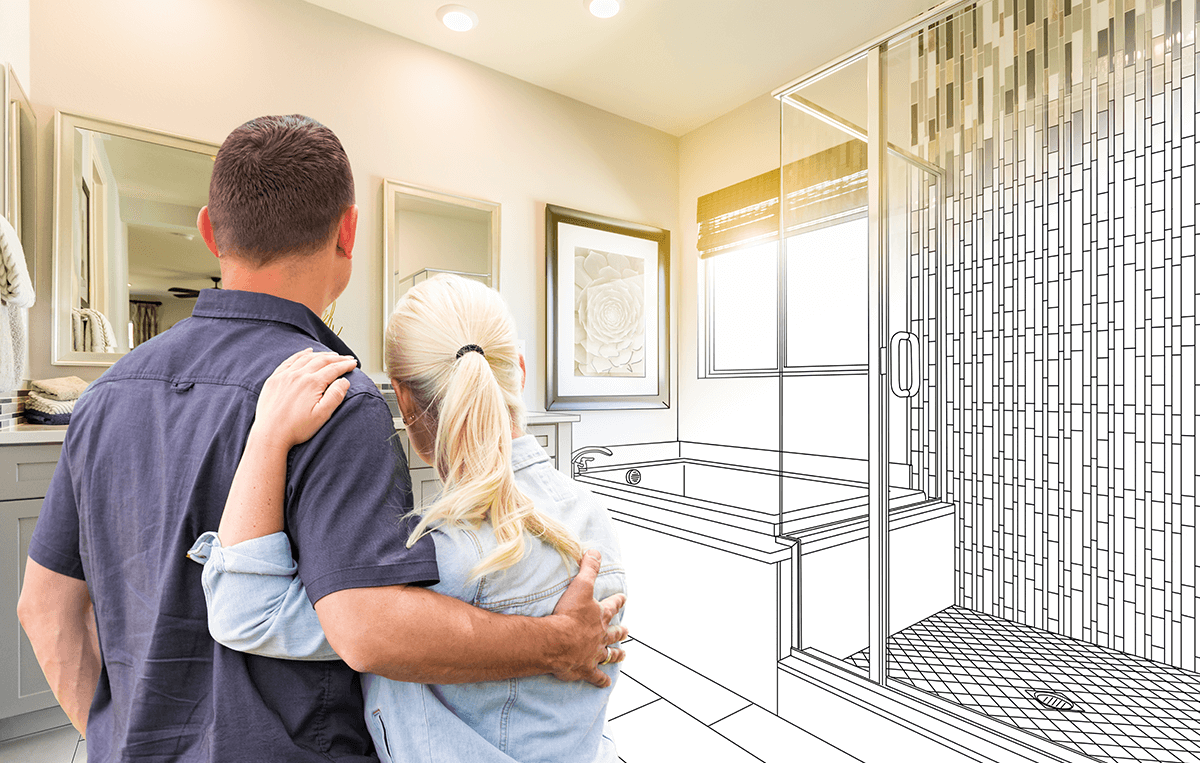 It doesn't matter what the transitional bathroom of your dreams looks like. QS Supplies carries the best bathroom products at competitive prices, catering to every taste and budget. Our products cover the gamut, from high-quality bathroom fittings to cabinets and tallboy units, in both modern and classical designs. Start shopping today so that your transitional design finally comes complete