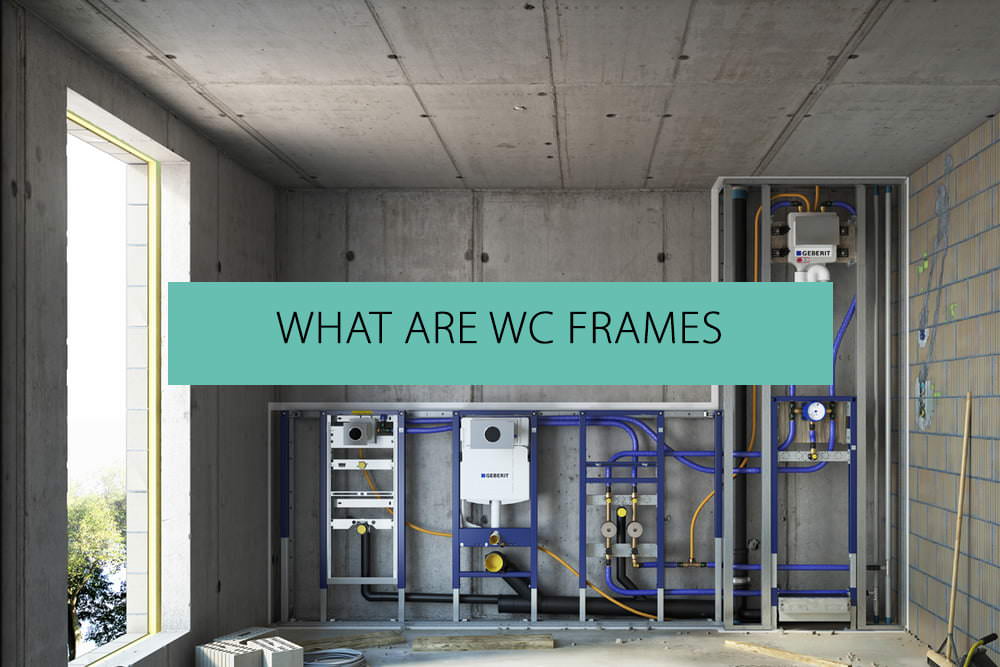 WC frames are exactly as the name suggests, i.e., frames used to support a WC as well as incorporating a concealed cistern and pipework. These frames are especially useful for wall hung WCs where installing new pipes may be more labour intensive and expensive and it may be a smart idea to simply use an external framework and brackets to hold it all together. These frames come with different load bearing capacities and can some hold up to 400Kg of weight.
---
What is the wall hung toilet?
Wall-hung toilets have become popular in smaller or compact bathrooms and are called "wall hung" because the toilet pan hangs out and the rest of the toilet is concealed inside the wall. Such a toilet is very easy to clean and maintain. Some modern wall hung toilets come with special antibacterial coatings that further aid the cleaning process. Besides, these are excellent space savers.
---
Frames for WC's
In a wall hung set-up, for installing the WC inside the stud wall, it must be mounted on to a frame, preferably one designed to handle the weight and still keep working it in top condition and functionality. There are two standard frame sizes for wall-mounted toilets and three different heights available from all manufacturers. The standard frame heights measure 0.85m, 1m and 1.2m while depth is 160-200mm deep. Slimmer frames come with 80mm dept and 1.2-meter height. You need to select the frame height depending on the bathroom layout and roof height.
Some come as standard mounting frames that can be adjusted to fit different makes of wall hung units.
In general, the standard types of frames are as follows:
Wall frame – a sturdy frame that is attached to the wall and holds the toilet in a suspended position.
Floor frame – installed directly on the floor. Usually requires setting in concrete to ensure stability.
Universal frame – can be fixed to both floors and walls. The most sturdy and popular choice these days.
---
Flush Plates
Most frames include a flush plate that is connected to the concealed cistern. These also allow for easy access to the cistern for cleaning. The waste pipe is also incorporated into the mounting frame. With attractive finishes in chrome or silver, these flush plates activate the cistern and enable flushing of the toilet bowl. They also form the stylish part of the unit and can be matched to the rest of the decoration in the bathroom.
Flush plates can be made from a range of materials such as a tiled, painted, or patterned plasterboard to match the rest of the walls, and wood, glass, plastic, metal, or fibreglass.
---
Optional Extras
Digital flush sensor – allows the toilet to be flushed without the need for contact by simple waving your hand in front of the sensor.
Macerator pump – a mechanism that grinds up waste into slurry and pumps it out, aiding flow and preventing blockages.
Extra unit connections – extra pipe connections can be added for complimentary units and features such as bidets, hand showers, and side sinks.
---
Ensure Quality
To ensure the greatest level of functionality and comfort and minimal maintenance it's always best to use high quality parts in the installation.
Be sure to use good quality washers, seals and fill mechanism while also keeping the availability of parts in mind.
A well-installed frame and toilet combination of a good brand will comfortably support about 400Kg. With the frame assigned the task to handle the entire weight of the toilet and the user, it is a smart option to go with reputed manufacturers. Also, the frames must be ISO 9901 and CE approved product and should be installed by a professional and experienced installer. Spare parts must also be easily available in case replacements become necessary.
Here at our online store, we offer a comprehensive range of concealed cisterns and WC frames. These frames are available in different shapes and sizes to match any bathroom decor and requirement. We take care of all your frame and flush plate needs and repair kits as well.
---
Geberit Duofix WC Frame 112cm With Sigma UP320 Cistern 12cm
Offer an impressive support system to the WC Pan with this immensely strong Duofix WC Frame brought to you by Geberit. This set includes a 6-litre cistern with front actuation mechanism. Constructed from sturdy materials, this framework comes in blue powder coating to keep rust away and offer a neat finish. The cistern can be reversed to give access from behind in a duct situation when flushed with pneumatic buttons or touchless flush. The single flush mechanism works with a touch less flush or pneumatic buttons.
---
Grohe Rapid SL Cosmo Fresh 4 In 1 WC Frame Pack - 38888000
You can rely on Grohe to provide you with a sturdy kit and offer unerring value in all their products. Its suitability for wall hung toilets, and many features make it a great choice. The pack includes the cistern (6-9litre) and wall plate and is easy to install. Can be worked with front or top actuation and has a quiet operation. Is ideal for on the wall and studded walls and frame installation height is 1m. The frame is a self-supported unit that has a nice powder coated finish. The frame is TUV approved for quality guarantee.
---
Pura Reduced Height Wall Hung WC Frame System With Front Dual Flush Plate
Enjoy the benefits of a wall hung toilet with the WC Frame system manufactured by Pura. This accessory comes with the cistern and flush plate that is front mounted. This product, crafted from best quality material and having an attractive finish and superior functionality. Its internal fittings are WRAS approved while the cistern is supplied with 6 and 3-litre dual flush fittings, compatible with UK plumbing systems. Suitable for back-to-wall WC with furniture frame covers, it is also water saving.