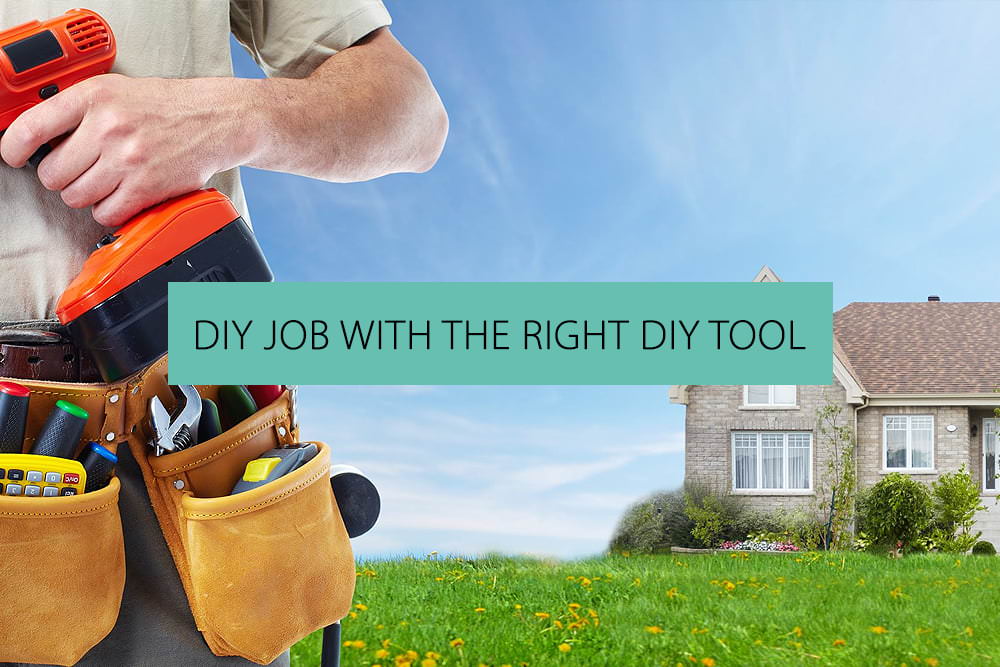 Why are DIY jobs so popular? DIY (Do it yourself) jobs is not restricted to just home décor or repairing a home item itself. Most Peoples also carry on DIY jobs on their cars and repair their cars. But in this article we would be discussing about home renovation. Adding space to your home or improving existing living conditions can be a very traumatic time. But, it doesn't have to be, if you need to know basic of DIY job.
As DIY Jobs is still a consumerist approach and is one of the best ways to really contribute to a greener environment and to reduce our use of raw materials. One of the most important notes before starting DIY job is to keep your eyes wide open and to spot unexpected or hidden treasure. So don't be shy to ferret around your garage, attic or backyard. There are many DIY Tools available in the market which can be very useful in order to successfully carry out a DIY job. Paint can be used as a medium and colour can be used as inspiration, even the blandest furniture piece can be updated or restored to fit right into your home décor. Clever Brush strokes or paint can transform any old item into a new one.
For Instance if you have a table and have damaged areas like chipping, that you may need special attention before you proceed. Deep damages need more than wood filler which cannot be successfully built up. You may require epoxy putty to build up damage chipping and wood filler to touch up and smooth over any smaller blemishes and damaged areas. If you are renovating cabinets, replacing old handles with the new one would be an important job, as handles are the only things that worn out and gets corroded as time passes by. Tip, in order to replace handles you need to place the masking tape across both the handle's fixing point. Then mark your fixing on to the tape and fix them.
There are many DIY tools available in the market
There are some cool DIY tools that you can gift and would be a perfect gift to DIYers and gadget guys. These tools can come very handy in order to complete successful DIY Job and would definitely be a perfect gift for DIYers. To name them one would be:
18 Volt Half Inch Cordless Compact Lithium-Ion Drill Driver Kit
All in one sure Grip Laser Level
18-Volt Half Inch Compact-Tough Litheon Drill/Driver
10 inch Compact Job-site Table Saw with 16 Inch Rip Capacity
Super jaws Workbench
Flare Adjustable and Flexible Tripod Flashlight
18 Volt LXT Lithium-Ion Cordless six and half inch circular saw kit
115 Piece Home Repair Tool Kit
Sportsman Extreme 300 Luman LED
Types of Hand Tools
There are various types of tools which come in use in our day to day work. One of the most Important Hand we require in day to day lives is screwdrivers set. The other type of tool that comes in handy is a hammer and a drill. Although Drill is not a hand tool, it's a power tool. A drill is one of the most commonly used power tool and comes in a large range of varieties.

Other Types of Hand Tools that comes in our day to day us2 are :
Aviation Shears
Nibblers
Axial Grips
Nippers
Sharpening Stones
Bolt Croppers and Cutters
Pincers
Pliers
Cutters
Nail sets
Screw drivers
Saws
Scissors
Scrapers
Multi Tool Set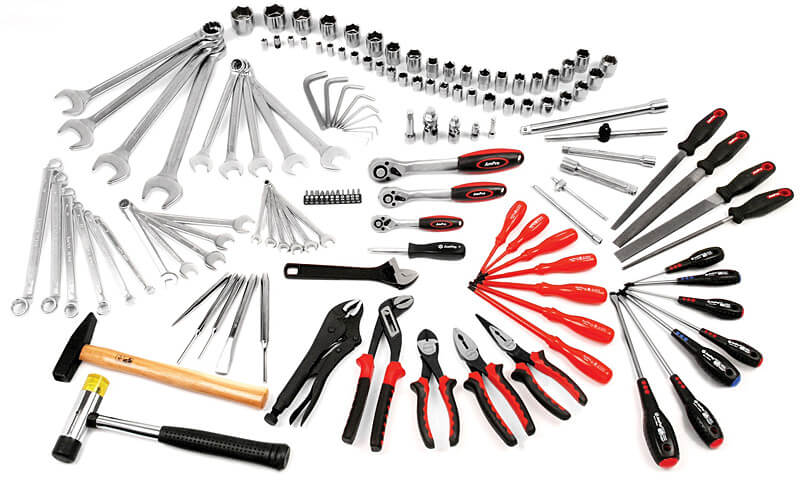 There are lots of UK based websites to help your queries on tools and practical DIY Queries. While buying the tools it's advisable to go into a store and actually handle the products. If you know what you want, we have full range of DIY tools. All sorts of DIY power products including drills, jigsaws, routers, hedge cutters are available at our walk in store, and we stock all the tools from all the leading makes including FLYMO, BOSCH, DeWalt and Black and Decker.
Information about Jigsaw – Jigsaw is a Power Tool
A jigsaw has reciprocating blade, which means it moves up and down automatically as it cuts, and is highly manoeuvrable to cut both straight and curved lines. Use it to customize a solid wood bookcase, for instance, by shaping the sides or back piece with a smooth curve. It is also an invaluable tool for installing a cat flap, and takes the effort out of cutting laminate flooring to fit. This model has a pressure trigger, so you can control its speed. It will never run away from you, and has low vibration for easy cutting. The handgrip is comfortable and there is an easy release trigger to change the blades.

Different Types of Power Tools

What are power tools?
A power tool is powered by electricity or by battery. These tools are mostly used in construction, and around the house for various DIY jobs. There are many types of power tools available in the market but in this article we would be discussing, popular power tools.
Angle Grinder is one of the most popular tools available in the market. Its fitted with a diamond blade and its very handy tool as its small blade is perfect for the intricate cuts needed for outlet opening or the curved holes around a tap. It'll cut just about any stone or ceramic tile.
Stubborn Screw Driver - It serves as a handy element with a diamond blade fixed to it, with the small sized blades that are ideal for the cuts which are intricate and necessary for the outlet or for the tap with holes around it those are curved. It is capable of cutting any tile made up of ceramic or even stone. Yet another tool that has been popular is the Driver for screws. Sometime screws get corroded, and it becomes a difficult task to undo them or remove them with a regular screwdriver. Such screws that are stubborn need a special driver which can prove to be an ideal choice, for the driver forces the tip extremely deep in to the slot of the screw head, and twists the screw to the extent of 20 degrees.
Electric Screw Driver

If you own only one power tool, it should be an electric screw driver. It is not only useful for screwing shelf brackets to the wall, with the correctly shape bits, but it is also perfect for putting flat-pack furniture together quickly and easily. Electric screwdrivers are light weighed and are comfortable to use. Tiny but powerful, electric screw drivers features new kind of battery that holds it charge for months, so it is ready whenever you need it. There is also a built in light, so you can see what you're doing when working inside a cupboard.
Hammer Drills – Goes through anything

Hammer drill are quite effective, and it drills even through tough materials, and hammers it as well, to make the drilling process faster. The advantage of using hammer drill is it drills faster than ordinary dills, and it does not burn up the drill.
Fast Screw Guns

Fast screw guns features automatic-feed screws. The advantage of this tool is that you don't have to handle individual screws. The screws come in strips that you feed into the gun. You can adjust the depth of sinking screws and for different types of screws, you have a different setting, that what make it a versatile tool.
Impact Screw Drivers

Impact drivers makes great drills. With Small bits up to quarter inch or so they act like a drill, but nearly twice rpm of most corded drills. And when you fix bigger bits, they kick into high torque mode and you can easily bore a big hole with small driver. There is one more important tool, which is also handy at the time of carrying DIY Jobs, and these are torches. Below we have given a complete information about Torches.
Information on Torches

Just point at the spot you want, have bright light spot on, at your finger tips. It's been that effortless and easy. Innovations have done the magic for one and all, to get light whenever you want, wherever you want. Although it may be a utility to dispel darkness at a particular spot of choice, it has dispelled the biggest hazard of not having light while you're mobile or travelling long distances.
Today, almost every household has this device to illuminate homes, offices, workplaces and so on, as and when required, to carry out many minor to major tasks in light, without any difficulty, in case of several emergencies including power failures.
Torches, or flashlights as they are also known as, have had a long history, chronicling way back into the 19th century when light was introduced. It was none other than Thomas Alva Edison who invented and patented carbon filament electric light in 1879. That was a revolution, for it brightened the world, gave many more scientists to develop flashlight, taking inspiration from. In 1884, Charles Beck invented the incandescent lamp, which was commonly used until fluorescent flashlight bulbs came into existence. In 1890, John Irwin introduced Portable Electric lamp.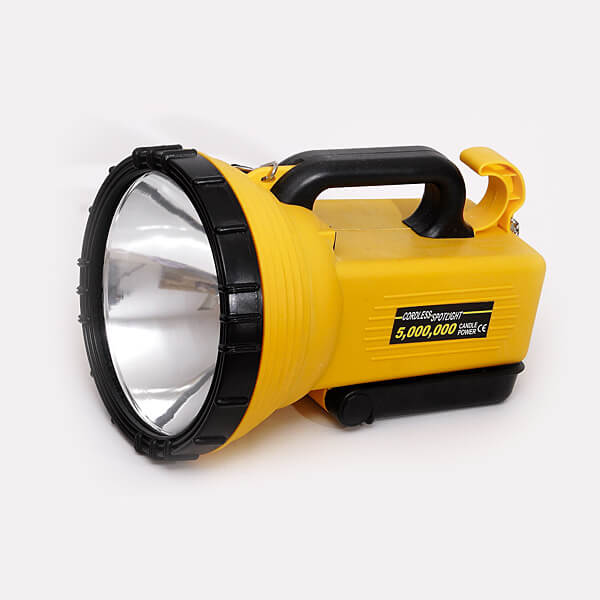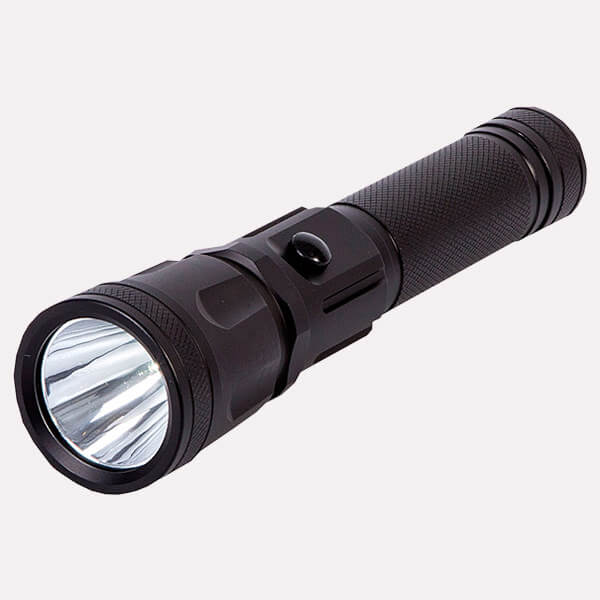 In 1903, Conrad Hubert whose original name was Akiba Horowitz, discovered the flashlight, a cylindrical casing comprising of lamp and batteries. In 1898, the first D cell battery was introduced by the National Carbon Company, which was specially designed for flashlights. W. H. Lawrence of the Brush Electric Company founded the National Carbon Company, which would supply necessary articles like motor brushes, rods - commonly used in carbon-zinc batteries and carbon-arc electrodes that were required for electrical devices.
In the same year, the electric light was very much in use, which also served as the light source for the torch or flashlight. The carbon filament electric light that was invented by Thomas A Edison had the capacity to illuminate up to 1500 hours. By then, the industry transcended, evolved and leaped quite ahead with advancement, and was controlled by General Electric and Westinghouse.
By 1910, nickel plated tubes got introduced, which was a major development in flashlight technology. It was used to balance vulcanized fibre and complement the discovery of tungsten filament bulb. Apparently, vest pocket tungsten flashlights was very much on the prowl, dominating the industry, along with house lamps, search lanterns and candle lamps getting populous in the market due to their usage.
Today, it's the trend of LED technology flashlight that is dominating the market like never before. They were supposedly expensive until few years ago, hence, were not a preferred domestic solution, nor were they used in households. But nowadays, the LED flashlight has become convincingly reasonable and affordable.
The LED flashlight is a quintessential replacement for the fluorescent ones, for they are very compact; though they are smaller in size, highly energy efficient, providing equal brightness, consuming same amount of battery life; also, tremendously powerful.