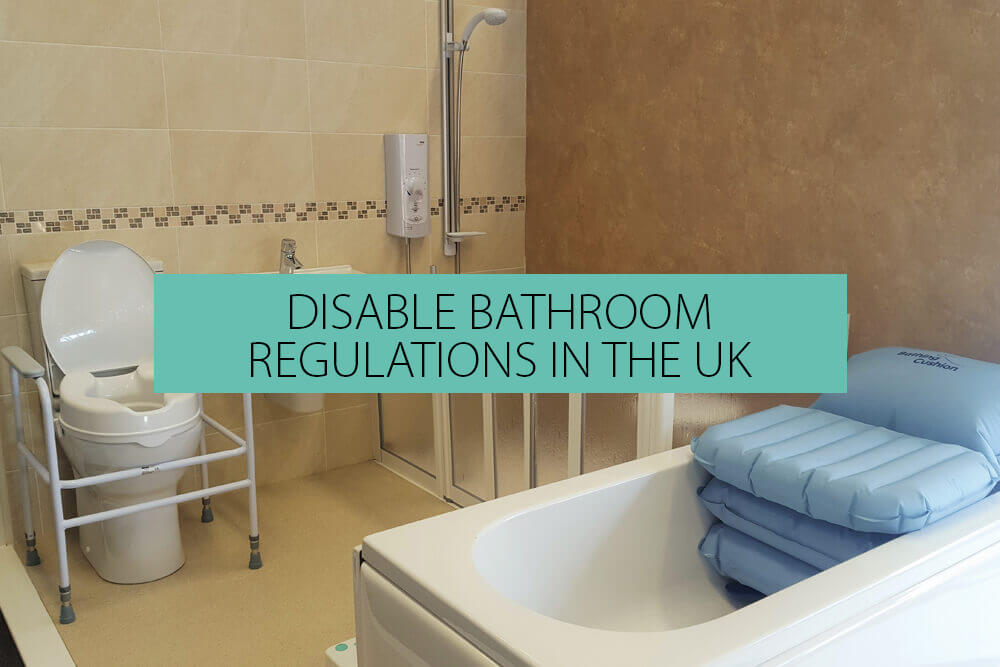 With the passing of the Equality Act in 2010 and the Care Act of 2014, bathrooms in the UK designed for public use or for the use of employees in business settings must comply with new, accessible regulations. Creating accessible bathrooms means that the more than 12 million disabled people living in the UK will have greater access to facilities that can meet their everyday needs.
---
Types of Accessible Bathrooms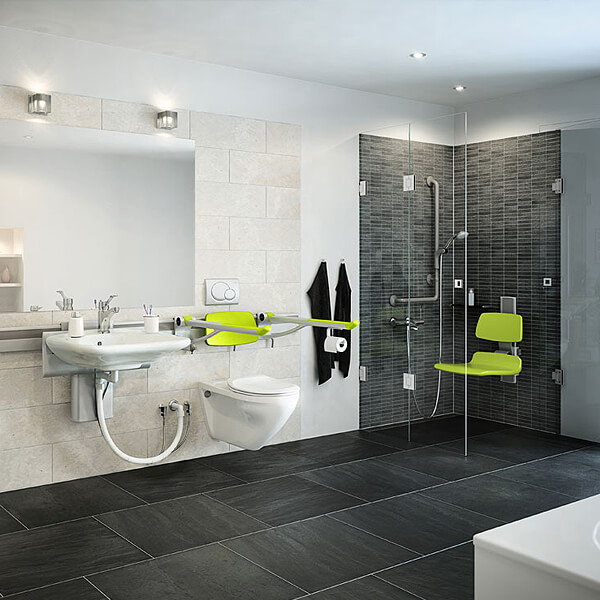 Accessibility is not a one-size-fits-all standard. People with different disabilities will have different needs. Creating an accessible bathroom means trying to meet the greatest number of needs within one space. To that end, there are two types of accessible bathrooms outlined in accessible bathroom regulations.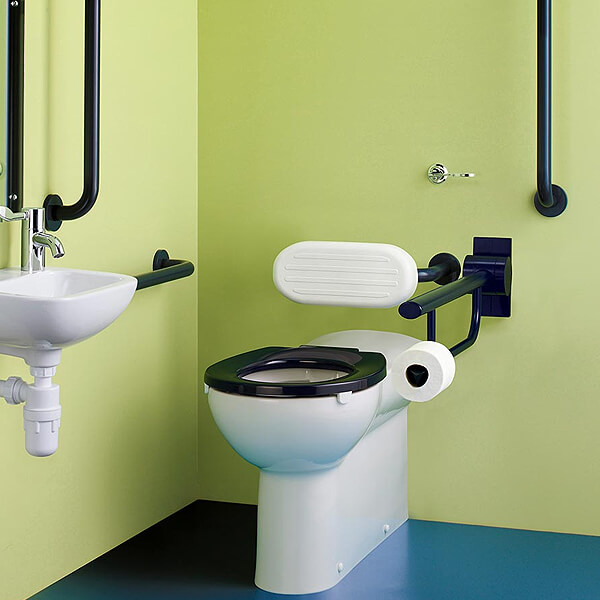 The first type is for ambulant accessible toilets. This is for users who are able to walk independently, but who may need some assistance within the toilet. An ambulant accessible toilet is the same size as a standard toilet, but will have a door that swings outward, a higher than average toilet pan, and grab bars installed on the walls. This type of accessible toilet is inexpensive and easy to outfit, and doesn't require the reworking of the general bathroom design. It's possible to retrofit an existing stall to meet the qualifications of an ambulant accessible toilet.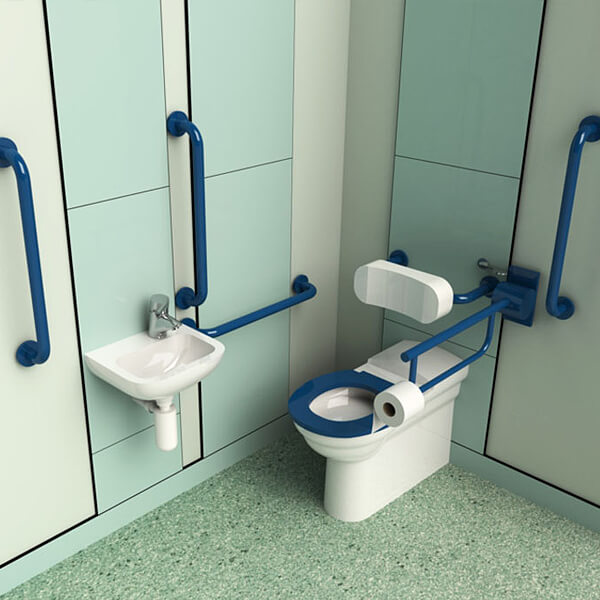 The second type is the fully accessible toilet, meant for use by independent wheelchair users, although some larger bathrooms are designed to allow access by both a wheelchair user and an assistant. In this case, the stall is much larger, at least 2200mm in length and a minimum of 1500mm in width. Making the stall larger is always an option, as it makes it easier and more comfortable for the wheelchair user to turn and to transfer from various angles.
The stall will have an outward swinging door, grab bars that meet M regulation requirements, and a sink with either lever taps or a sensor tap, as well as shelving for those who require colostomy use.
Because the favored transfer position is mostly from the right, most accessible bathrooms are designed with a transfer space to the right of the toilet, and a sink located to the left, along with the appropriate shelving and grab bars.
---
DDA Compliant Toilet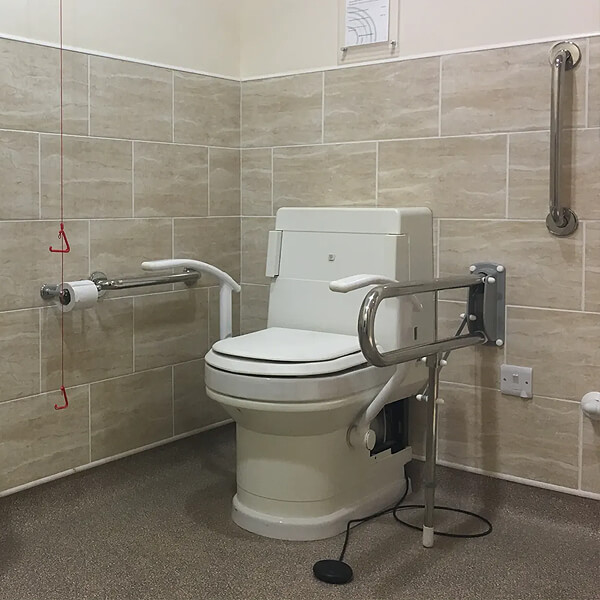 Having an accessible bathroom or an accessible bathroom stall is just one piece of meeting the regulations set out by the Disability Discrimination Act (DDA). While the size of the space and what it needs to hold are just one piece of the puzzle, you also need to make sure that each one of the water fixtures and pieces of furniture used in the room all meet DDA compliances as well.
The toilet itself needs to be DDA compliant in order to meet accessibility guidelines. This means that the toilet itself needs to be a specific height to make it easier for wheelchair users to transfer and for those with mobility issues to use it without needing to bend as far.
Accessible toilets can meet compliance when they have a height between 440 and 500mm. Most commonly, they will have a height of 450mm, which is based off of the height of the average adult user.
The toilet also needs to have added projection to the front, or have a more elongated front or pan. This is so that wheelchair users have a larger surface area for transfer, making it easier.
The toilet needs to have a flush plate or a sensor for automated flushing action. It cannot have a standard lever or button to push that may be difficult to use for someone with limited mobility or limited dexterity in their hands.
---
Document M Grab Bars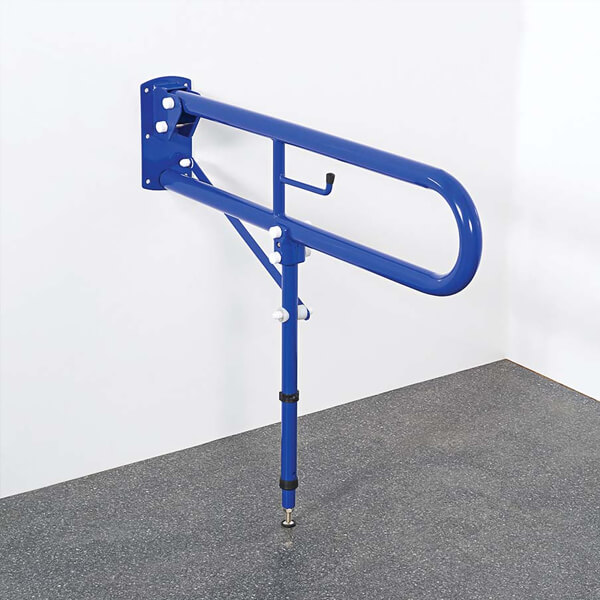 Document M is the reference guide to designing accessibility to buildings in the UK. It lays out all of the various rules and regulations, as well as guidelines for how to build an accessible space. Part of these guidelines includes the use of grab bars or grab rails for those with limited mobility. To make it easier for home and business owners as well as for designers and builders to know which grab bars are required, most manufacturers have put together grab bar kits, known as the Doc M grab bars. This is a set of grab bars that meet all the guidelines laid out in Document M in terms of size, shape, and style.
Any grab bars installed in a public bathroom must have a highly contrasting colour to the walls they are installed on to make it easier for visually impaired people to see them. This means using white grab bars on a dark coloured wall and a dark coloured grab bar on a white or off-white wall.
Doc M grab bars need to have room for installation on the walls planned into the design of the space. This means that next to the toilet there must be a space 1000mm long, 1000mm high and 100mm wide that is left available for the installation of the grab rails.
The walls themselves must be strong enough to support not only the grab bar installation, but also the weight of the user, as well as any necessary equipment. This is equal to a load defined as 1.5kN/m2.
There are different requirements for how many and what shape and type of grab bars are necessary depending on the type of bathroom you are creating. For example, an ambulant accessible bathroom will have horizontal rails along either side of the toilet, and a third horizontal rail on the interior of the door to help it shut.
A unisex, accessible bathroom will have four grab bars within the bathroom itself. Two horizontal bars on either side of the toilet, and two vertical grab bars on either side of the basin. The bars themselves can be of different configurations, for example, they may be able to swing out of the way or up to make room when necessary, then swing back down when needed.
By looking for and purchasing the relevant Doc M grab bar kit, you can get the correct number and shape of grab bars for the space you are outfitting.
---
Wash Basin Regulations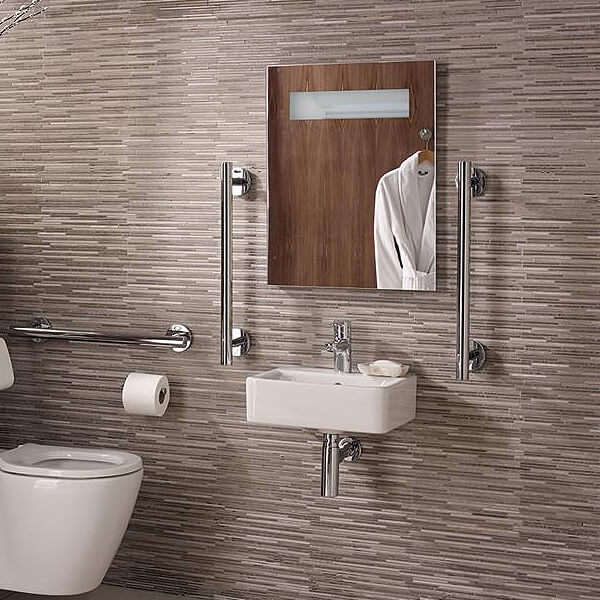 All fully accessible bathrooms must have a wash basin included in the design of the room to fully meet the regulations. This wash basin must be accessible to wheelchair users, meaning that it must not be installed inside of a vanity or other furniture piece that might make it too difficult to use. The pipes or traps should not be boxed in to avoid making it difficult for a wheelchair user to get close enough to the sink to use it properly. The sink must have either lever-handle taps or a tap that has a sensor, so that those with impaired dexterity of their hands can still make use of it.
The wash basin must be flanked with vertical grab bars on either side, close enough to reach by the sink's user. Ideally, there should also be nearby counter or shelving space so that persons with colostomy bags or self-cathing supplies can lay them out comfortably.
---
Bathroom Door Regulation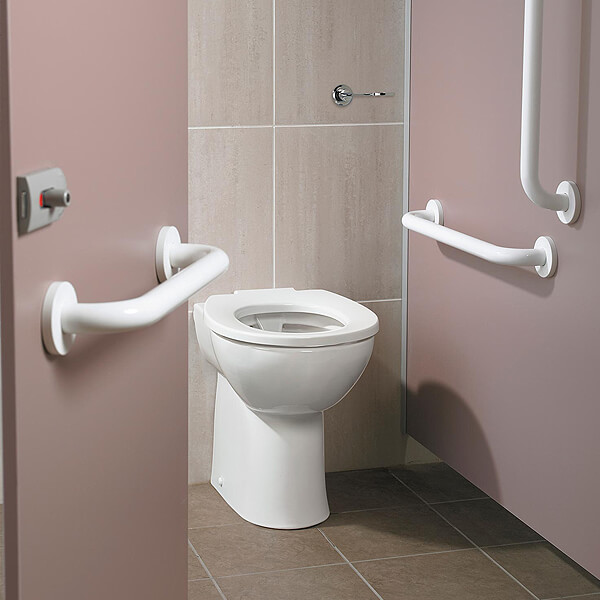 If the accessible bathroom is a corner stall in a row of other stalls or is an ambulant accessible stall, the door must open or swing outwards into the room. The door must have a grab bar installed horizontally on the interior side to make it easier for the user to close the door behind themselves independently. The door opening itself must be a minimum of 900mm wide, but ideally 950mm wide to allow easy access by a wheelchair user.
---
Other Regulations
In addition to these regulations, the bathroom should be outfitted with an alarm cord in case of issues by the user. The accessible bathroom should not be blocked or used for storage, and the path must be kept clear to the bathroom. The alarm cord should not be tied up at any time, and no additional bathroom furniture should be installed that might make it more difficult for the user to navigate or interact with the space.
---
Make Sure You Know the Regulations
With more than 12 million disabled persons living in the UK, it's important to make sure that there are adequate accessible bathrooms in all public areas and in workplaces. Many disabled people will plan their day to ensure that they have access to the facilities they need, so complying with the laws to ensure that they have access to accessible bathrooms will ensure that they have greater access to your space. Follow the regulations for creating accessible bathrooms in the UK to ensure that you're meeting the needs of the greatest number of users.