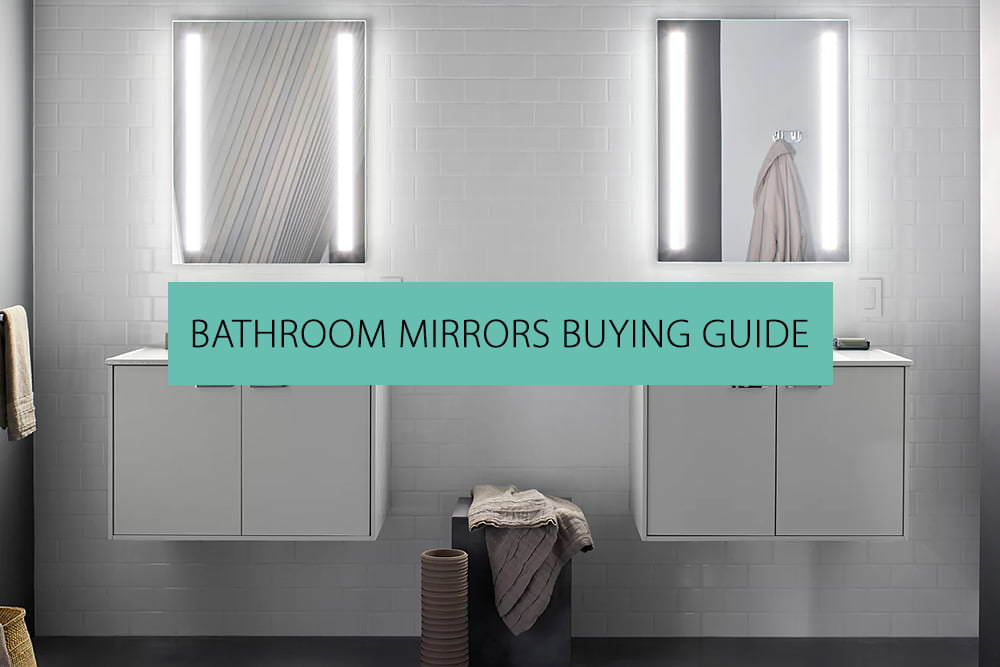 A Little Trivia
We all take bathroom mirrors for granted, but it is interesting to learn about their history, when and how they were invented, and who invented them. It is assumed that the first one was a pool of water, and when some inquiring minds realised they could see their reflection, they set about trying to re-create the water's surface. The first man-made mirrors were made of highly-polished stone, such as obsidian, a type of volcanic glass. The first silvered glass that we are familiar with today was invented by a German chemist in 1835. Decorative ones have been around since the 16th century when Venetian glassmakers created them as a work of art. It is most commonly used in bathrooms today, and since then, there have been some surprising advances in this age-old household item.
---
When to Replace Your Existing Mirror?
Keeping these accessories in good condition is key to maintaining their good looks. However, over time the surface can get scratched or mouldy, marring the look of a bathroom. Maybe your reflection isn't quite as clear as it used to be, or you can't quite rub off every mark on its surface. More often than not, such an outcome is the result of a hurried purchase, an unbranded or cheap product. Updating your old plastic framed with a classy Designer one with lights is just what you may need to uplift the mood in your room interior. Also, if you are renovating the rest of the bathroom, why not get a sophisticated and stylish one to match the new decor?
---
Where should You Install a Bathroom Mirror
There are two variables which will determine the answer to this question. The first involves the needs of the user, and the second is defined by existing wall space. The majority of mirrors are generally installed directly above the sink. This is just as much for convenience as it arises from functionality. In terms of height, most units are placed so that they are able to provide a clear view of one's head and shoulders. There can even be times when a second mirror is placed lower if children are present. This illustration below, according to HIB, specifies that the best place to install an electric mirror is in the outside zone, and all the installations must be made in accordance with the current IEE wiring and building regulations, it is also recommended that it is fitted by a qualified Part P registered electrician.
---
Current Mirror Trends
Current trends include large mirrors and classic designs such as decorative, ornate frames. General bathroom design trends of simplicity and minimalism can be enhanced with an eye-catching mirror – a functional focal point. Large mirrors can also give the feeling of more room, which is great for smaller bathrooms.
Round bathroom mirrors are growing in popularity, as well as irregular shapes. Japandi design – a combination of Japanese simplicity and Scandinavian characteristics – is all the rage, including mirrors with unique shapes. A slightly irregular circle or oval can give a bathroom a touch of charisma and quirkiness.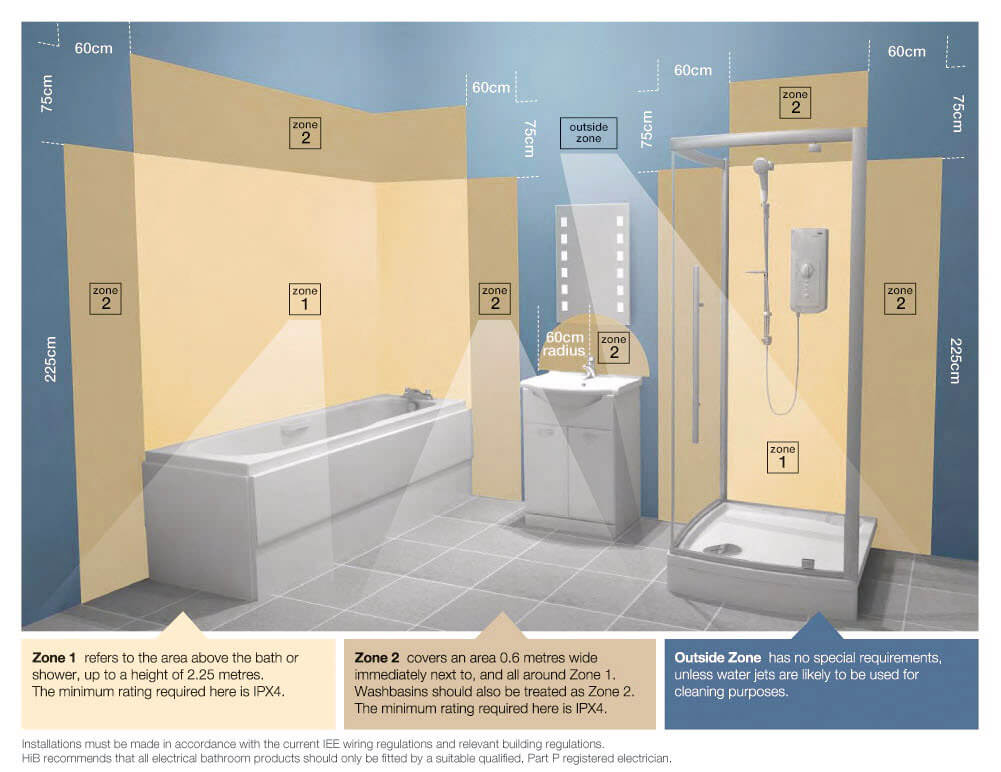 ---
LED Bathroom Mirrors Add Glamour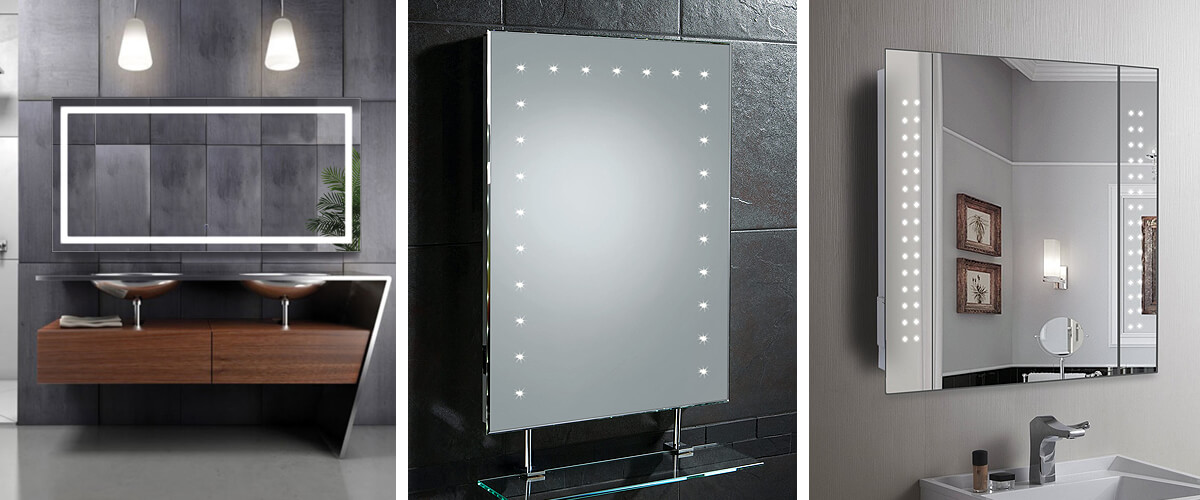 West End stars might see their names in lights every day, but you can see your face in lights each morning and evening with a beautiful mirror with light. Whether you're trying to add extra lighting to a bathroom that lacks natural light or appreciate the flattering glow of a lighted mirror, the most energy-efficient and stylish choice is to install a modern mirror with LED lights. Well, who doesn't want to start and end their day feeling just a little bit famous? A mirror brings to mind the golden age of Hollywood, when impossibly beautiful movie stars posed and preened in their dressing rooms and mirrors surrounded by lights reflected their perfectly-lit faces. If you want to add a bit of vintage luxury and style to your bathroom (or dressing room!), then a mirror with lights is a must-have accessory. As these come in many shapes and sizes, you can always find the right model for your needs. For instance, this little round makeup/shaving mirror from Smedbo is a great entry point if you want the convenience of an LED mirror without the commitment of a full-sized wall mirror.
You can choose from framed or unframed styles, and there's also a huge range of light configurations or a mirror with a single strip of lighting at the top or a line down each side, or even completely encircled with light. Some LED mirrors, like this stylish Hudson Reed model, even incorporate extra features such as touch sensors and a demisting pad. Available in a variety of colours, sizes and shapes, there are lots of other features to choose from, such as digital clocks, fluorescent backlighting, and even a dazzling 3-dimensional one, which will make your bathroom the star attraction of your home. This is also called an infinity mirror.
If you're after something really special, try a Bluetooth mirror. Built-in speakers allow you to listen to your favourite tunes while getting ready for the day (or winding down at the end of it), without the risk of dropping your phone in the toilet.
---
The Modern Age Mirror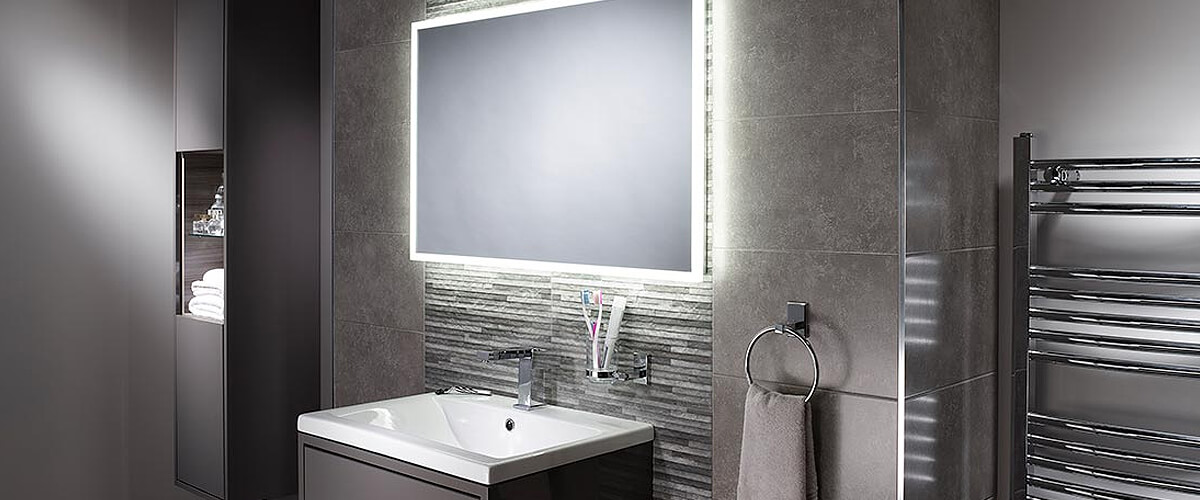 As we mentioned, mirrors with lights have been around for decades, so why are LED mirrors so special? It's all in the technology, and has a powerful list of advantages over traditional incandescent or fluorescent lighting choices.
Energy saving and environmentally sound. LED stands for "light emitting diodes". By using the movement of electrons to convert electricity to light very efficiently, they can save you a lot on your energy bill, and use 75% less energy than standard incandescent lights.
Long-lasting and durable. Because LEDs don't have a filament, they are much less fragile than a traditional light bulb. They last an average of 10 times longer than a comparable compact fluorescent light and much longer than incandescents.
Natural, pure white light. The realistic light emitted by LEDs mimics daylight, which makes them ideal for applying makeup. No more walking outdoors to discover your face is the wrong colour!
LED mirrors are a big step up in terms of technology, functionality, and style, and they give your bathroom a contemporary edge that traditional mirrors can't match. While some LED mirrors are considerably more expensive than mirrors without lights, in some circumstances, they can be a smart financial move, ensuring that you have enough light to apply makeup or shave without installing separate lighting.
You need to know - an LED light, often said to be dimmable, can be dimmable only with the help of a supporting dimmer compatible with the LED light, without which, the lights give out intolerable flickering issues. But at QS Supplies, all the products we list are backed by the manufacturer's guarantee, so you don't have to worry about the bulbs. You can easily get a replacement if you find such issues.
---
Why choose a backlit mirror?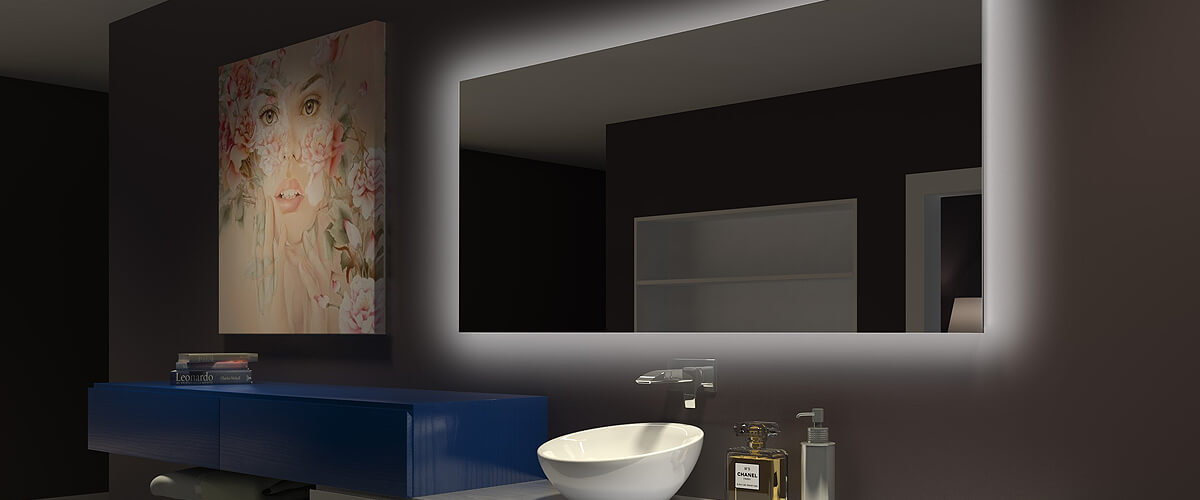 A conventional bathroom mirror mounted with an external light, commonly seen in most bathrooms and households, reflects a shadow-ridden image. That's a problem if you use your mirror for shaving, putting on makeup, styling or colouring your hair. The problem is even worse if there is no external light mounted immediately above the mirror, particularly in an otherwise poorly illuminated bathroom.
By contrast, a backlit mirror flawlessly reflects a luminous image. It is specially designed to eliminate the problems caused by a badly positioned or inadequate light source. An illuminated mirror can provide an exquisitely accurate reflection while lending brightness and an added sense of spaciousness to even the tiniest bathroom.
---
How do these mirrors work?
Most are illuminated in one of two ways: by fluorescent light or LED. Fluorescent mirrors are plugged into an electrical outlet. In some of these options, the lights are arranged in a pattern behind the mirror, which adds an intriguing element of design. In others, the light is diffused, simply adding a general glow.
LED mirrors are battery-powered. Formerly this involved battery replacement and the expense that incurred, but rechargeable LED mirrors that are now available use less energy, and some models also offer the flexibility of using coloured lights or pinpricks to give an extra decorative flair to your bathroom.
---
Safety & Other Considerations
To meet all building and safety codes, a properly qualified and registered electrician should install any mirror requiring an electrical connection, and it must also be away from water sources to avoid any electrical shocks or accidents.
Since we only carry the best brands, all the products we have showcased above comply with electrical equipment safety regulations. On our product pages, we list compliance data and other specifications, such as the water resistance rating and zone information. Of course, if you have a question about any of our products showcased above, please do not hesitate to ask us.
---
Variety of Options
As with any other element of your bathroom, you should choose a mirror that complements the rest of your decor. We offer backlit mirrors in a wide range of sizes, shapes and designs. Most of our models are rectangular, and many are suitable for hanging horizontally (landscape) or vertically (portrait). We also have square and round models. Some of our products have innovative features such as a shaver socket, a demister to prevent annoying steam, and even motion sensitivity for added control and energy conservation.
Browse our pages, and if you're in any doubt whatsoever about which one will be best for your space, feel free to call and talk with one of our design team members at 0116 251 0051. Or, if you prefer, you can get assistance online at any hour by contacting one of our Live Chat Operators.
We are committed to your satisfaction every step of the way, from choosing the right mirror (or any other bathroom accessory) and ensuring that everything is delivered and installed on time to making sure you are completely satisfied with your purchase.
---
Why Use Shaving Mirrors with Demister Pad in The Bathroom?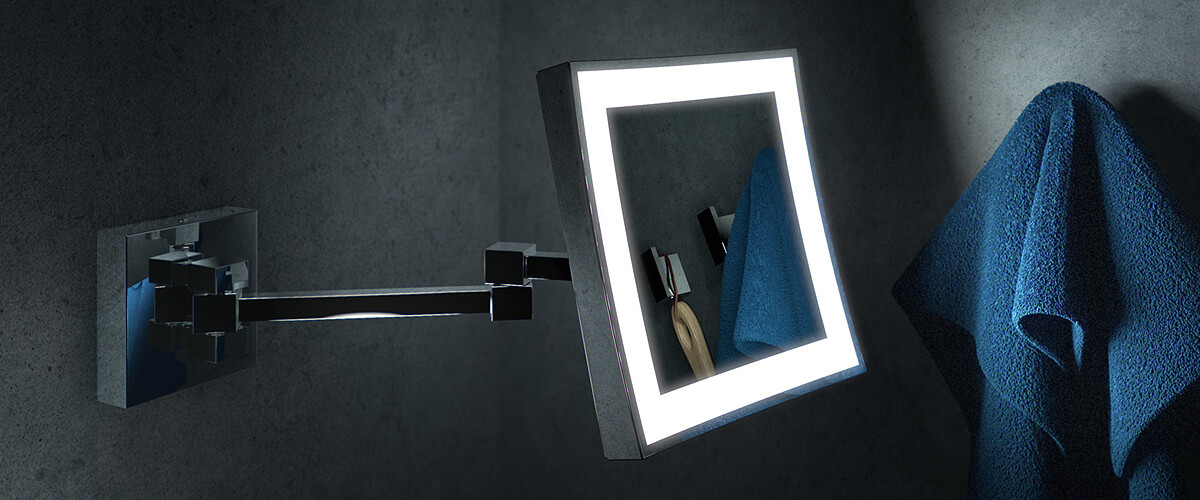 This super-convenient invention features an integrated socket within the mirror for use with shavers or other low-wattage devices such as toothbrushes, etc. Many have extra high-intensity lighting to make dealing with those tricky details a breeze. For most men, shaving is an inseparable part of their daily grooming regime; mirrors fulfil the purpose but leave a lot to be desired. Standard mirrors are susceptible to collecting vapour during baths, which make shaving tedious and often leave the user with un-shaved areas due to lack of visibility, especially while clearing stubble. Minor cuts become unavoidable due to lack of clarity, which makes the modern Shaving Mirror indispensable.
---
Modern Age Mirrors
While the purpose of the mirror remains the same, it has been re-invented in several cutting-edge ways, which makes it more than just functional; it has becomes a piece of art. There are "floating" mirrors which rest on the floor, mirrors atop stands similar to floor lamps, and cheval mirrors in ornate iron frames. These innovative new designs are taking the functional bathroom mirror from a basic necessity to a style statement. Above, we have showcased magnifying range, which is specially used for make-up.
---
A More About Magnetic Magnifying
The magnifying mirror has been around for a while, but some modern touches have made it even more versatile. Many models are now available with suction cups, making them easy to move around to where you need them, or even take along when you travel. Some are also magnetic, which is handy in the bathroom with its many metal surfaces. The wall-mounted mirror with its flexible arm swivels to reveal a true image and a "direct sunlight" image to give you a more accurate reflection of your appearance in outdoor light.
---
Have a look to see how a mirror is created using glass and silver nitrate