Shower Enclosures & Cubicles
At QS Supplies, we offer excellent build-quality shower enclosures and shower cubicles. If you are remodelling or renovating your bathroom and require a new shower unit with a tray, you have come to the right place. We at QS Supplies have a massive range of new showering units, most of which are delivered free to your doorstep. With various choices in different glass thicknesses, you can choose framed or frameless enclosures from our online store. We also offer options in finishes, from gold to black grid enclosures, to different patterned glass; we cover the entire gamut.
Good quality shower enclosures in a bathroom are an investment that most homeowners appreciate. Acquiring a well-designed showering space gives you peace of mind, saves cash in the long run, makes your bathroom spacious, and enhances the decor. Our collection features 400+ unique products and is hand-picked to cater to various budgets. With options from as low as £99 to £2000, we ensure that affordability and luxury find their place in your bathroom. Each product in our collection comes with a promise of guarantee and is manufactured by brands such as Merlyn, Crosswater, Nuie, Joseph Miles and more.
Sliding Shower Doors, Side Panels, Corner-Entry Cubicles and Shower Quadrants can be selected according to the size and shape of your bathroom area and preference. Our selection includes popular sizes, including 1000 x 1000mm, 800 x 800mm, and 900 x 900mm. If you have an odd size requirement, we even offer 1200 x 900mm, 900 x 760mm, and 1000 x 800mm offset sizes. With our unique range, we're sure you'll find the right shower pod for your bathroom space. Our after-sales service is incomparable in the online shopping parlance.
Shop By Category
Shop By Finish & Offers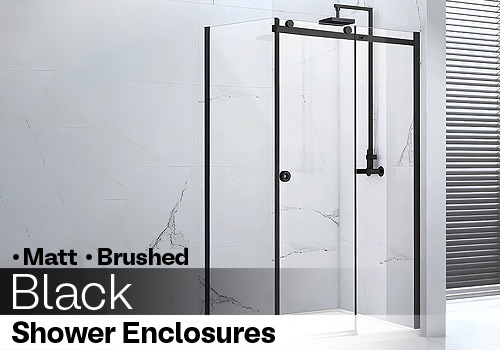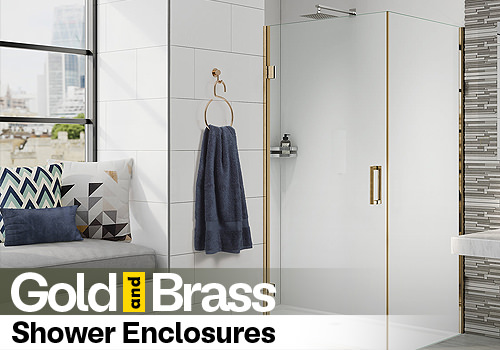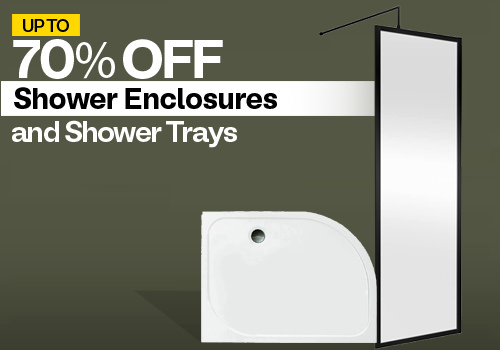 Things to know before purchasing a new showering unit.
The first thing to decide is where your showering unit will stand. Corners are popular options, but the centre of your bathroom or a separate enclosed area may be the best option. If you're updating your showering area instead of creating a new one, remember that moving and adding plumbing fixtures can cost a lot of money. It's always best to keep your new enclosure in the same spot as your previous one.
Most shower enclosures measure 800 x 800mm, 900 x 900mm, or 1000 x 800mm, and the heights will vary. While an enclosure as small as 800 x 800mm is possible, the most popular options are 900 x 900mm, 1000 x 800mm, and 1200 x 900mm. Heights usually range between 1800 to 2000mm.
There are other factors that can contribute towards finding just the right spot for the placement of your enclosure. A case in point is when a Bathroom furniture takes up a lot of space in your bathroom and may obstruct the shower door partially or completely if it opens outwards. You'll need at least 70-80 cm of clearance to comfortably open and close the door. You can further read our guide on, Which way Should Your Shower Door Open?
Decide Between Shower Enclosure or Walk-in Enclosure

You can choose to install a standard shower cubicle or a walk-in enclosure. Walk-in Showers are popular for large bathrooms. However, both types have recently become taller to cater for low-profile trays and floor fixing options, averaging around 1.8 to 2 metres. They're created with toughened glass between 6mm to 10mm thick and generally feature glass coating protection to make them easier to clean.
Enclosures come in various sizes and give you a choice of door designs such as bi-fold, pivot, and sliding. These mechanisms push up the price, and those with limited budgets can opt for glass screens that arrive with all the appropriate wall profile fixings.
Currently, enclosures and screens with minimal profiles, hidden fixings, and chrome or matte black finishes are what people want. If you want to learn more, you can read our complete buying guide on "Selecting the Right Enclosure for your bathroom."
What are the best brands at QS Supplies?
The most popular showering unit brands are Nuie, Meryln, Lakes, Kudos and Crosswater.
Are shower cubicles difficult to maintain?
Not at all; most of the showering units available at QS feature easy-clean glass coating, which makes the cleaning process easy and simple. This coating repels moisture, dirt, dust, and soap scum.
How Long Should a Shower Enclosure Last?
Most showering units available at our online store come with a Lifetime Guarantee, and you can trust their performance and durability. A good quality enclosure may last up to 20 to 30 years when maintained correctly.
What is the best glass thickness for an enclosure?
The optimal recommended glass thickness is 8mm.