Why Buy from us?
Apt and contemporary, our range is immensely spellbinding. Whether, you are looking for a curved, rectangle or a square shower enclosure, you can get all the variations from our on-line store, and just within few clicks. Every time you venture into a cubicle, which has been supplied by us, there's a new feeling of being refreshed and rejuvenated. It's all because of the cosiness of our products. They simply enthuse with exhilarating energy and ambiance inside the unit. We have encompassed new dimensions, including a vast range, in order to surprise one and all, offering the best that are soothing and comforting.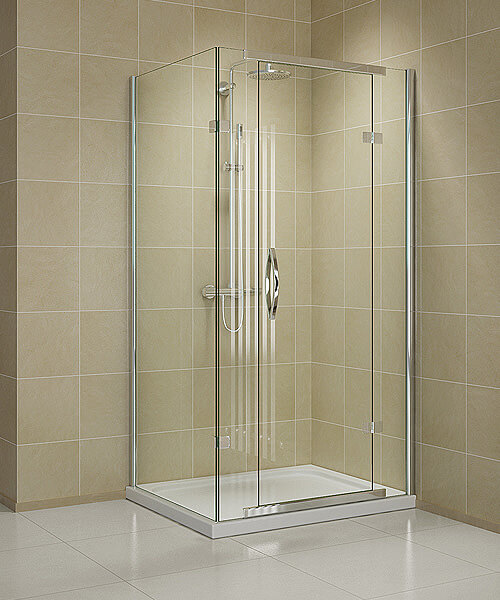 Furthermore, our complete range of large shower cubicles comes in small and large sizes such as 1200 x 800mm, 800 x 800mm, 900 x 900mm. We even have odd sizes such as 1200 x 900mm, 1050 x 950mm and 1000 x 800mm, and it is made easy to possess, without being worried of entailing expenses that dearer day by day. We offer you unprecedented quality and prices beyond imagination. Our range is dazzlingly magnificent, when it comes to practical functioning; they also reflect the technological superiority of the creators that are known and reputed brands, with international acclaim.
Explicitly reflecting the urbanism and elitism in look, the spirit of provenance and manufacturers is evident within our range of bathroom enclosures. The manufacturers have converged creativity and quality to meet your fondest desires that fancy exclusiveness and beauty. Our range of products, and after sales service is in incomparable in the online shopping parlance. We also end your search for economical and quality type shower units, for we're matchless when it is about price and assurance.
Why You Must Not Buy A Cheap Quality Shower Enclosure?
When looking for a new shower unit, many homeowners are tempted to just buy the cheapest one available. However, cheaper doesn't always mean better, and in fact, there are several cons to buying a low-priced item. First of all, buying a cheap one that has been mass-produced abroad puts consumers in a difficult position should something go wrong, as it is virtually impossible to get personalised service and one-to-one attention if there are problems during installation or with the entire unit itself. Secondly, if the product itself is damaged or faulty, the chances of making a successful guarantee claim are very low indeed. Last but not least, manufacturers overseas are unlikely to be familiar or comply with the safety standards that apply to the UK market. To avoid disappointment, it's wise to buy from a reputable retailer. We offer comprehensive post-sales service and exclusively sells products from leading brands such as Twyfords, Aqualux Heritage, Simpsons, Ideal Standard, Imperial, Duravit, Lakes and many more.
General Checks Before Making a Purchase:
Size, Shape and Height - Showers Enclosures are available in different shapes; square, oblong, rectangular and quadrant. The choice of the sizes and shapes, you select, gives you the space and comfort you need while showering.
Positioning - Installing a shower enclosure at the existing area will save time and money incurred for preparing the area and the plumbing works. It's very easy to attach the overhead pipes from the already-existing hot and cold piping.
Trays – After fitting the tray, the entire unit must be tested for leakage.
Testing
Corrosion Testing - A corroding material is not advisable for bathrooms, as it is in constant contact with water, soaps, detergents and shampoos that you use. This is because; the colour of the corroding material spoils the look of bath area. This resonates why it is essential to purchase high-quality metal fittings, especially for shower enclosures.
Would the Door Rollers last long?
The condition of doors is vital to the durability of your shower cabinet. The rollers and the grooves should not be easily destructible by water or bathing chemicals.
Are there any Water Leakages?
It is important that the tray and the walls of an enclosure be leak-free. This helps to contain the water in the tray and prevent it from spreading to other areas.
Handles & Fixings
The handles for a shower enclosure should be strong and of high quality, preferably metals. Chrome coated plastics are also a choice, and they provide poor experience, and they are easily breakable. Opt for the ones that are made of brass or steel. They usually tend to last long than the plastic ones.
If you are still confused in selecting the right one; give us a call, and our sales representative would be more than happy to assist you on selecting the right solution for your bathroom. Alternatively, you can also read our buying guide on "Selecting the Right Shower Cubicle"