Which Countries and Cities Have the Most Restrooms?
Published on: 11/10/2021
Last Updated: 11/10/2021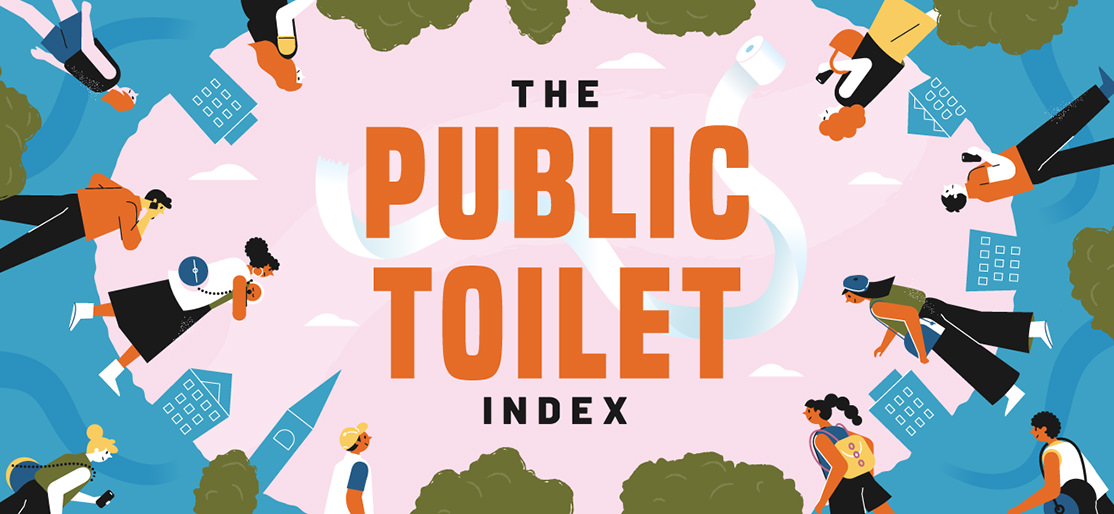 When 'nature calls,' you don't want to squat behind a tree to answer it. But even the most developed cities and towns are troublingly short on public toilets. And the issue is disproportionately more pressing on humanity's less-privileged restroom users.
The homeless. The elderly. Pregnant women and new mothers. Many will have a sparse mental map of potential pee stops in their neighbourhoods. And those public bathrooms that do exist are often inaccessible to people with certain disabilities. "If I have to be thankful for an accessible bathroom," asks disability rights activist Judy Heumann, "when am I ever gonna be equal in the community?"
But everyone needs the bathroom when out and about from time to time. So which cities and countries make it easiest to find a restroom?
QS Supplies used essential toilet-finding tool PeePlace to count the number of restrooms in different parts of the world. Then, we used official population figures to calculate the number of restrooms per 100,000 people. And while we had all these numbers, we also worked out the number of public toilets per 100 square kilometres in UK cities and counties and US cities and states.
Key Findings
The country with the highest density of public bathrooms is Iceland: 56 toilets per 100,000 population.
Wakefield is the UK city with the most restrooms per 100,000 people (35) and per 100km2 (130).
Berkshire, Merseyside, and Greater Manchester are tied as the counties with the fewest toilets per 100k population (three).
Madison, WI, is the US city with the most toilets per 100k (35).
Mississippi and Louisiana each have just one restroom per 100k population, the worst-served states in America.
Wakefield (UK) and Madison (US) Are the Cities with the Most Restrooms
Our first restroom tool compares the restrooms in UK and US cities. Click the tabs to switch between countries, and use the dropdown menus to choose the cities you'd like to compare.
Wakefield takes the crown as the UK's best place for public toilets. Or, more appropriately, it takes the throne – 38 thrones, actually, for its population of 107,546. The city's success stands in stark contrast to its eponymous borough and nearby Yorkshire cities, where locals have been vocal about the lack of facilities.
Brighton and Hove come a close second to Wakefield when compared by distance. Wakefield has 130 restrooms per 100km2, while Brighton has 134. However, Brighton has far fewer restrooms per 100k population (16). In other words, you're always near a public toilet in both cities – but in Brighton, you're more likely to face a queue.
Four of the top 10 cities in the US for number of public restrooms per capita are in California: Oakland (30 toilets per 100,000 people), San Francisco (26), Anaheim (25), and San Jose (20). However, you'll find the shortest queues in Madison, Wisconsin, where there are 35 public restrooms per 100,000 people.
San Francisco is also on top for toilets per 100km2 (18.7), far ahead of second-placed Oakland (8.8). The streets of Frisco are lined with self-cleaning toilets, which are run at zero cost to the city. Contractor JCDecaux is licensed to install public service/advertising kiosks on the pavements to recoup their costs.
---
Scottish Island Counties are Spoiled for Public Bathrooms
Here's our public toilet map of UK counties, showing the number of restrooms per 100 population. The Scottish Orkney Islands are way out there with 216, followed by Na h-Eileanan Siar (the Outer Hebrides) with 153. The three counties with the highest density of restrooms each have a population of < 30,000 and plenty of toilets for each individual.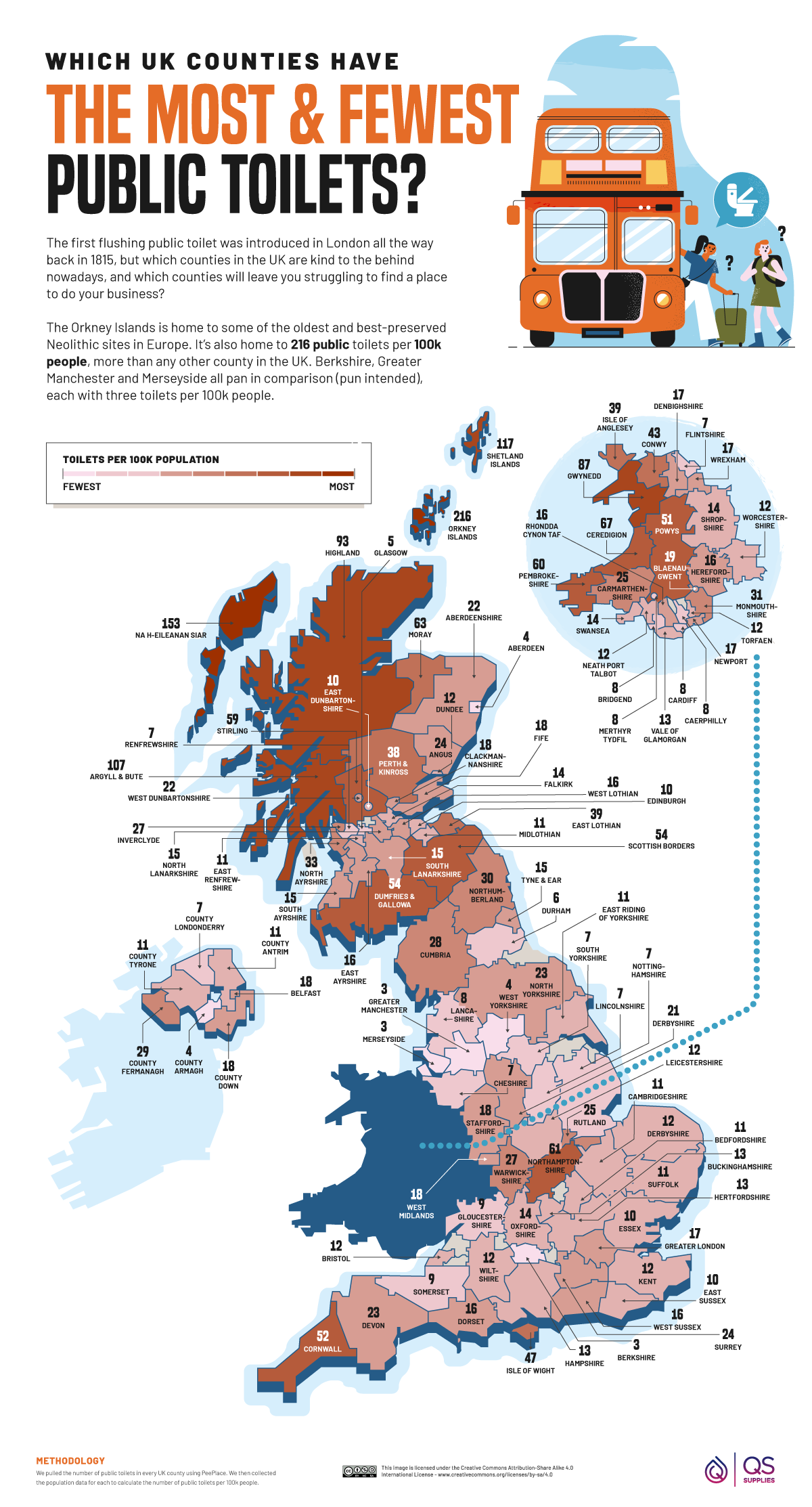 Click here to view full size
The only county in the top 30 with a population of more than 1m is Surrey, in 30th place with 24 bathrooms per 100k. And the three worst-attended counties each have a population of 900,000 or more: Berkshire, Merseyside, and Greater Manchester each have a toilet count of just 3 per 100k.
Following an outcry at Manchester's frequent toilet closures, the British Toilet Association (BTA) has stepped in with a Use Our Loos campaign to encourage businesses to open up their bathrooms to non-customers.
---
Southern States Have A Single Restroom for Around 50,000 People
Smaller American states, like smaller UK counties, dominate the top of the restroom chart. Wyoming (pop. 578,759) boasts 43.9 bathrooms per 100k people. South Dakota is securely in second place with 35.4/100k. And here's a tip if you're caught short in Wyoming: it's illegal for an establishment to charge you to use the bathroom. They can close their bathrooms to the public altogether if they want, but if they demand you make a purchase before you make a 'visit,' they're in the wrong.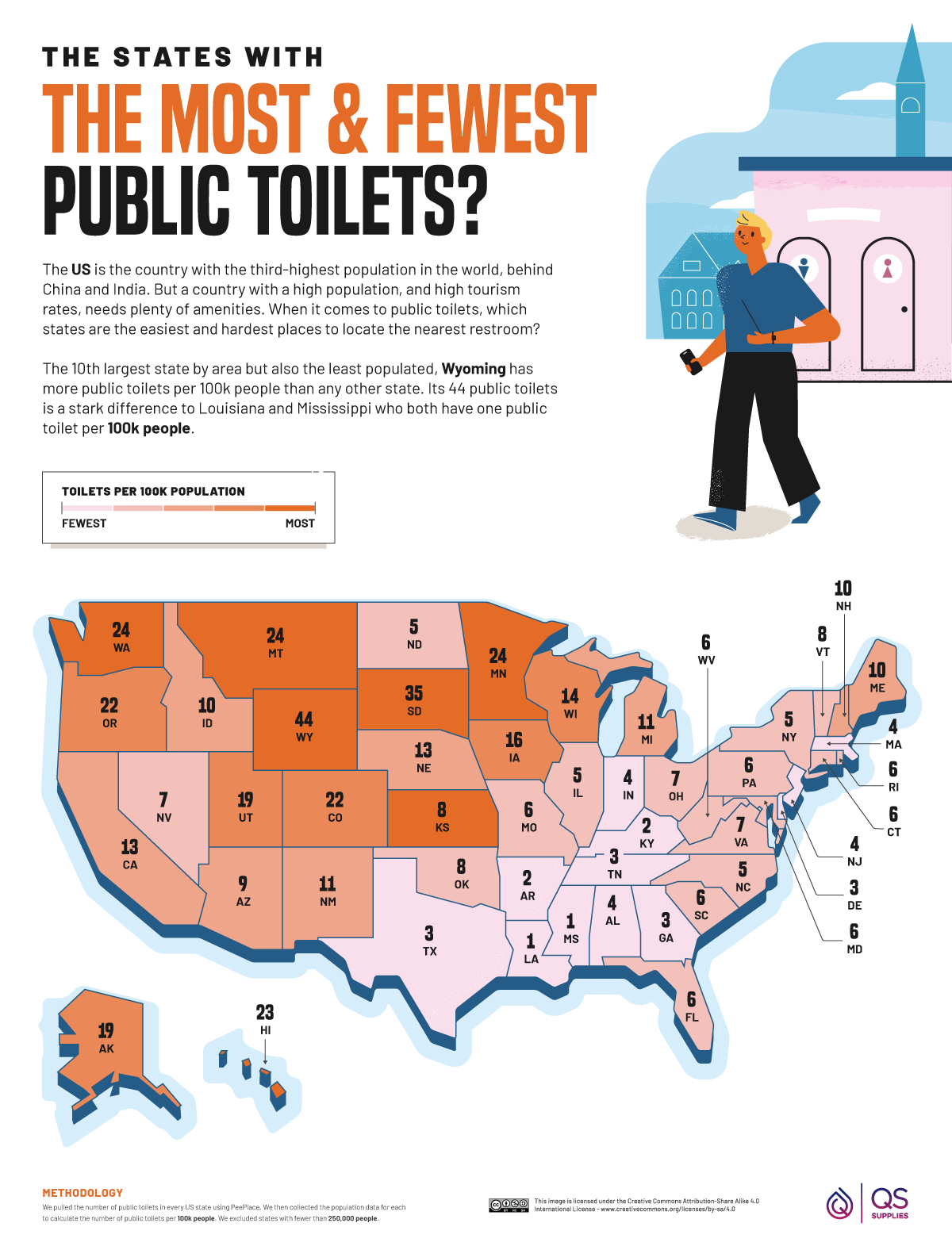 Click here to view full size
You really don't want to be stuck down south if you have, um, trouble 'down south.' The six states with the fewest bathrooms per capita are Louisiana (1.2 per 100k), Mississippi (1.2), Kentucky (1.9), Arkansas (2.2), Texas (2.6), and Tennessee (2.8). From racial segregation to transgender rights, public restrooms have always been a political sore point for some.
---
Iceland Leads European Surge of Countries with High Restroom Availability
There's good news and bad news if you need a pee on your European vacation. Our chart of restroom density in countries around the room is dominated by European cities. Seventeen of the top 20 countries for restroom availability are in Europe, and each of those promises at least 15 bathrooms per 100k population.
The rub is that European restrooms tend to have a nominal cover charge. Often, it's €1 or less, but still - €1 may as well be a million bucks if your bladder's bursting and you don't have change.

Click here to view full size
New Zealand and Australia also make the top five. But it's more of a mixed bag at the bottom, where countries from Africa, South America, Asia, and North America prop up the table with less than one bathroom per 100,000 people.
---
Restrooms: a Humanitarian Issue
Why aren't there more restrooms? Vandalism, drug use, 'misuse,' and excessive mess are blamed for authorities' failure to establish and maintain more public toilets. Restrooms require effort and money to function.
But 'people who pee' is a pretty big demographic. Advertisers and corporate sponsors would queue up to access the vacant attention of public bathroom users, if the infrastructural will was there. For example, designers in India have pioneered cost-effective and sustainable solutions such as building bathrooms in disused buses, using solar power, reusing water, and designing spaces that encourage respectful behaviour.
In short, peeing in public is a political issue. As long as those who need the service the most are the most underprivileged, it may take a concerted effort for progress on this humanitarian issue.
For the full data from our study, please check out the interactive table below at your convenience.
---
Methodology & Sources
We pulled the number of public toilets in different cities throughout the UK and the US, using PeePlace. Only cities with 10 or more public toilets were included in the dataset. Then we collected UK and US population data from ONS and Census to calculate the number of public toilets per 100k people.
The data only includes countries with a population of 300,000 and above, US cities with a population of 250,000 or more, UK cities with a population of 100,000 or more.
UK Counties were taken as metropolitan and non-metropolitan counties in England, principal areas in Wales, council areas in Scotland, and counties of Northern Ireland. The City of London was removed from the dataset due to its special status and significantly smaller population.
The data was gathered in August 2021.
---
Why This Research?
At QS Supplies, we're passionate about toilets, be it a residential, commercial or public toilet. From back-to-wall toilets, close-coupled toilets, toilet seats, back to wall toilet unit and bidets, you'll find everything you need to make your trips to the washroom as comfortable as possible. See them for yourself by visiting us at QSSupplies.co.uk today.
---
Sources