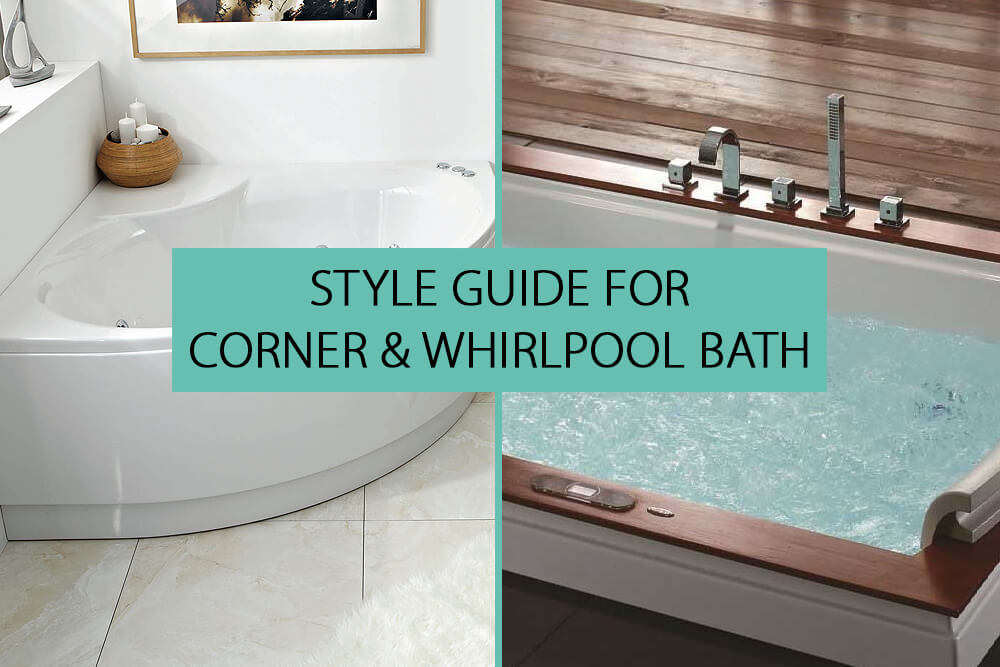 If you need to save space in your bathroom, you might be imagining a life bereft of baths. For anyone who counts on the relaxation of a bath to dissolve the difficulties of the day, that's a terrible prospect. Enter corner baths, the space-saving hero of small bathrooms everywhere. The average corner bath is saves space by not extending the full length of one wall, but by splitting across two and making a triangle. In addition, they save space because corners are often not currently in use. These are often deeper, so you can enjoy a spa-level soak without feeling cramped or short on space. Corner baths have come a long way in recent years, and there are dozens of styles and shapes available to suit every preference and bathroom. Before you go shopping, you should know your options.
---
The Basics
In its simplest incarnation, a corner bath has two straight sides of equal length, which meet at a right angle. This is the part which tucks into the corner. There is also a gently rounded side which extends out into the room. This lovely Beo Lagoon is an excellent example of this type of bath. You can see how deep the bath is, and the relaxing slope of the sides, which allow for comfortable lounging.
---
Understanding offsets
If you have a little more room to work with, an offset corner bath can offer you the best of both worlds. In this type, one side is longer than the other. This gives you even more space to stretch out your legs. A fine example is the beautiful Carron Omega.
---
Do you need right or left-handed?
To find the best for your space, you need to know which orientation makes the most sense. Both regular and offset corner baths come in right-hand and left-handed versions, as witnessed in these lovely Duravit Paiova Corner Right and Paiova Corner Left models.
---
Trending colour choices
Regular and offset corner baths come in a variety of colours, and you can choose the one that best suits your bathroom. Interest in black bathtubs has increased globally by over 79%, so it's clear this dark hue is a popular choice. You can also consider adding warm metallic accents like copper, gold, brass, and bronze when choosing your taps.
---
Consider seating
With the many beautiful models on the market today, you can get creative with the shape of the bathtub. However, square and rectangular aren't only the choices. The shape of most corner baths means that there's usually a bit of extra room where the bath meets the corner. Some smart models, like thisTrojan Orlando, make great use of this by adding in the seat. It's an excellent way to save water and time when you want to soak your feet or have a quick wash, and when not in use, it's a nice area to store bath potions, accessories and rubber ducks.
---
Upgrade to the wonder of a whirlpool bath.
Modern bathrooms are a major trend for 2022 and whirlpool baths are a big part of this. Data from Google Trends indicates that searches for modern bathroom outpaced similar searches for contemporary, traditional, or modern farmhouse bathrooms in 2021. All this data points to a strong trend towards luxurious bathrooms that feature the best baths!
Relaxing spa-like bathrooms for enjoyable soaks are hugely trendy as people seek to relax and restore themselves at home. Extra-deep soaking tubs and whirlpool jetted tubs will be the ultimate luxury for lovers of bathroom spas.
The depth of most corner baths makes them ideal for hydrotherapy, and choosing a whirlpool corner bath with jets is an incredible way to add an authentic touch of luxury to your bathing experience.
---
Whirlpool Baths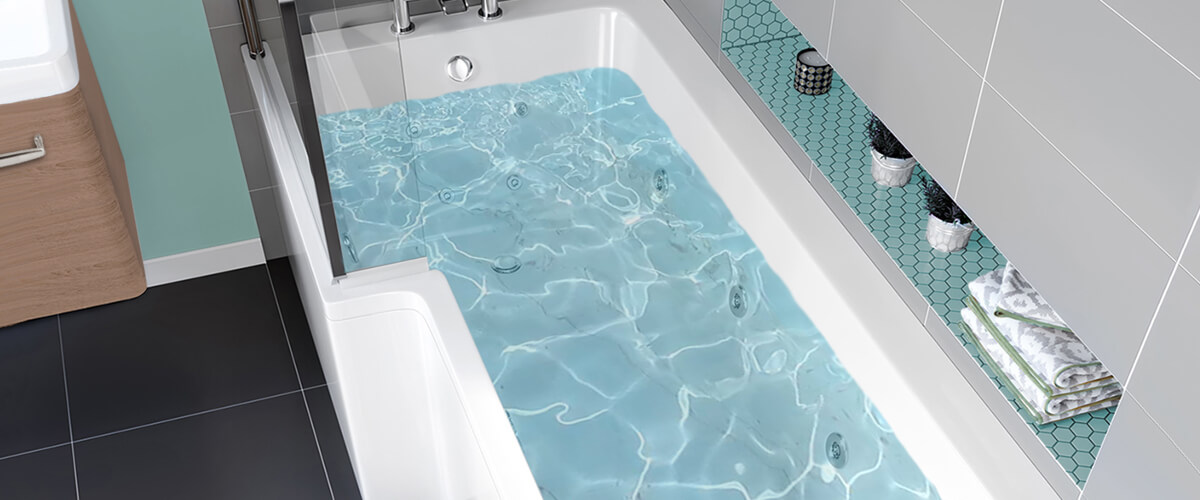 Whirlpool Baths became popular during Roman Empire, and today there are several different varieties of whirlpool baths, each offering its very own distinctive qualities and benefits. It is first critical to note the difference between a whirlpool and what is known as an air tub. While a whirlpool will supply powerful jets of water, air baths utilise tiny air bubbles to provide a gentle, soothing effect. Thus, a whirlpool offers a more robust massaging mechanism. This is one of the reasons that they are often used in medical facilities and rehabilitation clinics.
---
Types of Whirlpool Baths
The first type of whirlpool is known as a drop-in tub. As the name hints, the users can literally "drop in" to the water. These are generally positioned on an elevated platform while offering the capacity to accommodate two or more people. They come in a variety of shapes, styles and colours. Such units can be used in private bathrooms, although they are frequently preferred in larger areas such as conservatories or next to a pool.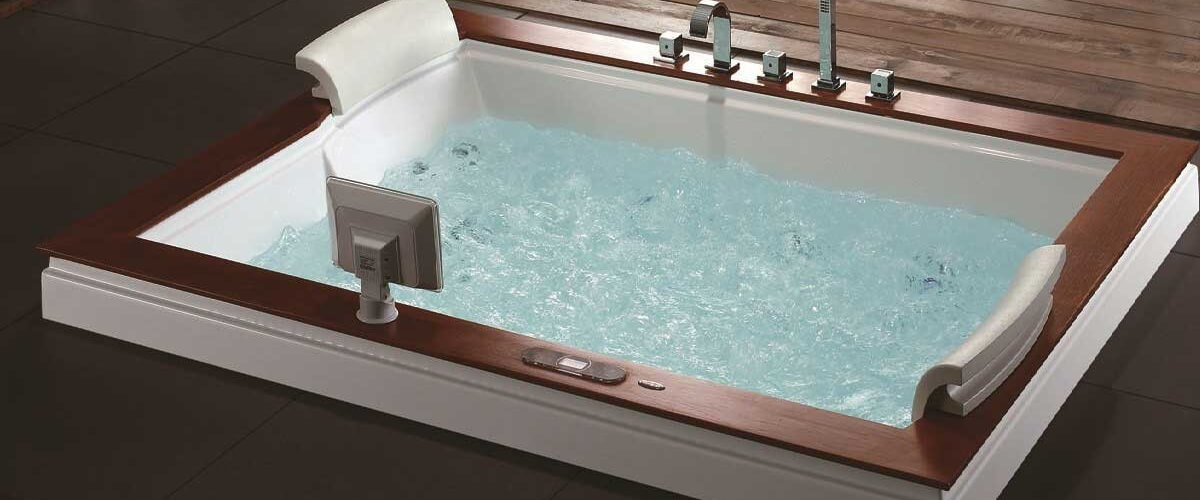 The second variety is an alcove or "apron" model. This tub is suited for one person and can fit into an existing bathroom. Offering a more diminutive size, alcove tubs appear much like their traditional counterparts, with the exception that most contain a side apron that extends down to the floor.
---
Jets Explained
The term "water jet" is often used in conjunction with whirlpool tubs, and yet few consumers understand how these units operate. Heated water is pumped through apertures of different sizes directly back into the tub. As this water is under pressure, it will provide an excellent means to relax and unwind while vigorously massaging the muscles.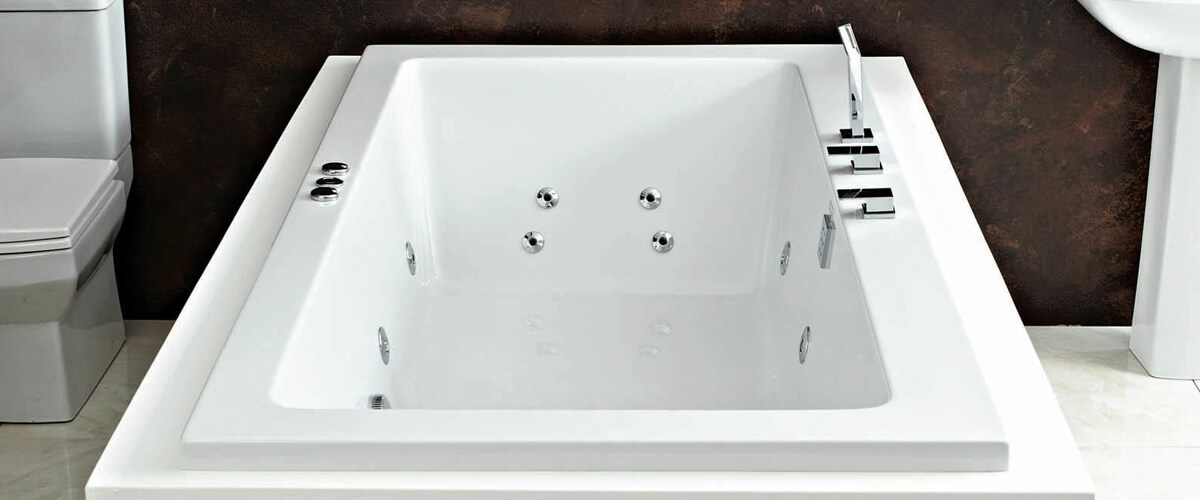 Note that this is different than the principle behind air jets; water jets are generally found in a wide variety of shapes and sizes. They can be customised to suit individual needs. Water pressure, for instance, can be controlled by the user to gain maximum benefits. It is important to remember that bath salts, oils and aromatic substances should not be used with water jets, as these materials can corrode internal surfaces.
---
Proper Care and Maintenance
As with any complex piece of machinery, the proper care of whirlpool baths is essential to guarantee their efficiency and longevity. When in constant use, it is recommended that both the surfaces and the jets themselves be cleaned once every two weeks.
The tub should be emptied, and all visible surfaces need to be wiped down with a soft cloth. This is important in helping to prevent the buildup of mildew and bacteria. Furthermore, hard water stains can accumulate if this is not regularly performed. Non-abrasive cleaners should be used to avoid damaging the surfaces being washed.
A second important maintenance task revolves around jet maintenance. First, ensure that all apertures are closed tightly (to avoid air entering the plumbing). Fill the tub with hot water until it is higher than the uppermost jet. Add the appropriate cleaning product to this water (as recommended by the manufacturer) and allow the unit to circulate fully for fifteen minutes. Finally, empty the tub and refill it with cold water. Run the system for another ten minutes to rinse the interior plumbing and jets; some cleanser could remain.
It is critical to remember to take care of the water jets and all internal plumbing. Improper maintenance can significantly hinder their function and, in some cases, even cause the entire bath to stop working. Furthermore, infrequent cleaning may void an existing warranty.
---
The Need for an Experienced and Qualified Plumber
Installing whirlpool baths can be a complicated project for several reasons. First, their size could be difficult to manipulate (as is often the case with drop-in tubs). Plumbers will understand how to tackle even the most daunting dimensions while guaranteeing that the unit fits snugly into the desired area. Also, plumbers will understand how to best support the structure. We should never forget that when the tub is full, it can weigh hundreds of kilograms (or more).
Valves, pipes, gaskets, filters and pumps must also be correctly installed. If even one of these is out of place or the wrong size gasket is used, massive leaks can occur. This is the result of the pressurised water circulating within. Such leaks can prove to be a costly situation if the bath has already been installed and water is not discovered until much later. When a professional plumber is not used, these (and other) situations are not likely to be covered under an existing warranty.
As opposed to normal waterworks, a whirlpool employs substantial amounts of electricity to power jets and other mechanisms. Not only can these be dangerous to install without the proper knowledge, but any incorrect wiring can coincide with the chances of serious injury for those who will use the tub.
Appreciating these tips and tricks will enable one to choose the most appropriate model and enjoy years of therapeutic relaxation.