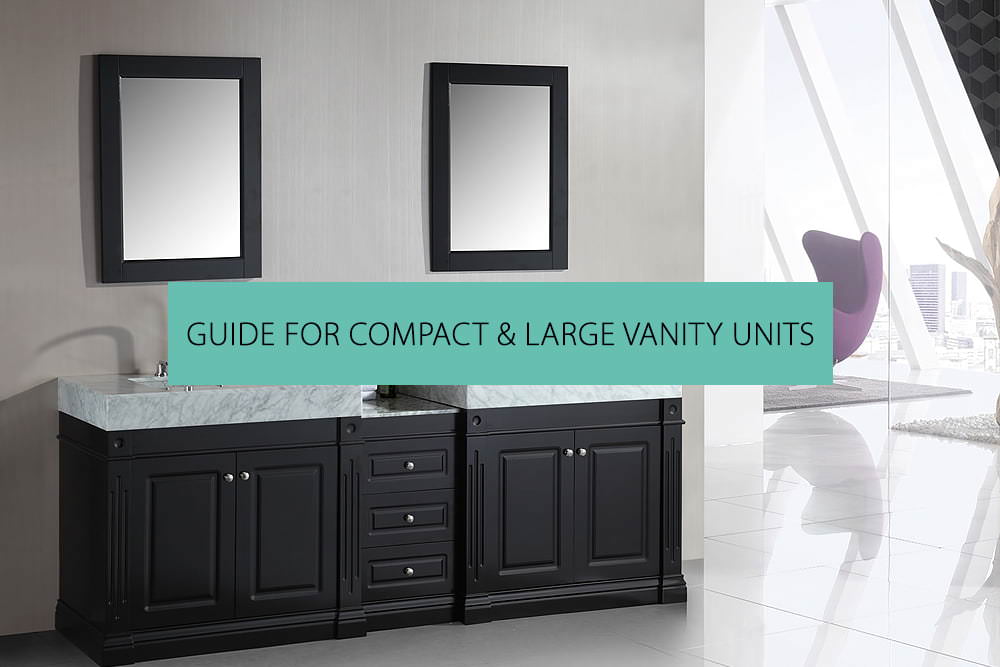 Bathroom decor may make it to the cover of only a select few magazines, but it is still worthy of careful consideration. The purpose of this room goes far beyond the plumbing: a perfectly appointed and elegant bath area is a haven devoted to repose, refreshment, and restoration. Utility and beauty have a very close relationship in any washroom, especially when it comes to choosing a storage unit. With so many options on the market, picking the perfect one can be a time-consuming process. To make it easier, we have put together this guide to buying a vanity unit. When you are deciding what kind of unit will best suit your space, style, and family, there are a few questions you can ask yourself to narrow down your options.
If you have some room to spare in your bathroom, adding some extra storage with a large or double sink vanity unit can be sensible decision. A neat and tidy bathroom is a welcome haven, but the amount of grooming supplies and accessories used by the average household can quickly clutter all available surfaces. Having enough storage in your powder room is the best way to keep it looking great all the time, but not everyone has the luxury of built-in closets and cupboards. With a large storage unit underneath your basin, you can keep all of your bath potions, lotions, and cleaning supplies hidden away from sight: it is convenient, practical, and attractive.
When you are shopping for your ideal vanity, keep your storage needs at the front of your mind: how many people will be using the bathroom on a regular basis? Do you need shelves, drawers, or some of each? There are many types of vanities available on the market today, so you might need a bit of help narrowing down your choices. Here are a few questions to consider in your quest for the perfect storage furniture:
Do you have room for a freestanding unit?
Free standing one's are the easiest to install, and they come in all shapes and sizes. This freestanding furniture from Old London measure 600mm and 800mm wide, and combines gorgeous natural wood styling with a beautiful drop-in basin. The contrasting feet add a bit of personality to the design. The spacious cupboard and drawer beneath the sink is the perfect place to stash your hairdryer and straighteners!
Will a wall mounted sink cabinet can add impact to your design?
A wall hung sink cabinet can help make a large bathroom look even more spacious. The gleaming white Roper Rhodes Serif is a breath-taking example: it appears to float above the floor, and its sleek design hides a huge amount of practical storage, from beauty supplies to bath toys and beyond.

In the majority of bathrooms around the country, the space under the sink is home to nothing more than pipes, bends, and stop valves. These pipes are almost exclusively surrounded by a large and obtrusive pedestal that, though it may hide the ugly plumbing, does nothing to increase the available space and aesthetics of the room.
Vanity units make use of the otherwise wasted space to be found under the bathroom sink. These units also have another important advantage over the option of a fixed pedestal to hide the pipework. In an emergency, you will have to remove out the pedestal to get to the pipes. While the majority of vanity units come complete with a removable panel behind the cupboard thereby allowing access to the plumbing without compromising the integrity of the unit itself.
This is an important point to note, as insurance claims for damage caused by burst pipes are in the magnitude of hundreds of millions of pounds per year. A huge number of these claims could be prevented by quick access to the pipes behind the cabinet, so investing in a right unit may well save you a lot of time and money in the end.
Do you love modern and contemporary design?
Your bathroom vanity is a centrepiece, and it is the fixture that has the most to say about your interior design. If you are putting together a minimalist bathroom, simple lines and pristine high-gloss finishes are a beautiful way to signal a contemporary aesthetic. Moments from Lauren is as useful as it is beautiful, with a wide range of practical storage options. Drawers are wonderful for organizing small bits and pieces like nail polish and makeup, and the large cupboards offer room for bulkier items.
Are you fitting a traditional style bathroom?
In a period house, you want all of your fixtures to add to a sense of tradition and history. It is possible to furnish your bathroom with actual antiques, but they are difficult and expensive to source and refit. Traditional style vanities are a wonderful alternative. The New England from Roper Rhodes combines classic lines and vintage-style stained wood for a fresh take on a beautiful old-fashioned theme.

How much space can you spare?
This extremely practical question should be the first thing on your mind. It's easy to fall in love with furniture at first sight, but the size of your space will dictate many of your choices. An ornate double unit that would be the crowning jewel of a big opulent area can be oppressive in a smaller en-suite. If you are shopping for a more compact area, you still do not have to compromise on style. A slim freestanding unit like the Roper Rhodes Esta is an excellent choice.
With its sleek profile and sophisticated styling, it offers all the elegance and performance of a much larger unit, without using up more than its share of limited space.
What is the ideal placement?
Once you have decided on your dimensions, you need to think about exactly where the storage unit will be placed. Finding the right spot will depend on many things. Do you need to deal with existing plumbing? Will opening it interfere with the flow of traffic and use in the area? Can the bathroom door itself swing freely without hitting the vanity? You want to be able to easily access all areas for cleaning. The placement you choose will determine many factors, such as the shape of the furniture and the size and style of its drawers and doors. Placement will also determine the type of installation you will need. Freestanding or cabinet units are the most popular, but may not be suitable for every space. Corner Bathroom Vanity can be very handy when you want to maximise the usable area, while wall-mounted vanity unit can help you make the most of your floor space. Space should be utilised to achieve the best visual arrangement. A systematic look will maximise the space meaning that you don't have to worry even if you have a small bathroom. Nevertheless, consider the requirements of your family members to avoid a cramped room. Write down a list of all the things that you desire before settling for a particular one.
TIP: Magazines are full of priceless information that you can use to decorate your bathroom. You can still create a personalised look by borrowing ideas, or even fusing two or more together. There are many sleek modern ideas that lay focus on organic materials and straight lines. These are versatile designs that can remain relevant for years. Combining Mother Nature with an engineering touch is a genius move. For instance, you can use maple or teak finish for storage units and then blend the look with granite tops. Marble tiles will fit perfectly in the picture.
Which materials make sense?
There are so many choices in today's modern bath & vanities, but the one that has the most influence on the character of the decor is the material from which the unit is made. Of course, first, it will need to stand up to a humid environment and heavy use. However, an element of style is equally important. Rich woods, colourful tiles, and gleaming steel each have personality. The minimalist appeal of this smart grey Twyford E200 owes a lot to the glossy sheen of its sturdy MDF.
MDF is a clever choice for such furniture units. It is hard-wearing and exceptionally moisture-resistant, and can be finished in so many ways that it will suit almost any surroundings.
What type of sink would suit?
The sink, or basin, sees the most use of any part of the vanity, and it should be as good-looking as it is functional. From traditional ceramic to the rustic beauty of stone, once again you are spoiled for choice, and that's before you even begin to consider the shape or mounting type of the sink. Your biggest concerns here are personal preference and ease of cleaning and care. In terms of basin mounting, you have three basic choices. Inset Basins are installed under the counter, which means there are no exposed edges. The basin is flush with the counter, offering a clean appearance and easy cleans up. Your next choice is semi-recessed basins. These are also called drop-in or top-mount. Here the sink sits into an opening in the counter, and its edges rest above it. Finally, you have the counter top basin. Usually bowl-shaped, these rest on the counter surface. This version is designed to be installed over the counter for a cleaner appearance. You'd also need to decide how many sinks you want your storage furniture to have. Do you have enough room for a double sink or is a single sink enough for your needs? You can further read our basins buying guide.
How much storage would you like?
One of the most important tasks any furniture must fulfill is hiding away all the potions and products you do not want on view. Your washroom has its share of hairdryers, manicure kits, cleaning sprays and shampoo bottles, and keeping them all under control is key to keeping the space neat and gorgeous. If you are lucky enough to have a big washroom closet, the amount of storage offered by your vanity may not be very important. For many smaller bathrooms, though, the vanity is the main storage unit. Drawers, shelves, and doors all become extremely important. This Tavistock Impact has double doors for twice the storage opportunities.
Two shelves inside offer plenty of room for stacking sponges, bubble bath, nail polish, and more, and the soft-close mechanism on those double doors prevents unpleasant slams. For maximum storage in a small bathroom, a unit like this can make all the difference. We hope that this buying guide will help you find a piece that will serve you and your family well for many years.