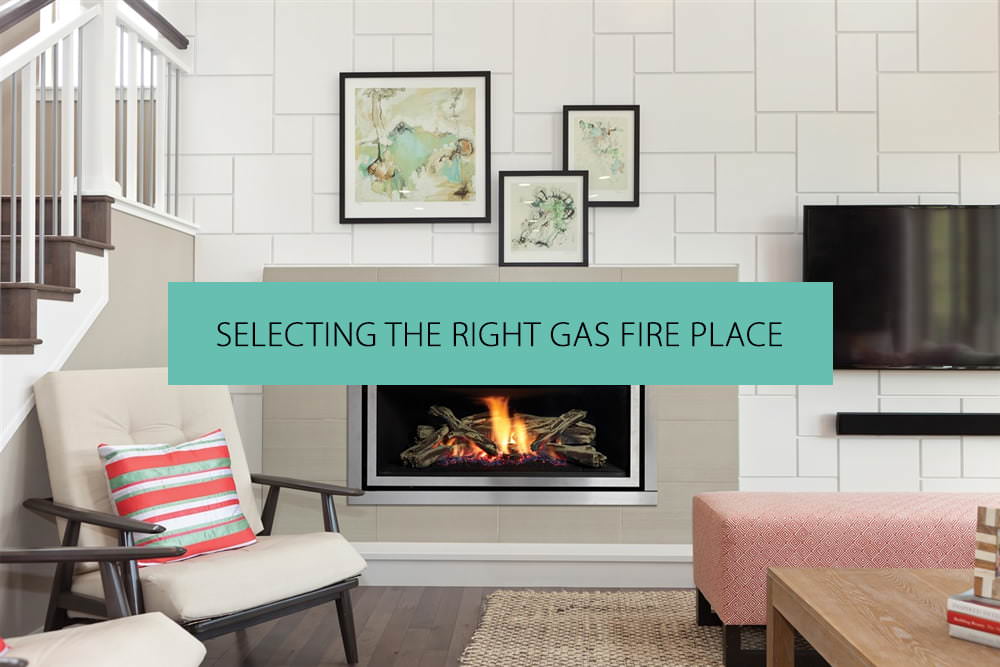 Today's gas fires frequently combine modern technology with classic style. These are perfect for homeowners who want a convenient but traditional-looking fireplace. The classic coal-effect gas fire has been a staple of British homes for decades but is now available in a huge range of styles. Today's fireplaces do not look out of place in even the most contemporary home. Choosing the perfect material and finish to best complement your existing decor will ensure your new fireplace looks as if it was built especially for your home.
As well as the practical aspect of the heat they provide in colder months, they can also make your home look and feel more welcoming. Choosing a fireplace can be a difficult decision, and there are some factors that one needs to consider to help make the right decision.
---
Chimneys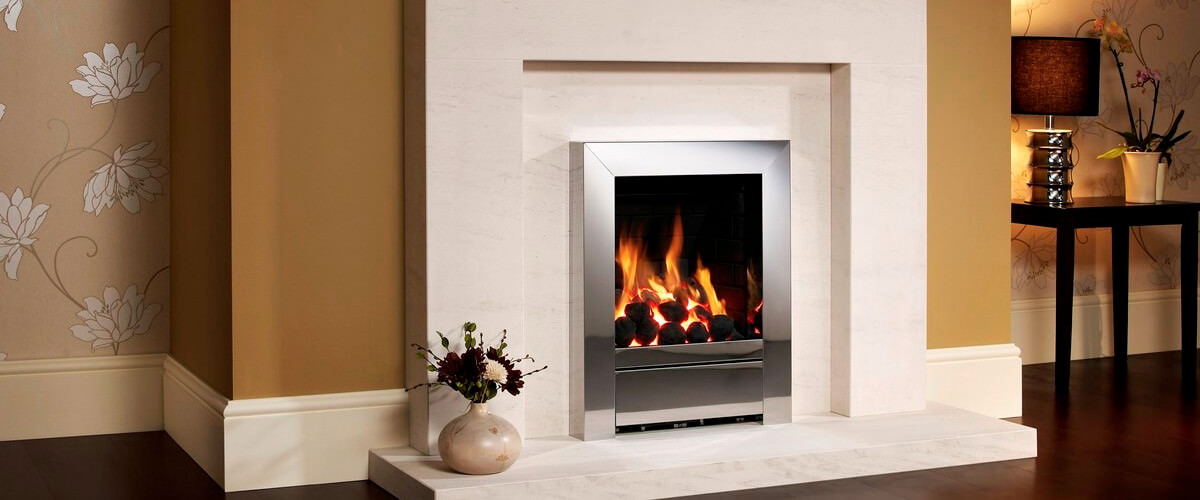 The size of your chimney flue will greatly determine which fireplace one can install. If you want a solid fuel fire, you would require a Class 1 chimney (with a flue of at least 7 inches in diameter). Gas fires, on the other hand, can get away with smaller flues of around 5 inches. Also, if one has a chimney breast, the shelf of the fireplace should never be wider than the breast itself.
---
Hearths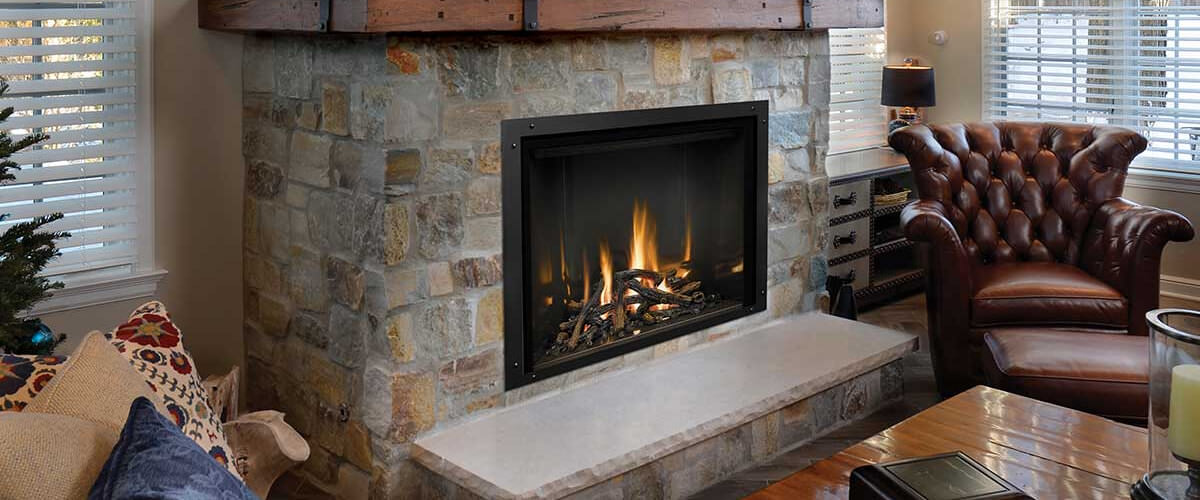 Whether you already have a hearth or are installing one, you need to keep in mind that a solid fuel fireplace will need at least 20 inches of space at the front, and six inches on each side of the fire, for safety reasons.
---
The Size of the Room
It is easy to build a small fire in a large fireplace, but impossible to do the opposite, so get the largest fireplace that will fit in your desired location.
---
Where To Place a Gas Fireplace in Your Home
While many homeowners traditionally have the fireplace in their living room, there are, however, other options to consider. Modern gas fireplaces are suitable for placement in bedrooms, rec rooms, outdoor patios, and even, if you want, in the bathroom. Generally, their convenient and safe design allows them to be installed in virtually any room or space.
---
Finding Your Maximum BTU
A gas fireplace's heat output is commonly measured in "BTUs" and can generally range between 7,000 to 60,000 BTUs. To find the acceptable maximum BTU amount for a room, the following formula can be used:
Length x Width x Height x 20 = Maximum BTUs
This will ensure that the temperature maintains a comfortable 22 degrees Celsius, without unnecessary or inadequate heat expenditure.
---
Tips on Selecting Gas Fires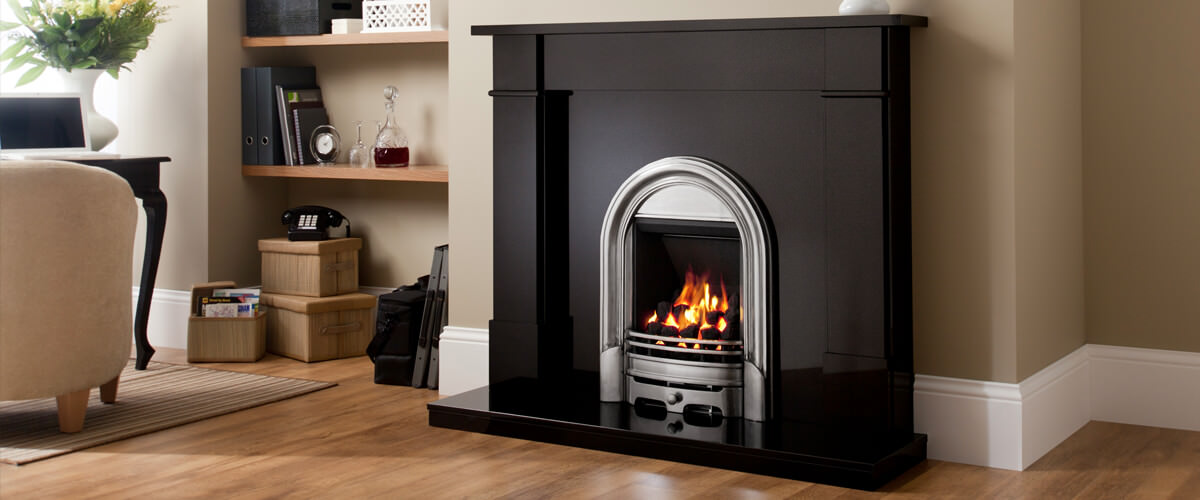 Before you start looking at gas fires, it is important to check what kind of flue - if any - your chosen room has. Flue-less fires are popular in modern homes and are available as either electric or gas fires. Flue-less fires are easily installed in most types of properties, making them ideal for almost all homes. They are an excellent choice for those living in flats or apartments.
---
Types of Gas Fires
Available in a range of different styles these days, each model has several benefits for the home. Here is a selection of the most popular gas fires in the United Kingdom.
Conventional Flue
This traditional model is specially designed to suit period homes and homes with classic period designs. They are typically found in homes built in the 18th and early 19th centuries with large fireplaces and chimneys. These are usually created in a standard size and commonly come with brass or black finishes. The popular addition of a magnetic trim makes these models easy to maintain and modify as and when required. Some models also have a single-piece cast iron fascia frame, while they may also have interiors made from dark-coloured marble. Traditional models manufactured with the latest technology look elegant and impressive. They are energy efficient and effective in generating a lot of heat in the room.
High Efficiency (HE)
Both outset and inset models are available with this type of gas fire, and one of their main advantages is that they do not need to have a glass front. This is because the flue gases are either drawn out by a special fan unit that is powered by electricity or vented through an external wall. A high-tech microprocessor is used to control the fan unit and monitor the performance of the model. The microprocessor ensures very safe performance, as it will turn off the fire if there is an operation failure, although this rarely occurs. This model needs an electrical supply in order to function.
Balanced Flue, Flueless and Powerflue
This glass-fronted model features both outset and inset variations and uses a special horizontal co-axial pipe to vent air and fumes directly through an external wall. Flueless models work without the need for a chimney or flue pipe, making them ideal for modern homes. Flueless gas fires are clean burning and come with a catalytic converter. As the air is drawn through the outer pipe, the combustion gases are then expelled through the model's inner pipe. One of the advantages of this model is that it does not need an electrical supply in order to function. Flueless fires are energy efficient and a great choice for high-rises and apartment blocks.
Because they circulate the air in a room rather than vent it, flueless fireplaces, by necessity, need to have an extra safety feature installed in the form of an oxygen-depletion sensor. If the oxygen level dips to around 18 per cent in an unventilated room, the gas fire will be immediately extinguished.
Otherwise, gas fireplaces commonly employ a standard B-vent to carry away exhaust. These types are, however, far less heat efficient.
---
Hang on the wall/ Hole in the Wall
This model is becoming popular in modern homes due to its sleek design and small space footprint. Also called wall-mounted gas fire and is available in a wide range of styles and sizes. One of its main benefits is that it can be installed in the home without needing a hearth, while it also gives out a lot of heat from the combustion products, which circulate the fire bed for a much longer time. Some can also be mounted flush against the wall to take up the tiniest possible space.
---
Difference Between Inset & Outset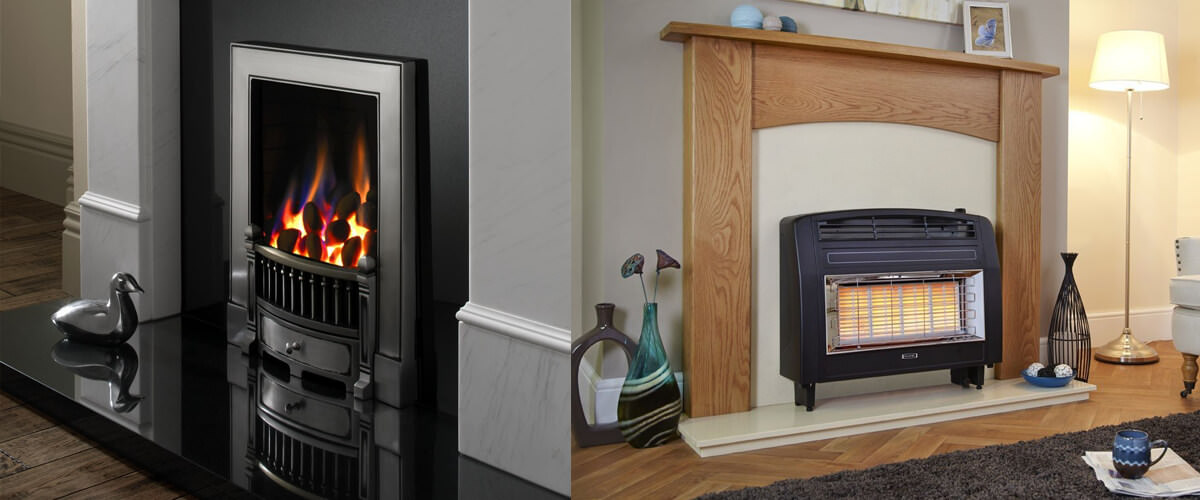 Modern fireplaces can be grouped into two categories: Inset & Outset. An inset unit is mounted on the wall and can be an excellent option for compact rooms. These are provided in a number of unique designs.
An outset model will emerge from the wall, ideal for those looking to add an artistic flair to a room. As with inlet variants, a number of colours and styles are available to blend with the existing decor. The primary advantage of an outset fireplace is that it tends to be associated with larger dimensions and, therefore, a greater supply of heat.
---
What are Electric Fires?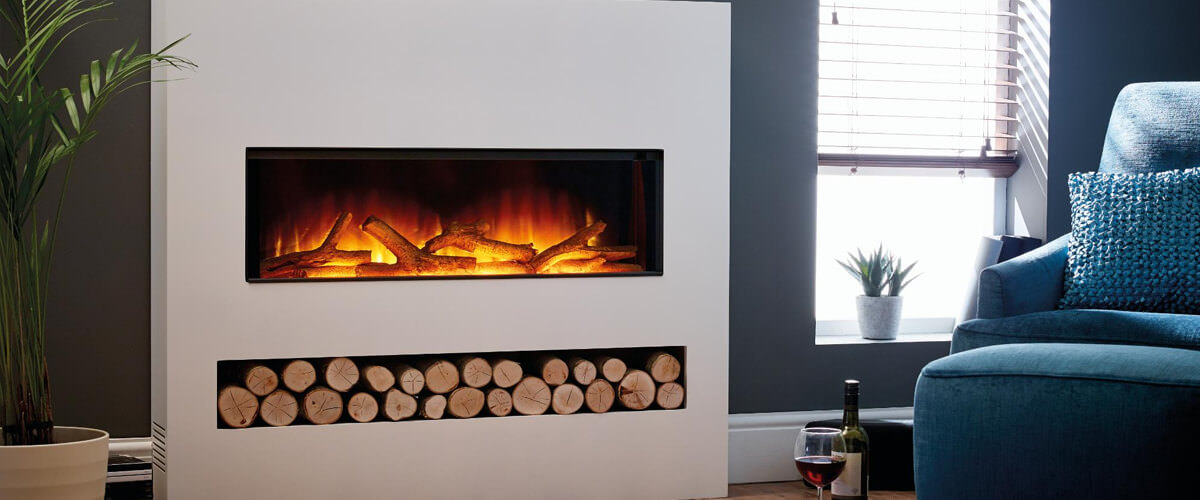 It is simply a heater that simulates the appearance of burning wood or coal. It is often placed where a traditional fireplace would be located, and the majority of models will plug into an existing wall socket.
---
A Brief History
An electric fireplace was invented in 1912. However, it was not until the post-war era that these units became popular. Many units produced since 1981 now contain electrical elements that effectively mimic the appearance of real flames. There are models which are intended to duplicate the appearance of burning wood. Dimplex was the first company to produce this option in 1995.
---
The Advantages of a Thermostatically Controlled Fireplace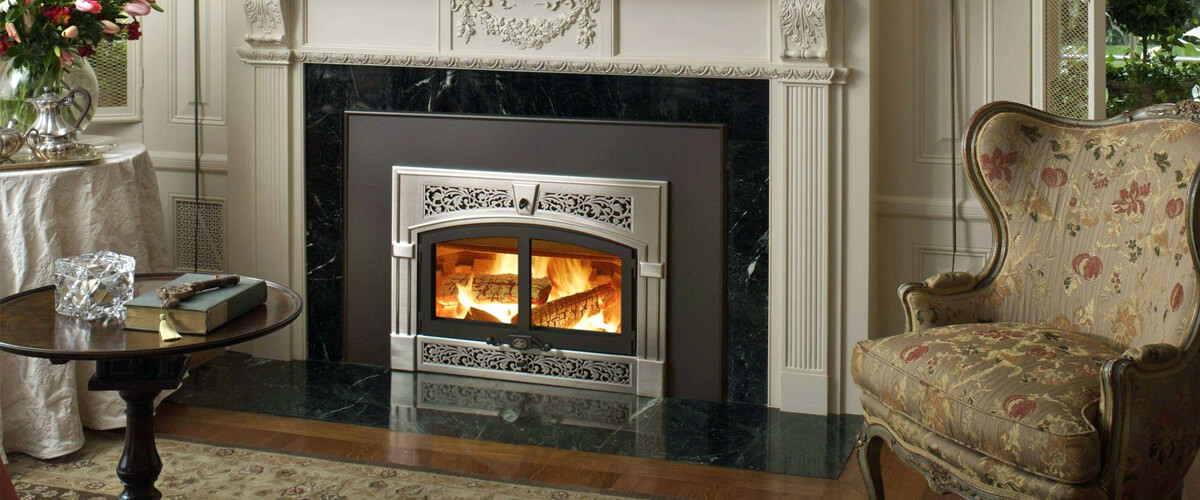 The older electric fire was generally associated with a manual activation switch. However, modern versions are equipped with a built-in thermostat. The thermostat can activate the fireplace when temperatures fall below a certain point, and the unit will be deactivated after the desired warmth has been achieved.
Not only is thermostatic control a convenient alternative, but it also allows consumers to save a great deal of money compared to enabling a fireplace to run when it is not being monitored. The environmental benefits are also substantial, as less electricity will be required. It is also important to mention that homes with a thermostatically controlled fireplace tend to enjoy a higher resale value when placed on the real estate market.
---
What Are Electric Stoves and What Are Their Benefits?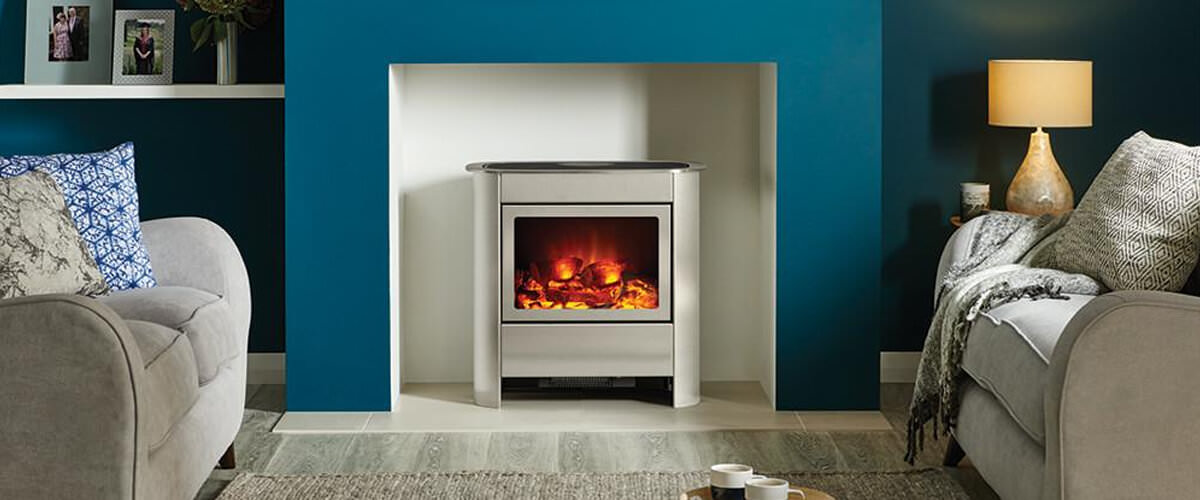 An electric stove is simply a stove which employs the use of electricity to provide heat as opposed to propane or liquefied petroleum gas (LPG). Integrated devices such as top-mounted heating coils will be able to mimic the same effects as wood- or gas-fired stove, and yet, the source of heat is much "cleaner". Another major benefit of the modern electric stove is that temperatures can be accurately controlled to within a few degrees. This could prove challenging with traditional options. Furthermore, these stoves eliminate the chances of gas leaks, and they do not require a lighter to activate a flame. This is obviously beneficial from a safety point of view.
---
LED Atmospheric Lighting
Nowadays, LED lights are used to create a more realistic and convincing effect and atmosphere of flickering flames emanating from within the fireplace.
---
What is a Wall-Mounted Electric Fire Place?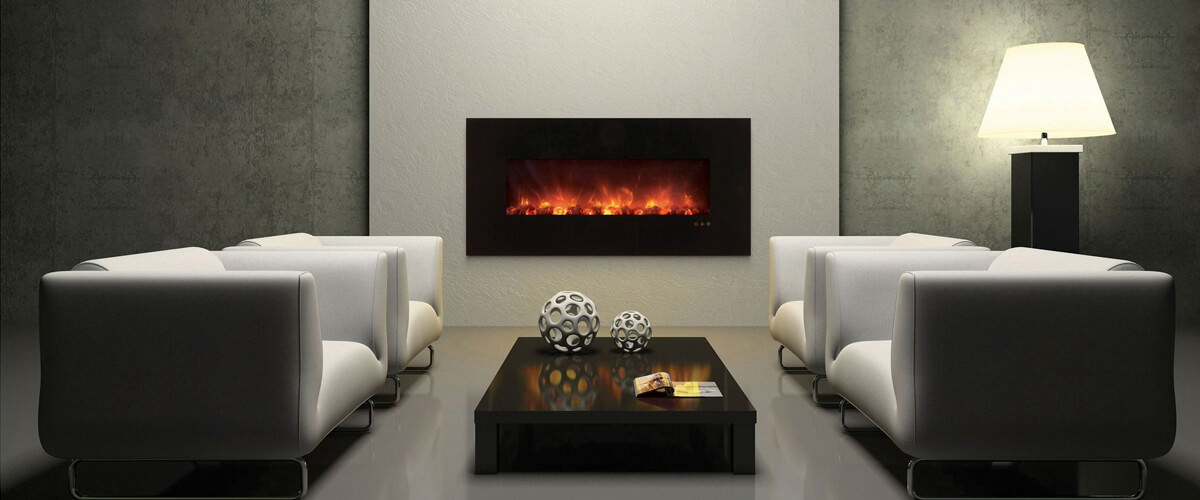 It is sometimes referred to as a hanging fireplace. Essentially, these models are space-saving alternatives when the previous versions are not feasible. These models can be placed at nearly any height so that they will provide a bold visual statement. They are particularly popular in modern homes, and many are equipped with built-in thermostats. Another interesting windfall associated with a wall-mounted unit is that, unlike more traditional variants, customers can choose from a number of unique dimensions, and there are made-to-order units too.
What are the Advantages & Drawbacks of "Hole-in-the-Wall"?
It is wise to point out that a hole-in-the-wall fireplace and a wall-mounted unit can often be confused, as their configurations tend to be similar. The one major difference cited by most manufacturers is that a hole-in-the-wall unit is generally smaller than its hanging counterpart. Depending upon the firm, they are sometimes called "wall-recessed fires".
These units are available in a kaleidoscope of colour schemes, designs and materials. Thus, they can blend into the decor of nearly any environment imaginable. The only main drawback is the fact that a hole-in-the-wall design might not be able to supply as much heat as larger units. There are certain UK jurisdictions which legally require a hearth to be installed alongside a hole-in-the-wall fireplace.
Brands We Offer
We firmly believe that the term "second best" should have no place in this cutting-edge industry. This is the primary reason why we choose to work with only the most respected brands on the market. A handful of manufacturers, which we supply, include:
---
How to Choose The Perfect Surround Hearth For Your Fireplace?
In any room with a fireplace, that fire becomes the centrepiece and the living heart of the space. It's where people gather to share quiet times, revel in the warmth, and draw closer together. We have a few tips to help you find a fireplace that suits your home's unique personality.
---
Think about your budget.
There are fireplace surrounds to suit almost any budget, but exactly how much you have to spend will have a big impact on the size, style, and materials available to you. Because it is such a central part of a room's design, you never want to skimp on a hearth surround, but even if your budget seems small, you may be surprised at what you can afford. If your heart is set on a gigantic marble fireplace, but you don't have the funds for it, take a step back and break down the elements of the style to see what is really appealing to you. There may be ways to reproduce or evoke the same effects or feelings in less expensive material. Even if the sky's the limit with your budget, this can be a valuable exercise, letting you discover what's really important.
---
Identify your style.
No fireplace exists in isolation. In a new build, you may be planning to decorate the room around it, but in many cases, you'll be choosing a hearth surround that needs to harmonise with your existing furnishings and decor. When you first start thinking about a fireplace, you might have an idea in your head that doesn't reflect the overall style of your room. Wood, plaster, tile, marble, limestone, granite and stainless steel all have their strong personalities, and it's worth thinking about what they will bring to your space. That said, there are no rules: it's possible to take risks and push boundaries, and sometimes you may be surprised at the way a material transforms in the context of your home.
---
Consider the space and how it is used
Proportions are very important. A fireplace that's too big can overpower a room and make it look smaller, while an undersized fireside surround loses impact and looks like an afterthought. The general belief is that the mantlepiece should be a little less than half the height of the ceiling. It's also vital to consider who spends time in the room and how. Sharp edges and corners can look crisp and modern but present safety hazards to small children. The amount of upkeep the hearth surround needs can dictate how often it is used, so choose a material that suits your lifestyle. Even if you can afford that gigantic marble variety, it may not be the right choice for how you live!
The visual impact of the fireplace surround is immense: it can change the entire character of a living room. Choosing the right hearth for your home is one of the most important design decisions you will make, but with so many choices on the market, it can be easy to feel overwhelmed or swept up by current trends. With such a major investment, it's worth the time to find a surround hearth that speaks to you. Enjoy!
---
Aesthetics
How the fireplace should look is a matter of personal taste. However, one should remember that simplicity is timeless. It is not easy to rip out and reinstall a fireplace, so you want something that will stand the test of time. Striking, unique, modern designs can add style and elegance to your home. However, it is better to select a simple design which can add a unique mantle. Changing a mantle is relatively easy and means that one can have the uniqueness they are looking for without changing their fireplace every few years.