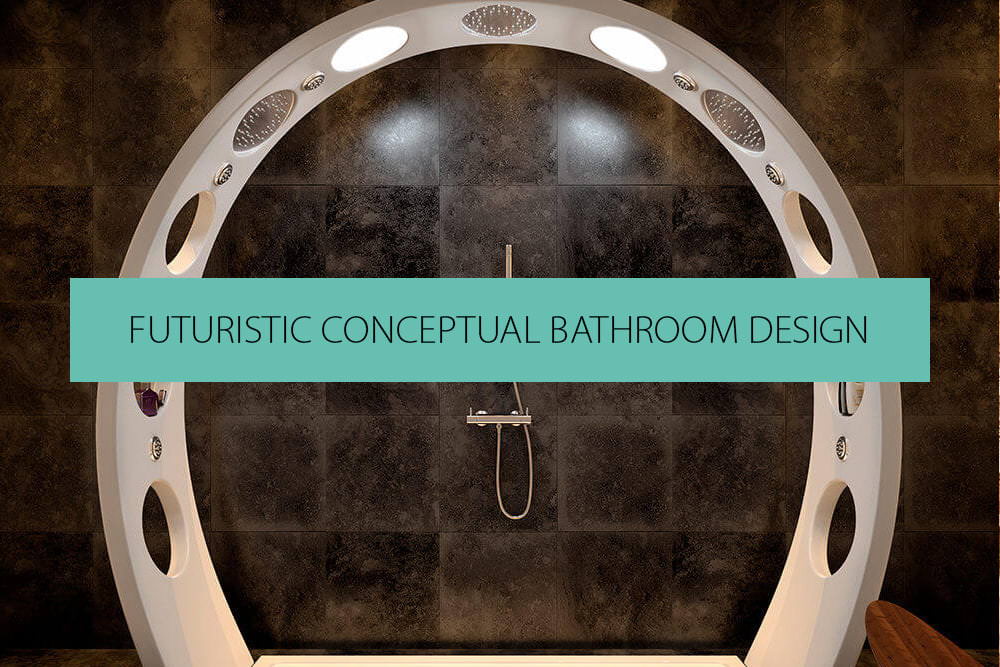 As one of the leading bathroom retailers in the UK, QS Supplies continues to innovate and improvise on ideas for bathroom products that they previously presented while also adding to their futuristic bathroom design bank. Our designers are highly perceptive of latest trendsetting ideas that help predict the lifestyles and possibilities of tomorrow and come up with concepts that defy current possibilities and go beyond limitations and boundaries. Take a look at some of the recent highlights in showers design that may become a reality in homes and offices.
Do you remember the feel of a waterfall rushing down on you, with water spraying your body with generous abandon? The Arch Shower is conceptualised along similar lines but tells its own story. Look at the beautifully arched form that magically transforms the shower area into a sensational, signature style statement. Smooth Corian is used as base material for the overhead shower arch with high pressure jets, placed strategically all along the semi-circle. The jets spray hot or cold water streams for a unique showering experience that will refresh and relax you. This novel creation indulges your senses like no other while also allowing you to display your art. Simply brilliant! We are still in the design process of this shower and it would cost approx £18,500, when it would be ready for Sale.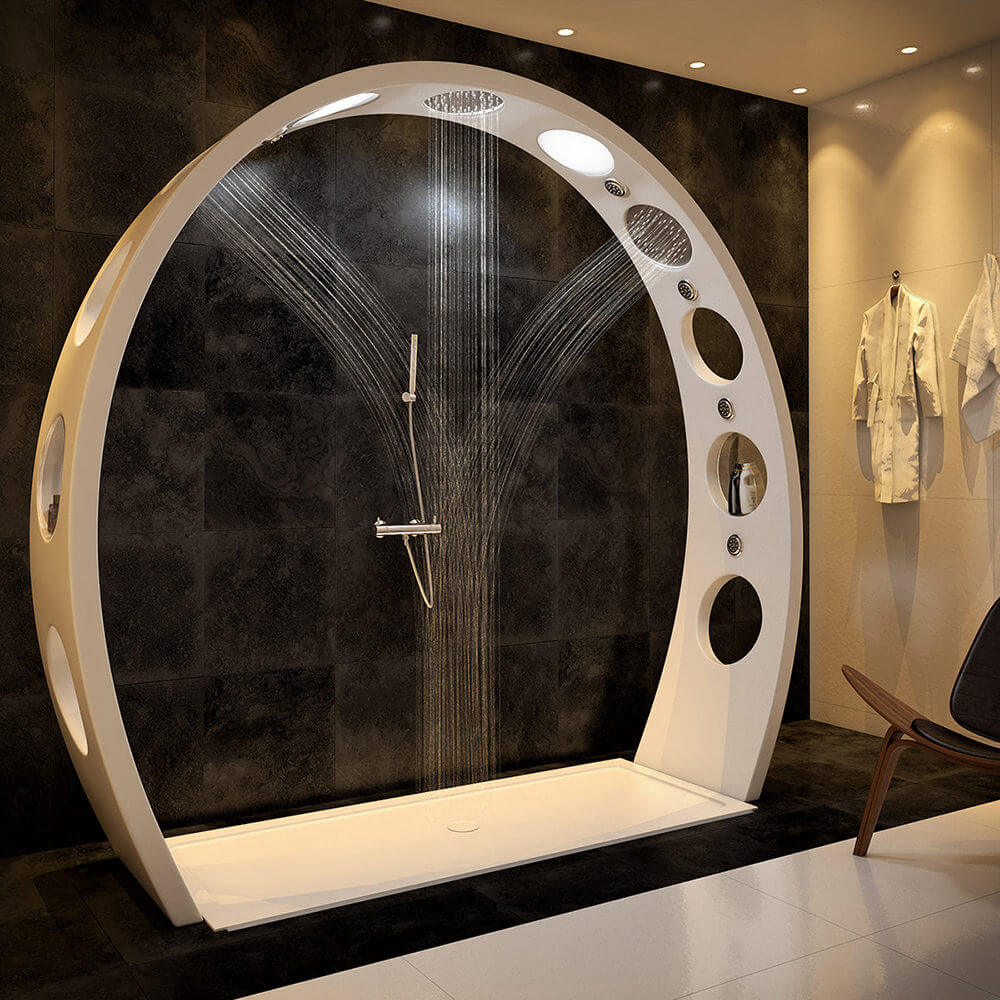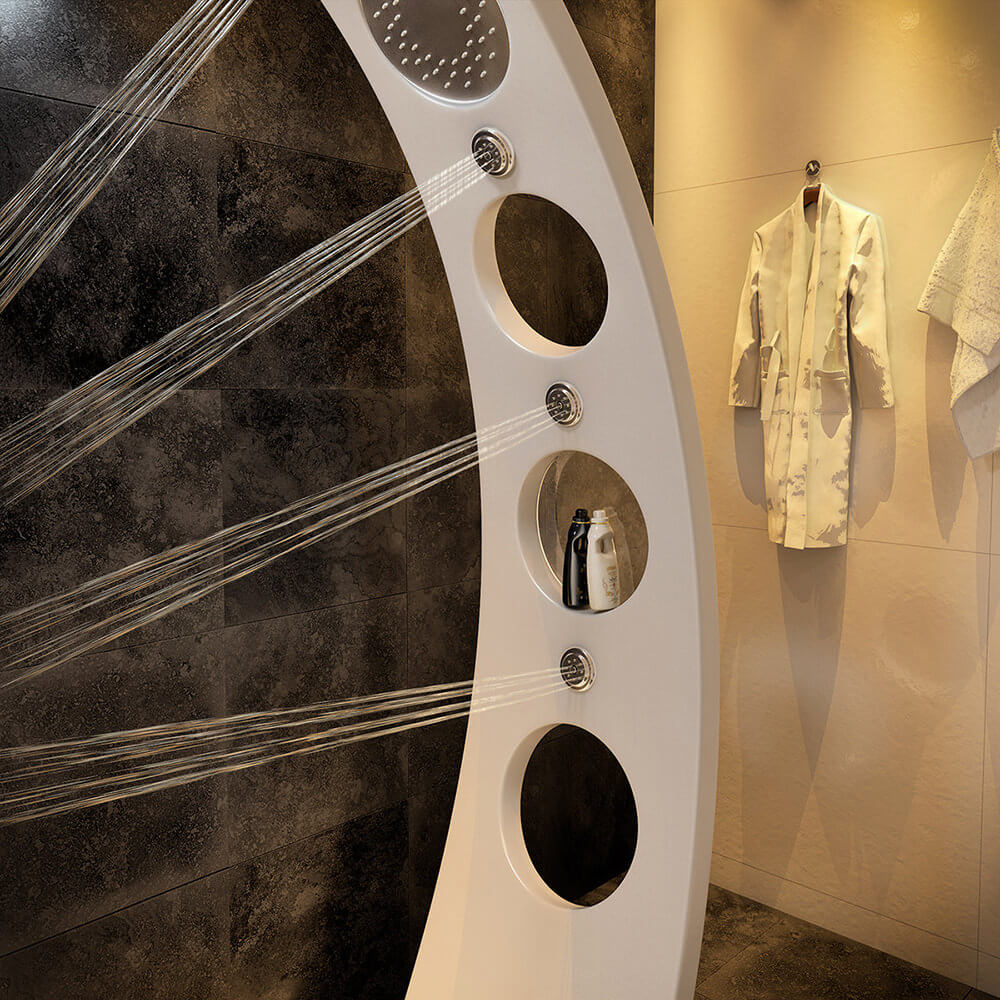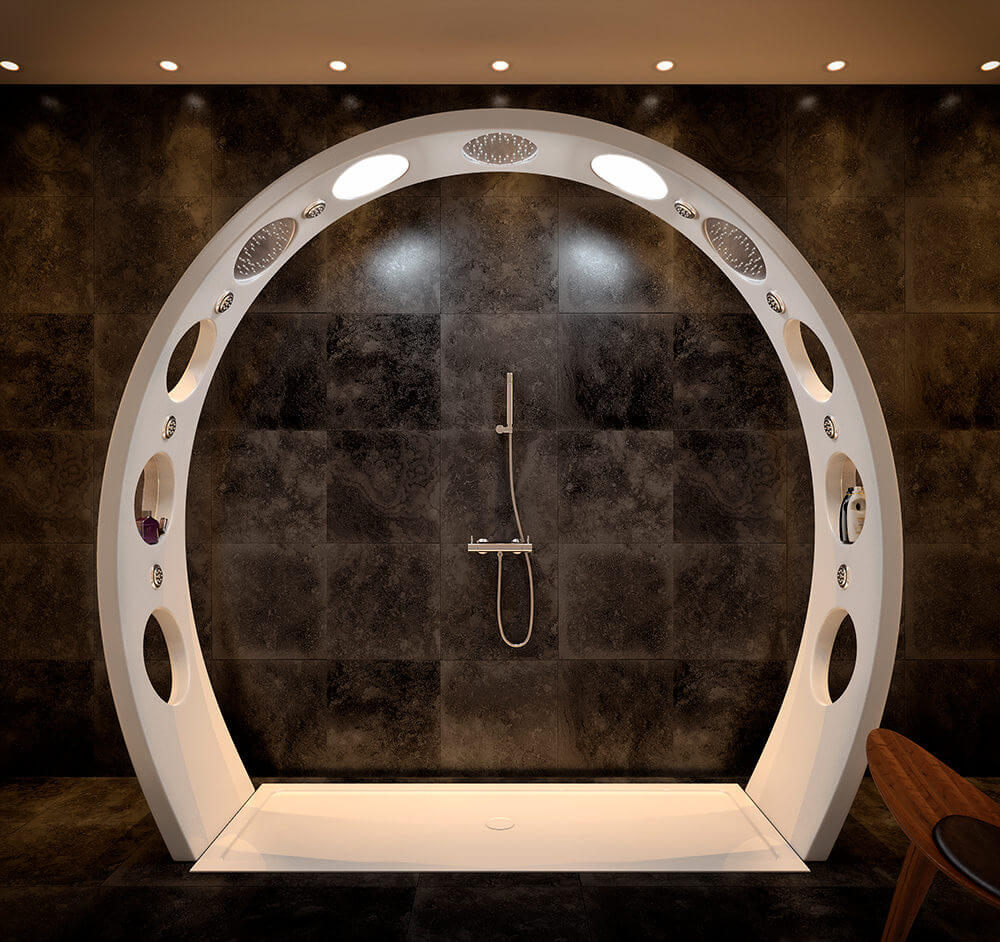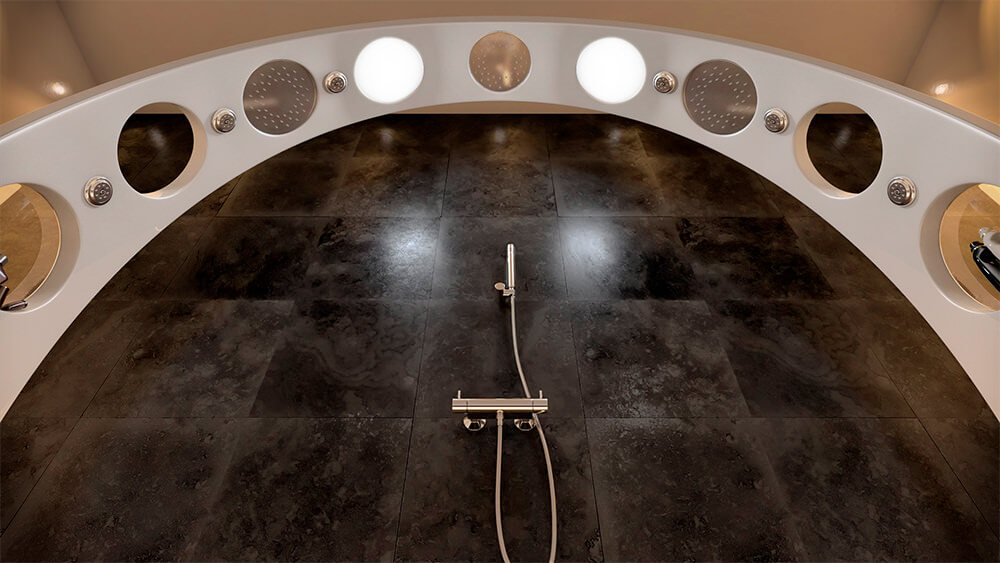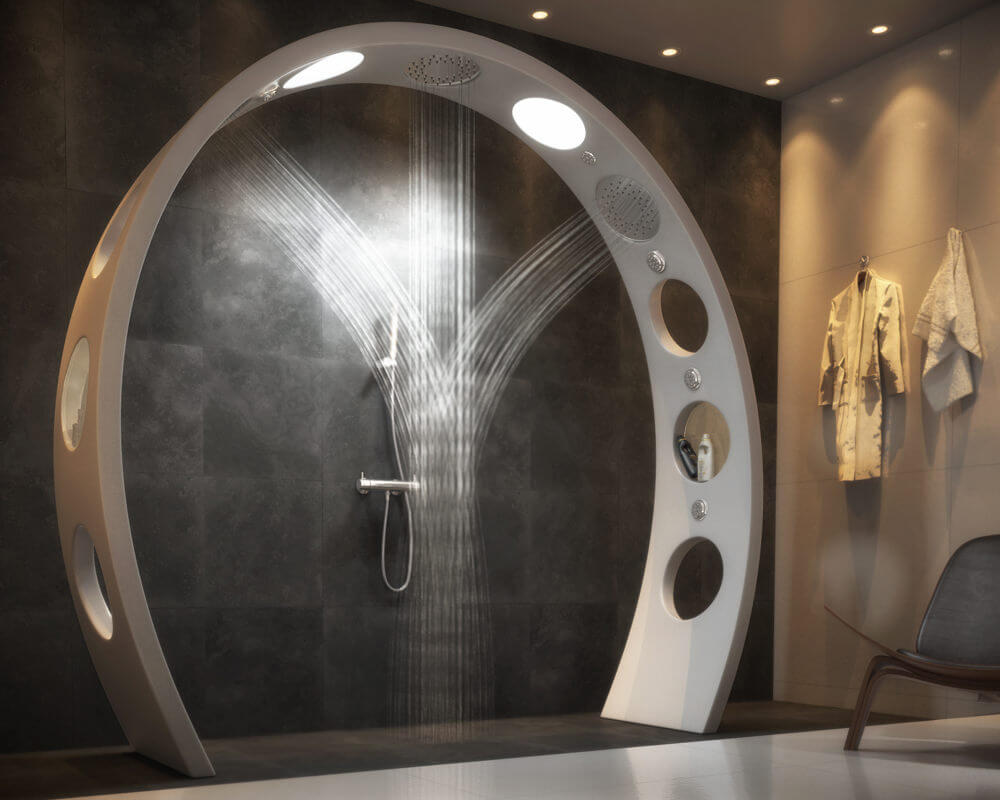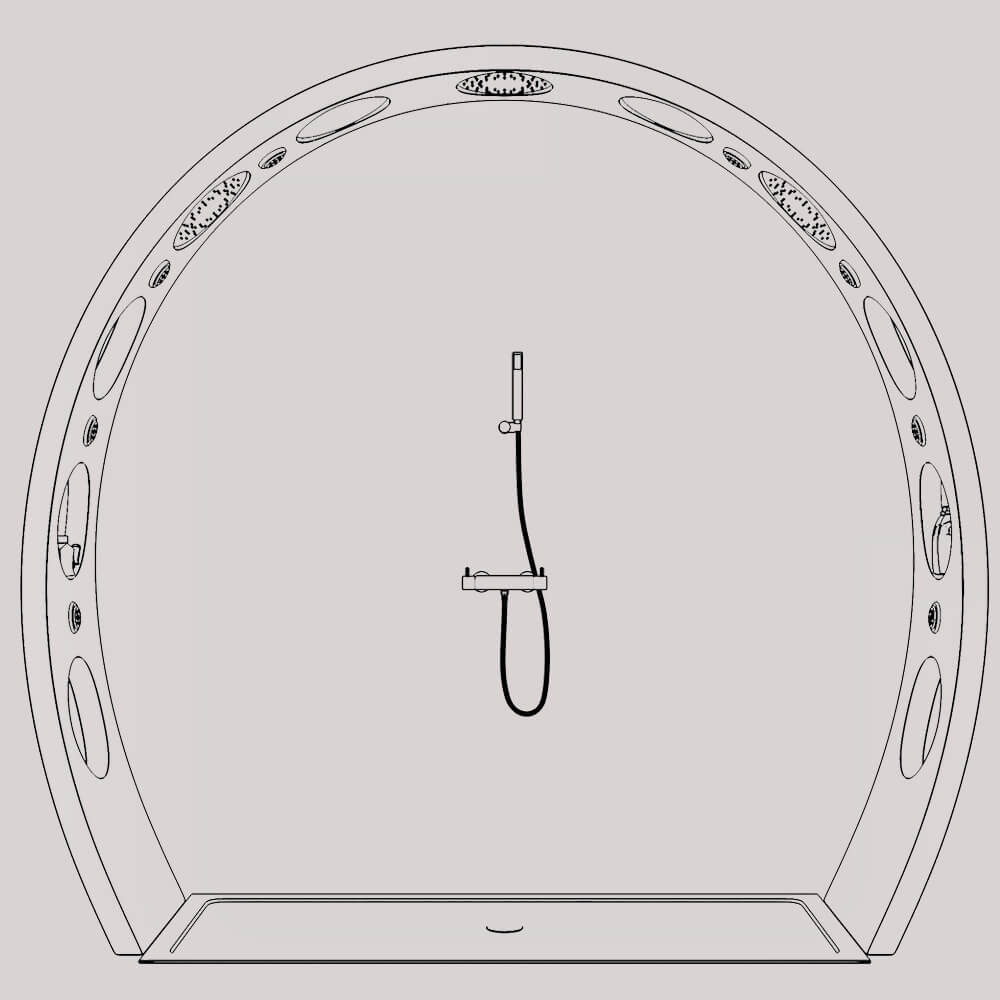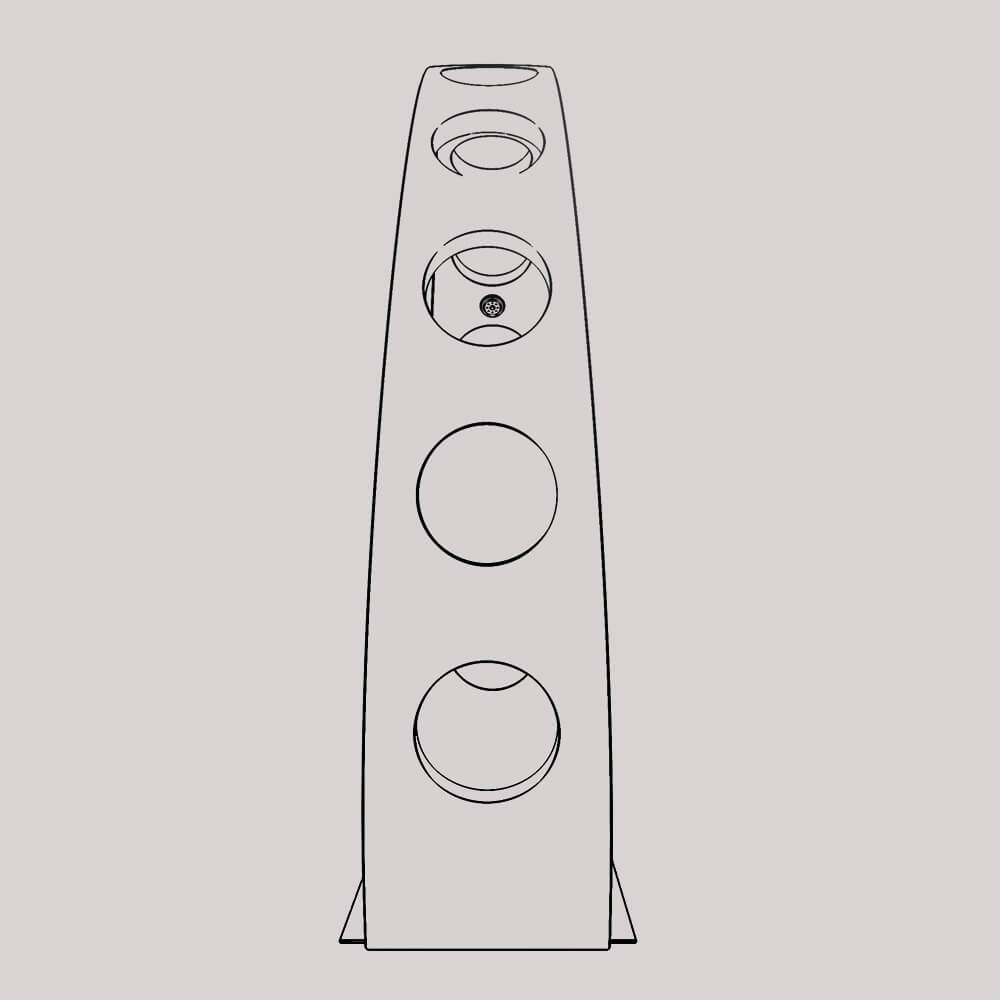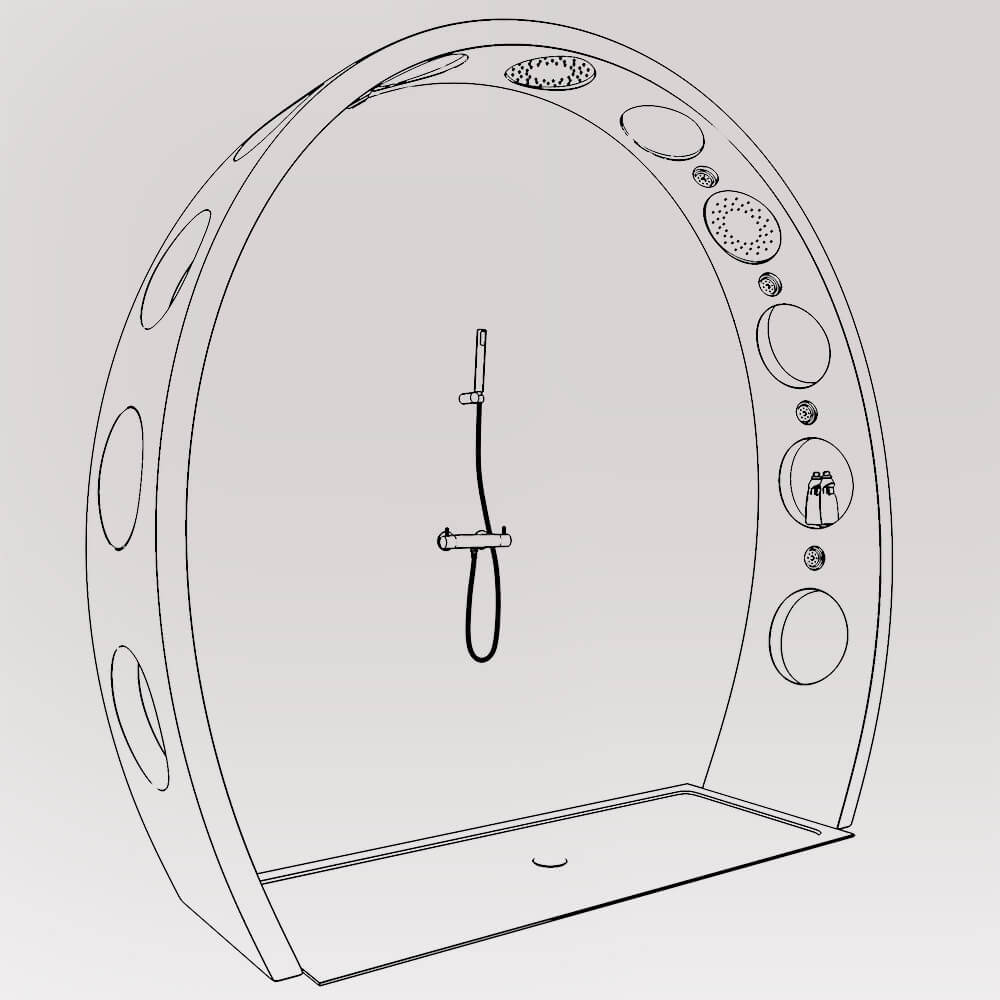 ---
Lighted Enclosure
The spectacle presented by the Northern lights or auroras is so breath-taking that words are not enough to describe it. The brilliance of Northern lights has been used here to spruce-up a lifeless interior. The warm glow and feel of light against Glass are simply splendid. Taking a shower in near darkness but for the lighted enclosure presents an experience so unique, you would love to try it. Created with glass panels set into an aluminium frame, this shower enclosure comes with a standard interior including Showerhead and Mixer, but the shower surround comes with colored lights placed below the glass, for enhanced effect. You can also see similar kind of corner entry showers at our online shop, but that is not included with Northern Lights atmosphere. Learn more about Bathroom Electric Zones & IP Rating.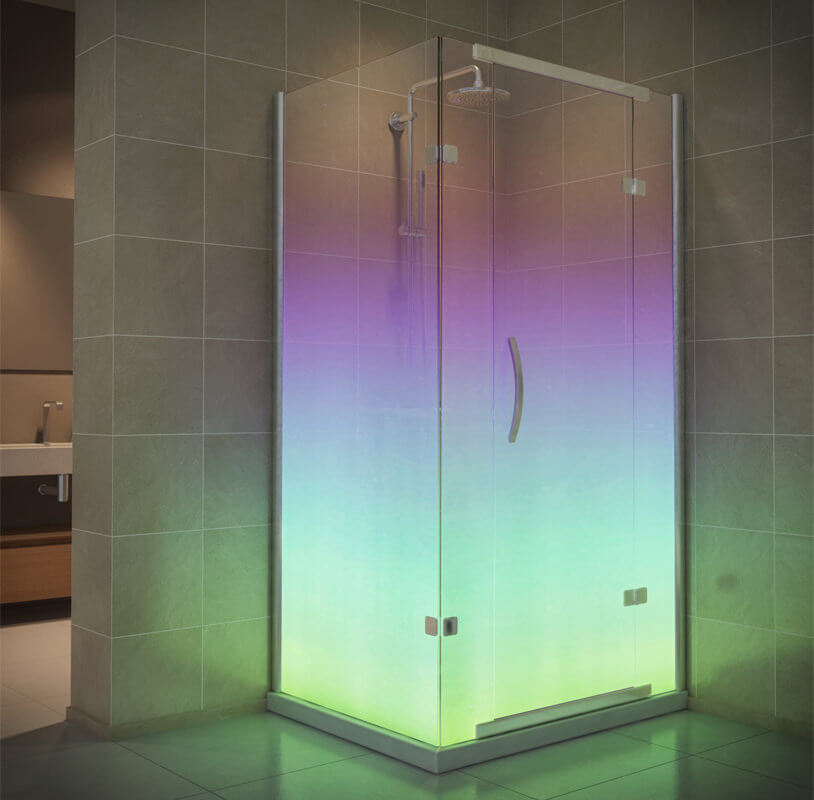 ---
Digital Showerhead
Water is the most precious and fastest depleting natural commodity today, making all efforts geared towards its conservation laudable. Our designers have been inspired by this single, all-important drive when creating this awe-inspiring masterpiece. The modern interpretation of a traditional overhead shower presents in its latest avatar with a digitised display of water temperature and amount of water used. Its circular form is pleasing to the eye while offering a unique functionality. Designed to add value, both aesthetically and practically, this concept from QS Supplies will appeal to the most discerning of consumers especially those with a Green vein.
Working on similar lines is the digital bath filler tap using the principle of awareness that makes us conscious users. The User can stop at the required temperature while also knowing the amount of water used-up. This technology makes a significant difference to water and energy bills while ensuring these is no unnecessary wastage. Equipped with modern technology, this brassware is designed to bring an aura of novelty, freshness and endearing charm to the modern baths.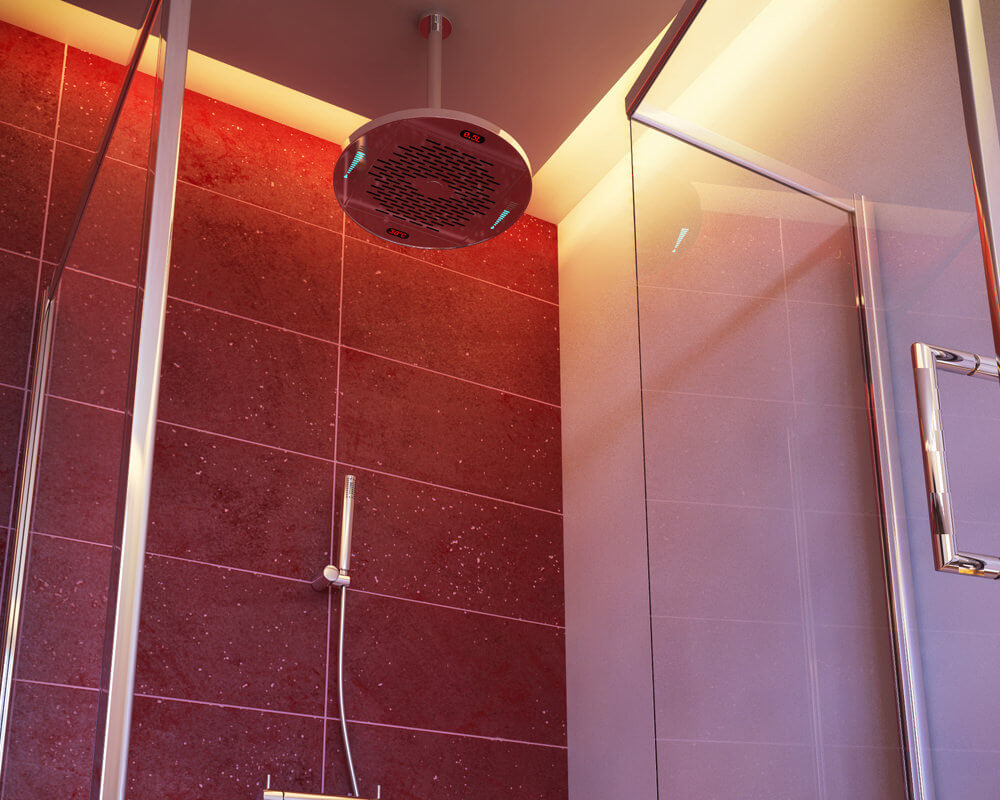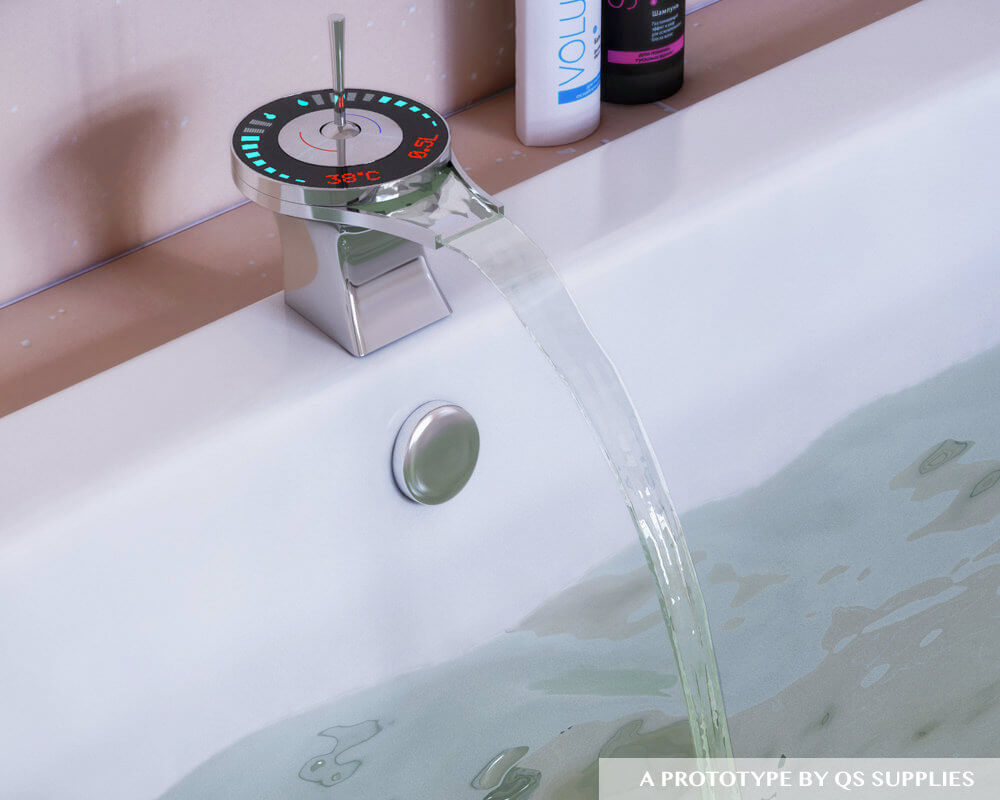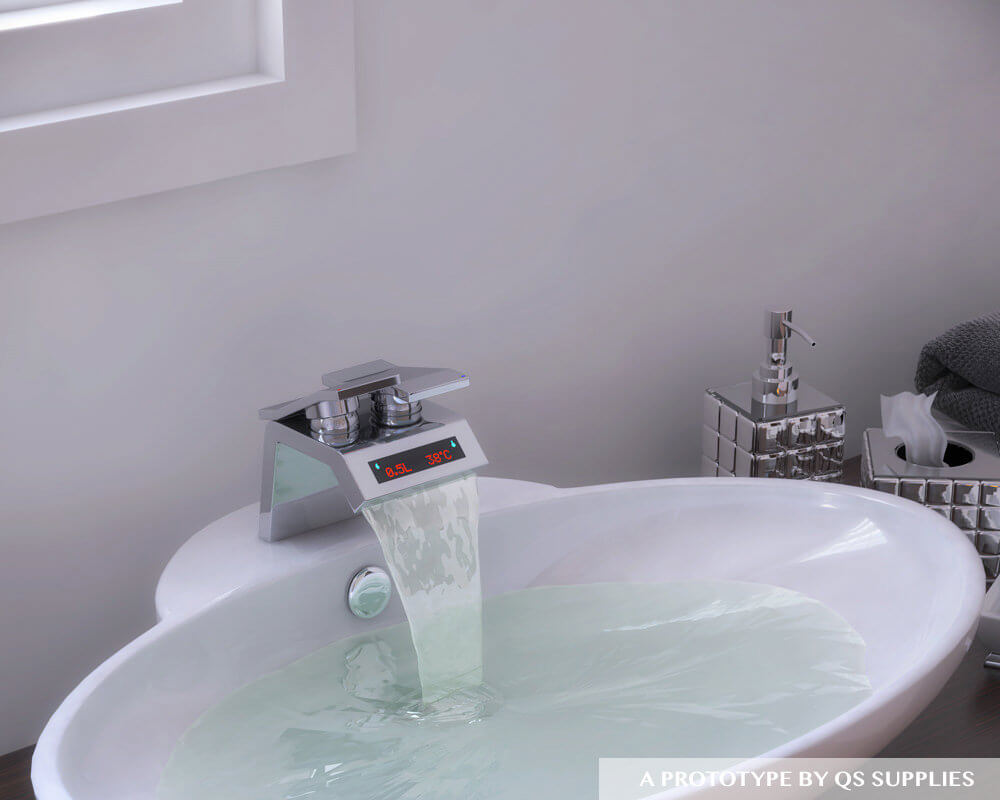 ---
The Zen Rock Washbasin
A Japanese rock garden is built with rocks and sand, positioned in such a manner that it has a calming, meditative effect. Bring this idea into the bath space to set the tone and improve the overall ambience. This innovatively styled washbasin is made using traditional Japanese stone to create a calm tranquil setting. It's hard to beat its simplicity and meditative quality, and it allows the user to experience the serenity and charm that nature offers. Other organic elements like wood and stone have been used for consistency in feel, blending well together in this traditional bathroom. The Chrome Tap is a basin mixer tap and is wall hung while the other elements have been strategically placed, so it doesn't take away from the wonderful amalgamation. The structure mimics the rocks in an outdoor Zen garden in shape and texture while water enhances the experience.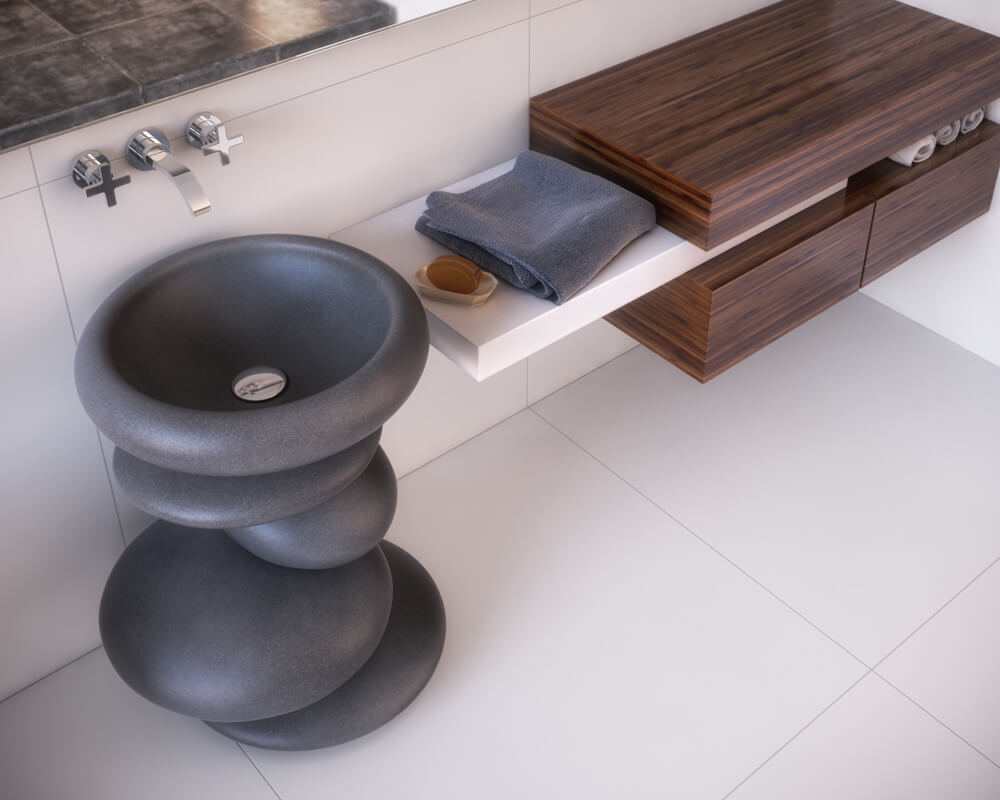 ---