Home Envy
Published on: 08/02/2020
Last Updated: 08/02/2020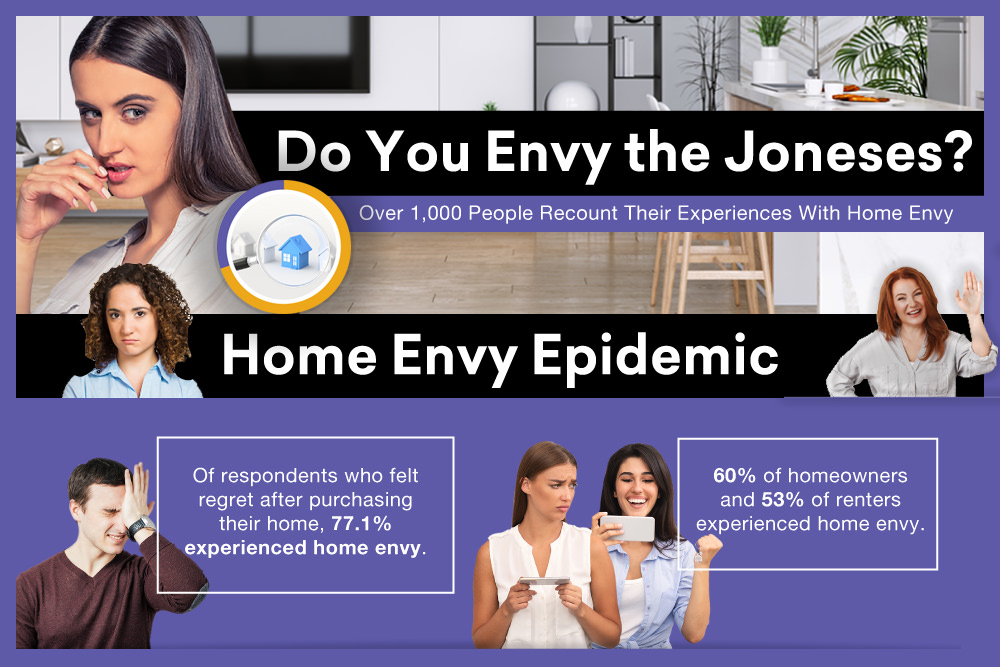 If you haven't heard the phrase, "keeping up with the Joneses," consider yourself lucky. It's an unfortunate phenomenon wherein people do something to show they have as much money, taste, or style as other people, as opposed to actually wanting to do it. Homebuying can bring out an entirely new degree of envy.
We looked at over 1,000 experiences with home envy by surveying people in the UK and the US. We asked them how far they had gone to keep up with the Joneses, what kinds of snooping they had done on their neighbours' homes and even recorded the various actions they took to see what this envy could inspire. Continue reading to see how home envy really causes Brits and Americans to act and feel.
---
Who's the Most Envious?
They say jealousy is the ugliest colour, but evidently, many homes are painted with it. In just the past year, 56.3% of people admitted to experiencing home envy. While British respondents were more likely to feel this emotion in the last year, the difference between Brits and Americans only amounted to 4 percentage points.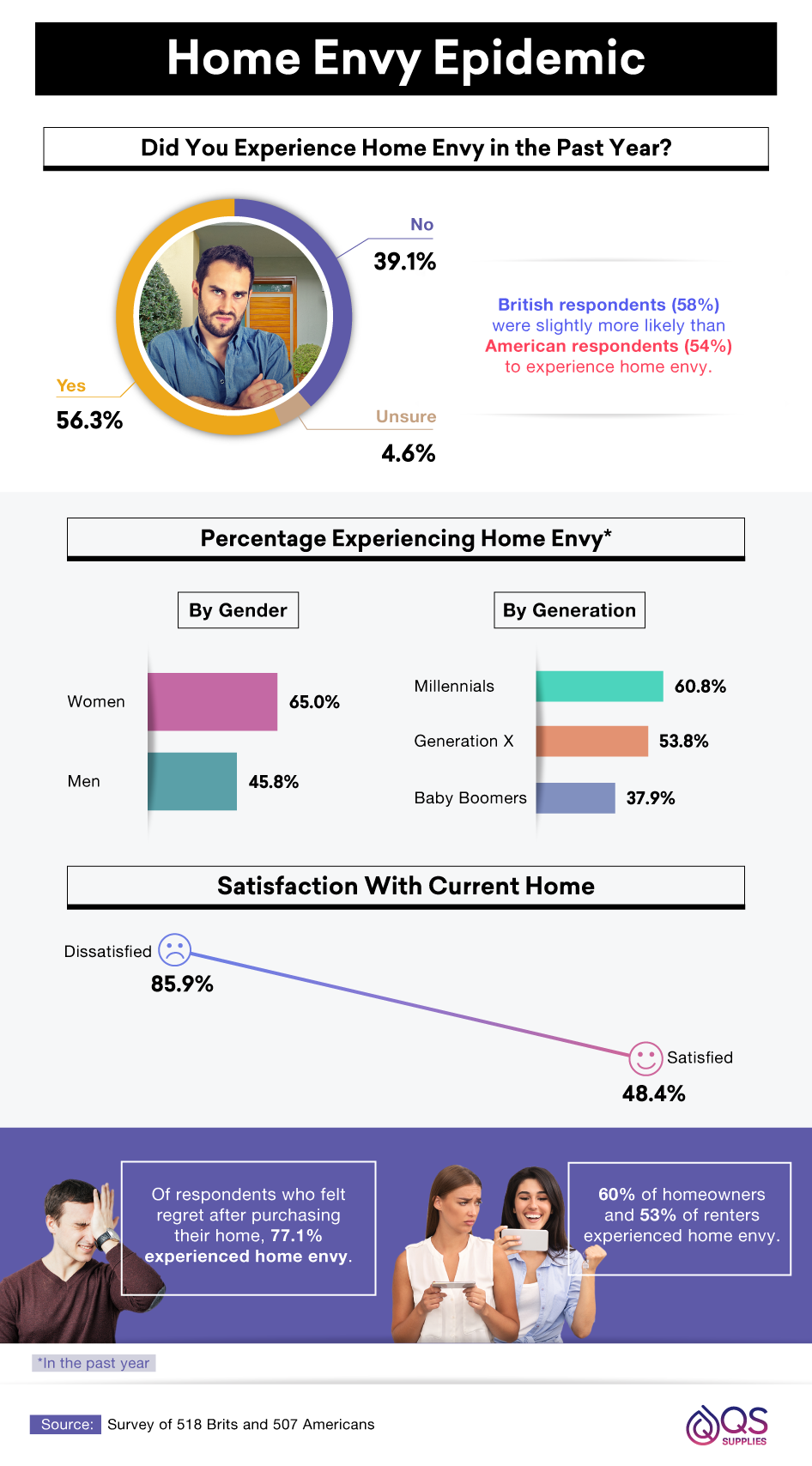 Differences in envy were starker among generations and gender than they were for nationality. Nearly 61% of millennial respondents were envious of someone else's home, compared to just 37.9% of baby boomers. Hopefully, this is indicative of one's ability to age out of envy. More likely, millennials are moved to envy by the proliferation of social media. Financial experts warn against this generation's propensity to overspend to keep up with their friends and even suggest dialling back on social media to combat the fear of missing out (FOMO) or the millennial equivalent of keeping up with the Joneses.
Men also cared less than women about their neighbours' homes, with only 45.8% of this group reporting home envy in the last year. Single women are much more likely than single men to buy homes, which may make them more invested in other people's houses. Regardless, those who owned a home but were dissatisfied were almost twice as likely to experience home envy than those who felt satisfied with their residence.
---
Envy Catalysts
And where does all of this jealousy come from? Mostly friends and family. Almost 44% of respondents said their friends inspired home envy, followed by 28.7% who said it came from their immediate family. That said, nearly as many respondents were swayed by their immediate family as they were by influencers. Perhaps this is why brands are willing to pay influencers so much to rep their products or, in this case, their homes.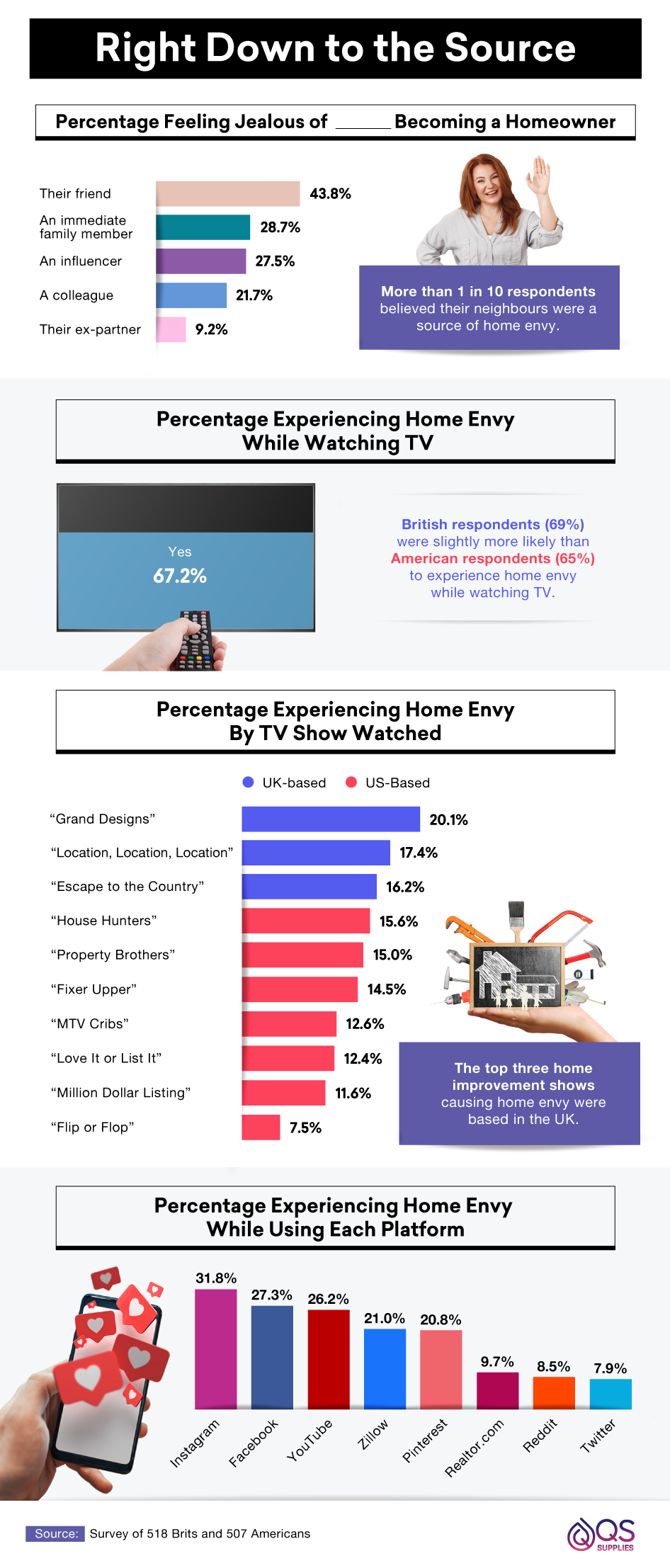 Watching TV also evoked home envy for 67.2% of respondents: 69% of Brits and 65% of Americans. Although the difference between Brits and Americans might be slight, the top three home improvement shows that caused envy were based in the UK. "Grand Designs," "Location, Location, Location" and "Escape to the Country" all garnered considerable home envy, with 20.1%, 17.4% and 16.2% of respondents citing these shows as catalysts, respectively. These three British shows portray an incredibly idealistic lifestyle, while the top American show to induce home envy – "House Hunters" –showcases both the highlights and pitfalls of the homebuying process.
Instagram created more of a jealousy storm than any other social media platform. Thirty-two per cent of people reported experiencing home envy while using their account. For this study, we even compared Instagram to sites meant for housing, like Zillow and Realtor.com, but even they couldn't stir up envy the way Instagram did. After looking through some of the 136.7 million posts with the hashtag #home, it's easy to see why.
---
Jealousy's Features
If you want to make people jealous, think big. The No. 1 home feature that evoked envy wasn't the location, style or kitchen, but just the sheer size. Twenty-six per cent of respondents cited a home's size as capable of making them envious. That said, 14% of British respondents were envious of tiny homes, which are capped at 46 square meters.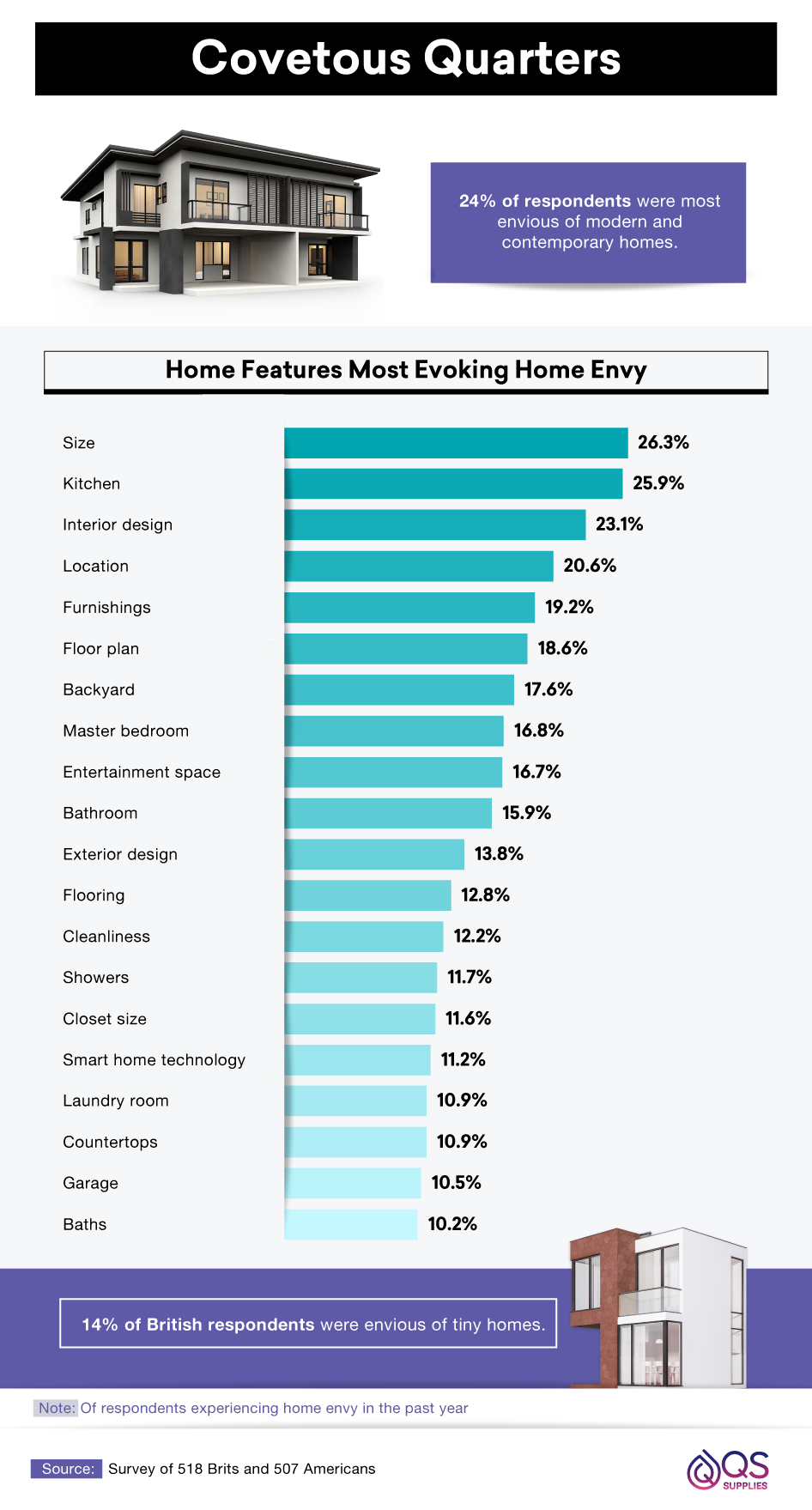 Coming in a close second for inspiring the most envy was the kitchen. A good-looking kitchen is one of the key features to help sell a home, encouraging buyers to put their money where their envy is, so it's no surprise that this room was mentioned often by our respondents. Interior design, location, and home furnishings were also common motivators for keeping up with the Joneses in the UK and the US.
---
Envious Home Improvements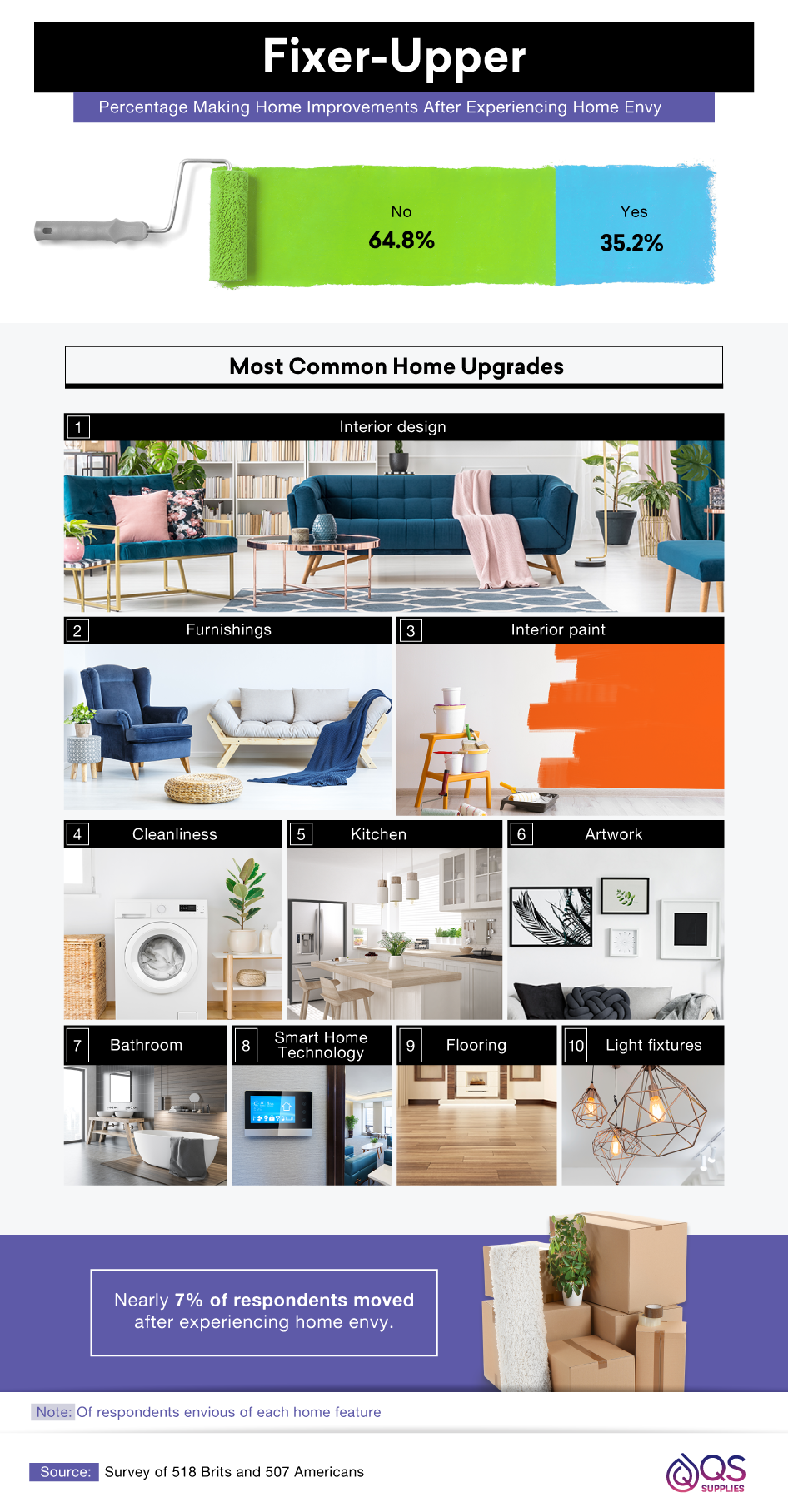 Envy became action for 35.2% of respondents who made home upgrades. Size was the most envy-inspiring home feature, but that's a complicated and expensive process to address. Most often, people started with interior design, with furnishings and interior paint being popular outlets for envy.
Jealousy is no small motivator, as some respondents were willing to change location entirely after experiencing this emotion. Seven per cent said they moved after experiencing home envy.

On the brighter side of things, inspiration – not just envy – was also found in the homes of others, and in real life (as opposed to Instagram) to boot. Twenty-four per cent of respondents attended an open house for design inspiration. That said, Instagram has some pretty jaw-dropping interior design inspirations of its own.
---
Searching for Prices
Some of the actions inspired by envy could even be described as invasive. Seventy per cent of respondents looked into how much a person had spent on their home. Forty-three per cent said they searched the home of a friend, and 17.3% looked into a co-worker's home value. Another 29.7% researched a neighbour's home, though this may be common practice when looking to buy a home in the first place. Compare this with researching a friend or family's home, which is more likely born out of curiosity as opposed to real estate research.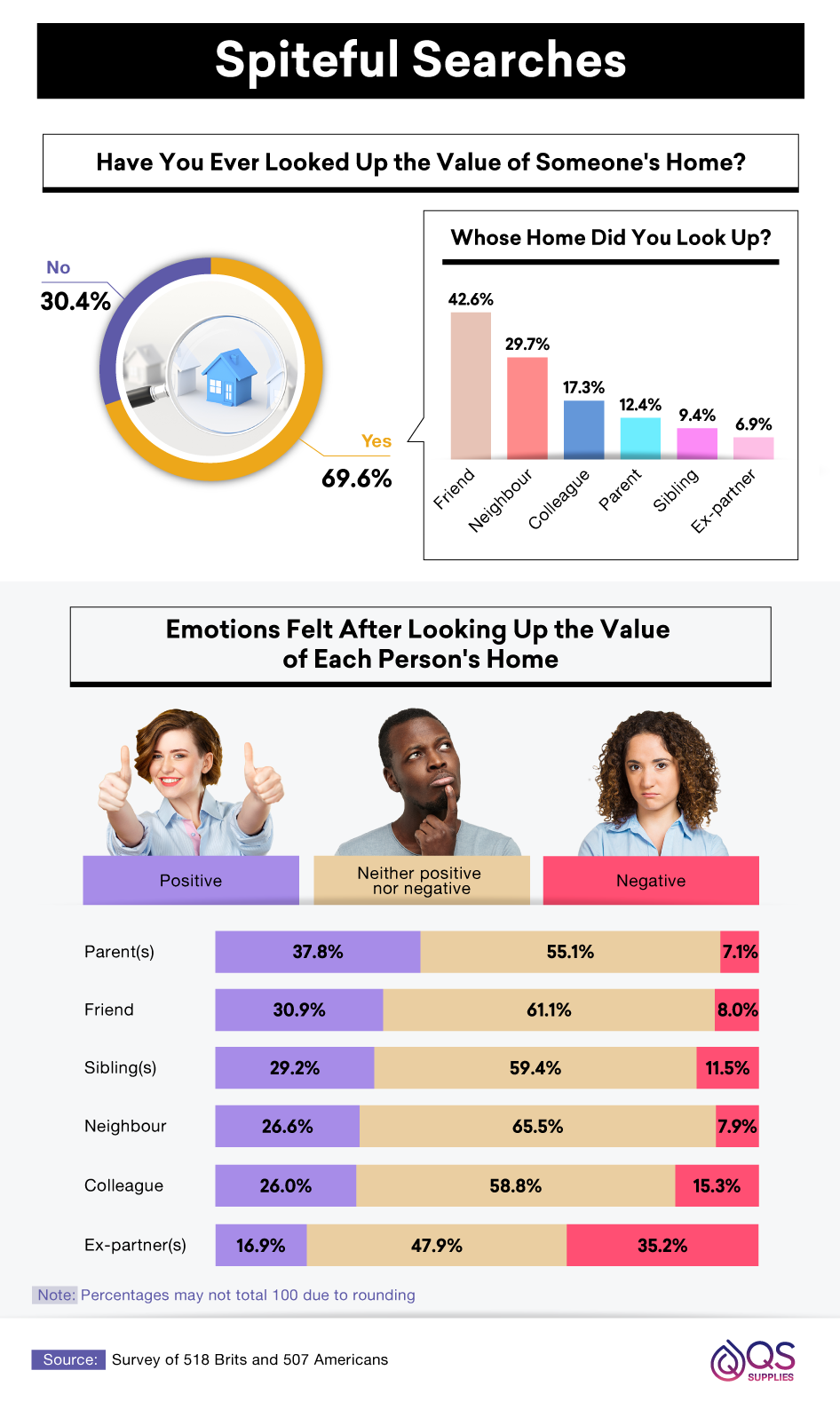 Responses were mixed once people found out the cost of others' homes. People were most likely to feel positive after looking up the price of their parent's home. Although we won't jump to judgment, this positive feeling could be inspired by something darker than envy – instead, positivity could stem from the thought that the value of your parent's home will one day be yours after they pass on. On the other hand, friends' homes inspired a less positive feeling once people found out how much it cost. And topping the list was the negative feelings that people experienced upon finding out the home value of an ex-partner.
---
Handling Envy
Envy is one of the countless human emotions that we won't begin to condemn. But there are certain ways of handling this emotion that are better than others. Our data shows that some respondents felt less satisfied with their own home and were sometimes even willing to move houses entirely when they felt the pangs of home envy. Others were able to find inspiration in open houses and make creative interior design changes.
If you fall into the camp of those who can take inspiration from others, head to QS Supplies, where beautiful and high-quality kitchen sinks, showers, bathroom furniture and mirrors can help bring about the home you've always dreamed of. With the help of the professionals at QS Supplies, you can finally start to let your envy of others fade away.
---
Methodology and Limitations
For this study, we surveyed 518 Brits and 507 Americans via Amazon's Mechanical Turk and Clickworker. Of the 1,025 respondents surveyed, 54.1% were female, 45.4% were male, and 0.5% identified as neither male nor female. Respondents ranged in age from 18 to 77, with an average of 38 and a standard deviation of 12. An attention-check question was used to identify and disqualify respondents who failed to answer questions in their entirety. The main limitation of this study is the reliance on self-reported answers. Self-reporting is faced with a wide variety of issues, which include but aren't limited to: attribution, exaggeration, telescoping, and recency bias. An effort was made to limit bias throughout the questionnaire. A definition was provided for "home envy" for respondents to reference.
---
Fair use statement
Feeling a little envious, yourself? Take a deep breath and reread the data, as everyone feels this way. You're also welcome to share the data here with others who may feel the same way, but be sure it's for noncommercial purposes and you link back to this page.