Trying to be Green
Published on: 17/04/2020
Last Updated: 17/04/2020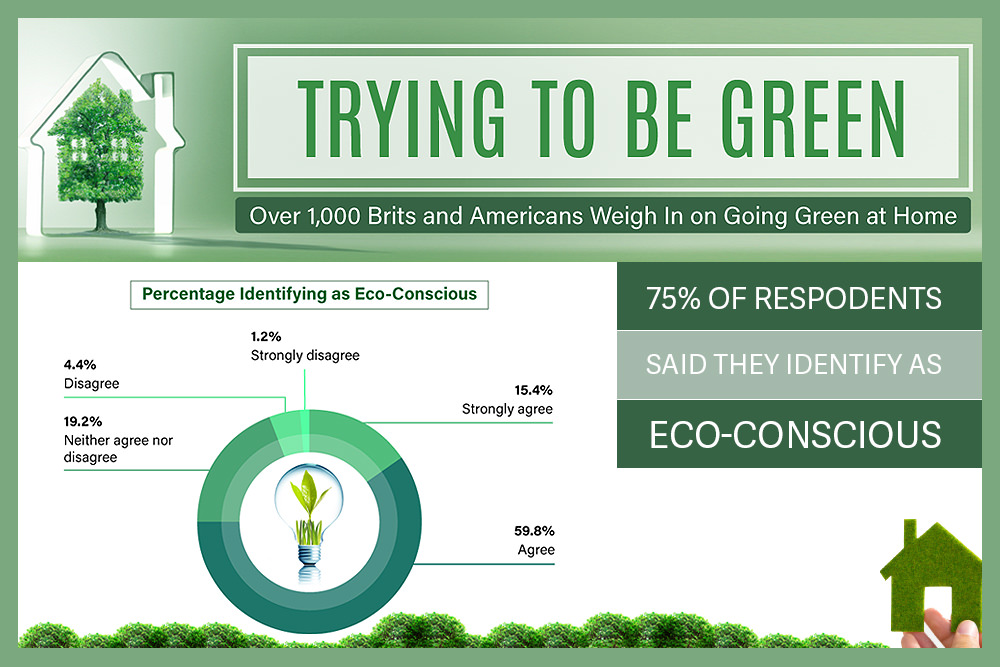 No matter where in the world you live, whether it's the most polluted of cities or the greenest of pastures, the climate crisis is universal and requires an all-hands-on-deck solution. Media has thankfully been paying more attention and explaining some of the ways in which we can start to help, but how much are we taking and implementing this advice?
We decided to find out by surveying over 1,000 British people and Americans about what they're doing at home to help the planet. How eco-conscious do people perceive themselves as? And how do their perceptions stack up against their actions? Read on to see what hope for our planet's future looks like.
---
Colour Me Green
Three-quarters of all respondents considered themselves to be environmentally conscious. This finding is surprising, as only around 1% of participants were willing to admit they were not at all environmentally conscious.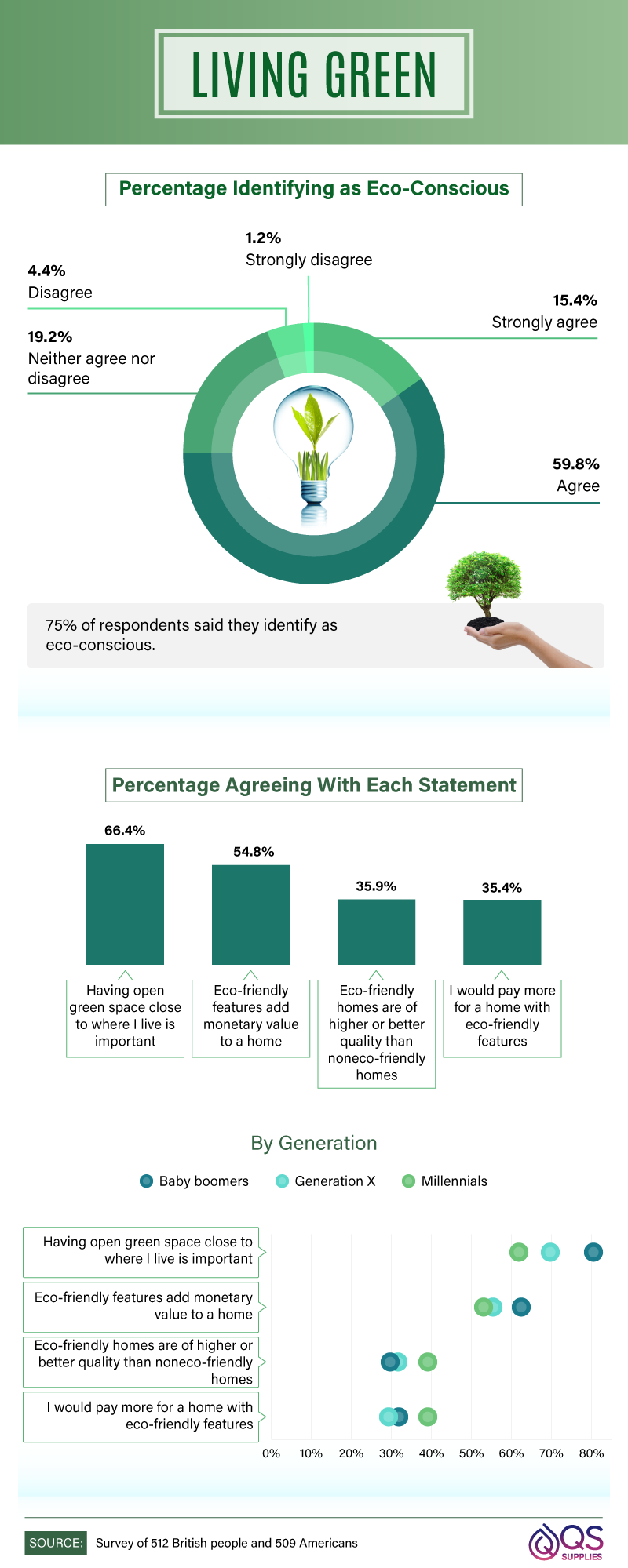 And, according to respondents, having an eco-friendly house was of great importance. When we talk about a home with eco-friendly features, or an "eco-friendly house," we're referring to a house with nonenvironmentally harmful features built into the foundational principles of the home, such as solar panelling and organic structural ingredients. Nearly 90% of respondents wanted to purchase a house like this.

Nature and outdoor areas, in particular, were well-loved features for many. More than 66% agreed with the statement, "Having open green space close to where I live is important." Baby boomers were the most likely to prioritise these natural spaces. Millennials, on the other hand, were willing to pay more than the other generations for a home with eco-friendly features. This may not necessarily be about the environment, however, as this generation was also the most likely to believe eco-friendly homes are of higher or better quality than their nongreen alternatives.
---
Renovating for the Right Reasons
Buying used furniture was the most common way people took eco-friendly action. Forty-one per cent of respondents thrifted home furnishings, which also happened to be the biggest money-saving activity, as well. Thirty-five per cent also installed energy-efficient appliances. The next most common eco-friendly renovation was installing a low-flow toilet (nearly 19%), followed by new insulation (17%) and windows (17%) for extreme heat or cold.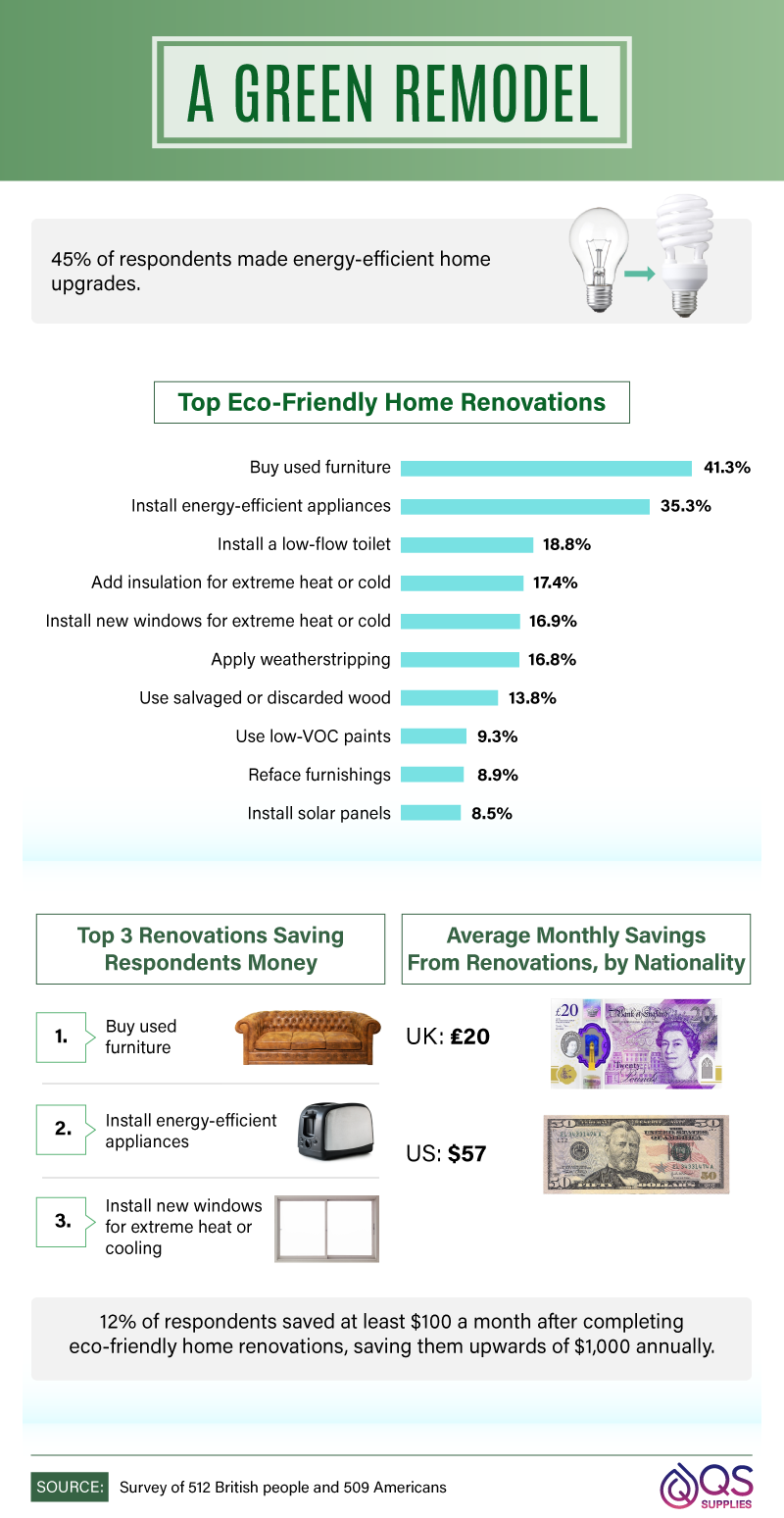 Although just 16.9% had new windows installed for extreme heat or cold, it was one of the top three ways that participants were able to save money. It may seem like an environmentally friendly lifestyle is more expensive when, in fact, many of the home features that help the planet can also help wallets.
Green features helped save Britons £20 each month, or an average of £240 annually. In the US, this number was significantly higher, or $684 (about £529) each year.
---
Leave It to Tech
Smart tech is another way to help your home stay green. Only 19% of respondents felt opposed to the idea, but most were willing to start or already had made some eco-friendly tech purchases. Sixty-six per cent purchased a smart thermostat. Companies that manufacture these devices, like Tado, Netatmo and British Gas, claim their devices can save customers significant energy usage and cash.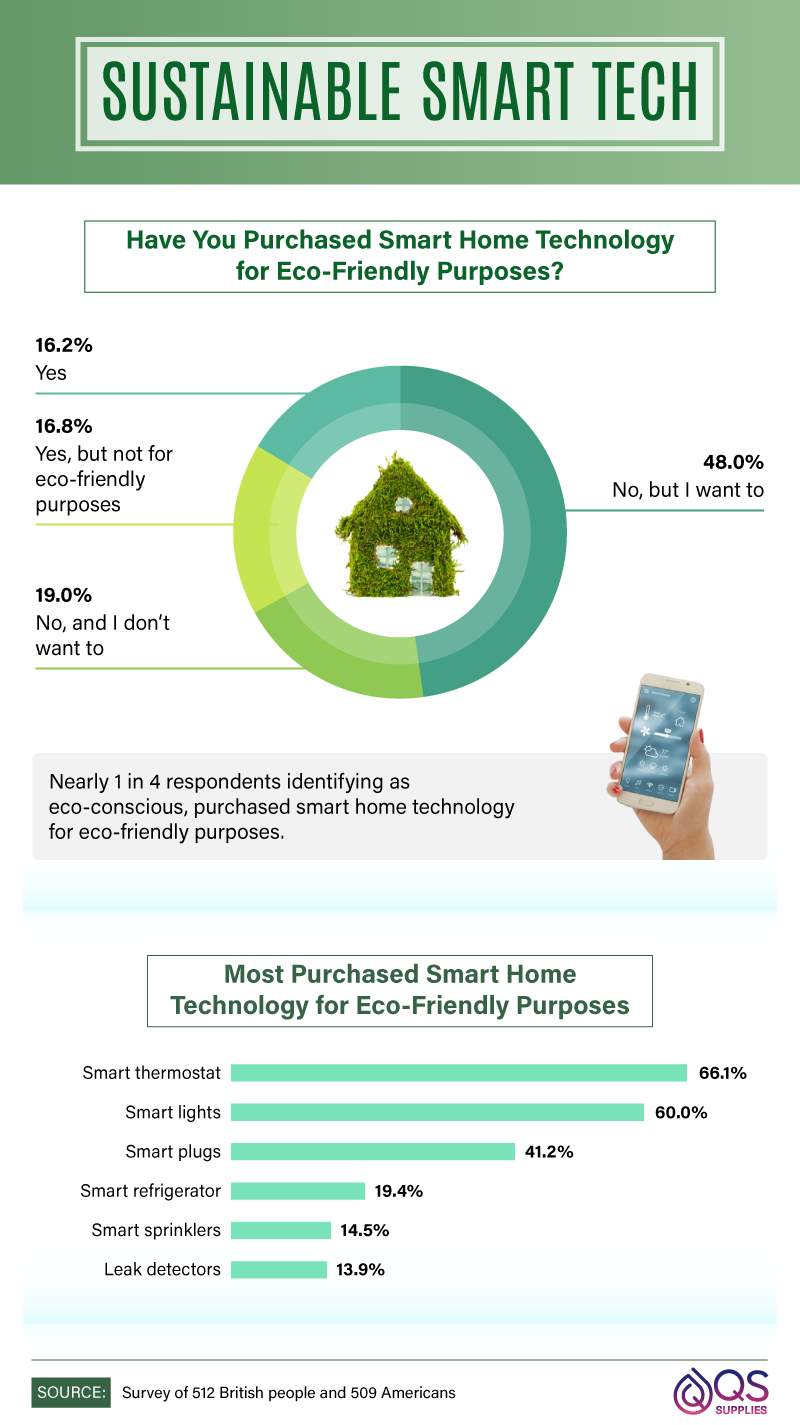 Smart lights were the only green tech that more than half of respondents had purchased. This practice being so commonplace makes sense, as the switch is quite easy as well as cost-effective. Another 41.2% had tried smart plugs, and 19.4% even purchased a smart refrigerator.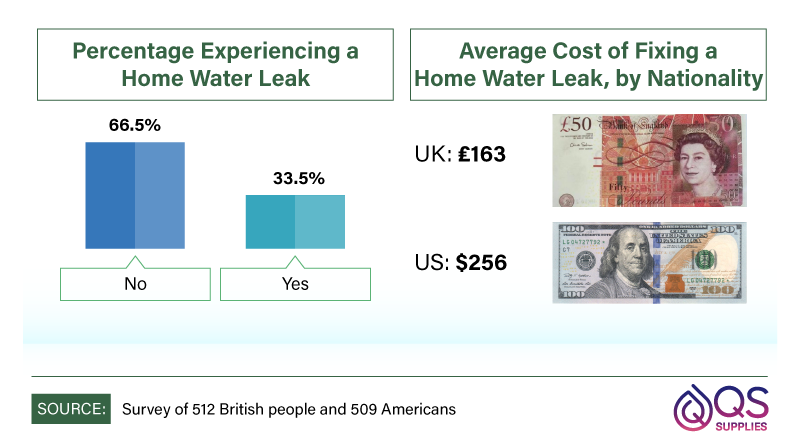 Nearly 14% of respondents purchased leaks detectors because when water did leak, fixing it was neither free nor cheap. On average, British respondents spent £163 to address the problem, while Americans paid $256, or £198. This means that respondents spent more than £184,238 collectively just on repairing water leaks. Money aside, water is too precious of a resource to be wasting this much of it.
---
Helping the House Out
Less than a third of participants had even tried eco-friendly home hacks. Since some of these hacks can save money, it's not only a loss for the environment but also people's wallets.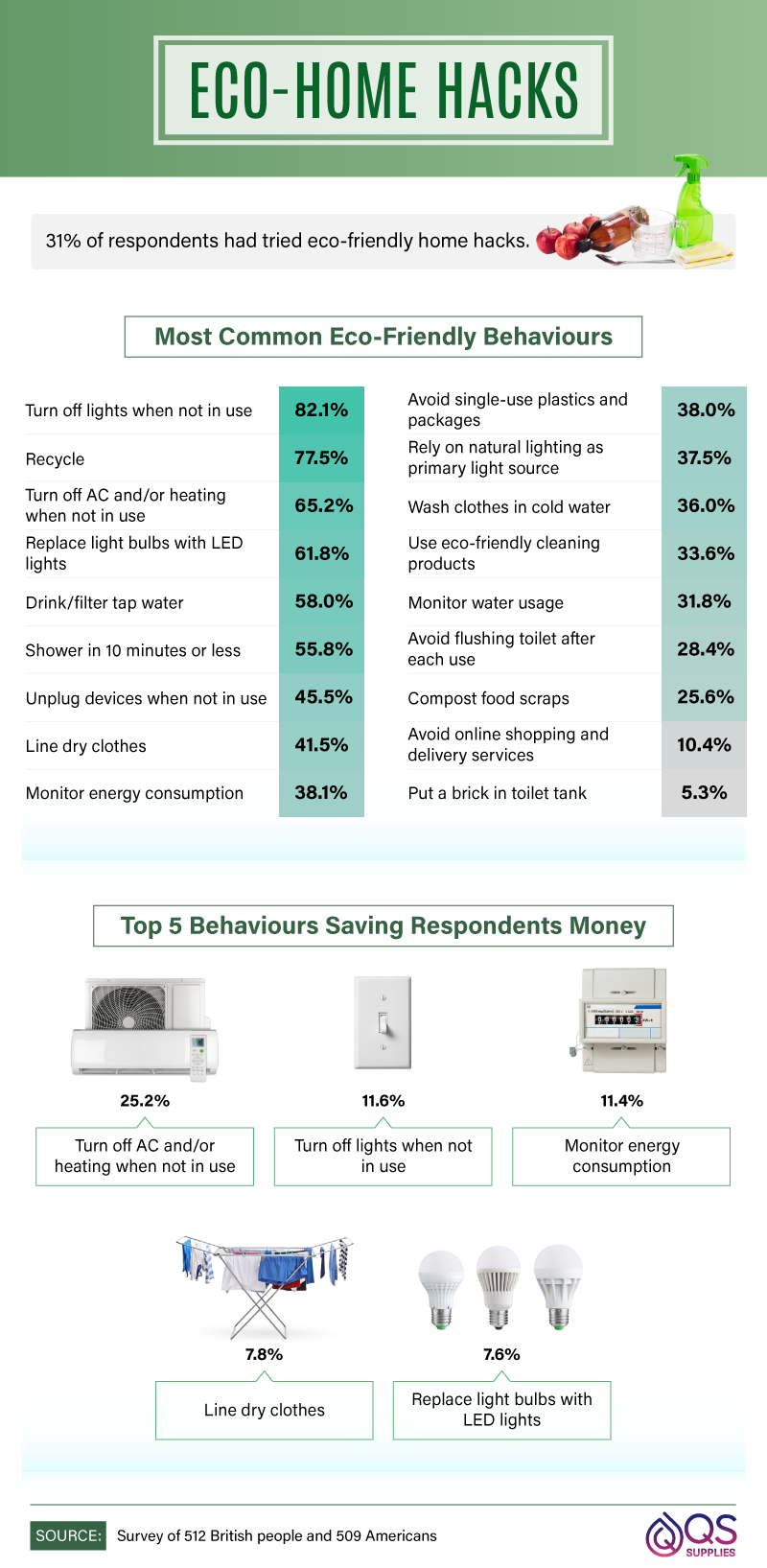 Most often, though, people turned off lights when not in use. Recycling came next, and was one of the eco-friendly areas where people were inclined to police each other, as well: 17% of respondents said they were "extremely annoyed" by neighbours throwing recyclables in the trash. Sixty-five per cent of respondents were also responsible in their use of air conditioning, and fortunately, this was also the No. 1 money-saving activity amongst participants.
---
Green As Can Be
While our data revealed a desire to be eco-friendly, many respondents weren't doing what was necessary to be truly green. That said, some people are trying, and we should encourage this behaviour.
To keep up this eco-conscious momentum, QS Supplies is the perfect place to start. With a wide variety of toilets, water saving shower heads, basin taps, basin mixer taps bath mixer taps, kitchen mixer taps, shower valves and kitchen supplies to choose from, we can help you and your household become greener today.
---
Methodology and Limitations
For this study, we surveyed 512 Britons and 509 Americans via Amazon's Mechanical Turk and Clickworker. Of the 1,021 respondents surveyed, 52.2% were female, 47.3% were male, and 0.5% identified as neither male nor female. Respondents ranged in age from 18 to 74, with an average of 38 and a standard deviation of 11. An attention-check question was used to identify and disqualify respondents who failed to answer questions in their entirety. The main limitation of this study is the reliance on self-reported answers. The issues paired with self-reporting may include but aren't limited to: attribution, exaggeration, telescoping and recency bias. An effort was made to minimize bias throughout the questionnaire.
---
Fair use statement
Thinking of going green yourself? That's wonderful news! If you felt inspired by this article or know somebody who could use inspiration, please share this data with them. Be sure always to link back to this article, though, and that your purpose is noncommercial.