Amelia Ashford Date: July 28, 2015
Crowded storage bath panel
This product looks very stylish and contemporary and would suit most bathroom styles. Whilst very practical, especially with children and their bath toys, I love the fact that I can put everything away under the bath. I don't think the quality of the product is great. The magnetic bars that hold the doors in place have come away a number of times and my husband had to superglue them back. Also the doors are wood and being that they are in the bath, are bound to get wet but they have started warping and cracking where water has penetrated the wood. I would expect this to have been better sealed from water.

Helpful?



3 of 3 People have found this Review useful
OVERALL RATING 3 Stars
Quality:

Value For Money:

Style:
Harry Scarborough Date: June 15, 2015
WB715122
Croydex Panels would be better in waterproof material as water ingress damages it due to swelling,also had to re-stick magnetic contacts as they came off. QS supplies replaced damaged panel and in no way to blame with immediate response. Good efficient Company.

Helpful?



1 of 1 People have found this Review useful
OVERALL RATING 2 Stars
Quality:

Value For Money:

Style:
Arthur CRANLEIGH Date: January 9, 2018
Storage Bath Panel
Prompt service. Packaged well. Perfect fit replacing previous panel, added apiece of tile corner trim along top to stop water dripping onto panel. Adds great storage under the bath in small bathroom.

Helpful?


Images Uploaded by the users: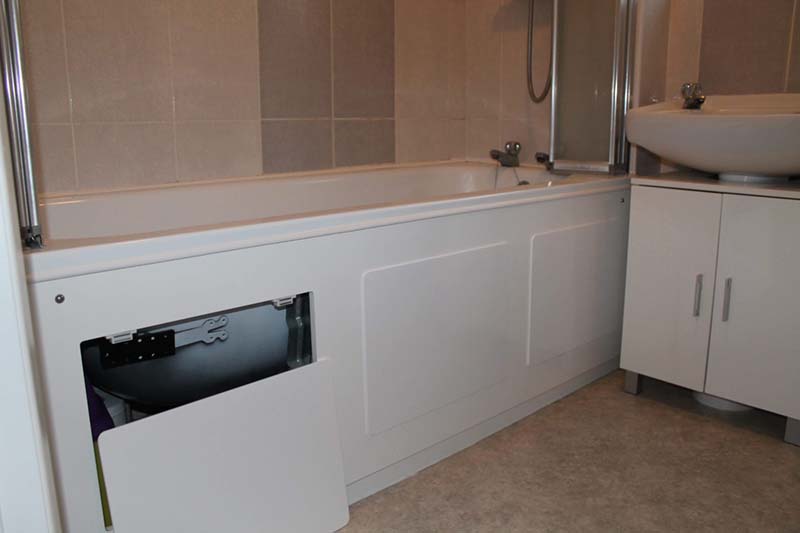 OVERALL RATING 4 Stars
Quality:

Value For Money:

Style:
Dean Fife Date: July 28, 2015
Quite Disappointed
Water damaged the wooden removable panels only a couple of weeks after installation. I had to replace these with custom sized acrylic sheets.

Helpful?


OVERALL RATING 1 Stars
Quality:

Value For Money:

Style:
Submit Your Questions
3 Questions Asked
Have a question about this item? Ask our tech team. We aim to reply within 72 hours. If you want to know get answers fast, please call us on 0116 251 0051
Can the panel be cut down to 1670mm overall length?
Answered By QS Team :
Thank you for your enquiry. It is advised that this panel not be cut to size due to there being a coating on the panel. If this coating is damaged it will lead to water damage. Hope this helps.
hi, could you confirm what material this is made from? I'm after one that is made from solid wood. I have bought a product similar to this in the past which looked great for the first week, but because it was made of MDF it swelled up and was ruined a few days later.
Answered By QS Team :
We can confirm that this bath panel is made from MDF.
Which 700mm bath end panel is compatible with the Croydex Gloss White Storage Front Bath Panel? Thanks Malc
Answered By QS Team :
Thanks for your query James, you can select the Panels from the list of products here: http://www.qssupplies.co.uk/Bathrooms/Bathrooms/Bath-Panels/Product/111.htm.