A bathtub usually works in two ways, depending on the perspective of the bather. It forms the style element in the bathroom, often becoming the focal point in the scheme of things inside a wet room. On the other hand, its utility is the main attraction, with the bather looking forward to stepping into one to unwind, release the day's stresses, and relieve muscle aches and pains. Baths are made of a variety of materials, like acrylic, fibreglass, enamel on steel or cast iron, and even wood.
Over time, fashions and trends change and new technologies appear; alongside these changes, we see new developments in the everyday products and appliances we use in our homes. For a long time, cast iron was the only material used to manufacture baths, but with the introduction and production of steel and the cheaper costs involved, more and more baths were made using steel.
---
Steel /Enamelled Steel Baths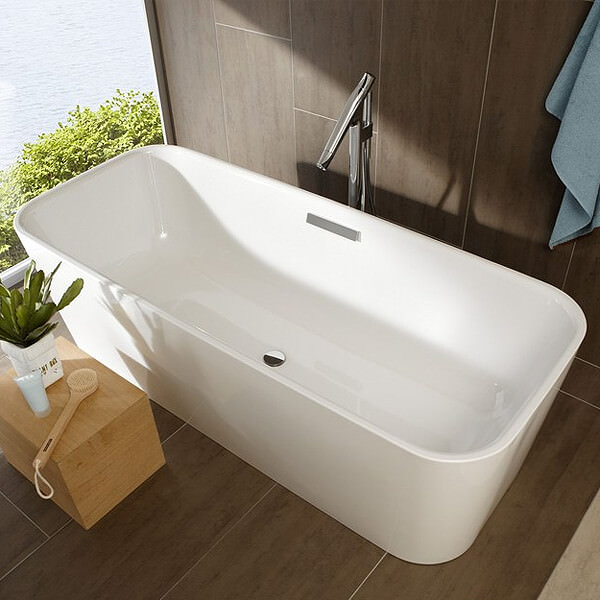 A steel bath or steel enamel bath is made of steel metal that has been coated with a layer of ceramic or porcelain. Steel Baths are usually long-lasting, made of durable metal, and very reasonably priced. So, if you are on a budget but still want to refurbish your bathroom, these baths are your best bet.
---
What's good about them?
Some people think of these as old-fashioned, and indeed, they were a popular option in the past. They have been surpassed in popularity by acrylic and a variety of other materials, both synthetic and natural. Here are good reasons to consider steel:
Toughness – Steel tubs from high-end specialists such as Bette and Kaldewei are extraordinarily hardy and impossible to scratch. The 3.5mm thick steel models are also extremely impact-resistant, so even if you accidentally drop a heavy object on them, they are not likely to chip.
Resistance to UV light – Our Sun is a glorious giver of life but an insidious thief of colour, and with premium quality steel-enamel bathtub, you will not have problems with fading and colour changing with years of UV exposure.
Imperviousness to limescale – This hard, chalky, off-white substance shows up on pipes, toilet bowls, bathroom and kitchen taps and household appliances. However, it is much less likely to be a problem in a steel tub.
Invulnerability to bacteria and moulds – Since steel is non-porous, it is an unfriendly environment for mould, bacteria and other nasty little life forms that have no place in your bathroom.
Resistance to chemicals – With the right finish, a steel bathtub is resistant to most common household chemicals, so you need not worry about discolouration or corrosion.
Environmental friendliness – While acrylic is produced by burning fossil fuels, steel, a natural raw material, is completely recyclable. It is an excellent choice if you are concerned with the environment's health.
Exquisite heat conductivity – Though steel is cold to the touch, it is an excellent heat conductor. Your steel tub will warm up very quickly once you fill it with hot water.
---
Cons of Steel Baths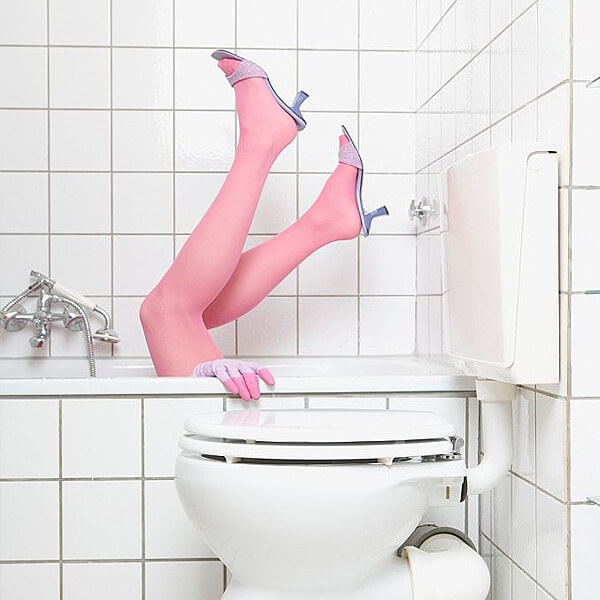 If you have children, the elderly, or someone with special needs in your family, Steel tubs may not be the ideal choice as the surface can be very cold and slippery. Also, steel being a good conductor of heat, the water in the tub tends to cool faster. They have another downside—when it comes to colour, design, or shape, they offer minimal options. Customising a Steel tub to fit your particular requirement is not possible because of the properties of the metal. They also tend to chip, dent and rust.
---
Compared to Cast Iron Baths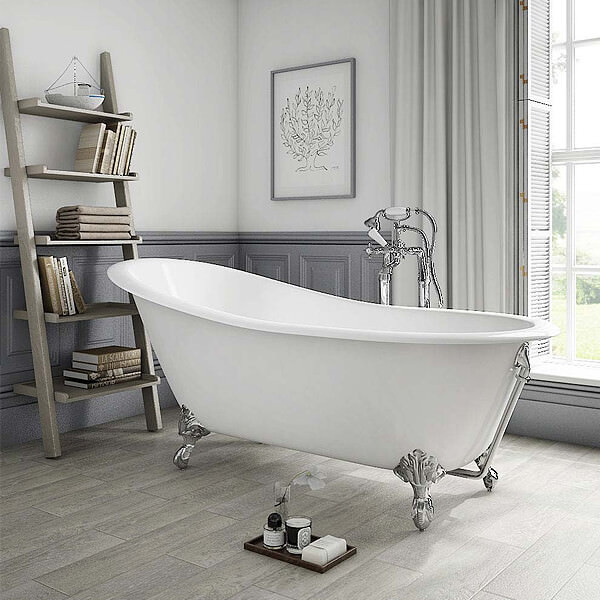 Baths made of steel may look like a cast iron baths, but they are much lighter in weight. Iron and granite, in fact, weigh more than steel baths, making installing tubs of steel enamel quite a convenient affair. Therefore, they are both cost-effective and easy to install. Cleaning and maintaining are also trouble-free. The enamel finish offers good resistance to most household chemicals and detergents, retaining its shine and colour for longer.
Branded steel-enamel baths have additional properties like resistance to Ultra Violet light, ensuring they do not fade under the effects of light. Bacteria and mould that thrive in moist bath environments cannot get an easy hold on your Steel bath because of the metal's non-porosity. Besides, they blend nicely with most other bathroom tiles and fixtures, creating a seamless look.
---
Comparing Steel with Acrylic/Standard Baths
There's always been a comparison between steel and standard baths. As for the steel baths, as the name suggests, the tub is steel bodied, which has good sustenance and strength.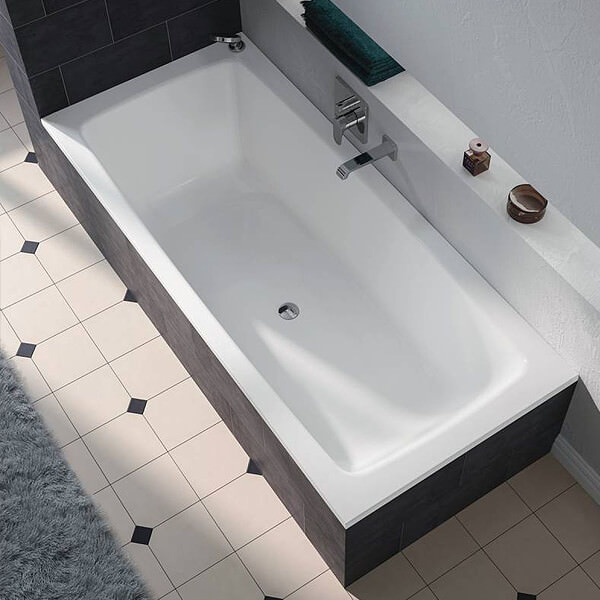 Standard baths are contemporary acrylic baths; in other words, a standard bath is made of acrylic. Every bath is of unbreakable, shockproof and resistant quality, what some may call reinforced fibreglass material. Most standard acrylic baths are akin to plastic but strengthened fibreglass that can take weight comfortably. The thickness of the board or the body ranges from 5 mm to 8mm, though varying as per the required quality.
Steel has and always will be a robust material to use in the manufacture of baths, and this is its major advantage over the more modern acrylic or plastic baths. Though, it is not just the steel bath's strength which is its only advantage over the more modern materials. Steel baths are a better heat conductor than acrylic. In other words, if you're someone who likes to spend hours in the bath continually topping up with hot water, you'll have to do this more often with acrylic rather than steel bath. They also maintain their gloss-like finish a lot longer than any acrylic bath, so if it's long-lasting looks that you're looking for, a steel bath may well be the answer.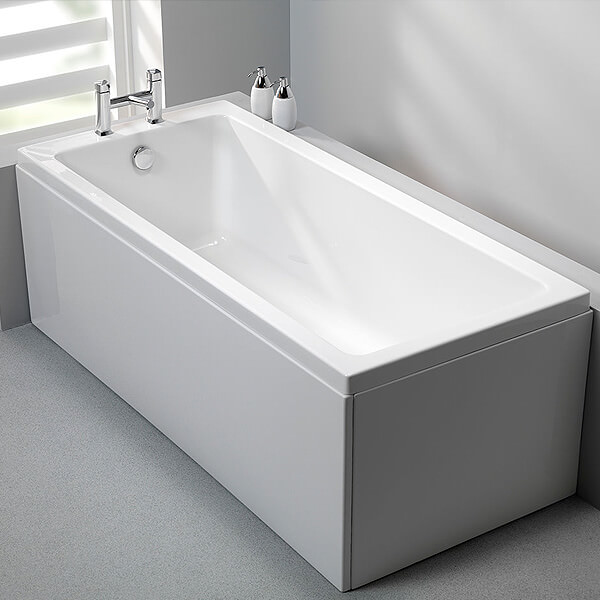 One of the disadvantages of steel is that it's heavy compared to acrylic, and therefore, it's easier to transport and requires less support underneath. The significant advantage of the acrylic bath is the design possibilities which it brought with its manufacture; it wasn't until the introduction of acrylic that whirlpool or spa baths started to appear. The flexibility in the manufacturing process with acrylic means you can turn out all kinds of different shapes and designs, giving far greater options for bath manufacturers.
Although an acrylic bath may not keep its good looks as steel baths, it is unlikely to chip, and even in the event of scratches, it is feasible to polish out many of these. It is worth noting that certain cleaning products can harm your steel bath, which is not the case with acrylic ones. But, it solely depends on the choice of the homeowner, whether they wants to install a steel or an acrylic bath.
---
How do you choose the right the right one?
Not all steel baths are created equal. For example, the thickness of the steel is critical. Some cheaper varieties of steel tubs, fashioned with thinner steel, are easy to chip and hard to mend, so you are better off with one of our thicker, higher-end models. There are several other practical considerations , most notably the size of your space. And, of course, there are matters of taste and aesthetics, like shape and colour.
Shopping for a bathtub may seem simple , but with such a cornucopia of choices available, it can quickly become overwhelming. Our team of experts at QS Supplies can simplify the entire process for you and even make it fun. We are available to help you choose the right steel bath for your needs to ensure that everything is delivered and installed on a timely basis and that you are 100 per cent satisfied with your purchase.
---
Which Brands to Select?
Kaldewei

UK's own premier metal bath manufacturer, Kaldewei, was set up in the year 1918, and generations down the line, it is still creating excellent baths with the same zeal and fervour. The brand is synonymous with quality and durability.
Kaldewei steel enamel baths are a combination of highly tensile steel and glass that is a perfect mixture and produces a thickness of 3.5mm. Kaldewei steel enamel baths are a superior mix of robustness, hygiene, class, looks and excellent designs. The techniques and manufacturing processes have steadily improved over the years, and further innovations have improved the process and quality of the end product. The company also makes its own enamel (3.5mm) used in the manufacture of every steel bath. So confident is the company about the quality and long life of its baths that they offer a 30-year guarantee on each of them.
Bette

The German company Bette is known worldwide for manufacturing high-quality metal baths. Established in Delbruck more than six decades ago, it is still a name to reckon with for steel/enamel baths, producing more than 50,000 baths and showers every month.
Using innovative and patented processes, Bette has created a range of baths that are way ahead of the competition. Bette uses Deep Draw, a technique unique to Bette, with only the best raw materials to create their baths. The resulting product is hard-wearing, durable, and strong, and most of all, can be recycled. The quality of each piece speaks for itself, and the Brand stands out among many; a Bette bath may be recognised simply by sight.