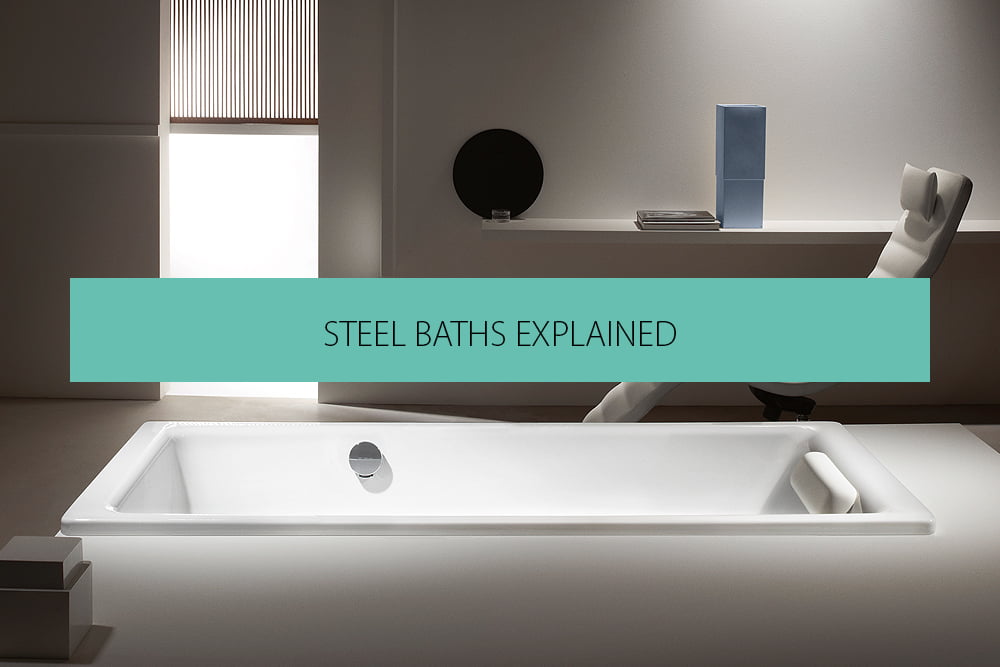 Baths are made of a variety of materials, like acrylic, fiberglass, enamel on steel or cast iron, and even wood. A bath can be combined with an overhead shower. Baths are usually finished off with inclusive overflow, wastes and filler-taps.
In modern times, installations are also innovative. A bath can be fitted to the floor, built into a raised platform or freestanding, placed strategically inside the bathroom. When you talk of colour, white is classic and preferred by most, however, a pleasant array of colour choices can be found that match your theme. A bathtub usually works in two ways, depending on the perspective of the bather. It forms the style element in the bathroom, often becoming the focal point in the scheme of things inside a wet-room. On the other hand, its utility is the main attraction with the bather looking forward to stepping into one to unwind and release the day's stresses and relieve muscle aches and pains.
Steel /Enamelled Steel Baths
When you are building a new home or remodelling your old one, you may be in a fix about the kind of bathtub you would like to opt for. That brings us to the factors that you need to consider when purchasing a new bath. Talking about the aesthetic aspects of a bathtub, material and finish are important. A steel bath or steel enamel bath is made of steel metal that has been coated with a layer of ceramic or porcelain. Steel Baths are usually long lasting, being made of durable metal and are very reasonably priced. So, if you are on a budget but still wanting to refurbish your bathroom, then these baths are your best bet.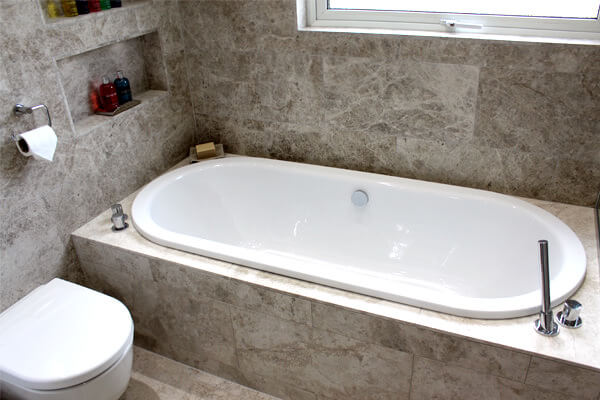 Whats good about them!

Some people think of these as old-fashioned, and indeed, they were a popular option in the past. They have surpassed in popularity by acrylic and a variety of other materials, both synthetic and natural. Here are seven good reasons to consider steel:
Toughness – Steel tubs from high-end specialists such as Bette and Kaldewei are extraordinarily hardy and impossible to scratch. The 3.5mm thick steel models are also extremely impact-resistant, so even if you accidentally drop a heavy object on them, they are not likely to chip.
Resistance to UV light – Our Sun is a glorious giver of life, but an insidious thief of colour and acrylic can be particularly susceptible to fading or changing colour with years of UV exposure. With a premium quality steel-enamel bathtub, you will not have that problem.
Imperviousness to lime scale – This hard, chalky, off-white substance is the bane of many householders, showing up on pipes, toilet bowls, bathroom and kitchen taps and household appliances. However, it is much less likely to be a problem in a steel tub.
Invulnerability to bacteria and moulds – Since steel is non-porous, it is an unfriendly environment for mould, bacteria and other nasty little life forms that have no place in your bathroom.
Resistance to chemicals – With the right finish a steel bathtub is resistant to most common household chemicals, so you need not worry about discolouration or corrosion. (These tubs also easy to clean, so more than likely you will not need to use harsh chemicals anyway.)
Environmental friendliness – Whilst acrylic is produced by burning fossil fuels, steel, a natural raw material, is completely recyclable. It is an excellent choice if you are concerned with the health of the environment.
Exquisite heat conductivity – Though steel is cold to the touch (which, come to think of it, can be quite nice on a sweltering summer day, or if one happens to be suffering from hot flushes), it is actually an excellent heat conductor. Your steel tub will warm up very quickly once you fill it with hot water.
Cons of Steel Baths
If you have children or elderly people or someone with special needs in your family, then Steel tubs may not be the ideal choice as the surface can be very cold and slippery. Also, steel being a good conductor of heat, the water in the tub tends to cool faster. They have another downside—when it comes to colour or design or shape, these offer very limited options. Customising a Steel tub to fit your particular requirement is not possible because of the properties of the metal. They also tend to chip, dent and rust.
Compared to Cast Iron Baths
Baths made of steel may look like cast iron bath, but they are much lighter in weight. Iron and granite in fact weigh more than steel baths, making installing tubs of steel enamel, quite a convenient affair. Therefore, they are both cost-effective, and easy to install. Cleaning and maintaining is also-trouble-free. The enamel finish offers good resistance to most household chemicals and detergents, retaining its shine and colour for longer. Branded steel-enamel baths have additional properties like resistance to Ultra Violet light, ensuring that they do not fade under the effects of light. Bacteria and mould that thrive in moist bath environments cannot get an easy hold on your Steel bath because of the metal's non-porosity. Besides, they blend well with most other bathroom tiles and fixtures, creating a seamless look.
You do not have to be an environmental crusader to help protect our planet. You can do your bit by bringing home a Steel bath as it uses only all natural materials for manufacturing and is 100% recyclable. Off course, the same cannot be said of fiberglass or acrylic that use-up fossil fuels. Overall, a good quality steel enamel bathtub is an excellent investment and is likely to retain its new appearance for decades from the time it is installed.
How do you choose the right the right one?
Not all steel baths are created equal. For example, the thickness of the steel is very important. Some cheaper varieties of steel tubs, fashioned with thinner steel, are quite easy to chip and hard to mend, so you are better off with one of our thicker, higher end models. There are several other practical considerations as well, most notably the size of your space. And of course, there are matters of taste and aesthetics, like shape and colour. A bathtub is not just a functional item; it is also a statement of style.
Shopping for a bathtub may seem simple on the surface, but with such a cornucopia of choices available it can quickly become overwhelming. Not to worry: our team of experts at QS Supplies can simplify the entire process for you and even make it fun. We are available to help you choose the right steel bath for your needs (as well as all accessories); to ensure that everything is delivered and installed on a timely basis; and to make sure that you are 100 percent satisfied with your purchase.
Which Brands to Select?

Kaldewei
UK's own premier metal bath manufacturer, Kaldewei, was set-up in the year 1918 and generations down the line, it is still creating excellent baths with the same zeal and fervor. The Brand is synonymous with quality and durability. Kaldewei steel enamel baths are a combination of highly ductile steel and glass that is a perfect mixture and produces a thickness of 3.5 mm. Kaldewei steel enamel baths are a superior mix of robustness, hygiene, class, looks and excellent designs. The techniques and manufacturing processes have steadily improved over the years and further innovations have improved the process and quality of the end product. The company also makes its own enamel (3.5mm) that is used in the manufacture of every steel bath. So confident is the company about the quality and long life of its baths that they offer a 30 year guarantee on each of them.

Brand Bette
The German company Bette is known world-wide for manufacturing high-quality metal baths. Established in Delbrück more than 6 decades ago, it is still a name to reckon with for steel/enamel bath, producing more than 50,000 baths and showers every month. Using innovative and patented processes, Bette have created a range of baths that are way ahead of the competition. Bette uses Deep Draw, a technique unique to Bette with only the best raw materials to create their baths. The resulting product is hard-wearing, durable, and strong and most of all can be recycled. The quality of each piece speaks for itself and the Brand stands-out among many; a Bette bath maybe recognised simply by sight.