Hygiene Habits During Covid-19
Published on: 28/07/2020
Last Updated: 28/07/2020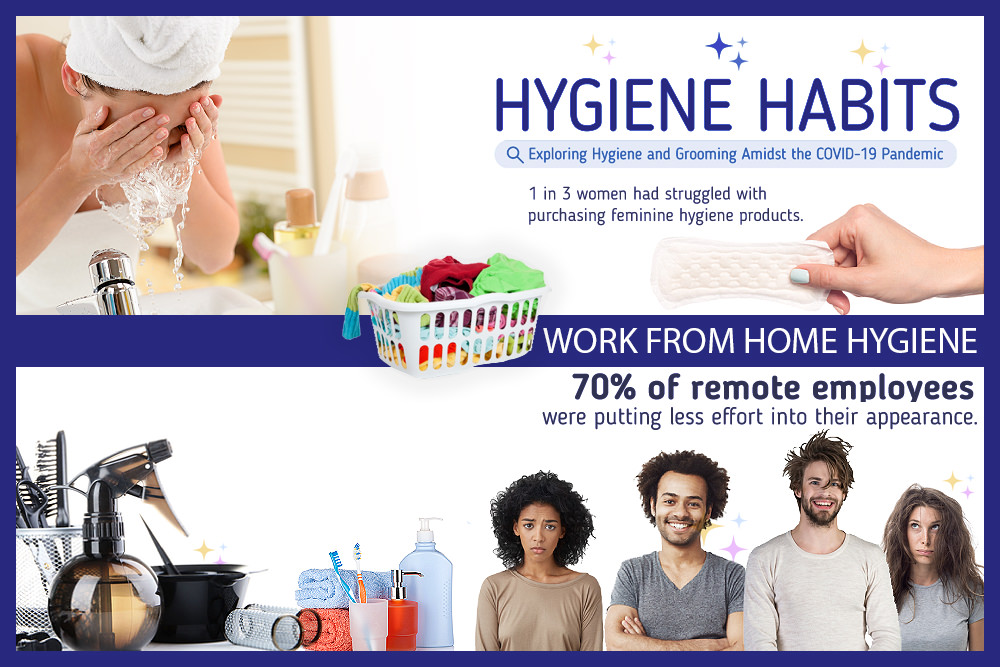 In the age of social distancing and self-quarantine, lockdown has become a near universal experience. Celebrities are giving themselves unfortunate haircuts, TV show hosts are broadcasting from within their own homes, and the struggles of video chat interactions have been felt around the world.
With so little physical interaction these days, the idea of "getting ready" has been reduced to what can be seen from your computer's camera and the notion of "getting dressed up" has started to feel like the relic of a time gone by.
Of course, not feeling the need to get dressed up and maintaining a certain level of personal hygiene are two separate matters, particularly when cleanliness is such an essential part of protecting against the spread of disease. For a closer look at how much effort we're putting into our appearance these days, we surveyed over 1,000 people (including Britons and Americans) about their grooming, hygiene, and attire. Read on as we break down how often men and women are showering, putting on clean clothes, or even just brushing their hair – and what that means for their mood and their jobs.
---
Scaling Back Personal Care
Whether it's learning how to work from home, seeing less of our friends and family, or having to limit the amount of time we spend outside of our home, we've all experienced changes to our daily lives as a result of COVID-19. And while some of those changes may have left us feeling uncomfortable with how to adjust, proactively making other changes in our daily routines can help us feel happier in these unprecedented times.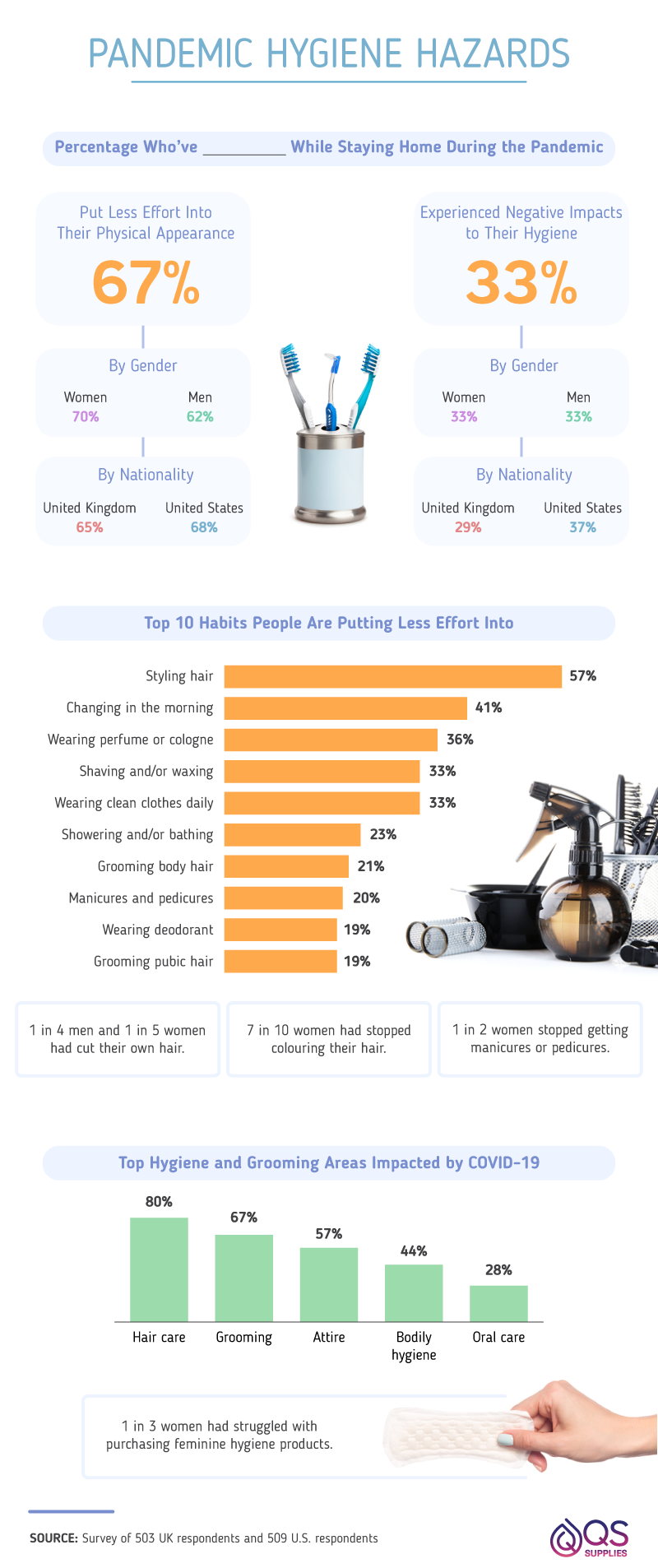 More than 2 in 3 people acknowledged putting less effort into their physical appearance, and 1 in 3 have experienced a negative impact on their hygiene while staying home during the pandemic. Women (70%) were more likely to put less time into their appearance compared to men (62%), though both groups were equally likely to report a negative impact on their hygiene behaviours (33%). Respondents from the U.S. were more likely to be putting less time into their appearances and more likely to report negative hygiene habits during the pandemic than those from the United Kingdom.

The most common changes for people during the pandemic included putting less time into styling their hair (57%), changing their morning routines (41%), wearing less perfume or cologne (36%), and spending less time shaving or waxing (33%). Nearly 1 in 4 people also admitted to showering less, and close to 1 in 5 people stopped regularly wearing deodorant.
Eighty per cent of people reported negative effects on their hair care during the pandemic. While 7 in 10 women reported not colouring their hair during the pandemic, 1 in 4 men took hair care into their own hands by giving themselves haircuts. Grooming (67%), attire (57%), and bodily hygiene (44%) were also negatively impacted for people during lockdown and self-quarantine.
---
Hygiene Habits as Self-Care
Putting less effort into your personal hygiene may seem like a natural progression of quarantine, but letting your routines slip can have a negative impact on your overall well-being.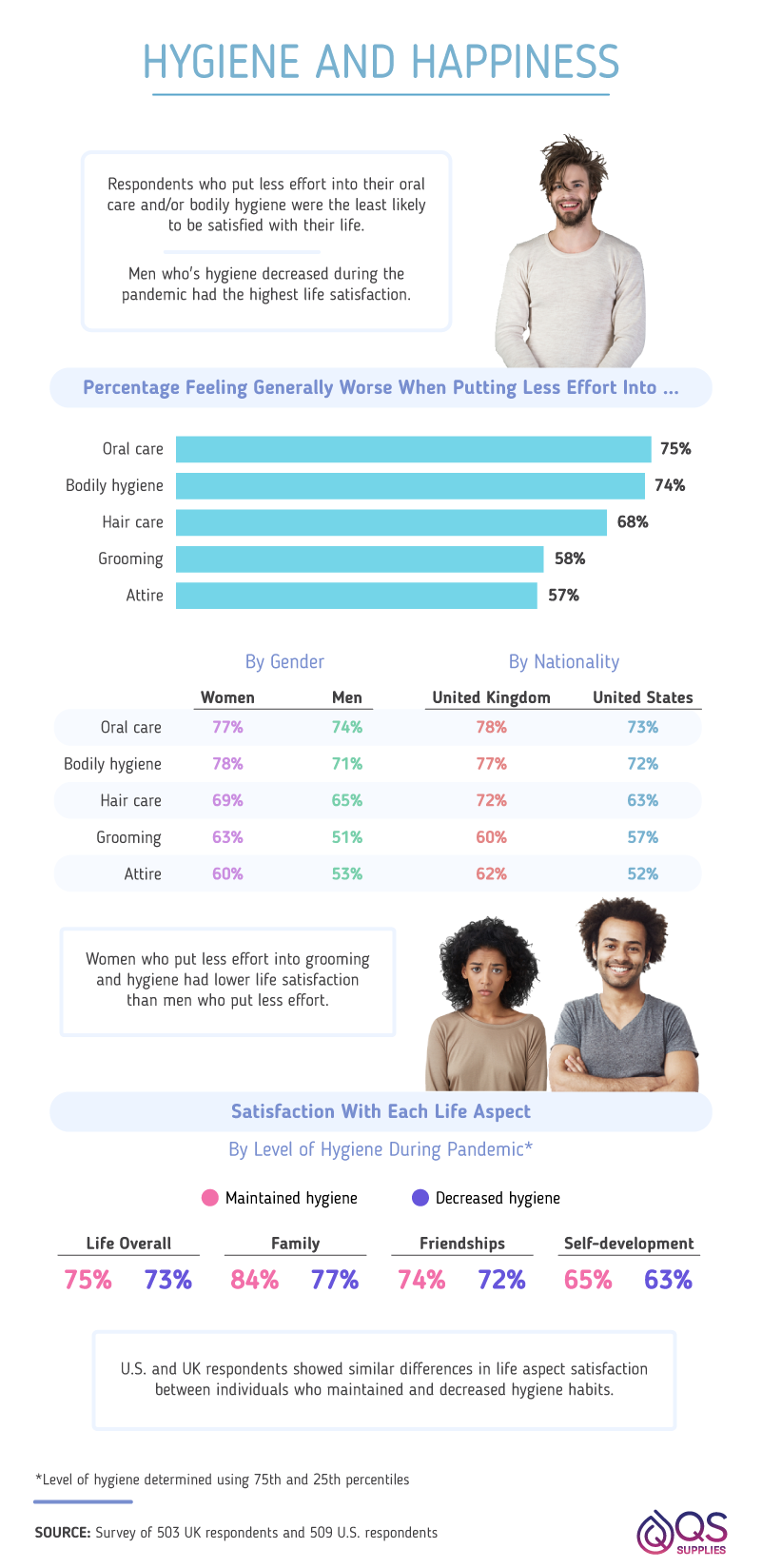 Beyond just physical health, people who reported putting less effort into their oral care or other aspects of their personal hygiene were also the least likely to be satisfied with their life. Seventy-five per cent of people generally reported feeling worse when they put less time into their oral hygiene (including brushing their teeth), followed by bodily hygiene (74%), hair care (68%), and grooming (58%).
Overwhelmingly, women were more likely to feel worse about themselves when they spent less time than usual on various aspects of personal hygiene and self-care, including being 12 percentage points more likely to feel worse when putting less effort into standard grooming. Respondents from the UK also reported higher emotional dissatisfaction relative to the amount of time they were putting into their personal hygiene compared to Americans.
Lack of attention to hygiene didn't just create general unhappiness, either. Across both U.S. and UK respondents, people with a low adherence to their hygiene habits were less content with their overall life, family, friendships, and self-development.
---
Getting Camera-Ready
The number of people working from home during the COVID-19 pandemic exploded around the world, and may experts expect this shift away from in-person working environments may not be going away any time soon.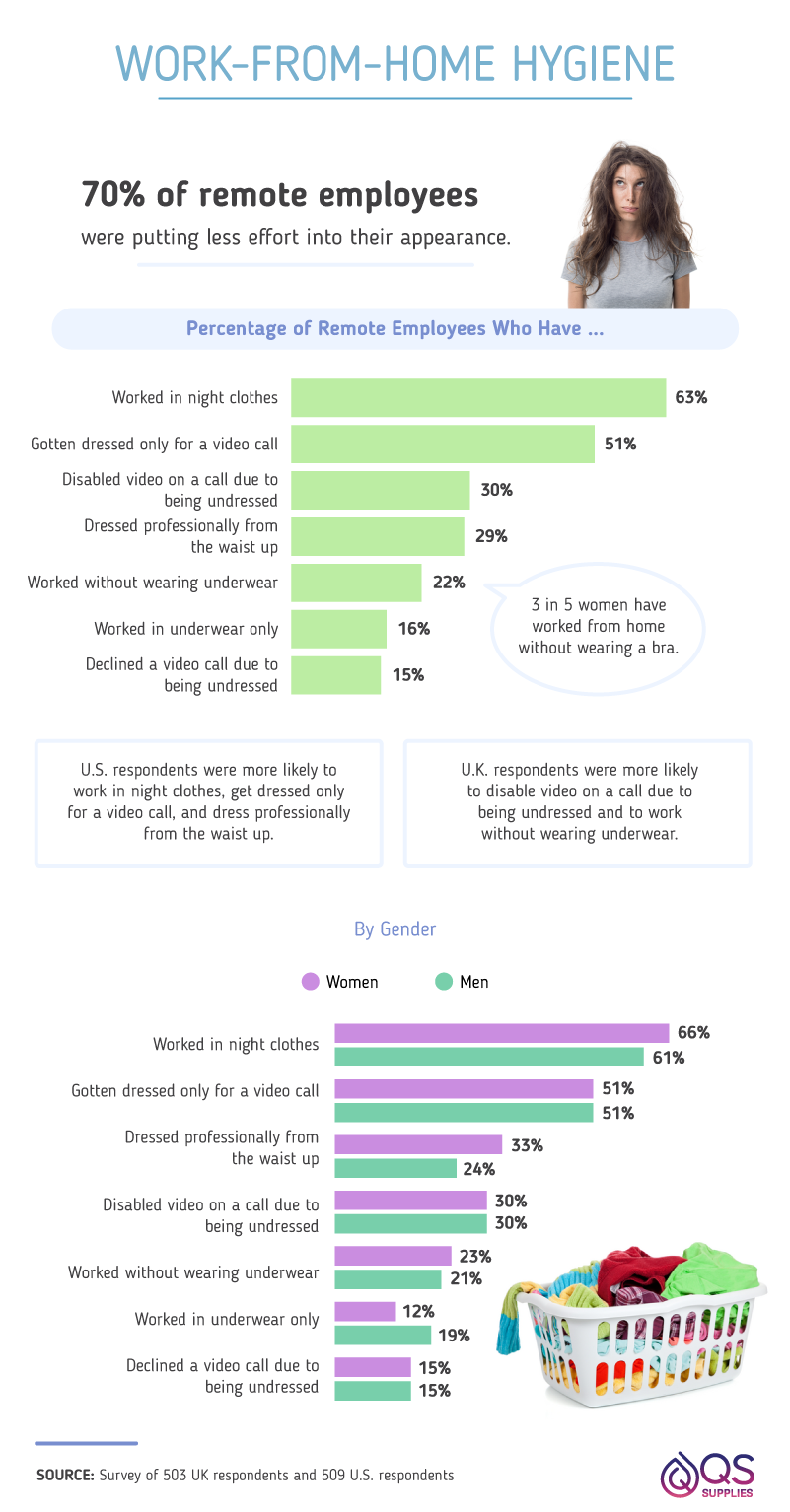 Perhaps by nature, not going into the office regularly has had a profound impact on the way people approach their standard grooming and hygiene habits.
Seventy per cent of employees working remotely during the pandemic reported putting less effort into their appearance. Many remote employees acknowledged working in their night clothes (63%), only getting dressed for a video call (51%), and only getting dressed professionally from the waist up (29%). And while they might not necessarily go into the office the same way, 3 in 5 women reported working from home without a bra on and more than 1 in 5 people worked without wearing underwear.

Compared to men, women were more likely to work in their night clothes (66%), dress professionally from the waist up only (33%), and work without wearing underwear (23%). Men and women equally acknowledged disabling video on a call because they were undressed (30%) and declining a video call for the same reason (15%).
---
A Matter of Performance
Changes in your work environment may be part of the reason why your hygiene routine has changed, but letting go of your grooming habits could also lead to a negative impact on your professional performance.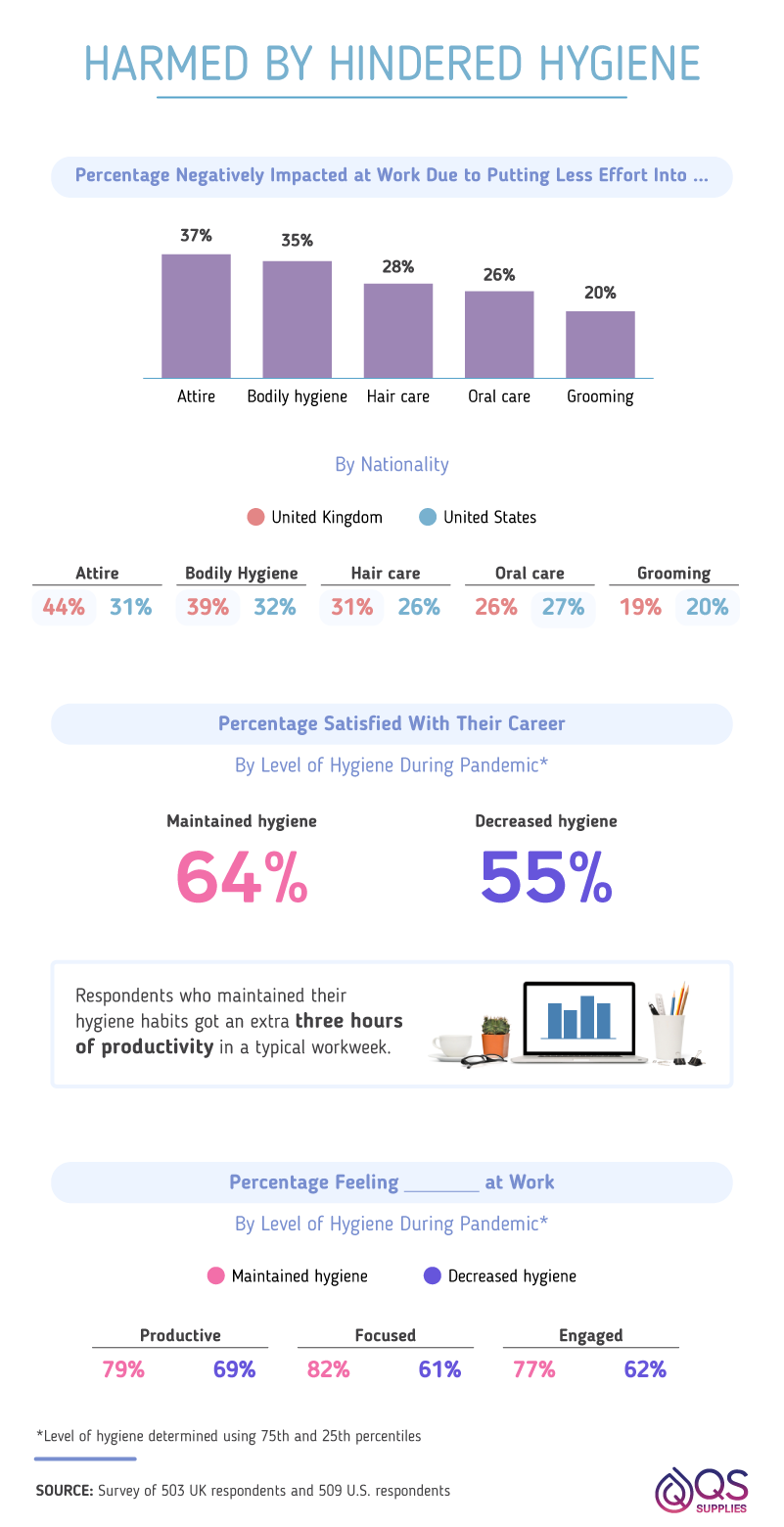 Thirty-seven per cent of people, including 44% of people from the UK and 31% of people from the U.S., reported a negative impact to their work after putting less effort into their attire. Your job may not have literal rules for what you should be wearing on your next video call, but there are still some widely accepted standards you may want to consider before turning the camera on. Thirty-five per cent of people acknowledged a negative impact on their work from putting less effort into their bodily hygiene, followed by hair care (28%) and oral care (26%).
Respondents who generally adhered to their standard hygiene protocols also got an extra three hours of productivity out of a standard workweek compared to those who didn't. Maintaining the same hygiene habits made people 21 percentage points more likely to feel focused, 15 percentage points more likely to feel engaged, and 10 percentage points more likely to feel productive, compared to those shirking their hygiene routine.
Of course, putting less effort into your appearance during the pandemic may be a sign that you weren't happy with your job to begin with. Compared to 64% of people who maintained the same hygiene habits, just 55% of people who let their grooming and cleanliness slip reported being happy with their careers.
---
Maintaining a Standard
If you feel less motivated to get up in the morning and brush your teeth or put on pants, the odds are you aren't alone. Working from home (particularly if you're not used to the change in scenery) is an adjustment, and that includes how we approach our hygiene. Still, letting things go too far can have a negative impact on your mood, your energy levels, and your job performance.
At QS Supplies, we may not be able to help you look forward to your next video conference, but we can help make sure you feel good when doing it. With access to the best bathroom products, including toilets, basins, showers, column radiators and mirrors, at competitive prices, we have everything you'll need to make keeping up with your hygiene standards a breeze. Bring the spa into your own home with a luxury bathroom experience today – your co-workers may thank you for it. Learn more at QSSupplies.co.uk today.
---
Methodology and Limitations
We surveyed 503 respondents from the United Kingdom and 509 respondents from the United States using Clickworker and Amazon Mechanical Turk. 451 respondents were male, 557 respondents were female, and 4 respondents did not identify as male or female. Our respondents ranged in age from 18 to 78, with an average age of approximately 39.
To help ensure that respondents took our survey seriously, all respondents were required to identify and correctly answer an attention-check question. In some cases, questions and responses were rephrased for clarity or brevity. These data rely on self-reporting, and statistical testing was not performed on these findings. Potential issues with self-reported data include, but are not limited to, exaggeration, selective memory, and attribution errors on the part of respondents.
---
Fair Use Statement
Think your readers will be surprised how many of their co-workers are showing up on Zoom sans underwear? Share those details and more for any noncommercial use with a link back to this page in your story.