Cleaning Habits
Published on: 19/06/2020
Last Updated: 19/06/2020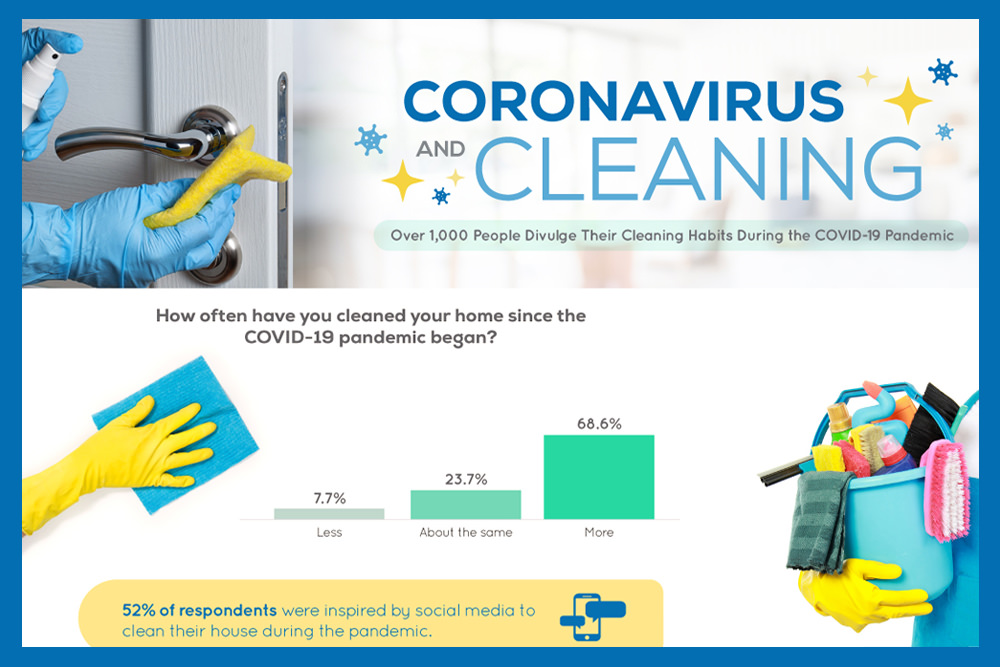 Key Takeaways
Over 1 in 10 respondents cleaned their home daily since March 2020.
Respondents who cleaned their house every day were more likely to feel productive.
52% of respondents were inspired by social media to clean their house.
22% of respondents agreed cleaning helps them cope during this period.
Nearly 1 in 5 respondents hadn't cleaned their bathroom since few weeks.
We spoke to more than 1,000 people across both Europe and the U.S. and asked them about cleaning questions. They told us how often Pandemic has encouraged them to disinfect and scrub, which parts of their homes are getting the most attention, and even how the process of tidying has helped them cope.
---
Clean Freak-Quency
Cleaning has certainly picked up the pace in recent months. Nearly 70% of respondents said they had been cleaning their houses more since March 2020. The vast majority said the process occurred at least two to three times per week, with 1 in 10 doing so every single day. And less than 1% of people said they hadn't cleaned at all since the pandemic began. Older Adults correlated with an increased likelihood of cleaning more frequently. This group was eight percentage points more likely to clean daily and six percentage points more likely to clean four to five times each week.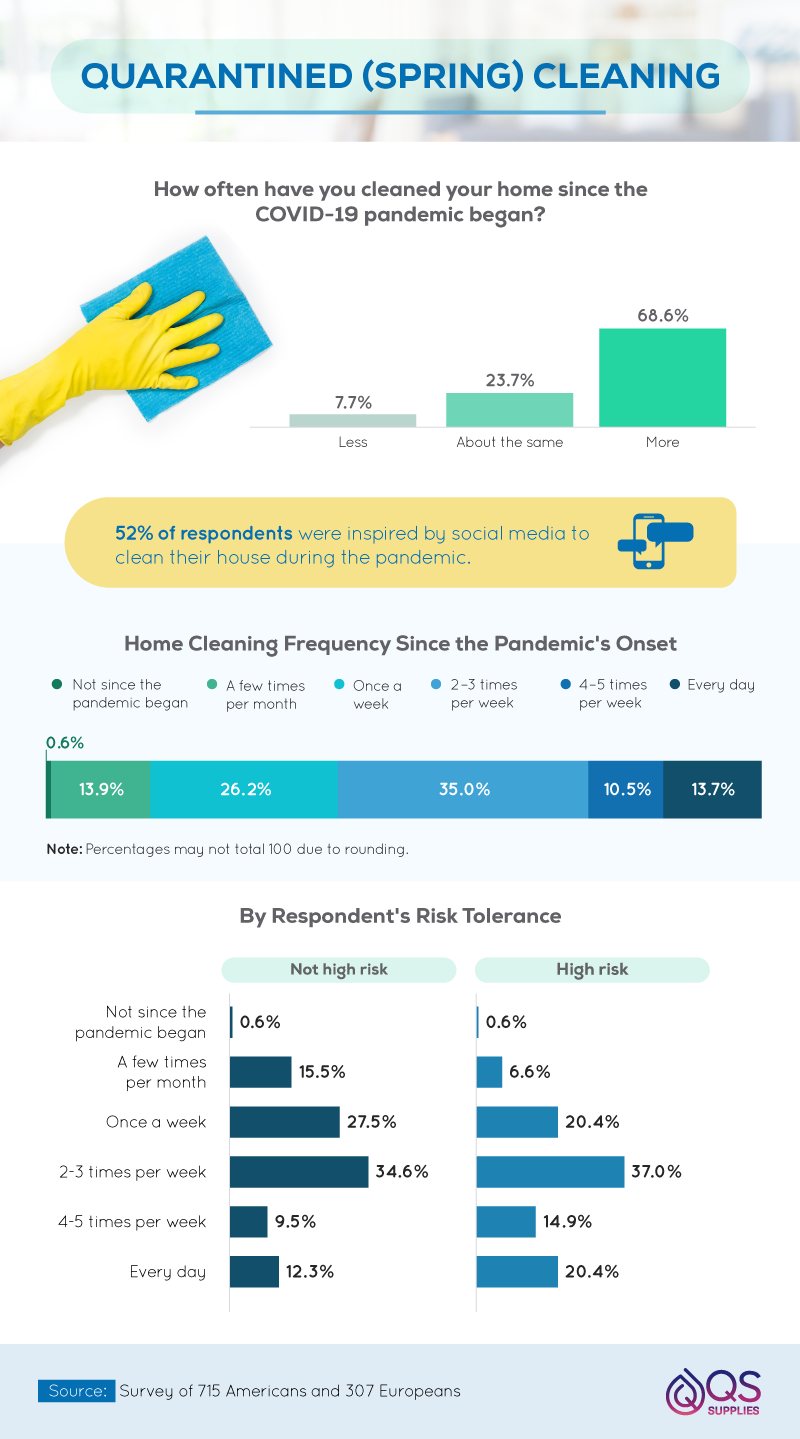 People were cleaning so frequently, in fact, that over 1 in 4 respondents discontinued their home cleaning services. That said, the decision to cancel such a service could have been born out of a desire to socially distance or a desire to save money as well, considering the economic turmoil within which many have found themselves as of late. On average, cleaning the house themselves had cost 60 USD or 50 euros thus far.
With regards to this study specifically, cleaning was one key piece of evidence for this disproportionate concern. Older Adults were likely to clean more often, however, it was actually the aged women that took cleaning to the highest level. One in four aged women had cleaned every single day since the March 2020. That said, aged men were also cleaning very frequently and were more likely than women to clean four to five times each week, or nearly every day.
---
Therapeutic Effects of Cleaning
Studies have long shown (and individuals have long felt) the therapeutic and calming effects of cleaning, but the world at large may never have been so in need of this therapy until now. Both the American and European respondents we spoke to mostly told us that yes, cleaning has had a therapeutic effect for them since March 2020. Of those respondents, it was the millennials who were the most likely to say they experienced this therapeutic effect. Moreover, 22% said cleaning helped them deal with stress specifically, and it was once again millennials who were the most likely to agree with this statement.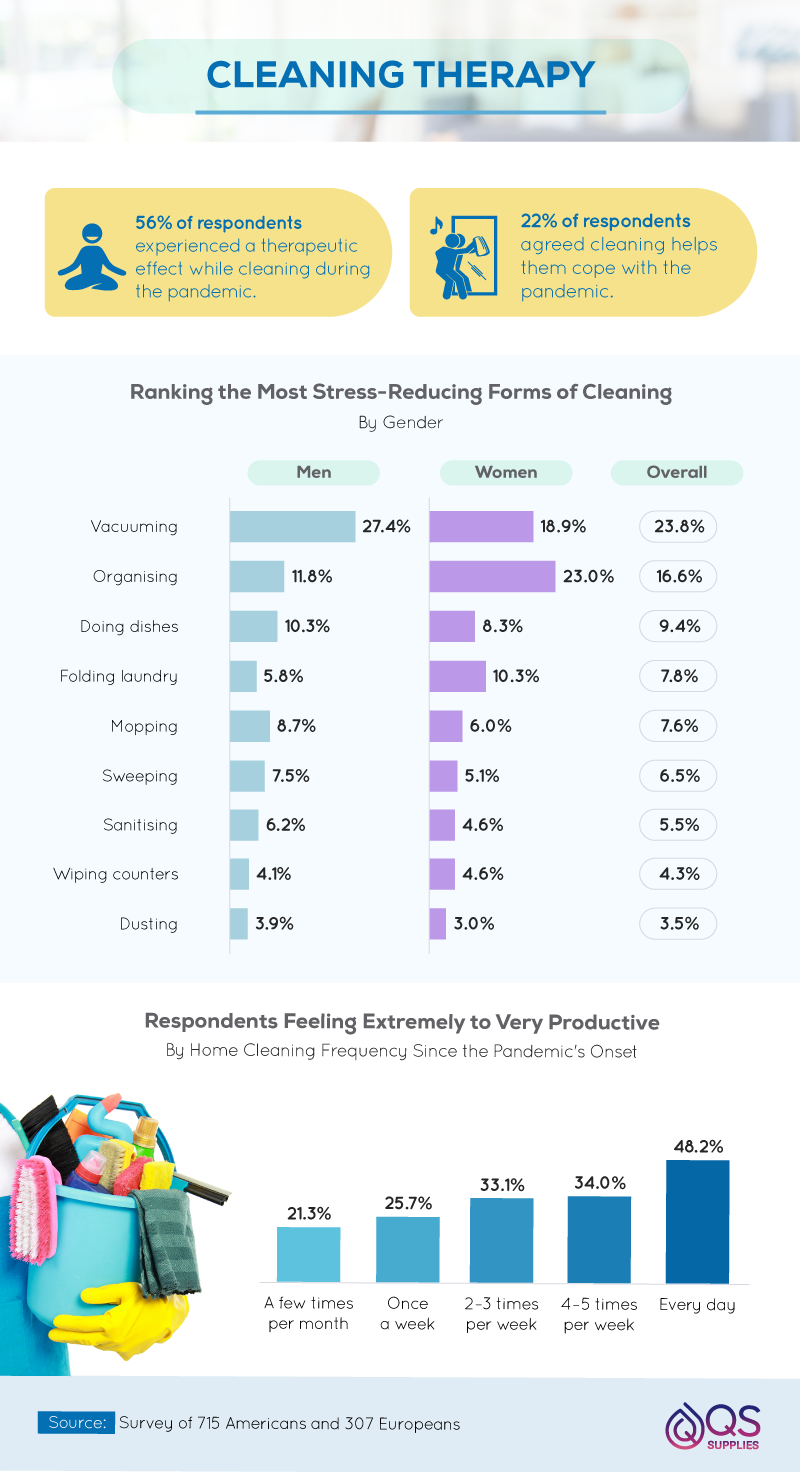 But cleaning actually did more than keep people calm – it also kept them productive. In fact, the more often respondents cleaned their homes, the more likely they were to report high levels of productivity. Considering the rise of working from home, productivity has become a central issue for newly remote workers. In addition to these productive perks, some research even suggests cleaner spaces help us to make smarter eating decisions –yet another great way to stay strong.
Before you bust out the broom, you should know that certain cleaning methods were more therapeutic than others. Overall, vacuuming was the task most beloved by respondents, while dusting and wiping counters were less so. That said, women were more likely than men to prefer organising over vacuuming. Folding laundry also ranked higher on their list than it did for men, who instead took to vacuuming and mopping more readily.
---
What People Are Cleaning Since March 2020
When respondents started cleaning, the kitchen received the most attention. Almost 95% of people said they had cleaned their kitchens recently. But most didn't stop there. Eighty-four per cent went on to clean their bedroom, 81.4% cleaned the bathroom(s), and 80.3% hit the living room. More than 1 in 10 even got down to the basement to start tidying.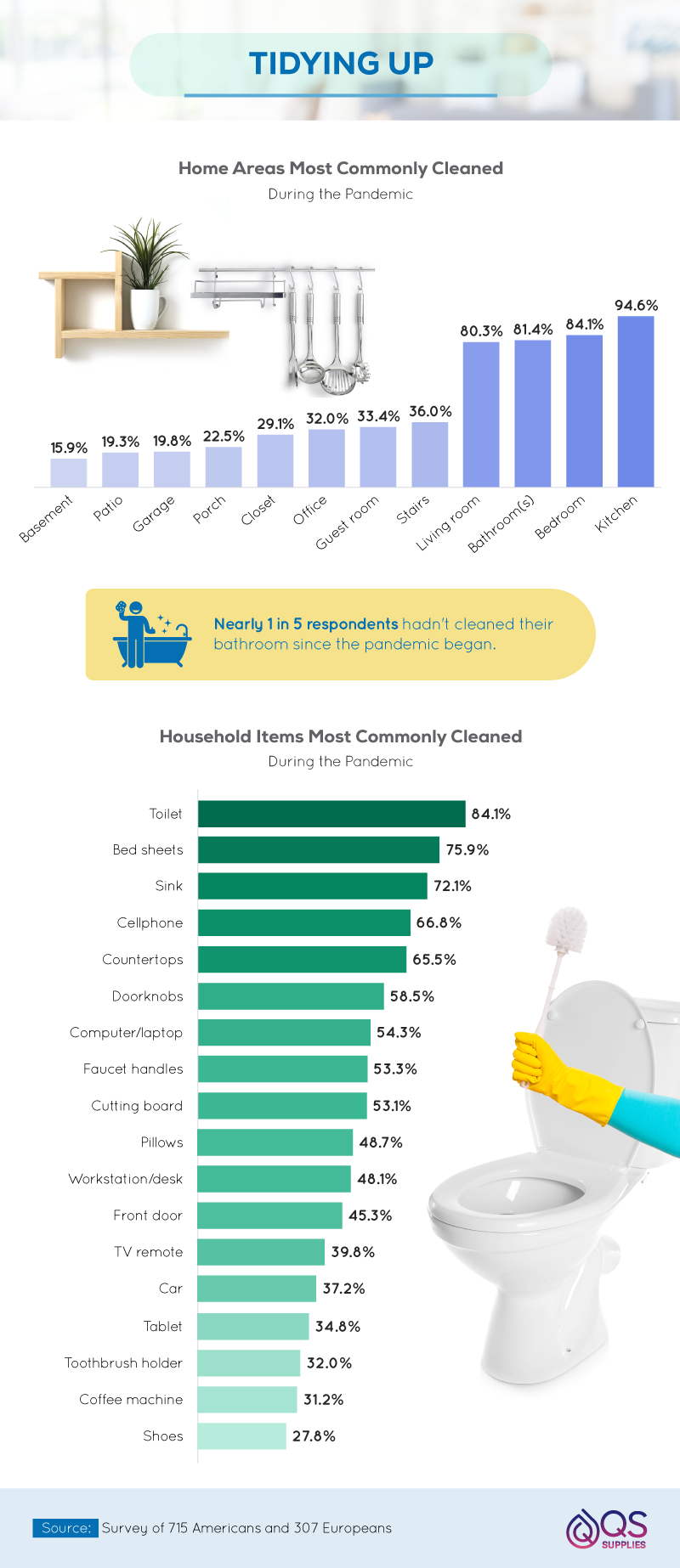 Next, we asked respondents to name some of the specific items they were scrubbing down. Eighty-four per cent had cleaned the toilet, but only 48.1% had cleaned their desks. This percentage is a little concerning considering the average desk actually holds over 400 times the amount of bacteria than the average toilet. Toothbrush holders are also thought to be dirtier than toilets, yet only 32% had cleaned those. And shoes, which arguably make the most outside contact, were only cleaned by 27.8% of respondents. Despite the stress of staying clean and healthy, 15% of our respondents still had their hearts in the right place and donated some (clean) clothes to those in need. If you are interested in donations as well, these charities are accepting and dispersing everything from food to clothes and shelter to those in need.
Though the study revealed earlier that older adults were cleaning more frequently, the items they chose to clean weren't necessarily prioritised correctly. While individuals were more likely to clean their bed sheets, toilets, and sinks, they were also more likely to clean their computers and cellphones. Moreover, older adults were less likely than others to clean their workstations and countertops. That said, they were more likely to clean things that manually connect us with the outside world, like their front door and doorknobs.
---
Cleaning Throughout
We're happy to report that the data proved action is taking place across the world. We're even happier to report that those who did clean were also usually experiencing therapeutic, calming effects during the pandemic.
Beyond these sensations, cleaning also helps a person enjoy their surroundings more, which is essentially our North Star at QS Supplies. We work every day to ensure more beautiful and more functional homes. From bathroom furniture and kitchen sinks to basin mixer taps, kitchen mixer taps and shower enclosures, QS Supplies would be delighted to start sprucing up your surroundings. If you're in need of anything of the sort or perhaps just a little inspiration, head to QS Supplies today.
---
Methodology and Limitations
We surveyed 715 Americans and 307 Europeans. We asked them questions about their household cleaning habits since March 2020.
Of these, 43% identified as female, and 57% identified as male. Respondents ranged in age from 20 to 61 with an average of 35 and a standard deviation of 10 years. An attention-check question was used to identify and disqualify respondents who failed to read questions and answers in their entirety.
The main limitation of the study is its reliance on self-reported data. Issues with self-reported responses include, but aren't limited to, exaggeration, selective memory, telescoping, attribution, and recency bias.
---
Fair Use Statement
This data and this article may be redistributed online, but you must be sure your purposes are noncommercial and that you link back to this page so its authors can receive proper credit for their work.