Choose the right bath for your bathroom
Making sure you choose the right bath tub for your bathroom is very important. This is especially so if you have a small bathroom, or you're thinking of buying a corner bath. Getting you bathroom just right is something we all want to do, and with careful consideration it can be done. There may be many different designs out there, and you may want a luxurious bath tub, but you have to take a lot into consideration before you part with your cash.

1. How much space do you have?
This is one of the most important questions when deciding to buy a new bath. The last thing you want to do is to buy a bath that's too big. You may also want to avoid buying a tub that's too small, which means you need to measure up. Get a tape measure and work out how much space you have for your new bath. If your old bath is still in place, measure that so you can see exactly how much room it takes up.
Measure twice so you know exactly what the right length width and depth is. Write these measurements down and make sure you have them to hand when you start shopping for a new tub.
The standard bath tub has the following dimensions: 1.70 meters by .70 meters or 1.80 meters by .80 meters. You can even get a shorter bathtub with a dimension measuring about 1.50 meters while at the same time retaining the standard width of .70 meters. There are even more options, that would be a corner tub which runs obliquely and it is also a space saver. Corner bath sizes range from 1m X 1m to 1.50m by 1.5m, this means flexibility when planning your dream bathroom.
2. What about the style of the bath?
Are you thinking of getting a normal shaped bath with rounded edges, or are you looking for a stand-alone tub that is deeper than it is wide? You could also be in the market for a corner bath that has enough room for two. Think about the style of bath you're looking for as this will help you to choose from the vast array of designs out there.

3. What materials it's made from?
Are you looking for a bath that's made from enamel, acrylic or even cast iron? If you're looking for a specific material or mixture of materials you may need to spend a little more. If you don't mind what your new tub is made of, you'll find shopping for it so much easier.

4. what about your budget?
Most of us would love to have a top of the range bath tub, but our budgets dictate what we inevitably end up buying. Think about how much you would like to spend and try not to go more than 20% over your budget. See if there are any bath tubs that are reduced or in the sale as they may give you the chance to have a tub you wouldn't ordinarily be able to afford.
If you are looking for an extremely luxurious tub, then be prepared to pay a lot of money for it. However, cheaper bath tubs may still give you that classic and sophisticated look you've always wanted.

5. A Touch of Luxury
If you really want to add a touch of luxury to your bathroom then you should think about buying a stand-alone tub. These tubs are wonderful and add a touch of class and a little bit of sophistication too. These tubs are not built into a wall, so they can appear to take up a lot more room. This is ideal if you have a good sized bathroom, but if yours is small you may struggle for space.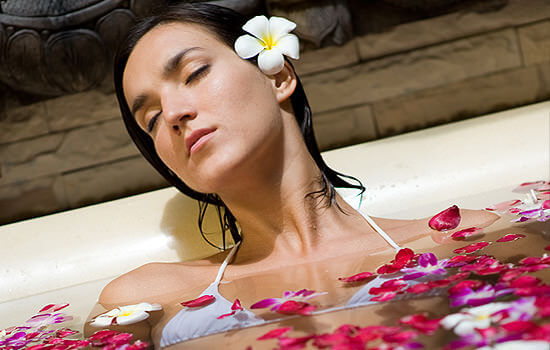 6. Don't forget the accessories
Don't forget to buy some new accessories to match your new bath tub. It would be a shame if you bought a lovely new tub but your accessories don't match. Think about the look your new tub will give your bathroom and try to match it. You may need to buy a new towel rail, soap dish, and other items that could potentially finish your bathroom off quite nicely.