Bill Hamilton Date: July 27, 2015
7mm Shorter Than Specified
The bath I received was 7mm shorter than specified on the QS Supplies website and the manufacturer's website. I bought it to fit into an aperture, allowing a small margin of error but ended up having to grind off a few millimetres of material from both ends so that it would fit. I did this as a preference to gouging out parts of my walls but probably invalidated the warranty in so doing. The £20 front panel (OP-1666) and £16.79 high flow chrome dedicated bath waste (OP-250) that I ordered along with the bath were cheap overpriced rubbish, but the bath itself is of good quality, and the adjustable feet have been designed to support it in the right places. Being thicker than standard acrylic baths, this 8mm thick tub standing on four feet plus a middle foot is quite sturdy when properly adjusted and seated. There is a sheet of thick chipboard glued onto the underside of the bath and covers the whole length and width of the base. Some acrylic baths only have a board covering the underside of the dimpled "deep end", so the extra coverage, 8mm of bath thickness, and additional middle foot mean that there is no flex even when standing in the bath. The tubular legs are connected to the softwood frame under the bath's top edges using fairly rigid plastic sockets that screw into the wood. The tubular frame screws into two softwood strips that run the bottom of the bath and are glued to the chipboard sheet. This is where I encountered problems. The tubular legs did not lie flat onto the softwood strips. They fell short by about 3 or 4 mm. The first screw that I applied pulled the softwood strip off the chipboard. I had to reglue the softwood strip to the chipboard with waterproof wood glue, pack out space between the tubular legs and the softwood strips with plywood, and then put in the screws. The feet are simply lengths of mild steel screwed rod with nuts and a plastic "shoe" that sits on the floor. The centre foot is supported by a rectangular plastic bracket that screws onto a short piece of softwood glued across the width of the chipboard base. I didn't think this was very secure, so I strengthened the softwood bearers with screws. One gripe that I had was that the thread on one of the feet was mangled, and the nut wouldn't pass over it. I was forced to buy a length of the screwed rod from a DIY store and cut it to length because I needed to fit the bath urgently. The delivery was already late and QS Supplies "required" photos of it before they would consider sticking a spare foot in a jiffy bag and posting it to my 1st class. I would point out that this bath feels very narrow to sit and lay down in because of the taper. I don't have a huge butt and find it a squeeze, so larger people would struggle to ease themselves down into it. Because of the issues I had with the bath that I had to fix myself, I would be hesitant to buy another bath made by Trojan.
Helpful?
6 of 6 People have found this Review useful
OVERALL RATING 3 Stars
Quality:

Value For Money:

Style:
chris bristol Date: July 27, 2015
Acrylic bath for shower use
A really strong bath that doesn't flex when standing in it to shower. A perfect length where the original builders had made the room slightly too short and embedded their bath into the wall! This slightly shorter size fitted exactly, yet looks like a standard bath.
Helpful?

OVERALL RATING 5 Stars
Quality:

Value For Money:

Style:
Linda Banbury Date: March 13, 2016
Top marks
We love this bath, my husband fitted it himself and it went in place perfectly , we love the handles being as we're now oldies we needed help to get out, my husband says the quality is fantastic, delivery was the best, and the price and style are really good
Helpful?

OVERALL RATING 5 Stars
Quality:

Value For Money:

Style:
Helen KENDAL Date: July 28, 2015
Just a single design "fault"
The bath is excellent in every way except that it's not deep enough to lie in for a good soak without filling it to the overflow and thus losing water which then fails to cover me. (I'm not enormous!). I should have preferred a narrower, deeper bath.
Helpful?

OVERALL RATING 4 Stars
Quality:

Value For Money:

Style:
Derek Warlingham Date: July 27, 2015
Top value
I searched for this style of bath without to much luck until I came across your sight, and at the price you offered this truly was incredible value for extremely good quality. Could not find better.
Helpful?

OVERALL RATING 5 Stars
Quality:

Value For Money:

Style:
Colin Solihull Date: August 5, 2015
Trojan Granada 8mm bath
Excellent bath, in use for 3 years now and is as good as the day installed. Just needs a wipe around with some washing up liquid after use to keep it in perfect condition.
Helpful?
1 of 1 People have found this Review useful
OVERALL RATING 5 Stars
Quality:

Value For Money:

Style:
Sarah Bournemouth Date: September 28, 2015
Not bad for the price
This bath looks lovely and was easy to fit. It's a bit shallow though and even for me at 5'5, it's had to get all of me in the water at the same time!
Helpful?

OVERALL RATING 5 Stars
Quality:

Value For Money:

Style:
Barrie SOUTHAMPTON Date: March 9, 2021
Solid bath
I researched my bathtubs, and this one came out on top. Very happy with customer support and delivery.
Helpful?

OVERALL RATING 5 Stars
Quality:

Value For Money:

Style:
Hugh Eynsford Date: July 12, 2016
What a bath
Very comfortable, easy to get in and out of, smart and easy to clean.
Helpful?
2 of 2 People have found this Review useful
Images Uploaded by the users: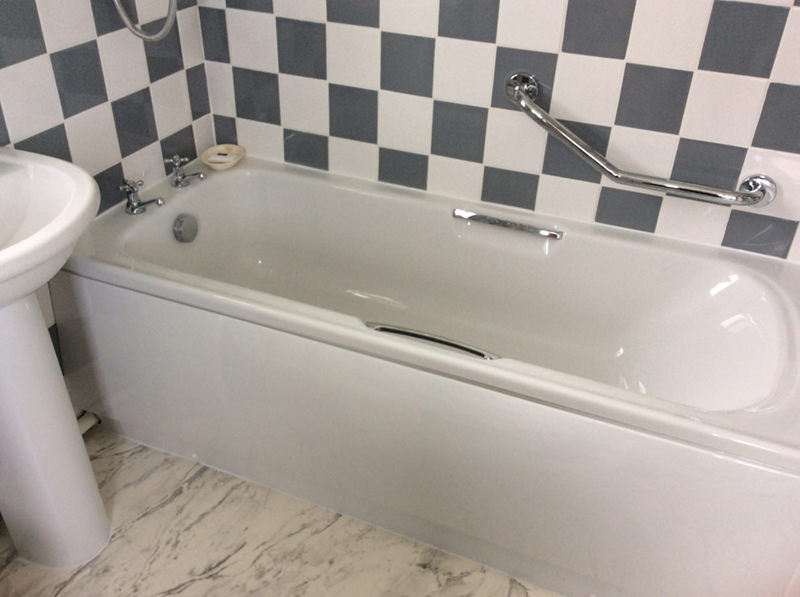 OVERALL RATING 5 Stars
Quality:

Value For Money:

Style:
Stephen DAGENHAM Date: November 18, 2020
Trojan bath
Top quality bath ,great price and delivery.definitely recommend
Helpful?

OVERALL RATING 5 Stars
Quality:

Value For Money:

Style:
Submit Your Questions
5 Questions Asked
Have a question about this item? Ask our tech team. We aim to reply within 72 hours. If you want to know get answers fast, please call us on 0116 251 0051