Why Use Central Heating Radiators?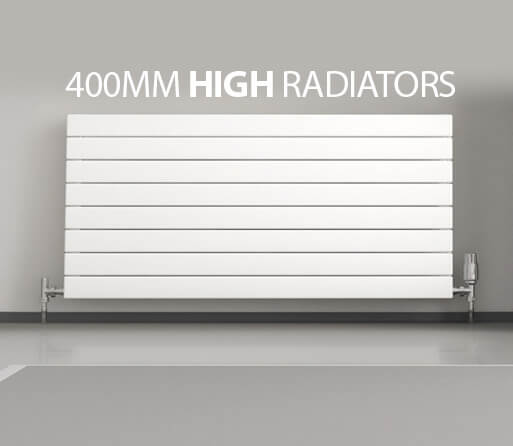 Central heating radiators are not the preferred choice by chance. Over the years, they have shown themselves to be an effective and comparatively cheap method of heating the home or office; a fire in one room may heat that room for a few hours, but the heat cannot be transferred. But for instance with central heating system, it's like lighting a fire in one room to heat water, which is then pumped around said rooms, and for the same price, all rooms are easily and effectively heated.
Radiators are not only effective, but are more practical and aesthetically pleasing in today's fashion conscious market. A small, relatively thin metal device running the length of the wall is more attractive than having open fires in each room, and provides so much more heating for the energy used. They are also safer; no naked flames, separation from the boiler system, and the ability to cut off the supply of water via a valve, if safety is compromised. Today's modern homes do not allow open fires in each room, and most homes with a chimney have had filling work conducted; and it is virtually impossible to effectively heat any modern home or building without central heating radiators.
How to Save Money?
It is very easy to switch on the heating and forget about it. However, such systems require a heavy energy input, and this has a cost attached to it. Therefore, simply switching the system off when not in use is the easiest way to save money, but it is also the most forgotten consideration. Do all rooms need to be roasting when nobody is in the house to enjoy it?
Small radiators in a large room can also consume a lot of energy. Small radiators would take up a long time to heat up a large room, and hence it is important to decide the right size radiator, before making a purchase. Effective insulation is also key. As heat travels from the boiler, down the tubes and to the central heating radiators, there is an inevitable small but most likely avoidable loss of heat. Insulating all key components will ensure the maximum amount of heat gets from the boiler to the user. Central heating radiators do themselves present a small amount of waste energy; insulating the wall behind such radiators will bounce the heat back in to the room and save heat and money. It is also important to know the disadvantages of central heating system before making a purchase, below we have listed the disadvantages of purchasing one.
Disadvantages - The most stark and noticeable disadvantage of central heating is the cost involved. Wood burners, whilst primitive, can run on a free fuel; however, central heating requires water which is then heated and constantly pumped through the home. All appliances in this process are expensive to run.
Safety is also a concern for many. Boiler leaks are all too common in situations where they have degraded but not been replaced, or have been installed by non-accredited contractors; the consequences of neglecting such a system can, and have been, lethal. It is important to remember, therefore, that any central heating system should be installed by an accredited and trusted plumber; systems such as these are not suitable for the user to install by themselves. The cost associated with this can often be as much as the system itself cost to purchase. However, much like with more energy conscious valves, the system will pay for itself within a short period of time.
It is also important to remember that regular maintenance is an absolute must. Air in pipes, corrosion of copper plumbing pipe and faulty boilers can be avoided with proactive inspections and remedial work before problems get worse.