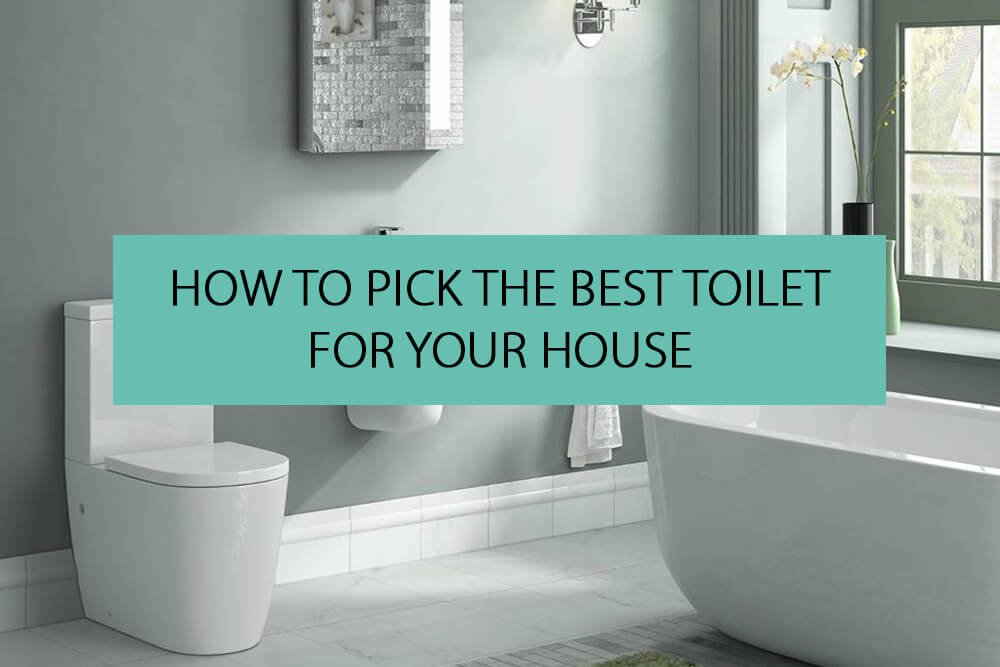 While the toilet is arguably one of the most humble appliances, however, you should not approach the buying process with a "one-size-fits-all" mentality. Currently, bathroom trends and styles are aimed at making you feel like you're in a five-star hotel. Luxury is the new black, and it's set to become more affordable as markets grow.
A toilet is available in numerous styles, shapes and colours. There are likewise a handful of important design elements to address to make certain that you have chosen the correct one for your requirements. Let us look at these variables in a bit more detail so that you can approach the buying process with insight and clarity.
---
Take Cost into Account
In terms of the marble "throne", prices can range from less than £100 pounds to well into the thousands. Never base your decision on cost alone, as you will get what you pay for. A massively under-priced toilet is likely hinting that something may be flawed in terms of its design or functionality. As the average toilet can last 20 years or more if cared properly, view this item as a very real investment.
---
Choosing Low-Flow Models
Older toilets require up to 13.6 litres of water to flush the bowl contents completely. However, these were not environmentally friendly, with water bills adding up massively over time. Always look for a low-flow toilet. This design is defined as requiring only 6 litres to perform the same task. It should also be mentioned that low-flow mechanisms will place less wear and tear on moving parts; an obvious concern in regards to longevity.
---
What Types are on the Market?
While every toilet is intended to cater to the same task, you might be surprised to learn that there are no fewer than three unique categories to choose from. These are:
---
Close Coupled Toilets
If you want to create the pinnacle of luxury and sumptuousness in your bathroom, then you should select a Close Coupled WC. These are functional and evocatively stylish, with so many choices and feature the tank and bowl are two separate pieces joined together with bolts.
Cistern Capactiy
Many (but not all) close coupled toilets are sold with the cistern included. Modern toilets have a maximum cistern capacity of 6 litres, though some compact toilets, like this Meridian-N Compact Back To Wall WC Set, often have a maximum cistern capacity of 4.5 litres. Higher the cistern capacity, stronger is the flush, and the lower the cistern capacity, the more eco-friendly the model.
Compact toilets
If you are outfitting a cloakroom or small bathroom, you need a toilet with a small footprint, and the smaller the projection distance (how far it sticks out from the wall), the better. A compact toilet is the answer! They are as tall and as comfortable as a full-sized toilet, but with a slimmer, shorter shape. This VitrA Layton Close Coupled WC With Corner Cistern is a great example. The clever corner cistern helps you save even more room while holding us much water as a standard cistern, and the simple styling would complement any decor.
The benefits of a dual flush system
Having two flush buttons on your toilet is an excellent way to save water (and money!) Here is how it works: each button activates a different flush from the cistern. One empties the whole capacity of the cistern, while the other triggers a smaller amount of water.
You choose which flush is appropriate for the situation, which can save hundreds of litres a year. In a full-sized close coupled toilet like this beautiful Pura Evo model you'll often see a 6-litre flush and a 4-litre flush, while many compact close coupled toilets have 4 litre and 2-litre flushes. This varies quite a bit between models, so you might want to pay attention to these numbers when you are shopping.
Inlet and waste pipes
You should consider the current plumbing in your bathroom when you are choosing a close coupled toilet. All the pipes are hidden by the conjoined cistern and toilet pan, but the way they plumb into the wall and the floor are important. The inlet pipe is what refills the cistern after a flush, while the waste pipes carry the used water away. For close-coupled and traditional toilets, this is straightforward. The waste or soil pipe will be connected to the soil stack, the larger outflow pipe which carries sewage away from your house.
This connection can be made several different ways: horizontally, vertically, or to the left or right. You need to check the position of your soil stack against the position you are planning for the toilet. This will help you to decide which type of connection is best, which will further narrow down your choice of toilet.
---
Traditional Toilets
The traditional WC's are masterpieces, which differ in size, shape and appearance. The alluring designs of these WC can co-ordinate with traditional style bathroom setting. If you choose a traditional toilet, there are several options that you may need to consider.
Pull chain toilet
This is the most atmospheric style of toilet available, instantly transforming your bathroom into a time capsule and adding an unmistakable period drama to the space. With a modern version of the classic pull chain toilet, like this Hudson Reed Richmond model, you get an authentic-looking antique style with a contemporary ease of care (and compliance with modern-day water regulations!) With a high-level toilet like this, gravity does all the work, which means you can often get a stronger flush with less water! A WC like this is the ultimate Victorian-era style statement.
High-level lever
If you want the style icon status of a high-level Victorian toilet but are not, sure, a pull chain is for you, bring together the best of tradition and convenience, try a high-level toilet with a lever. This Burlington unit works the same way as a chain-pull toilet, but the flush is activated by a lever, which may be a bit easier to operate for some members of the family.
Necessary accessories and fittings
When you are shopping for a high-level toilet, keep in mind that not all models come with high-level flush pipes to connect the cistern and the pan. You may need to purchase a separate toilet seat, so pay close attention to the listed specs on your chosen Victorian style WC.
Low-level traditional toilet
If you do not have the space to go all the way with a high-level toilet, you can still achieve a convincing retro look with a vintage styled low-level toilet. This Silverdale Belgravia unit has all that old-fashioned charm in a much more compact package. It is a playful riff on the classic models, and little details like an enamel handle and bevelled lines on the pan offer a hefty dose of Victorian style. This toilet would be perfectly at home in a small cloakroom or en-suite.
What about an understated traditional style toilet?
It is possible to capture that traditional style even in a more contemporary setting by choosing a traditional or close-coupled toilet with design features inspired by classic toilets. The Silverdale Victorian Blue Garden Low Level WC And Cistern With Fittings is a good example: the flared base and art deco lines of both the pan and the cistern are visual cues that call to mind the Victorian era in a quiet way. You can customise the toilet even more with your choice of cistern and toilet seat.
---
Back to Wall Toilets
If you love the sleek, contemporary look of a wall-hung toilet but do not have space or the budget to deal with the extra building work required to install one, a back to wall toilet is an excellent option. They have a similarly compact footprint (excellent for small bathrooms or cloakrooms) a comparable modern style and are just as easy to clean because none of the plumbing is exposed. Back to wall toilets can add an air of cutting-edge luxury to your bathroom at a very affordable price.
Space Savers
This ultra short-projection back to wall toilet from Roper Rhodes is a great example of how compact these pans can be.
Aside from design considerations, back to wall toilets also have shorter projection lengths. The cistern is hidden behind a wall, so only the pan sits out on the floor. You regain precious floor space, and those inches can mean a lot in a little en-suite. Even if you have a spacious bathroom, more floor space helps the room to look airy or allow you fit a larger bath or shower enclosure.
The Plumbing Challenge
Installing a back to wall toilet easier than installing a wall hung one, but more complicated than installing a traditional or a close coupled toilet. Because the pan supports itself and is not suspended from the wall, there is no need to install a weight-bearing frame.
However, a concealed cistern is an added layer of complexity. You need to ensure that there is a suitable wall in your bathroom, which can hold the cistern and all the associated plumbing. Moving the plumbing "back" into the wall can also mean adjustments to your waste pipe. Installing an access plate in the wall is another important step so that maintenance and repairs can be undertaken without hassle.
How to Select the Right Back to Wall Toilet?
This traditionally-styled back to wall toilet from Hudson Reed shows how these toilets can match any decor.
There are a few things to keep in mind as you are choosing your perfect back to wall toilet. Budget is a big one. There is a huge range of prices, and some back to wall toilet models sell the cistern and pan separately. You will also need to check the orientation of waste outlet to make sure that it matches up with your plumbing: toilets may have right, left, bottom or horizontal waste outlets.
Size is also an important consideration. Most back to wall toilets are considerable smaller than traditional or close-coupled toilets, but still, come in a variety of shapes and sizes, and careful measuring is a must. After that, it is a matter of personal taste and style; you have from super-modern to the vintage-inspired options.
---
Wall Mounted Toilets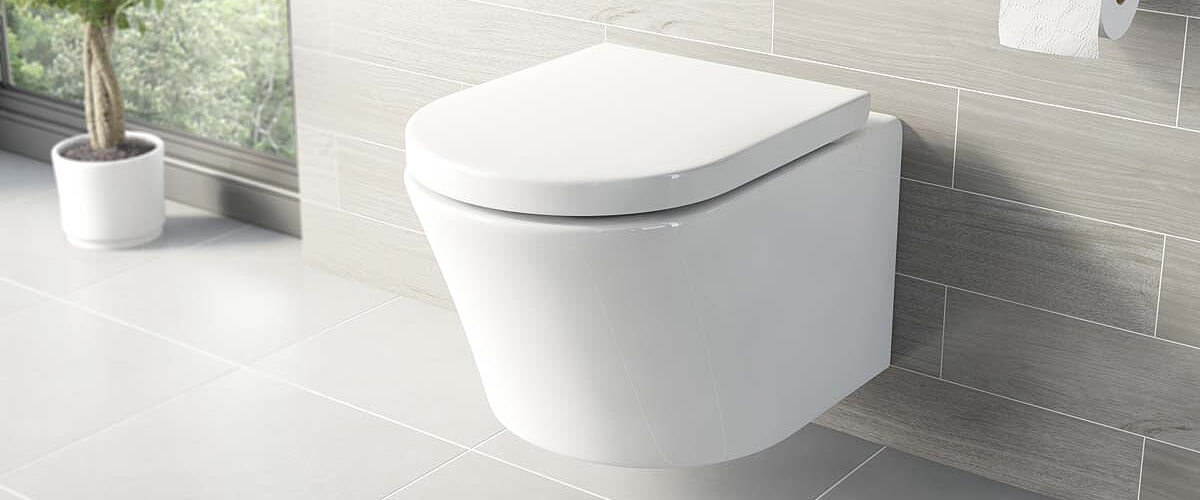 Wall Hung Toilets are the latest design, and their main feature is the fact that they are mounted on the wall. So, the space underneath the bowl is free, and the unit itself will appear as if it is "floating". Besides offering a decidedly minimalistic appeal, a wall-hung toilet can support up to 400 kilogrammes.
What are Back to Wall WC Unit
Although there are several different styles of toilet available – including close coupled and wall-hung – many users today, prefer a back to wall toilet. This type of toilet offers the dual advantage of being contemporary and space-efficient.
As the name implies, a back to wall unit is set firmly against the wall. The cistern, which is usually sold separately, is concealed in one of two ways. Many people choose to hide the cistern within the wall, where it is accessible through unit panels or in a flush panel that is fitted into the wall. The pipes, as well as the cistern, are concealed, leaving only the toilet bowl visible and creating a true sense of space in your bathroom. Unlike others, this type of toilet requires no support from a frame. It fits firmly and securely into the intersection between the wall and floor.
Alternatively, the cistern can be concealed within a furniture unit, and while this takes up a little more space, it can add decorative flair and style to your bathroom.
Smart Toilets - A Growing Trend
We now have intelligent toilets with music to soothe and many other bells and whistles, thanks to Japanese innovation. Smart toilets are popular in Japan and are set to be a growing worldwide trend.
Although still pricey (costs range from £795- £5,500), smart toilets come with other useful features such as heated seats, a night light, deodorisers, and planet-friendly features. These include less water per flush, no need for toilet paper and are self-cleaning, so you can ditch the nasty chemicals.
Since the Pandemic, people are concerned about hygiene and bathrooms are important. Smart toilets' bidets function as a gentle warm spray before a dryer eliminates the need for toilet paper. An environmentally friendly feature that reduces the spread of germs and bacterial infections.
Smart toilets also have built-in deodorising and cleaning functions. The bowl is coated with a stain-resistant material and after the flush, a mist of electrolysed water disinfects the bowl. Charcoal filters and optional odour-eliminating sprays leave the restroom fresh.
Style and colour make all the difference
You may think that apart from the general category – close coupled, wall-hung or back to wall – a toilet is a toilet. But that's not the case. Toilets today are available in several different shapes, from flowing and curvaceous to linear – even square-shaped.
They also come in a variety of colours, so you can choose a style and colour that are compatible with the rest of your bathroom. A straight-edged model probably wouldn't look right if the rest of the room is designed around curves and flowing lines. A starkly contemporary toilet will look out of place in a restored Victorian-era bed-and-breakfast setting.
When it comes to the furniture concealing the cistern, there are even more choices. They come in a wide assortment of colours, finishes, and styles, with a look that ranges from cleanly contemporary to classic to traditional. Again, it is important to choose one that fits in with the overall decor of your bathroom. We make it easier for you by offering a broad choice of back to wall WC suites that include the toilet and the furniture unit. Browse our pages and you're sure to find one that will look just right in your space.
---
Water efficiency matters too.
One factor you may want to consider is water efficiency. As water conservation becomes an issue not just in the UK but worldwide, and as household bills continue to rise, it is more important than ever to conserve where you can.
Many toilets come with a dual flush system that gives you the choice of a 3-litre or 6-litre flush, for liquid or solid waste respectively. Consult with our experts for more information on the most water-efficient models.
---
Colour and Shape
It is important to match the toilet with the surroundings within the bathroom. Thankfully, it is possible to choose from a wide range of hues. Lighter tones are great for providing the illusion of space while earthen flavours or dark colours are often utilised within contemporary bathrooms. Also, choose the toilet based on its shape and aesthetics. Bold and angular lines can perfectly complement a modern bathroom while curves will boast a "soft" appeal.
---
Don't Miss Toilet Seats
Toilet seats come in many different materials, some more durable than others. The higher-end wooden seats are both more durable and comfortable than many of the plastic seats. The durability also depends upon the quality of the wood and the coating process. There are a couple of different types of wooden toilet seats: MDF (medium density fibreboard), which is moulded and compressed; and natural or solid wood seats.
That said, durability is not the only consideration, you can give your bathroom a mini-makeover by choosing a designer seat with a unique shape or a stunning finish. Make sure your choice is congruent with the rest of the bathroom. For instance, the aforementioned wooden seat may lend a more traditional or classic look to your bathroom, which, if it fits your general decor, is another good reason to choose wood.
Many customers are choosing the soft close seats, which prevent that annoying noise that occurs when someone slams the seat down. These seats are also more comfortable and convenient than a standard model, making your "private time" all the more pleasant.
It is estimated that we will spend 1.5 years in the bathroom throughout our lives. So, there is absolutely no reason why you should settle for anything less than the best toilets in the industry. Please refer back to this guide during the buying process, as a bit of research can go a long way.