Which Size Radiator is Best?
This is a tricky question and the answer (besides aesthetics) will involve the amount of BTUs that the compact radiator supplies. A BTU is also known as a British thermal unit. All technicalities aside, this is simply a measurement of how much heat is given off. So, it is clear that larger rooms will require more heat to remain comfortable. All compact radiators at our on-line store are supplied with this rating. It is then a good idea to consult with a heating professional in order to determine, if this figure is able to accommodate the needs for a given room. This will help to avoid the unfortunate situation of purchasing a radiator that cannot supply the appropriate amount of warmth.
Maintenance and Cleaning
In general, the modern compact radiator will require little maintenance and most of them, available at our on-line store is backed up with a warranty that lasts for up to ten years. The only con of compact radiator is the Dust. It gets collected on the inside of the unit (as there is a grille to hide the convector fins in most models besides rounded tops). This can be slightly difficult to clean. However, such dust will not detract from the heating capabilities of the compact radiator itself. By adding a radiator cover, one can also avoid dust settling down inside the grille.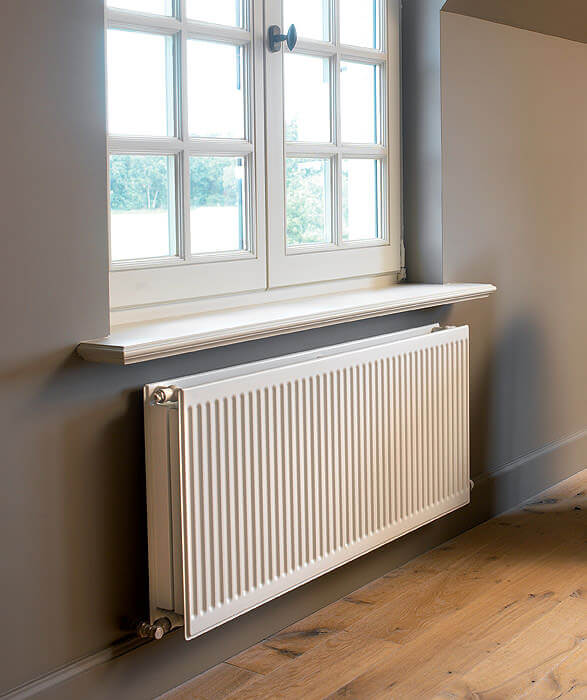 Which Model to Choose? Round Tops or Traditional Models?
It is common for many compact radiators to offer you the option of a unit with equipped what is known as a rounded top. What is the difference and the advantages with this version? In essence, much of this comes down to your own personal tastes. This is also known as a "roll top". Rounded tops do not contain any grilles across the sides or the upper surface. Therefore, the convector fins may be slightly more visible.
The Double Panel Radiators
At our on-line store we have a wide variety of colours, sizes and styles to choose from. It is common for compact radiators to be offered in standard white. These are able to suit most existing decors. However, we also provide other hues and finishes such as in beige and off-white. If you are planning on changing the colour scheme of a room in the future, it is wise to enquire with us, if the radiator can be painted.
These are some of the basic features and considerations to take into account when selecting a compact radiator. As the bulk of these units are able to be fitted into an existing central heating system, installation is quite simple. Thanks to modern technology alongside a wealth of different choices, it has never been easier to heat your home in style and sophistication.
Conclusion
All building and DIY projects have a tendency to go over time and over budget, but with a little careful forward planning, you can avoid the most common pitfalls. Be honest with yourself about what you can really afford, and set aside a little extra to cover any unexpected expenses. Remember to calculate labour costs if you're paying a professional to install your new radiator