Walk in Shower: The basics
Very often a plan is missing when it comes to our dear bathroom or a clear bathroom, the deliberate use of the word "clear" is to drive home the point and highlight the benefit of having a well-segregated area dedicated for a shower which is the preferred mode of bathing in most households that lead a busy lifestyle. Surely the idea has existed for centuries but the demands on space utility as such was not as intense and equally matched with designing innovation as today which has given birth to the concept of Walk-In-Showers.

A walk-in-shower may sound very casual but is rather reverse in its construction and requires careful inspection of your bathroom to make the walk-in and walk-out a seamless affair in your daily bathroom routine. The central idea behind a walk- in- shower proposes a wet area dedicated for showering purposes; the separation thereby renders the remaining bathroom area dry. This simple yet highly effective solution results in better hygiene and a highly organized bathroom.
The basics
Your expenses could be kept at a minimum if you are the enterprising do-it-yourself kind happy to risk the issues related to layout, structure, and plumbing that usually come attached with undertakings of this nature. But for many, that would not be the scenario and so we would simply want a ready to install version and get on with our lives.
But for the sake of reaching a better informed decision and achieving best results there are a few simple but not so obvious tips we must give importance to:
Keep it Door-less
That means you must let go of your privacy considerations and be more focused on your shower and if you can't do that and are going to complain then this option is not for you, because this concept works best without doors for it has two benefits attached to it once the door is eliminated, one you have unrestricted access both ways and two, you have extra space available right outside your shower which would have been occupied by the door while making an entry or while leaving. Now you could use that free space for storage or other arrangements. The other benefit of the no-door policy is lesser cleaning and easier maintenance.
Select the most secluded corner
This simply increases your chances of unabashed splashing and have unrestrained fun in your shower. The idea is equally connected with prevention of splattering water on other areas of the bathroom you wish to keep untouched and undisturbed by water. A corner means having two walls at your disposal which apart from placing the wet area away from the remaining area of the bathroom also holds strategic importance from a plumbing and storage perspective.
The Angle
One of the most essential elements of this structure is its base and that base must be built at an angle so that the water effectively slopes downward towards the mouth of the drain cover during the course of using the shower. This eliminates the possibility of water collecting in the showering area as it is annoying for the bather to finish with a puddle and also for the next person who has no choice but to either wade through or wait for the little puddle to crawl away. To combat the flaws of floor designing, the bathroom industry produces pre-fabricated shower base pans that are made of acrylic and are reinforced with fiberglass for durability. These are built with an inherent angle which facilitates the passage of water to the drain.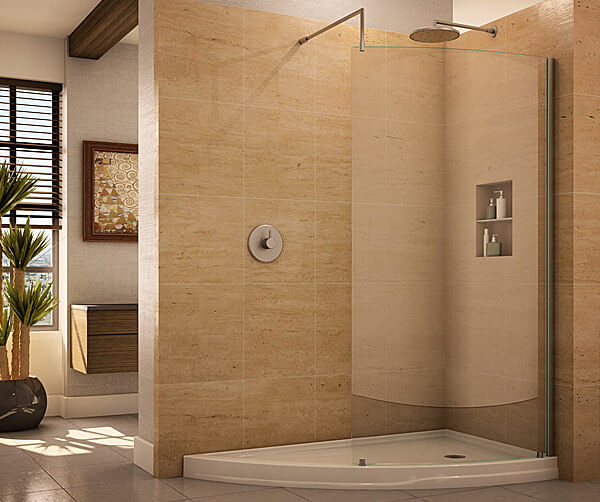 The Panels
Remember to choose durable panels as they complete the enclosure and are as committed to the structure as the two walls you have chosen to play the pivotal role of the shower station. The panels will take a lot of water beating and possibly in case of an inadvertent incident, an accidental push or a bump which signals us to buy panels made of toughened safety glass of at least 5mm thickness. This is to arrest the possibility of a broken glass scenario; you can imagine how frustrated one would be. The other contribution to an irritable mood comes from lime-scale leftover and soap marks. Of the two, the latter is somewhat easy to remove with vinegar and other home based solutions but lime-scale is a difficult customer and to safeguard your panels you can either have the anti-lime-scale coating included when you place your order or purchase this screen separately.
The right shower
Well when it comes to a shower, there is no such thing as right or wrong, what is worth pondering over is the fitting of the shower and the quality of the product that you have bought. Usually a good quality product will not disappoint you but the problem seeps in with the fittings many times; no sooner you have seepage in your walls due to leakages or condensation the chances of mildew and mould flourishes are quite imminent. A shower that functions appropriately, doesn't leak, and is positioned to spray at the panels and not at the shower entrance is not just the right shower but the best.

Where's the light?
The inclusion of light is often forgotten from the equation formulated for good ambience; the chief sensor in the matter—the eye—must not be kept in the dark nor should it be blinded with flooding bright lights. The trick is to have ample light to create a feeling of spaciousness which can be achieved through using transparent panels which would be recognized by the reader by now are the most suitable for an environment of indoor lighting. Alternatively, using natural light through windows where advantage must be taken of large windows if present or even a glass patch in the roof, allowing light to pass through the ceiling.
It happens to be the case
That you feel your bathroom is too small and cannot possibly make room for a walk-in-shower. And why is that? Well you say it's because you have a pillar right in the middle of your bathroom which has left you in a space crisis. So instead of frowning at the unusual construction pattern and hating the pillar that happens to be the centerpiece of your bathroom, you could turn things around and work it to your advantage by turning the pillar into the shower panel cum station and have panels around it circumscribe your wet area and there you are.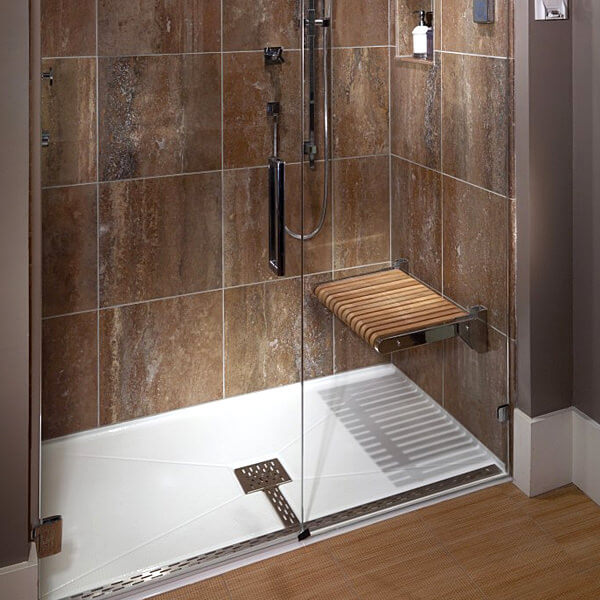 What if?
You wanted to have a seat while you are in your shower; the wish is not outrageous it's quite natural and legitimate, especially when you are tired or if you are in the advancing towards or the advanced age category, where standing for long durations feels cumbersome. The solution could take multiple forms but the most obvious is to have a bench integrated within this area which would be of use for seating and storage purposes.
The only drawback could be the chill during winter wafting through the open entrance but that would be the case only if there was no central heating installed into your home which is highly unlikely and if perchance you don't have it then you may consider picking from a myriad of boiler-radiator combinations or have a hot towel rail installed in your bathroom to neutralize the chill.
So go have a look at your bathrooms, see if you need remodeling or just a ready to use fixture would suffice, the solutions are often simple and easily available. A better design is certainly going to have a healthy impact on your mind through your daily bathing routine, which must be smooth for you to enjoy yourself when you enter this zone which totally belongs to you!