Rosie BRIGHTON Date: November 15, 2017
Cutest sink ever
We looked everywhere to find a mini traditional sink that would fit into our tiny downstairs loo. This one is great, and looks lovely with our salvaged little brass taps. The plumber had no issues with fitting it and it arrived on time. My only criticism is that we paid extra to have the gold waste and plug chain, but the overflow surround supplied with the sink was chrome so we had to discard it as it didn't match. Also the fixing for the plug chain is enormous, and is not the small one pictured on the website's product shot. Unfortunately there was not time to return this and request a smaller one as the sink arrived on the last day of the job and the plumber had to go. It seems odd to supply the largest chain fixing with the smallest sink in the range! Perhaps I mis-ordered. Unfortunately the fixing isn't accessible once the sink is on the wall so we have to live with it, in all its disproportionate glory.
Helpful?
1 of 1 People have found this Review useful
Images Uploaded by the users: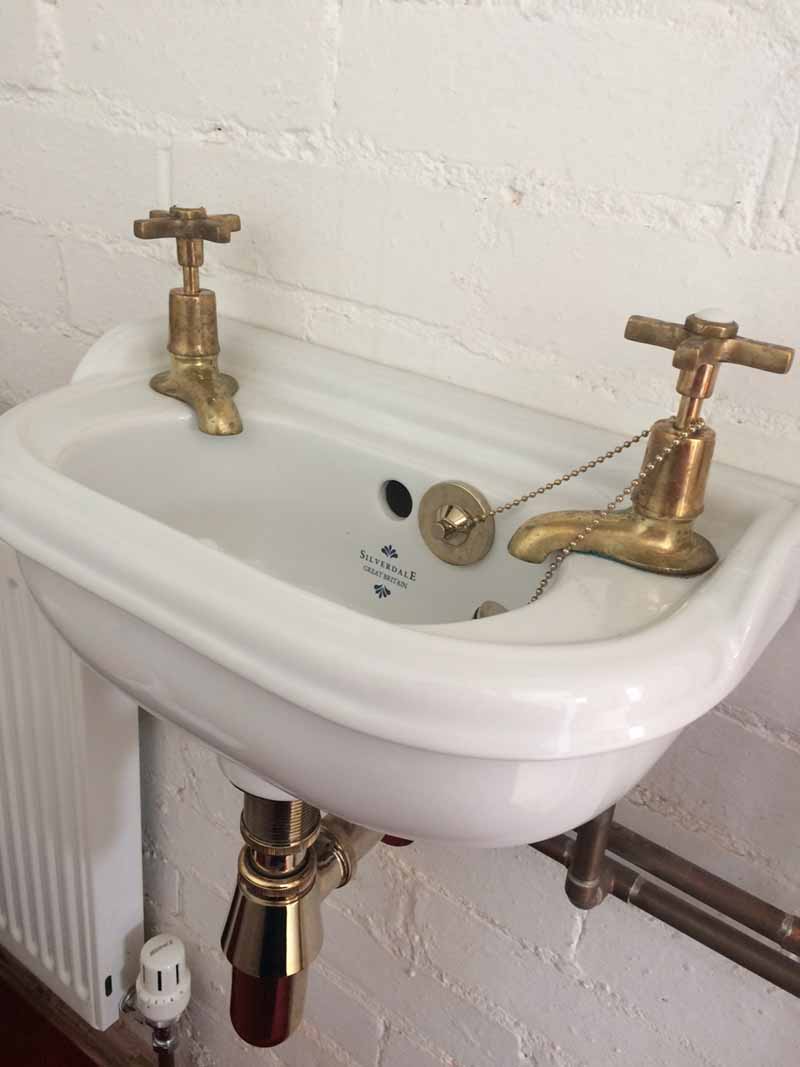 OVERALL RATING 4 Stars
Quality:

Value For Money:

Style:
Angela GREAT YARMOUTH Date: April 5, 2018
Sink and taps
Very happy with my sink looks lovely. Taps arrived later but re scheduled as I was called into work. Taps did not arrive on the Tuesday as scheduled they were left in warehouse I was told asked for early delivery next day at 10 and my package arrived at 11 was glad anyway as my builder was waiting to put them in . Opened my package and to my shock and disappointment only one tap a cold tap and no hot tap. Sent several emails still not sorted and still waiting for a hot tap. Please could someone help as I was told I would get an email today and did not . Please send me a hot tap as my builder will not finish my other work till tap arrives. One very unhappy customer Angela Frisby.
Helpful?

Reply By QS Supplies
Hi Angela, we apologise for the inconvenience, we have forwarded this to our support, and they would resolve this issue asap.
OVERALL RATING 3 Stars
Quality:

Value For Money:

Style:
Greg ROMFORD Date: March 16, 2021
Very Nice Small Basin
We needed a very small basin with Victorian styling for our compact ground floor loo. I looked at what was available and thought this was best suited for style, quality and price. (None of the cheaper products on the market looked right for our needs) Very happy with it all around. To stop it looking cluttered, we opted for a single tap hole and fitted a hot tap only served by a pre-set temperature thermostat mixer valve. I would recommend both the product and the supplier we used.
Helpful?

OVERALL RATING 4 Stars
Quality:

Value For Money:

Style:
Polly CHRISTCHURCH Date: November 10, 2021
Beautiful product, great price and speedy delivery
Particularly liked this traditional looking sink and the size was the only one I could find to fit my cloakroom space. Lovely looking, the price was the cheapest I capfuls find and arrived quickly.
Helpful?

OVERALL RATING 4 Stars
Quality:

Value For Money:

Style:
cathy EPSOM Date: May 29, 2017
Lovely sink
This sink is a lovely design and very good quality. I needed a small one and this was the smallest I I could find. Reasonable price as well and quick delivery. Highly recommended.
Helpful?

OVERALL RATING 5 Stars
Quality:

Value For Money:

Style:
Steven Huddersfield Date: October 8, 2014
Excellent service & price
I bought this basin recently from QS, and I am writing to thank them for their excellent service and cheap price. Happy with the product and QS both! It was also installed easily.
Helpful?

OVERALL RATING 4 Stars
Quality:

Value For Money:

Style:
David SCARBOROUGH Date: March 9, 2017
Silver dale micro basin star of the show
I bought this item to complete a small cloakroom refurbishment, and its quality and size shines through to make it the star of the show
Helpful?

OVERALL RATING 5 Stars
Quality:

Value For Money:

Style:
David Manchester Date: September 5, 2015
VCBASMCWHIBL
Very attractive and stylish item, perfect for our period house. Prompt delivery and item was well-packed. All in all very pleased!
Helpful?

OVERALL RATING 4 Stars
Quality:

Value For Money:

Style:
Submit Your Questions
2 Questions Asked
Have a question about this item? Ask our tech team. We aim to reply within 72 hours. If you want to know get answers fast, please call us on 0116 251 0051
I note that the options include a Silverdale Universal Pop-Up Waste. Will Pop-up Wastes from other manufacturers fit this sink too? Thanks Martin
Answered By QS Team :
We cannot say for sure if other manufacturers wastes fit as; obviously, we have never tried them on Silverdale basins. We can only advise that standard basin waste that Silverdale use in the micro basin does go across all of their basins in the classic ranges.
Can you tell me the required length of tap spout we would need on the Silverdale Victorian Micro cloakroom basin? Thank you.
Answered By QS Team :
The cloakroom pillar taps that we sell with the micro basin (QS-V4220) are as shown in the pictures attached, however, if you prefer you can have other taps that are slightly shorter or longer depending on your own preference and how far you wish for the taps to protrude into your basin.