William Bourne End Date: November 20, 2020
Croydex Straight Grab Bar with Anti Slip Grip - A great and essential bathroom aid.
The two Croydex Straight Grab Bars with Anti Slip Grip are a great and essential bathroom aid for me. I love having a relaxing muscle-easing bath and much prefer a bath to have a shower. I am no longer able to get myself into, and out of, the bath safely without some kind of aid. The purchase of these grab rails, the correct positioning of them, and the easy fitting of them enable me to lower myself safely into the bath and then to support me safely when I have to get out of the bath after bathing. The grab bars are well made, strong, and resistant to the damp atmosphere of the bathroom. The anti-slip grip pattern on the grab rails not only prevents my wet hands from slipping when I put my weight on them but is also a good design feature. I am really pleased that I bought these grab bars and would definitely recommend them.
Helpful?

Images Uploaded by the users: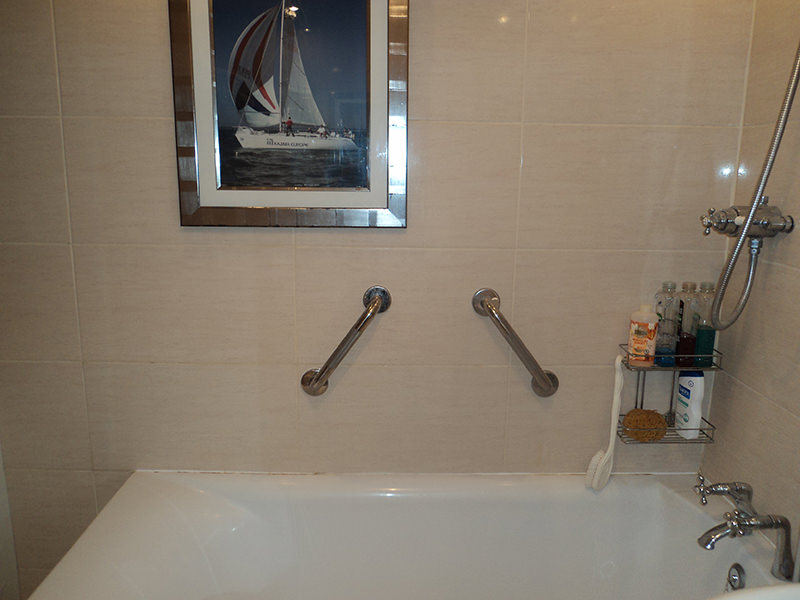 OVERALL RATING 5 Stars
Quality:

Value For Money:

Style:
Philip Market Harborough Date: July 5, 2017
good item, very late delivery (no stock)
Item is good but delivery took 3 weeks and needed 3 follow up calls, this was quoted as the manufacturer/supplier's fault with there being no stock (wasn't shown on website) but had I not chased it i wouldn't have had any proactive feedback on my order delay. Other than that the product was fine and service was polite.
Helpful?

Reply By QS Supplies
We Apologies for the delay in delivery, the item was out of stock, but now we have sufficient stock of the item.
OVERALL RATING 3 Stars
Quality:

Value For Money:

Style:
Ian Fauldhouse Date: August 28, 2015
AP500541
Both my wife and I are disabled and it was necessary to fit two. the quality is excellent and although on the dear side they really look good and serve the purpose. Again would shop around to find out if I could find the equivalent cheaper.
Helpful?
1 of 1 People have found this Review useful
OVERALL RATING 4 Stars
Quality:

Value For Money:

Style:
Ralph CAMBRIDGE Date: July 28, 2015
Grab handle
Great item works well good finish product
Helpful?

OVERALL RATING 4 Stars
Quality:

Value For Money:

Style:
Submit Your Questions
1 Questions Asked
Have a question about this item? Ask our tech team. We aim to reply within 72 hours. If you want to know get answers fast, please call us on 0116 251 0051