Why Showers Play an Important Role in your bathroom?
We're here to help you find the right shower as we know how important it is. The good news is we can help you get the shower you need, while also helping you to keep the cost down. These days it's unusual to walk into a bathroom and discover there's no shower. We all love the convenience that a shower brings and how great they can look too. So how can you ensure you buy the right shower for you and your home? Here are some things you need to consider before you part with your hard-earned cash.

1. your plumbing
You need to know if your plumbing can take the amount of pressure that's used when you have a shower. If you're not sure that it can why not call in a plumber and see if they can determine it for you. It would be a shame for you to buy a shower that is designed for mains water pressure if your water supply is gravity fed from a header tank in your loft. Talk to a plumber before you make any expensive mistakes. In the UK, upstairs bathrooms usually have a gravity fed supply. If you have a ground floor bathroom it might have a mains or a header tank water supply, both options are fairly common..
2. WALK IN SHOWERS
A walk in shower can add a nice touch to a relatively small bathroom. The good news is that a walk in shower can fit into 45 square centimetres of space quite easily. If you're thinking of installing a walk in shower you should remember that you will also need to have enough room for the shower doors. Make sure that when you measure up for your walk in shower, you also take into account the room you will need to dry off after your shower.

3. ABOVE THE BATH
Most people tend to have a shower fitted above their bath. This saves a lot of room and gives everyone in the home an option to wash as they please. Don't forget you will need to ensure you fit a shower screen or curtain so the water doesn't spray onto the floor. You may also want to think about tiling the wall or using bathroom paint so the wall doesn't get damp. It's thought that a 5 minute shower can use as much as a third as much water as a bath will. This could help you to save money on your energy bills and help the environment too.

4. mixer showers
Mixer showers are those which have two dials or levers that help you to control the temperature of the water. This type of shower has a particularly strong water flow rate, but you need to make sure your water tank is at least 3 meters higher than your shower.

5. digital mixer showers
These days' digital mixer showers are becoming more and more popular. They work in the same way that a regular mixer shower does, you just have a push button option of controlling the water. Amazingly you can now buy wireless mixer showers that can be controlled from elsewhere in the home, but these don't seem to have caught on very well just yet.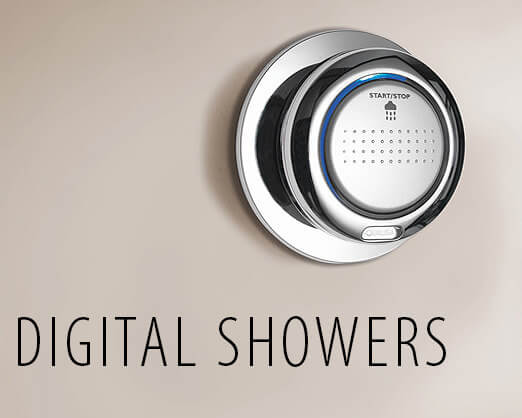 6. your budget
Your budget will inevitably dictate which shower you walk away with. The good news is that even the cheapest showers are pretty good. Make sure you realise just how much getting that perfect shower can cost, and don't be afraid to buy a model that's a little cheaper if it works just as well as a more expensive one.