A Quick Guide on Buying the Right Table Lamps
Lights brighten up the ambience to set an inviting feel in any space of your home. There is enormous transformation in lighting design industry in the contemporary world. It's exceptionally well said by Valerie Pettis, "Design is the search for a magical balance between business and art; art and craft; intuition and reason; concept and detail; playfulness and formality; client and designer; designer and printer; and printer and public."
Selection
Most of the discerning homeowners use table lamps to create ascent lighting atmosphere. Lamps are available in a variety of designs and structures such as the modern, traditional, funky or subtly artistic. Selection of table lamps differs and depends upon a numerous factors and requirements of the decor. These are also made from materials ranging from metal and plastic or wood and glass. The main purpose of table lamp is to lighten up the surroundings on the table and is mostly used for reading.
Most of the consumers are worried about the height of the table lamp they would require. There is no specific or ideal height for a table lamp. Nowadays, table lamps are designed with an adjustable feature. One can set the desired position based on their requirement. But you should remember the lamp shade of the table lamp should be adjusted in such a way that it comes down to your eye level, and the light shouldn't bother while you read or dine in the dim light.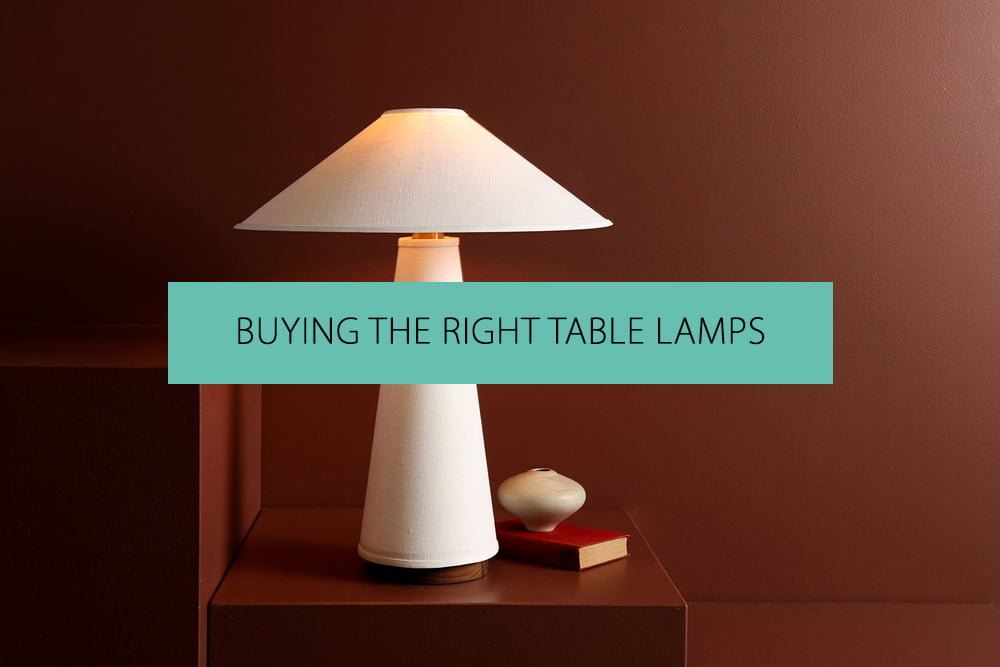 Talk of the Touch
The latest innovation in home decor is the introduction of touch lamps. In a tech-savvy world where we have touch phones, touch monitors, and even sensor taps; lighting décor presents its latest innovation- the touch lamps. Sensors are placed in the base of touch table lamps. And some modern touch table lamps feature illumination levels. You can easily set the brightness of light setting, based on your requirements. Simple touch and the space lights up!

Glassy Glory
These lamps are pretty versatile as they are available in a plethora of options. You can choose the transparent ones or opt for more colourful ones when you are accentuating your decor in a playful manner. Take a spin with different bases in columns, spherical or even the standard forms. For a retro yet chic look opt for the ingenious Himalayan salt rock lamp that have an unfinished appearance and exude a soft, orange hue. Interestingly, the rocks comprise a hollow space which accommodates the light bulb.
Love for the lava
Picked up from the style in the 60's lava lamps remain iconic in the present era too. Place it in a classic home or a kid's bedroom, it is sure to attract eyeballs. Surprisingly, the lamp turns on and the blobs of wax inside rise and fall to change shapes and create a fascinating show. They produce a subtle light again, and complement both general and decorative interiors.
Cult Classic
Some timeless charm can be added to the decor with the ornate and intricately designed base of wood or marble coupled with a simple shade of the lamp. Be it your formal living room or romantic dining table, a traditional lamp will justify any setting and emit an elegant flow that would captivate through years and trends. These lamps are really impressive and also make up for antique pieces of art in most urban condos or vintage estates.
When you are done choosing an appropriate lamp shade, do consider buying a suitable bulb that would meet your lighting needs. A lamp comes with a predefined wattage specification, choose accordingly. You can try CFLs, LEDs or even the incandescent lighting bulbs; you can also stock a few extra. As for the shades, they are detachable and can be chosen as per the effect you wish to create, or the light output you desire.

Get set and lit up your rooms with awesome table lamps!
How to Select the Right Lamp Shades
Decorating a room is an investment in money and time and selecting the right product for your home is extremely important. One such essential element in home décor is to lighting it up. Lamp shades are small yet vital fixtures in home decoration. These magnificent sources of light can change the overall appearance of your table lamp. Selecting the lamp shade that blends with your home theme is very crucial, one that will perk up the beauty of the targeted space along the much-needed purpose of serving as a light source.
Lamp Shades are available in various sizes, shape and are made from different materials namely fabric, paper or glass. A right Lamp Shade brings modernity and charm into any room. Choosing paper or fabric lamp shade can offer you more brightness, compared to glass lamp shades. Topping up your lamp with an ideal lamp shade can help in lending that distinctive charm in the interiors. Choose from the myriad options that are available in the market.

Choosing the style and structure
Replacing a Lamp Shade is pretty simple and as there are many choices available it becomes easy to select the right lamp shade. Select a hardback lamp shade which is either made from paper or fabric coated on a plastic liner. Fabrics may vary as silk, satin or linen the light can be translucent or opaque. Softback shades are made numerous layers of fabric itself. The outer fabric can be personalised to suit your decor in a pleated or shirred manner. For an artistic effect, choose from bell style, scalloped edged or rounded corners. If you are looking for something sturdy, go for the hardback shade as they are durable because of their construction.
As for the styles based on your decor you have a horde of options to choose from drum lamp shades, empire lamp shades, square or rectangular ones, coolie floor lamp shades or hexagon lamp shades. Keep in mind the decor of the house and decide whether the shade will complement and blend with the surroundings, colour scheme and other furnishings. Unique shades like the chandelier ones impart a distinctive appearance to the entire decor.
Other features
You must consider a several factors while choosing a lamp shade. If you wish that it must stand out in the decor go for some funky ones that look like special artefacts. In case you want it to merge with the existing decor, choose the one that harmonizes with the background. Also consider your lighting requirements whether subtle for just an effect or plenty of it for reading.
Talking of the structure, see to it that the base and the shade measure appropriate and embellishments don't hamper its practicality and purpose. The complicated part is choosing the size and that the shade that fits onto the lamp's harp and base. Adding to the decorative aspect, you can always play around with bold colours or add shirring or beads. Furthermore, make sure that the shade is big enough to cover the joints and switch and the bottom should be appropriate in size.
Care
A lampshade needs to be cleaned regularly so that it provides full brightness and you don't have to strain your eyes at the time of reading or working. Before cleaning a fabric or a paper lamp shade you must know the fact that it's not stitched but they are glued. It's best to duster paper or fabric lamp shade and then you may use wet cloth and wipe it with gentle hands.
Eventually, buy it if you like it, these are just a few tips to help you choose a right lampshade for your interiors!
Replacing a Lamp Shade is pretty simple and as there are many choices available it becomes easy to select the right lamp shade. Lamp Shades can change the overall appearance of your table lamp. Selecting the lamp shade that blends with your home theme is very crucial.
Lanterns - A Transformation from Victorian Period to Modern World
Originally known as a 'Lanthorne', lanterns have been around for hundreds if not thousands of years. Used to help people see where they were going, and to light up their homes, lanterns have always played an integral part in everyday life.

But the modern day lantern is quite different from those that were found just a few hundred years ago. In the Victorian era lanterns looked and worked a little differently than they do today. There were no eccentric designs (Unless you were rich enough to afford them), they were plain but they did what they needed to do. A simple design would house a candle so that it could burn with ease and not be blown out by the wind.
Helping people to see their way
Made from glass and metal, these lanterns would be seen just about anywhere, in peoples' homes and even in streets. Used to light up streets and crossroads so pedestrians and travellers could see their way, lanterns were an essential part of everyday life. Fueled by gas and with the ability to burn for hours, they were very common until the advent of electricity and the changes it brought.
Many shapes and designs
These days lanterns are available in many different shapes and designs. They can give every room a classic yet sophisticated look and remind us of times gone by. Thankfully most lanterns are now powered by electricity which makes them so much easier to use and maintain, but they can still be just as elegant as they were many years ago. Each and every lantern has a touch of romanticism about it and can add something special to just about any room in the home.

Power Sources
Most lanterns may well be powered by electricity, but there are other power sources available. Portable lanterns are more likely to have a different power source, such as battery or solar power. But there are also those that are powered by the user turning a handle multiple times which results in energy being produced so the light is lit.
Places of use
Modern portable lanterns are ideal for use during camping trips or even when there's a power outage. In some developing countries portable lamps are used daily, especially in areas where there is no electricity supply, or using electricity has proven to be too expensive. Knowing that you have light via a lantern whose design goes back hundreds of years is wonderful as it's still proven to be just as good in the 21st century.
Modern lanterns
These days' modern lanterns tend to use fluorescent, incandescent or LED lamps depending on the style of the lamp and what it is used for. The elegant and charming designs that now appear are a far cry from those which were built to withstand the elements of Victorian life. But they still remain as useful now as they once were and help us to realise how fortunate we are to have light whenever we want it.