2017 Innovative Tile Trends & Inspiration
Published on: 31/05/2016
Last Updated: 27/08/2019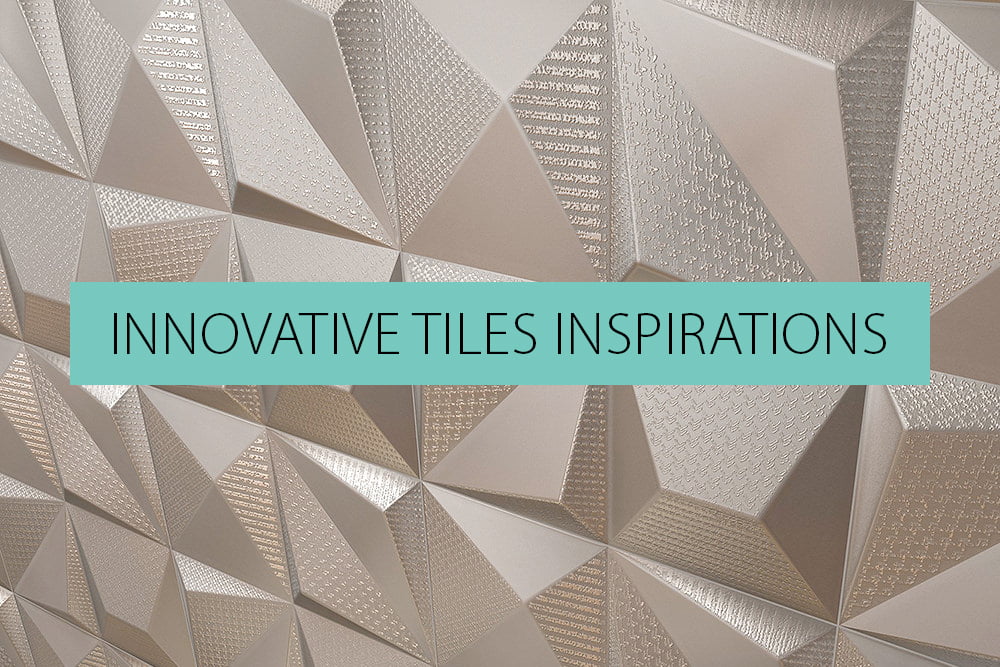 Recent Innovations in tiles design are taking the interior design space by storm. Designers are going all out with their creative ideas and experimenting with designs and styles which were unheard of earlier. Taking inspiration from art and life, these geometric and fluid carvings define the tiles of today, all set to grace your interiors and exteriors. Technical advances in the tiling industry have started a new era that promotes and promises impressive designs which are visual treats. Innovations in design are ably supported by sustainable solutions by use of recyclable and green raw materials. Tiles are being made using responsible manufacturing techniques that reduce waste and cost.
Textured Tiles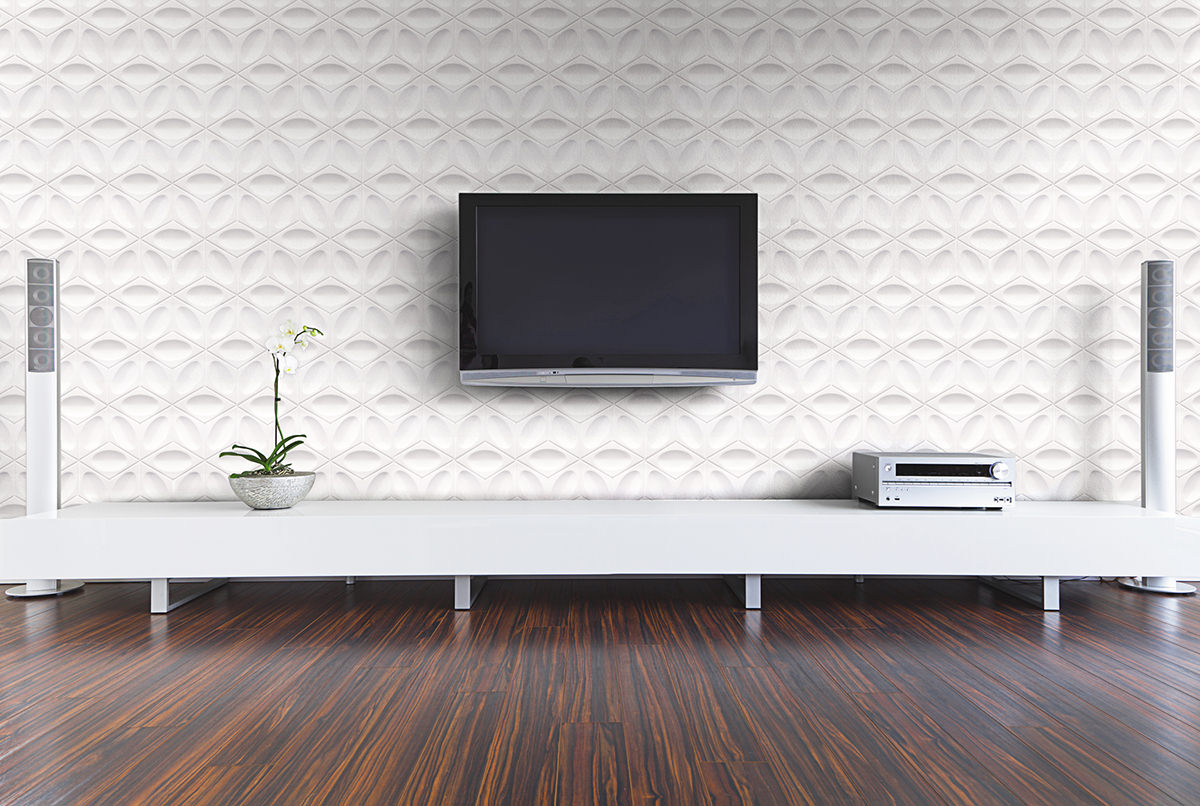 http://texturaldesigns.com/product/whim/
Textured tiles are the latest in contemporary design for your homes and interiors. The beauty of textured tiles is unmatched in both home and commercial settings, including 3D models that create lovely contrasts with rectangular, straight lines and smooth surfaces. These display a roughness and symmetry that works well in living homes and bathrooms, adding character and definition in a room.
Metallic Finish Tiles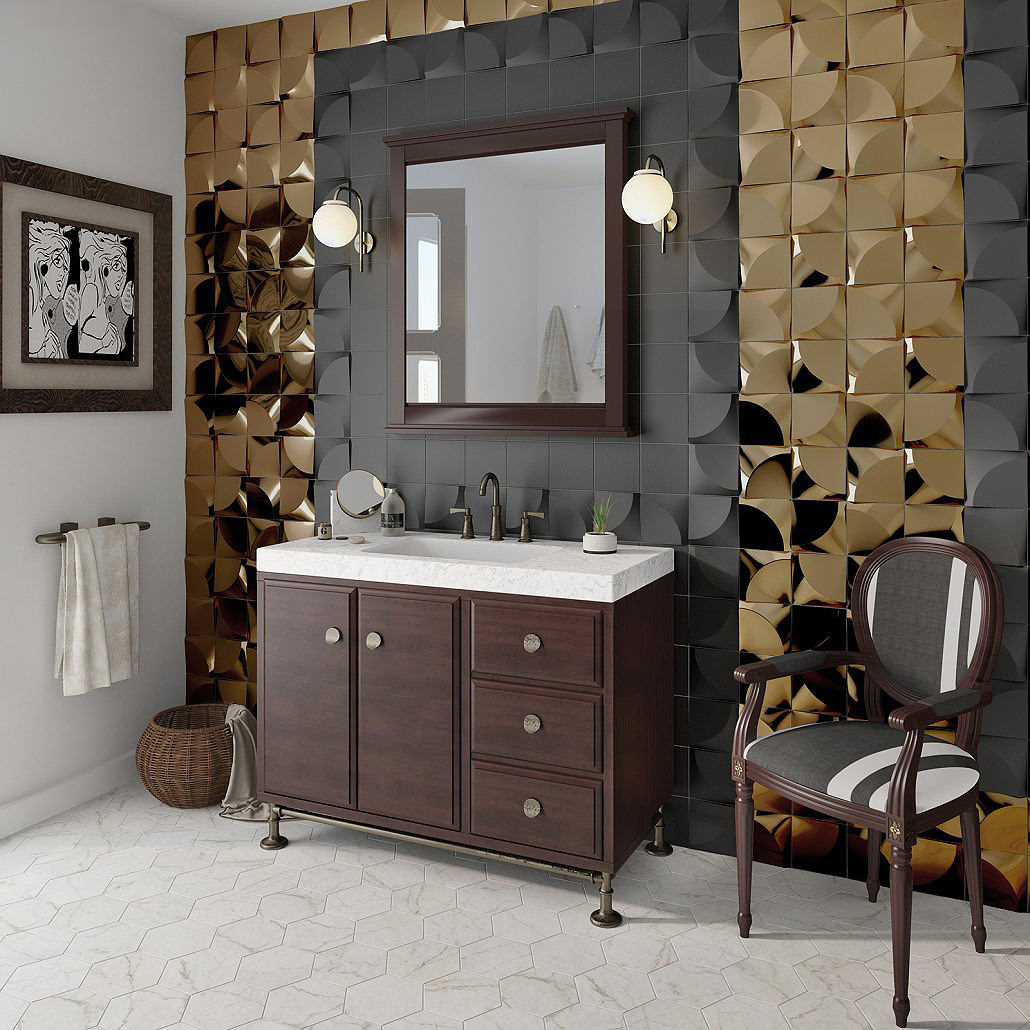 http://www.equipeceramicas.com/portfolio-item/magical3/
Designers have gone futuristic and all out awesome with the use of materials like metals, mirror and glass with glossy finishes for their tile collections. Light up your interiors with these funky silver and black finished tiles. Available in both smooth and jagged edges, these tiles are hard to miss on any wall.
Three-dimensional Tiles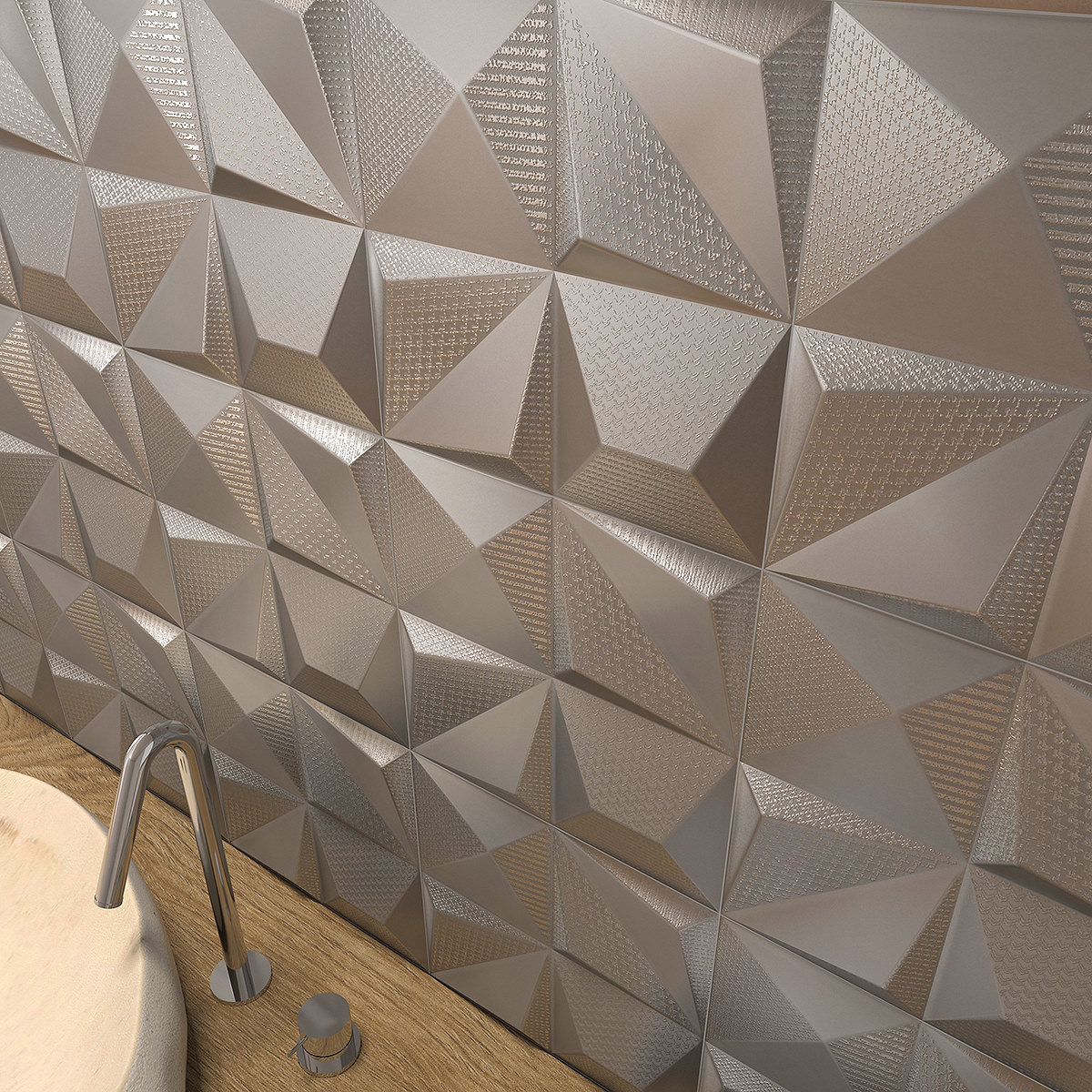 https://dune.es/en/products/wall_tiling/ceramica/
The third side in raised patterns creates a stylish and multi-faceted look. The sculpted patterns in geometric formats carry a shiny surface finish that is elegant and modern. The intricately carved design further enhances the look making a show that is simply brilliant. These striking tiles change with the changing light in the room, to enliven any home or living space.
Hexagonal Mosaic Tiles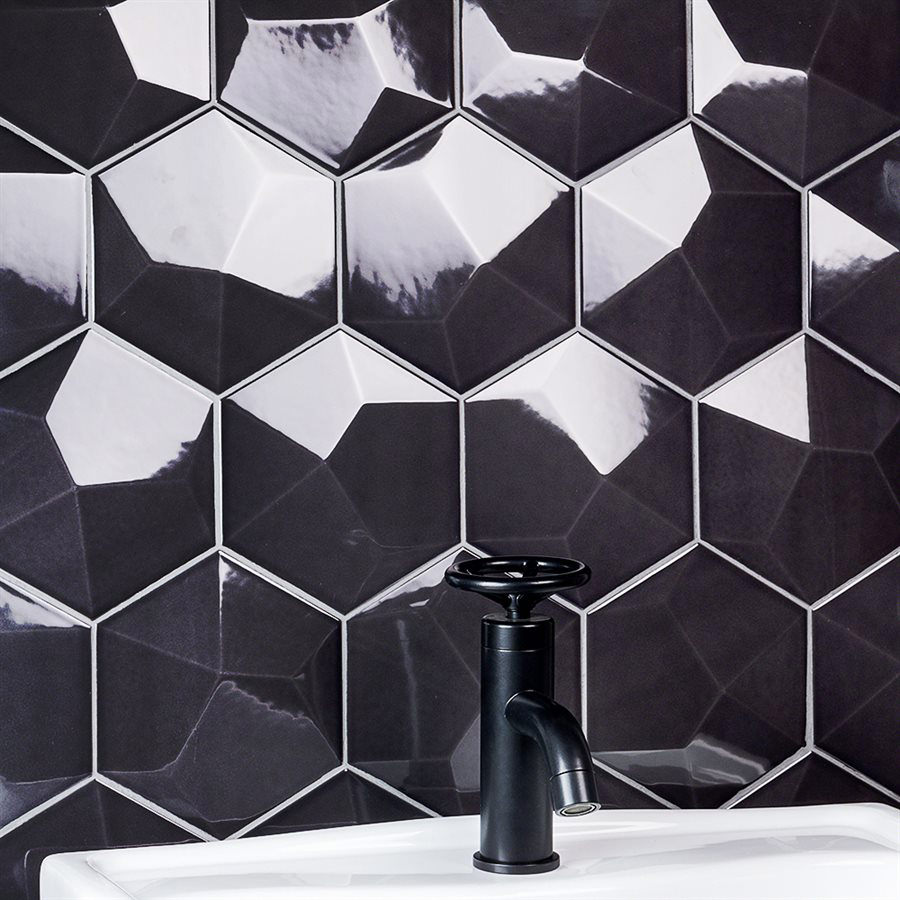 http://ceramictechnics.com/product/new-york-mosaic-co-hexagono/
Mosaic Tiles are simply perfect for bathroom or kitchen backsplashes. These delicate looking mosaics form a lovely hexagonal pattern; each piece fits into the next like a game of lego. Its stunning look, two-toned finish and unique colour instantly dress up any wall. The tiles generate a warm and happy feeling wherever used.
Ceramic Tiles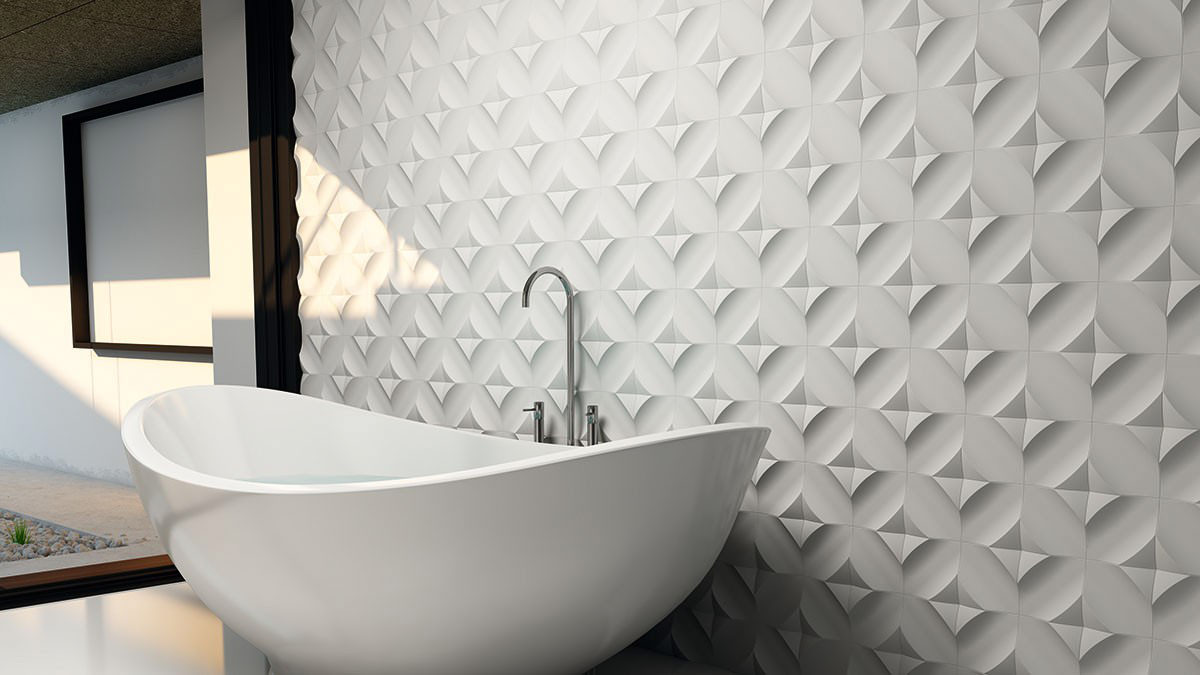 http://ceramictechnics.com/product/woodbridge-3d/
Give your walls and interiors a much-needed makeover with the brilliantly patterned floral 3D tiles. Crafted to perfection in virginal ceramic, these are ideal for giving your home a dream makeover. Simple yet elegant are the highlights of this floral wall that brings a unique look to your home décor. Three-dimensional format brings the design to life, giving a new perceptive to the wall!!
Crystal Glass Tiles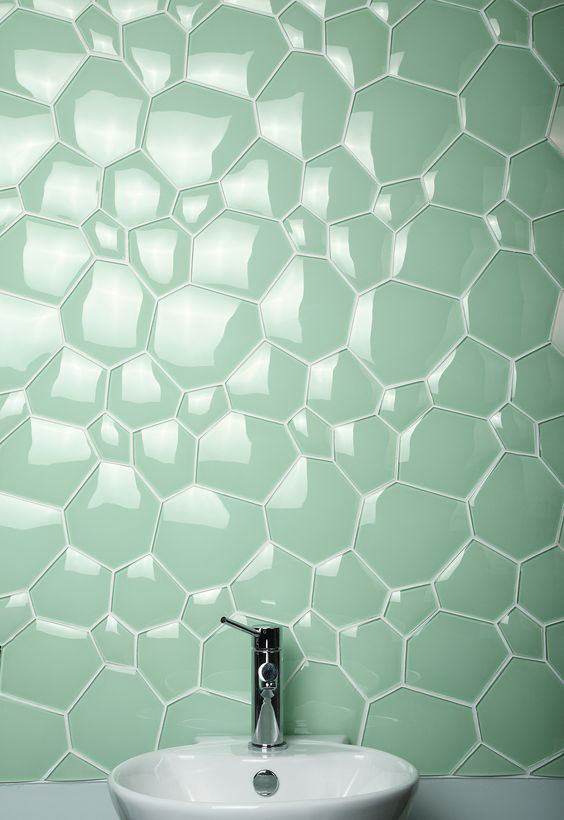 http://www.everstone.com/catalogue/product/watercube
Glass is an extremely versatile material that can be used in so many innovative ways. When designers wish to take the design to an entirely new level, they incorporate glass in the design. Highlighted glass mosaics with a touch of matte, gloss and crackled glass adds the edge you need to make your design shine. Highlighted glass mosaics with a glossy and crackled glass gives an edge for a shiny outcome.
3D Wall Paper Tiles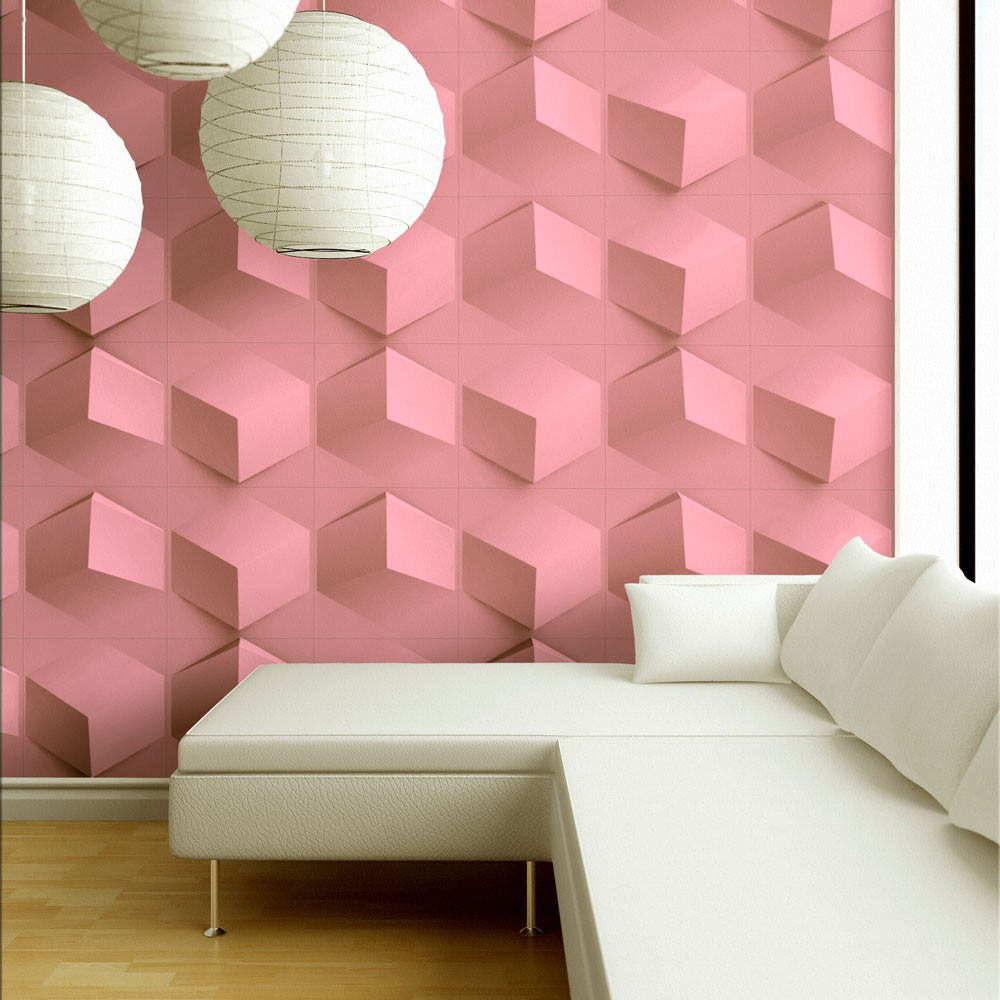 http://mioculture.com/shop/wall-ceiling-tiles/cube-paperforms-white
Wall Paper tiles offer a cheaper alternative to ceramic tiles while making an elegant and sophisticated presentation. The Pink ascent wall borders on the dramatic with the use of three-dimensional wallpaper tile. With geometric sculpture-like tiles, the wall adds texture to any room with its artistic look. These make backdrops that are hard to miss and will get you compliments galore!
Recycled Paper Tiles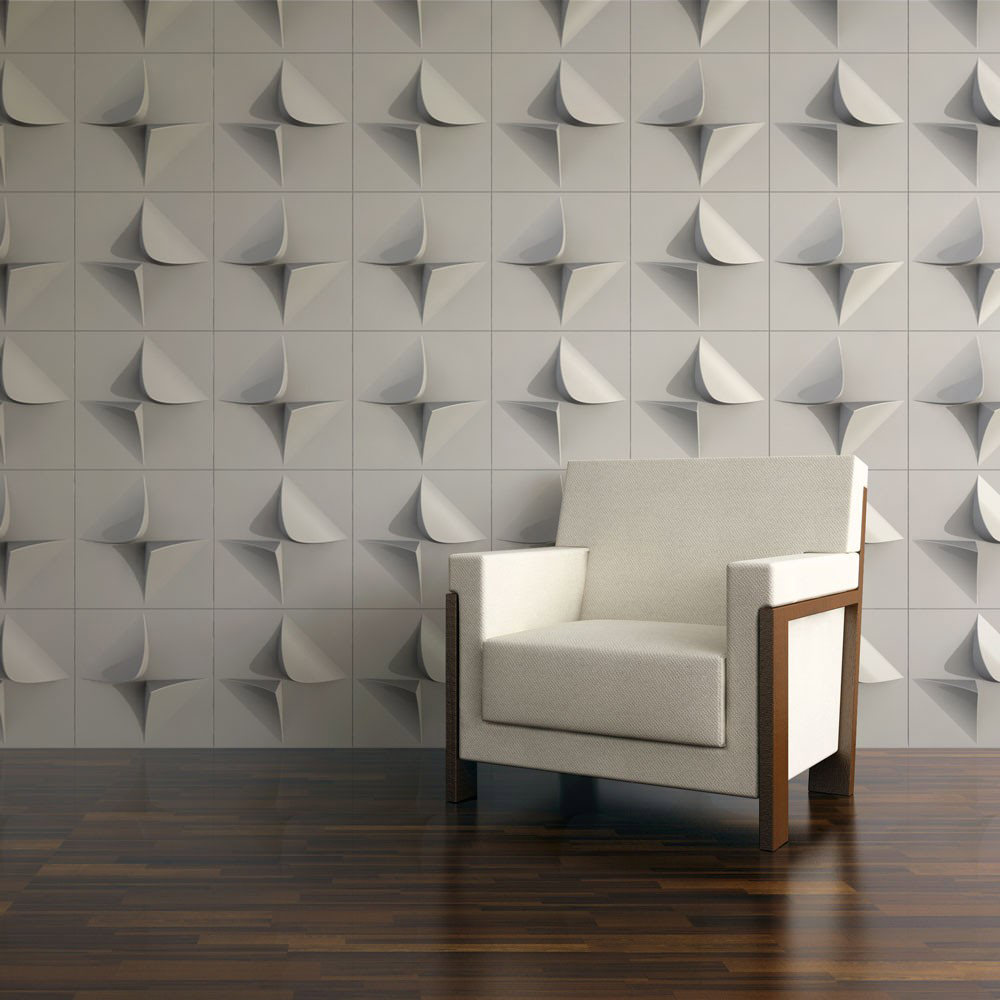 http://mioculture.com/shop/wall-ceiling-tiles/v2-white
These Grey Matt Paper Tiles are sophisticated enough to form a central focal point in any living space. These make a brilliantly innovative use of recycled paper and reuse it as an elegant decorative tile. Besides looking great, they also have excellent texture and can be hand moulded to desired forms, while also being environmentally viable.
Modular 3-D Wallpaper Tiles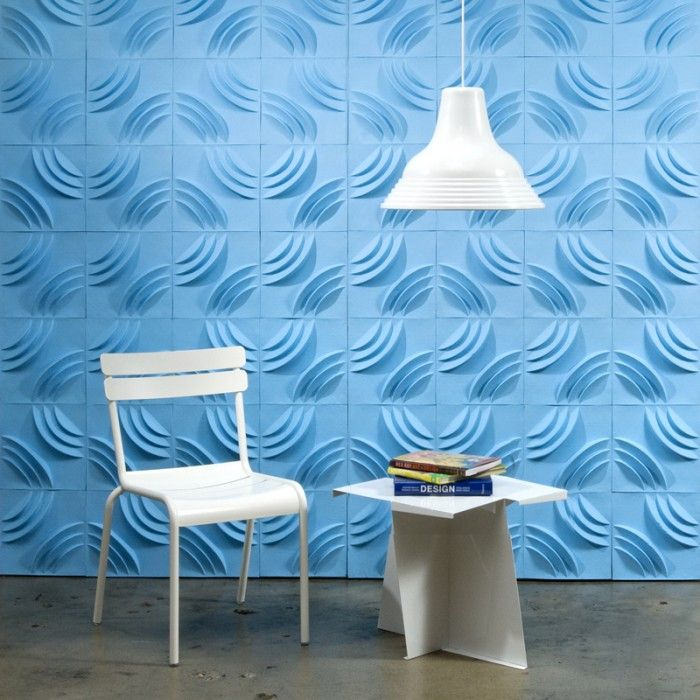 http://mioculture.com/shop/wall-ceiling-tiles/ripple-paperforms-white
Add colour and texture to a single accent wall with the lightweight, modular wallpaper tiles. These tiles can be applied to the wall with great ease using wallpaper paste to create a stylish interior. The circular ripple effect design looks stylish and complements most modern spaces. When looking to update your interiors, consider these tiles that come in a host of gorgeous and trendy hues.
Origami Tiles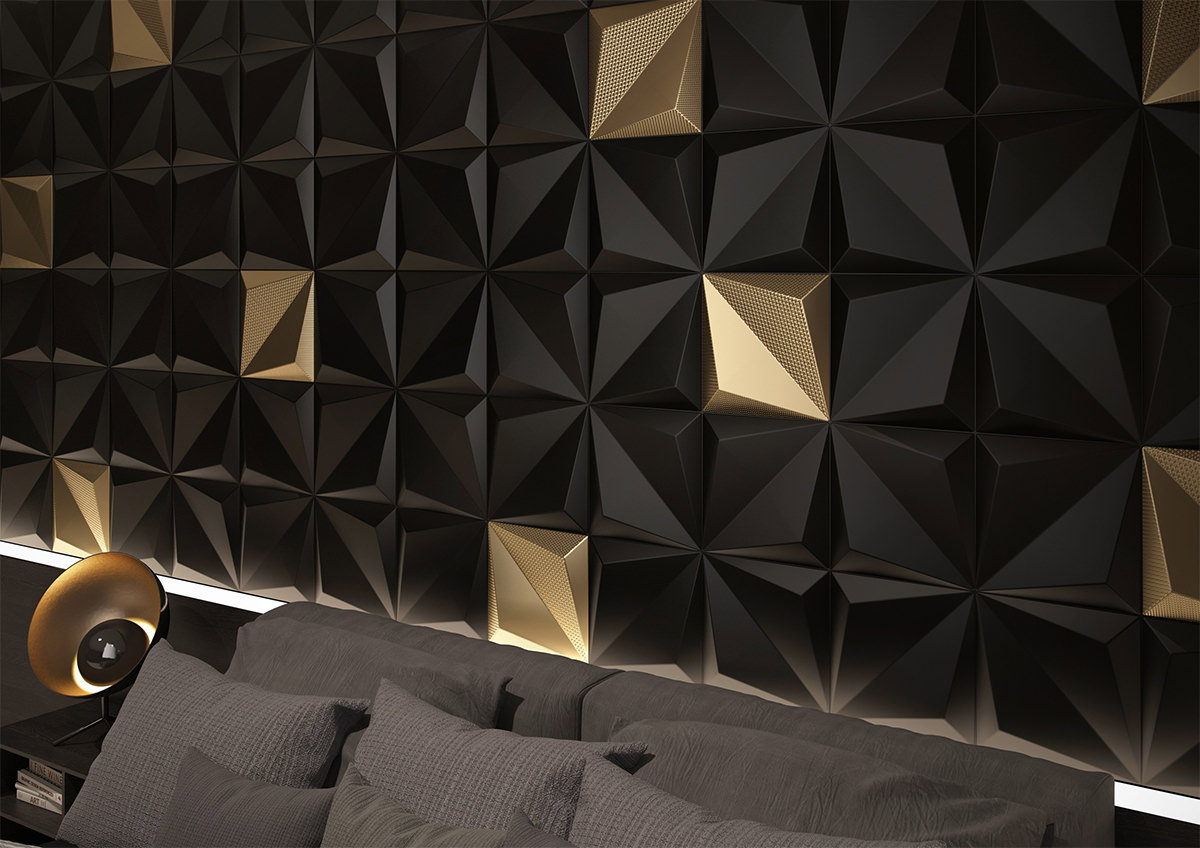 https://dune.es/en/products/wall_tiling/ceramic/187350
Go Bold with Gold with these origami tiles on your walls. When you are aiming to add some bling and texture to boring walls, consider these 3D Origami wall tiles. Working magic with their presence, these work better than a sculpture or portrait. Use the patterns and prints of your choice that bring in visual splendour.
Pyramid Ceramic Tiles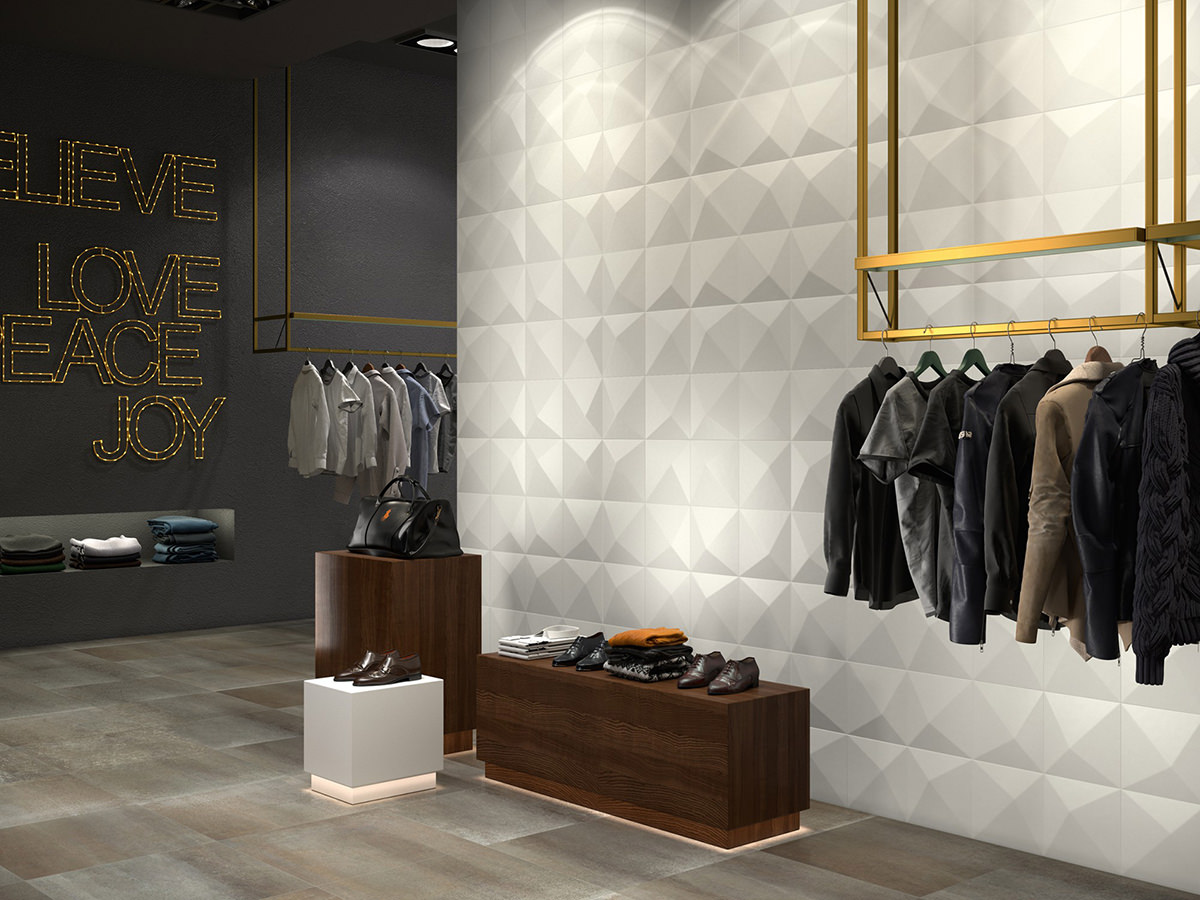 https://dune.es/en/products/wall_tiling/ceramic/187334
The beauty of this tile is the off-centre pyramid design that brings out its true essence. Hand crafted from high-grade ceramic, these are gloriously elegant and when used strategically reflect light in different shades for a fluid space. Enduring and versatile, these come in various colours for use in different interiors.
Symmetrical Origami Tiles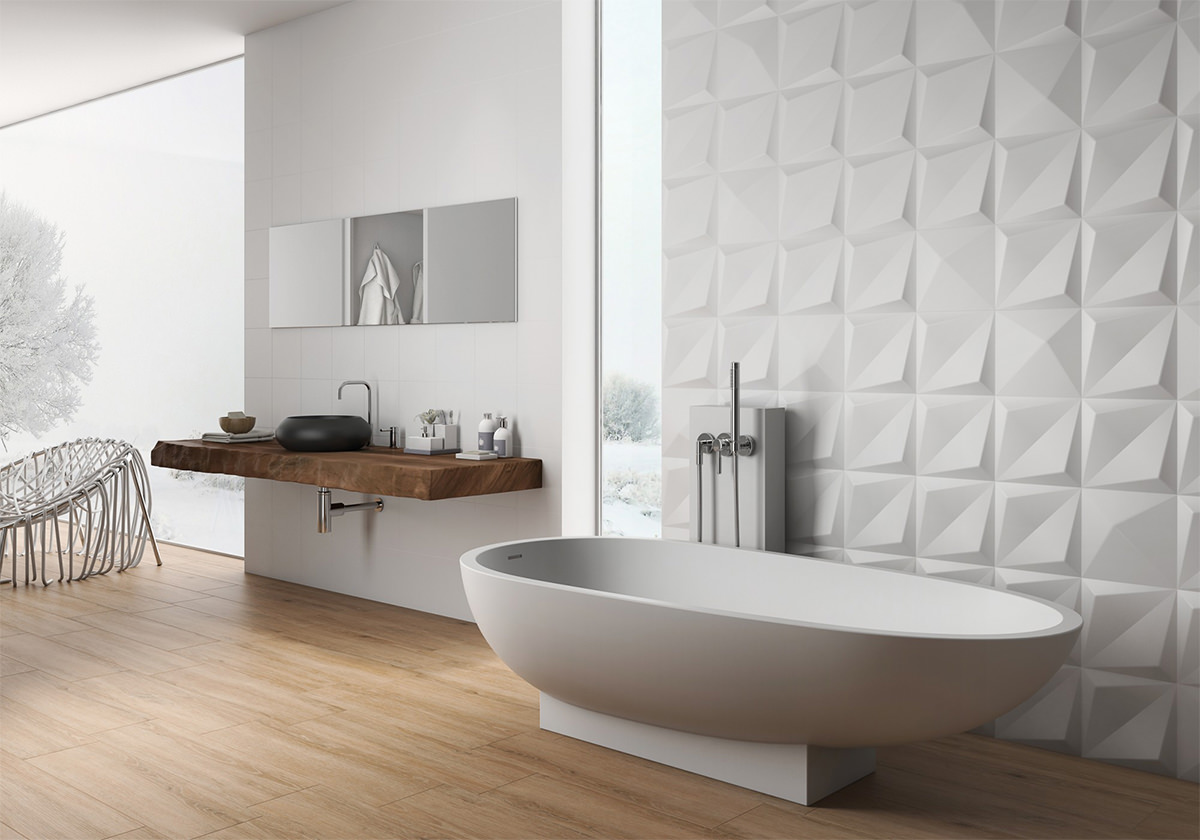 https://dune.es/en/products/wall_tiling/ceramic/187342
Curves are sexy, symmetry is classy, as is evident with these asymmetrical white tiles showcasing origami patterns. Featuring a confluence of two triangles, the design is simple yet provides great depth when used on accent walls. Inspired by the famous Japanese paper art-Origami, these tiles can be used to update home interiors splendidly.
Glazed Tiles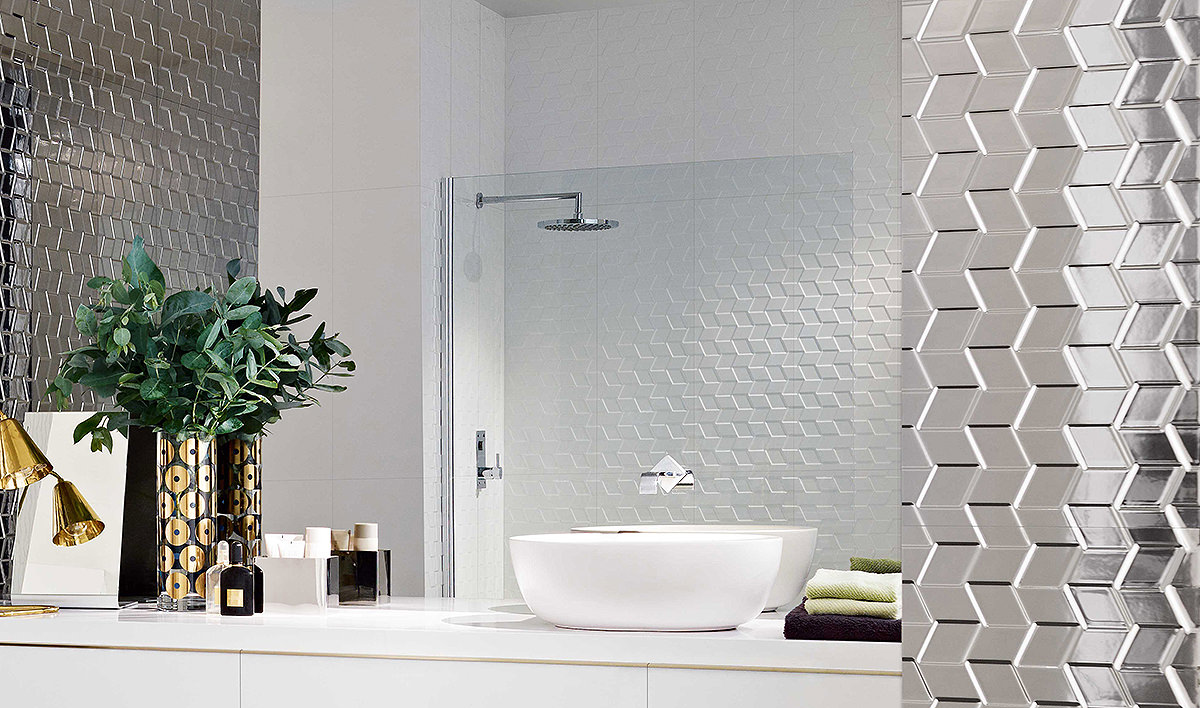 http://midamericatile.com/products/series/glamour/white-enigma/
Glazed and glamourous, these tiles are a must-have in every luxurious space. Using these tiles on a bathroom or kitchen backsplash gives it a bejewelled glassy look that is decorative and functional. Its 3D presentation never fails to impress you and your guests. These enigmatic tiles can be used to create the perfect décor in a home or retail or commercial setting.
Origami Black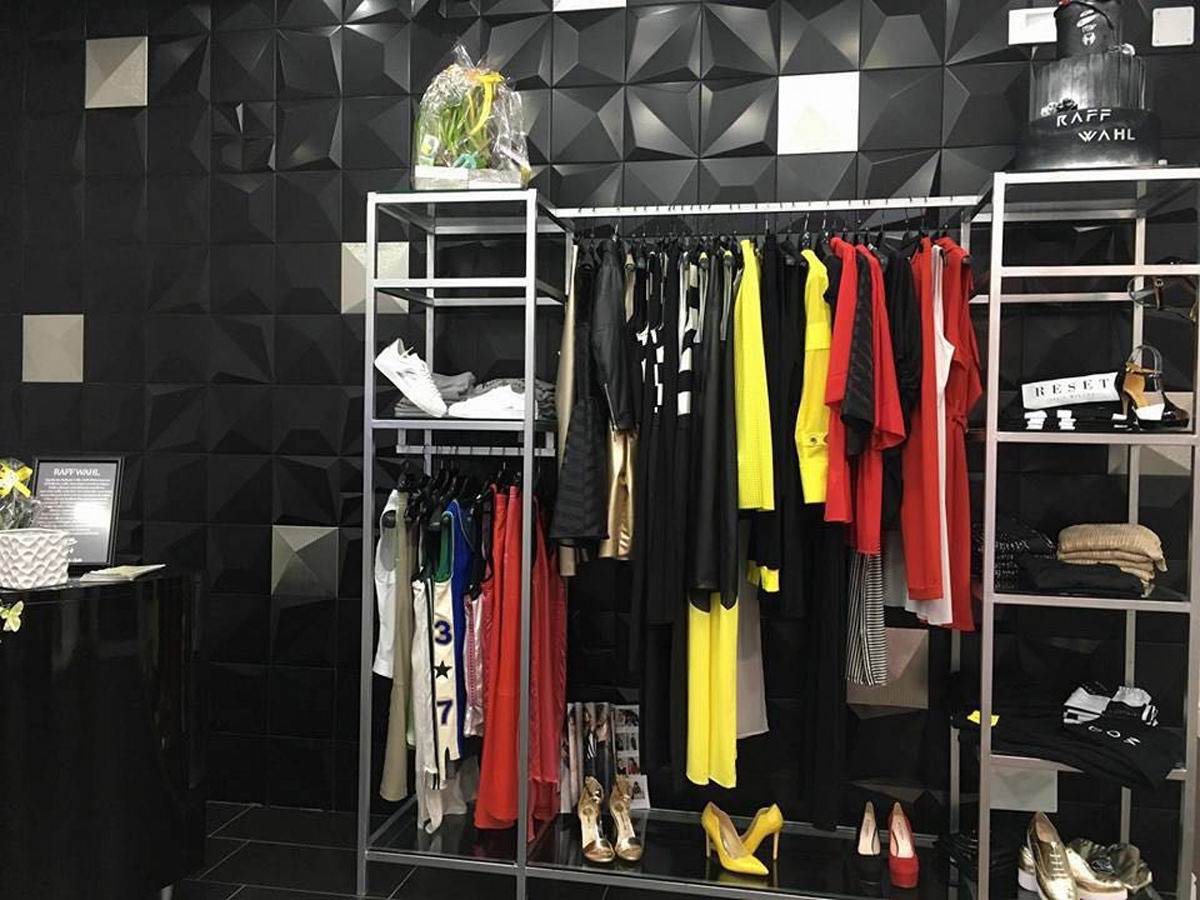 https://dune.es/en/products/wall_tiling/ceramica/187343
Black is elegant, black is beautiful, and when used with a 3D origami geometric print, it is sensational. These innovative tiles speak volumes of the designer's craft and impact of the colour black. Seen here as a backdrop in a retail outlet, it has a personality of its own and creates an unmatched look.
Porcelain Tiles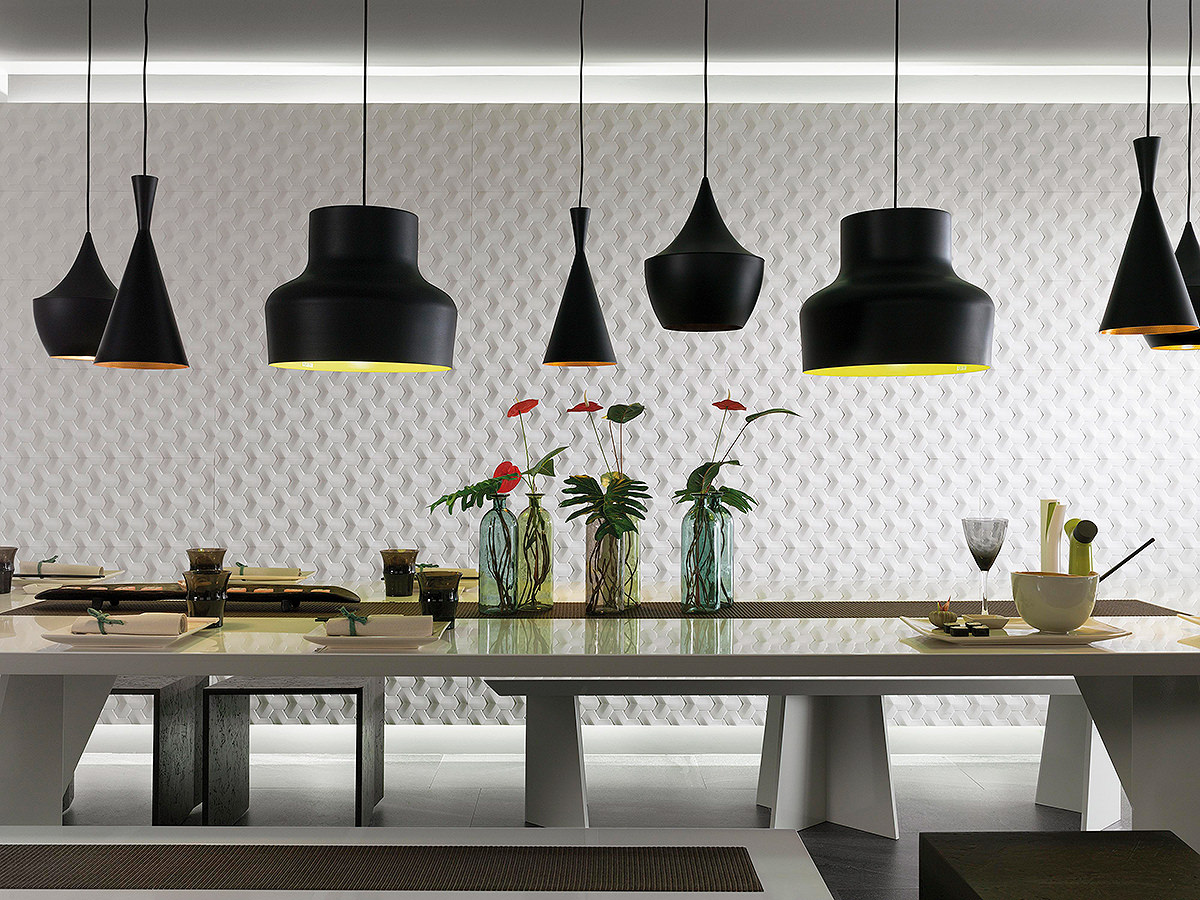 http://www.porcelanosa-usa.com/products/oxo-hannover-blanco.html
The magic of Porcelain Tiles is simply irreplaceable. Porcelain tiles in white create the ideal backdrop for any setting. Here you can see the contrasting effects of black and white, dark and light. The shapes are rigid and geometric while the textured matt look of the tiles lend sophistication.
Matt Textured Tiles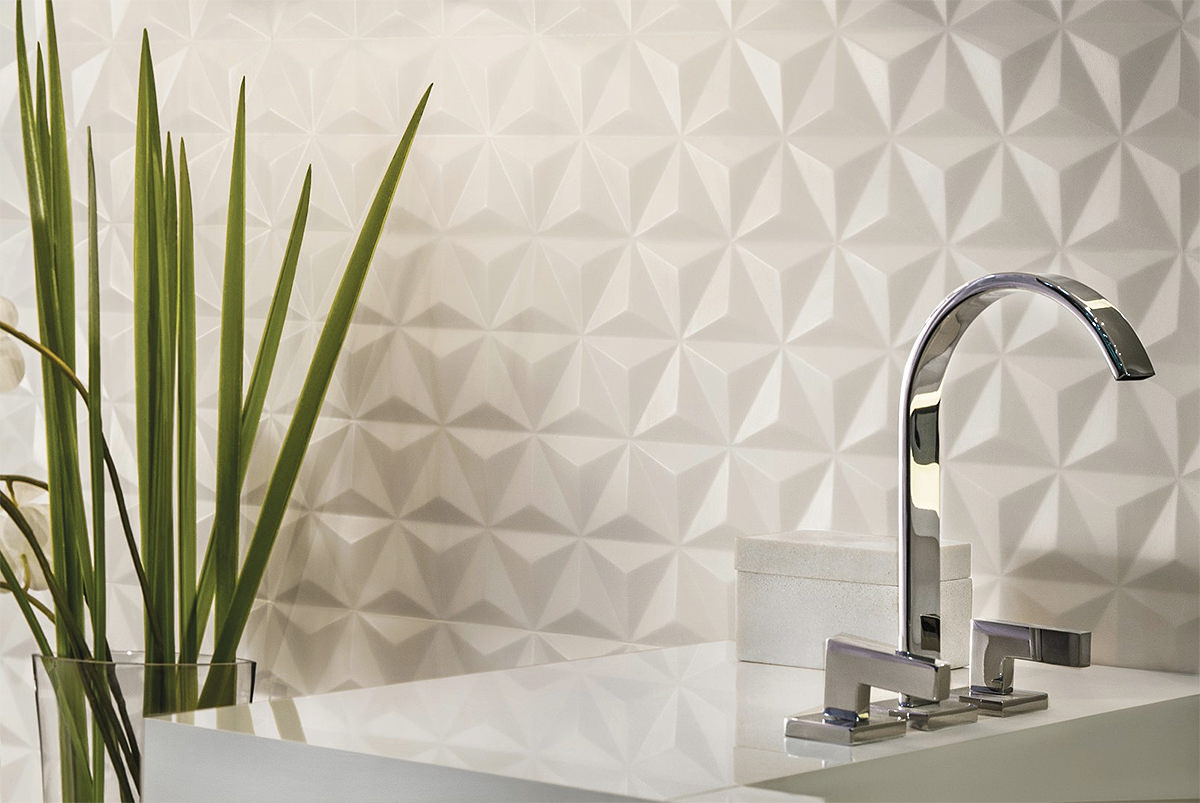 http://www.ceramicaportinari.com.br/produtos/produto/?id=1890
The wonders of texturing can be seen in all designer creations including tiling. These textured tiles have varied designs which may be flowing or rigid, in different colour, but are sure to create stylish spaces. In this bathroom wall design, the designer has kept things minimal and majestic. The white wall has a flavour of its own while the brassware at the sink presents a striking contrast.
Ceramic Tiles-Matt Mosaic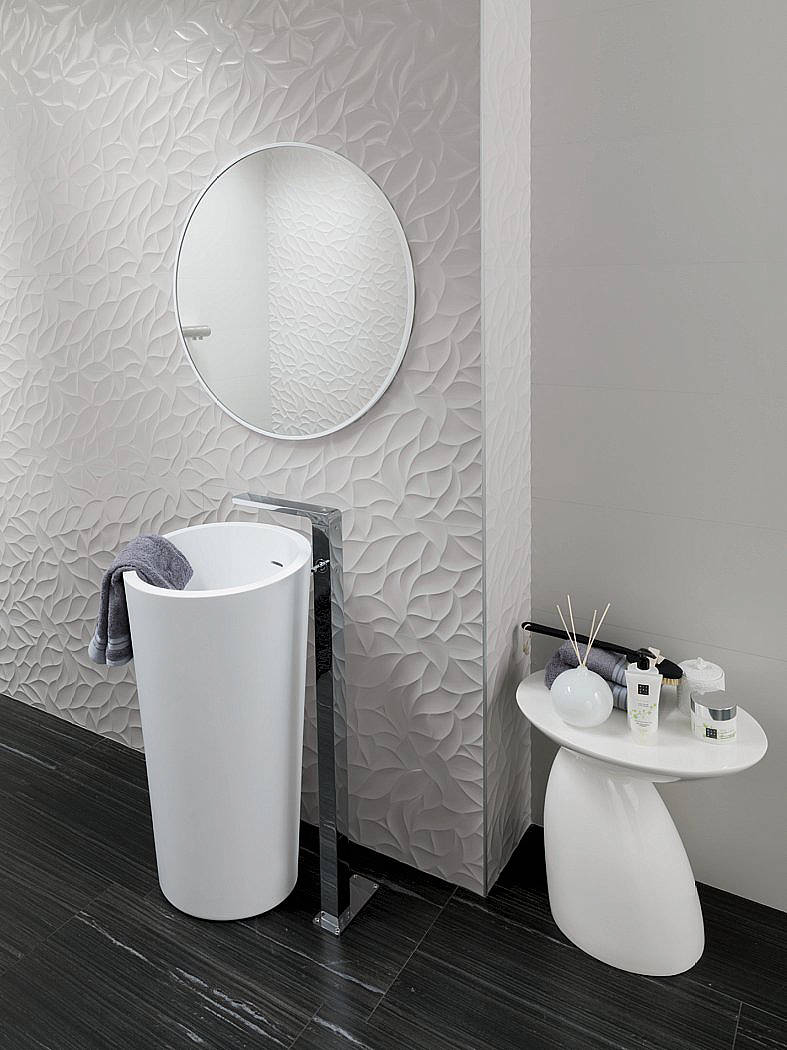 http://www.porcelanosa.com/finder/Ceramic_Tiles_13/Oxo_Deco_Blanco
We have seen the wonders of colored mosaic tiles. Now, designers have used pristine white ceramic to create mosaic magic. The matt finish adds a sophisticated touch and works in perfect harmony with the other white elements in the bathroom.
Geometric Wonder Tiles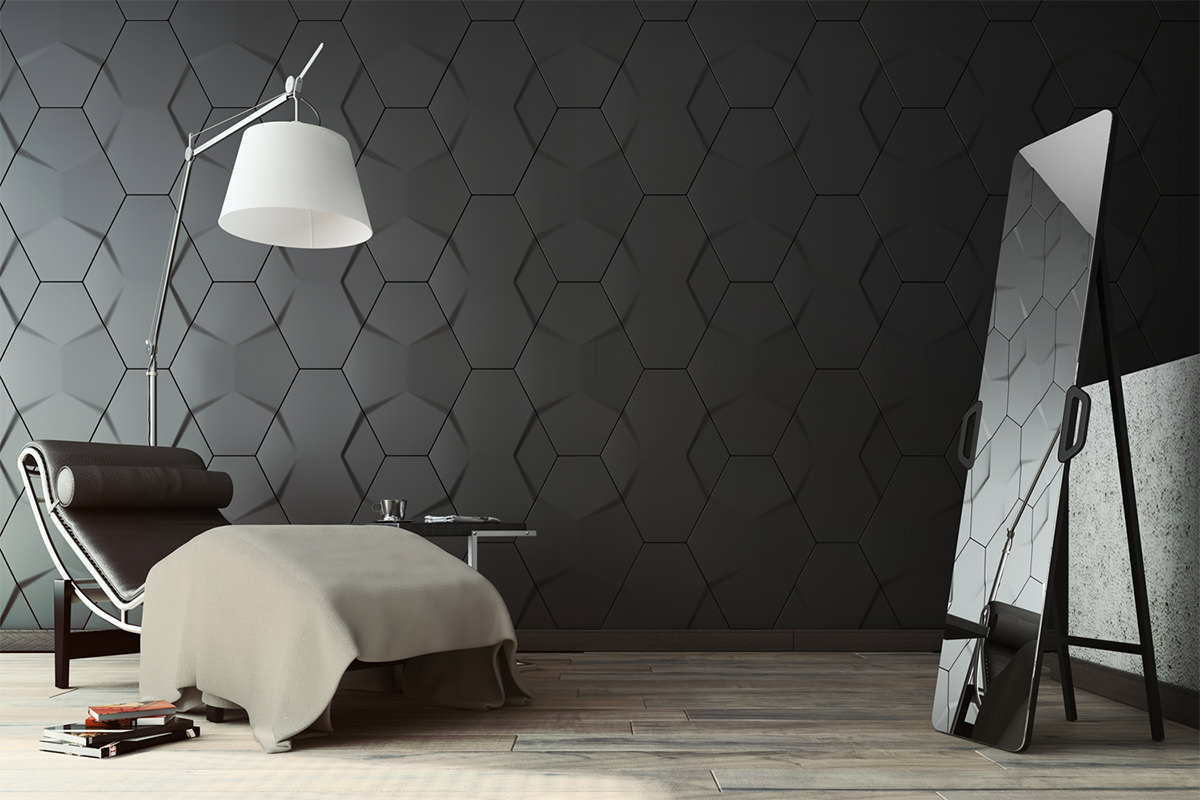 https://www.dezeen.com/2012/06/30/nexus-by-yigit-ozer-for-kutahya-seramik/
Contemporary hexagonal tiles in various hues are the latest in design heaven. These tiles are carved in ceramic to give your bathroom a sensational look. The tiles showcase two designs: one that uses four pentagons and another comprising two hexagons and two diamonds. Get them in glazed or semi-matt as per your desire.
Creative 3D Tiles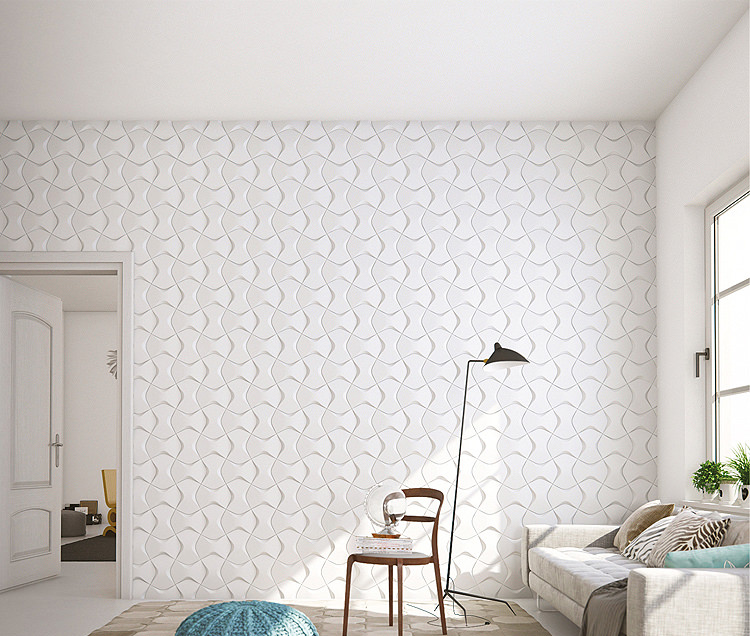 http://www.nmc-dekowelt.de/Products/Wall/Wall-Tiles
Tiles can form the focal point of any designer's inspiration, and when they showcase quirky 3D patterns, their stunning visual has no comparison. Made from polyurethane and pre-painted in glorious finishes, these tiles redefine sophistication. Update your wall with these white tiles for a renewed energy and feel.
Artistic 3D Tiles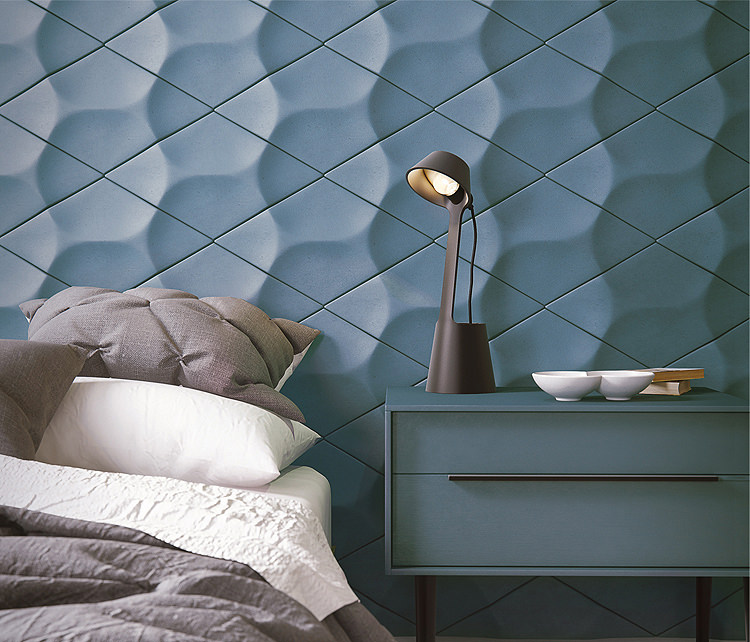 http://www.nmc-dekowelt.de/Products/Wall/Wall-Tiles
These tiles are a breathtaking combination of fluid shapes and rigid geometry in durable polyurethane. Using these tiles turned out in 3D to give you an elegant and stylish interior is what works amazingly for the design. Check out the versatile use of these tiles in blue grey that gives this bedroom a contemporary personality.
Hexagonal 3D Tiles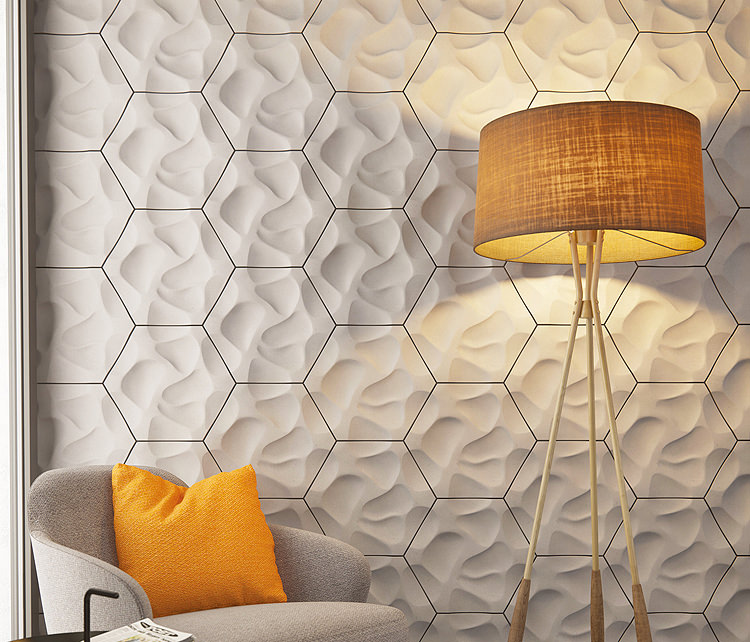 http://www.nmc-dekowelt.de/Products/Wall/Wall-Tiles
Check out this elegantly turned out space. The matt finish of these tiles offers a superb contrast. The tiles feature multi-dimensional forms in off white, beautifully turned out in polyurethane material. Just what you need for a stylish looking space!!
Tiles in Square and Dots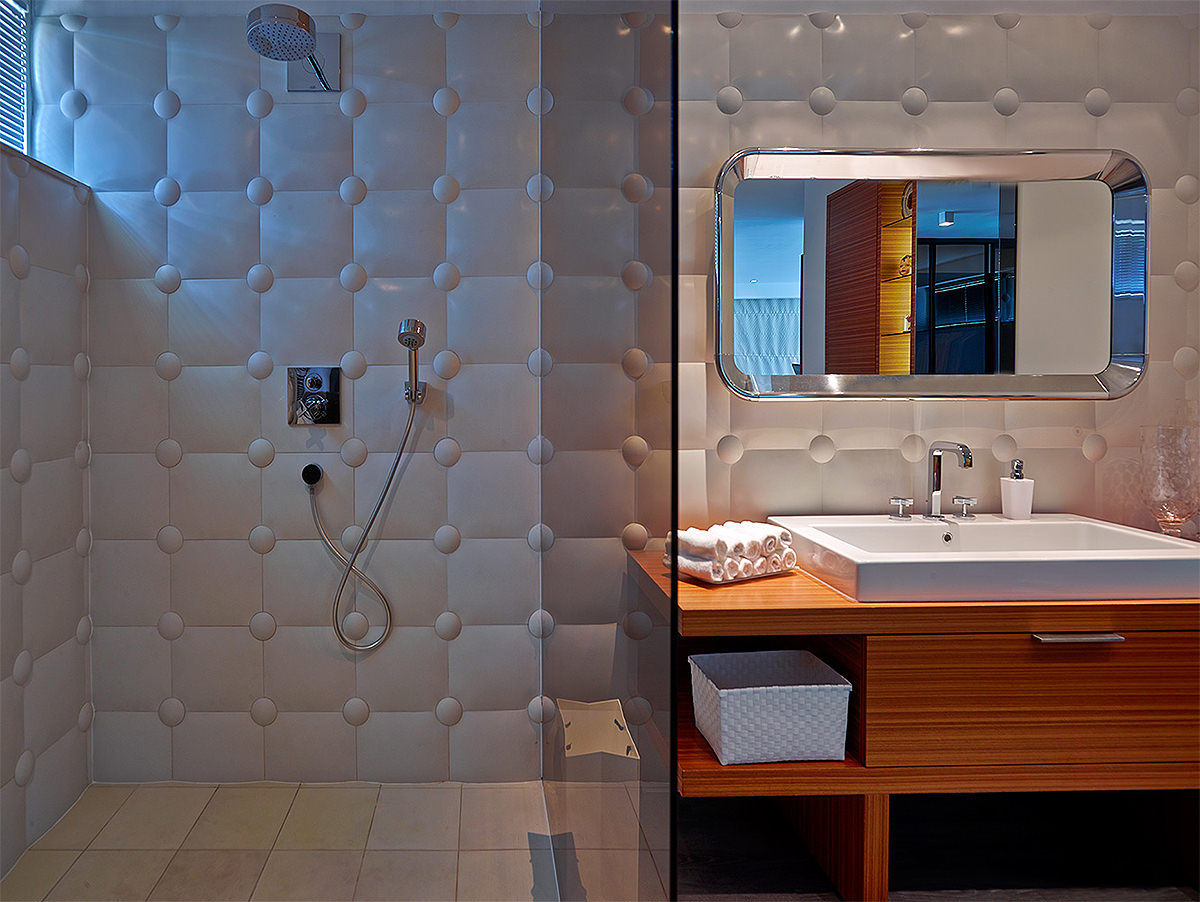 http://www.kazaconcrete.com/references/residential-project-ii-budapest
The look in this bathroom is simple, yet stylish. The entire space is beautified by the tiles on the walls. These display a sophisticated look and are carved out from durable materials that lend a log life. Water resistant and resilient these are just right for use in the bathroom.
Floral tiles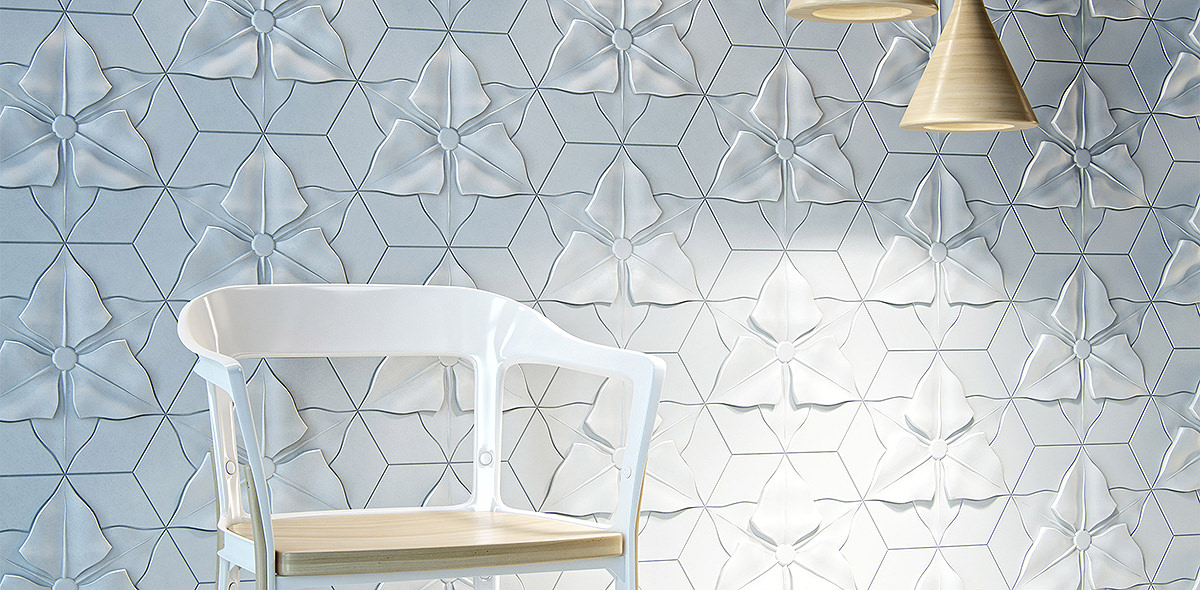 http://www.kazaconcrete.com/designs/florentin
Here the emphasis for the tiles is on design to refresh the walls. Intricate carving with floral motifs inside a hexagonal base makes this creation a work of art. It inspires modern living spaces with its presence leaving everyone who walks in simply enthralled.
Wavy 3D Tiles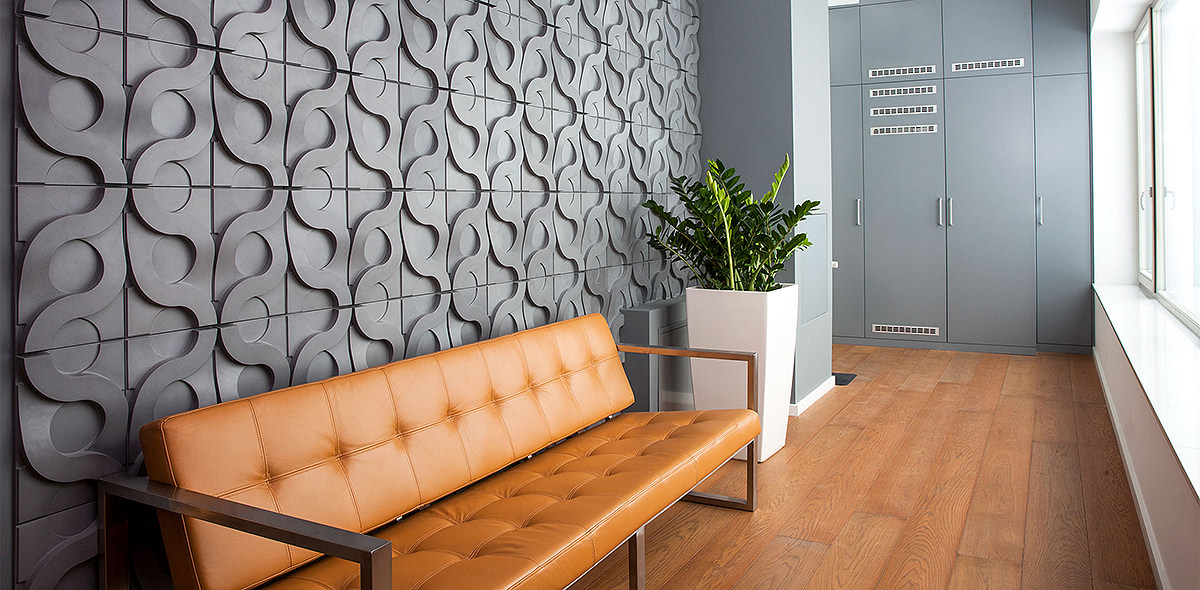 http://www.kazaconcrete.com/designs/vine
Inspired by the passion for gardening is this wavy tile design. Named Seed by the designer, these tiles display a minimalist yet vibrant aesthetic.  Elegantly turned out in grey, these tiles lend a vivacious personality to the wall.
Intricate Designer Tiles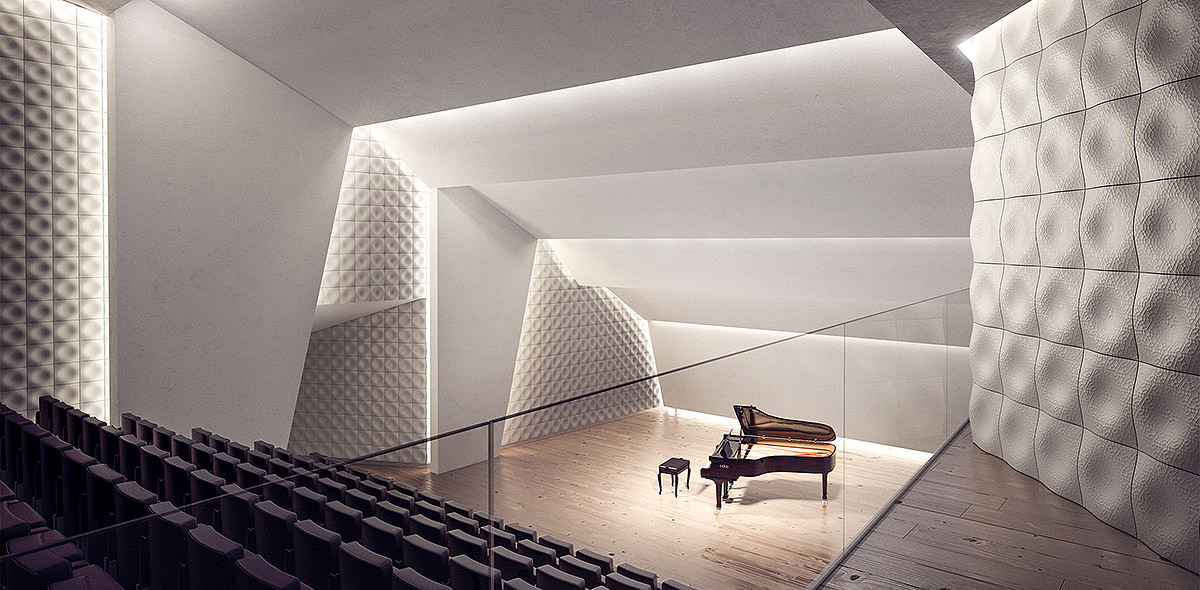 http://www.kazaconcrete.com/designs/ster
These tiles are a homeowners dream with their glossy, luxurious look. Intricate geometric carvings inside geometric shapes are inspiring and interesting. These tiles offer choice of colours and finishes and are realized in concrete, to lend the room a power like no other.
Modular Designer Tiles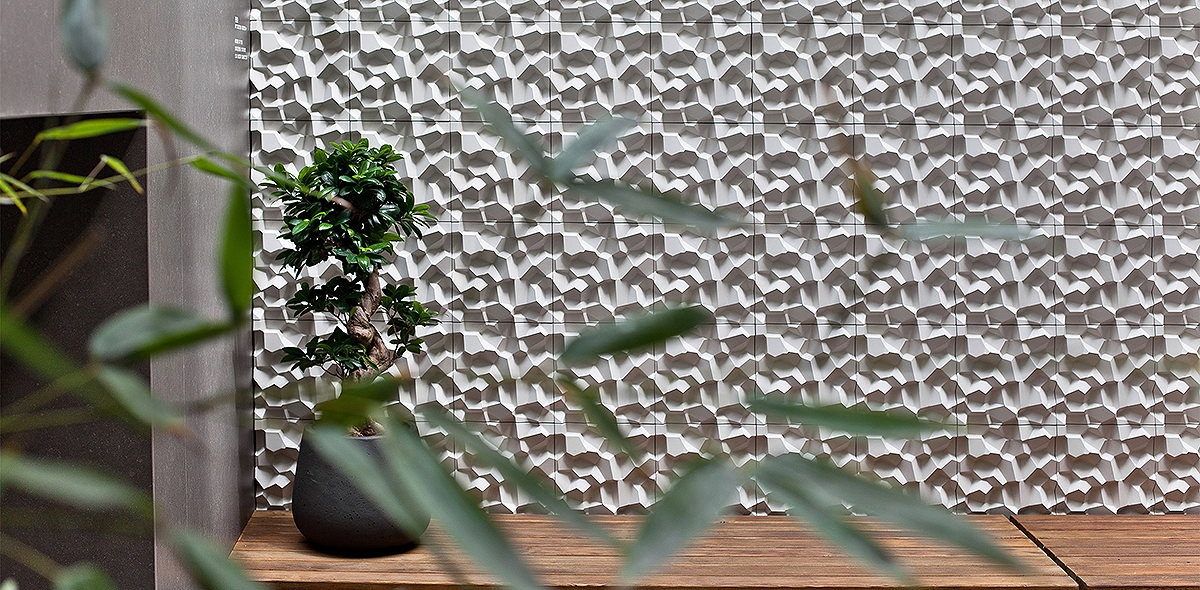 http://www.kazaconcrete.com/designs/penta
The tile pattern is an important aspect to consider during the buying process besides durability and aesthetics. Here the tiles feature a crushed paper like design that creates visuals that remind one of patterns in nature. Irregular polygons are placed at different heights with angles on a surface, and when the light is strategically used, it creates a fascinating result.
Futuristic Designer Tiles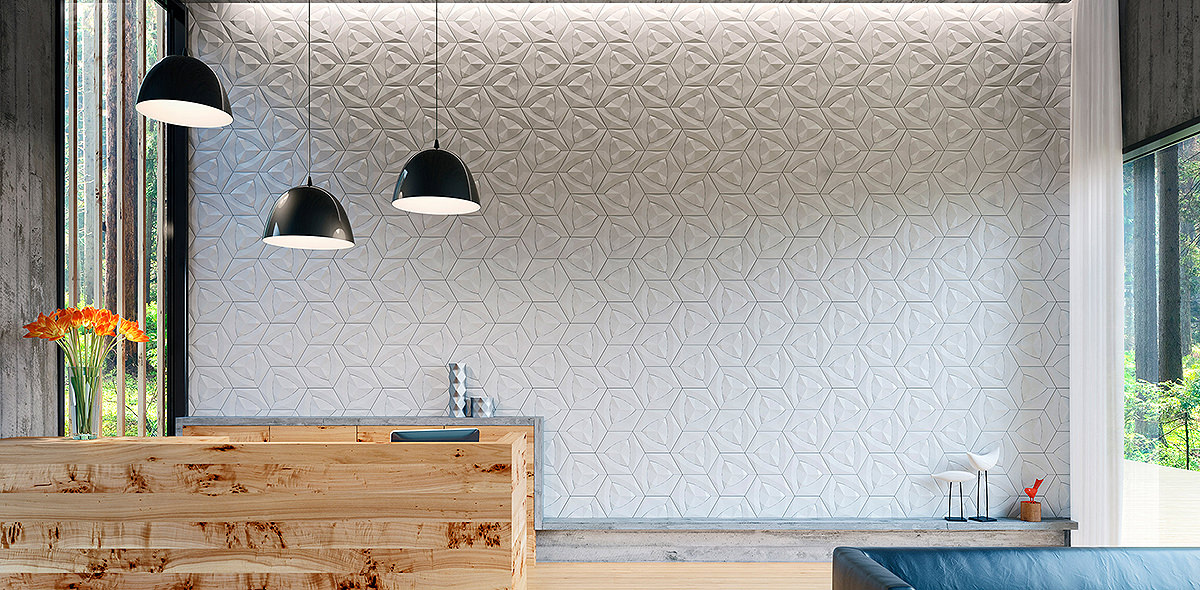 http://www.kazaconcrete.com/designs/cruck
These tiles feature a futuristic design which carved from high quality concrete. The superior design is geometric with fluid lines and displays an exciting, visual aesthetic inside any interior. Triangular, three-dimensional surfaces reflect light and create splendour on the walls. Comes in many colours to meet needs of individual homes.
Petal Designed Tiles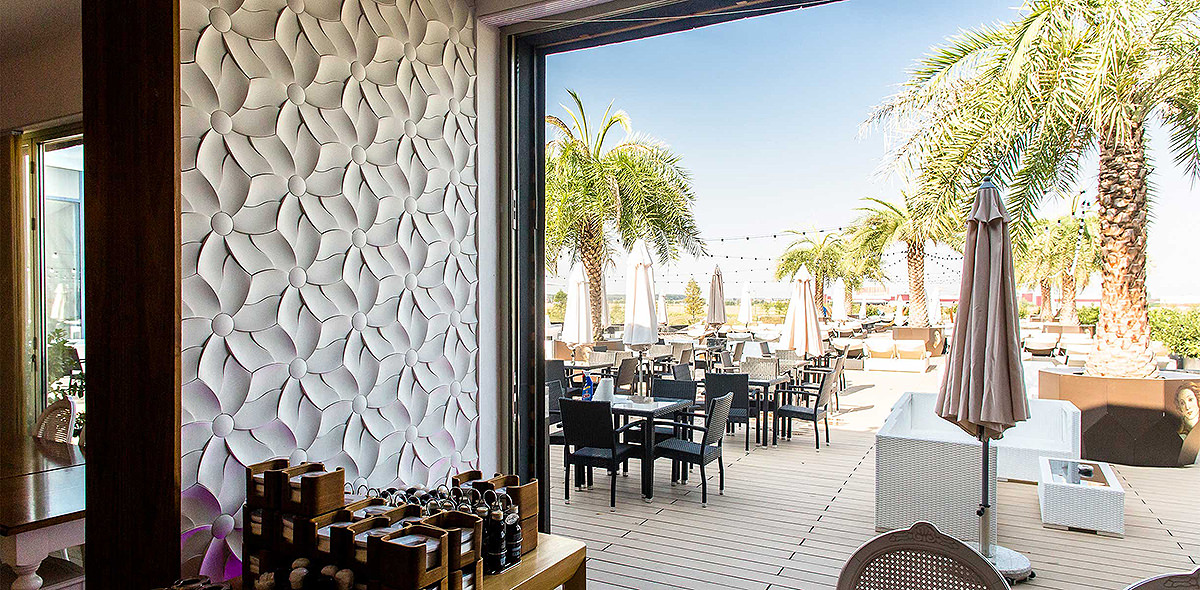 http://www.kazaconcrete.com/designs/petal
The tile design is a breathtaking mix of planar surface and soft, organic leaf shaped forms. When you are looking to create an intimate mood on the walls, nature inspires with simple petal motifs. The surface appears fluid and gives the wall a splendiferous look. Solid single colour adds sophistication.
Geometric 3D Tiles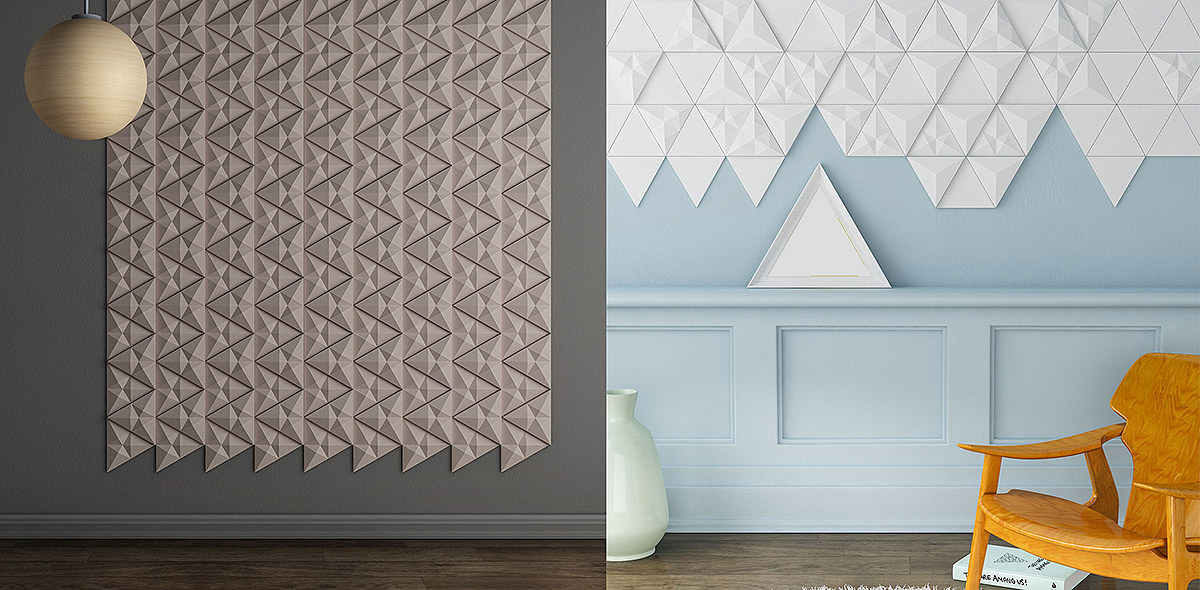 http://www.kazaconcrete.com/designs/tre
The rigid and precise angular contours offer a design that is stylish and vibrant. These tiles lend energy to the wall with their geometric pattern that finish with jagged ends.  Each tile works well on its own or in multi-tile combinations. A range of colours conveys different aesthetics wherever they are used.
Fluid Concrete Tiles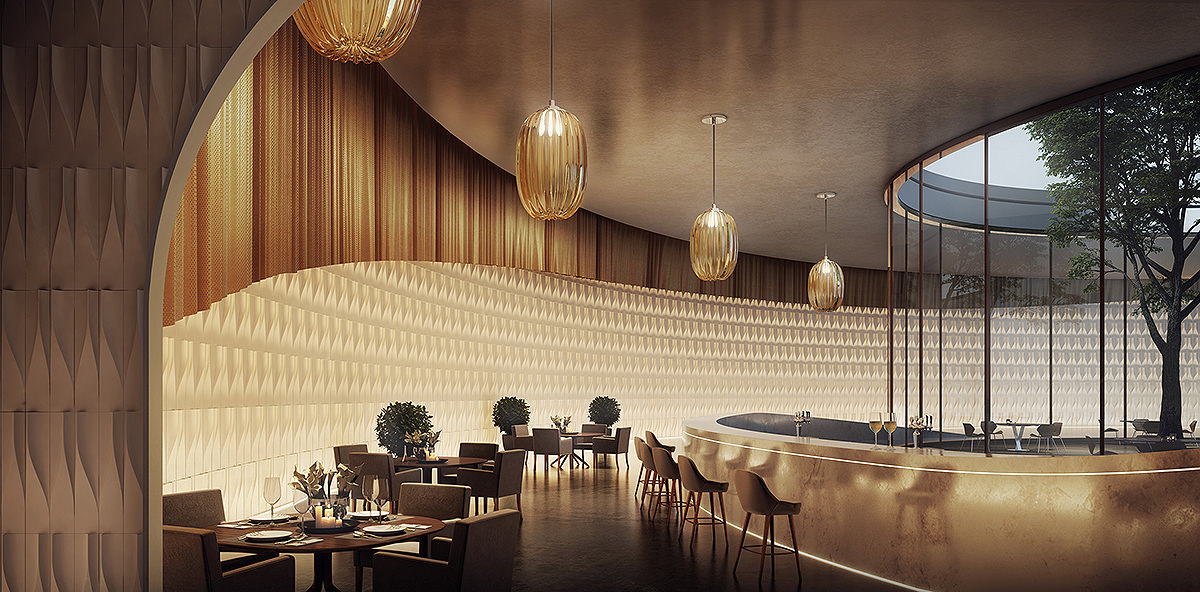 http://www.kazaconcrete.com/designs/liquid-forms
The durability of concrete is unmatched, and the material can be moulded into different shapes and caved on with most intricate imprints. The design here is inspiring and flowy and when used in multitude tiles create an exotic look. Resembling a chiselled structure, these generate a visual effect that is splendid indeed!
Woven Look Tiles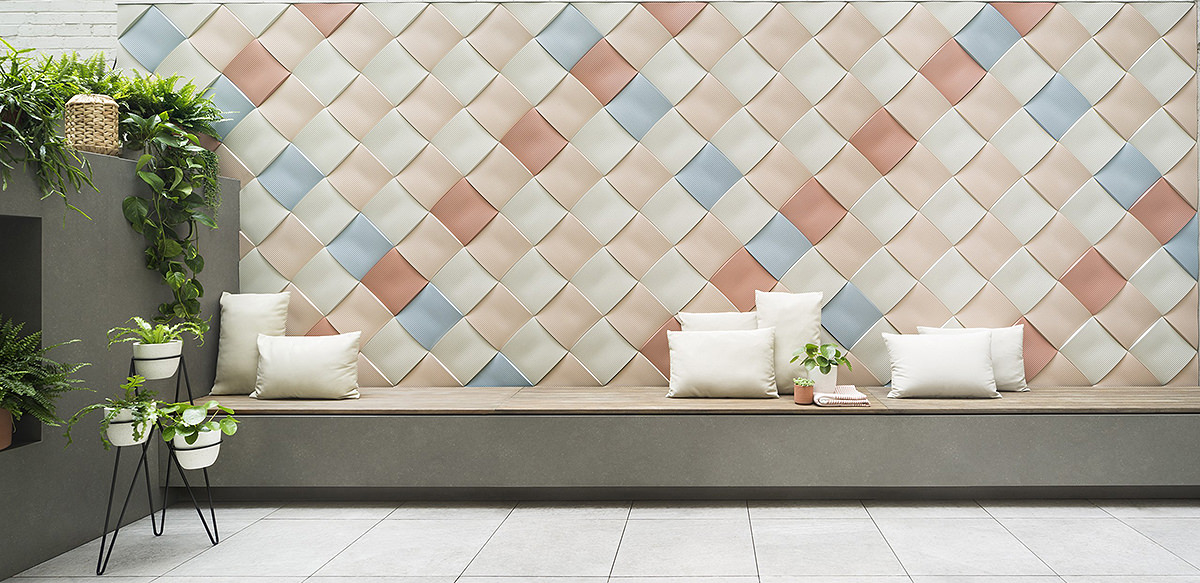 http://www.kazaconcrete.com/weave
These tiles are inspired by traditional weaving techniques. Charming and graceful and full of colour and vibrancy, these tiles update the look of a room like no other. The structure of each tile is simple, and the surface is smooth, realized in concrete to get a wow look.
Inspired Paper Tiles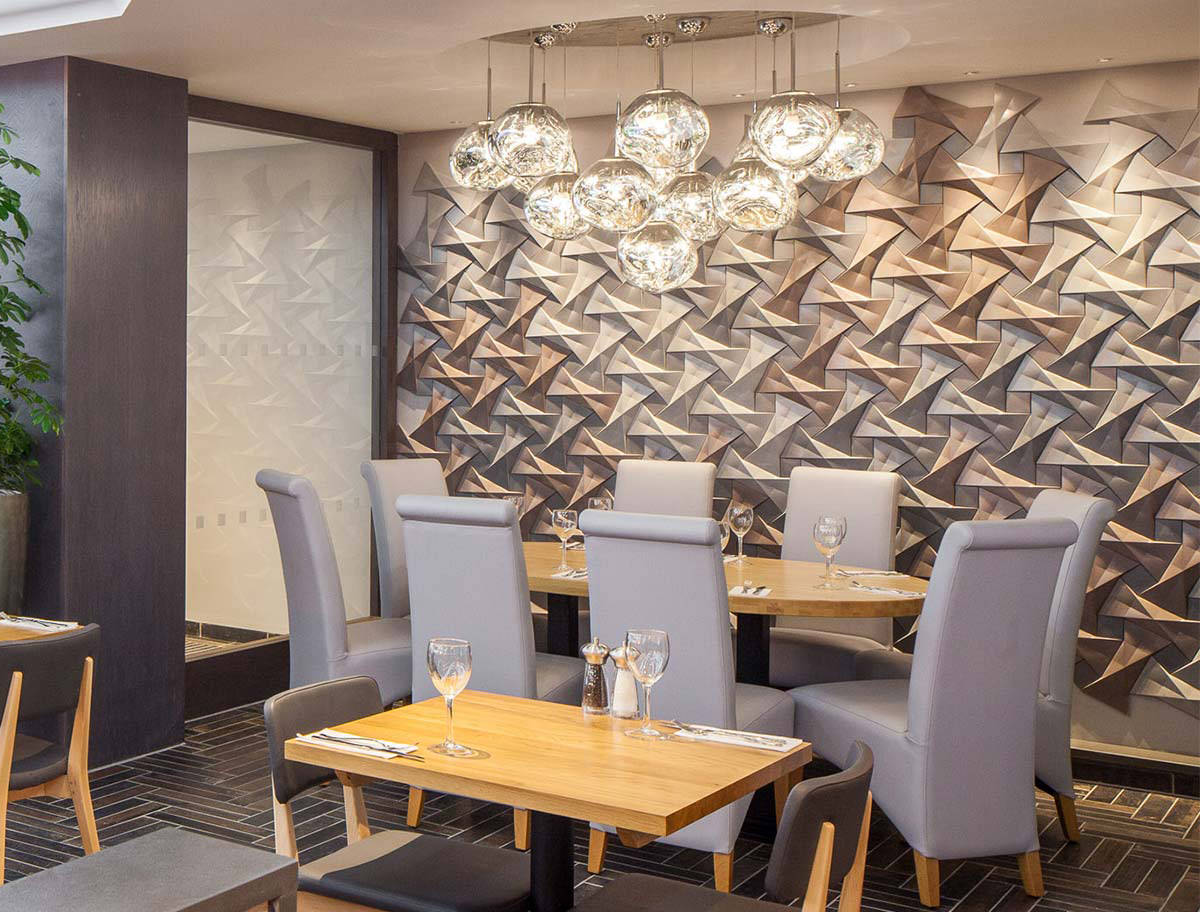 http://www.kazaconcrete.com/designs/quadlic
This delicate overlapping design reminds one of a folded paper pattern. The repeated use of these tiles creates a breathtaking visual effect on any wall, bringing the space alive with inspiration. Origami inspired designer tiles feature four diagonal lines emerging from the central square. Simple format in this space achieves marvellous results!!
Patterned Tiles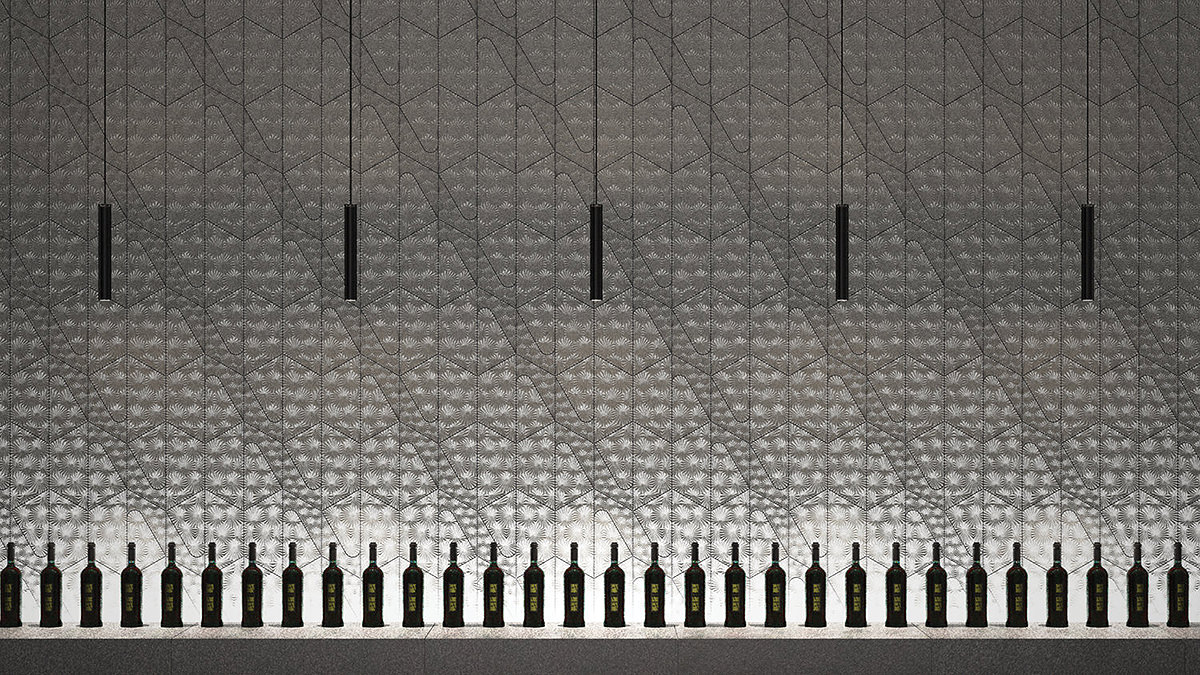 https://www.roughfront.com/burst/
These patterns overlap and conceal the tile joints creating a rich, warm look. Such a challenging design is the latest in innovative interiors and realized magnificently in concrete. These tiles come in both textured and un-textured versions for transitioning into other surfaces at the perimeter of the wall.
Maroon Magic In Ceramic Tile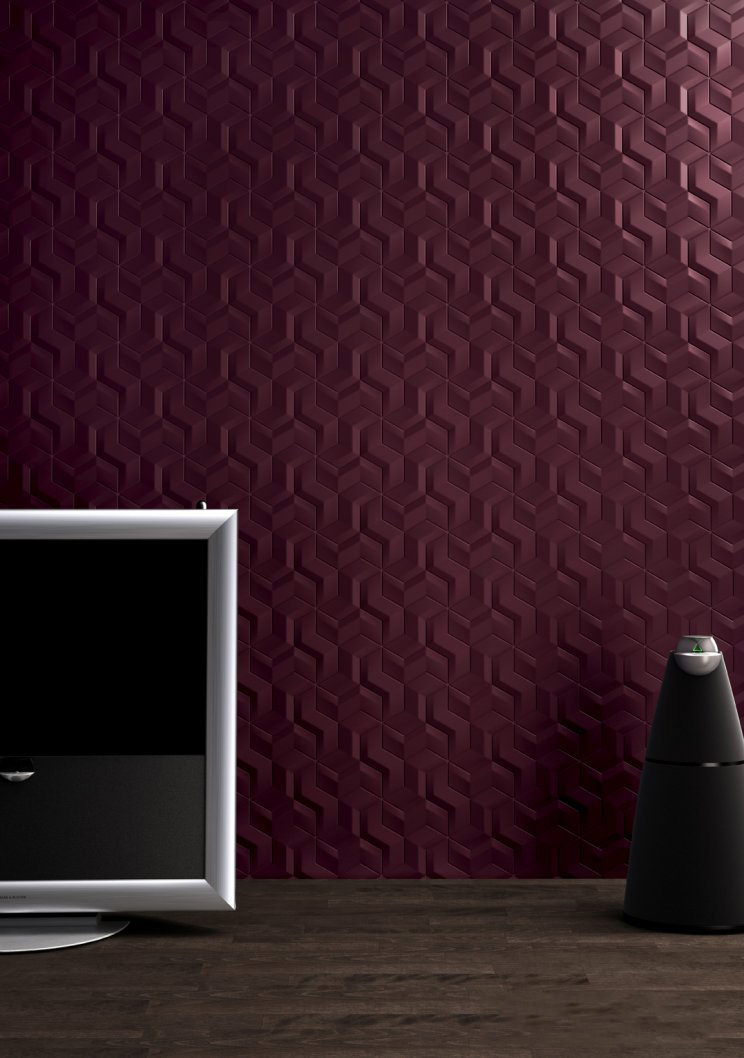 http://www.domustiles.co.uk/products/range/versatile/
When you want the interior wall to stand out and make a bold statement, choose vibrant tiles as seen here. Hand-crafted to perfection with interlinked geometric patterns, these tiles border on the dramatic. Attractive and attention grabbing, these give ceramic an entirely new dimension. Select these ultra-modern tiles in matt or gloss finish.
Coloured Hexagonal Tiles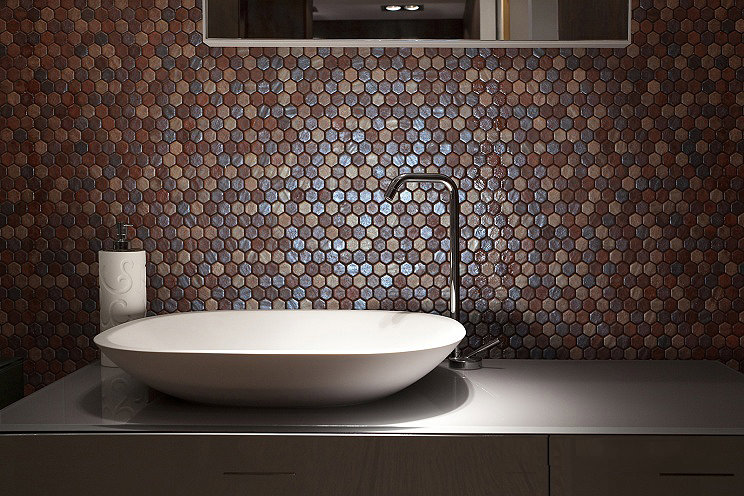 http://www.domustiles.co.uk/products/range/hexography/
These tiles see a mosaic pattern crafted with glass and multiple colours for a fetching backsplash. It serves as a stylish focal point in the bathroom while also being protective in a highly-moisture laden environment. The structured look of the tiles complements the simplicity of the white basin.
Black and White Tiles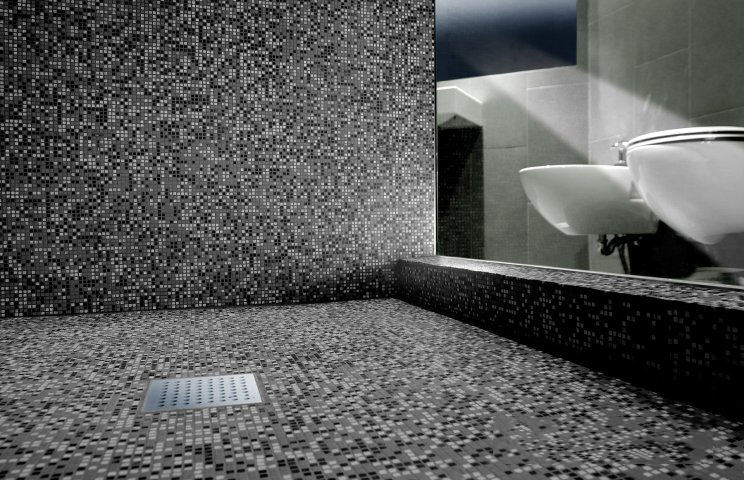 http://www.domustiles.co.uk/products/range/i-frammenti-mixes/
This space sees the use of tiles in a continuous fluid pattern that has no visible borders. The look created by the black and white tiles is enigmatic using the world's smallest mosaics. Hand crafted from porcelain; these tiles can easily be used indoors as well as outdoors.
Coloured Ceramic Tiles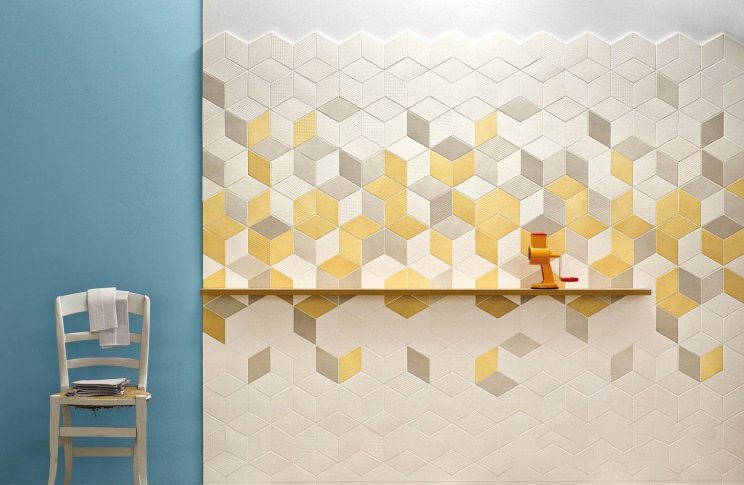 http://www.domustiles.co.uk/products/range/tex/
These geometric cuboid tiles use rich splashes of colour to advantage. The design is inspired by fabric textures and presents a varied colour palette of 8 colours. The tiles allow you to get creative and come in a mix of 3 shades and 5 textured finishes. The space here is a fine example of the appeal of these tile combinations.
Fish Scale Patterned Tiles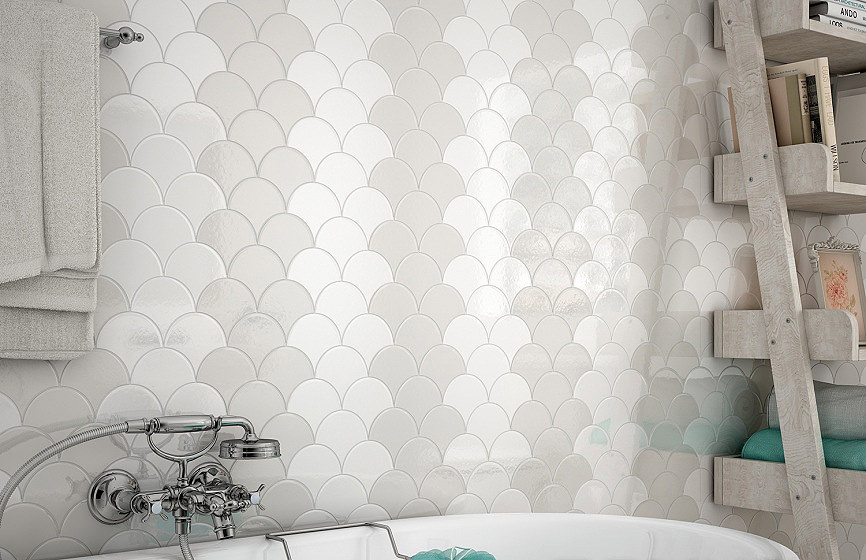 http://www.domustiles.co.uk/products/range/fan/
The tile design is inspired by the symmetrical format of fish scales. Repetitive and harmonious, these are presented in a fresh and welcoming light colour palette. When used here in the bathroom, the tiles lend elegance and sophistication like no other. Just what you need for understated luxury!!
Magical Green Tiles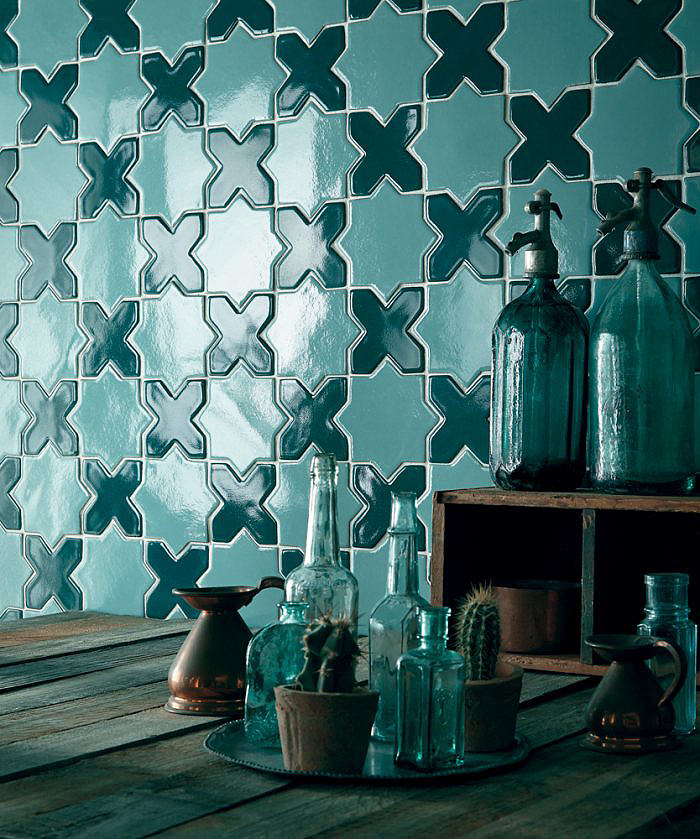 https://www.fireclaytile.com/gallery/detail/deep-green-star-and-cross-accent-wall/
These bottle green tiles have a wonderful symmetrical look. These tiles have a special look, and a special quality of finish as every one of them is made from recycled materials. Besides these are made using sustainable manufacturing practices, and help in carving your dream spaces.