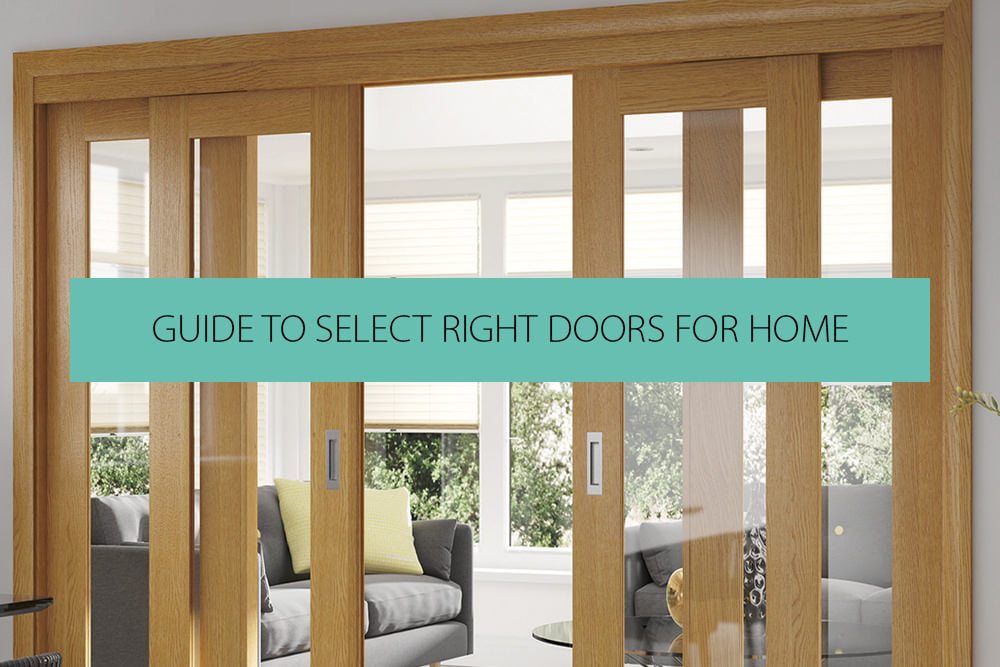 Selecting the External or Entrance Doors
The entrance door to your home deserves the most consideration and in many cases the biggest portion of the total amount of pounds you spend on all the doors for your home. Why, because it serves three very important purposes. Firstly, the entrance to your home is one of the first things your guests see when they visit your home. Displaying a beautiful and inviting entrance door ensures your visitors feel welcome when they arrive, and no doubt will be impressed by a well-designed door. Secondly, the front door to your home is often in a position exposed to not only all weather conditions but also to noise such as from roads and even foot traffic on the adjacent pathways. We rely on the front door of our home to insulate us from the outside world.

Why Entrance Doors Need to Be Strong?
Entry Doors are the most likely entrance points for housebreakers and intruders and, therefore, need to be secured. They are the first thing visitors to your home are likely to notice. Doors should also be sturdy enough to withstand the effects of extreme heat, wind, rain and cold. It is crucial to select a strong and durable door, which would be hard to break. It can be too risky to leave safety to our fate! Strong doors form the basis of the security system for the entire home. A light-weight, low-cost door fitted with poor locks and easy to break glass surrounds will not provide the optimum security. Heavy, wooden entrance doors are a perfect choice; just be sure the hinges are very strong.

Decaying Doors
Mishaps may have happened due to rotten, soaked or bloated doors that malfunction, due to the warmth or spores from a fungus, which are natural components of air, developing due to moisture or increased content of water in the spores that crash the wooden fibres. Damages to the wooden facade and interiors from rebuffs by the spores can be the major reason for the collapse of the doors, helpless to intrusion and theft. Joints get damaged, as these areas are too intricate and less exposed to the dry environment to get dried up fast, and sometimes always moist and wet due to nonstop rain drops and moisture seeping in incessantly. The most vulnerable are the roof and attic areas where the doors and surfaces get wet immediately and barely dry up, which, in turn, end up ruining the fibre, impacting the body and joints adversely. Moisture also impacts bathroom and kitchen doors badly due to leakages through pipes and other water mode sources.
Internal or Interior Doors
Doors add visual interest to the walls of the house and allow either openness or privacy while giving the unified look to your entire room. Internal doors give each room a timeless appearance that lasts for years. Internal Doors showcased at our Leicester showroom are not only synonymous with innovative design and superior quality, but we are also proud to distribute door from the leading brands, recognized for their exclusivity and style. Although, there are many types of internal doors, we have showcased models in solid, pre-finish, glazed, fire door, bi-fold door and French doors.

How to Choose the Right Interior Doors?
Interior doors have a tremendous impact on the overall style of your home, and therefore, it's imperative that your doors are in keeping with the overall look and feel you're aiming to achieve. Like external doors, internal doors provide insulation from noises outside the room plus they insulate in terms of heating and cooling within each room. Of course, interior doors also provide much-needed privacy for bathrooms, toilets, and bedrooms. There are a variety of styles to choose from for the interior of your home, such as bi-fold, which look lovely for formal dining rooms. Traditional style timber doors come in many designs and to avoid a disjointed look. It is also important to consider how the internal doors will blend in with the main entrance door.
In most houses more light is always welcomed and surprisingly there is a way for your interior doors to achieve this. By adding interior doors with glazing you can allow additional light into areas of the home that might normally be a lot darker due to solid doors. Doors with vertical glazed inserts add a luxurious feel to the home and can even become a talking point for you and your guests. All in all, choosing doors should not be rushed. To avoid those annoying choices, that alternate between rattling and sticking, ensure you size up all the doorways carefully and that you choose materials less resistant to swelling. When you choose carefully, you will end up with the best ones for your home that everyone can simply sit back and admire.

Internal Fire Doors
Safety factors are important, and it's also crucial that you have the right doors set up in your properties inside right locations. Top quality fire doors include fire sealing systems which make certain that if the worst happens, the fire won't spread to other areas of the house, and also the door will stay strong and solid, even though affected by extreme heat.
Doors at QS Supplies
It's easy to see why you should invest in the highest quality entrance door you can afford, remembering to choose a few decorative elements to make it stand out. The best doors are the ones that come at a low price, look great, functional and are strong and durable. QS Supplies are adept at extending handy solutions to fix any damage problems with their expert tips, apart from offering a wide range of doors that sustain well to keep damages at bay, serving you for several years, without glitches whatsoever. Walk into our showroom for a first-hand experience of our entire range of Internal and External Doors. You can select the appropriate range and the right product based on your requirement. We stock a full range of home doors that include internal oak and glazed doors from various suppliers all over UK and Europe. Our doors are guaranteed to last long, and can be cleaned easily. We are proud to be associated with XL joinery and Concord and showcase a huge range of their Internal Doors. Our external Solid Doors are made from Hardwood, Softwood, Oak, and Classic Timber.