Dave Washington Date: March 10, 2016
Excellent choice of Bath ..... Excellent service from QSSupplies
We chose this bath as a great combination between a corner bath and a straight bath. It looks stunning in our bathroom ! We chose the 800 mm wide version and it's so spacious. Everyone who has seen the bathroom is asking what make of Bath it is and where did we get it from. The speedy and brilliant service from QSSUPPLIES mens that they are now our preferred supplier of our plumbing needs. Thank you QSSUPPLIES :)
Helpful?

Images Uploaded by the users: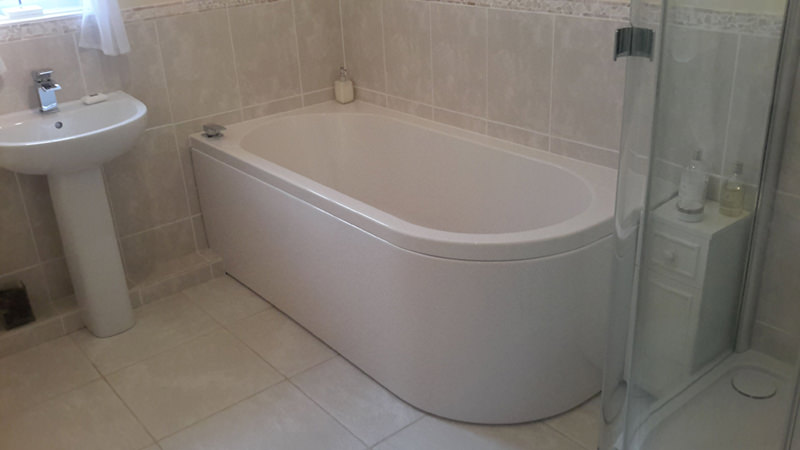 OVERALL RATING 5 Stars
Quality:

Value For Money:

Style:
Neil York Date: April 11, 2017
Excellent curved bath
This is a fantastic bath. Our bathroom is small and has a tight corner by the toilet where the bath was going to go. The curve on the corner is a wonderful way to make the flow of the room better and it makes the room feel so much bigger. The bath itself is also huge; when inside it feels really spacious even for a six footer like me. Would highly recommend.
Helpful?

OVERALL RATING 4 Stars
Quality:

Value For Money:

Style:
Jason Wallsend Date: August 31, 2015
Service
From the telephone conversation to the online check out and next day delivery as promised.. Well done!! Will use again.
Helpful?

OVERALL RATING 5 Stars
Quality:

Value For Money:

Style:
Submit Your Questions
3 Questions Asked
Have a question about this item? Ask our tech team. We aim to reply within 72 hours. If you want to know get answers fast, please call us on 0116 251 0051
If I order a Carronite bath do I also need to have the Carronite front panel? What's the difference between this and the standard acrylic panel?
Answered By QS Team :
It depends on you, whether you choose standard acrylic or carronite panel. Carronite are twice as strong as standard acrylic and ensure water retains heat for far longer than in a cast iron or steel bath
Hi, could you please let me know the size of the waste aperture on a Carronite Status offset 1700x800 bath, please? Thanks Paul
Answered By QS Team :
Thank you for interest in Carron Bathrooms. Both the overflow and waste have a 52mm diameter hole to accommodate your fittings. Do not hesitate to contact us should you need further help.
I am interested in the Carron Status offset bath. The specifications for the taps are drilled as required, is there a specific place for the taps to go?
Answered By QS Team :
When purchasing a Carron bath, your bathtub will arrive with no tap holes drilled. Unfortunately, Carron is unable to drill taps on your bathtub at the factory. On the wall ledge, there is a space approximately 600mm available in the centre, to accommodate your taps. Please refer to the technical guide above, on the best way to drill your tap holes.