Peter Bourne Date: September 14, 2015
Great service
I really wanted to buy locally, but the prices were just too tempting. The tap arrived within a matter of days and Interlink Express kept me informed of progress every step of the way, keeping to the designated one-hour delivery slot. The tap won't be fitted for several weeks, but it certainly looks extremely well made. I originally wanted a single-lever design, but had to play safe because of my gravity-fed system. There is plenty of clearance to get a kettle underneath and the aerator unscrews for cleaning – very important as I live in a very hard water area. I chose brushed stainless steel because I personally feel that it looks classier than all but the most expensive chrome finishes in this price range. Having seen the quality, I think the chrome version of this model would have been a safe buy. The tap is now in place and looks just as I had hoped. The brushed steel has just a slight brass tinge to it but still looks very smart when mounted on my black CDA sink unit. My problem was that I have a gravity-fed hot water, but the hot water tap in the bathroom was almost at the same level as the hot water tank, yet the water flow was more than adequate. I couldn't find any taps made specifically for low pressure systems that really had the look I really required and I decided I'd take a gamble. This tap is stated as being suitable for high pressure systems, yet its recommended minimum flow rate is the same as the similar Franke Zurich Kitchen Sink Mixer, which is stated as being ideal for low pressure systems. As it turned out, the cold water output is fine – not fierce, yet perfectly adequate. For economy reasons I keep my hot water at a level that's just about hot enough for dish washing and it does come out of the tap quite slowly. This is acceptable to me, but I can imagine that it might not be acceptable to everyone. However, most people run their water much hotter than mine and when hot and cold water is running at the same time I think it would be acceptable to almost anyone. The head of cold water from my tank to the tap is approximately 14 feet, but from the hot water tank in the airing cupboard it is only about 10 feet.
Helpful?

Images Uploaded by the users: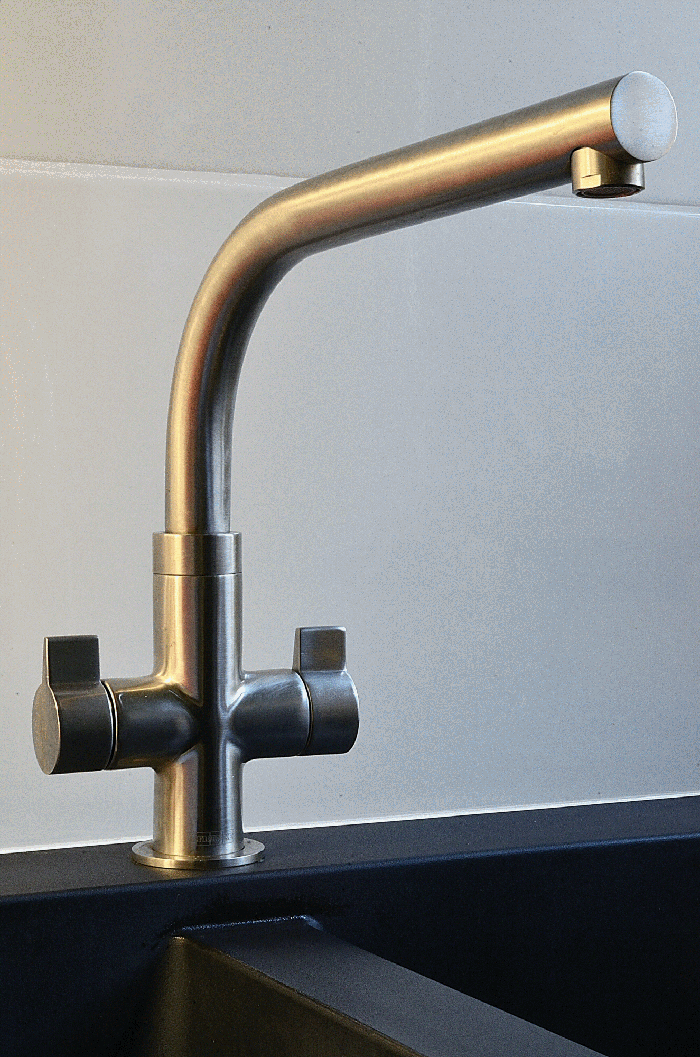 OVERALL RATING 5 Stars
Quality:

Value For Money:

Style:
David Heywood Date: November 4, 2017
Quality issues
Not even been in a year and looks like the hot tap lever is separating away from the tap body, also feels stiff, don't hold out much hope for it. Shame because a great looking tap, best price and top manufacturer - unlucky??
Helpful?

OVERALL RATING 4 Stars
Quality:

Value For Money:

Style:
Zena Wimborne Date: June 16, 2015
Looks good
Very fast delivery, good price and looks just as it should! Not yet fitted but can't forsee any problems.
Helpful?

OVERALL RATING 4 Stars
Quality:

Value For Money:

Style:
Submit Your Questions
2 Questions Asked
Have a question about this item? Ask our tech team. We aim to reply within 72 hours. If you want to know get answers fast, please call us on 0116 251 0051
Do you have Frank Sion in brushed stainless?
Answered By QS Team :
Hi Rob, Thanks for your query. The Sion Tap is available in Chrome and SilkSteel finishes. For SilkSteel finish, please refer our code QS-V10413.
Can this Franke Sion kitchen mixer tap be used with a hot water supply from a combination boiler?
Answered By QS Team :
Hi James, All Taps can be used with water from a combination Boiler as the pressure in such systems is higher than gravity feed systems.