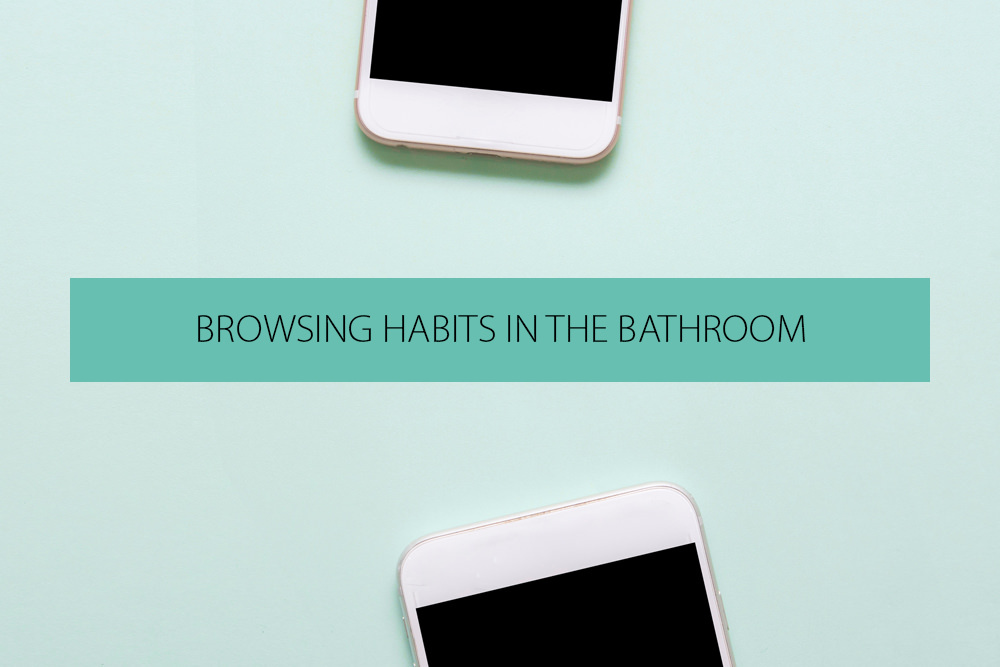 There are smart phones and then there are 'smart people' who claim to use the smart phones. Apparently, it goes the other way round that the technology is now consuming all the time humans had, along with following wherever they go, literally, even in the most private spaces of sanctum.
Henry David Thoreau has righteously said, "Men have become the tools of their tools."
Gone are the days when defecation was merely an act of the relieving the pressure on the bowels and people held magazines to spend time during the daily ritual. Not far, but just in the 90s' browsing was a task in itself, and it took hours altogether for a single page to load. They say you could make a cup of coffee while the site was loading. Unlike instant messengers, there were chat rooms and you freaked out at the thought of sharing your information with someone who was probably miles away. According to the statistics there were just 130 websites in total and 14,161,570 internet users in the year 1993 as opposed to the 1 billion websites (and counting) in September 2014.
To sum up, from 1 website in 1991 to 1 billion in 2014, the far-reaching and ever-so-growing impact of internet cannot be overlooked. Mails were minimal and not spams, and you could expect a response to every mail you wrote. Anything that you want downloaded in your system, it consumed days at a stretch. The idea of watching movies online and e commerce didn't even exist. Not every site was properly built, there were numerous broken links and had bad design. Everything on the internet was dull, painfully slow and boring, if not; it was simply out of reach to most of the population. People really preferred the virtual encyclopedia instead of the modern, quick-to-access Wikipedia.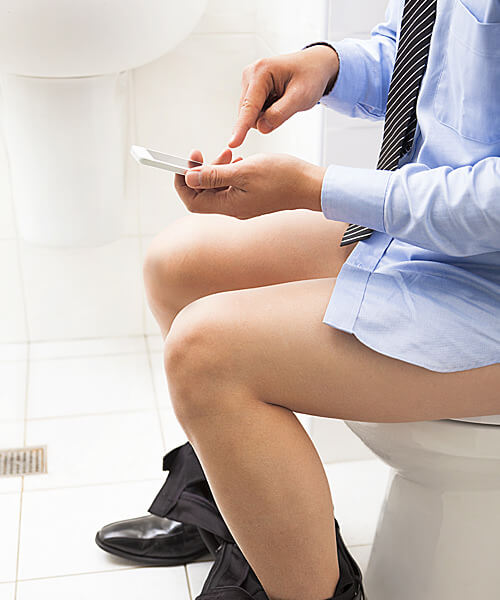 Times have changed and people prefer iPad's over newspapers, advantage simply being the convenience of using a single hand. (If you know how important and hygienic it is to have a free hand) This latest tech-habit often termed as 'fad' is using the smart phones and other gadgets right in the bathrooms. Be it for any purpose, texting, gaming or as simple as browsing the internet, the habit of being tech-savvy even in while taking a leak has gone to the extreme level. Urban dictionary describes toilet texting as to text message while on the toilet along with some other terms like bathroom blather, shittexting, textlet, toixting, shexting and the list is simply endless! And no, it is certainly not made up. The idea of sitting on the porcelain throne and working your fingers on the piece of technology is no longer bizarre. (We know you haven't raised your eyebrows yet)
So here comes the statistical part of the study, out of 1,000 people, 750 cell phone addicts use it right in their comfort stations. Here comes the surprising part, 75% of the population admitted that they use their mobile phones on the commode. The obsession to simply stay in touch and communicate expands in the bathroom as well, as 91% of the younger generation that is those in 28-35 years of age, text while relieve themselves.
Reports further showed that while Blackberry users answer phone calls whilst attending nature's call while the android phones and iPhone users visit social networking sites or other applications or messengers. Precisely, there are about 87% Android consumers and 84% of Blackberry users along with 77% of iPhone users who take their phones in the bathroom. Much to the testimony of our era of technological advances, there are a whole lot of people who don't go to excrete their wastes without the tablets phones. (Wondering what exactly they do!)
If that was simply about communicating, here is something about doing a little e-shopping in the latrine alongside the bathroom business, there are most women who make purchases online. Fastidiously, browse, choose and buy. It is much convenient than having sore feet after the endless hours of hopping from one showroom to the other, is much less time consuming and not to forget, this sitting gets the essential bathroom moments covered, too. Heard of the never-ending calls from clients explaining the 'hows' and 'whats', well yes, there are people, both men and women who manage to attend them and speak mellifluously in the bathroom. Then last but not the least, the nerds of all people read on the water closet; be it on a kindle, iPad's, laptops or basically the smart phone, it is difficult to put an interesting book down no matter what they do or where they are. There are tablet users who read magazines, e-newspapers and any other readable material in the lavatory. So much having said, I just don't hope to see Facebook status updates and tweets saying "peeing and pooping in the loo". Wait, there is more to it, did we mention the nonstop and exciting gaming sessions in the privy, by that we mean actual games, Counterstrike, CandyCrush or maybe something called Bejeweled.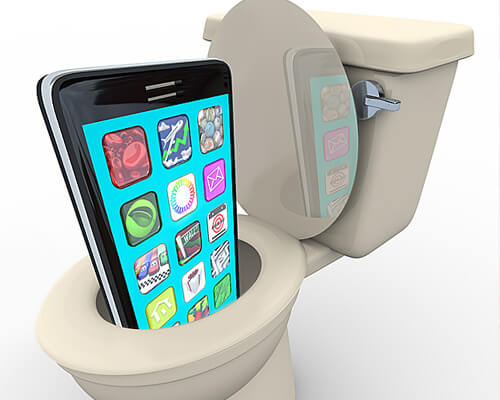 An earlier survey stated that 19 percent of people drop their touch screens in the toilet, which does not happen more often these days for obvious reasons that the device has a safer new address - the hand. Since those vital bathroom regimens are extremely personal and ought to be relaxing you might well consider cutting off from the cultural epidemic of socialising and affinity towards your beloved smart phones. Studies always said that the keyboards are even dirtier than the toilets, but how will you escape germs when you are literally taking your phone on the john. Your devices are not wipe-cleaned every day, is it? The filth might reach your skin after your bathroom browsing session if you take your phone to the cheek to answer a call. Okay, this is the last stats, an analysis claims that 92 percent respondents wash their hands after the lavatory use, but just 14 percent wash their devices!
To conclude with, it is high time that you take special care and cue of the browsing habits in the toilet. Agreed that technological culture is an indispensable part of our decade, but you don't want to end up unhealthy like a thief from Uganda who contracted Ebola from a stolen phone.
An Infographic Based on Statistics