Why Select Kitchen Hoods?
Kitchen hoods are one of the critical components within any cooking environment. Not only are they able to remove fumes, steam, smoke and odours, but they prevent grease deposits on stoves and other items. Still, it can be a bit challenging to choose the correct hood. Let us take a look at some of the main styles and designs to determine which one may be the most appropriate.
An Under-Cabinet Kitchen Hood
As the name suggests, this hood will be mounted directly underneath an existing cabinet (such as one located over the stove). This is an ideal option for smaller kitchens or in spaces where cabinets are already present. The exhaust duct will normally be placed inside of the cabinet itself.
Wall-Mounted Kitchen Hoods
Should no cabinet or other obstruction be present, a wall-mounted kitchen hood is a popular choice. Besides the physical hood itself, it is common that a soffit or a decorative chimney will help to carry the fumes and heat away from the stove. A blower may also be present to aid in the removal of excess air.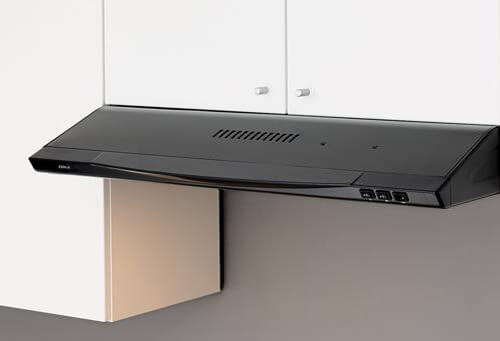 An Under-Cabinet Kitchen Hood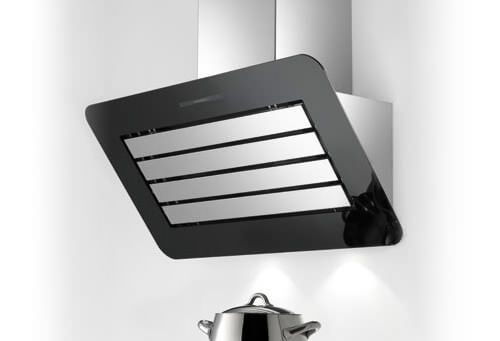 Wall Mount Kitchen Hoods
An Island Mount
There are many designer kitchens that boast separate cooking "islands". In this case, it is obvious that a wall-mounted unit will do little good. Such requirements have been accommodated through the free-hanging nature of island hoods. It should be kept in mind that the intake ports on these units should be a bit wider to account for excess breezes that may occur in the centre of a kitchen.
Downdraft Hoods
Also known as downdraft ventilators, these units are another alternative to the overhead hood. They are placed on the rear of a stove and unlike traditional hoods, the air will be drawn down and then out (much like a clothes dryer). They require less power and due to their diminutive nature, they are ideal for a small kitchen. The only drawback is that downdraft ventilators are not as efficient as overhead variants.

Modern kitchen hoods come in a wide variety of styles, sizes, colours and finishes. Understanding these basic variants will allow you to make the most educated choices possible.

Why QS Supplies?

Moreover Kitchen hoods showcased at our on-line store, are true performers, ensuring absolute safety and fire resistance. The profundity and consummate prowess of the creators is implicitly reflected in the shapes, strength of the aluminium body and metallic motor that perform practically to provide optimum satisfaction. The unerring high static pressure and suction capacity surmount all the conventional hoods and chimneys in the league, with their supreme adeptness. The centrifugal fans with enormous outlets and ventilation exhibit matchless puissance, endorsing true examples of ultimate utility of the entire unit as a whole.